Arizona women's basketball runs away from South Dakota in 4th quarter
Limiting turnovers, attacking the zone, and getting bench points from the freshmen was Arizona's recipe for success against South Dakota in the third-place game at the Battle4Atlantis in Nassau, Bahamas Monday afternoon. The Wildcats used strong games by freshmen Jada Williams and Skylar Jones to defeat the Coyotes 61-52 and finish 2-1 in the pre-Thanksgiving tournament.
"I'm proud of the way our team responded today," said Arizona head coach Adia Barnes. "Yesterday was a tough loss. We played a lot of games…this is the sixth game in 11 days. So I didn't know what to expect from this team today. We're really young. You know, eight new players, a lot of freshmen are playing, and just a short bench. So, I'm proud that we lost yesterday, we came back stronger, and came back with some specific things to work on. And we did that today."
The biggest difference for Arizona was the way it attacked the zone. After being ineffective against the Ole Miss zone defense in the semifinals, they studied film and talked about how to run offense against it in the future. Most importantly, they got the ball into the paint instead of just passing around the perimeter and launching 3-point shots.
"That's always something we focus on," Barnes said. "And we talked about it, but we just had a really tough time executing it yesterday. Because, obviously, people are playing a zone to congest the paint and to make you shoot outside, so we didn't want to settle for 30 threes. So, yesterday, I think we had a really hard time executing zone offense. The ball never went inside or didn't go inside out or get reversed. And I think today just reviewing it for 30 minutes this morning, seeing it on film and explaining the advantages we want in the zone, the reason why we do what we're doing, I think they had a really good understanding of it today."
The Wildcats again dealt with foul trouble. Three players, including starters Kailyn Gilbert and Breya Cunningham, ended the game with four fouls each. It made Barnes lean on her reserves, who accounted for 25 points. Williams and Jones were responsible for 21 of those points. Both freshmen did it after playing very little in Arizona's loss to Ole Miss on Sunday.
"I think Jada responded really well yesterday," Barnes said. "The unfortunate thing that wasn't my plan is she only played six minutes, and I told her and the team after, I should have played you more because there's so many things she does that really help us. And so I think she responded well. She could have hung her head. She could have been mad. She wasn't. She's always the same. She's always consistent…Regardless of what happens to her situation, she's never thinking about herself…And also Skylar. Skylar didn't play one minute in the game yesterday, and she came in, she still fought. She had her best offensive performance, but defensively she was a lot better. A lot more disciplined on defense."
Williams had struggled with her shot to start her freshman season, but she broke out with 13 points on 5-of-14 shooting against the Coyotes. The other parts of her game have been solid this year, and that continued. She added 1 rebound, 3 assists, and one steal while only committing one foul and one turnover in a team-high 33 minutes.
"I think what we've talked about a lot as freshmen in general is we play basketball our whole lives, so just stay confident," Williams said. "We played a lot against a lot of good people. So really, just if my shot's not falling, where can I help my team in other ways, which is defense, talking, energy, stuff like that. So really just working on my shot, not thinking about it too much because that's where I start to miss more thinking about it. But honestly, my teammates were looking for me today."
Barnes has mentioned how hard Jones has been on herself, often mentioning the freshman's body language when she makes a mistake. That wasn't an issue on Monday. Jones hit her first three shots, going 3 for 4 over the course of the game. She went 2 for 3 from long distance for a total of eight points. She added two rebounds, an assist, and a steal in 14 minutes.
The increase in minutes for both freshman guards could be attributed at least partially to foul trouble for sophomore Kailyn Gilbert. Gilbert had to spend long stretches on the bench. She ended with four fouls in 13 minutes on the court.
Arizona went into the half with a seven-point lead, but South Dakota came back strong in the third quarter to tie it at 39 at the end of the 30 minutes. A lot of that was a result of free throws. After a total of 11 fouls in the first half, the Wildcats had eight whistles against them in just the third quarter. They resulted in the Coyotes going 7 for 10 from the line in the period.
"Well, getting to the free throw line 10 times in a quarter, I think we were in attack mode for sure," said South Dakota head coach Kayla Karius said. "And I think Walker Demers had a really good game, and that was a quarter where she really stepped up. She just had the look in her eye and things got really physical inside, and she kept her cool pretty well and drew a couple of offensive fouls on their bigs."
Keeping composure was a theme for Arizona, too. Barnes felt that her team kept its cool despite some calls she didn't agree with. In the fourth, the number of whistles on Arizona dropped to just three and South Dakota didn't shoot any free throws.
In addition to the fouls easing up, Arizona took advantage of much better shooting. The Wildcats scored 22 of their 61 points in the final period. They went 8 for 17 from the field and hit 5 of 8 free throws while outscoring the Coyotes by nine.
The Wildcats were led in scoring by Esmery Martinez with 14 points. She narrowly missed a double-double with eight rebounds and added two assists, a block, and four steals. The steals trailed only Helena Pueyo, who had five to go with her eight points, four rebounds, three assists, and one block. Pueyo tied Williams for the team high in assists.
Arizona does not play again until traveling to Las Vegas to play UNLV on Saturday, Dec. 2.

Arizona State vs. San Diego College Basketball BetMGM Promo Codes, Predictions & Picks – December 9
Saturday's game that pits the Arizona State Sun Devils (6-2) against the San Diego Toreros (6-4) at Jenny Craig Pavilion has a projected final score of 74-67 (based on our computer prediction) in favor of Arizona State. Tipoff is at 10:30 PM ET on December 9.
The game has no line set.
Watch live college basketball games from all over the country, plus ESPN originals and more NCAA hoops content on ESPN+!
Sportsbook Promo Codes
Arizona State vs. San Diego Game Info & Odds
Date: Saturday, December 9, 2023
Time: 10:30 PM ET
TV: CBS Sports Network
Where: San Diego, California
Venue: Jenny Craig Pavilion
Place your bets on any college basketball matchup at BetMGM, and sign up with our link for a first-time deposit bonus!
Arizona State vs. San Diego Score Prediction
Prediction:
Arizona State 74, San Diego 67
Spread & Total Prediction for Arizona State vs. San Diego
Computer Predicted Spread: Arizona State (-6.8)
Computer Predicted Total: 140.5
San Diego is 2-6-0 against the spread this season compared to Arizona State's 3-5-0 ATS record. The Toreros are 5-3-0 and the Sun Devils are 3-5-0 in terms of going over the point total.
Bet on this or any college basketball matchup at BetMGM
Arizona State Performance Insights
The Sun Devils have a +15 scoring differential, topping opponents by 1.9 points per game. They're putting up 68.4 points per game, 304th in college basketball, and are allowing 66.5 per contest to rank 78th in college basketball.
Arizona State records 33.6 rebounds per game (168th in college basketball) while allowing 40.3 per outing to opponents. It is outrebounded by 6.7 boards per game.
Arizona State hits 5.6 three-pointers per game (314th in college basketball) while shooting 28.7% from beyond the arc (325th in college basketball). It is making 1.4 fewer threes than its opponents, who drain 7.0 per game at 27.2%.
Arizona State has committed 10.4 turnovers per game (76th in college basketball), 4.0 fewer than the 14.4 it forces (60th in college basketball).
Rep your team with officially licensed college basketball gear! Head to Fanatics to find jerseys, shirts, and much more.
Not all offers available in all states, please visit BetMGM for the latest promotions for your area. Must be 21+ to gamble, please wager responsibly. If you or someone you know has a gambling problem, contact 1-800-GAMBLER.
© 2023 Data Skrive. All rights reserved.
Arizona education dept. suggests retired law enforcement as school resource officers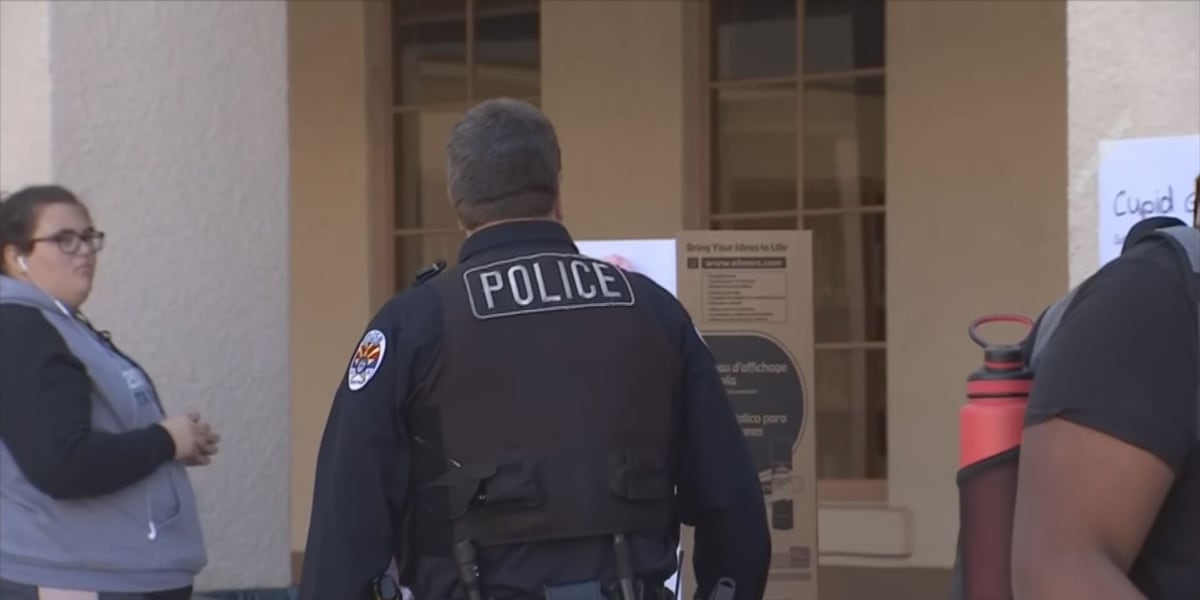 PHOENIX (3TV/CBS 5) — Arizona Superintendent of Public Instruction Tom Horne is looking for new ways to fill certain school positions across the state.
Earlier this year, the Arizona Department of Education announced more than $100 million in grants to put school resource officers on more than 300 Arizona school campuses. But since then, Horne says it's been a challenge to find the people to fill those spots.
Nationwide, there is an officer shortage and that is being seen here in Arizona as schools struggle to fill SRO positions. Horne has a few different ideas for how to fix this problem, and it includes leaning on retired police officers to fill these jobs.
The education department's school safety task force met on Thursday for the final time to discuss their recommendations, some of which would require changing state laws. Horne says there would need to be legislative change to remove barriers currently in place to then allow retired law enforcement to work as SROs.
The team also talked about using funds to add more school psychologists and school safety officers in addition to the current positions. SSOs are essentially the same as SROs but are not assigned to a campus full-time.
Horne says that right now, 138 schools are without an SRO because they cannot find someone to fill the spot.
"It's not a funding issue, it's finding people to fill these positions," said Mike Kurtenbach, the Arizona Department of Education's director of school safety. "That's the challenge."
"When they (law enforcement) retire, they lose certification and legislation says you need to be certified so we need to change that," Horne said. "We need to have some kind of licensing situation where (right now) if people retire, they are no longer certified, but they can get re-certified for the purpose of being a school resource officer. Right now, they can't do that and that's irrational. That should be an easy yes from any reasonable legislator, I would think."
Horne says they would then look into the training needed for those retired officers to work in a school environment to bring them up to speed.
The task force also talked about increasing mental health training. They also spoke on looking into AI technology to bring to schools that can detect a threat quickly. Some of the recommendations will be further discussed in January during the upcoming legislative session. Horne's team says they are working on getting bill sponsors now.
See a spelling or grammatical error in our story? Please click here to report it.
Do you have a photo or video of a breaking news story? Send it to us here with a brief description.
Copyright 2023 KTVK/KPHO. All rights reserved.
Pandemic era financial reporting delays continue to plague Arizona state agencies
Since 2020, the state of Arizona has repeatedly missed deadlines to file required financial audit reports detailing how state agencies use federal funds, and continued delays could have serious financial implications for the state. 
Arizona Auditor General Lindsey Perry is responsible for creating the audit reports for state agencies to show whether the state is complying with federal laws and regulations governing the use of those federal funds.
Nicole Bartlett, a financial audit manager in the Auditor General's Office, told the Arizona Legislature's Joint Legislative Audit Subcommittee on Wednesday that reports are due on March 31, but the state did not file its financial statement audit for 2022 until Oct. 18 and will not file the 2022 financial compliance audit until Dec. 20.
She said the office will begin work on reports for fiscal year 2023 in January 2024.
"However, given that they are due on March 31, 2024, they will also be late," Bartlett said.
Republican Rep. Matt Gress, the committee's vice chair who was budget director for former Gov. Doug Ducey, said continuing to miss those deadlines could affect the state's credit rating and jeopardize federal funding.
"University financial aid could be at risk; some of our bond issuances, certainly; and managing federal funds," Gress said. "The federal government delegates auditing authority to the auditor general on its behalf to ensure these dollars are being spent in accordance with federal regulations, and when we are delayed…it really throws into question the federal government's ability to count on the State of Arizona to do the job." 
The Auditor General's Office said the delays are due to the fact that the Arizona Department of Administration and other state agencies repeatedly missed deadlines, some by as many as 300 days, to file needed information with the auditor general between 2020 and 2023.
State agency directors told Arizona's Joint Legislative Audit Committee that the delays are rooted in the COVID-19 pandemic, when many routine government functions ground to a halt or were interrupted. The influx of federal funds sent to states in response to the pandemic also compounded the situation, because it substantially increased agencies' financial reporting workload. 
"That was all sort of a confluence of events that has sort of built up over time, because when you're … late one year, you get a late start to the next year, and it sort of builds if you're not dedicating enough resources to tackle that problem," said Catcher Baden, Gov. Katie Hobbs' deputy director of legislative affairs.
For example, Angie Rodgers, executive deputy director of the Arizona Department of Economic Security, said the department's expenditures from federal awards increased from $2 billion in 2019 to over $12 billion in 2021.
She said some of those new funds were used to set up new programs, which have their own financial reporting requirements. 
Bartlett said federal officials gave states a six-month grace period in the wake of the pandemic, though Arizona missed those extended deadlines, as well. She said the feds no longer plan to extend the March deadline.
But she emphasized the state has been in a similar situation before in 2015 and 2016 and was able to get back on schedule.
And the state agencies said they have plans to correct the issue, including assigning staff to focus on providing information on time to the auditor general.
ADOA Executive Deputy Director Elizabeth Alvarado-Thorson said her office will work to foster more consistent communication with departments and plans to implement a new tracking system for agencies.
Baden also said the governor's office is using $890,000 in federal funds to help agencies hire more help.
Gress said he is encouraged by the attention Hobbs is giving to the issue. 
"They have a big lift ahead of them on the single audit and getting on schedule, but I believe that the Governor allocating nearly $1 million in resources is a good first step," Gress said.
Ashley Retsinas, an assistant director at ADOA, told the committee the agencies believe their plans will allow them to get back on schedule in time to issue the financials for the 2024 fiscal year.
But Perry said it is too soon to tell if the agencies' efforts will give the Auditor General's Office  enough time to prepare future audits by the federal deadline, as it works to complete the fiscal year 2023 audit that is 10 months behind schedule.
"We look forward to continuing that progress in fiscal year 2023, but until we receive information on time and it's accurate, I don't know what fiscal year 23 will look like to even answer what fiscal year 24 will look like," Perry said.