Arizona vs. Washington: Promo Codes, Betting Trends, Record ATS, Home/Road Splits – September 30
The No. 7 Washington Huskies (4-0) take the third-ranked scoring offense in college football into a matchup with the Arizona Wildcats (3-1), who have the No. 22 scoring defense, on Saturday, September 30, 2023. The Huskies are massive, 18.5-point favorites. The over/under for the game is set at 65.5.
On offense, Washington has been a top-25 unit, ranking third-best in the FBS by averaging 49.8 points per game. The Huskies rank 26th on defense (17 points allowed per game). Arizona is compiling 450.5 total yards per contest on offense this season (31st-ranked). Meanwhile, it is allowing 314.3 total yards per contest (37th-ranked).
Watch live sports and more on Fubo! Use our link to sign up for a free trial.
Sportsbook Promo Codes
Arizona vs. Washington Game Info
Game Date: Saturday, September 30, 2023
Game Time: 10:00 PM ET
Location: Tucson, Arizona
Venue: Arizona Stadium
TV Channel: Pac-12 Network
Washington vs Arizona Betting Information

| Favorite | Spread | Favorite Spread Odds | Underdog Spread Odds | Total | Over Total Odds | Under Total Odds | Favorite Moneyline | Underdog Moneyline |
| --- | --- | --- | --- | --- | --- | --- | --- | --- |
| Washington | -18.5 | -110 | -110 | 65.5 | -110 | -110 | -1000 | +650 |
Looking to place a bet on Arizona vs. Washington? Head to BetMGM using our link to unlock a new user bonus!
Week 5 Pac-12 Betting Trends
Arizona Betting Records & Stats
Arizona is 2-1-0 against the spread this year.
None of Arizona's three games with a set total this year have hit the over.
Arizona lost the only game it has played as the underdog this season.
Arizona has not been a bigger underdog this season than the +650 moneyline set for this game.
Bet on Arizona to win this matchup now with BetMGM!
Arizona Stats Leaders
Jayden de Laura has put up 1,069 passing yards, or 267.3 per game, so far this season. He has completed 69.6% of his passes and has tossed nine touchdowns with five interceptions. He's also helped out on the ground with 32.8 rushing yards per game while scoring as a runner three times.
Michael Wiley is his team's leading rusher with 40 carries for 176 yards, or 44 per game. He's found paydirt one time on the ground, as well. Wiley has also chipped in with 15 catches for 132 yards.
Jonah Coleman has racked up 20 carries and totaled 176 yards while also gaining 110 yards through the air with one touchdown.
Tetairoa McMillan leads his squad with 341 receiving yards on 21 receptions with three touchdowns.
Jacob Cowing has caught 27 passes and compiled 231 receiving yards (57.8 per game) with three touchdowns.
Tanner McLachlan's 10 targets have resulted in 10 receptions for 163 yards and one touchdown.
Taylor Upshaw has 3.5 sacks to pace the team, and also has three TFL and six tackles.
Jacob Manu is the team's leading tackler this year. He's amassed 27 tackles, two TFL, and three sacks.
Not all offers available in all states, please visit BetMGM for the latest promotions for your area. Must be 21+ to gamble, please wager responsibly. If you or someone you know has a gambling problem, contact 1-800-GAMBLER.
© 2023 Data Skrive. All rights reserved.

Northern Arizona vs. Abilene Christian College Basketball Predictions & Picks – December 6
Wednesday's game between the Abilene Christian Wildcats (3-5) and Northern Arizona Lumberjacks (3-5) squaring off at Teague Center has a projected final score of 72-68 (based on our computer prediction) in favor of Abilene Christian, who is listed as a small favorite by our model. The game will start at 8:00 PM ET on December 6.
There is no line set for the game.
Watch live college basketball games from all over the country, plus ESPN originals and more NCAA hoops content on ESPN+!
Northern Arizona vs. Abilene Christian Game Info & Odds
Date: Wednesday, December 6, 2023
Time: 8:00 PM ET
TV: ESPN+
Live Stream: Watch this game on ESPN+
Where: Abilene, Texas
Venue: Teague Center
Place your bets on any college basketball matchup at BetMGM, and sign up with our link for a first-time deposit bonus!
Northern Arizona vs. Abilene Christian Score Prediction
Prediction:
Abilene Christian 72, Northern Arizona 68
Spread & Total Prediction for Northern Arizona vs. Abilene Christian
Computer Predicted Spread: Abilene Christian (-4.6)
Computer Predicted Total: 140.1
Abilene Christian has a 3-5-0 record against the spread this season compared to Northern Arizona, who is 5-3-0 ATS. The Wildcats have a 6-2-0 record hitting the over, while games involving the Lumberjacks have a record of 1-7-0 when it comes to hitting the over.
Sportsbook Promo Codes
Bet on this or any college basketball matchup at BetMGM
Northern Arizona Performance Insights
The Lumberjacks put up 64.0 points per game (344th in college basketball) while allowing 73.5 per contest (236th in college basketball). They have a -76 scoring differential and have been outscored by 9.5 points per game.
Northern Arizona is 342nd in the nation at 28.1 rebounds per game. That's 5.7 fewer than the 33.8 its opponents average.
Northern Arizona makes 6.4 three-pointers per game (266th in college basketball) at a 29.5% rate (305th in college basketball), compared to the 5.0 per game its opponents make, at a 25.3% rate.
Northern Arizona has committed 13.5 turnovers per game (296th in college basketball) while forcing 14.0 (76th in college basketball).
Rep your team with officially licensed college basketball gear! Head to Fanatics to find jerseys, shirts, and much more.
Not all offers available in all states, please visit BetMGM for the latest promotions for your area. Must be 21+ to gamble, please wager responsibly. If you or someone you know has a gambling problem, contact 1-800-GAMBLER.
© 2023 Data Skrive. All rights reserved.
Accounting firm buys Arizona Republic office building in downtown Phoenix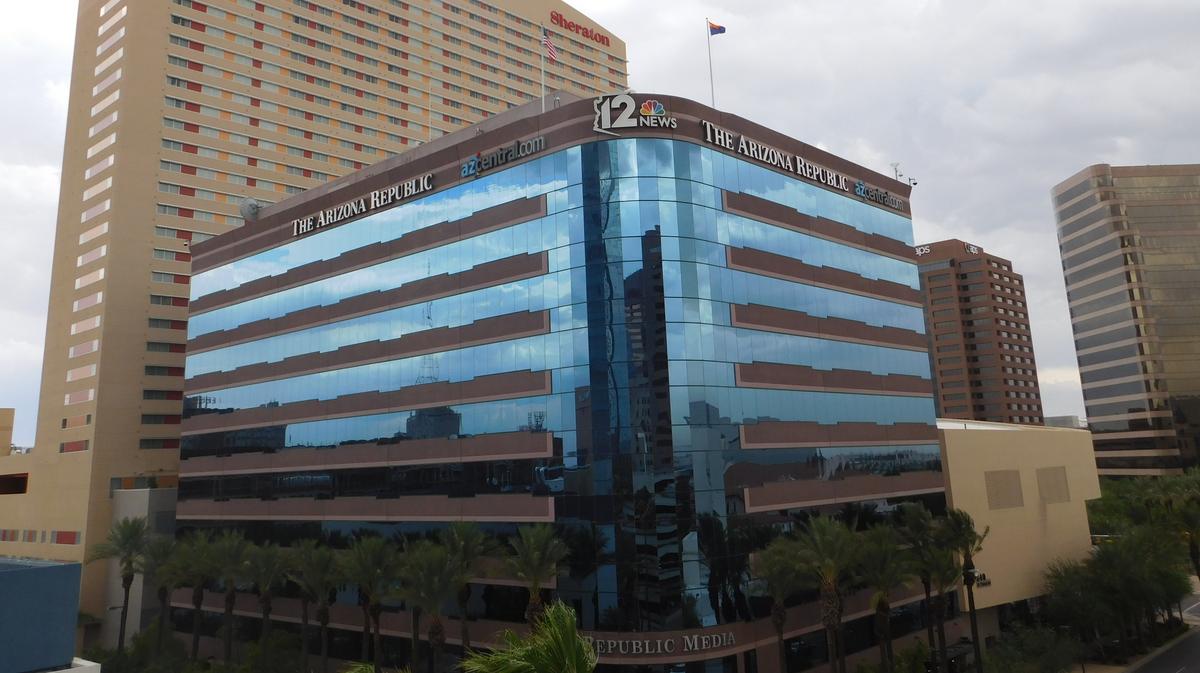 Five years after the parent company of the Arizona Republic sold the 10-story office tower, a local developer has sold off the building to a Phoenix accounting firm. Here's what the accounting firm has planned as it takes ownership of the high-profile property.
'Arizona's Beach' cut off by border closure in Lukeville
PHOENIX – Puerto Peñasco tourism screeched to a halt Monday after U.S. border officials closed the main port of entry between Phoenix and the Mexican town known as "Arizona's Beach."
U.S. officials announced plans Friday to close the Lukeville Port of Entry indefinitely so resources could be focused on dealing with a surge of illegal crossings in the area.
Keith Allen of the Peñasco Business Coalition said visitors from Arizona fled Puerto Peñasco over the weekend, before the closure went into effect, to avoid a potentially lengthy detour.
"It has only literally been hours since the border's been closed this morning, but the town of Peñasco, from what I understand, is totally dead right now," Allen told KTAR News 92.3 FM on Monday morning.
Allen, who works in Mexico as director of sales for the Encantame Towers condo development, said there's been a "slew of cancellations" for upcoming rentals, making Americans who own property in the area "very nervous."
Why is Puerto Peñasco known as Arizona's Beach?
The drive from Phoenix to Puerto Peñasco, also known as Rocky Point, typically takes about 3 hours and 45 minutes through the Lukeville crossing at the southern point of State Route 85.
Allen said a majority of the beachfront homes and condos in the Puerto Peñasco area are owned by Americans.
"It is known as Arizona's Beach," he said. "And why? Because it's so close to drive to, it's more economical."
With Lukeville closed, the next shortest drive goes through the San Luis Port of Entry, near Yuma, adding about 150 miles and 2-3 hours to the trip, depending on conditions.
On top of that, increased traffic at the San Luis crossing could create additional delays at the border. Travelers can check wait times on the U.S. Customs and Border Protection website and plan for delays. The wait was 40-50 minutes longer than average at midday Monday.
"Please be patient with us. We're doing the best we can with what we have and we're trying to assist Border Patrol as well," Edith Serrano, public affairs liaison for CBP, told KTAR News.
How does Lukeville Port of Entry closure hurt Arizonans?
The area around the desert crossing at Lukeville has become a major migration route in recent months, with smugglers dropping off people from countries as diverse as Senegal, India and China. Most of them are walking into the U.S. west of the port of entry through gaps in the wall, then head east toward the official border crossing to surrender to the first agents they see in hopes for a chance at asylum.
CBP didn't provide a timeline for how long Lukeville would be closed.
Arizona Gov. Katie Hobbs told reporters Monday morning she was "extremely frustrated" with the situation.
"This is a bad decision that impacts our border security. It hurts our economy because it's a putting a damper on trade and tourism," Hobbs said.
Allen said the economic impact of the closure will be felt on both sides of the border because so many Americans own real estate in Puerto Peñasco and rely on rental income.
"If this were to continue, people start putting their units on the market, flooding the market and devaluing everyone's equity," he said. "And, so, there's a huge ripple effect from this closure that I don't think a lot of people realize."
KTAR News 92.3 FM's Heidi Hommel and The Associated Press contributed to this report.
We want to hear from you.
Have a story idea or tip? Pass it along to the KTAR News team here.