Week 5 college football preview: USC heads to Boulder; Duke gets the big stage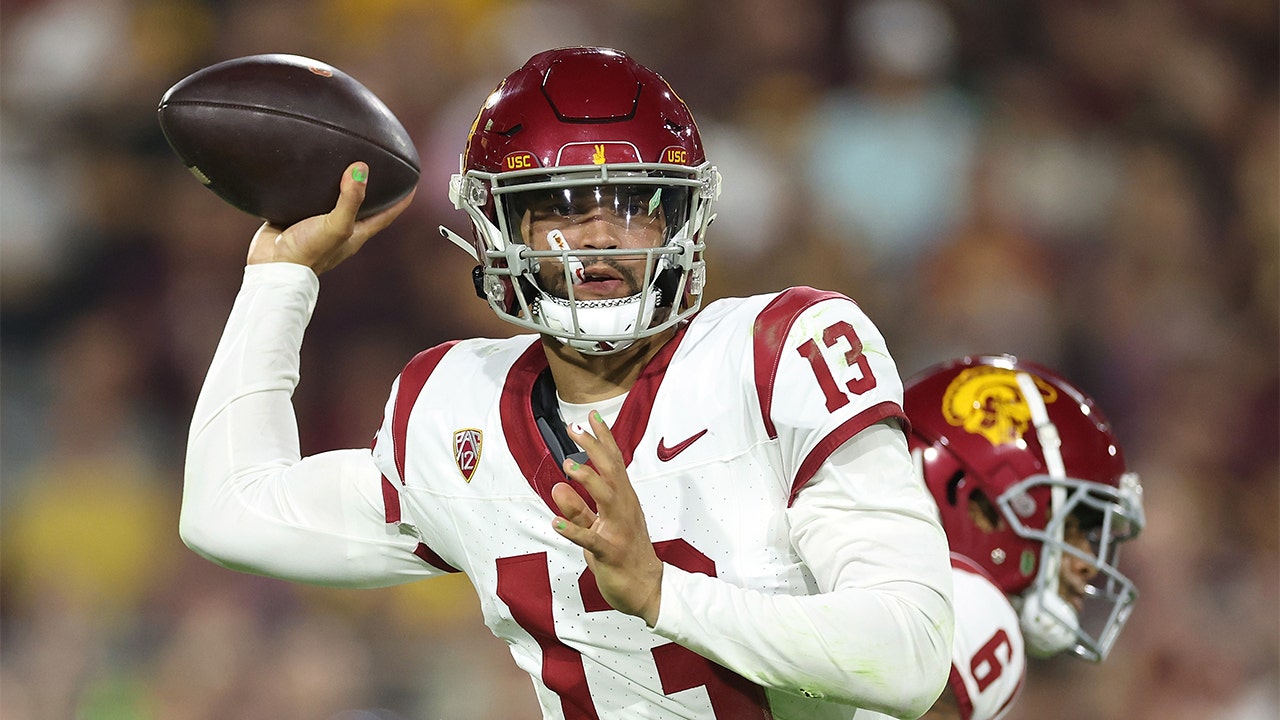 College football fans may just now be recovering after an electric Week 4 slate. 
With six Top 25 games on the schedule, fans of the sport could watch high-caliber matchups deep into the night. 
While Week 5 does not have the volume of Top 25 games on the schedule, there are massive implications in a number of matchups. 
The Colorado Buffaloes are looking to prove their 3-0 start under Deion Sanders is more indicative of where they're heading than the smackdown Oregon laid on them in Week 4, Texas is attempting to avoid a classic "trap game" before facing Oklahoma next week, and Duke has a chance to start the year 5-0 for the first time since 1994. 
TIM BRANDO DISHES ON DEION SANDERS' COLLEGE FOOTBALL IMPACT, SUGGESTS MEDIA COVERAGE MISSES MARK
College football fans will learn a thing or two on the last Saturday of September. 
Let's take a look at a few games to be aware of in Week 5.
Colorado vs. No. 8 USC – Noon ET
The Buffaloes face their first test of adversity after being blown off the field by the Oregon Ducks in Week 4. 
Colorado was completely outmatched in Deion Sanders' Pac-12 debut, heading into halftime down 35-0. 
"Good old-fashioned butt-kicking," Sanders said afterward. "No excuses, no nothing."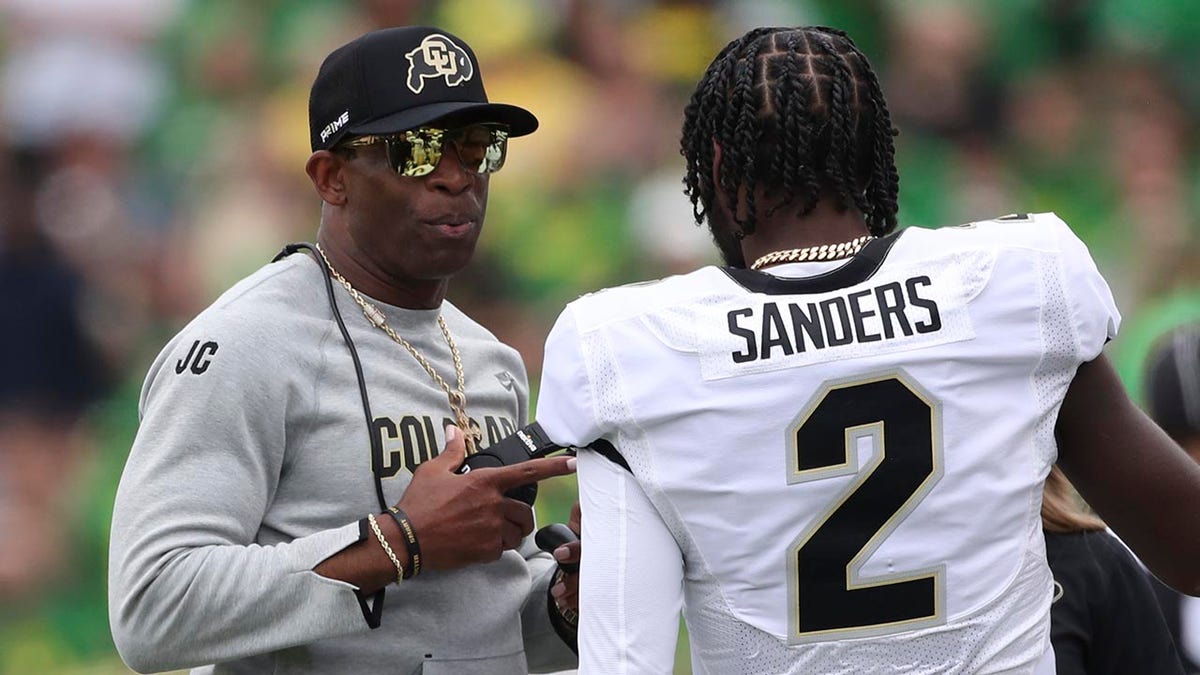 It doesn't get any easier this week for the Buffaloes as they welcome the reigning Heisman Trophy winner to Boulder for a 10 a.m. MT kickoff. 
Caleb Williams and USC are coming off a relatively unimpressive victory over ASU. The Trojans lead the country in points per game (55.0) and are third in the nation in yards per game (569.3). 
JETS' AARON RODGERS SAYS DEION SANDERS 'CREATED A LOT OF BUZZ' THAT CAUSED SOME TO WANT TO SEE HIM 'FALL
"The kid is a playmaker," Sanders said of Williams. "He's the epitome of class and confidence in what he brings to the table. He makes plays. He makes that team go. He's a handful."
Colorado's defense has struggled — to put it mildly — in the first four weeks, allowing the most points and yards per game in the Pac-12. 
But Colorado has playmakers on the offensive side of the ball, and USC's defense has been an issue since Lincoln Riley took over.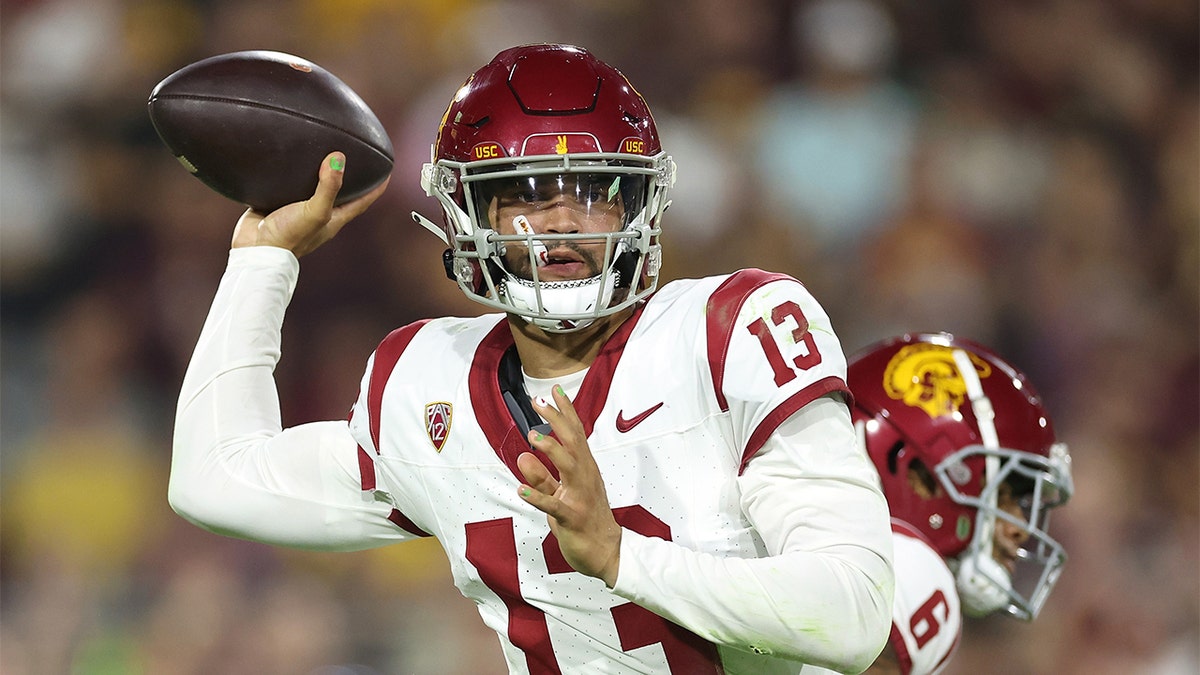 "We know their offense can light you up and put 40 on the board in a heartbeat, but is that defense against a quality opponent that has its fair share of playmakers, are they gonna stand up and makes plays?" Fox Sports' Tim Brando told Fox News Digital said of USC. 
USC's defense has shown improvement through four games this season, allowing 364.5 yards per game after ending the 2022 season allowing 415.1 yards per game.
The Trojans are heading into the difficult part of their schedule, playing Arizona in Week 6 before heading to No. 11 Notre Dame and playing No. 10 Utah at home. 
No. 3 Texas vs. No. 24 Kansas – 3:30 p.m. ET
Not many have paid attention to the Jayhawks in the early weeks of the season, but Kansas is one of just three Big 12 schools that remain undefeated after four weeks. 
The other teams? Oklahoma and Texas, two schools that play their last season in the conference before heading to the SEC in 2024. 
Kansas now has an opportunity for a statement win while ending the narrative that Texas is "back" after defeating Alabama in Week 2.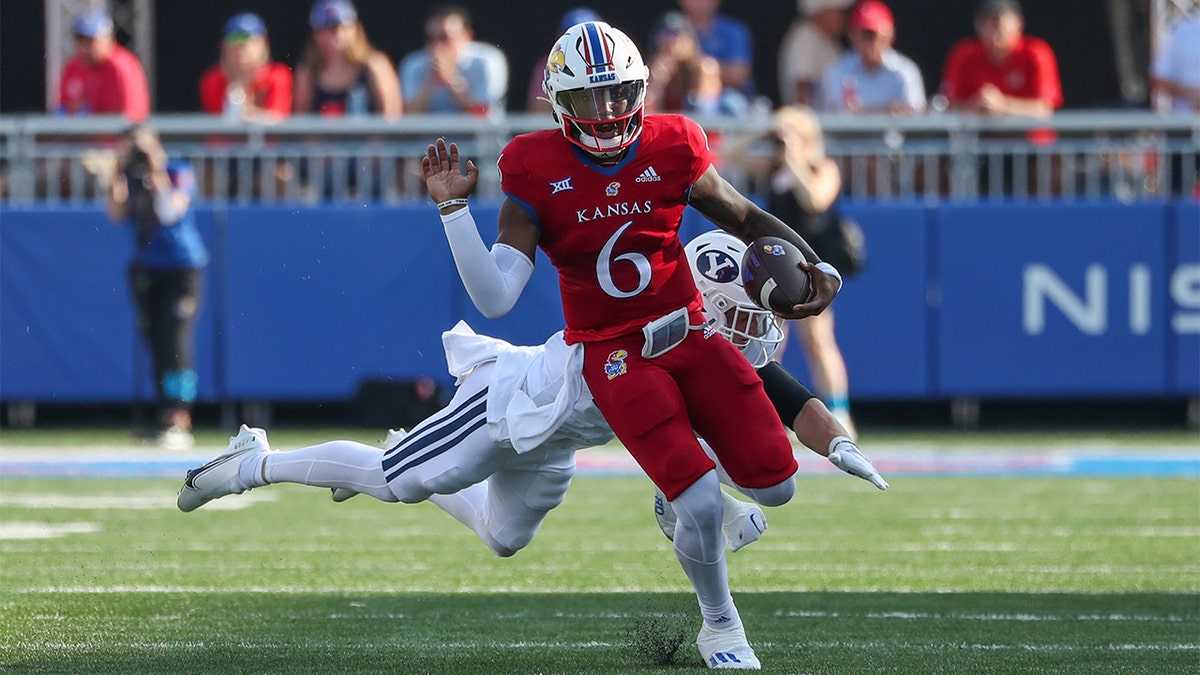 The Jayhawks have scored 30-plus points in five straight games — their longest streak since 2009, per ESPN — and quarterback Jalon Daniels is off to a nice start to the season. 
Daniels, the preseason Big 12 Offensive Player of the Year, has thrown for 705 yards, five touchdowns and one interception in three games. 
TRAVIS HUNTER, HENRY BLACKBURN APPEAR TO BURY HATCHET AFTER BRUTAL HIT
Steve Sarkisian has his Longhorns riding high as they look for their best start since 2009, according to The Daily Texan. 
The Texas defense, which was second best in the Big 12 in 2022, is allowing just 12.5 points per game in 2023.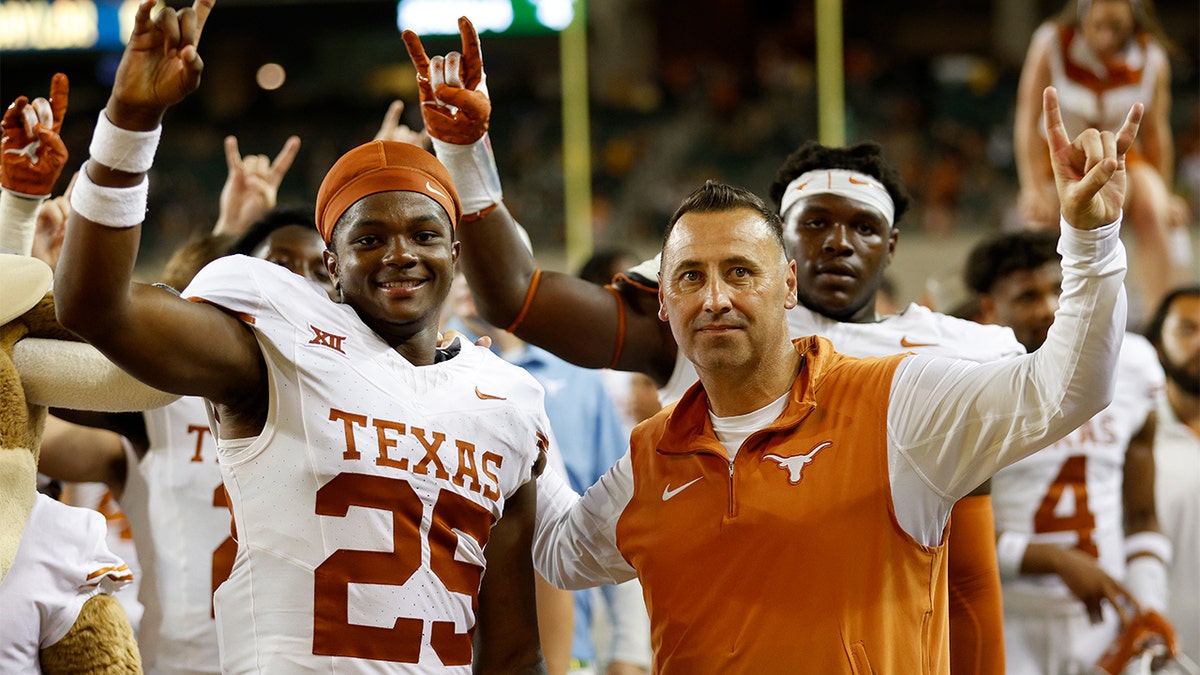 "It's three years in the making of putting a staff together, putting a scheme together, making adjustments to that scheme," Sarkisian said, according to CBS Sports. "I think we've added depth to the roster on the defensive side of the ball at all three levels. I think we have a really good veteran leadership on defense. And now what comes with that is confidence." 
Quarterback Quinn Ewers completed 18 of 25 passing attempts for 293 yards and a touchdown against Baylor in Week 4. 
No. 20 Ole Miss vs. No. 13 LSU – 6 p.m ET
Ole Miss lost its SEC opener while LSU needed a last-second field goal to beat Arkansas in Week 4. 
Neither team can afford a second regular-season loss as LSU heads to Oxford, Mississippi, in an SEC West battle. 
The Ole Miss offense managed just 56 yards on the ground and 10 points against Alabama after averaging 52.6 points per game through the first three weeks. In 2022, Ole Miss led the SEC in rushing yards per game (256.6), but the Rebels are averaging 146.8 yards per game in 2023. 
MICHIGAN'S BLAKE CORUM MAKING AN IMPACT OFF THE FIELD, REALIZES BIGGER PURPOSE THAN FOOTBALL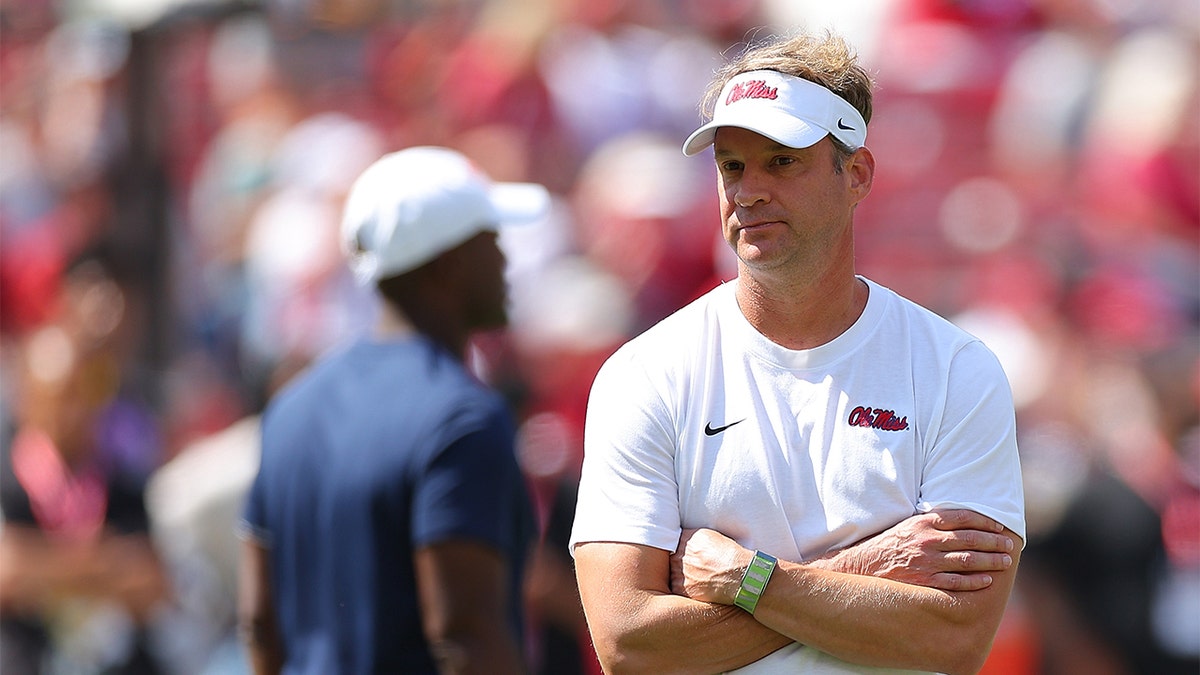 "We've got to get better. Got to coach better, involve different schemes, different things," Ole Miss head coach Lane Kiffin said Monday, per 247 Sports. "Sometimes the running game is interesting. You'll have these games, and then all of a sudden they'll pop, and you'll have a bunch of explosive runs. We've just got to all go to work and figure out a way. It's not like we're a program that hasn't ever ran the ball or hasn't known how to run the ball. It would be really good to get back to that."
LSU is led by quarterback Jayden Daniels, who is steering the top offense in the SEC (530 yards per game).
"I would argue maybe the hottest offense in the country," Kiffin said of LSU.
Another loss by LSU would almost certainly end their College Football Playoff hopes. 
No. 17 Duke vs. No. 11 Notre Dame – 7:30 p.m. ET
"All eyes are on the Duke Blue Devils" is something you'd expect to hear in March, not late September. 
Duke football is looking for its first 5-0 start to a season since 1994 as Notre Dame and ESPN's "College Gameday" comes to town. 
"I did not take the job with the hope and expectation that we could be a middle-of-the-road program," Duke head coach Mike Elko said, per ESPN. "That's not who I am. Did I anticipate in Game 5 of Year 2, that we would be on this stage? No, of course not. That is a credit to our kids, and what they bought into and how hard they've worked. What it's doing is it's allowing us to expedite the process of building the brand of football to the level that we hope that we could get to."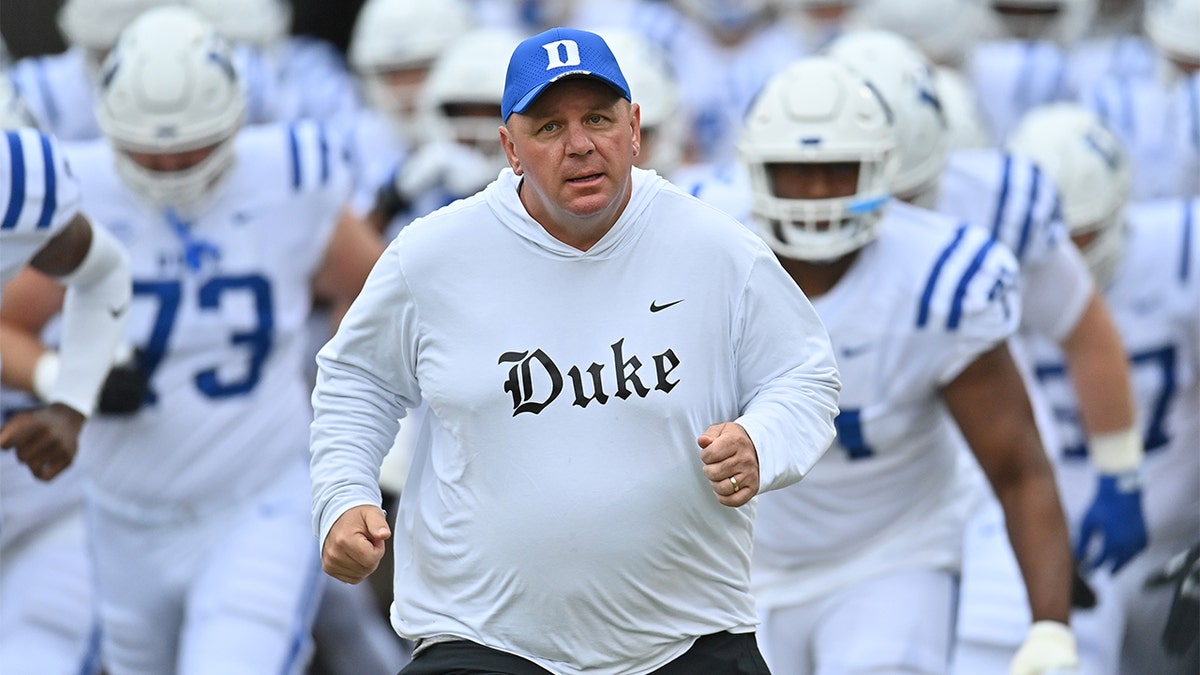 MICHIGAN STATE MAKES MEL TUCKER FIRING OFFICIAL, SAYS HE BROUGHT 'CONTEMPT AND RIDICULE UPON THE UNIVERSITY'
Through four games, the Duke defense has allowed just five touchdowns for an average of 8.8 points per game, tied for fourth in the country. 
"The thing that you respect is how hard they play," Notre Dame coach Marcus Freeman said. "They're aggressive. They play extremely hard, and they're sound. They're not exotic. They don't do crazy things on defense, but they play fast, and they play hard, and they tackle well."
Freeman leads his team to Durham after a brutal last-second loss to Ohio State. 
Quarterback Sam Hartman is third in the country in touchdowns (14) as he navigates a balanced Fighting Irish offense.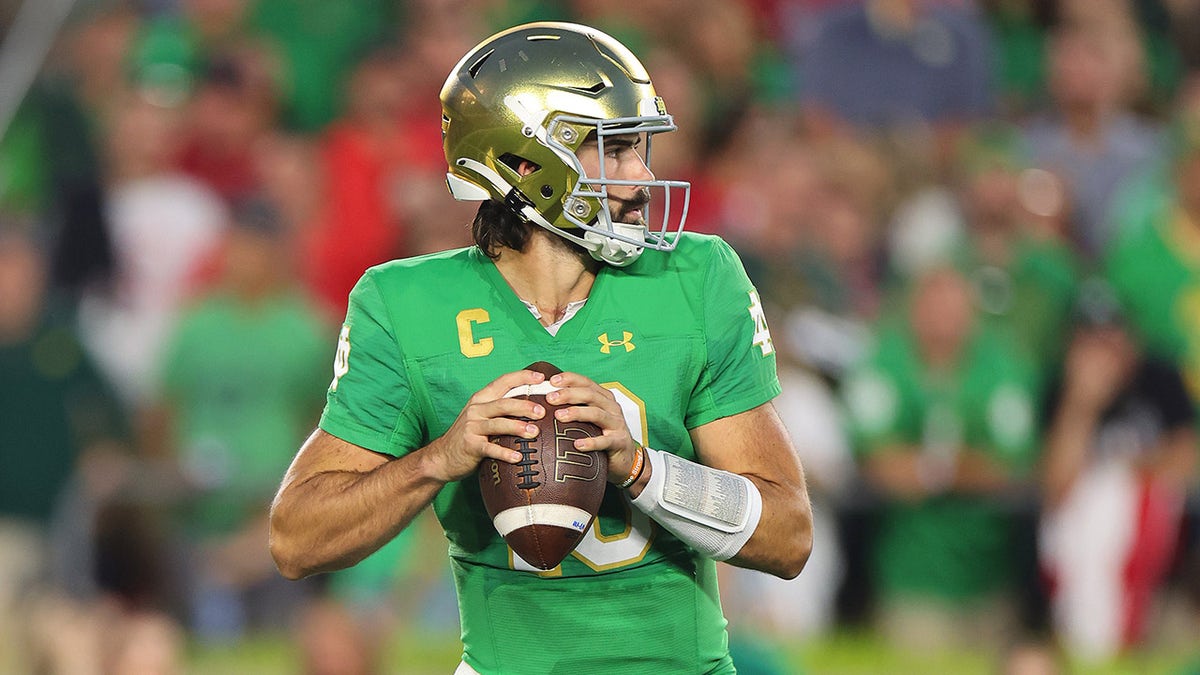 Hartman played against the Blue Devils in each of the past two seasons as a member of Wake Forest. 
"We're very familiar with Sam and who he is as a quarterback and what he's capable of doing," Elko said.
No. 21 Tennessee vs. South Carolina – 7:30 p.m. ET
The Vols are looking for revenge after Spencer Rattler and the Gamecocks ended Tennessee's hopes of a College Football Playoff berth in 2022. 
The Vols rolled into Columbia last season and were blown out 63-38, also losing Hendon Hooker to a torn ACL. 
Joe Milton III now gets his shot at the Gamecocks as both teams try to avoid a second SEC loss. 
Rattler threw for 438 yards and six touchdowns in last year's blowout win. The Tennessee defense will key on the passing offense of South Carolina as the Gamecocks are rushing for just 75.8 yards per game – last in the SEC – while leading the conference in passing yards (340 per game).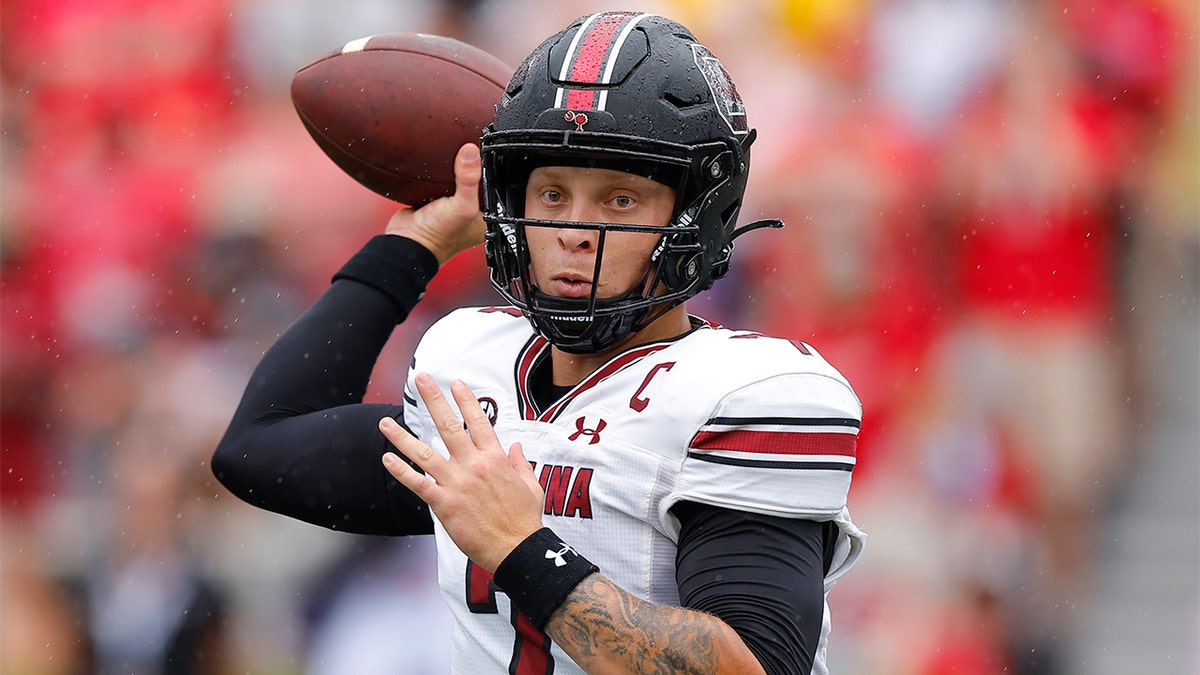 "He's a really good player. He's played at a high level. He's played a lot of football," Tennessee head coach Josh Huepel said of Rattler Monday, according to On3. "He's playing extremely well right now. He was dynamic in that football game, but he has that in his arsenal. And, for us, the line of scrimmage is important. And we gotta do a really good job. We gotta get him in third and longs. 
"Last year, we didn't get off the field in third and longs. And some of that was coverage. Some of that was him extending and making some really special plays. We gotta do a great job of bottling them up and applying pressure at the same time."
Gamecocks wide receiver Juice Wells, who had 177 receiving yards in last year's win over Tennessee, will miss his second straight game with a foot injury. 
The Tennessee offense is getting it done on the ground, leading the SEC in rushing yards per game with 229.5. The Vols have won 11 straight games at Neyland Stadium.
The Associated Press contributed to this report

Dolphins 'Hard Knocks' shows emotional moment Jaelan Phillips tore Achilles: 'No f—ing way, bro!'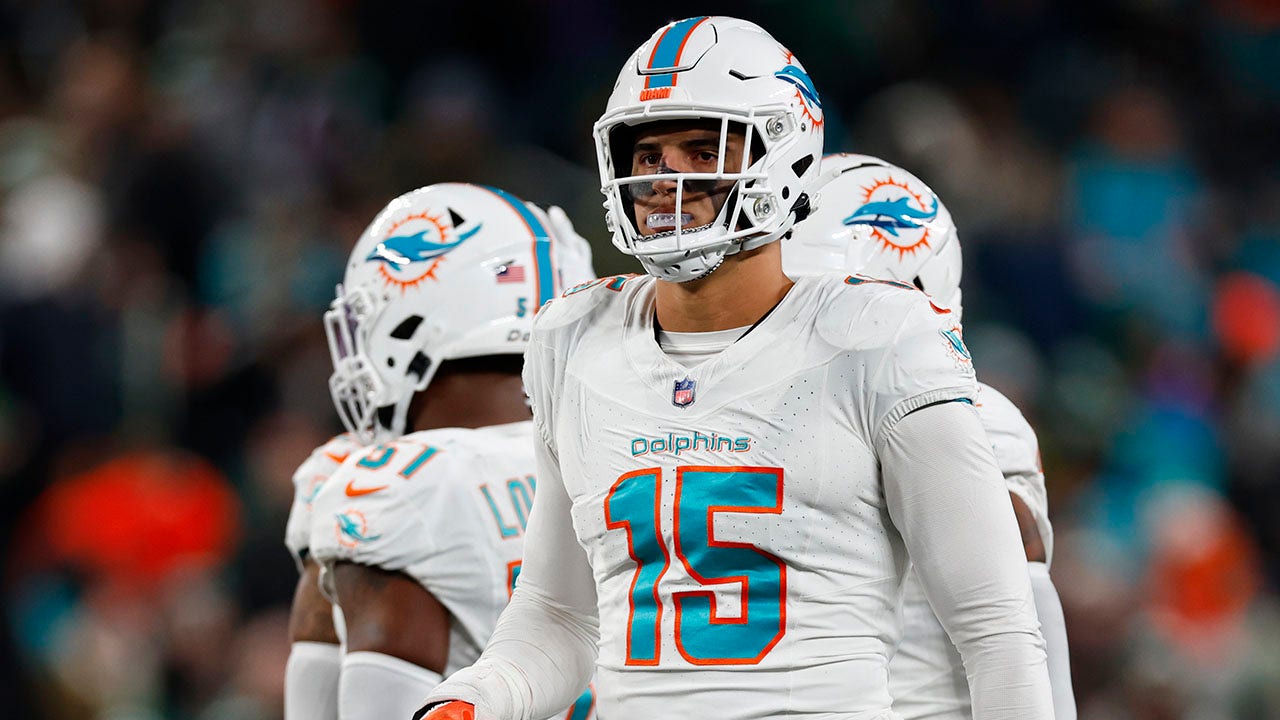 Miami Dolphins budding star pass rusher Jaelan Phillips was enjoying a breakout season when he entered MetLife Stadium to face the New York Jets on Black Friday. But he left the field prematurely with a season-ending Achilles injury, one that was captured by HBO's and NFL Films' cameras for "Hard Knocks." 
As you'd expect in that moment, raw emotion was all over Phillips' face as he came to terms with what happened on the turf in real time.
Phillips was having a great game prior to going down, securing a sack and four tackles, two of which were for losses. But he was looking to finish strong and padding those stats in what became a blowout victory for Miami. 
But when he went to burst off the line of scrimmage, something Phillips said he's done 1,000 times before, he immediately felt a pop in his right ankle. Phillips hit the deck and that's when everything started to set in. 
"I think my s— popped," Phillips told a teammate, as he was mic'd up for the game. "My Achilles. I think my Achilles popped bro."
FROM OUTKICK: PRO FOOTBALL HALL OF FAME SEMIFINALISTS INCLUDES TWO FIRST-BALLOT POSSIBILITIES
"No, no, no, you're all right," the teammate responded. 
As Phillips laid on the turf, the Dolphins' medical staff rushed out to see what was wrong. Watching a non-contact injury, everyone on the sideline likely feared it was something serious. 
"I felt like someone f—ing shot me in my f—ing Achilles," Phillips told a trainer. "I thought someone stepped on me. No f—ing way, bro! There's no f—ing way."
Phillips sat up while trainers continued to work on him, and that's when all the emotion came pouring out of Phillips. All the hours training in the offseason, battling with teammates at camp, fighting side by side in the regular season with the hopes of winning a Super Bowl were snatched away on one play.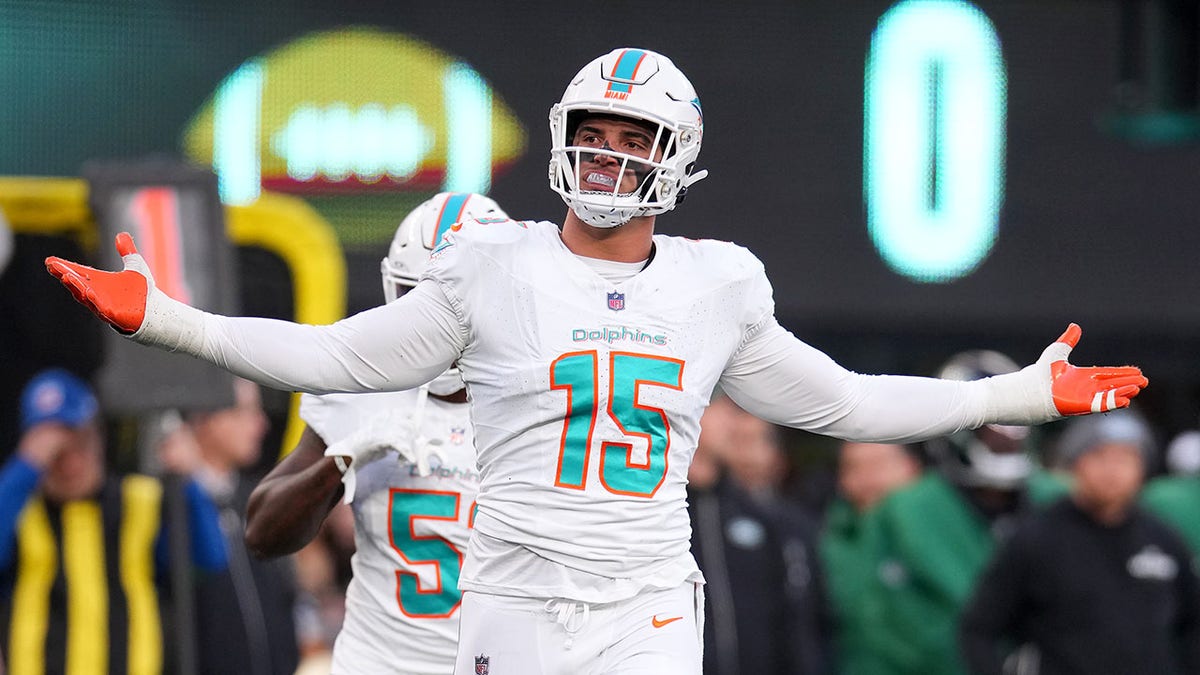 "Hey, you're OK. Hey, buddy, you're OK," head coach Mike McDaniel said as Phillips was crying. 
Phillips was placed on a medical cart with the entire Dolphins team surrounding him and showing their support. The stadium applauded Phillips as he held a towel over his eyes, still emotional about how his 2023 season came to an abrupt end. 
Phillips underwent surgery to repair his Achilles on Tuesday. "Hard Knocks" showed Phillips in the Dolphins' training room the next day, rolling around on a supportive scooter to keep his right leg off the ground. He was in better spirits, as he looked ahead, knowing he has a fantastic support system around him with rehab in the coming months. 
"When I saw a clip after the game of my whole entire team surrounding me on the field, I mean, that just means everything to me," he said. "My mom was crying on Dan Marino's shoulder. You know, they were there for me, not just me, but my family as well.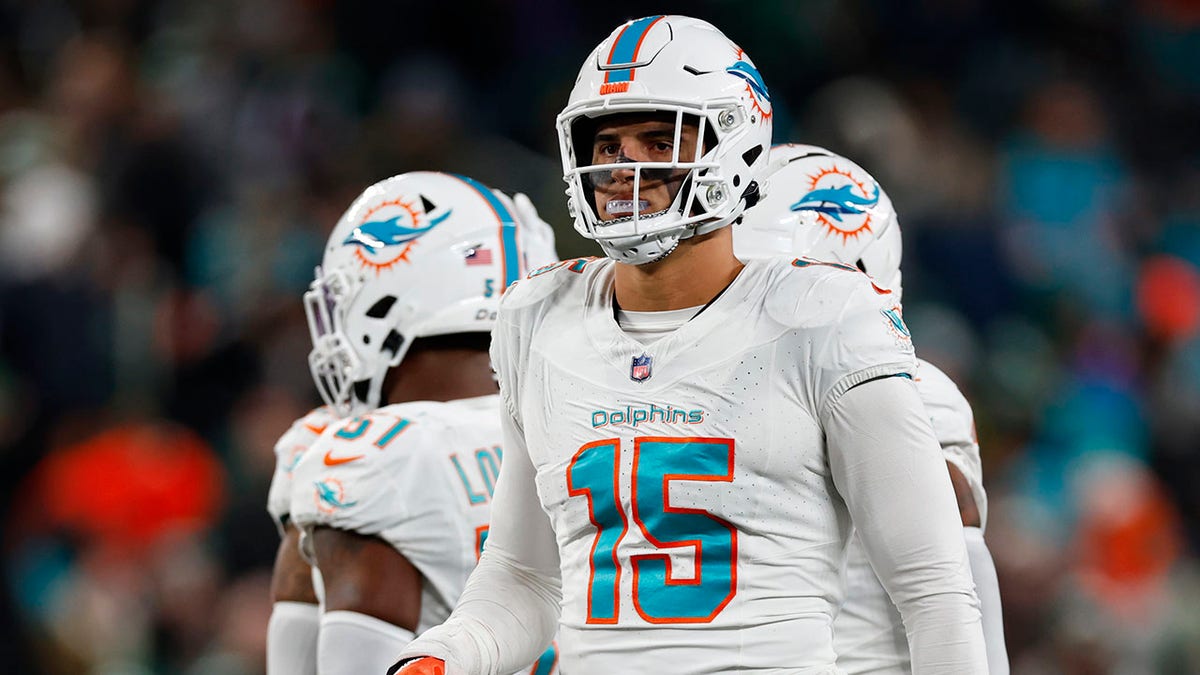 "When this is all said and done, it's going to make me a stronger person because of it. I'm just trying to keep that positive mindset and start to attack rehab. It's going to be a long process, but I just know that, yeah, I'm a fighter. I'm going to keep fighting."
Top high school football games in the Southland for regional bowls
Analyzing the top high school football state playoff games this week:
FRIDAY
Birmingham (11-2) at Del Norte (11-2), 7:30 p.m.
The City Section Open Division champion Patriots have a lot to prove in the state playoffs. A 41-0 nonleague loss to Sherman Oaks Notre Dame in August still has people wondering whether Birmingham can win games outside the City Section. Quarterback Kingston Tisdell has grown immensely, making 162 pass attempts without an interception. Former NFL linebacker Nick Barnett is in his first season as head coach at Del Norte (11-2), and he has 34 seniors to rely on, including quarterback Jack Schneider, who has 23 touchdown passes. The pick: Birmingham.
Granite Hills (12-0) at Mission Viejo (11-3), 7 p.m.
Granite Hills is the San Diego Section Open Division champion with a 21-game winning streak. Freshman quarterback Zachary Benitez has shown he's a dual threat. Running back Max Turner has scored 16 touchdowns. The Diablos are no longer considered a young team in Week 15. They are showing how good they might be in 2024. Defensive lineman Jaden Williams has 15 sacks. The pick: Mission Viejo.
SATURDAY
St. Bonaventure (11-3) vs. St. Augustine (10-4) at Mesa College, 6 p.m.
The Seraphs won the Southern Section Division 3 championship and have balance on offense with quarterback Anthony Wolter and running back Koen Glover. St. Augustine is a young team with an aggressive defense led by Isaiah Hasten, who has seven interceptions. Jon Class had four sacks in the San Diego Division I final. The pick: St. Bonaventure.
Iowa's Cade McNamara takes subtle shot at former team ahead of Big Ten title game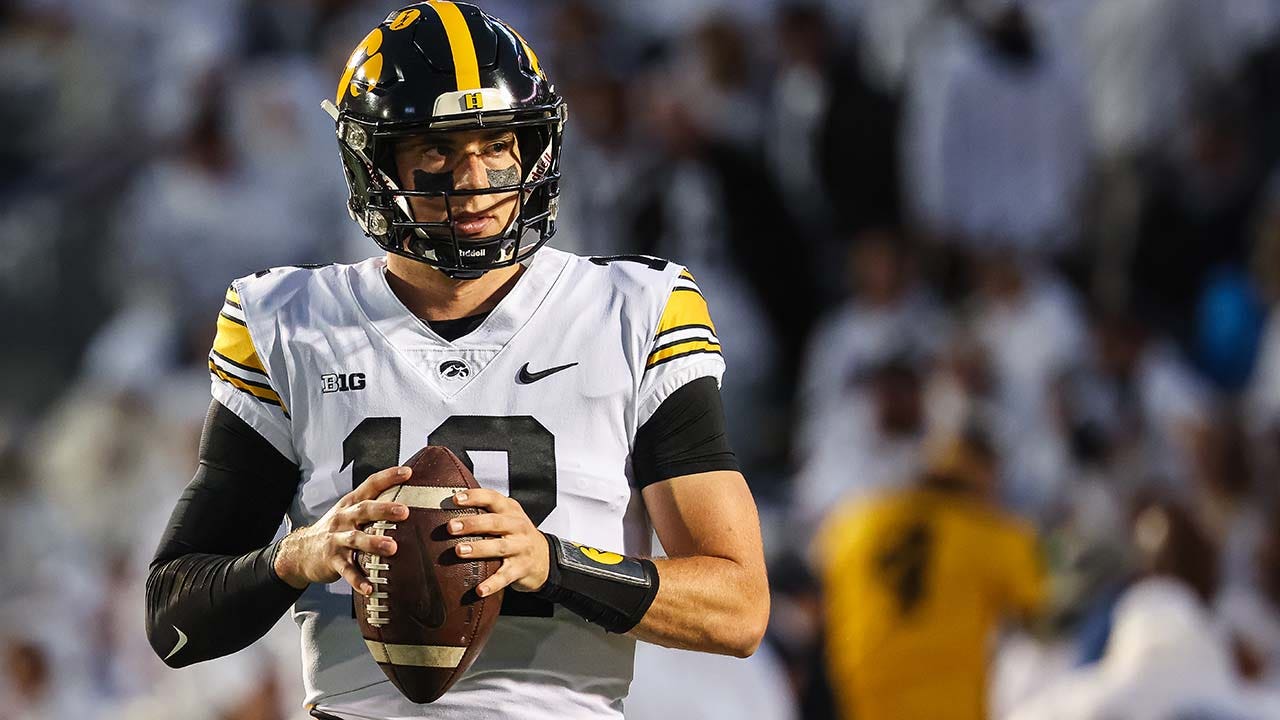 Iowa Hawkeyes quarterback Cade McNamara is in a unique position to help his team gain a little bit of an edge as the team gets set to take on No. 2 Michigan in the Big Ten Championship over the weekend.
McNamara played at Michigan for three seasons before he transferred to Iowa. He played five games for the Hawkeyes this season before suffering a devastating season-ending knee injury.
As Iowa started talking about the conference title game, McNamara surely ruffled some feathers with his words about the Wolverines.
"I think this week, specifically, I'm not just getting Deacon (Hill) ready, I'm getting the entire team, as much as I can, because I know so much about that other team that from a defensive standpoint, from an offensive standpoint, I'm just doing everything I possibly can from an entire team standpoint to just let these guys know everything that I possibly know," he said on "Talkin' Hawks with The VandeBergs."
FROM OUTKICK: WISCONSIN STAR BRAELON ALLEN ANNOUNCES QUESTIONABLE NFL DRAFT DECISION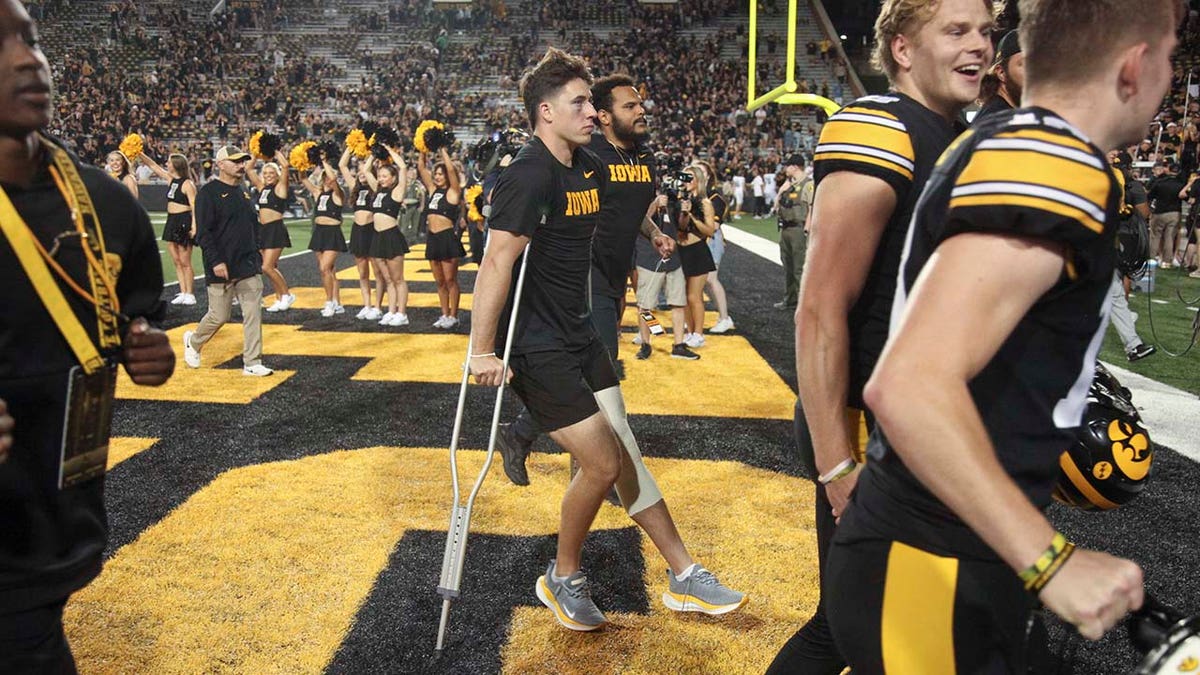 Michigan fans took to X to express their frustration with McNamara's comments, calling him bitter about losing his starting quarterback job to J.J. McCarthy.
However, there did not appear to be any ill-will because of that. McCarthy himself said the team had been anticipating seeing McNamara and Erick All.
WHAT COLLEGE FOOTBALL FANS LEARNED FROM WEEK 13: RIVALRY WEEK NEVER DISAPPOINTS
"It was obviously at the forefront of our minds at the beginning of the season to have that chance to play Cade and Erick again," McCarthy said, via The Gazette.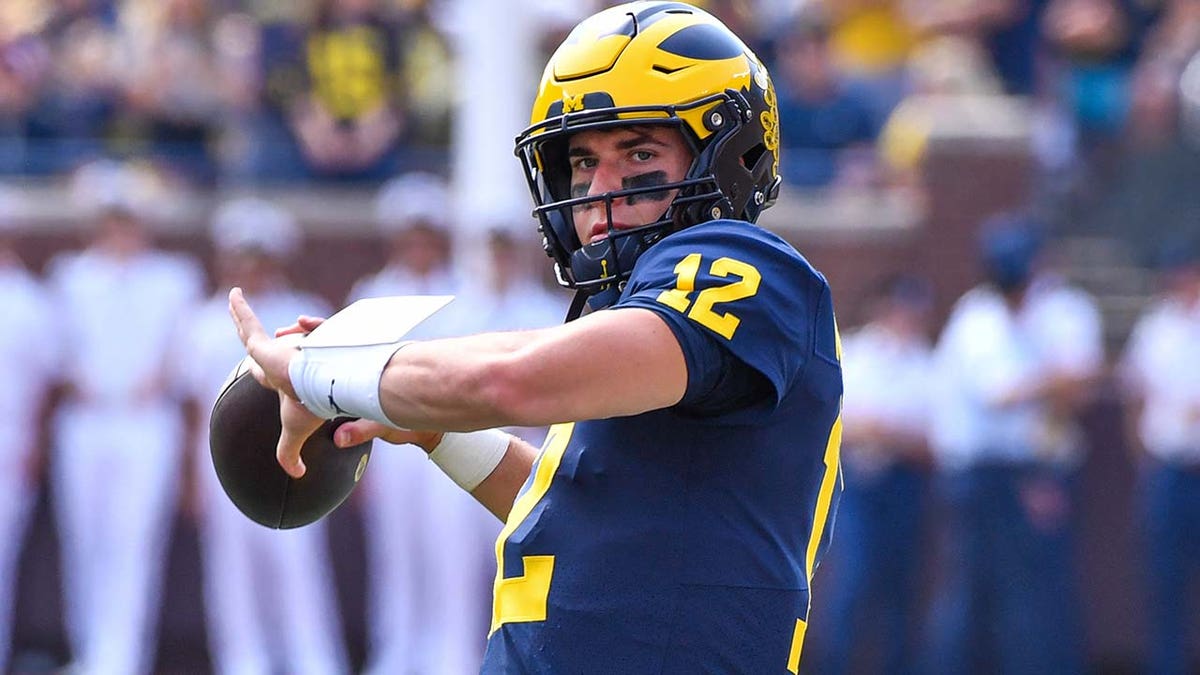 Iowa finished first in the Big Ten West with a 7-2 record against conference opponents and 10-2 overall.
The Hawkeyes' last win against Michigan came in November 2016. The Hawkeyes knocked off then No. 2 Michigan at Kinnick Stadium, 14-13. The Wolverines blew the Hawkeyes out 42-3 in the 2021 Big Ten Championship.