USC's Max Williams 'rewriting his story' in Arizona State matchup with brother
Macen Williams had big plans for 2018. Then a junior at Gardena Serra High, where his older brother Max was already a star senior, Macen envisioned a dominant season for the brothers who trained together their whole lives for a moment like this. Macen would cement his spot in the starting lineup and boost his recruiting profile. Max would put a perfect ending on a dominant four-year varsity career.
Then Max tore his anterior cruciate ligament during the season opener.
"I was really hurt," Macen said, "because there wasn't anything I was looking forward to more than balling out with my brother."
Five years later, the brothers get a final chance to share the field on the college level as Max's fifth-ranked USC Trojans visit Macen's Arizona State Sun Devils on Saturday at Mountain America Stadium.
The timing hasn't always been ideal for the siblings. They missed each other in 2020 while Macen redshirted. Max sat out in 2021 because of his second torn ACL.
Last year was the first time they faced off. After Max helped USC to a 42-25 win with four tackles, the brothers walked off the field shoulder-to-shoulder with their helmets in hand as their parents and younger brother met them for a long-awaited picture.
"It takes us back to childhood memories," said Max, a redshirt senior at USC. "Us working out together, competing against each other and now we compete against each other on different teams. It's an amazing feeling."
With three football-playing sons on different teams, it's not often the whole family can be together during fall. Maxzell Williams Sr. keeps a detailed chart of the football season, mapping each of his son's games: Max at USC; Macen, now a redshirt junior, at Arizona State; Marcelles at St. John Bosco High, where he is a senior cornerback committed to USC.
Max is primed to make the most of the rare family reunion. The redshirt senior safety is USC's top-ranked defender among players with more than 70 snaps, according to Pro Football Focus. He has nine tackles without missing a single attempt and grabbed USC's first interception of the season against Stanford.
Finally, "Mad Max" is back.
The former Serra star is the healthiest he's been since 2020, when he played in all six games of USC's pandemic-shortened season, starting three, with 22 tackles. It wasn't just that he suffered his second season-ending knee injury the next year, robbing him of a key breakout opportunity, he's also had three defensive coordinators and three head coaches during his tumultuous career.
Wanting to make a good first impression on the first-year coaching staff last season, Max fought through a sports hernia during spring camp and didn't undergo surgery until the summer. He was tied for the team-lead in tackles, but Maxzell could tell his son didn't have his normal level of explosiveness. It was most obvious late in the season when he missed five tackles in the final four games, according to Pro Football Focus.
With Max's mistakes on display for all to see at defensive back, fans dissected every disappointment on USC's struggling defense. Now fans are approaching Maxzell at the Coliseum to tell him they still remember that kid from Serra who electrified audiences with special teams highlights and tough tackling.
"He's rewriting his story," Maxzell said.
Maxzell trained his boys from a young age, lobbing footballs at Max in the front yard at age 4. As they grew into top prospects, training sessions got so heated that the brothers wouldn't talk for hours afterward if one dominated during a tough workout.
Competition was, and still is, ingrained in everything for the Williams family. H.O.R.S.E games in the garage on a mini basketball hoop get as boisterous as any football game. Maxzell says he wins. Max denies it.
"It's me," Max said, "don't let him tell you any different."
Macen is battling with Marcelles to stay out of the basketball basement. Macen even bought a hoop to keep at home in Tempe, Ariz., so he can practice for his next trip home.
"The competitiveness really shaped us into who we are," said Macen, who has three tackles in three games for the Sun Devils (1-2) this season.
All three were groomed to be defensive backs, said Maxzell, who played the position at El Camino College and Nevada. Since scoring his first touchdown at 5 years old, Max took to football immediately. He was undersized, but even as a scrawny 5-foot-8 freshman, Max earned a starting job at Serra.
Fans packed the stands to watch him play, standing in anticipation each time he fielded a punt off the bounce, gasping each time he broke through a tackle on the return and cheering when he scored. He tackled fearlessly on defense despite his smaller frame and caught passes on offense. Even some of Macen's current teammates hailing from as far as Alabama remember watching Max's high school highlights.
"Max was one of those people who was just good at everything," Macen said. "Like Shohei Ohtani, he's just good at everything for no reason."
Maxzell sees himself most in his middle son. They share a penchant for smack talk on the field, Maxzell said, and while Max and Marcelles enjoyed immediate success on the field at every level, Maxzell and Macen are underdogs who had to work for their achievements.
Macen, a 5-10, 180-pound cornerback, didn't break through at Serra until his junior year. As a senior three-star recruit, he transferred to Narbonne and committed to Arizona State.
After getting constantly overshadowed by his brother, Macen takes pride in any head-to-head win, like when they faced off in the 100 meters at the Culver City Invitational Relays in 2018. Macen, a sophomore, took first place. Max finished one-tenth of a second behind in second.
"I know that hurt him for sure," Macen said. "He might be a little quicker, but ain't no way he's faster than me."
While watching Macen attain success, it's still this brother's speed that stands out most, Max said. He's excited to watch Macen's career continue.
Finally getting to see Max play like the best version of himself again makes Macen most proud.
"It's so easy to be like, 'All right, I'm just going to give up,' but he never had that mind-set," Macen said. "He always fought. He's always been a fighter."
Max grabbed his first interception of the season against Stanford, his first pick since Sept. 24, 2022. As Max returned it for 39 yards, Maxzell, in a carefully chosen, roomy aisle seat at the Coliseum, was running in place and cheering on his son.
The play felt overdue for Max. The night before, the family group chat was alive with conversation about how Marcelles had two picks in his first four games with St. John Bosco. His older brothers were still sitting at zero.
Now Macen is alone at the bottom of the standings. Saturday's family affair would provide the perfect audience for his first.
"Hopefully I get one vs. 'SC," Macen said. "I really want one."

Deion Sanders, Colorado enter halftime down big for second consecutive week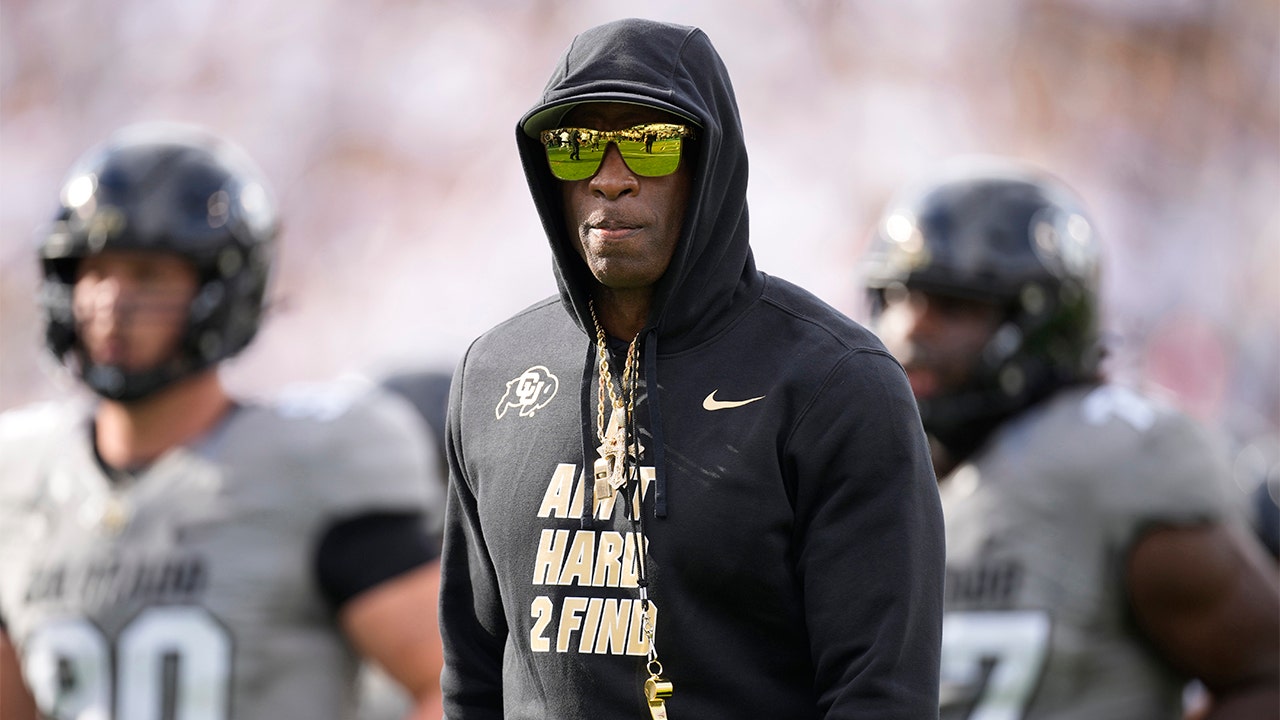 For the second week in a row, Deion Sanders and the Colorado Buffaloes enter halftime facing a large deficit. 
One week after falling behind 35-0 to the Oregon Ducks after 30 minutes of play, Colorado is down 34-14 to the No. 8 USC Trojans. 
Reigning Heisman Trophy winner Caleb Williams easily picked apart the Colorado defense in the first half, completing 17 of 20 passes for 260 yards and four touchdowns. 
LARGE NFL CONTINGENT IN BOULDER AS CALEB WILLIAMS AND NO. 8 USC TAKE ON SHEDEUR SANDERS, COLORADO
The Trojans scored touchdowns on five of their first seven possessions in the first half while the Colorado offense missed a field goal and Sheduer Sanders threw an interception in the first quarter. 
Colorado finally got on the board early in the second quarter when Sanders connected with wide receiver Jimmy Horn Jr. for a 30-yard score.  
The Buffaloes had a chance to make it a game after getting a stop on USC's possession after the score, but the Trojans forced a punt, which was blocked by the USC defense.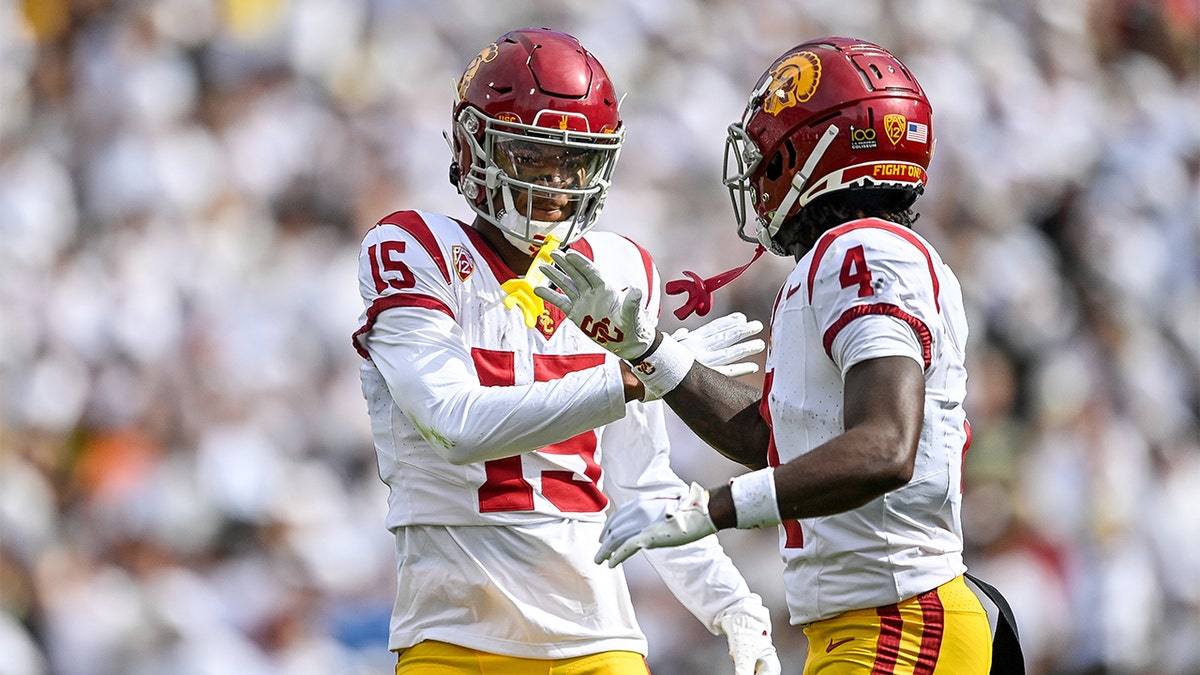 Williams connected with Mario Williams for a 24-yard touchdown two plays later. 
Colorado will get the ball to start the second half after Sanders scampered for a 25-yard touchdown late in the second quarter to cut the deficit to 20.
The Colorado defense is without two of its best players. Two-way star Travis Hunter continues to recover after taking a late hit against Colorado State, and safety Shilo Sanders is out with a kidney injury. 
The Colorado defense had allowed the most points and yards per game in the Pac-12 entering Week 5.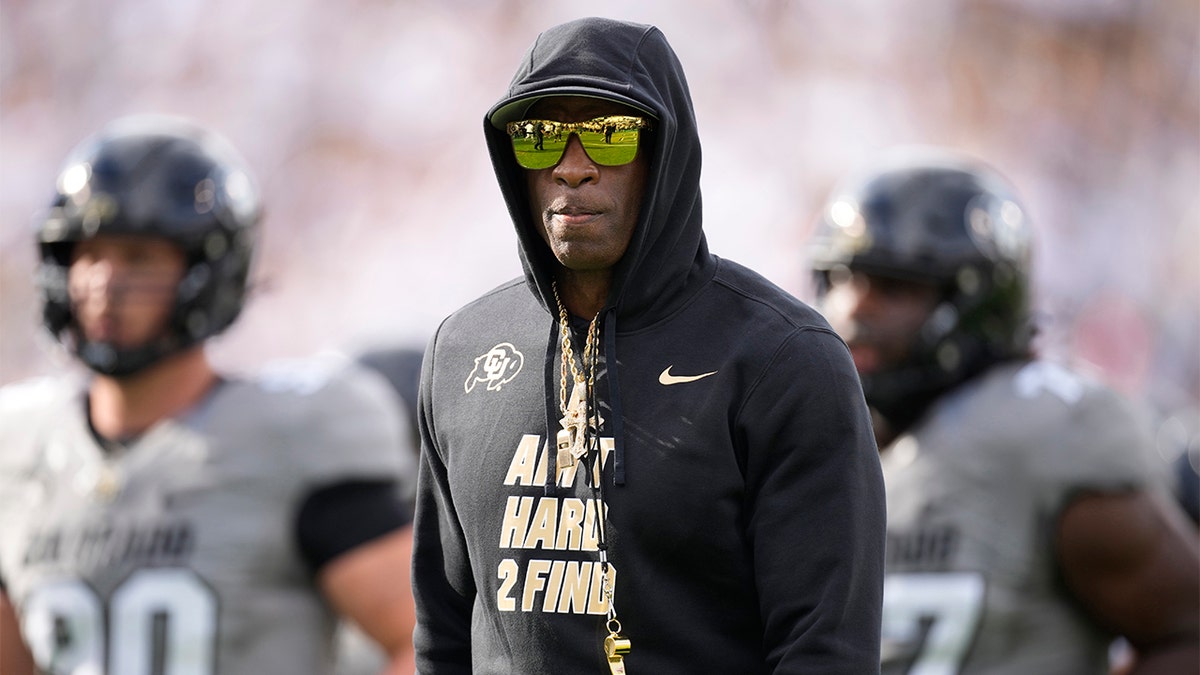 USC's offense leads the country in points per game (55) and is third in the nation in yards per game (569.3). 
Williams has started the year right where he left off, throwing for 1,200 yards, 15 touchdowns and zero interceptions in USC's 4-0 start to the season. 
Q&A: How Calabasas coach Thomas Cassidy regained his love for baseball after witnessing terror
Thomas Cassidy, a 30-year-old Calabasas High baseball coach, took his girlfriend to Las Vegas to enjoy country music at the Route 91 Harvest Festival on the night of Oct. 1, 2017. They were standing close to the stage, their best observation spot yet over three nights, when they decided to visit the concession stand just before singer Jason Aldean began his performance.
"We were in line to get a drink and all of a sudden you heard these loud noises," Cassidy said. "You didn't know if they were gunshots or firecrackers. You start looking around and seeing people going down and then realize it was gunfire."
So began a journey of witnessing the deadliest mass shooting by a single gunman in American history, with more than 1,000 bullets fired, 58 dead and more than 450 wounded.
Weeks later, Cassidy would be having lunch with a friend and his leg wouldn't stop twitching. Months later, he'd quit as baseball coach. He was suffering from the kind of mental health issues a soldier might experience after a firefight.
Six years later, his girlfriend is now his wife. They have a 2-year-old daughter, he's back as head coach at Calabasas and also the athletic director.
It's Mental Illness Awareness week beginning Sunday, and Cassidy discussed what he went through trying to overcome what he saw, heard and experienced.
"It was a terrible, horrible experience, but I've come out on the other side," he said.
Can you describe the scene?
"I remember just ducking next to the counter and I grabbed my wife. We got underneath the cash register. And peeked out. You were seeing waves of people going down. My parents were there, too. I got my mom on the phone and told them we were hiding like them. Someone eventually got us and told us to run out the back way. That was the same path my parents were on. This poor woman fell out of her wheelchair. We were running down the street and some people came out of a condo complex and said they needed help, that there were a lot of people shot in there. We went in there. I saw dead bodies and held down wounds, trying to get them to stop bleeding. It was utter chaos. They asked me and my dad to help carry someone out to a car. Every person in that room was covered in blood head to toes. Cars were pulling up and we're loading people. There were sirens everywhere. We all had blood on our clothes. In the morning, we got on a flight home. It was so surreal."
How did you deal with the aftermath?
"I came to school on Tuesday. I was completely numb. I didn't know what to make of it. I had someone reach out in the mental health field and offered to come talk to me. I took him up on it and, honestly, I had my morning call today. I talk to him once a week on my way to work just to talk about what's going in my life. There's things that arise over time that bring you back to that stuff. For the first few months up to a year, I was numb and trying to process. After a year, I ran out of gas from the numbness and surviving. That's when I really started dealing with a heavy depression. I was struggling mentally. I really felt that I couldn't do the baseball job to the level I wanted to. I needed to take a step back and try to find myself. I felt I was starting to resent baseball and was a young guy who loved baseball and wanted to coach baseball but felt if I kept going, I would have hated it and stopped coaching."
Did the birth of your daughter in 2021 help change things?
"I love being a dad and it changed perspectives. The shooting in general changed perspectives for me. I really don't sweat small stuff. I've been able to identify in my life what is important. It's helped me as a coach with my message to players. It's really about being a good person, having your priorities in life and doing the things you want. I learned in the blink of an eye, everything can change and/or end."
How do you help players?
"I'm a big advocate of mental health and getting help. I feel fortunate to have gotten and continue to get help. I think it's important and when needed, people shouldn't hesitate to get help. It's hard to ask. Those days following, I was struggling. The person I talked to reached out to me. I often wonder if they hadn't reached out if I would have gone myself. I'm forever grateful. In a lot of ways, it saved my life. I don't think I'd be sitting in the position I am without the help I received."
Is your love for baseball back?
"Yes. I do thank coach [Shaun] Kort for getting me back. I was hesitant. It was good to come back in a different role and helped me not being the head coach and fall in love with baseball again. When he moved on, it felt right when I applied and they told me I got the job again. It was a real emotional moment. I went through this traumatic event, suffered setbacks and with the help of people around me to battle back and get to the position I was before, was a proud, full circle moment for me."
Why are you so honest about your experience?
"When students ask, I always share. It's an opportunity for players to get to know me better. Yeah, I'm a baseball coach, but I'm here to support their development in life."
Week 5 college football preview: USC heads to Boulder; Duke gets the big stage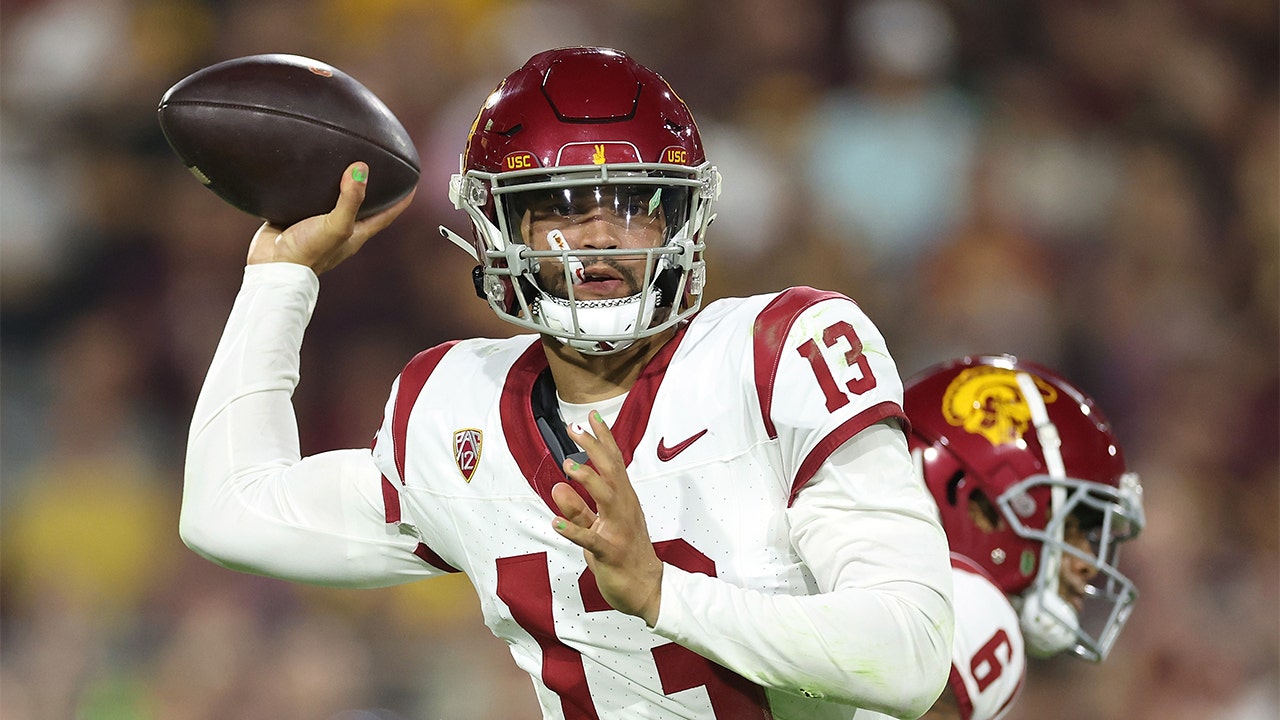 College football fans may just now be recovering after an electric Week 4 slate. 
With six Top 25 games on the schedule, fans of the sport could watch high-caliber matchups deep into the night. 
While Week 5 does not have the volume of Top 25 games on the schedule, there are massive implications in a number of matchups. 
The Colorado Buffaloes are looking to prove their 3-0 start under Deion Sanders is more indicative of where they're heading than the smackdown Oregon laid on them in Week 4, Texas is attempting to avoid a classic "trap game" before facing Oklahoma next week, and Duke has a chance to start the year 5-0 for the first time since 1994. 
TIM BRANDO DISHES ON DEION SANDERS' COLLEGE FOOTBALL IMPACT, SUGGESTS MEDIA COVERAGE MISSES MARK
College football fans will learn a thing or two on the last Saturday of September. 
Let's take a look at a few games to be aware of in Week 5.
Colorado vs. No. 8 USC – Noon ET
The Buffaloes face their first test of adversity after being blown off the field by the Oregon Ducks in Week 4. 
Colorado was completely outmatched in Deion Sanders' Pac-12 debut, heading into halftime down 35-0. 
"Good old-fashioned butt-kicking," Sanders said afterward. "No excuses, no nothing."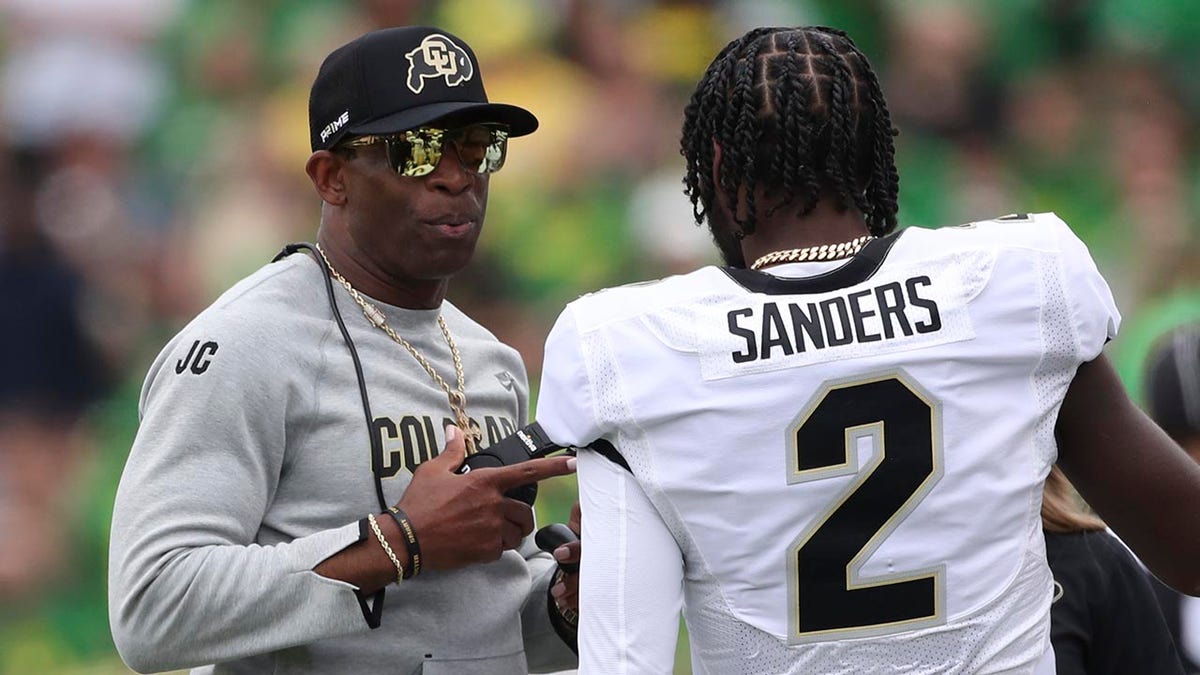 It doesn't get any easier this week for the Buffaloes as they welcome the reigning Heisman Trophy winner to Boulder for a 10 a.m. MT kickoff. 
Caleb Williams and USC are coming off a relatively unimpressive victory over ASU. The Trojans lead the country in points per game (55.0) and are third in the nation in yards per game (569.3). 
JETS' AARON RODGERS SAYS DEION SANDERS 'CREATED A LOT OF BUZZ' THAT CAUSED SOME TO WANT TO SEE HIM 'FALL
"The kid is a playmaker," Sanders said of Williams. "He's the epitome of class and confidence in what he brings to the table. He makes plays. He makes that team go. He's a handful."
Colorado's defense has struggled — to put it mildly — in the first four weeks, allowing the most points and yards per game in the Pac-12. 
But Colorado has playmakers on the offensive side of the ball, and USC's defense has been an issue since Lincoln Riley took over.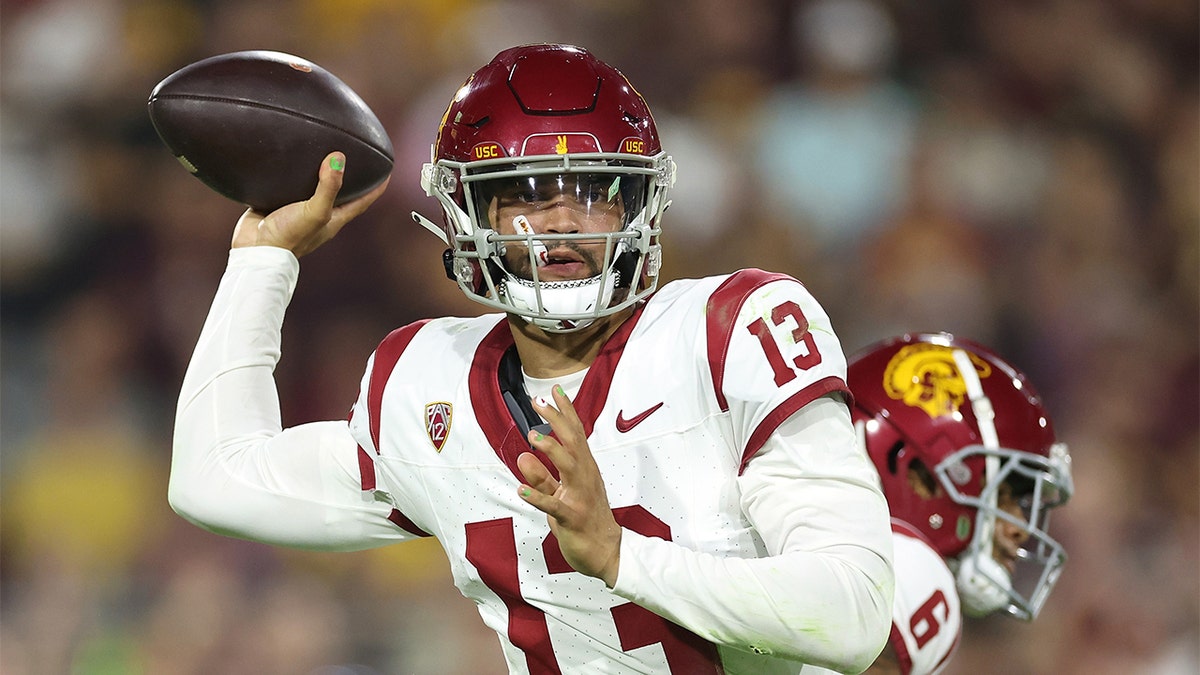 "We know their offense can light you up and put 40 on the board in a heartbeat, but is that defense against a quality opponent that has its fair share of playmakers, are they gonna stand up and makes plays?" Fox Sports' Tim Brando told Fox News Digital said of USC. 
USC's defense has shown improvement through four games this season, allowing 364.5 yards per game after ending the 2022 season allowing 415.1 yards per game.
The Trojans are heading into the difficult part of their schedule, playing Arizona in Week 6 before heading to No. 11 Notre Dame and playing No. 10 Utah at home. 
No. 3 Texas vs. No. 24 Kansas – 3:30 p.m. ET
Not many have paid attention to the Jayhawks in the early weeks of the season, but Kansas is one of just three Big 12 schools that remain undefeated after four weeks. 
The other teams? Oklahoma and Texas, two schools that play their last season in the conference before heading to the SEC in 2024. 
Kansas now has an opportunity for a statement win while ending the narrative that Texas is "back" after defeating Alabama in Week 2.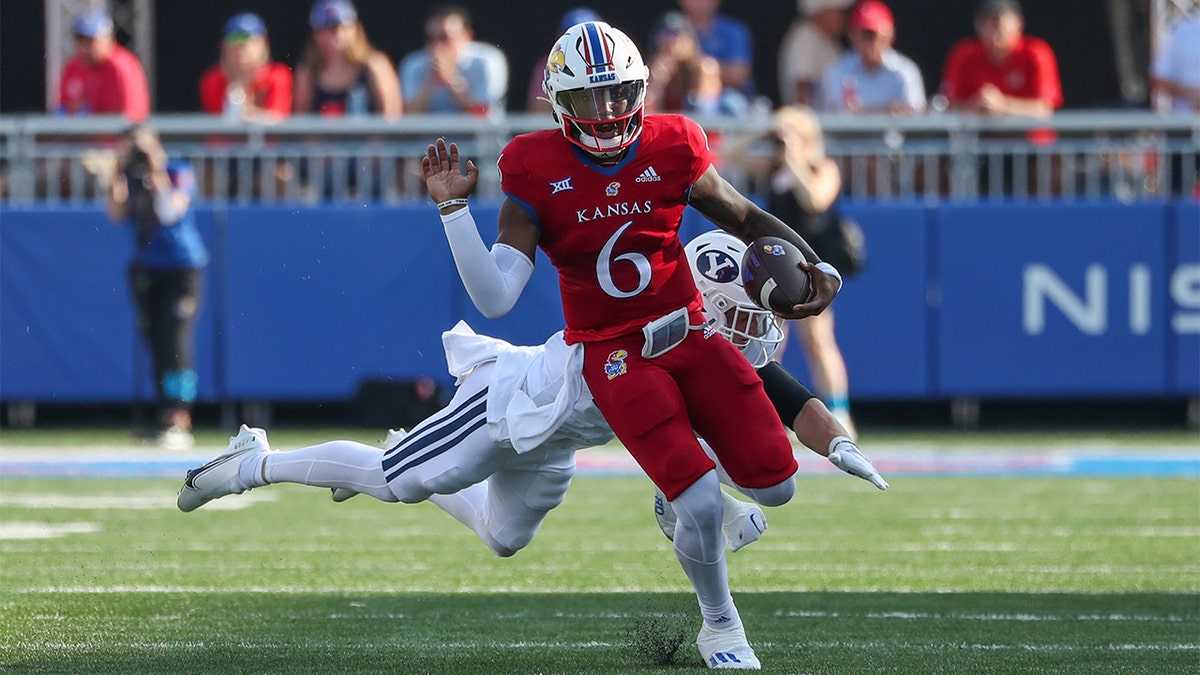 The Jayhawks have scored 30-plus points in five straight games — their longest streak since 2009, per ESPN — and quarterback Jalon Daniels is off to a nice start to the season. 
Daniels, the preseason Big 12 Offensive Player of the Year, has thrown for 705 yards, five touchdowns and one interception in three games. 
TRAVIS HUNTER, HENRY BLACKBURN APPEAR TO BURY HATCHET AFTER BRUTAL HIT
Steve Sarkisian has his Longhorns riding high as they look for their best start since 2009, according to The Daily Texan. 
The Texas defense, which was second best in the Big 12 in 2022, is allowing just 12.5 points per game in 2023.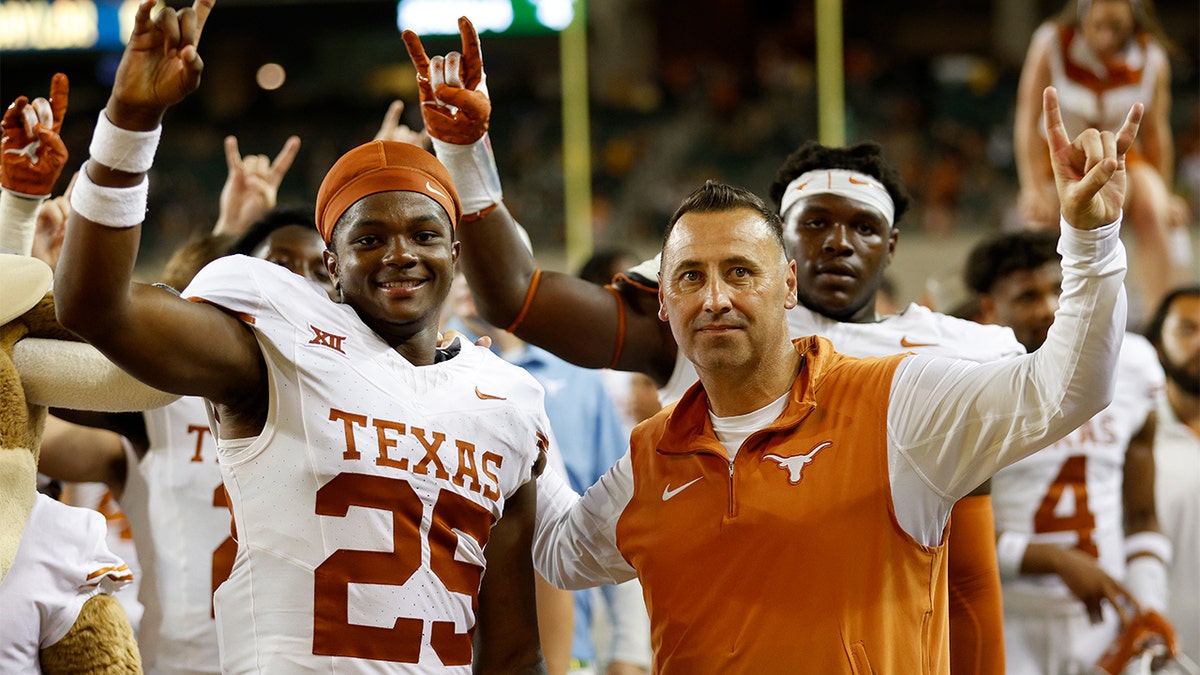 "It's three years in the making of putting a staff together, putting a scheme together, making adjustments to that scheme," Sarkisian said, according to CBS Sports. "I think we've added depth to the roster on the defensive side of the ball at all three levels. I think we have a really good veteran leadership on defense. And now what comes with that is confidence." 
Quarterback Quinn Ewers completed 18 of 25 passing attempts for 293 yards and a touchdown against Baylor in Week 4. 
No. 20 Ole Miss vs. No. 13 LSU – 6 p.m ET
Ole Miss lost its SEC opener while LSU needed a last-second field goal to beat Arkansas in Week 4. 
Neither team can afford a second regular-season loss as LSU heads to Oxford, Mississippi, in an SEC West battle. 
The Ole Miss offense managed just 56 yards on the ground and 10 points against Alabama after averaging 52.6 points per game through the first three weeks. In 2022, Ole Miss led the SEC in rushing yards per game (256.6), but the Rebels are averaging 146.8 yards per game in 2023. 
MICHIGAN'S BLAKE CORUM MAKING AN IMPACT OFF THE FIELD, REALIZES BIGGER PURPOSE THAN FOOTBALL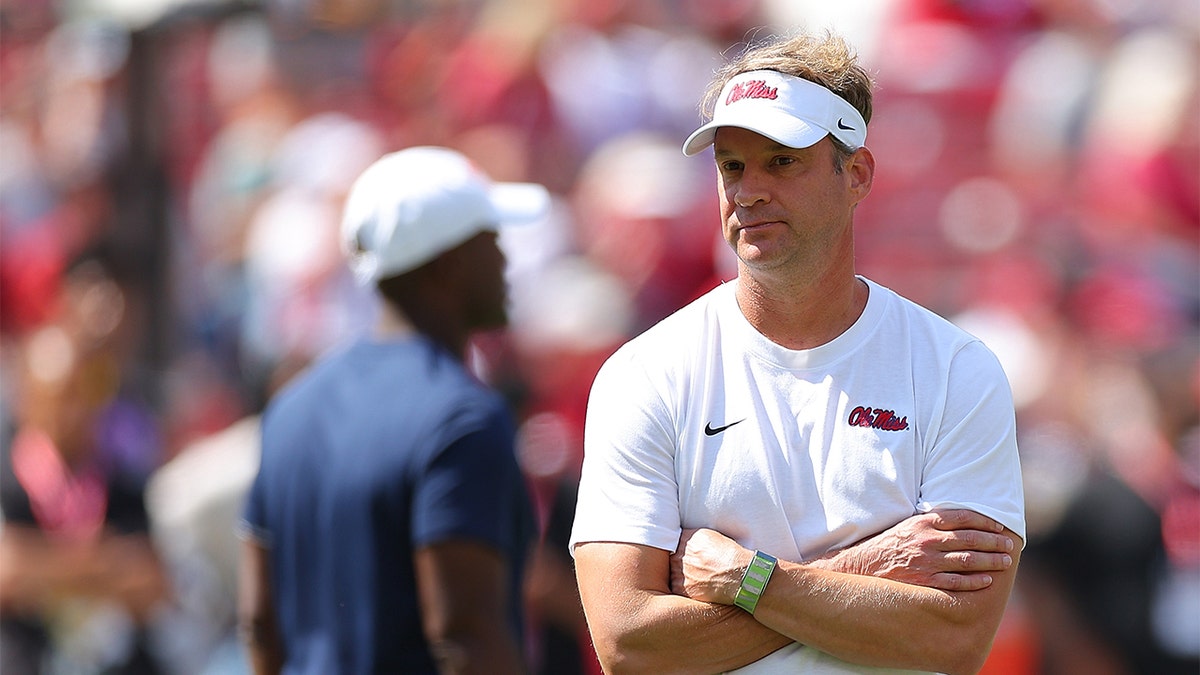 "We've got to get better. Got to coach better, involve different schemes, different things," Ole Miss head coach Lane Kiffin said Monday, per 247 Sports. "Sometimes the running game is interesting. You'll have these games, and then all of a sudden they'll pop, and you'll have a bunch of explosive runs. We've just got to all go to work and figure out a way. It's not like we're a program that hasn't ever ran the ball or hasn't known how to run the ball. It would be really good to get back to that."
LSU is led by quarterback Jayden Daniels, who is steering the top offense in the SEC (530 yards per game).
"I would argue maybe the hottest offense in the country," Kiffin said of LSU.
Another loss by LSU would almost certainly end their College Football Playoff hopes. 
No. 17 Duke vs. No. 11 Notre Dame – 7:30 p.m. ET
"All eyes are on the Duke Blue Devils" is something you'd expect to hear in March, not late September. 
Duke football is looking for its first 5-0 start to a season since 1994 as Notre Dame and ESPN's "College Gameday" comes to town. 
"I did not take the job with the hope and expectation that we could be a middle-of-the-road program," Duke head coach Mike Elko said, per ESPN. "That's not who I am. Did I anticipate in Game 5 of Year 2, that we would be on this stage? No, of course not. That is a credit to our kids, and what they bought into and how hard they've worked. What it's doing is it's allowing us to expedite the process of building the brand of football to the level that we hope that we could get to."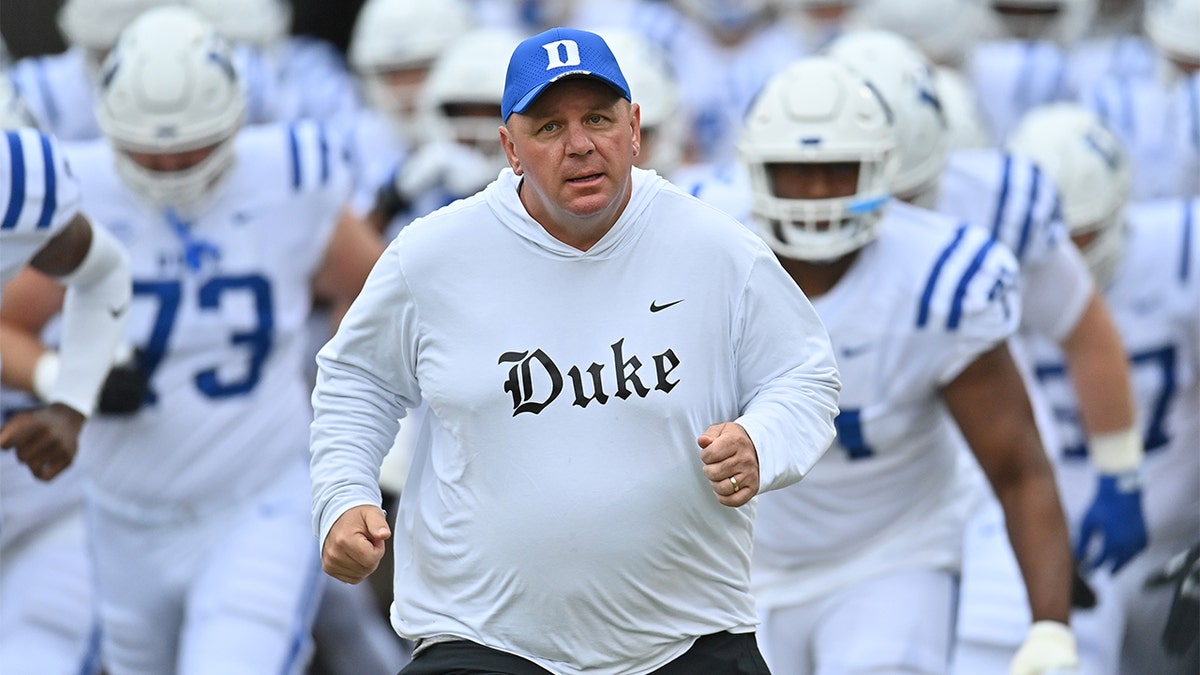 MICHIGAN STATE MAKES MEL TUCKER FIRING OFFICIAL, SAYS HE BROUGHT 'CONTEMPT AND RIDICULE UPON THE UNIVERSITY'
Through four games, the Duke defense has allowed just five touchdowns for an average of 8.8 points per game, tied for fourth in the country. 
"The thing that you respect is how hard they play," Notre Dame coach Marcus Freeman said. "They're aggressive. They play extremely hard, and they're sound. They're not exotic. They don't do crazy things on defense, but they play fast, and they play hard, and they tackle well."
Freeman leads his team to Durham after a brutal last-second loss to Ohio State. 
Quarterback Sam Hartman is third in the country in touchdowns (14) as he navigates a balanced Fighting Irish offense.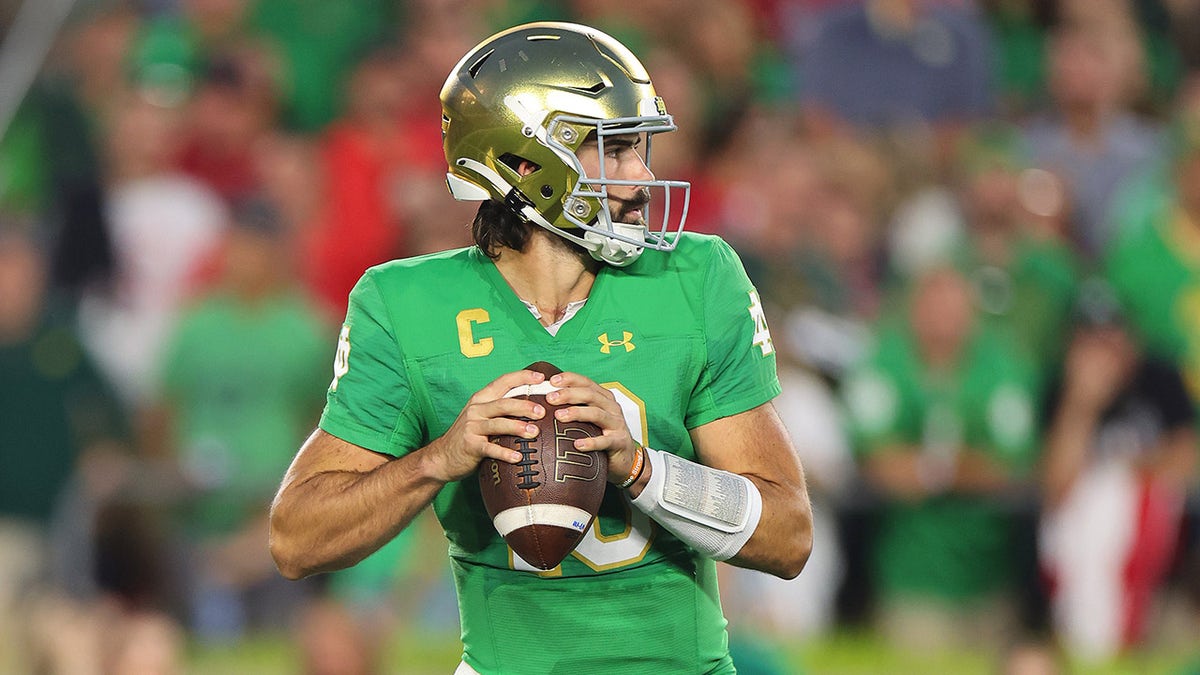 Hartman played against the Blue Devils in each of the past two seasons as a member of Wake Forest. 
"We're very familiar with Sam and who he is as a quarterback and what he's capable of doing," Elko said.
No. 21 Tennessee vs. South Carolina – 7:30 p.m. ET
The Vols are looking for revenge after Spencer Rattler and the Gamecocks ended Tennessee's hopes of a College Football Playoff berth in 2022. 
The Vols rolled into Columbia last season and were blown out 63-38, also losing Hendon Hooker to a torn ACL. 
Joe Milton III now gets his shot at the Gamecocks as both teams try to avoid a second SEC loss. 
Rattler threw for 438 yards and six touchdowns in last year's blowout win. The Tennessee defense will key on the passing offense of South Carolina as the Gamecocks are rushing for just 75.8 yards per game – last in the SEC – while leading the conference in passing yards (340 per game).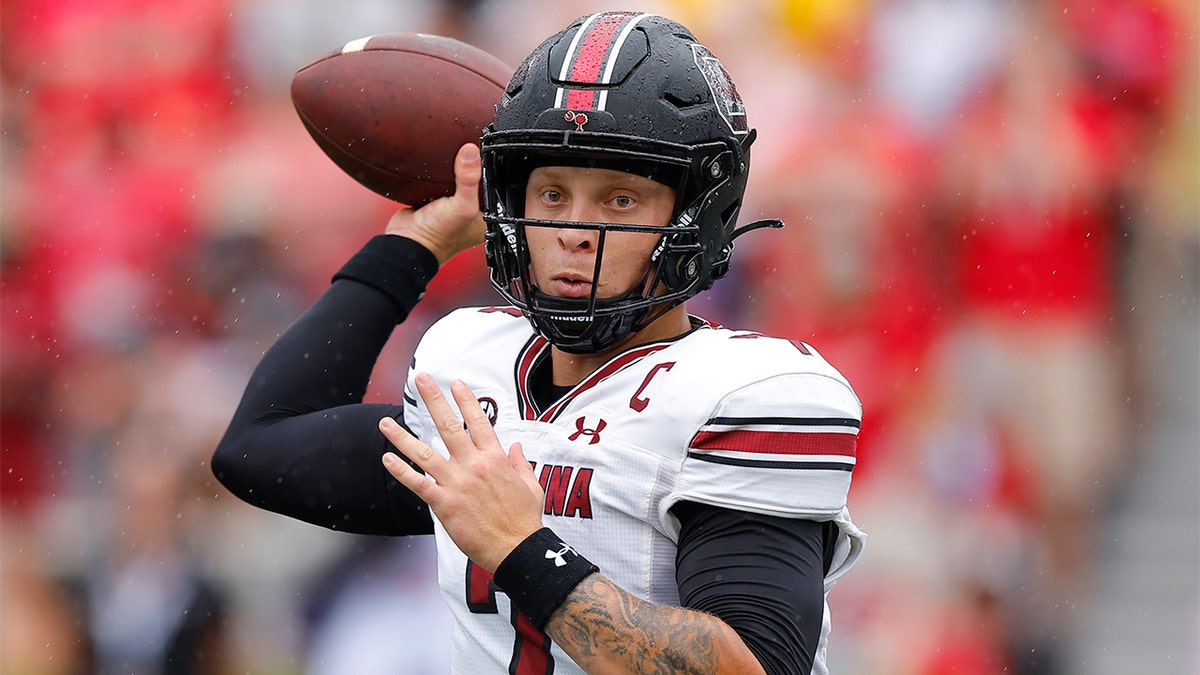 "He's a really good player. He's played at a high level. He's played a lot of football," Tennessee head coach Josh Huepel said of Rattler Monday, according to On3. "He's playing extremely well right now. He was dynamic in that football game, but he has that in his arsenal. And, for us, the line of scrimmage is important. And we gotta do a really good job. We gotta get him in third and longs. 
"Last year, we didn't get off the field in third and longs. And some of that was coverage. Some of that was him extending and making some really special plays. We gotta do a great job of bottling them up and applying pressure at the same time."
Gamecocks wide receiver Juice Wells, who had 177 receiving yards in last year's win over Tennessee, will miss his second straight game with a foot injury. 
The Tennessee offense is getting it done on the ground, leading the SEC in rushing yards per game with 229.5. The Vols have won 11 straight games at Neyland Stadium.
The Associated Press contributed to this report