Travis Kelce says seeing Taylor Swift with his mom at Chiefs game was 'absolutely hysterical'
Travis Kelce finally broke his silence about connecting with Taylor Swift, days after the "Cruel Summer" singer was seen cheering for the Kansas City Chiefs star and his team from a luxury box at Arrowhead Stadium over the weekend.
In the latest episode of the "New Heights" podcast, Travis and brother Jason Kelce addressed the unexpected relationship that has sent Swifties and social media into a craze. "How does it feel that Taylor has finally put you on the map?," Jason asked his co-host.
"Shout out to Taylor for pulling up, that was pretty ballsy," Travis told his brother. "I just thought it was awesome how everybody in the suite had nothing but great things to say about her, the friends and family."
He added: "She looked amazing. Everybody was talking about her in a great light and on top of that, the day went perfect for Chiefs fans, of course."
On Sunday, Swift, 33, was seen in the stadium's Travis Kelce suite wearing Chiefs colors and cheering alongside the football star's mother, Donna Kelce. Swift's appearance at the game comes weeks after reports that the pair have been "quietly hanging out." In July, Travis spoke about his unsuccessful attempts to connect with the singer.
After Sunday's game, the pair were seen driving off alone in a convertible — Kelce's "getaway car," he said on Wednesday's podcast. According to ET, Kelce rented out a trendy Kansas City restaurant for Swift and his team to celebrate the Chiefs' victory over the Chicago Bears.
"To see the slow-motion chest bumps, to see the high-fives with Mom, to see how Chiefs Kingdom was all excited that she was there, that s— was absolutely hysterical and it was definitely a game I'll remember, that's for damn sure," he recalled.
The hype surrounding Swift and Kelce's rumored romance has seemingly led to a spike in Chiefs jersey sales and a new limited-edition Heinz condiment inspired by Swift's dips of choice at the game. However, not everyone is falling in love with the concept of Swift and Kelce.
"Real Housewives of New York" alumna Bethenny Frankel slammed Swift for being "really, really over the top" as she cheered for Kelce. "It felt like a chia pet of relationships," she said in a TikTok video shared Tuesday.
She talked about football fans' alleged "ride or die" attitude and encouraged Swift to "maintain your own identity."
"No other person should be your identity," she said. "We've seen celebrities where the person they're with becomes their identity."
In Wednesday's "New Heights" episode, Travis told Jason he takes responsibility for the newfound attention he's facing amid his friendship with Swift. Earlier in the podcast, he said paparazzi are now showing up at his home.
"What's real is that it is my personal life and I want to respect both of our lives," he said.
The episode, which premiered on YouTube to at least 90,000 viewers, also featured a segment where the Kelce brothers broke down basic football terminology for new fans, namely Swifites.
"There was not any dumb question there," Travis said. "It's hard to talk about it in an elementary [way]. We're asking the wrong questions."
"Thanks Swifties, thanks for making that possible," Jason added.
Times staff writer Helen Li contributed to this report.

Top high school football games in the Southland for regional bowls
Analyzing the top high school football state playoff games this week:
FRIDAY
Birmingham (11-2) at Del Norte (11-2), 7:30 p.m.
The City Section Open Division champion Patriots have a lot to prove in the state playoffs. A 41-0 nonleague loss to Sherman Oaks Notre Dame in August still has people wondering whether Birmingham can win games outside the City Section. Quarterback Kingston Tisdell has grown immensely, making 162 pass attempts without an interception. Former NFL linebacker Nick Barnett is in his first season as head coach at Del Norte (11-2), and he has 34 seniors to rely on, including quarterback Jack Schneider, who has 23 touchdown passes. The pick: Birmingham.
Granite Hills (12-0) at Mission Viejo (11-3), 7 p.m.
Granite Hills is the San Diego Section Open Division champion with a 21-game winning streak. Freshman quarterback Zachary Benitez has shown he's a dual threat. Running back Max Turner has scored 16 touchdowns. The Diablos are no longer considered a young team in Week 15. They are showing how good they might be in 2024. Defensive lineman Jaden Williams has 15 sacks. The pick: Mission Viejo.
SATURDAY
St. Bonaventure (11-3) vs. St. Augustine (10-4) at Mesa College, 6 p.m.
The Seraphs won the Southern Section Division 3 championship and have balance on offense with quarterback Anthony Wolter and running back Koen Glover. St. Augustine is a young team with an aggressive defense led by Isaiah Hasten, who has seven interceptions. Jon Class had four sacks in the San Diego Division I final. The pick: St. Bonaventure.
Iowa's Cade McNamara takes subtle shot at former team ahead of Big Ten title game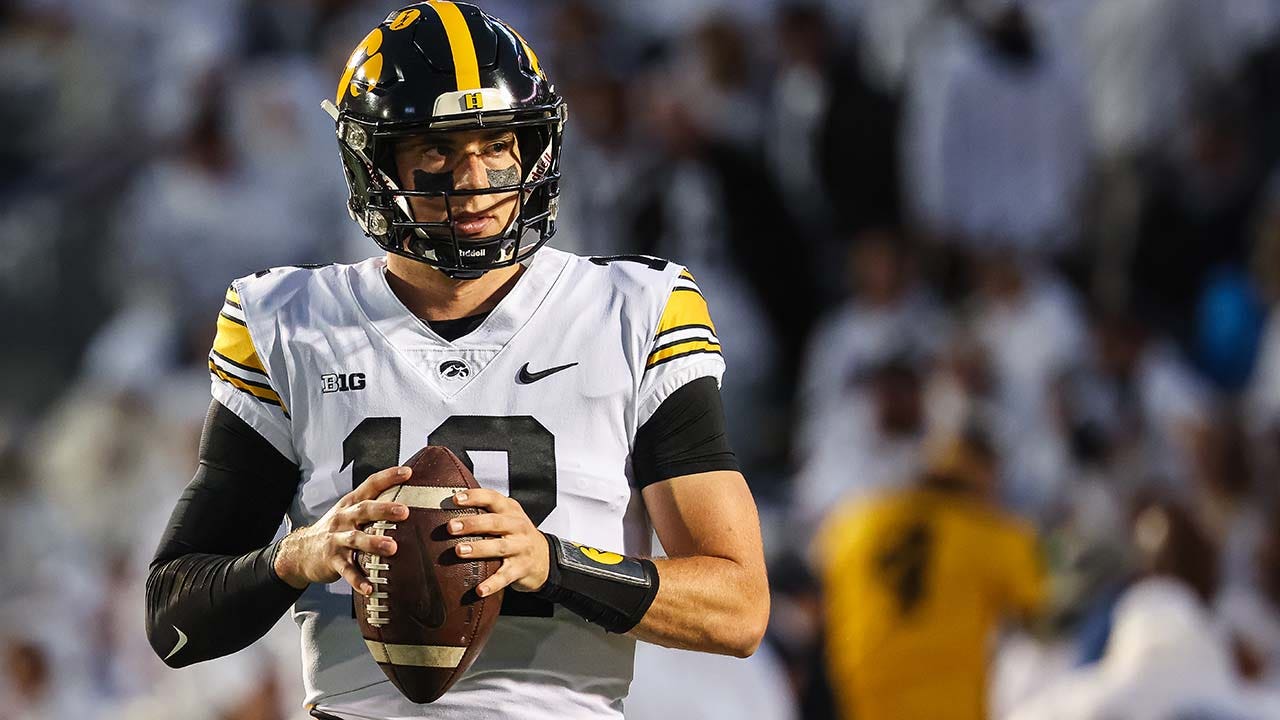 Iowa Hawkeyes quarterback Cade McNamara is in a unique position to help his team gain a little bit of an edge as the team gets set to take on No. 2 Michigan in the Big Ten Championship over the weekend.
McNamara played at Michigan for three seasons before he transferred to Iowa. He played five games for the Hawkeyes this season before suffering a devastating season-ending knee injury.
As Iowa started talking about the conference title game, McNamara surely ruffled some feathers with his words about the Wolverines.
"I think this week, specifically, I'm not just getting Deacon (Hill) ready, I'm getting the entire team, as much as I can, because I know so much about that other team that from a defensive standpoint, from an offensive standpoint, I'm just doing everything I possibly can from an entire team standpoint to just let these guys know everything that I possibly know," he said on "Talkin' Hawks with The VandeBergs."
FROM OUTKICK: WISCONSIN STAR BRAELON ALLEN ANNOUNCES QUESTIONABLE NFL DRAFT DECISION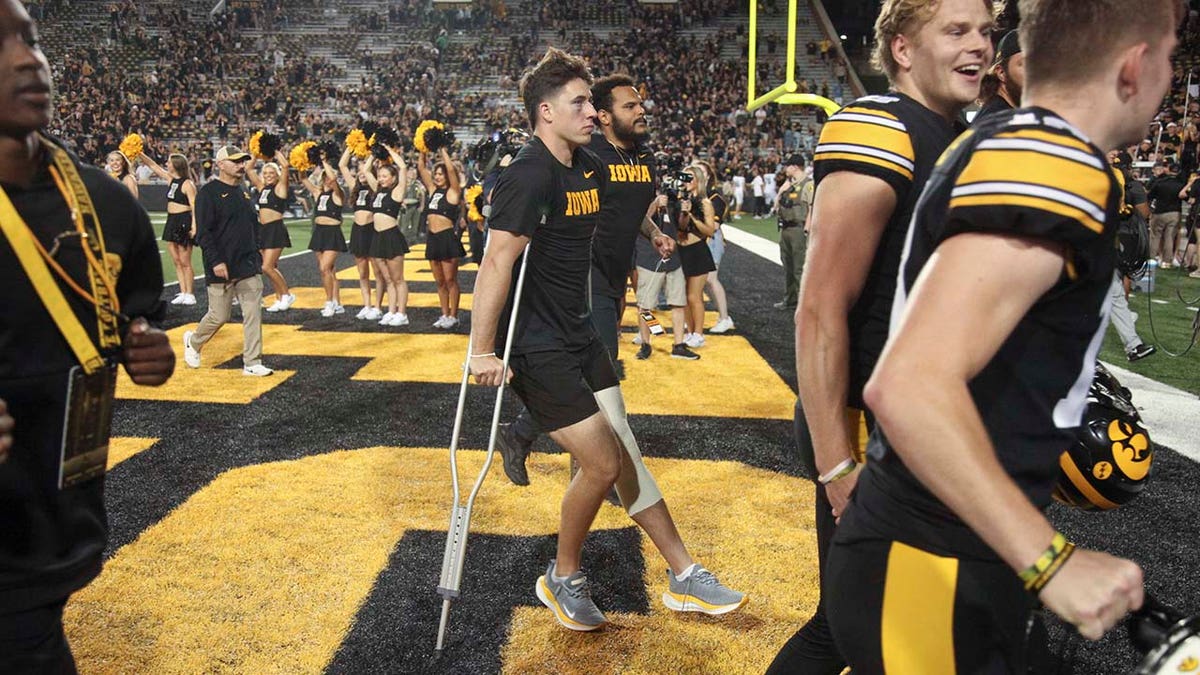 Michigan fans took to X to express their frustration with McNamara's comments, calling him bitter about losing his starting quarterback job to J.J. McCarthy.
However, there did not appear to be any ill-will because of that. McCarthy himself said the team had been anticipating seeing McNamara and Erick All.
WHAT COLLEGE FOOTBALL FANS LEARNED FROM WEEK 13: RIVALRY WEEK NEVER DISAPPOINTS
"It was obviously at the forefront of our minds at the beginning of the season to have that chance to play Cade and Erick again," McCarthy said, via The Gazette.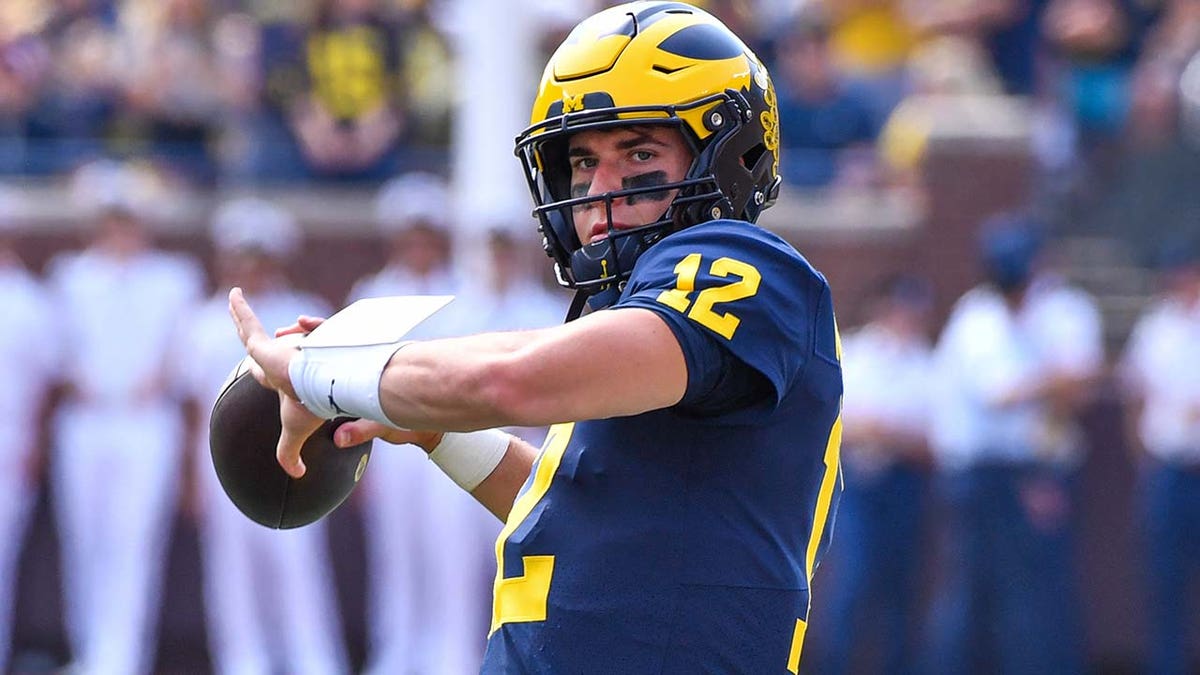 Iowa finished first in the Big Ten West with a 7-2 record against conference opponents and 10-2 overall.
The Hawkeyes' last win against Michigan came in November 2016. The Hawkeyes knocked off then No. 2 Michigan at Kinnick Stadium, 14-13. The Wolverines blew the Hawkeyes out 42-3 in the 2021 Big Ten Championship.
Column: Jordan High's David Sandy is the new teenage star in Watts
It's 10 a.m. They're serving coffee at the City Section championship breakfast, and the only high school football player who dares to take a sip of the dark, hot brew is David Sandy of Jordan High.
"My grandma in elementary school used to serve me coffee," he said.
Said coach Derek Benton: "David is like an old man in a young body."
The community of Watts has a new teenage hero in Sandy, a junior running back who gained 221 yards and scored four touchdowns to lead Jordan to the City Section Division III football championship last week with a 42-30 win over Washington Prep, delivering the school's first football title since 1980.
Sandy's family could throw him his own parade. His father, mother, grandmother, four uncles and aunt all went to Jordan. No one knows more than him what it means to bring a championship trophy to the neighborhood school and make Bulldogs everywhere proud.
"It connects with the community of Watts," he said. "It's a big thing."
Sandy was a volleyball player at Jordan as a freshman, then came out for football as a sophomore.
Spectrum SportsNet and Spectrum News 1 will be televising four CIF state championship regional football bowl games this weekend. Banning-La Jolla Country Day, Mission Viejo-Granite Hills, St. Bonaventure-St. Augustine, Orange Vista-La Serna.

— eric sondheimer (@latsondheimer) November 27, 2023
"He's just a very special, humble individual," Benton said. "He always plays down his talent. He's a true scholar athlete, always looking for the good in people. He always defers to the team."
The captain of the volleyball team has used his athleticism in football to rush for 2,799 yards and 39 touchdowns.
"I just try to be as athletic as I can," he said.
Jordan (11-3), a winner of nine consecutive games, is playing at Bell Gardens on Saturday night in a CIF regional bowl game.
Sandy is a 5-foot-11 outside hitter in volleyball, which has contributed four players to the football team. He has a twin brother who plays football for King/Drew. He likes to participate in school activities, having been in the band and ROTC.
Growing up in Watts, he said he always has to be focused on his surroundings. His rise as a community football standout has enabled him to put on a smile on many faces.
"This has really pulled the whole community and school together," Benton said.
Added Sandy: "I didn't realize how big the win impacted the community. It meant a lot more than I thought. It's giving us a lot of opportunities. With all this fame and attention toward us, we're able to get more from it."
Everyone should salute Sandy for his contributions and offer a cup of coffee, too.
There's only three schools with byes this week into the CIF state championship bowl games. They are Open Division finalists Mater Dei and San Mateo Serra as well as Fairfax. Yes, the Lions from the City Section advance to next week's Division 7-AA championship game against the winner of Northern California's 7-AA regional between Portola and Ferndale.
Talk about pending culture shock.
Fairfax (10-4) is home to Canter's Deli, Farmers Market and CBS Television City. Portola is 12-0 in football with a city population barely over 2,000. It's a train town "on the Middle Fork of the Feather River in the Sierra Nevada mountain range," according to the city's website. Ferndale is 9-4 and in Humboldt County with a population of fewer than 1,500.
Whichever team wins, it will take a bus to Southern California and play the City Section Division II champions next weekend at El Camino College or Pasadena City College (to be announced on Sunday).
Fairfax coach Juan Solorio ought to greet his visitors with Canters danish, a sandwich platter or bagels and lox. It's the Los Angeles welcome.