Preakness winner heads stakes race fields as Santa Anita starts fall meet
Santa Anita opens its fall meeting Friday with higher than normal anticipation because it closes with the Breeders' Cup on Nov. 3-4. What that means is a mad dash to get in as many big races as possible in the first two weekends of its 19-day meeting. This gives the horses enough time to recover and run in the million-dollar races the first weekend of November that signal the unofficial end of the racing year.
Starting Friday there are nine stakes this weekend, including the Grade 1 $300,000 Awesome Again race that features Preakness Stakes winner National Treasure among a field of nine.
Next weekend there are six stakes over a three-day weekend that ends Monday with three races where the winners are automatically entered, all expenses paid, into a Breeders' Cup race. Of course, when you are racing at this year's Breeders Cup track, the expenses for the sanctioning group are a whole lot less.
Saturday's Awesome Again, also a win-and-your-in race for the Breeders' Cup, is the most intriguing of the weekend. It grew less interesting Wednesday when trainer Tim Yakteen decided not to enter Practical Move, winner of this year's Santa Anita Derby. The colt was all set to be one of the favorites in the Kentucky Derby but spiked a fever two days before the race and was scratched. He hasn't run since.
The entering of National Treasure was a mild surprise, but trainer Bob Baffert has been liking what he's seen of the 3-year-old colt since he returned to Santa Anita.
"I liked the way he breezed last week," Baffert said. "The Travers (finished fifth) was sort of a disaster. But I'm putting the blinkers back on. He just doesn't get into the race without it. You have to just draw a line through the Travers."
Horses are given blinkers near the outside to their eyes to help focus a horse's attention on what's in front of them and not what's going on around them. National Treasure won the Preakness with blinkers.
The Awesome Again is a 1 1/8-mile race, 1/16th of a mile shorter than the Preakness, which he won in front-running style under a masterful ride by John Velazquez. Juan Hernandez, who has been Baffert's main jockey of late with Velazquez riding at the Belmont at Aqueduct meeting, will get off Baffert's other horse, Defunded, to ride National Treasure.
The morning line disagrees with Hernandez's decision to move to the Preakness winner, making him the 4-1 third choice. Defunded is the 2-1 favorite.
Defunded is no slouch, having won this race last year. He was underwhelming in his last two races at Del Mar, a fourth in the San Diego Handicap as the odds-on favorite, and sixth in the Pacific Classic.
The 5-year-old gelding has been pretty good at Santa Anita, though, winning four of his six lifetime starts at the track. The other two races were a second and third.
"He always run his best races at Santa Anita," Baffert said. "He never looked comfortable at Del Mar. He's just a horse for the course down here. He's worked well here. We'll see if he runs his race."
Edwin Maldonado returns to ride Defunded, which he did last year when they won the Awesome Again. The 40-year-old Puerto Rico native finally is starting to get the better mounts as he keeps winning. Last year's win in the Awesome Again was his first Grade 1 win. On Saturday, he won his first $1 million race, the Grade 1 Cotillion at Parx near Philadelphia, riding Ceiling Crusher over a very sloppy track. The 3-year-old filly is based in Southern California for trainer Doug O'Neill.
The Awesome Again has a pretty good field, which includes Senor Buscador (5-1 odds), winner of the San Diego Handicap; Slow Down Andy (5-2), who always seems to be near the top in tough graded stakes; Skinner (8-1), who was getting a lot of buzz before scratching out of the Kentucky Derby the day before the race this year, and Stilleto Boy (6-1), winner of the Santa Anita Handicap but was eased and didn't finish in the Pacific Classic.
Another interesting set of matchups Saturday is in the six-furlong Grade 2 $200,000 Santa Anita Sprint Championship. Dr. Schivel, who lost the 2021 Breeders' Cup Sprint by a nose, won his last race at Santa Anita easily in May. He then finished fifth in the Met Mile at Belmont and third in the Bing Crosby at Del Mar. He is the 9-5 morning-line favorite.
The 5-year-old had to overcome a 10-month layoff after suffering some bone bruising when he ran in the Golden Shaheen in Dubai. His Santa Anita win was his comeback race.
Baffert has three contenders in the nine-horse field. Most notable among them is Arabian Lion (5-2), who recently won the Sir Barton Stakes at Pimlico and the Woody Stephens at Belmont. Baffert also has Fort Bragg (6-1), winner of the Pat Day Mile at Churchill Downs and the Dwyer at Belmont, and Speed Boat Beach (12-1), a bit of mystery in that his last three races were on the turf and his last race was in December, a win in the Cecil B. DeMille at Del Mar.
Hernandez will ride Dr. Schivel and Maldonado will handle Arabian Lion.
There are two other graded stakes Saturday, the Grade 2 $200,000 Eddie D Stakes, which is 6½ furlongs down the downhill turf course. The race is named for legendary jockey Eddie Delahoussaye. There is also the Grade 2 $200,000 City of Hope Stakes for horses going a mile on the turf.
Friday's opening day has the Grade 3 $100,000 Chillingworth Stakes for fillies and mares going 6½ furlongs on the dirt. Eda is the 4-5 morning-line favorite for the Baffert-Hernandez combination. She has won eight of 10 lifetime, despite a 13-month layoff from 2022 to this year.
Sunday's card has three graded stakes.

Top high school football games in the Southland for regional bowls
Analyzing the top high school football state playoff games this week:
FRIDAY
Birmingham (11-2) at Del Norte (11-2), 7:30 p.m.
The City Section Open Division champion Patriots have a lot to prove in the state playoffs. A 41-0 nonleague loss to Sherman Oaks Notre Dame in August still has people wondering whether Birmingham can win games outside the City Section. Quarterback Kingston Tisdell has grown immensely, making 162 pass attempts without an interception. Former NFL linebacker Nick Barnett is in his first season as head coach at Del Norte (11-2), and he has 34 seniors to rely on, including quarterback Jack Schneider, who has 23 touchdown passes. The pick: Birmingham.
Granite Hills (12-0) at Mission Viejo (11-3), 7 p.m.
Granite Hills is the San Diego Section Open Division champion with a 21-game winning streak. Freshman quarterback Zachary Benitez has shown he's a dual threat. Running back Max Turner has scored 16 touchdowns. The Diablos are no longer considered a young team in Week 15. They are showing how good they might be in 2024. Defensive lineman Jaden Williams has 15 sacks. The pick: Mission Viejo.
SATURDAY
St. Bonaventure (11-3) vs. St. Augustine (10-4) at Mesa College, 6 p.m.
The Seraphs won the Southern Section Division 3 championship and have balance on offense with quarterback Anthony Wolter and running back Koen Glover. St. Augustine is a young team with an aggressive defense led by Isaiah Hasten, who has seven interceptions. Jon Class had four sacks in the San Diego Division I final. The pick: St. Bonaventure.
Iowa's Cade McNamara takes subtle shot at former team ahead of Big Ten title game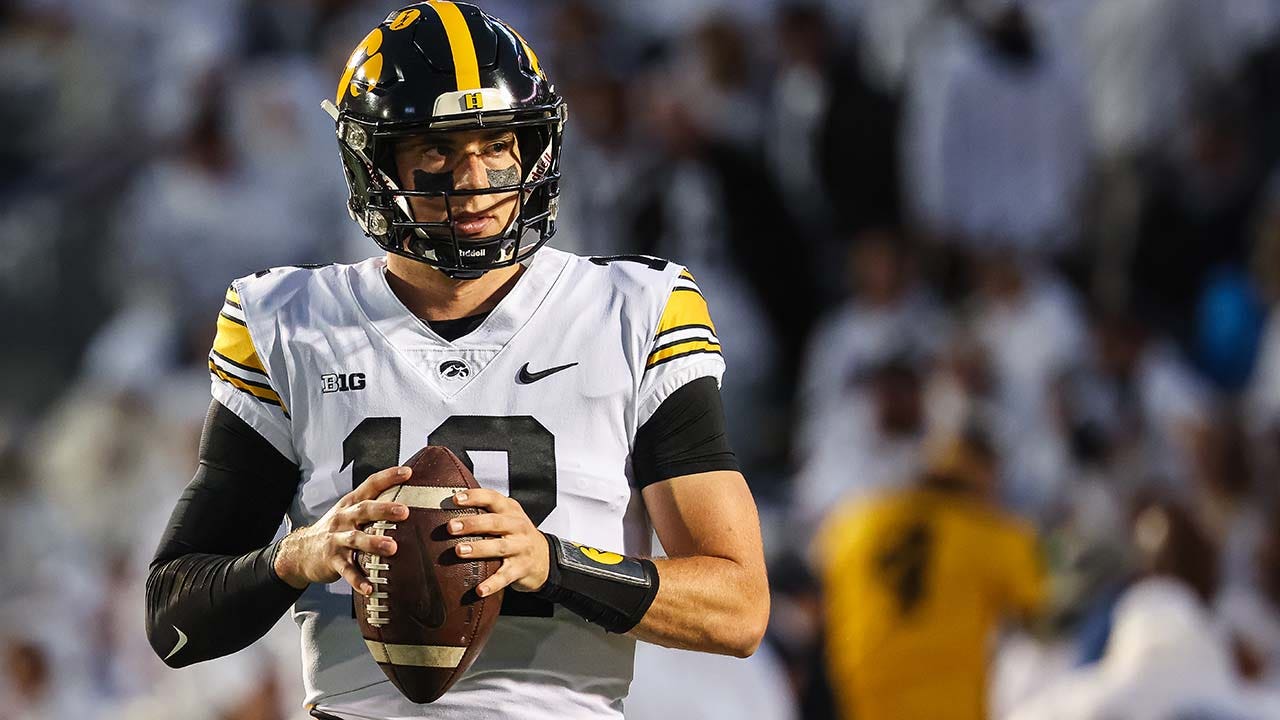 Iowa Hawkeyes quarterback Cade McNamara is in a unique position to help his team gain a little bit of an edge as the team gets set to take on No. 2 Michigan in the Big Ten Championship over the weekend.
McNamara played at Michigan for three seasons before he transferred to Iowa. He played five games for the Hawkeyes this season before suffering a devastating season-ending knee injury.
As Iowa started talking about the conference title game, McNamara surely ruffled some feathers with his words about the Wolverines.
"I think this week, specifically, I'm not just getting Deacon (Hill) ready, I'm getting the entire team, as much as I can, because I know so much about that other team that from a defensive standpoint, from an offensive standpoint, I'm just doing everything I possibly can from an entire team standpoint to just let these guys know everything that I possibly know," he said on "Talkin' Hawks with The VandeBergs."
FROM OUTKICK: WISCONSIN STAR BRAELON ALLEN ANNOUNCES QUESTIONABLE NFL DRAFT DECISION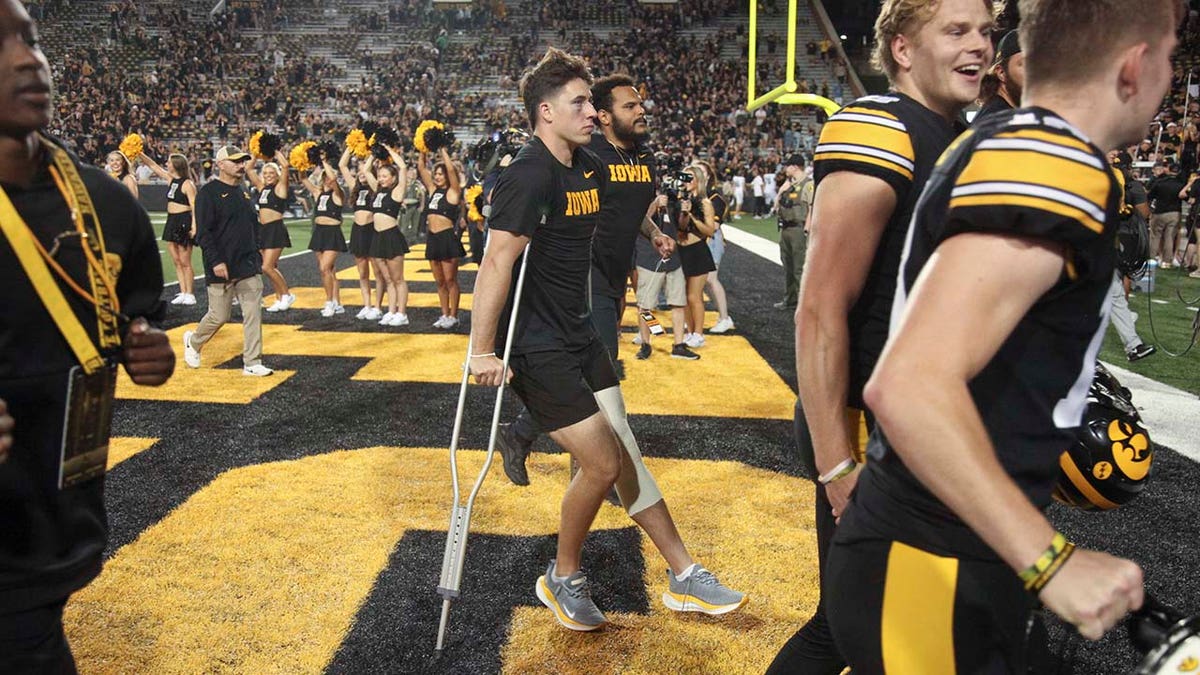 Michigan fans took to X to express their frustration with McNamara's comments, calling him bitter about losing his starting quarterback job to J.J. McCarthy.
However, there did not appear to be any ill-will because of that. McCarthy himself said the team had been anticipating seeing McNamara and Erick All.
WHAT COLLEGE FOOTBALL FANS LEARNED FROM WEEK 13: RIVALRY WEEK NEVER DISAPPOINTS
"It was obviously at the forefront of our minds at the beginning of the season to have that chance to play Cade and Erick again," McCarthy said, via The Gazette.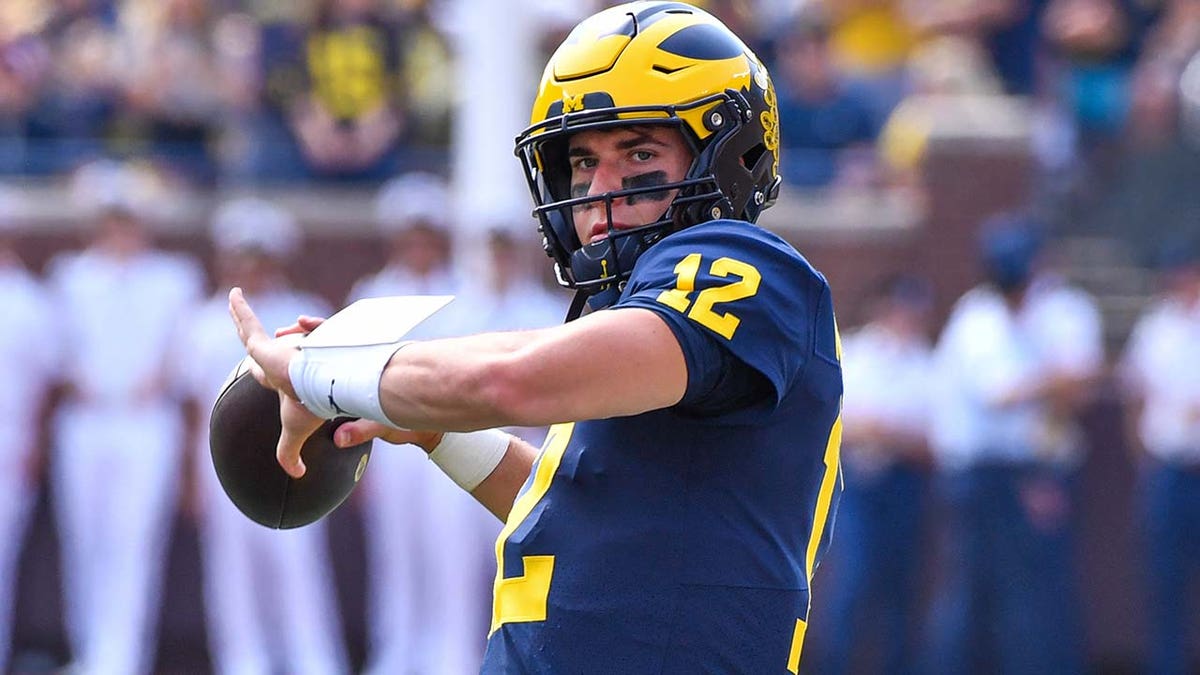 Iowa finished first in the Big Ten West with a 7-2 record against conference opponents and 10-2 overall.
The Hawkeyes' last win against Michigan came in November 2016. The Hawkeyes knocked off then No. 2 Michigan at Kinnick Stadium, 14-13. The Wolverines blew the Hawkeyes out 42-3 in the 2021 Big Ten Championship.
Column: Jordan High's David Sandy is the new teenage star in Watts
It's 10 a.m. They're serving coffee at the City Section championship breakfast, and the only high school football player who dares to take a sip of the dark, hot brew is David Sandy of Jordan High.
"My grandma in elementary school used to serve me coffee," he said.
Said coach Derek Benton: "David is like an old man in a young body."
The community of Watts has a new teenage hero in Sandy, a junior running back who gained 221 yards and scored four touchdowns to lead Jordan to the City Section Division III football championship last week with a 42-30 win over Washington Prep, delivering the school's first football title since 1980.
Sandy's family could throw him his own parade. His father, mother, grandmother, four uncles and aunt all went to Jordan. No one knows more than him what it means to bring a championship trophy to the neighborhood school and make Bulldogs everywhere proud.
"It connects with the community of Watts," he said. "It's a big thing."
Sandy was a volleyball player at Jordan as a freshman, then came out for football as a sophomore.
Spectrum SportsNet and Spectrum News 1 will be televising four CIF state championship regional football bowl games this weekend. Banning-La Jolla Country Day, Mission Viejo-Granite Hills, St. Bonaventure-St. Augustine, Orange Vista-La Serna.

— eric sondheimer (@latsondheimer) November 27, 2023
"He's just a very special, humble individual," Benton said. "He always plays down his talent. He's a true scholar athlete, always looking for the good in people. He always defers to the team."
The captain of the volleyball team has used his athleticism in football to rush for 2,799 yards and 39 touchdowns.
"I just try to be as athletic as I can," he said.
Jordan (11-3), a winner of nine consecutive games, is playing at Bell Gardens on Saturday night in a CIF regional bowl game.
Sandy is a 5-foot-11 outside hitter in volleyball, which has contributed four players to the football team. He has a twin brother who plays football for King/Drew. He likes to participate in school activities, having been in the band and ROTC.
Growing up in Watts, he said he always has to be focused on his surroundings. His rise as a community football standout has enabled him to put on a smile on many faces.
"This has really pulled the whole community and school together," Benton said.
Added Sandy: "I didn't realize how big the win impacted the community. It meant a lot more than I thought. It's giving us a lot of opportunities. With all this fame and attention toward us, we're able to get more from it."
Everyone should salute Sandy for his contributions and offer a cup of coffee, too.
There's only three schools with byes this week into the CIF state championship bowl games. They are Open Division finalists Mater Dei and San Mateo Serra as well as Fairfax. Yes, the Lions from the City Section advance to next week's Division 7-AA championship game against the winner of Northern California's 7-AA regional between Portola and Ferndale.
Talk about pending culture shock.
Fairfax (10-4) is home to Canter's Deli, Farmers Market and CBS Television City. Portola is 12-0 in football with a city population barely over 2,000. It's a train town "on the Middle Fork of the Feather River in the Sierra Nevada mountain range," according to the city's website. Ferndale is 9-4 and in Humboldt County with a population of fewer than 1,500.
Whichever team wins, it will take a bus to Southern California and play the City Section Division II champions next weekend at El Camino College or Pasadena City College (to be announced on Sunday).
Fairfax coach Juan Solorio ought to greet his visitors with Canters danish, a sandwich platter or bagels and lox. It's the Los Angeles welcome.