NBA Finals: Nikola Jokic, Jamal Murray lead Nuggets to dominant win over Heat in Game 1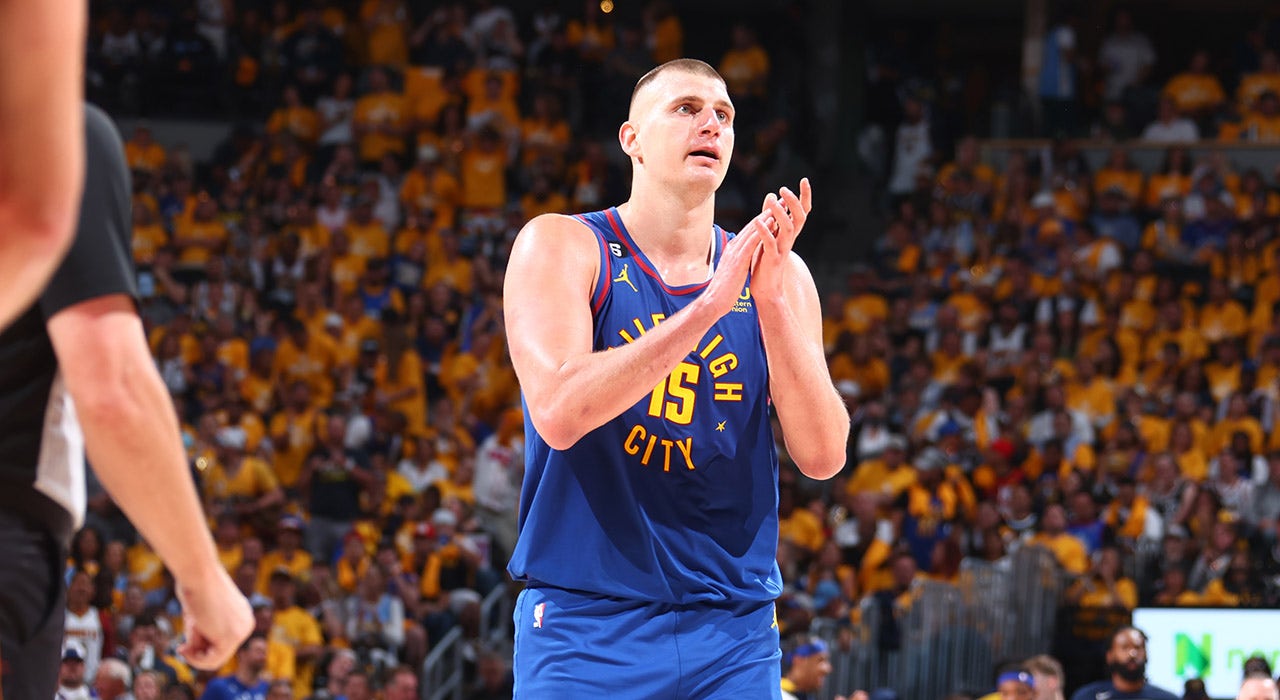 The Denver Nuggets made the best of the franchise's first ever NBA Finals game, dominating the Miami Heat, 104-93, to take Game 1 on their home court. 
While both teams appeared to have some jitters to start this game, the Nuggets settled in quickly with the Heat failing to do so at the same pace. 
By the time the first half was complete, the Nuggets went into their locker room with a 17-point lead thanks to highly efficient offense from the likes of Jamal Murray and Nikola Jokic, the two stars that make this team run. 
Murray was the focal point of the scoring for the Nuggets to start this game, going 8-of-12 from the field with two three-pointers for a total 18 points to lead the way in the first half. 
He would finish the game with 26 points as well as 10 assists and six rebounds. 
There was a large gap to start this game before Jokic even attempted a field goal, as he was dishing the ball left and right to his teammates. He still managed a double-double at the half with 10 assists and 10 points. 
ADAM SILVER SAYS NBA MADE DECISION ON JA MORANT'S FIREARM INCIDENT; WAITING UNTIL NBA FINALS ARE OVER
Once the second half came around, Jokic started showing off his shooting ability, going 8-for-12 for 27points on the night with 10 rebounds and 14 assists for yet another triple-double this postseason. Jokic has six triple-doubles in his last seven playoff games this year. 
The Heat also seemed to have trouble defending Aaron Gordon and Michael Porter Jr. in the first half. Miami kept switching off screens which led to mismatches for the Nuggets' forward to exploit. 
Gordon had 14 points, going 7-for-9 in the first half with five rebounds as well. Porter also added 10 points and seven rebounds. 
Miami was able to get the Nuggets' lead down from 24 at one point in the second half to nine, but the effort wasn't enough as Denver regrouped and finished their double-digit win.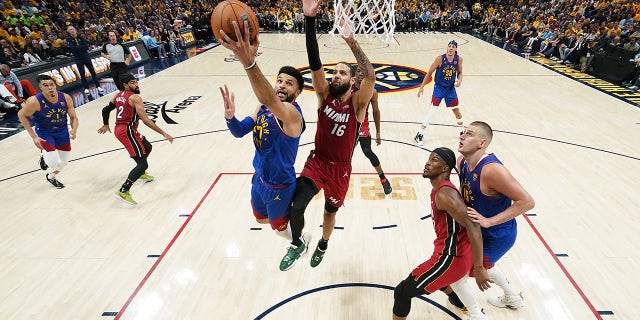 It was an off night for Miami's star Jimmy Butler, who went 6-of-14 from the field for 13 points. Max Strus and Caleb Martin also had dud performances, going a combined 1-of-17, while Strus didn't make any of his 10 shots, nine of which came from three. 
As a team, the Heat have been the best postseason team in three-point percentage in these playoffs, but they shot just 33.3% from downtown. They also only had two total free throws on the night. 
JIMMY BUTLER'S NBA FINALS MINDSET IS WRITTEN ON HIS SHIRT AHEAD OF GAME 1
Not being able to hit threes or get to the line is usually a recipe for disaster. 
Bam Adebayo was the only starter that really had it going, as he went 13-for-25 from the field for 26 points with 13 rebounds and five assists. Gabe Vincent also added 19 points on 7-of-14 shooting. 
Haywood Highsmith was 7-of-10 off the bench for a surprising 18 points. He also defended pretty well, which should help with playing time moving forward in this series. Kyle Lowry had 11 points off the bench as well.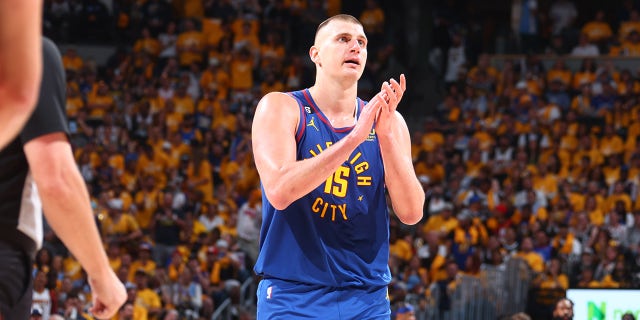 Game 2 of this series will tip off in Denver on Sunday at 8 p.m. ET. 

Lions carve up Packers behind David Montgomery's 3 touchdowns, 121 rushing yards
Don't look now, but the Detroit Lions look like a team that could be developing into a serious contender as the calendar changes from September to October.
The Lions hit the road on Thursday night and took the Green Bay Packers to task at Lambeau Field. With a decent amount of blue and gray in the stands, Detroit won the game 34-20. Detroit's win marks its best start since the 2017 season when they also won their first three out of four – that time under Jim Caldwell.
Detroit didn't start out too hot. Jared Goff threw an interception on his first drive. The Packers only managed a field goal on their first series. Goff calmed down a bit after that.
He threw a touchdown pass on his second series to Amon-Ra St. Brown. The team then followed up with a David Montgomery touchdown and then a field goal. Montgomery scored a second time in the first half and the Lions would get another field goal.
The Lions had a 27-3 at halftime. Montgomery's running abilities in the first half piqued the interest of Pro Football Hall of Famer Barry Sanders.
"These running lanes are making me wish I could still go," he wrote on X.
FALCONS' DREW DALMAN SAYS HE IS 'ALL FOR' THURSDAY NIGHT, LONDON GAMES: 'I KIND OF ENJOY THE CHANGE OF PACE'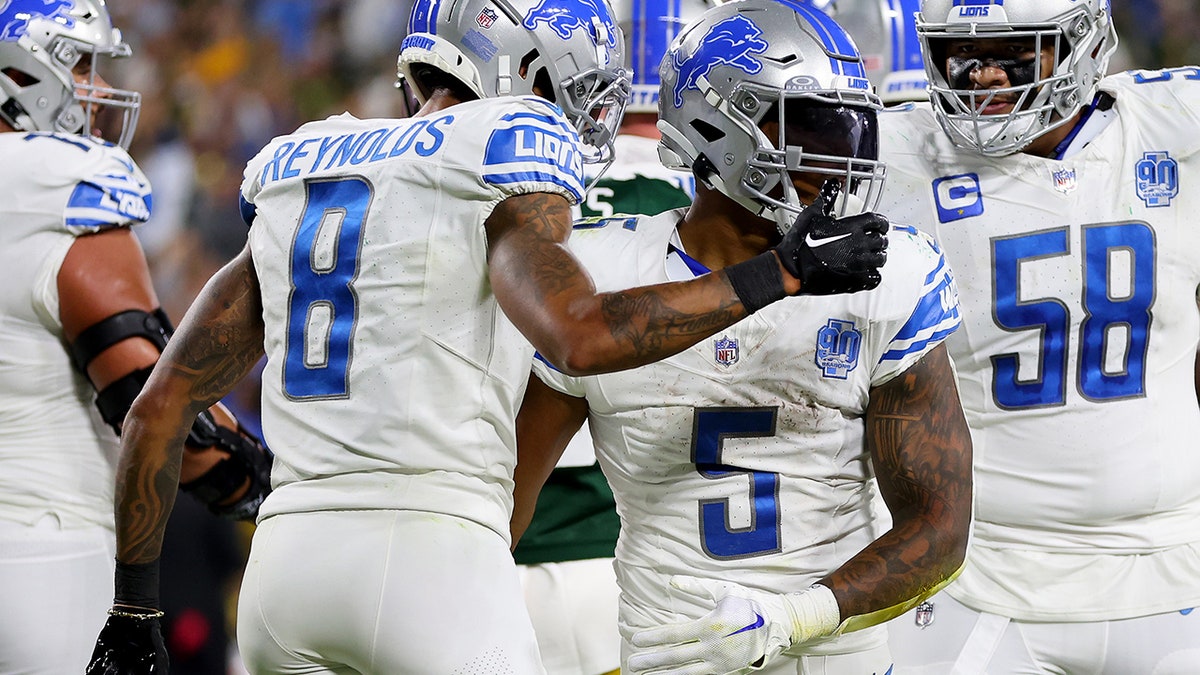 Montgomery was the first Lions running back to score a rushing touchdown in his first three games with the team since Sanders in 1989. The Chicago Bears castoff finished with 119 rushing yards on 32 carries and 121 yards.
Goff played efficiently down the stretch. He was 19-of-28 for 210 yards, a touchdown pass and an interception. He was only sacked twice. Josh Reynolds led the team in receiving with three catches for 658 yards.
The Loins' defense picked Packers quarterback Jordan Love off twice and sacked him five times. He tried to get a comeback going in the second half but it was too little too late.
He was 23-of-36 with 246 passing yards and a touchdown pass to Christian Watson.
The Packers only had 27 rushing yards the entire night.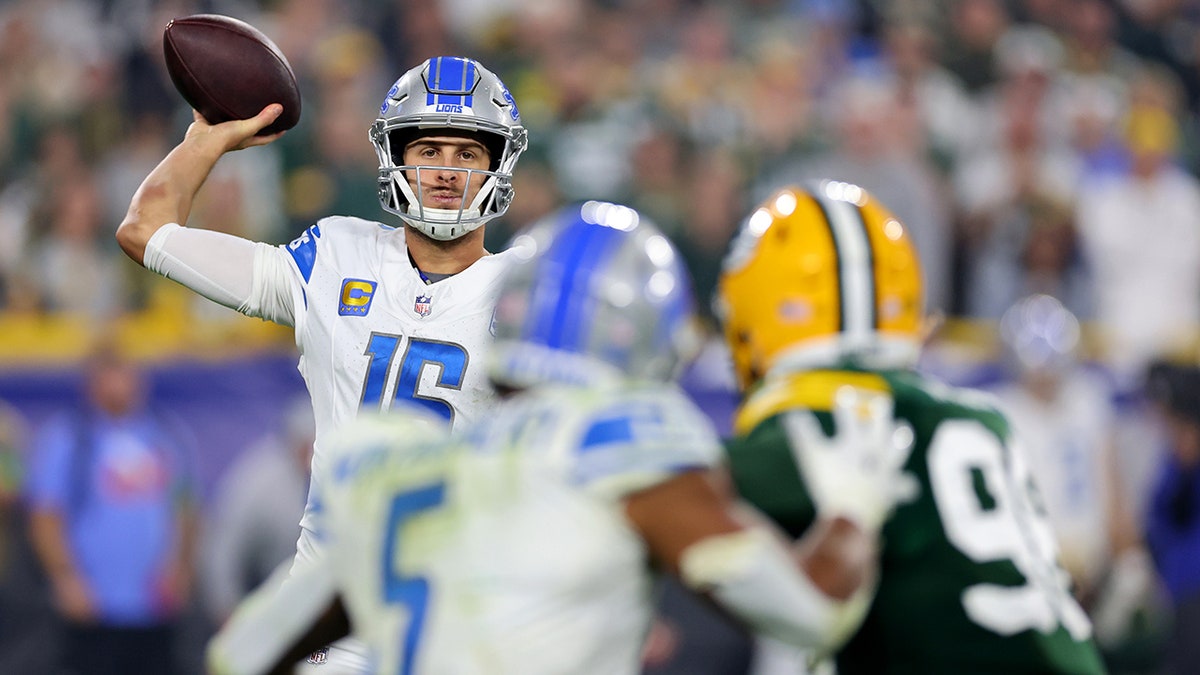 Green Bay fell to 2-2 on the year.
J.D. Martinez and the Dodgers make RBI history during loss to Rockies
DENVER — 
The Dodgers made franchise history in the first inning Thursday night.
They did little else of note after that.
In a 14-5 loss to the Colorado Rockies at Coors Field, the only silver lining was a first-inning home run from J.D. Martinez. The two-run blast not only opened the scoring, but it gave Martinez 100 RBIs on the season.
Along with Mookie Betts, Max Muncy and Freddie Freeman, the Dodgers now have four players with 100-plus RBIs this year — the most the team has had in a single season.
"It's really impressive," manager Dave Roberts said. "It just speaks to how talented these guys are."
The early lead didn't last. After a week of strong pitching during the first three games of the series, the Dodgers finally succumbed to Coors Field's hitter-friendly reputation. Starter Ryan Yarbrough gave up one run in the bottom of the first, two more in the second — tying the score at 3-3 after a Kiké Hernández solo blast in the top half — then four in a third-inning rally that included a pair of home runs.
"It was an extremely difficult day," said Yarbrough, the left-handed trade-deadline acquisition who will shift into a bulk-inning relief role when the playoffs begin. "When you get an early lead like that and then basically let it fall through your fingers and give it right back to them, it hits hard with you."
Another left-hander, Caleb Ferguson, wasn't much better, giving up four runs of his own in the bottom of the seventh.
The team's top bullpen lefty for much of the year, Ferguson has given up eight runs in his last 4 2/3 innings.
Is it a cause of concern for the Dodgers?
"I think it's trying not to think too much of the recency, and look at the body of work," Roberts said. "I know he's frustrated. So we'll have time for those conversations. But for me, it's just trying to find an opportunity to get him back out there and put up a zero."
With the loss, the Dodgers (who are 98-61 and already locked in as the No. 2 seed in the National League for the postseason) will need to win at least two of their final three games against the San Francisco Giants this weekend to reach 100 wins.
For Thursday, their 100-RBI history would have to do.
While Martinez had four 100-RBI seasons before in his career, none was as unlikely as this year's.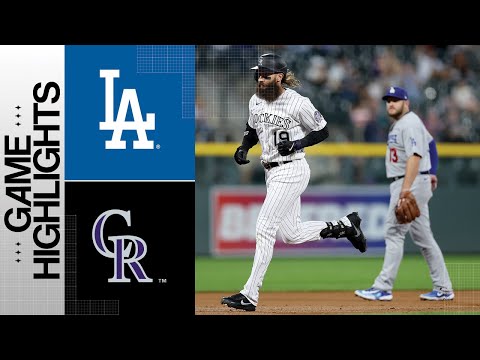 Last offseason, the 36-year-old signed a one-year contract with the Dodgers, hoping to rebuild his stock after a poor finish to 2022. While he has authored a resurgent season in L.A., launching 32 home runs (his most since 2019) and batting .274, Thursday was only his 110th game of the season after two stints on the injured list cost him more than a month combined.
"The analytics really don't value the RBI as much as they used to," Martinez said. "Before it was one of those things where you drive in 100 and you got paid. Guys used to fight tooth and nail for that to drive those runs in. Nowadays it's more an opportunity thing than it is an approach-type thing.
"But I grew up in that era where there's a guy on third or a guy on second, you gotta get that guy in. You have to do whatever you gotta do to get that guy in. Sometimes you might look stupid chasing a pitch or something. You might look dumb swinging at something in the dirt, but it's part of it. I value my bat-to-ball skills with driving that guy in and that's something I take a lot of pride in."
Indeed, getting to the century mark required standout situational production from the six-time All-Star.
Thursday's blast was Martinez's 15th home run and 53rd RBI with two outs this season. He leads the majors in two-out RBIs and trails only Matt Olson in two-out homers.
Martinez is also batting .325 with runners in scoring position this year, the third-best mark on the team behind Freeman and Betts.
It makes Martinez, who is set to be the club's everyday designated hitter in the playoffs, a key factor in the Dodgers' October fate. His 100th RBI was not enough to lift the team to a win Thursday. But his run production could be crucial in making a deep postseason run.
"For me, I think it's everything," Martinez said of being able to drive in runs in the playoffs. "You have to score to win. You can get a bunch of guys on base, but if you don't have a lot of guys to drive them in, it's just guys on base. To me it's a very valuable trait."
Cubs announcers rip Braves over 'absurd' play stoppage for Ronald Acuña Jr. after historic moment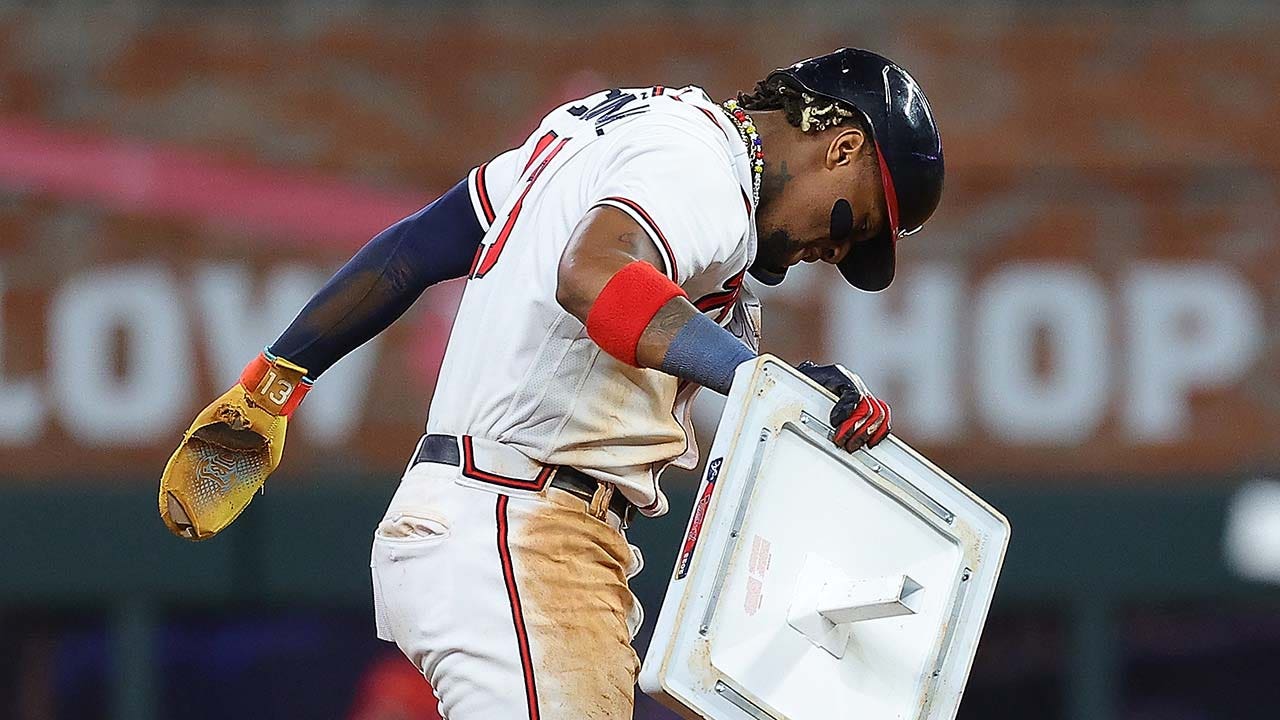 Atlanta Braves superstar Ronald Acuña Jr. continues to make history. 
In the 10th inning of Wednesday night's game against the Chicago Cubs, Acuña stole his 70th base of the season. Last week, the Braves outfielder hit his 40th home run of the season during a game against the Washington Nationals. 
Acuña became the first player in MLB history to enter the 40-70 club. 
Moments after he stole the base, Acuña grabbed the base pad from the dirt as Braves fans gave him a standing ovation. The Braves also played a short video montage on the outfield big screen. 
The Chicago Cubs' broadcasters took exception to the extended pause in the game. Announcers Jon "Boog" Sciambi and Jim Deshaies said the decision to stop the game and recognize Acuña's accomplishment was "absurd."
BRAVES' SPENCER STRIDER OFFERS SCORCHING HOT TAKE: 'GET RID OF THE FANS'
"We're really stopping the game to do a highlight montage?" Sciambi said during the Marquee Sports Network broadcast.
Deshaies then questioned the need to remove the base during the game.
"Can we get the base after the game? This is pretty absurd. I mean, it's a hell of an accomplishment, but …," Deshaies said. 
Sciambi reiterated his frustrations with the video montage. 
"Totally, but you can't stop the game to run a highlight montage," Sciambi said.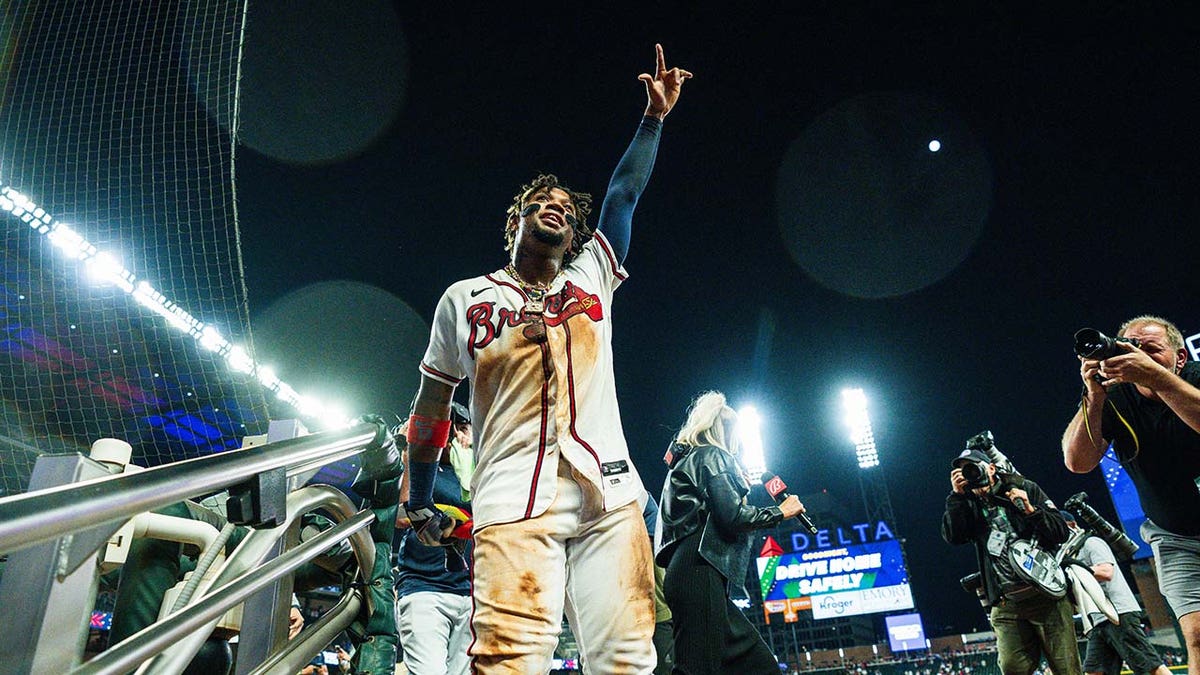 The Cubs are fighting for their postseason lives after missing the playoffs the last two seasons.
Shortly after Acuña made it safely to second base, All-Star second baseman Ozzie Albies hit a walk-off single to give the Braves a second straight one-run win over the Cubs. The loss dropped Chicago to 82-76, and the team is tied with the Marlins for third place in the NL wild-card standings.
"It's really an incredible moment," Acuña told reporters after the game through an interpreter.
Acuña has hit 41 home runs this year. Alex Rodriguez had been the only player with 40 home runs to steal more than 46 bases in the same season. In 1998, Rodriguez had 42 home runs, 124 RBIs and 46 steals.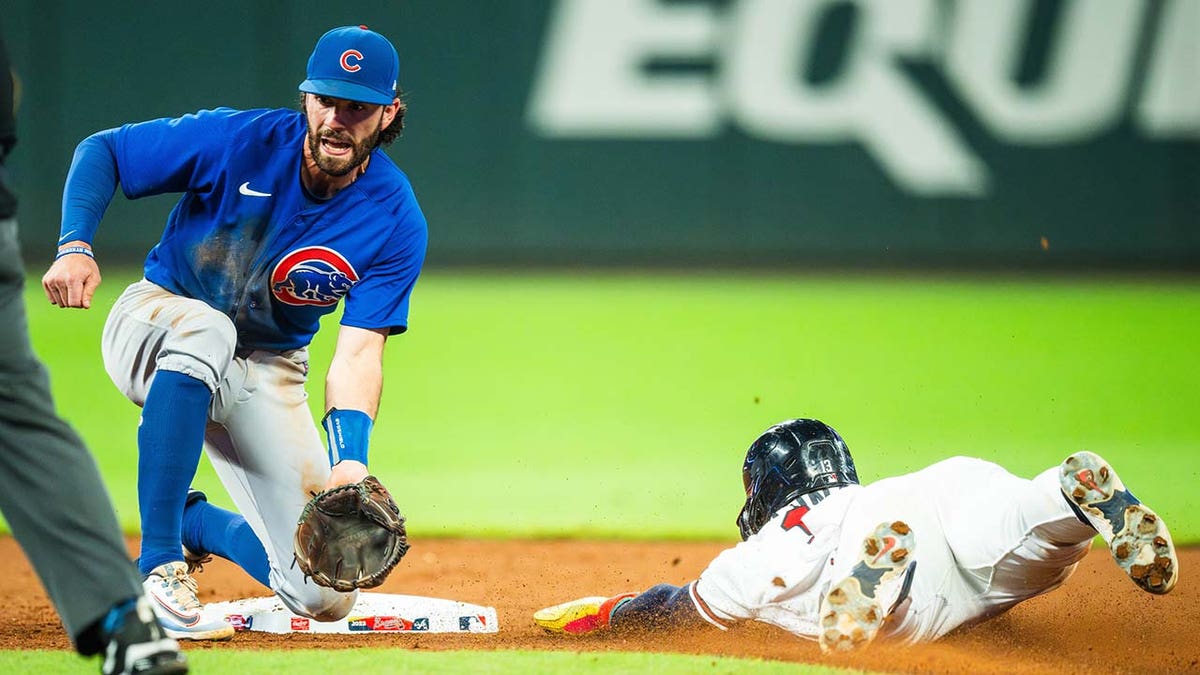 MLB added bigger bases this season to bring more base-running excitement to the game. 
Acuña and Los Angeles Dodgers star Mookie Betts are widely considered the front-runners for NL MVP.