Basketball roundup: Crespi is 3-0 under first-year coach Derek Fisher
Hiring a former NBA head coach and former Laker brings scrutiny and attention. So far, so good for Crespi first-year coach Derek Fisher. His team has started 3-0.
Freshman Carter Barnes and sophomore Joe Sterling each scored 26 points to lead Crespi to a 97-78 win over Chatsworth on Friday night at Providence. Alijah Arenas scored 27 points for Chatsworth.
Los Alamitos 103, Verdugo Hills 72: Samori Guyness scored 23 points to help Los Alamitos advance and face Mira Costa in Saturday's Ocean View tournament championship game.
Bosco Tech 85, Gabrielino 42: Jaden Erami contributed 23 points and Ryan Osborne 20 in the debut victory for Bosco Tech.
Damien 76, Anaheim Canyon 34: The Spartans advanced to the Sunny Hills tournament final.
Rancho Verde 64, Great Oak 52: Jermaine Washington and Trestyne Nguru each scored 21 points for Rancho Verde.
Oaks Christian 52, Rio Mesa 44: The Lions received a strong performance from Steve Prudholme.
Taft 61, South El Monte 48: Nathan Bamshad had 18 points for Taft.
Crossroads 76, Culver City 39: EJ Vernon had 20 points for 2-0 Crossroads.
Orange Lutheran 60, Los Altos 51: Preston Lee scored 20 points for the Lancers.
Saugus 68, Loyola 46: Justin Perez finished with 22 points and Matt Correa 17 for unbeaten Saugus.
La Mirada 65, La Serna 45: Freshman Gene Roebuck had 25 points for La Mirada.
Windward 63, Torrey Pines 56: Gavin Hightower had 16 points and seven assists for Windward. Jeremiah Hampton added 14 points.
Sherman Oaks Notre Dame 88, Venice 39: Mercy Miller led the Knights with 24 points and Zach White had 23 points.
Eastvale Roosevelt 87, Hesperia 51: Brayden Burries had 35 points for Roosevelt.
West Ranch 80, Bakersfield Christian 65: Jaeden Robley had 21 points and Bishop Brooks 19 for West Ranch.
Girls' basketball
Sierra Canyon 75, Brentwood 56: Izela Arenas scored 27 points and Jerzy Robinson had 18 points in a Harvard-Westlake tournament game.

Jon Rahm breaks silence on LIV Golf defection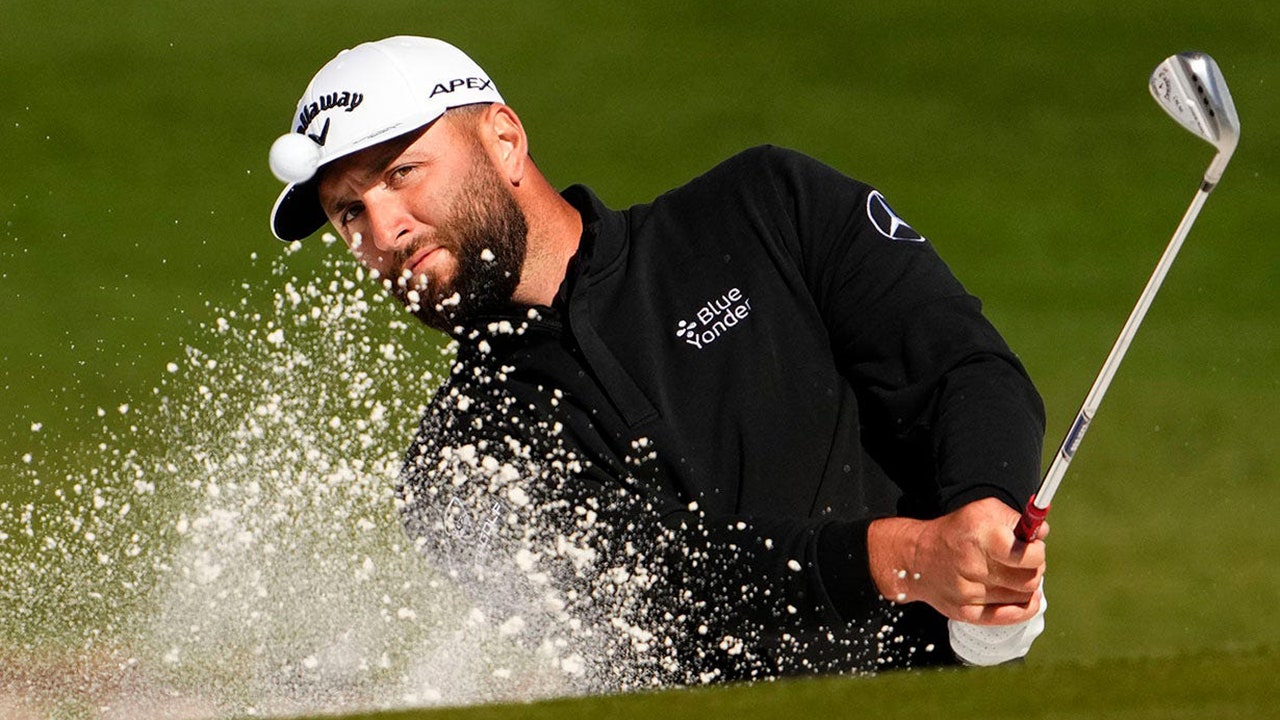 Jon Rahm officially joined LIV Golf Thursday, joining Phil Mickelson, Dustin Johnson and Brooks Koepka in spurning the PGA Tour for the Saudi-backed series.
The reigning Masters champion made the announcement on Fox News Channel's "Special Report" wearing a black and white letterman jacket with "LIV Golf" emblazoned across his right shoulder.
The No. 3 golfer in the world stunned golf fans who likely believed he was going to stay on the PGA Tour.
He touted the organization's history and his own legacy just last year while chiding LIV for its 54-hole tournaments. Those days are clearly over.
"It is not an easy decision because I've had a really successful career, and I've been very happy. But there's a lot of things that LIV Golf has to offer that were very, very enticing, starting with team golf," he told Fox News' Bret Baier. "Being part of a team is something that's been really big for me throughout my career. 
"I was part of the Spanish national team from the age of 14 till I graduated college. I was part of the Arizona State golf team. And you know, as a pro, you don't have that chance very often. And if you are European or American, you barely have that chance, right? 
"So, it's something that is very, very fun to play for something more than just yourself. And simply the growth that LIV Golf has brought to the game of golf. Right? It's something fresh, something new, something with a ton of potential and opportunity and something I'm really excited about."
Money may also have been a motivating factor.
ESPN reported earlier in the day that Rahm's deal was worth $300 million over three years. Rahm wouldn't comment on the reported numbers but doubled down on his claim he doesn't play golf for the money.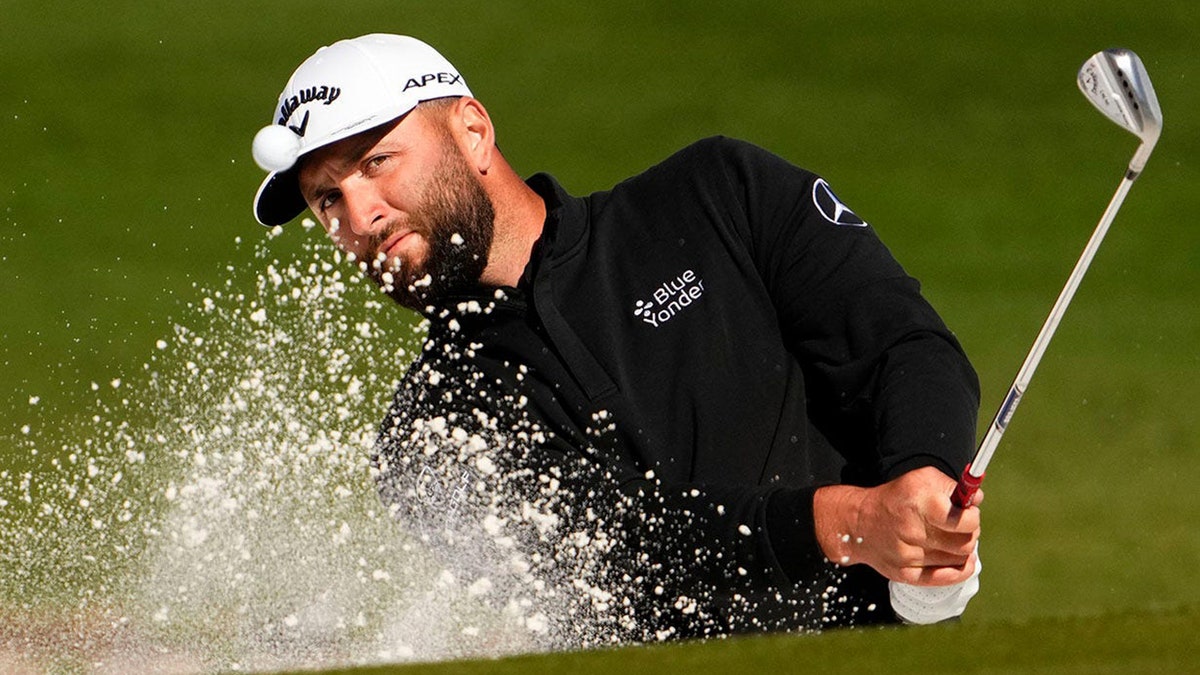 "Yeah, the money is great. Obviously, it is wonderful. But what I've said before is true. I do not play golf for the money. I play golf for the love of the game and for the love of golf. But as a husband, as a father and as a family man, I have a duty to my family to give them the best opportunities and the most amount of resources possible. And that's where that comes in. 
"Obviously, it is a factor, and it was an important one, obviously, in this decision. But there's many other things, like I mentioned earlier, that make it so exciting. Once you get past that, the love of the game and wanting to grow it to a global market, being part of the team, being a captain, hopefully being a leader to teammates. It's something that is so, so special that, you know, it makes me want to work harder than I have until now to actually prove myself. 
JON RAHM TO JUMP TO LIV GOLF MORE THAN YEAR AFTER SAYING 'HEART' WAS WITH PGA TOUR: REPORTS
"And, you know, being a European and growing up being a fan of athletics, that will allow, hopefully, some kids in the future growing up in Spain … to be part of this team that I'm going to build, right? (It is) something that hopefully I'm related to for a very long time. Hopefully, until I die, I can make it something very special."
Rahm pushed back on the notion LIV was buying a sport, saying nobody "was forcing us to do this," adding players are making their own choice to make the jump.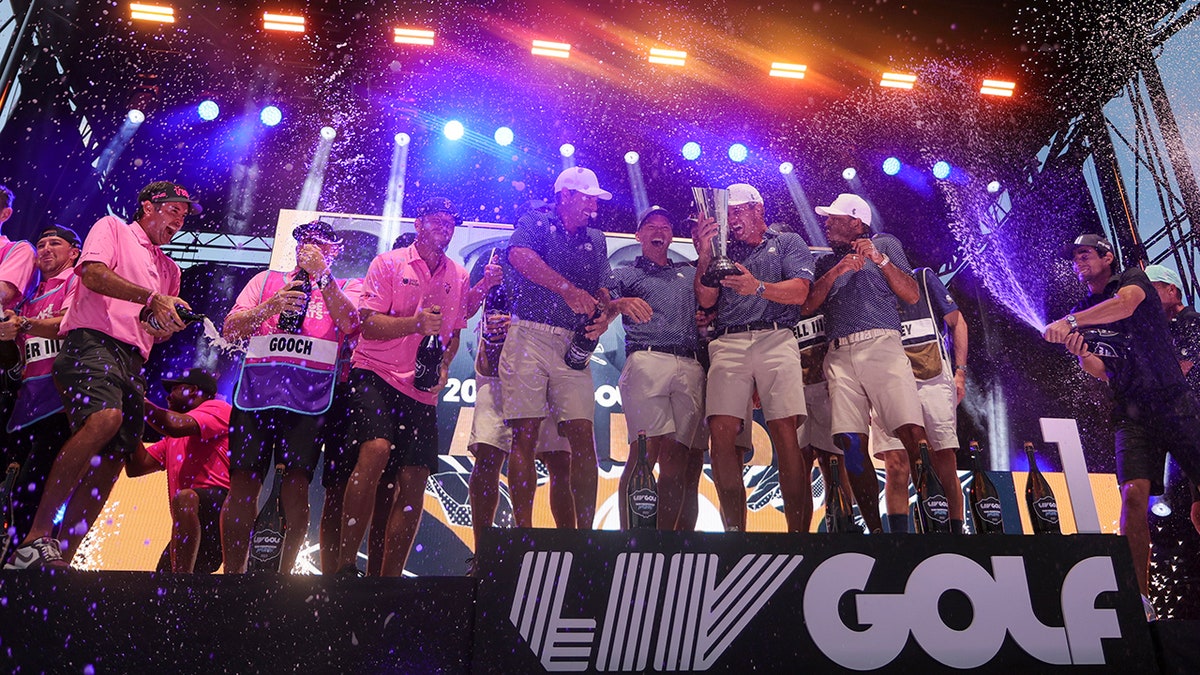 "It was a choice for me and my family and the better of our future," he said. 
Follow Fox News Digital's sports coverage on X and subscribe to the Fox News Sports Huddle newsletter.
Here's the actual reason the Lakers can't wear black for tonight's NBA in-season tournament game
The Lakers won't be the men in black when they play the New Orleans Pelicans on Thursday night in the semifinal round of the NBA's inaugural in-season tournament.
It wasn't their decision.
The NBA wanted all four teams remaining in the tournament to wear uniforms that contrast as much as possible with Las Vegas' T-Mobile Arena court, according to a person with knowledge of the situation who wasn't authorized to speak publicly.
The league determined the Lakers uniform that would go best with the venue's specially designed red-and-royal-blue floor would be the gold "Icon Edition." The team has worn its black "City Edition" uniforms in their last two tournament games — including Tuesday night's dramatic 106-103 quarterfinal victory over the Phoenix Suns at Crypto.com Arena.
The source told The Times that the league alerted all the quarterfinal teams of the uniform situation last week, ahead of the neutral-site games in Vegas. All of the tournament games up to this point have been played on one of the participating teams' home courts, all of which were specially painted for the first-year event.
The Pelicans will be donning their white "Association Edition" uniforms, which they've worn during their two most recent tournament games — a 116-106 win over the Clippers on Nov. 24 and a 127-117 quarterfinal win over the Sacramento Kings. Both of those wins were on the road. "The white uniforms were the only option for the Pelicans that would not have contrasted with the floor," the source told The Times.
The Lakers have worn the black uniforms for all three of their tournament home games, which also include a 134-107 win over the Memphis Grizzlies on Nov. 14 and a 131-99 win over the Utah Jazz on Nov. 21.
The good news for LeBron James and company is they've worn the Icon unis in their other two tournament games and won both of those as well — 122-119 over the Suns in Phoenix and 107-95 over the Trail Blazers in Portland.
Aaron Judge hints Yankees aren't done making moves after acquiring 'generational talent' Juan Soto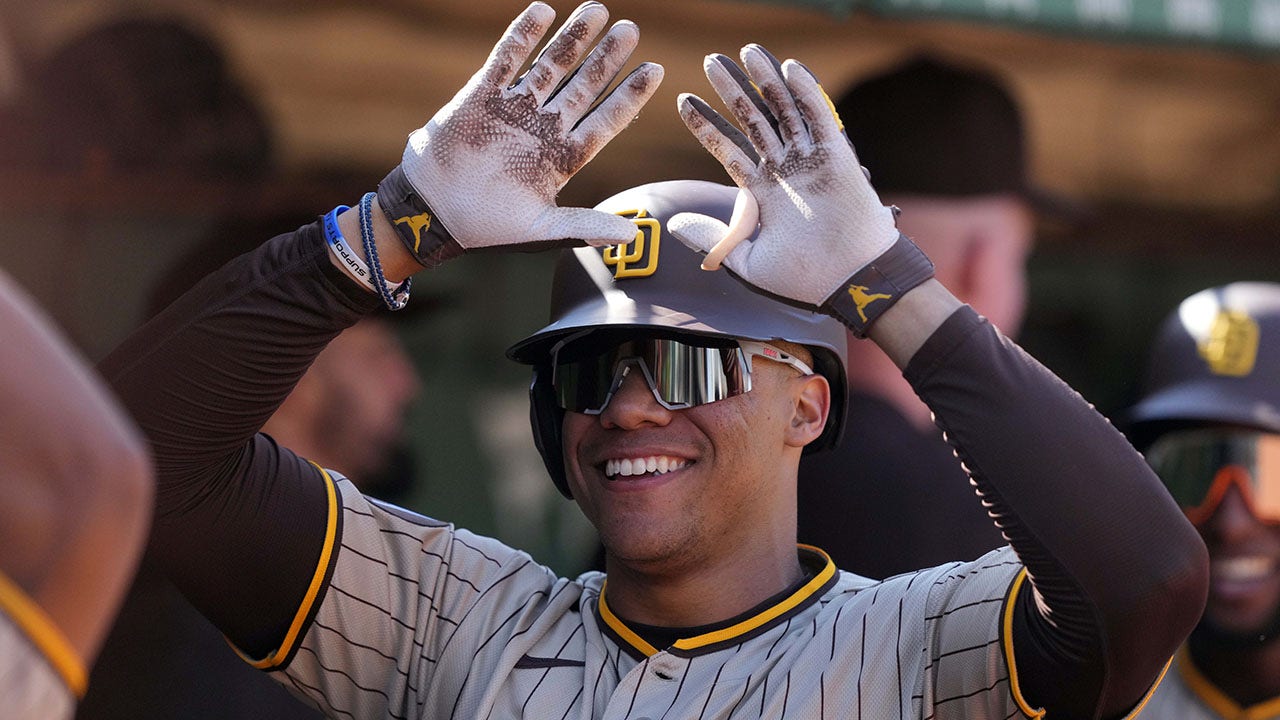 The New York Yankees made the biggest splash of the offseason so far on Wednesday night when they acquired four-time Silver Slugger Juan Soto.
Soto has finished in the top 10 in MVP voting four times in his six MLB seasons, including sixth place last year, and he fills a hole the Yankees desperately needed.
It could be a one-year rental, as Soto is slated to hit free agency after the 2024 season, but no matter the case, Soto is one of the most talented players to set foot on a field.
Yankees general manager Brian Cashman said on Thursday that if it were opening day, Aaron Judge, a Gold Glove-caliber right fielder, would be playing center, and Soto would be in right.
But even though Soto is knocking Judge over to a different position (which he does play adequately), Judge can't wait to look over to his left and see another superstar in the outfield.
"I'm excited," Judge said on Fox 5 New York of the Yankees acquiring Soto. "We gave up quite a few pieces to get him, but he's a generational talent. His track record, his stats speak for themselves. I think everybody in the Yankee universe is pretty excited to have him on board… We'll have some fun."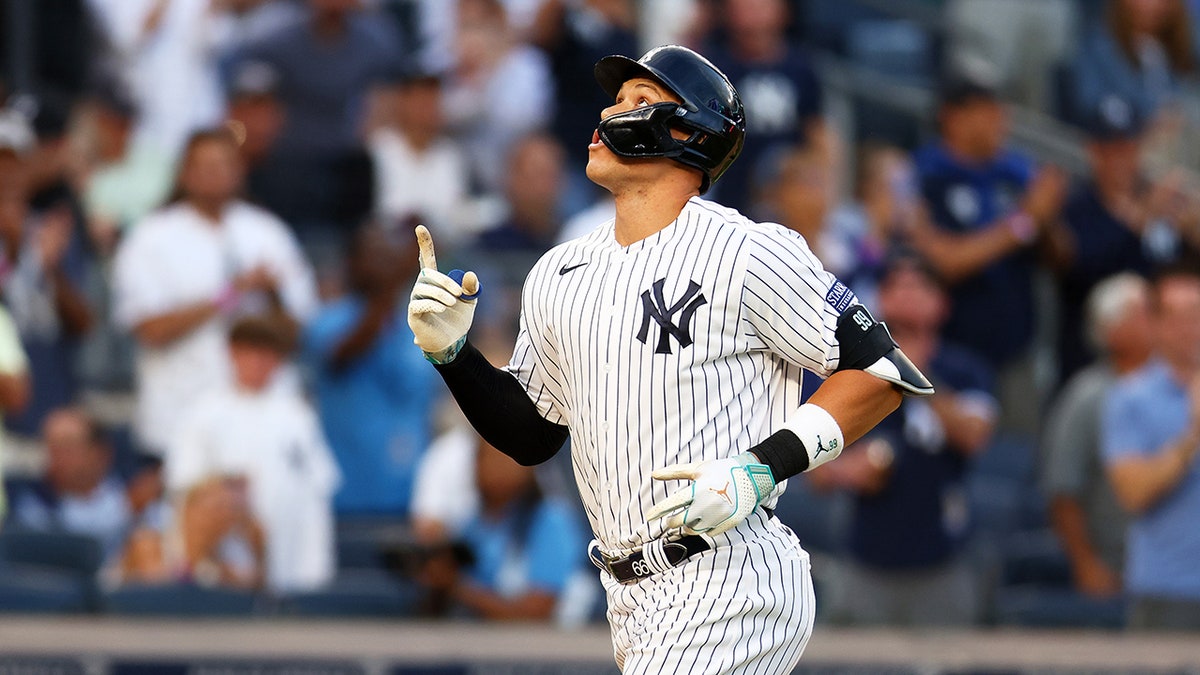 YANKEES ACQUIRE ALL-STAR JUAN SOTO IN BLOCKBUSTER TRADE
The Yanks sent MLB pitcher Michael King, catcher Kyle Higashioka, and three pitching prospects to the San Diego Padres, but the Yanks ranked 29th in batting average and 24th in runs scored as they were trying to plug in just about anybody in a scarce outfield.
Now, the Yankees outfield is set, as they also acquired Alex Verdugo on Tuesday.
But the Yankees, Judge says, aren't done yet.
"We've made some big moves the past couple of days and looking forward to making a couple more, but it's gonna be a fun season, I think, for Yankee fans," he said.
The Yankees figure to be one of the favorites for Japanese ace Yoshinobu Yamamoto, who some believe could venture a $300 million deal.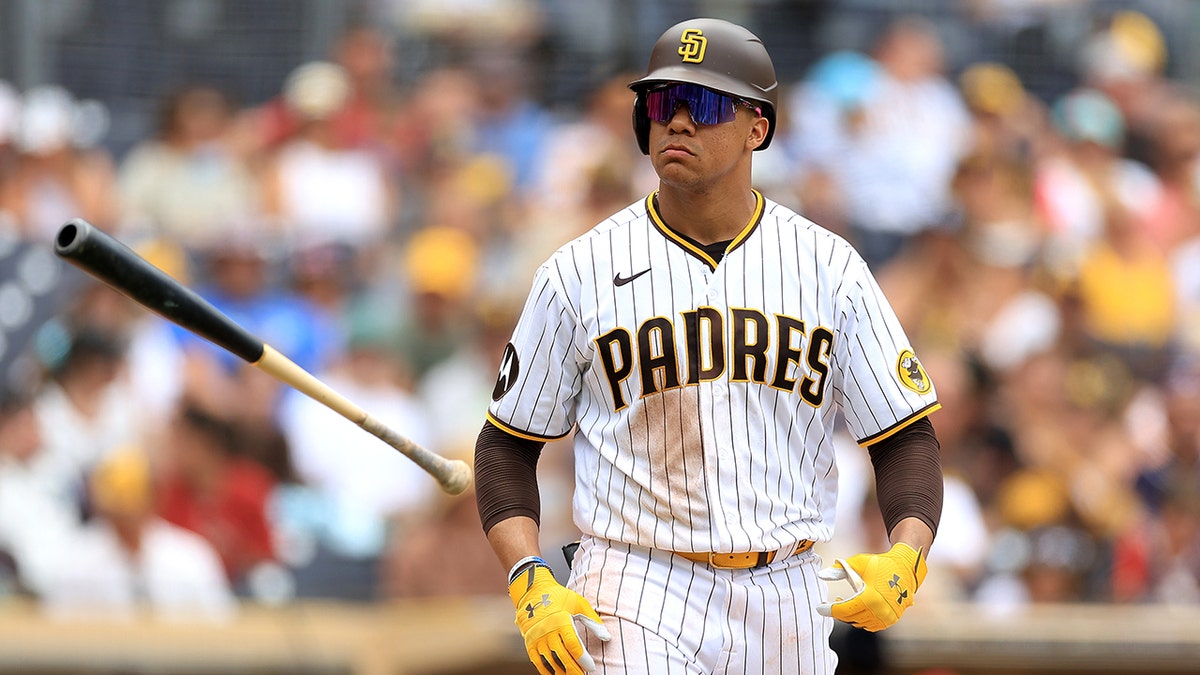 Soto had a down 2022 but showed his talent this past season by hitting .275 with 35 homers, 109 RBI, and a .930 OPS. He led the majors in walks last season (132) for the third time in his career. While that still isn't his best work, his career numbers show that it should surprise nobody if he's even better. In his career, he owns a .946 OPS while hitting .284 and has the highest on-base percentage (.421) among active players.