Texas parents say teacher singled out Israeli daughter to make pro-Palestinian comment
A concerned parent in Texas said her high school daughter, who is Israeli, was targeted by her teacher, who allegedly made antisemitic comments during a lesson.
Talya Hayoun, a freshman at Dickinson High School in Dickinson, Texas, told FOX 26 Houston that she walked into her English class to find the white board had the popular pro-Palestinian mantra, "No justice, no peace. Justice for Palestine." 
Talya, who is Israeli, said the message was not part of a lesson but, believes it was an opportunity for the teacher to share with her students her opinion about the ongoing Israel-Hamas war. 
CORNELL PROFESSOR ON LEAVE FOR REMARKS ABOUT 'EXHILARATING' HAMAS ATTACK HAS HISTORY OF INCENDIARY RHETORIC
Talya told FOX 26 that her teacher asked her where she was from.
"She said, 'Oh, you still have family in Israel?' I said, 'Yes, of course. All my family is over there. And I'm from there too,'" Talya said. 
Talya said the incident made her feel scared and alone since she is the only Israeli in the public high school.
"I'm really, really scared. I'm the only Israeli at school," Talya said. "No one is Jewish over there. They made me feel guilty that I'm Jewish and that I'm from Israel."
The teen's parents were outraged after listening about their 14-year-old experience in the classroom.
PROFESSOR WARNS TERRORIST SUPPORTERS A MASSIVE PROBLEM IN COLLEGES AS PRO-PALESTINIAN GROUPS DEFEND HAMAS
"What is the benefit here? What is the purpose here? Someone needs to take responsibility here about this situation here because my daughter, she is not at fault that she is Israeli," said Benjamin Hayoun, Talya's father.
On Thursday, the Hayouns filed a formal complaint with the school district and with the Dickinson ISD.
In a statement to FOX 26, a spokesperson for the district said that the district and police are investigating the allegations.
"Dickinson ISD is aware of a situation on Thursday morning involving a Dickinson High School English teacher who parents have said wrote a statement on the board related to the Israeli and Palestine war," a spokesperson said. "The parents have met with high school administration, and the district is investigating the situation."


Read the full article from Here

Orange County child sex assault suspect remains at large
Police are searching for a sexual predator who allegedly assaulted a child in Santa Ana.
The suspect was identified as Nicolas Gonzalez, 39, by the Santa Ana Police Department.
Gonzalez is accused of sexually assaulting an 11-year-old child on the 500 block of North Mortimer Street.
When the victim's family members spotted him, they confronted Gonzalez and scared him away. The suspect fled the scene before police could arrive.
There is an active warrant out for his arrest involving several child sex assault charges, authorities said.
Gonzalez is described as a Hispanic man standing 5 ft 3 inches tall and weighing 160 pounds. He has black hair and brown eyes. He remains at large.
Anyone who may have seen Gonzalez or knows of his whereabouts is asked to contact Santa Ana Police Detective Avila at 714-245-8379 or email AAvila@santa-ana.org.
Arrest warrant for Bills' Von Miller issued over alleged domestic violence incident involving pregnant woman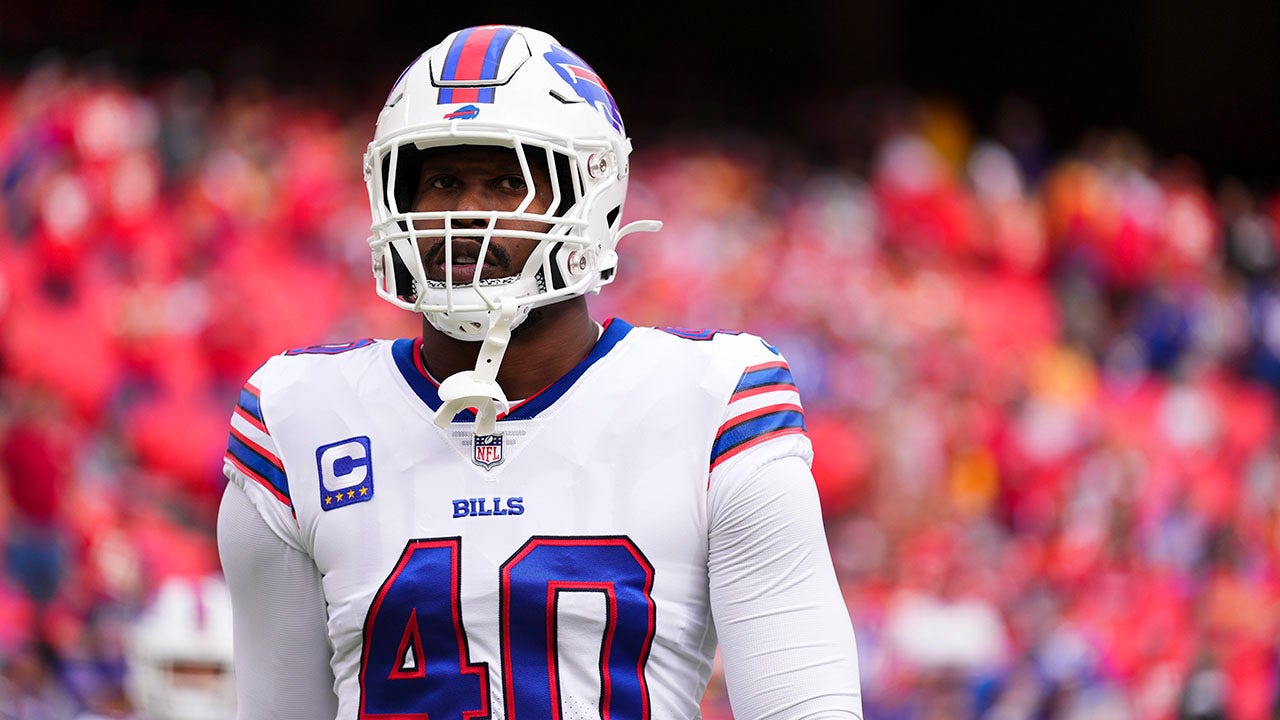 Two-time Super Bowl champion and Buffalo Bills linebacker Von Miller is facing charges related to an alleged domestic violence incident in his native Texas and a warrant for his arrest has been issued, police confirmed to Fox News Digital on Thursday. 
The Dallas Police Department responded to the 3100 block of N. Harwood at approximately 11 a.m. on Wednesday in response to a "major disturbance call."  
According to law enforcement, Miller left the scene before officers arrived, but the preliminary investigation found that a verbal argument between Miller and the victim ensued where he then allegedly "assaulted the victim." The victim, who was not identified by police, was not hospitalized but was treated for "minor injuries."
Police also confirmed that a warrant for Miller's arrest on the charge of assault on a pregnant person has been issued. 
WFAA first reported the alleged incident and identified the victim as Miller's longtime girlfriend. 
The Bills said in a statement Thursday that they were "aware" of the reports. 
"This morning, we were made aware of an incident involving Von Miller. We are in the process of gathering more information and will have no further comment at this point."
ALL-PRO JASON KELCE SUGGESTS BILLS PLAYER ATTEMPTED INJURING EAGLES TEAMMATE DURING 'TUSH PUSH'
Miller spent 11 seasons with the Denver Broncos, winning his first Super Bowl during the 2015 season. Halfway through the 2021 season, he was traded to the Los Angeles Rams, where he would earn his second ring. 
The eight-time Pro Bowler signed with the Bills the following season on a six-year, $120 million deal, but his season was cut short when he suffered an ACL tear. 
He was activated last month. The Bills are on a bye week and will next play the Kansas City Chiefs on Dec. 10. 
Follow Fox News Digital's sports coverage on X and subscribe to the Fox News Sports Huddle newsletter.


Read the full article from Here
L.A. chapter of ASPCA responds to discovery of dead longhorn at fraternity house in Oklahoma
The Los Angeles chapter of the Society for the Prevention of Cruelty to Animals (spcaLA) is outraged over the "horrific" discovery of a dead longhorn in front of a fraternity house near the campus of Oklahoma State University. 
According to KTLA sister station KFOR, the carcass was found in front of the FarmHouse Fraternity in Stillwater, Oklahoma. 
The words "F**k FH" were scrawled on the cow's side. 
A local police officer told KFOR that the longhorn appeared to have been dead for less than 24 hours upon its discovery, and it was unlikely that it was killed on off-campus fraternity house's front lawn. 
Tire tracks on the lawn indicate that a truck or truck and trailer dumped the steer there, KFOR reported. 
SpcaLA officials released a statement condemning the "horrific and unsettling" discovery and called for a thorough investigation by local authorities, the Oklahoma State University's Office of Student Support and Conduct and the National Interfraternity Council. 
The dead longhorn does carry some significance, as OSU is set to take on the University of Texas (whose mascot is a longhorn steer) in Dallas on Saturday in the Big 12 championship, and some are speculating that the slaughtering of the steer is directly connected to the matchup. 
"Regardless, if this is because of a football game, "Texas Hate Week," or something more nefarious, this is a criminal act," said Madeline Bernstein, spcaLA President. "This behavior cannot be brushed aside." 
KFOR obtained a statement from Oklahoma State University: 
"Oklahoma State University is appalled at the disturbing display of animal cruelty that occurred overnight at an off-campus location near a fraternity house. The Stillwater Police Department is investigating the incident, and the university's Office of Student Support and Conduct also has initiated an investigation. 

Oklahoma State expects all students to adhere to university codes of conduct, and appropriate action will be taken based on the outcome of the investigation."

Statement from Oklahoma State University
Where the animal came from and who put it there remains under investigation.
The Longhorns defeated Oklahoma State by a score of 49-21 on Saturday.