Army vet says new evidence suggests foul play in unsolved disappearance of scientist son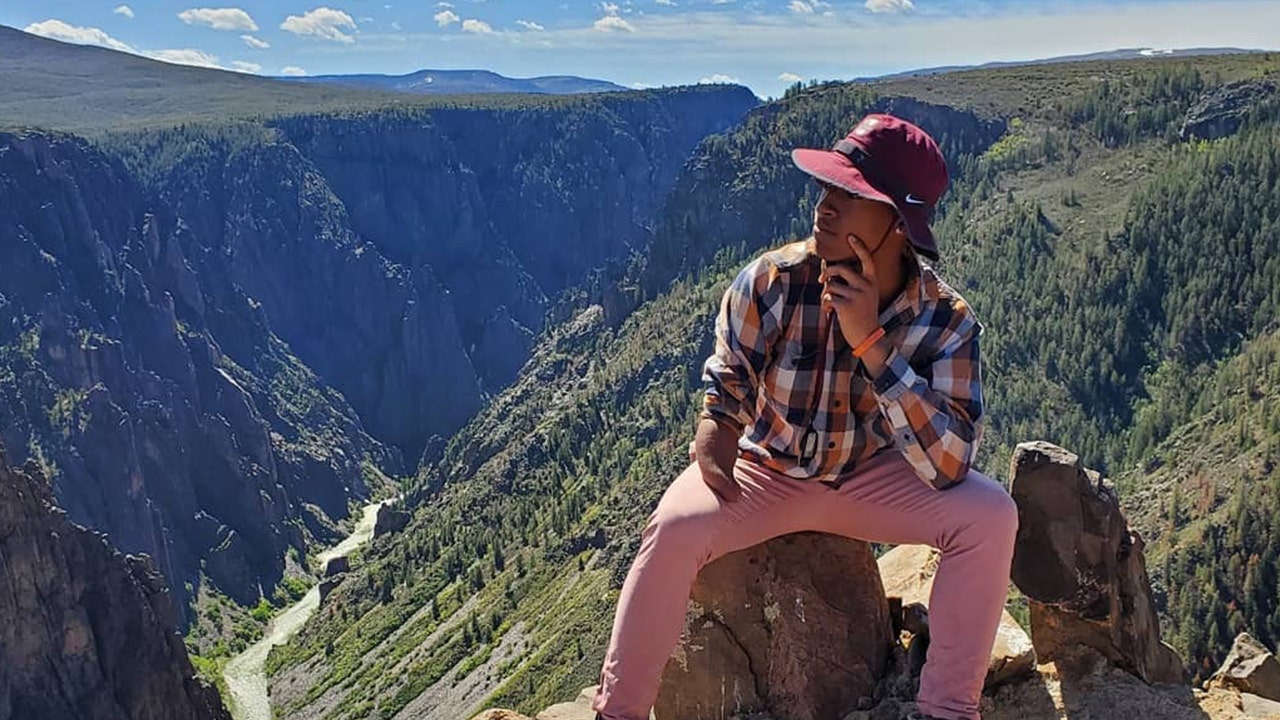 ORLANDO, Fla. – A retired U.S. Army veteran says his missing geologist son Daniel Robinson may be the victim of a crime based on evidence uncovered by the family's private investigator after police found his wrecked Jeep abandoned in a remote Arizona desert.
Local police, however, say they've found no indication of foul play, and David Robinson, who served two tours in Afghanistan, told Fox News Digital he hopes the Maricopa County Sheriff's Office intervenes.
"I didn't believe my son suffered a severe injury that caused him to kick out the sunroof, shred all his clothes off, hide in a tree, join a monastery and become a monk," said the father, who previously had a private investigator on the case. "So, I had to get a second opinion about that."
He said his son's Jeep traveled 11 miles after all the airbags deployed, and the investigator found signs someone besides police searched the missing geologist's bedroom after his disappearance. The family has also received ominous but unverified messages on social media, including a photograph of a man holding a gun who the anonymous sender claimed was the missing Robinson's killer.
MISSING ARIZONA GEOLOGIST DANIEL ROBINSON: A FATHER'S UNENDING SEARCH FOR HIS SON, ONE YEAR LATER
The elder Robinson issued a public call for help at CrimeCon 2023 in Orlando over the weekend, where he took the stage alongside the families involved in other high-profile disappearances, including travel blogger Gabby Petito, 22, and the 19-year-old self-made farmer Dylan Rounds. The families said law enforcement, which was slow to accept a missing person report for Petito, has been even slower to act on cases involving the two young men.
Buckeye Police in May publicly disclosed more than 120 pages of investigators' records in the Robinson case.
WATCH: U.S. Army veteran unveils concerning evidence in son's mysterious disappearance
In interviews with friends and family, detectives heard nothing about Daniel Robinson being suicidal or wanting to harm himself, according to police records. But he displayed some strange behavior in the days immediately before he vanished. 
The colleague who last saw him leaving a well site on June 23, 2021, told police he'd made strange references to driving 50 miles away to Phoenix to "rest." A day earlier, he texted a woman he barely knew but apparently had fallen in "love" with. She told him to leave her alone. And a co-worker told detectives Robinson cut his hair and talked about changing himself in other ways at breakfast in the days before he was last seen.
On July 6, 2021, police searched Robinson's apartment and found the common areas to be orderly but a mess in his bedroom.
"There was no indication of foul play," a detective wrote in a supplemental report, but there was also "no indication that Daniel had packed and planned a trip."
MISSING ARIZONA GEOLOGIST: NEW DETAILS RELEASED IN DISAPPEARANCE OF DANIEL ROBINSON
They found his computers and other valuables inside. According to his father, the family's private investigator found two suspicious signs — that Robinson's bedroom had allegedly been searched thoroughly by a third party and that someone had accessed his computer after he'd gone missing.
"The big mystery is where is Daniel?"

— Ted Williams, former D.C. homicide detective
"It could've been police," said Ted Williams, a renowned lawyer and former Washington, D.C., homicide detective. "And also a lot of times when individuals go missing, and individuals in the public find out they are missing — there are burglars, thieves, people who are nosy — who will try to go to the place where they lived, and they will go through the person's items in that place. That has taken place on numerous occasions."
GABBY PETITO CASE BRINGS RENEWED INTEREST IN FINDING MISSING PEOPLE, HIKERS
On July 19, 2021, a rancher located Robinson's 2017 Jeep Renegade battered and rolled onto its passenger side in a ravine. The vehicle had front-end impact damage, a broken driver's side window and lost a piece of its roof. It was still in drive.
"My investigator found that there was a form of foul play there, and the vehicle was staged," David Robinson said.
Police found clothes, Robinson's phone and work computer inside. His wallet had no cash inside.
Despite extensive damage to the vehicle, there was no blood and no indications Robinson had spent "a considerable amount of time" at the crash site. Police found a stash of water bottles, but none were empty. They saw no tracks. However, investigators noted it had rained at least three times between when Robinson was last seen and when they arrived at his SUV.
The elder Robinson told Fox News Digital Saturday that his private investigator believed the scene had been staged to look like a crash. According to the police report, the ignition had been cycled 44 times after the crash, a detail that an accident reconstructionist called an "unanswered anomaly." 
"There is insufficient evidence to scientifically connect the Jeep to another crash or support a theory the Jeep crash, as found, was staged," the reconstructionist wrote in a 15-page report. "The driver of the Jeep drove it into the ravine, and having rolled and unable to proceed further, abandoned the Jeep as it lay."
"[The private investigator] looked through the black box data and found that after the airbags deployment, the vehicle was driven 11 additional miles," David Robinson said. Police, however, provided several other potential explanations for the discrepancy between the odometer reading and the mileage total in the airbag data that would not involve driving the vehicle after the crash.
The private investigator, Jeff McGrath, who no longer works for the Robinson family, also told detectives that he found red paint transfer on Robinson's blue Jeep, indicating a crash with something red prior to arriving at the ravine, according to police records. The vehicle's history showed at least one prior crash, but it was not clear when the red paint transfer occurred.
The rancher who found the Jeep told police he didn't believe the vehicle had been there for the month that passed between Robinson's disappearance and the discovery of his Jeep.
In interviews with police, family members said it looked like Robinson's Instagram photos had been removed following his disappearance.
CLICK HERE FOR MORE TRUE CRIME FROM FOX NEWS 
"The big mystery is where is Daniel?" Williams told Fox News Digital. "Dead or alive, where is he?"
If Robinson had died in the ravine crash, his body would be there, he said. If he'd survived and wandered off, there'd be signs.
"The mystery in this case is who crashed the Jeep?" he said. "Was it Daniel or was it someone who staged the crash?"
The father has been unsatisfied with the lack of answers more than two years after his son was last seen driving away from a job site.
Now, he's hoping the Maricopa County Sheriff's Office will get involved in the case, which is currently being handled by the Buckeye Police Department.
Robinson is described as thin and below average height. He was born without a right hand.
The Buckeye Police Department is asking anyone with information to call 623-349-6411 or submit tips online at www.buckeyeaz.gov/crimetip.
The family also has a website with information on the case, pleasehelpfinddaniel.com.
Fox News' Stephanie Pagones contributed to this report.


Read the full article from Here

Arizona first responders urge caution to hikers after weekend mountain rescues
Phoenix first responders are reminding the public to be prepared when hiking after they tended to three different mountain rescues on Saturday.
PHOENIX WOMAN, 29, FOUND DEAD ON DESERT HIKING TRAIL; POLICE RELEASE IMAGE OF PERSON OF INTEREST
Phoenix firefighters had to assist an injured hiker on a trail on South Mountain. Farther north on Camelback Mountain, a woman suffered a leg injury and had to be airlifted. Also in north Phoenix on Lookout Mountain, a rescue team had to take a hiker to the bottom of a trail on a stretcher due to an injury.
The Phoenix Fire Department warned hikers need to make sure they dress appropriately and have plenty of water, even with the city seeing cooler temperatures.
PHOENIX POLICE ARREST SUSPECT IN CONNECTION WITH 29-YEAR-OLD WOMAN FOUND DEAD ON DESERT HIKING TRAIL
People should also make sure they are carrying a cellphone and consider hiking with company. Also, they should also not push themselves if they have health condition such as asthma, diabetes or knee or back pain.
Read the full article from Here
Emotional vigil held for 17-year-old shot, killed in Westlake
Family and friends gathered for an emotional vigil Monday night in L.A.'s Westlake neighborhood to remember a 17-year-old boy who was shot and killed Saturday night.  
According to the Los Angeles Police Department, the original call regarding an assault with a deadly weapon with shots fired came in around 7:10 p.m. in the 200 block of North Lake Street across from Lake Street Primary School.   
The 17-year-old victim, identified by family as Gabriel Quintas, suffered at least one gunshot wound to the chest, police said, and he was quickly transported to a local hospital in critical condition.   
He died due to his injuries on Sunday, law enforcement officials confirmed. 
"My son, he had a beautiful spirit. He was very special, he was very unique," the teen's mother, Marisel Rams told KTLA at the vigil. "He was kindhearted. He wanted everybody to be in a good mood and whoever killed him, they didn't know that. They didn't know him. They took my boy from me. I don't even know what else to say."  
A photo of Gabriel Quintas, 17, seen at the vigil on Dec. 4, 2023. (KTLA)

Family and friends seen mourning in Westlake at a vigil for a 17-year-old boy shot and killed on Dec. 2, 2023. (KTLA)
The victim's father spoke out after the incident, asking somebody to come forward to help his son get justice. 
"The people that did this, they know Gabriel and Gabriel's friends, they all know each other," Angelo Quintas told KTLA. "Somebody knows something. Find it in your heart to help give Gabriel some justice because he doesn't deserve this. He was a good person, a kind person and he doesn't deserve to just be murdered." 
A GoFundMe has been organized to help raise funds for Gabriel's burial.  
So far, police have not released any suspect descriptions.  
LA Metro increasing train frequency to address growing demand
Los Angeles Metro trains will be arriving more frequently to accommodate increased demand as the transit service continues to rebound toward pre-pandemic ridership numbers.
Beginning Dec. 10, Metro will be increasing train frequencies along the A, C, E and K lines, reducing the time between trains by several minutes.
On the A and E lines, trains will be taking off every eight minutes, two minutes faster than previous, during weekday peak hours. On weekends, between 9 a.m. and 7 p.m., trains will arrive every 10 minutes instead of 12.
Another new change coming on the A and E lines that has been a frequent request of riders — later trains.
Metro announced that two additional trains will be added at the end of the night, extending service on the A and E lines by 40 minutes every night. The later trains will be a welcome change for ridgers departing from Long Beach, Azusa and Santa Monica, Metro officials said, with late departures taking place after 11:30 p.m.
In addition to the A and E Lines getting improved frequency, the C Line will also have reduced wait times for trains. Train frequency has been slashed from every 15 minutes to every 10 minutes on the C Line during midday weekdays and between 9 a.m. and 7 p.m. on weekends.
The K Line will see waits drop from 12 minutes to 10 minutes during midday hours on weekdays. Weekend service, however, will operate every 20 minutes due to ongoing construction of the LAX/Metro station and testing work to connect the C and K lines.
The decision to offer increased train frequencies and later service is a result of rider feedback, Metro said, particularly with rebounding ridership numbers and the opening of three new train stations that provide easier access in downtown Los Angeles.
The Metro Regional Connector opened in June, bringing with it better downtown service and reducing the need to transfer for many riders.
In October, Metro hit an important milestone, topping more than 950,000 average weekday riders, making October its busiest month since the pandemic began. Metro officials say it's the second-straight month that milestone has been surpassed.
In October 2019, Metro saw more than 33 million riders on bus and rail. This October, that number reached more than 24 million — a far cry from pre-pandemic totals, but continuing along a trend of a consistent bounce-back.
"Our ridership on weekdays is 79% of Oct 2019. On weekends we're at 92% of Oct 2019 ridership," Metro officials said on X, previously Twitter. "We think the gains are result of restoring more bus & train service, increased focus on public safety, programs to make riding affordable & more folks out-and-about."
Bus ridership continues to make up the bulk of Metro's service, accounting for nearly four-times the amount of riders utilizing train.
Metro will also updating the schedules for 37 weekday, 29 Saturday and 24 Sunday buses, which it says is necessary to "improve reliability, and route and stop changes to various bus lines to improve service for riders."
To see a complete list of bus route schedule changes, click here.