Charlotte small businesses fed up with repeated break-ins: 'Nature of doing business'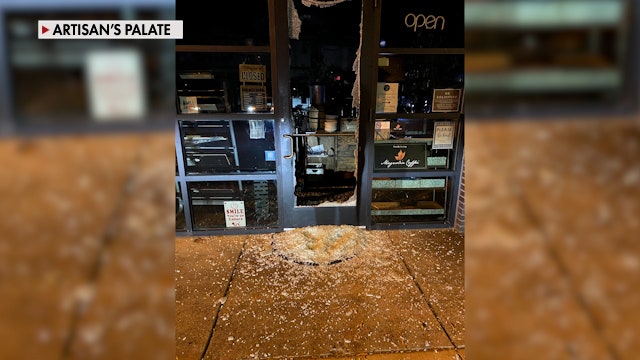 CHARLOTTE, N.C. – Property crime ticked up nationwide in 2022, according to FBI crime statistics released last month, and it is hurting businesses.
One small business owner in Charlotte, North Carolina's arts district NoDa told Fox News his shop has been broken into for the eighth time recently.
NoDa Bodega owner Bryan Moore described the neighborhood as "an appealing place to live" with "a lot of I think, more affluent people."
However, Moore said the repairs due to crime are taking a chunk out of his bottom line.
FBI SAYS CAR THEFTS SURGE
"You comin' in getting a hundred bucks, and we're having to spend $500 or $600 to replace a door," Moore told Fox News.  
The owner of a nearby wine bar and restaurant, Artisan's Palate, said her establishment has been targeted four times this year.
AL INMATE FACING EXECUTION FOR 1993 MURDER MAKES URGENT PLEA TO YOUNG PEOPLE
The owner, who did not want to appear on camera, told Fox News she is "fed up" after replacing another damaged door and said she is not sure what else to do to prevent the break-ins.
The NoDa neighborhood has new restaurants, bars and condos popping up everywhere, and NoDa's business association said they have increased patrols and are urging people to report any lights out in the area. 
Criminologist from North Carolina Wesleyan University Jay Fortenbery said property crime is typically related to poverty and unemployment. 
"They make a rational choice depending on the weight of the crime, the punishment versus the rewards," Fortenbery said. "Are the rewards more beneficial than the punishments right now and what are the odds of getting caught?"
SECURITY COMPANY FIGHTS CRIME THROUGH AI
Moore does not see an end in sight to the criminal activity. "At this point, it's just become the nature of doing business," he said.
The FBI's 2022 crime data shows only 14% of stolen property was actually recovered.
Read the full article from Here

Widower of 73-year-old New Orleans woman who was dragged, killed by carjacking teens sues their parents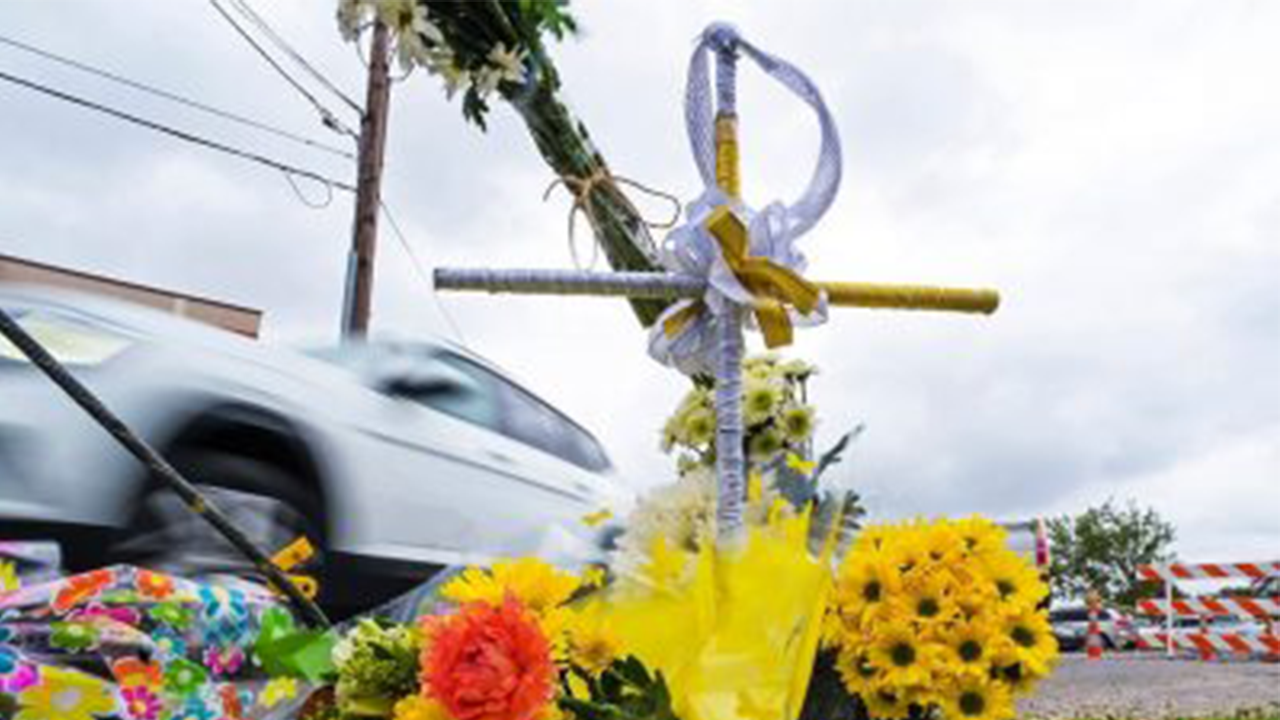 The widower of the 73-year-old woman who was killed in a deadly carjacking last year in New Orleans, is suing the parents of the teenagers responsible for the victim's death.
Linda Frickey was killed during a March 2022 carjacking after four teenagers dragged the woman behind her own vehicle, severing her arm. An 18-year-old man was convicted of second-degree murder and three girls aged 15 to 17 pleaded guilty to manslaughter in connection with the fatal carjacking.
The teenagers sped away with Ms. Frickey in the car, trapped by her seatbelt, until one of her arms was severed. She succumbed to her injuries a short time later.
NEW ORLEANS TEENS PLEAD GUILTY IN CARJACKING, DRAGGING DEATH OF WOMAN, GET 20 YEARS
Now, Rickey Frickey is seeking $50,000 in damages for his wife's brutal death, loss of income and emotional distress, according to The Times-Picayune.
Mr. Frickey's sister, Kathy Richard, told nola.com that her brother is planning to file the civil lawsuit against the parents to show that parents have accountability over their children and to "bring awareness to the public that if your children commit crimes, you are liable."
The lawsuit was originally brought in March but was delayed until after the criminal case of the teens concluded. The final conviction among the teenagers, 18-year-old John Honore, was handed down earlier this week, and could face up to life in prison after he is sentenced in January. The three girls — Briniyah Baker, Lenyra Theophile and Mar'Qel Curtis — pleaded guilty last week and were sentenced to 20 years in prison.
NEW ORLEANS-AREA WOMAN, 73, DRAGGED TO DEATH DURING CARJACKING, FOUR TEENS ARRESTED, COPS SAY
The victim was dragged more than 200 yards during the violent carjacking in which a victim recalled on the witness stand in Honore's trial that Mrs. Frickey was "skinned alive" and "tortured," according to WVUE. The prosecution said video evidence shows Honore carrying out the vicious killing even as Mrs. Frickey, tethered by a seatbelt, pleaded for her life.
"The defendant, after pepper spraying her, grabs her, pulls her out of her car, puts heel to her face, stomps her on the head, gets on top, punches her, gets into the driver seat and you will see decisions made that ended Frickey's life," prosecutors said during the trial. "She was screaming and pleading for him to stop. [The defendant] dragged her over 700 feet – or two football fields."
Read the full article from Here
DeSantis says Newsom is 'obviously preparing' to run for president after 'Hannity' debate
Florida Gov. Ron DeSantis on Saturday said that California Gov. Gavin Newsom, with whom he engaged in a feisty debate on "Hannity" this week, is "obviously preparing" to run for president — despite denials from his Democrat rival.
DeSantis was in Sioux City, Iowa and took aim at what he said were the "failed" policies in the liberal California state, as he had done at the televised debate between him and Newsom on Thursday night.
"It's the policies. It's the policies that are driving people out. This is ultimately the choice for the country: Are we going to embrace freedom like Florida has or are we going to embrace failure? The same policies that have failed in Illinois and California and New York aren't all of a sudden going to work well nationally," he said.
NEWSOM, DESANTIS DEBATE GETS HEATED OVER COVID, TAX POLICIES 
"What they've done in California is the petri dish for what I think the Democrats would want to do nationally," he said, before speculating as to which potential president that would be under.
"Maybe that's a [President] Biden second term. Maybe that's [Vice-President] Harris, Maybe it's Newsom," he said. "He's obviously preparing to potentially go in. I think America saw, though, that what he's selling is not something that is very appetizing."
LIBERAL COLUMNIST PRAISES 'PATRIOTIC' NEWSOM FOR 'SHADOW CAMPAIGN,' SLAMS DEMOCRATS FOR BACKING BIDEN
Newsom has been the subject of significant speculation about a potential presidential run, but has repeatedly denied that he is gearing up for a White House run. DeSantis, meanwhile, is running for the Republican nomination in 2024, although polls show him significantly behind former President Donald Trump.
Newsom took a jab at DeSantis over his standing in the polls in the debate on Thursday night.
"There are profound differences tonight, and I look forward to engaging them. But there's one thing…that we have in common, is neither of us will be the nominee for our party in 2024," he said.
DeSantis later accused Newsom of wanting to run for president: "You just won't admit it," he said.


Read the full article from Here
Florida man arrested after allegedly stabbing woman several times because 'he wanted to': authorities
A Florida man has been arrested after he allegedly stabbed a woman several times with a knife "because he wanted to" after following her out of a Naples Walgreens, according to the Collier County Sheriff's Office. 
Kenneth Bryan, 34, was charged with aggravated battery with a deadly weapon after Sunday's incident in the Walgreen's parking lot, according to arrest records. 
Shortly after 2 p.m., deputies were called to Walgreens for reports of a woman being stabbed several times with a knife after being followed by a man into the parking lot. 
Authorities told FOX 35 Orlando that the woman noticed Bryan following her, and she tried to speed up to get away, but was unsuccessful. 
FLORIDA WOMAN ATTEMPTED TO EAT COUNTERFEIT CASH AFTER BEING BUSTED FOR WALMART THEFT: REPORT
Bryan allegedly stabbed the woman twice in the back. The victim told officials that she originally thought she was being punched until she saw blood coming from one of the wounds. She was treated on the scene and declined to be transported to the hospital, according to officials.
When questioned by deputies about the motive for the stabbing, Bryan gave a disturbing answer, according to the arrest affidavit. 
FLORIDA WOMAN ALLEGEDLY STABS BOYFRIEND IN EYE WITH RABIES NEEDLES FOR LOOKING AT OTHER WOMEN
"I asked him why he did that. [Bryan] stated, 'Because I wanted to,'" the affidavit said. 
Bryan was placed in police custody and transported to the Naples Jail Center. 
FLORIDA PEST CONTROL WORKER ARRESTED FOR 'DISGUSTING' ACT TOWARD WOMEN, INCLUDING 76-YEAR-OLD: AUTHORITIES
"The safety of our patients, customers and team members is our priority. We are cooperating with law enforcement regarding this incident," a Walgreens spokesperson told Fox News Digital. 
According to jail records, Bryan had several prior arrests, including charges for aggravated battery, aggravated assault and battery dating back to 2014.  
Read the full article from Here