Alaska double murder suspect targeted Florida sheriff with 'lasers that could blind for life': DOJ
A suspected double murderer has been indicted in Alaska for allegedly threatening a Florida sheriff with "lasers that could blind for life" after he held a news conference denouncing anti-Semitic and pro-Nazi messages, federal prosecutors said Tuesday. 
A federal grand jury indicted Joshua Wahl, 31, for allegedly threatening Michael Chitwood, the sheriff of Volusia County in Florida. He is charged with cyberstalking and four counts of transmitting a threat in interstate commerce, the Justice Department said. 
Wahl is already under indictment on unrelated charges related to a double murder in Alaska, according to the Volusia Sheriff's Office. 
KENTUCKY POLICE OFFICER CRITICALLY WOUNDED IN SHOOTING RELEASED FROM HOSPITAL
"Not every loser threatening violence on the Internet gets caught, but I'm glad one more is getting a dose of reality," Chitwood said in a statement Tuesday. "I am far from the only one getting death threats, and my family is not the only one who's been targeted and harassed. But I will always be proud to take on hateful idiots and stand up in defense of the community I love."
Wahl's alleged threats began in March when the sheriff held a news conference discussing the distribution of anti-Semitic and pro-Nazi flyers. The first threat sent to Chitwood was on March 31 via email, federal prosecutors said. 
In the email, Wahl allegedly wrote that he was armed with lasers and explosives. The message included links to videos showing someone using a laser to burn a hole through a photograph of Chitwood's face and holding explosives in front of another photograph of Chitwood, authorities said. 
"I just wanted to thank you. Your toothless threats to arrest me for the last 3 weeks have woken me from my funk," Wahl allegedly wrote in the email, Fox Orlando reported. "Did you know that a laser like that can get hotter than the sun very fast? You have inspired me to continue my work. So now (I'm) sitting here, armed to the teeth with binary explosives, 37mm launchers, lasers that blind for life in 1/15th a second and (anti-level) 4 tungsten tip ammo with weapons with binary triggers, and it's all (because) of your toothless threats toward me the last 3 weeks. (Thank you) for re-igniting my passions."
In the online forum "4Chan," Wahl allegedly made online posts in April with direct threats to the Chitwood. 
"Until you get the balls to arrest me (in real life) I'll still be here," he allegedly wrote. "Kill S***wood in real life, shoot him in the f****** head with an overpressure 10mm round," Wahl wrote, according to the indictment. 
"Come and do something about it fedboys," he continued. 
Wahl faces up to five years in prison on each count related to the threats against Chitwood, the DOJ said. 
Read the full article from Here

Judge drops felony charges against Virginia elections official accused of 2020 misconduct
A judge has dismissed felony charges against former Prince William County, Virginia Registrar Michele White.
Corrupt conduct and false statement charges against White were dismissed Friday.
White still must stand trial on a misdemeanor willful neglect of duty charge next month. 
A Virginia judge has dismissed felony charges against a former county elections official accused of misconduct in the 2020 election, a decision made after state prosecutors said a key witness changed his story.
At the prosecutors' request, the judge on Friday dismissed a felony charge of corrupt conduct and one for making a false statement, both of which had been levied against former Prince William County Registrar Michele White. She still faces trial next month on a misdemeanor charge of willful neglect of duty.
Very little has been publicly revealed about exactly what prosecutors believe White did wrong. Court records merely indicate that the case revolves around 2020 election returns, including the presidential race.
IOWA ELECTED OFFICIAL'S WIFE CONVICTED OF VOTER FRAUD IN BALLOT-STUFFING SCHEME
Prince William election officials have previously said that White's successor reported "discrepancies" in results to state officials, but that those discrepancies would not have affected the outcome of any race.
The case was brought by Republican Attorney General Jason Miyares last year. Shortly after his office obtained the indictment against White, it launched an election integrity unit. The move prompted critics to accuse Miyares of pandering to supporters of former President Donald Trump, who falsely blamed his defeat on election fraud.
In White's case, Assistant Attorney General James Herring filed a motion ahead of Friday's hearing in which he alleged that an elections worker "conveniently and quite surprisingly provided a different version of events" than the witness had previously recounted.
JESSE WATTERS: LOCAL ELECTION SYSTEMS ACROSS AMERICA ARE WEAK AND VULNERABLE
"As a consequence, the Commonwealth is confronted with significant inconsistent statements," Herring wrote.
White's lawyer, Zachary Stafford, said he interviewed the same witness and found nothing inconsistent in his statements. The election worker, "rather filled in a hole that the initial investigation did not address" about who asked him to make changes in the state voter registration system, Stafford said in a statement. The system is being replaced after an audit questioned its reliability and functionality.
Stafford said the witness has reported that White didn't ask him to make the changes now under scrutiny and that it was "a poor choice of words" for prosecutors to refer to the witness' updated testimony as "convenient."
Attorney General Miyares' office declined to comment beyond the court filing, citing the ongoing misdemeanor case.
Read the full article from Here
Florida couple arrested for alleged animal abuse after over 100 animals rescued: authorities
A Florida couple was arrested and faces felony animal abuse charges after over 100 animals were rescued from their property, according to the Citrus County Sheriff's Office.
In a post on Facebook, authorities said that Faustino Alfredo Valladares, 66, and Patricia Maria Villadamigo, 46, were arrested on animal cruelty charges in "Operation Rescue Thor," after a four-month investigation into allegations of neglect.
On July 31, animal control officers began an animal cruelty and neglect investigation at a residence located in Inverness. The couple is alleged to have over 16 dogs, and 40 chickens and turkeys on their property, with the animals suffering from neglect.
Deputies stated that despite minimal cooperation from the couple, all the animals were checked on throughout the duration of the investigation.
ALABAMA WOMAN CHARGED WITH ANIMAL CRUELTY AFTER DOZENS OF DEAD HORSES, MALNOURISHED DOGS DISCOVERED
Officials also determined that all dogs in the couple's possession were found to be without current vaccinations, and they did not have a kennel license, which is mandated by county ordinance with ownership of 10 or more dogs.
During the investigation, deputies say Thor, a 7-year-old German Shepherd, was found showing signs of pain and suffering from a severe ear infection and issues with his hips. Despite being issued a citation and a 24-hour mandate to be treated, the sheriff's office reported the couple refused to provide treatment for Thor. 
ARIZONA WOMAN ARRESTED FOR KEEPING DOZENS OF DOGS IN SQUALOR, OTHERS DEAD IN FREEZER
Detectives then assisted animal control officers in obtaining arrest warrants for both Valladares and Villadamigo for one count of felony animal cruelty each. A search warrant was also obtained and served last week to rescue Thor from the property, so he could receive proper treatment, according to the sheriff's office.
During the search of the property, deputies said 18 dogs, 11 puppies, and 73 varying species of fowl, one of which was deceased, were located on the property.
'LEFT TO DIE': POLICE SEARCH FOR TEXAS WOMAN WHO LEFT DOG TIED TO DUMPSTER
All animals were surrendered by Villadamigo and Valladares, and given to Citrus County Animal Services, where officials said veterinary forensics and treatment will continue for all rescued animals.
"Our ACOs work tirelessly to help defend innocent animals, such as Thor, whom irresponsible owners mistreat. It is sickening to see how Villadamigo and Valladares had such disregard for taking care of their animals," said Sheriff Mike Prendergast. "I am proud of the quick investigative work of both our ACOs and Community Crimes Detectives, as well as our partnership with Citrus County Animal Services for their assistance in saving these helpless animals."
Read the full article from Here
Protester in critical condition after lighting self on fire outside Israeli consulate in Atlanta, 2 hurt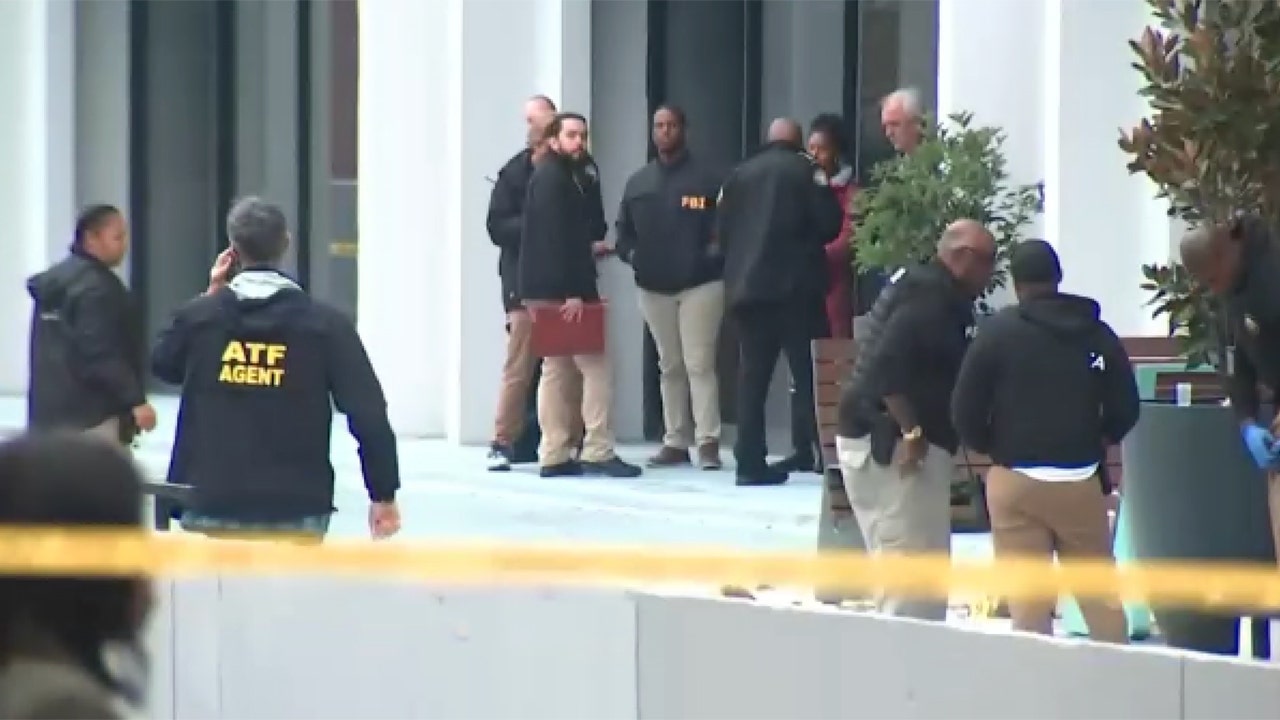 At least two people were injured Friday afternoon and a protester was in critical condition after attempting to light themselves on fire outside the building that houses the Israeli Consulate General in Atlanta, officials said. 
Officials don't believe the incident was terrorism, the ATF said in a press briefing, calling it likely an "extreme act of political protest." A Palestinian flag that was used in the protest was recovered after the incident. 
A security guard who works at the building was burned on the wrist and leg while trying to stop the protester, the ATF said. 
Both people have been taken to the hospital. 
ATLANTA COPS ARREST 8 PRO-PALESTINIAN PROTESTERS NEAR LENOX-SQUARE MALL AFTER REFUSING TO DISPERSE FROM STREET
The midtown Atlanta office building houses the Israeli Consulate General, among other offices. 
Atlanta police responded to the scene as well as the FBI and ATF. 
"We are saddened to learn of the self-immolation at the entrance to the office building," Anat Sultan-Dadon, Consul General of Israel to the Southeastern United States said in a statement. "It is tragic to see the hate and incitement toward Israel expressed in such a horrific way. The sanctity of life is our highest value. Our prayers are with the security officer who was injured while trying to prevent this tragic act. We are grateful to the city of Atlanta's law enforcement and first responders for all they do to ensure safety."
ATLANTA 'COP CITY' PROTESTERS CLASH WITH POLICE OVER CONSTRUCTION OF TRAINING CENTER
Police responded to the incident around 12:39 ET, police said. 
This story is developing. Please check back for updates. 
Read the full article from Here