Alabama high school band teacher tased by police after refusing to wrap up postgame performance: video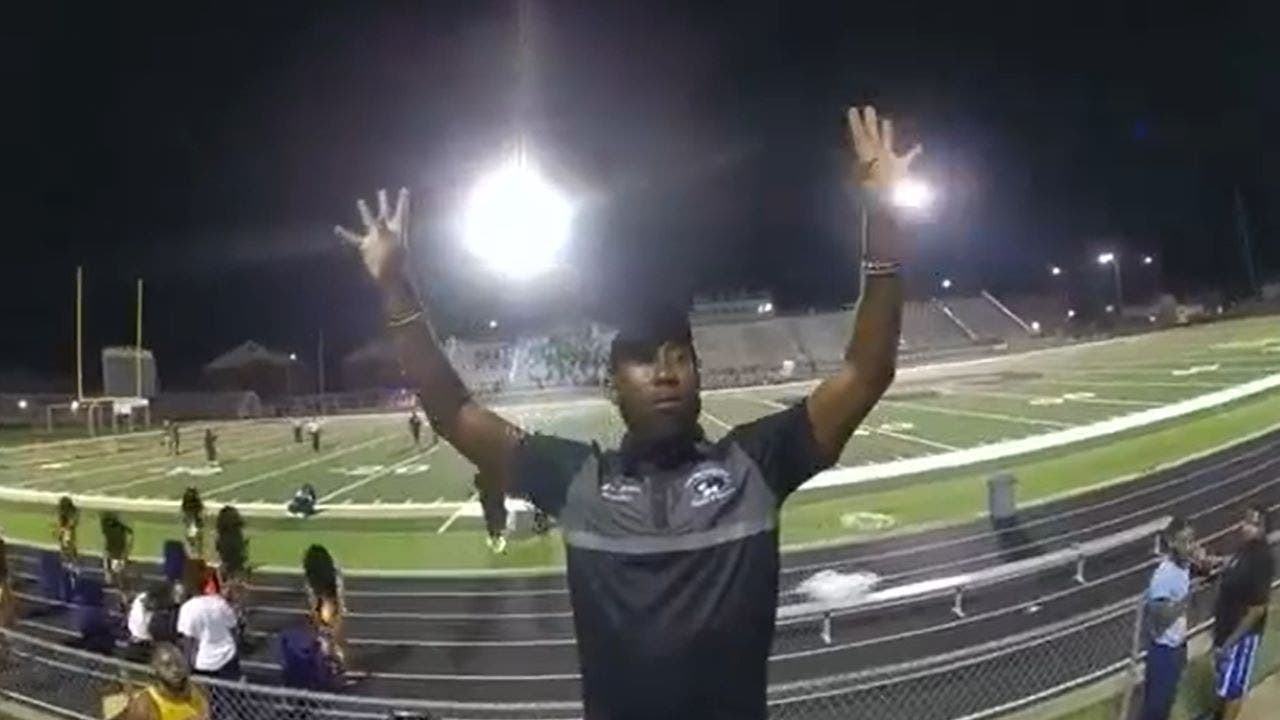 A band director in Birmingham was tased after he refused to wrap up his band's post-football game performance, police say.
The band director, Johnny Mims, was charged with disorderly conduct, physical harassment and resisting arrest. The incident took place after Thursday's game between Minor High School and P.D. Jackson-Olin High School. 
The Minor High School band was playing in the stands during the "fifth quarter," which is a tradition for some marching bands. Bodycam footage from the Birmingham Police Department shows officers approaching the band 18 minutes after the game ended.
The band was still loudly playing and cheering when police came over and asked them to wrap up. "It's time to go," an office was heard saying to a band instructor. "Y'all got to go and come down."
MISSISSIPPI, ALABAMA CELEBRATE CONFEDERATE MEMORIAL DAY AS EFFORTS TO ABOLISH HOLIDAY STALL
Officers then turned to their attention to Mims, who told them to "get out of [his] face" multiple times.
"Load them up before I contact the superintendent," a female officer told Mims. The director still energetically conducted the band despite the officers' pleas.
CONFEDERATE STATUE SPLATTERED WITH RED PAINT OUTSIDE ALABAMA COURTHOUSE
Chaos ensued when the field lights were turned off, prompting students to scream. After the band finally stopped playing, police attempted to arrest Mims. An officer accused the band director at swinging at another cop, which Mims disputed.
After the officers ordered Mims to put his bands behind his back, an officer tased him for several seconds. After the tasing, Mims obeyed the officers and allowed them to handcuff him.
The Birmingham Police Department is actively investigating the incident. No additional details were released by authorities. 
Read the full article from Here

Former Fulton County Jail officer federally indicted for allegedly using excessive force with detainee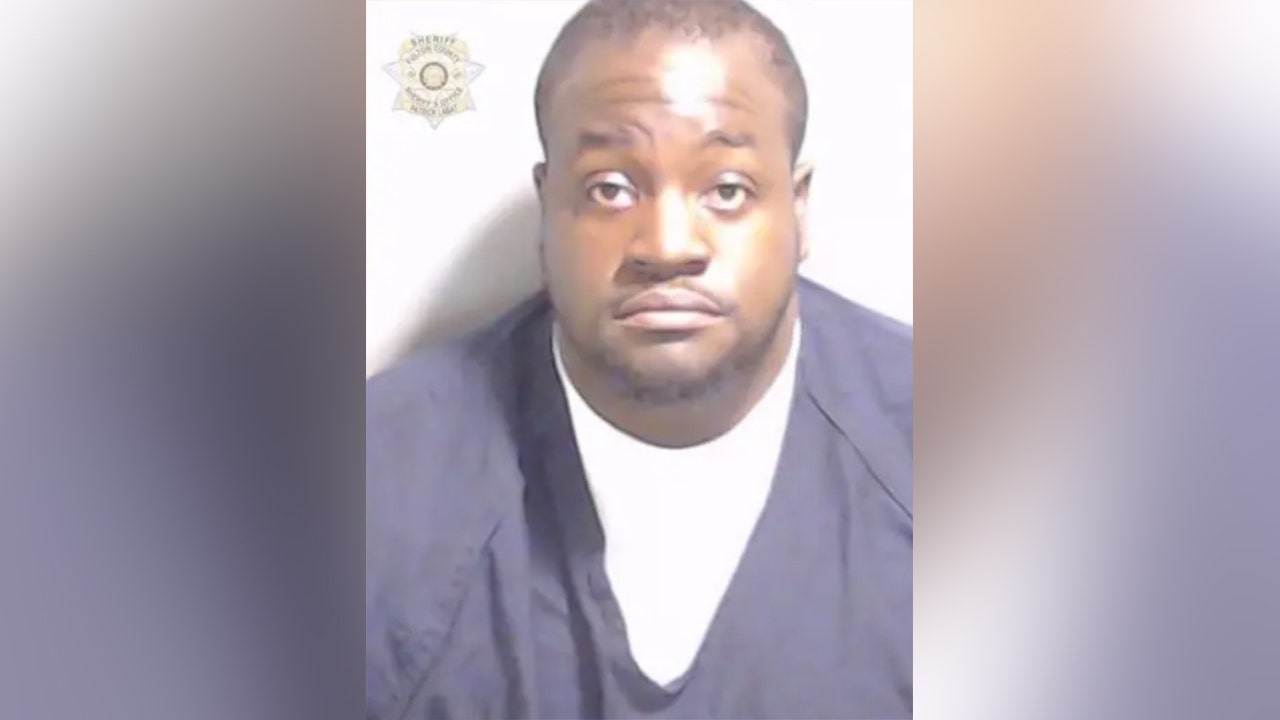 A former Fulton County, Georgia, jail officer faces federal charges after allegedly strangling a female detainee at a facility that became subject of a Justice Department investigation in July after 10 people died there since the beginning of the year.
The Justice Department said 32-year-old Monique Clark of Stone Mountain, Georgia, was indicted by a federal grand jury on charges of using excessive force against a pretrial detainee at the jail.
"We recognize that detention officers have a particularly challenging job as they work to maintain order and protect detainees in our district's jails and prisons," U.S. Attorney Ryan K. Buchanan said. "However, this detention officer allegedly abused a handcuffed Fulton County detainee by strangling her and must be held accountable for such outrageous conduct."
FAMILY OF MONTAY STINSON SAYS FULTON COUNTY SHERIFF HAS 'BLOOD' ON HIS HANDS AFTER INMATE'S DEATH
According to the charges, Clark was employed as a detention center officer at the Fulton County Jail at the time of the alleged incident.
On June 5, Clark was working at the North Jail Annex in Alpharetta, Georgia when he strangled a woman who was detained, without any legal justification, the DOJ said.
The alleged act caused the woman to lose consciousness and suffer bodily injury.
GEORGIA INMATE EATEN ALIVE BY BUGS IN CONDITIONS 'NOT FIT FOR A DECEASED ANIMAL,' FAMILY ATTORNEY SAYS 
Clark has been terminated since the incident occurred, and charged with one count of aggravated assault, violation of oath by a public officer, and reckless conduct by the Fulton County Sheriff's Office, which he worked for since 2016.
"While those behind bars may have lost their freedom, they retain their humanity — and their civil rights," Special Agent in Charge Keri Farley of FBI Atlanta said. "This case serves as an example that the FBI is committed to identifying and investigating those law enforcement officers who choose to abandon their oath and violate the public's civil rights."
The investigation into the matter is ongoing and Clark is presumed innocent until proven guilty.
Read the full article from Here
Manhunt ends as suspect in South Carolina coast shooting is found dead
A search on the South Carolina coast for a man who shot and wounded two people, including a sheriff's deputy, has ended with the man dead, authorities said Thursday.
No details were immediately given about the circumstances surrounding the man's death, and the Charleston County Sheriff's Office said it would hold a news conference for later in the day.
Deputies had been looking for Ernest Robert Burbage III on Johns Island since about noon Wednesday, when he started firing shots randomly, hitting a passenger in a passing vehicle, Charleston County Sheriff Kristin Graziano said. The sheriff's office announced Burbage was dead around 2:30 p.m. Thursday.
After shooting at the vehicle, Burbage fired on members of a SWAT team as they got out of an armored vehicle late Wednesday and one of the shots struck the deputy who was driving it in the head, Graziano said.
SOUTH CAROLINA AUTO MECHANIC DISCOVERS 8-FOOT ALBINO BOA COILED AROUND CAR ENGINE
Charleston County Master Deputy James Gilbreath was alert and conscious at the hospital and would likely be released Thursday, said the sheriff, who released photos of the deputy's bloodstained ballcap.
Deputies had asked people on Johns Island to stay in their homes and report if they see something out of place in storage sheds, boats or other places someone could hide.
A high school, middle school and three elementary schools in the area were closed before students arrived Thursday morning because of concerns about safety, including students on school buses, Charleston County School District officials said.
The park surrounding Johns Island's Angel Oak, a tree up to 400 years old that is the largest oak east of the Mississippi River, was also closed as the search for Burbage continued.
Read the full article from Here
Fatality marks Brightline's 99th death as pedestrian struck on Orlando extension
Florida's high-speed passenger train service suffered the first fatality on its new extension to Orlando on Thursday when a pedestrian was struck in what appears to be a suicide, officials said. Overall, it was Brightline's 99th death since it began operations six years ago.
A northbound Brightline train headed to Orlando struck the 25-year-old man shortly before 9 a.m. near the Atlantic Coast city of Fort Pierce, St. Lucie County Sheriff Ken Mascara said at a news conference. He said the man was homeless and appeared to have intentionally stepped in front of the train.
Brightline's trains travel up to 79 mph in urban areas, 110 mph in less-populated regions and 125 mph through central Florida's farmland. It is unknown how fast this train was traveling, Mascara said.
Brightline officials did not immediately respond to emails and phone calls seeking comment.
2 KILLED AFTER FLORIDA HIGH-SPEED TRAIN HITS CAR ON RAILROAD CROSSING NORTH OF MIAMI
Brightline opened its extension connecting Miami and Orlando on Friday, though the celebration was marred when a pedestrian was struck by one of the company's trains carrying commuters from West Palm Beach to Miami.
Brightline trains have had the highest death rate in the U.S. since its Miami-West Palm operations began — about one death for every 32,000 miles its trains travel, according to an ongoing Associated Press analysis of federal data that began in 2019. The next-worst major railroad has a fatality every 130,000 miles.
None of the previous deaths have been found to be Brightline's fault — most have been suicides, drivers who go around crossing gates or pedestrians running across tracks.
Brightline has taken steps its leaders believe enhance safety, including adding closed-circuit cameras near tracks, installing better crossing gates and pedestrian barriers, and posting signage that includes the suicide prevention hotline.
Read the full article from Here