Years after strike, West Virginia public workers push back against another insurance cost increase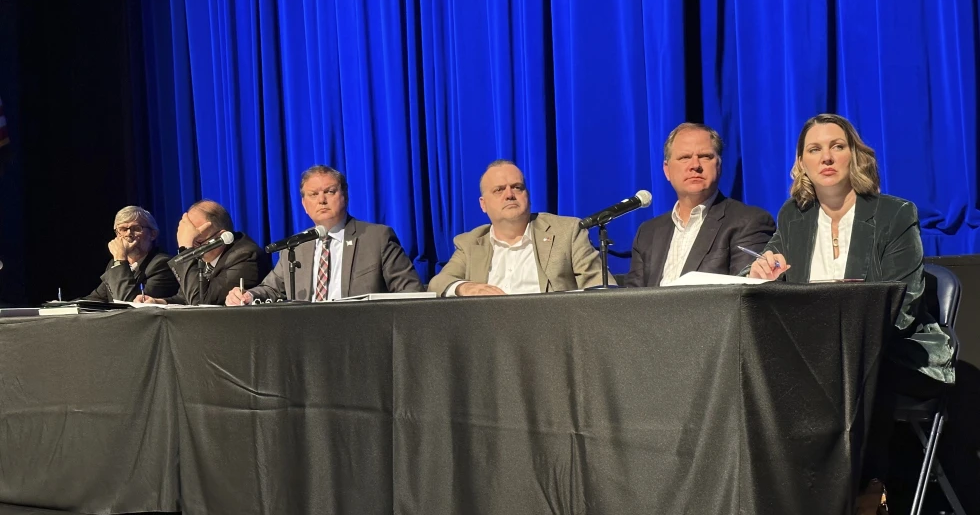 The agency in charge of managing health insurance for more than 200,000 government workers in West Virginia is facing pushback over proposed premium increases, five years after public school employees went on strike over rising health care costs.
The state Public Employees Insurance Agency is proposing a premium hike that would amount to a 35% increase in two years for state employees. In a series of public hearings this week, workers said they can't afford the increases, despite recent tax cuts and raises for state employees.
During a virtual hearing Thursday, teacher Casey Lockerbie said that even with a raise, she's making less than she did last year because of this year's increases.
"The whole reason we went on strike a few years ago was to fund PEIA, and I just don't think this is the solution for it," said Lockerbie, who travels into West Virginia from a neighboring state to work. "You want to attract people to come to the state and work for you, but you're penalizing the people that are coming into the state and working."
With the health insurance agency facing a $376 million deficit earlier this year, the GOP supermajority state Legislature passed a wide-ranging bill increasing state employee health insurance premiums by around 25% in July. There's also a new surcharge of around $150 for spouses who forgo their employer's insurance to opt into the state plan.
The law made it mandatory for the Public Employees Insurance Agency to enact an 80-20 cost split between the employer and employees.
Under the proposed plan, state employees' premiums would increase an additional 10.5% next July. The agency's finance board is expected to take a final vote in December, after listening to feedback this month at public hearings across the state.
The second year of proposed increases comes after Republican Gov. Jim Justice promised in 2021 that premiums would not go up on his watch.
In 2018, West Virginia school employees went on strike for the first time in two years in large part over concerns about the Public Employees Insurance Agency's long-term solvency. Gov. Justice created a task force to study the issue as part of his agreement with labor unions. But it never resulted in any significant policy changes to stabilize the budget.
Justice says the increases are offset by raises — a $2,300 increase for state employees this year — and is proposing another 5% increase next year to offset the cost. He also signed a law this year cutting the state income tax by an average of 21.25% across brackets.
Opponents of the increase argue raises don't go far enough. West Virginia teachers are among the lowest-paid in the nation.
During a hearing in Charleston earlier this week, school service personnel union leader Joe White said he knows members of the agency finance board have their hands tied because of the legislation passed earlier this year.
But White asked the board to remember that the people incurring the cost are "human, they're families."
"Organized labor, labor organizations, school employees – we're not the devil, folks," he said. "They're employees that's out there working for the state of West Virginia who should be treated with respect."
Retired employees not yet eligible for Medicare and city and county employees insured by the agency would also see increases.

Mountaineer Gas files suit against West Virginia American Water Company – WV MetroNews
CHARLESTON, W.Va. — Mountaineer Gas announced that it has filed a civil action suit against West Virginia American Water Company (WVAW).
The gas company released a statement Tuesday afternoon, saying the gas outage which followed the water main break that occurred on Charleston's West Side of the City of Charleston is solely the fault of the water company, not Mountaineer.
"We firmly believe the interruption of gas service to our customers is a direct result of the failure of the West Virginia American Water Company facilities, and we feel West Virginia American Water
should be responsible for the significant costs incurred by Mountaineer," said Senior Vice President Moses Skaff.
At least 1,100 people on the city's West Side were without gas service for around two weeks. The water main break occurred on Nov. 10 and filled over 40 miles worth of gas lines with water.
Skaff said WVAW should be the one responsible for the costs that came due to the outage. The lawsuit also claims that West Virginia American Water should pay all expenses centered around the civil actions filed.
"The company has worked around the clock to minimize the interruption in service and endeavored to keep lines of communication with local officials and customers open, and the company will continue
to do so," Skaff said. "However, due to the pending legal proceedings Mountaineer will focus communications on ongoing developments rather than the matters at issue in the court actions."
West Virginia American Water spokesperson Megan Hannah responded to the lawsuit Tuesday, saying the water company, "continues to reiterate that any speculation on the cause of its water main break or the Mountaineer Gas outage is premature until an investigation is complete. The company will fully cooperate with the Public Service Commission on its general investigation to determine the cause."
The state Public Service Commission said it would conduct an investigation into the water main rupture and gas outage.
Meanwhile, the WVAW said it is working with each of their customers on the West Side who were affected by the incident and are offering an opportunity for those people to seek claims for their losses "for annoyance, inconvenience and out-of-pocket expenses." Reimbursements are possible for qualifying customers up to $2,000 per household.
WVAW is expected to send out postcards this week to its customers with information on how to make those claims. Affected residents can process claims in person or by calling 1-800-243-2490 to speak with a dedicated claims intake representative. The water company says that people should mention that they are calling in relation to the Mountaineer Gas outage and be ready to provide necessary information.
Customers can also visit the West Virginia American Water office, located at 1600 Pennsylvania Avenue in Charleston to speak with a claims handler from December 11 through December 15. Proper verification documents are also needed when contacting a claims handler or when visiting the West Virginia American Water office.
Once approved, customers can expect to receive a check in the mail.
Gov. Jim Justice said he's glad that the water company is stepping up to assist the people on Charleston's West Side.
"They're late to the party but they are coming to the party," said Justice.
Gov. Justice spoke to the matter during his media briefing on Tuesday. He further said that the evidence that he sees leads him to believe that the outage was caused by the water main break.
"I've only said what I think is governed by the evidence and the evidence was that this was caused by a blowout in a main American water line and then it blew up the gas line," he said.
More information on the claims process can be found at westvirginiaamwater.com/outageclaims.
Mountaineers await bowl spotlight in fan-friendly destination – WV MetroNews
MORGANTOWN, W.Va. — While sitting in the stands watching his son Dax's basketball game on Sunday, Neal Brown's phone rang. Athletic Director Wren Baker was on the line with news that WVU's bowl destination could be outside of the original Big 12 footprint of games.
"Wren called and said, 'Hey, I know this is a little bit out of left field, but what do you think?' Where we were the whole time is that we wanted to play a Power 5 opponent in the bowl game. I felt like that was important. That's really where we centered our discussions on," Brown said.
"Yes, I will gladly take the (mayo) bath for a ninth win"@NealBrown_WVU

— Duke's Mayo Bowl (@DukesMayoBowl) December 5, 2023
Hours later, the Duke's Mayo Bowl matchup was officially announced with the Mountaineers (8-4) facing North Carolina (8-4) on December 27 at Bank of America Stadium in Charlotte.
"As you work through all of the various scenarios, you try to come out with what might make the most sense," said Charlotte Sports Foundation Executive Director Danny Morrison. "With West Virginia sitting in close proximity to Charlotte, I have always said that the best bowl experiences are when fans can drive. You have more fans and a better environment. Geography, in this particular case, worked in our favor."
"It is a great location for our fans and even closer for southern West Virginians. It is a quality matchup versus North Carolina. They are a team that was ranked for most of the year," Brown said.
The Duke's Mayo Bowl is one of four bowl games scheduled to be played on December 27. With a 5:30 p.m. kickoff, it is the only game until the Holiday Bowl starts at 8 p.m.
"Your viewership is going to go up," Brown said. "You get the casual fan. Anytime you have a lot of eyeballs on you, it is really important from a recruiting standpoint and really important from a branding standpoint."
North Carolina is led by 72-year-old head coach Mack Brown. He is in his 15th season leading the Tar Heels across two stints and he is in his 35th season as a head coach.
"He's got a lot of energy," Neal Brown said. "I have seen a lot of their games and I have seen him in press conferences and how he handles himself. If thought he did a really good job in TV when he did that as well. As a coordinator, I faced him a couple times at Texas. He's done it for a really long time."
Brown spoke with media members Tuesday from Las Vegas, where he and Zach Frazier will attend a ceremony for the William V. Campbell Trophy. Frazier is one of the nominees for the award that honors the combination of academics, community service, and on-field performance.
Final exams are set for next week and the team will ramp up pre-bowl practices in Morgantown shortly after. The Mountaineers are tentatively scheduled to arrive in Charlotte on December 23.
"We had a team meeting [Monday] morning and it was really positive. Guys are excited. They like the location. A lot of their families are going to be able to drive to the game, which is important. They are excited about the matchup," Brown said.
"They are enjoying a little downtime, which is needed after a long season. But they are ready to get back and they're looking forward to facing a quality team and working to get our ninth win."
WVSports – Transfer portal a focus for West Virginia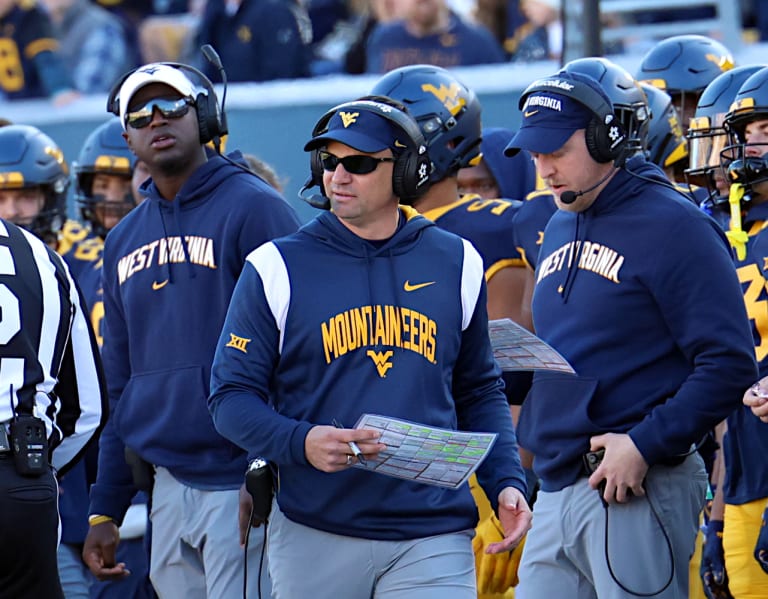 It seems clear at this point that West Virginia is going to use the transfer portal to help fill out some of the holes on the roster heading into next season.
The portal officially opened Dec. 4 and will stay that way Jan. 3. It's important to note that timeframe is just for players to enter the transfer portal but recruiting and visits can go on long after that once the first part of the equation and entering into the database is indeed completed.
The key over the next several weeks will be to fill as many of those gaps on the roster as possible before the Jan. 12 deadline to enroll for the spring semester.
Getting into school by that point would allow any of the incoming transfers that do pick the Mountaineers to participate in spring football, although as we've seen in the past that isn't necessarily a necessity with all the movement.
So, what are the goals before we get to that stage? First is the fact that West Virginia simply needs to ensure that the key players on the roster that they want to retain are indeed retained. It sounds simple enough but with so many options available to players, finding a way to keep the core of the roster together has become quite the undertaking for college programs.
That's where collectives like the Country Roads Trust, which has seen its membership grow in recent days, come into play with an organized effort to retain student athletes.
After that is checked off the list, the focus shifts toward targeting those key needs that remain. For West Virginia, the obvious two are at defensive back and wide receiver. Out of the 16 known scholarship offers out to transfer portal players so far, 10 of them are in the defensive secondary and four at receiver but those won't be the only positions targeted by the coaching staff. Additionally, West Virginia has offered one tight end and one linebacker.
Related: Known West Virginia offers in the transfer portal
The Mountaineers will also look at linebackers, offensive linemen and defensive linemen for example and the door is open for other positions as well with some wiggle room with scholarships available.
West Virginia has the added bonus this year of carrying some real momentum into the off-season as well and while that won't procure transfers alone, it certainly doesn't hurt matters either. The coaching staff has already received word that they will be returning next fall and on the back of an eight-win season they can sell that they are only a few pieces away from making an even bigger leap next fall.
The Mountaineers could return a bulk of their overall production which makes it a potential attractive option for transfers looking to be that missing ingredient at key places on the roster.
That's especially true in a Big 12 that will be undergoing change with two of the top three teams from this past season out of the picture and moving to a 16-team model with the four Pac-12 schools.
It's transfer portal season which means that plenty of movement and surprises are ahead, but for West Virginia the hope is that most of it falls on the positive side of the divide this time around.