WVSports – West Virginia checks all the boxes for 2025 QB Fox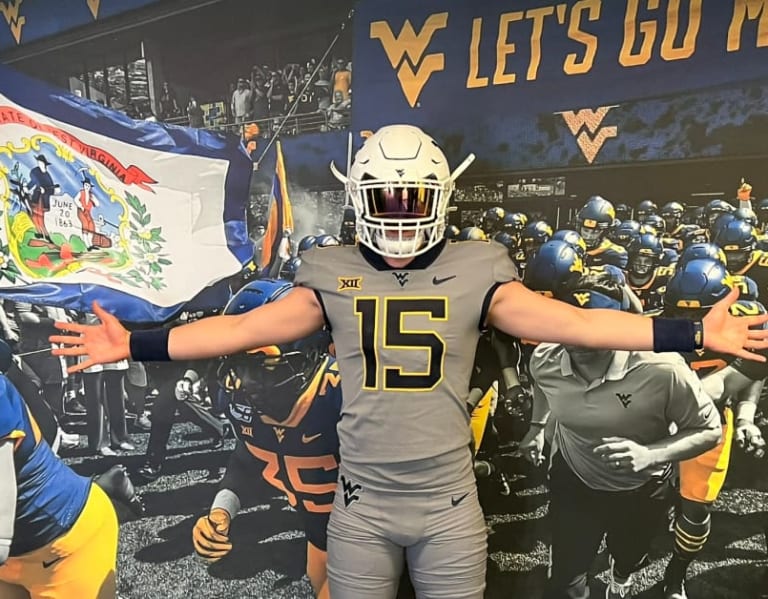 West Virginia checked all the boxes for Mentor (Oh.) quarterback Scotty Fox.
So, the 2025 signal caller decided to end the suspense and commit to the Mountaineers during his latest visit to campus for the Cincinnati game.
It was at least his fifth stop in Morgantown this calendar year and that comfort level with the program was critical in his decision.
"What attracted me to the program was the coaches, staff and how it's closer to home," he said.
The Rivals.com three-star prospect informed both head coach Neal Brown and lead recruiter quarterbacks coach Sean Reagan during the man-trip when they came up to greet him. All of the parties were excited about the union since the Mountaineers had placed a priority on Fox in his class.
The decision is one that Fox had felt was coming for a while and now he is able to turn his attention to football and his future in Morgantown.
"Now I know what is home and don't have to worry about all this other recruiting stuff," he said.
West Virginia hosted Fox for a one-day camp in the summer after previously eyeballing him during the evaluation period and the coaches made it no secret that his skill set is something they coveted.
Related: West Virginia finds fit at QB in 2025 class with Fox
"They liked everything about me. They told me I checked off all the boxes on my film and my character," he said. "It made a huge difference how they put me as a priority and always been at the top of the list."
Fox is excited to play in the West Virginia offense with the use of play-action and the diversity in the scheme. He believes at this stage of his career that his strengths are his ability to go through his progressions, deliver an accurate football and use his legs to escape the pocket and run.
"I see myself fitting in the offense great," he said.
The plan is for Fox to enroll next December and now will turn his attention toward recruiting other prospects to join him in the 2025 class.
"I love it here. I love the atmosphere and the people in it. There's no place like it," he said.

Manchin Statement on Continued Efforts to Keep West Virginia's Postal Facility in the State | U.S. Senator Joe Manchin of West Virginia
December 02, 2023
Washington, DC – Today, U.S. Senator Joe Manchin (D-WV) released the following statement after speaking with Postmaster General Louis DeJoy about the Mail Processing Facility Review of its Charleston Processing and Distribution Center (P&DC) facility. Senator Manchin encourages every West Virginian to submit comments to the USPS at the link here opposing changes to the West Virginia mail processing facility.
"I just had a productive call with Postmaster General Louis DeJoy about the Mail Processing Facility Review of its Charleston Processing and Distribution Center (P&DC) facility. The South Charleston facility will not have one single employee laid off, and instead deliver major investments to the facility to better meet the demands of the public and the market. I will continue to work with Postmaster General DeJoy to ensure these improvements will modernize and revitalize this critical lifeline and bring the highest level of service for the people of West Virginia."
---
---
Previous Article
West Virginia secures spot in College Cup with 3-1 victory against Loyola Marymount – WV MetroNews
— By Wesley Shoemaker
MORGANTOWN, W.Va. — For the first time in program history, West Virginia men's soccer is advancing to the College Cup. 
West Virginia used three goals from three different players to beat Loyola Marymount, 3-1, advancing to the Final Four of the NCAA Tournament for the first time in the 63-year history of West Virginia men's soccer. 
"It's really, really, special. I said before when I first got the job, I meant it when I said it, I think we can win a national championship here. I wouldn't have took the job if I didn't think we had the platform and foundation to win a national championship," West Virginia coach Dan Stratford said.  
"I had to have a moment and let myself enjoy what we've achieved and where we are as a program right now and it's everything," Stratford added. "I've spent the better part of 20 years here in West Virginia now, which is wild. I never got to play in a game like that, so this is the next best thing." 
It was a quick start for the Lions (10-5-6), who scored less than 2 minutes in. They would press the Mountaineers out of the gate, with Steven Anderson finding the bottom right corner of the net to give LMU a 1-0 lead just 1:54 into the match. 
"Transparency, it was a terrible start. That's never the plan. To concede that early, not enough time has transpired to really see what it is they're doing and how we need to adapt potentially," Stratford said. 
West Virginia (17-2-4) offered a quick response, getting its home crowd at Dick Dlesk Soccer Stadium right back into things. 
Luke McCormick tied the match less than 7 minutes later, receiving a pass from Otto Ollikainen on the outside of the 18-yard box and using his left foot to score his seventh goal of the season in the 9th minute. 
"When we went 1-0 down, we just thought we need to win," West Virginia's Ryan Crooks said. "We know goals are coming to come and they did six minutes later." 
Goals continued to come, as WVU goalkeeper Jackson Lee found Sergio Ors Navarro, who then did the rest, dribbling past two Lion defenders, before scoring the Mountaineers' second goal to give his team its first lead in the 16th minute.
The offenses then started to slow down. There were five combined shots the remainder of the first half, matching the same number of shots in the opening 15:34. 
In the second half, West Virginia maintained its intensity.
The Mountaineers' pressure allowed them to control majority of possession and they ultimately broke through for an insurance goal. 
Yutaro Tsukada received a cross from Crooks, before he was 1-on-1 with the Lions goalkeeper. Tsukada won the battle, beating him to the near side of the net, and securing WVU a 3-1 advantage in the 67th minute. 
"Today's goal was thanks to this guy next to me (Crooks)," Tsukada said. 
The Mountaineers did not let up, as the Lions mounted four more shots, with Lee having only to make one save on a ball that rolled straight to him. 
This was West Virginia's second time in the NCAA Quarterfinals in the last three years. In 2021, the Mountaineers lost to Georgetown.
"For whatever reason in my mind today, it would have felt like a failure if we hadn't made the Final Four. It is a huge, huge, weight off my shoulders," Stratford said. 
"We're in unchartered territories again. This is great, but I said there is an even shinier one waiting for us on Monday if we go about the next week to the level of professionalism and the way we approached this game. I don't think anyone is content, I don't think anyone is going to relax now. I think there is a really, really, exciting week ahead of us." 
West Virginia awaits the winner of No. 9 Clemson and No. 16 Stanford, which will be the Mountaineers' opponent in the a national semifinal Friday in Louisville.
WVSports – West Virginia must find grit despite challenges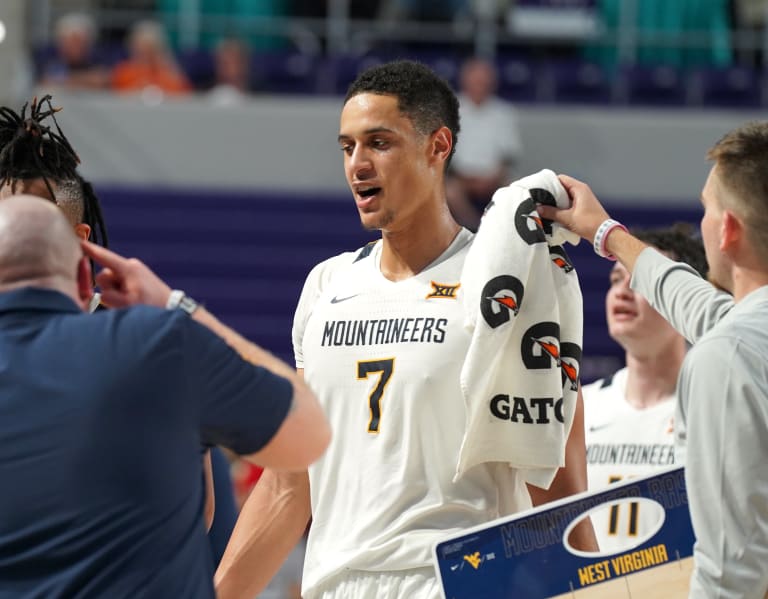 West Virginia allowed 18 offensive rebounds and 26 second-chance points against St. John's but still trailed by just a basket with two minutes remaining.
The Mountaineers struggled to keep the Red Storm off the glass, especially with big Jesse Edwards dealing with foul trouble that limited him to just 25 minutes. Free throw shooting became an issue late as well as West Virginia missed 10 of their 12 misfires in the second frame.
It was many of the same issues that have plagued this team throughout according to head coach Josh Eilert. And ultimately those miscues proved too costly to overcome as the Mountaineers gave themselves little chance to win the basketball game despite playing with a strong effort.
"Give up 18 offensive rebounds to a team like that, give them 26 second-chance points and you're not going to have a chance to win the game. And we really did had we made some free throws down the stretch and cleaned up some of those things we've been trying to sure up the entire season," Eilert said.
West Virginia fought on the glass but was simply outmanned without Edwards on the floor.
"With size and strength and fresh legs. It's a shame we couldn't clean up two or three of those," Eilert said. "Eighteen is just hard to overcome. You come up with three or four more possessions that you didn't give them a second chance we probably win that ball game."
On the offensive end, there was a general lack of ball movement as the Mountaineers broke down into trying to score in one-on-one situations. The final result was just 6 assists compared to 12 turnovers. Meanwhile, the Red Storm had just 6 turnovers with 15 total assists on 29 made baskets.
Related: What WVU needs to do when Jesse Edwards can't score the ball
"It's just not sustainable to try to score everything one-on-one," he said.
Depth once again became an issue, as St John's played 11 different players and were aggressive on both ends of the floor fully aware of that advantage. The Mountaineers relied on basically seven throughout, although reserve guard Jeremiah Bembry did see the floor for a minute.
It also didn't help matters that one of those in junior Seth Wilson also struggled going 0-11 from the floor with zero assists and a pair of turnovers in 28 minutes of action.
"He is what he is at this point and we're trying to get everything we can out of him at this point," he said.
Reinforcements are on the way with point guard Kerr Kriisa set to return after just two more games and the possibility that forward Akok Akok could make his way back after his medical emergency as well as the potential of RaeQuan Battle seeing the floor at some point. But that time isn't now.
Fatigue is an issue, but it doesn't help matters that St. John's beat the Mountaineers to loose balls and played with more grit than Eilert's club down the stretch.
"Keep fighting. We're not about to back down, keep fighting. We've got challenges but I'm not going to make excuses. Keep fighting and figuring out a way, there's help coming, and there will be to a certain extent but it's not here yet. So, we're not a victim, the situation is what it is we'll go out there and battle every possession," Eilert said.