Picking the winner in Tigers vs. Aggies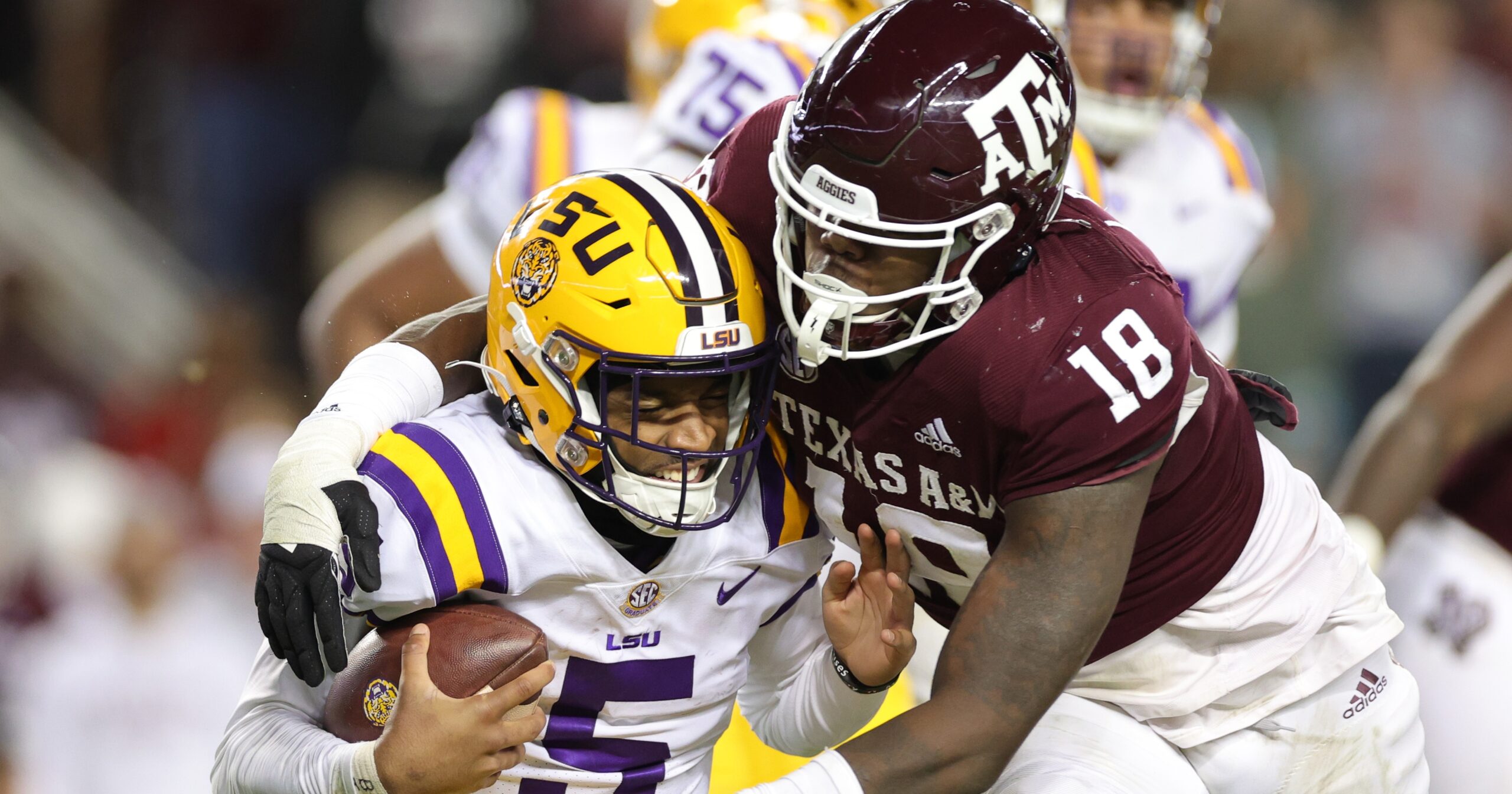 Week 13 Picks: Texas A&M at LSU | Andy Staples | 11.20.23
LSU is an 11.5-point betting favorite against Texas A&M at home, accoridng to FanDuel Sportsbook. Andy Staples wasted no time in picking the Tigers to cover — but will his guest agree?
To aid him in making his weekly picks, Jake Crain joined On3's Andy Staples to discuss why earning this win — and covering the spread — is so important for the Tigers this weekend.
How to watch LSU vs. Texas A&M
Time: Noon ET
Channel: (ESPN), FuboTV (streaming)
Location: Tiger Stadium – Baton Rouge, Louisiana
"LSU has to win if Jayden Daniels wants to win the Heisman," Crain told Staples. "Even though, as an LSU fan, it had got to make you sick to your stomach that you have the deadliest offense in college football, but you're not going to get a chance to win it because your defense is so bad. Does winning the Heisman maybe take a little shine to you a little bit, maybe make it feel a little bit better? I guess, maybe.
"But I think Jayden Daniels stays in. LSU obviously at home, big game for them — it's his last game there. I think LSU covers this, but I love the over. I need to see the LSU total team points, too."
On the season, Daniels has accumulated 4,591 total yards of offense and has accounted for 46 touchdowns. He's a 1,000-yard rusher after last week's performace against Georgia State and is third in the country in passing yards with 3,577 on a 72.6% completion percentage.
For Texas A&M, their immediate focus shouldn't even be on this game against LSU. They might just have to take their whooping to round out Daniels' Heisman resume and hope for a better future heading into the bowl and and into the offseason. Still, Staples isn't worried about what the Aggies are capable of with more important matters on the horizon.
"I'm way more interested in their coaching search than I am in this game," Staples said. His No. 1 replacement for Jimbo Fisher would be Kansas' Lance Leipold, but also said that he believes that someone like Urban Meyer wouldn't answer the phone if Texas A&M called — he'd have called them first.
Live stream on Fubo! Limited time offer: $40 off Fubo's Pro, Elite and Premier plans
For now, Elijah Johnson is serving as the Aggies' interim head coach as Texas A&M begins its search. Whether they'll be a footnote in Daniels' Heisman History remains to be seen, but the ailing Aggies will be looking to ruin the Tigers' party this weekend in Death Valley. Opening kickoff is scheduled for Noon ET live on ESPN.

Texas High School Suspends Black Student Again Over Locs
Darryl George, a Texas high school student who sued his school for discriminating against him for having locs, was placed in an in-school suspension Tuesday after returning to school. The reason this time? The length of his hair, George's spokesperson Dr. Candice Matthews confirmed.
The new disciplinary measure from Barbers Hill High School arrived immediately after he served a 48-day stay in a disciplinary alternative education program (DAEP) for supposed "multiple infractions of campus and classroom rules," according to the school.
Back in October, George's lawyer Allie Booker told Rolling Stone that Darryl's DAEP punishment is direct retaliation for his lawsuit against the Barbers Hill Independent School District. The September suit accuses George's school of targeting the Black student's hairstyle with a discriminatory dress and grooming policy. Black hair has long been an avenue for discrimination in the United States, as it is often considered unkempt or distracting by white-dominated organizations and professional environments.
On Aug. 31, George was pulled out of class and told his dreadlocks violated the school's policy. The Barbers Hill High School dress code says male students' hair cannot "be gathered or worn in a style that would allow the hair to extend below the top of a T-shirt collar, below the eyebrows, or below the ear lobes when let down." George's locs extend past his shirt collar, but are kept braided up above his lobes.
When George refused to cut his hair, the lawsuit claims he was "unethically hazed" by school staff, kept in in-school suspension, and prevented from accessing free lunch. George's attorney Booker argues that the school's actions violate the CROWN Act, a bill adopted in Texas that prohibits "discrimination based on race-based or protective hairstyles."
Following the news of his in-school suspension Tuesday, Texas Legislative Black Caucus Chair Ron Reynolds told Rolling Stone that the school was "acting in bad faith" by continuing to discriminate against Black students for their hair.
"The spirit of The CROWN Act was passed to protect students like DeAndre Arnold and Darryl George from Barbers Hill discriminating against them for their protective hairstyle regardless of length," Reynolds said Tuesday. "I will file an amendment to the bill during the next Legislative session that specifically addresses length to stop their pretextual argument to not comply with the CROWN Act."
"They are acting in bad faith to continue discriminating against African American students," he added.
Texas is one of 24 states that has passed a version of the CROWN Act, but the suit also accuses state officials of failing to enforce the law adequately. It also notes that no one commented on George's hair until Aug. 31, one day before Texas' CROWN Act went into effect.
Barbers Hill High School asked a Texas district court to specify whether the CROWN Act includes policies on hair length. In a statement to ABC13, the school district also added that they would refrain from "enhancing' Darryl's punishment while the court's ruling was pending — a statement both Booker and his mother Darresha say the school has walked back by sending Darryl to a disciplinary program.
"He feels like he's caged in, like he's in jail," George's mom Darresha told Rolling Stone in October. "It's like he's locked up. He was falling behind already. And now he's trying to play catch up and it's hard to do when you're already behind."
"His locs represent his roots, represent his soul, his ancestors, his legacy," she added. "It's his culture. He not only has his locs in his hair, he has his ancestors' hair weaved into the ends of his hair. So cutting that off is cutting them out of his life. And that's that's not fair to ask somebody to do."
Texas Woman Asks Judge For Permission To Get Abortion
Topline
A Texas woman is asking a judge for permission to terminate her pregnancy due to a severe fetal anomaly, challenging Texas' strict abortion laws that prohibit the procedure in most cases—a first-of-its-kind case since the Supreme Court allowed states to ban abortion last year.
Key Facts
Kate Cox, a 31-year-old woman with two children and a 20-week pregnancy, is suing Texas to request she be allowed an abortion after doctors told her "continuing the pregnancy puts her at high risk for severe complications threatening her life and future fertility," according to the lawsuit, filed in district court in Travis County, Texas.
Cox was told her baby has trisomy 18, which means "her pregnancy may not survive to birth, and, if it does, her baby would be stillborn or survive for only minutes, hours, or days," the lawsuit said.
Texas bans all abortions except in situations where there is "some evidence" of "substantial impairment of a major bodily function," but the state doesn't clarify what that evidence is.
Cox's request is the first lawsuit since before Roe v. Wade that asks the court to allow a pregnancy termination, according to the Texas Tribune.
If the court doesn't grant the order, Cox's doctor cannot provide the abortion—despite medically recommending it—or she would face "loss of her medical license, life in prison, and massive civil fines."
Forbes has reached out to the Texas Attorney General's office.
Crucial Quote
"I'm trying to do what is best for my baby and myself, but the state of Texas is making us both suffer," Cox said in a press release.
Key Background
Texas is one of several states to almost entirely ban abortion after the Supreme Court overturned Roe v. Wade last year, allowing states to heavily restrict or outlaw the procedure for the first time in nearly 50 years. Texas has some of the strictest abortion laws in the country, banning them in most situations and allowing private citizens to sue people who help someone get an abortion. Texas is currently facing a lawsuit from women and doctors are challenging what the state's law means for complicated pregnancies, but the state is arguing the plaintiffs don't have the right to challenge it as none are seeking abortions due to medical challenges. That led to the lawsuit filed by the Center for Reproductive Rights on behalf of Cox, who "cannot wait" for a decision to be made in the ongoing case. The pending lawsuit from women and doctors—Zurawski v. Texas—is asking for "clarification regarding the medical exceptions to Texas's bans." A Travis County District Court judge granted a temporary injunction against the law with regard to "Texans with life- or health-threatening pregnancy complications," but the state immediately appealed it, preventing the injunction from taking effect. Cox's lawsuit differs from Zurawski v. Texas in that it only requests a ruling in her situation rather than a ruling applying to the entire state, though a ruling for her could set precedent by making the state define when an abortion is allowed, according to the New York Times.
What To Watch For
A ruling in Zurawski v. Texas. According to the Center for Reproductive Rights, the Texas Supreme Court—which heard arguments in the case late last month—is expected to issue a decision soon on if the state's abortion ban applies in situations like Cox's.
Further Reading
The Texas TribuneTexas woman asks judge to let her terminate pregnancy after lethal fetal diagnosisNytimesTexas Woman Asks Court to Allow Her Abortion