South Waterfront – with or without pedestrian bridge – could welcome hotels and a museum
See how the Knoxville riverfront is changing near downtown
Public and private money is going toward waterfront revitalization on both sides of the Tennessee River near downtown Knoxville.
Ryan Wilusz, Knoxville News Sentinel
After accepting $20 million from the state, the city of Knoxville wants to lower the cost of a pedestrian bridge across the Tennessee River.
CRE Consulting Corps has identified growth opportunities along the water, including a hotel across from the University of Tennessee campus.
A "statement piece" similar to the Tennessee Aquarium in Chattanooga could work between the river and Sevier Avenue, the report says.
Consultants also see Sevier Avenue continuing to grow as a retail destination as infrastructure is improved.
With or without a proposed pedestrian bridge, experts have identified dozens of ways Knoxville's South Waterfront could grow over the next few years, including through the addition of hotels, restaurants and a "statement piece" akin to the Tennessee Aquarium in Chattanooga.
The city of Knoxville voted Sept. 5 to accept $20 million in state funds toward a pedestrian bridge connecting the University of Tennessee at Knoxville campus to the South Waterfront. That bridge, as currently designed, is estimated to cost $70 million.
With this funding, which would be returned if the bridge is not built, city officials believe Knoxville has a better chance of receiving a $25 million federal grant that was denied during the most recent application cycle.
In the meantime, the city will work with a firm to rethink the design of the bridge with the goal of lowering the cost to closer to $55 million.
As this 13-year-old vision gains momentum, the city and East Tennessee Realtors called upon CRE Consulting Corps to evaluate the potential of the South Waterfront, from Sevier Avenue to west of Chapman Highway.
"The CRE team's final report provides strategic guidance for local leaders as they work to create a riverfront that is an award-winning example for the nation that binds and connects people to the river, to Knoxville, and to the adjoining nature preserves and parks," East Tennessee Realtors wrote in a news release
Here are some of the most notable suggestions in the 53-page report analyzed by Knox News.
Hotels could benefit the University of Tennessee
Buildings west of the Henley Street bridge, near where the southern end of the pedestrian bridge would land, should be preserved immediately to encourage new uses such as mobile kitchens, creative bars and pop-up retail, according to the report.
If access to the river is increased in this area, with grassy spaces and picnic tables, a restaurant or music stage could even be positioned on a barge.
Long term, consultants see the potential for a hotel in this area − maybe two. With the land sloping up from the river, mid-rise buildings set farther back could still have views of the river without being directly on the water.
A hotel should have at least 150 rooms to encourage meetings. With the university directly connected to the area, UT Knoxville could leverage a hotel and its meeting areas to encourage continuing education.
"Alumni and others could be connected to the campus yet find a more relaxed area than being in the center of campus," the report says. "There could be integrated quality housing for faculty or graduate students, but we do not see this as a large component of the development."
Knoxville riverfront could benefit from a tourism attraction
The area immediately east of the Gay Street bridge has the most potential for a "statement piece," according to the report. This area still is used for industrial purposes, with Holston Gases owning nine parcels, and the properties have "the reputation of being difficult to acquire and difficult to develop."
However, the consultants view this lack of development as a "blessing." If the land were open for development, it likely would have been filled with apartments by now.
"This site presents a tremendous opportunity to create a destination − a statement piece − and we urge all stakeholders to dream big," the report says. "Other communities have successfully created meaningful attractions, and this could be the site to host a future museum or other award-winning and postcard-worthy institution."
Here are some examples from other cities included in the report:
Tennessee Aquarium – Chattanooga
Kiewit Luminarium – Omaha, Nebraska
Rock & Roll Hall of Fame – Cleveland, Ohio
Peace Center – Greenville, South Carolina
"The primary near-term recommendation is to engage with the owners and develop/maintain an ongoing channel of communication with the owners," the report said. "Planning over someone else's property is a sensitive issue and should be handled with permissions and communications with the current owner."
Sevier Avenue should keep growing as a retail destination
Part of the codes specific to the South Waterfront requires 70% of the ground level on new Sevier Avenue buildings to be glass. The intent is to encourage commercial and retail uses in multifamily buildings but, as outlined in the report, developers often request exemptions to the 70% rule.
Consultants suggest removing this requirement or, perhaps, requiring retail just on the corner of multifamily developments.
Forcing commercial development into multifamily buildings could create a retail community that's "sporadic at best," they said. The neighborhood feel of Sevier Avenue sought in the South Waterfront Vision Plan is more likely to be created through retail spaces in smaller developments on empty lots. 
Infrastructure improvements will be important throughout South Waterfront neighborhoods, according to the report. Certain improvements, including underground utilities, already are being worked out by the city through its plan to overhaul Sevier Avenue with a streetscape.
The city's streetscape plan also calls for adding on-street parking, creating new bike lanes and building a roundabout at the intersection of Island Home Avenue.
Consultants suggest closing Council Street and turning Sevier Avenue, which splits at its western end, into a two-way street in both directions. Sevier Avenue also could benefit from a "placemaking entrance" welcoming people to the neighborhood, according to the report.
Ryan Wilusz is a downtown growth and development reporter. Phone 865-317-5138. Email ryan.wilusz@knoxnews.com. Instagram @knoxscruff. 
Support strong local journalism by subscribing at knoxnews.com/subscribe.

Energy Facts: Impact of the Investing in America Agenda on Tennessee – CleanTechnica
Sign up for daily news updates from CleanTechnica on email. Or follow us on Google News!
---
U.S. Secretary of Energy Jennifer Granholm visits Tennessee
On Tuesday, December 5, 2023, U.S. Secretary of Energy Jennifer M. Granholm will travel to Tennessee to meet with Tennessee Valley Authority (TVA) Leadership and local officials and energy leaders, showcasing the Biden-Harris Administration's historic investments in clean energy in the South.
During this visit, the Secretary will visit the Clinch River Nuclear Site to highlight the importance of advanced nuclear technologies — a vital tool to reach the Biden-Harris Administration's goal of a net-zero emissions by 2050.
Strengthening Tennessee's Economy
ENERGY JOBS
In 2022, there were already 209,951 Tennessee workers employed in the energy sector.
Across the state, more than 83% of the electric power generation workforce was in wind, solar, and hydroelectric, and more than 50,017 workers were employed in energy efficiency.
The Inflation Reduction Act will expand these opportunities, bringing an estimated $900 million of investment in large-scale clean power generation and storage to Tennessee between now and 2030.
SMALL BUSINESSES
Tennessee is home to 653,000 small businesses, representing 99.5% of all businesses and employing 42% of all workers in the state, and the Inflation Reduction Act will help them save money. Commercial building owners can receive a tax credit up to $5 per square foot to support energy efficiency improvements that deliver lower utility bills. Other programs that will benefit small businesses include tax credits covering 30% of the costs of installing low-cost solar power and of purchasing clean trucks and vans for commercial fleets.
CLEAN ENERGY INVESTMENTS
Currently, Tennessee has 561 MW of solar and wind capacity, along with 2.5 GW of hydroelectric capacity and 5 GW of nuclear capacity. There is over 580 MW of additional planned solar energy capacity in the works in the state, which will more than double the amount of renewables available on the state's grid and power the equivalent more than 83,000 additional homes.
Inflation Reduction Act (IRA) tax credits that encourage investment in wind and solar will help reduce energy costs, as the costs of solar and wind power are projected to drop by 23% and 34%, respectively, over the next 30 years in Tennessee.
Since the start of the Biden Administration, we have tracked more than $150 billion in new battery and electric vehicle supply chain investment announcements, including 23 facilities in Tennessee, adding up to over $15 billion in planned investment and over 12,600 jobs.
CLEAN TRANSPORTATION
Tennessee currently has over 1,700 EV charging ports. The state is also receiving over $18.8 million in federal funding from the Bipartisan Infrastructure Law to help build out more EV charging stations.
In 2022, Tennessee had 28,300 registered electric vehicles, a 53% increase over 2021. Drivers switching to an electric pickup truck could save more than $1,700 per year in fueling and maintenance costs compared to a gasoline-powered truck. Drivers of smaller cars could save more than $1,200 per year. The Inflation Reduction Act will make it easier and cheaper to purchase an electric vehicle, with upfront discounts up to $7,500 for new EVs and up to $4,000 for used EVs, helping many Americans skip the gas pump and save on fuel costs.
Investing in Tennessee
Thanks to funding from President Biden's Investing in America Agenda, the U.S. Department of Energy (DOE) has made available more than $103.6 million in the past year to Tennessee's state and local governments to invest in energy efficiency and grid resilience.
Novonix Anode Materials has received $150 million from DOE to build a battery materials manufacturing plant in Chattanooga, which will produce graphite for EV batteries.
Piedmont Lithium has also received $141 million to build a world-class lithium hydroxide facility in McMinn County, TN.
Tennessee Tech University has received $4.5 million to help develop cheaper mobile charging stations for electric vehicles, which can be deployed in rural areas and other places with limited EV charging capacity.
Carbon Rivers in Knoxville, TN, has received $1.1 million to improve recycling of materials made from end-of-life wind turbine blades.
Electric Power Research Institute in Knoxville, TN, has received $3.4 million for solar energy research as part of a grid modernization strategy.
Saving Tennesseans Money on Home Energy Bills
DOE's Weatherization Assistance Program and State Energy Program have invested more than $55.1 million in Tennessee since 2015, leading to 789 jobs and over 2,800 homes with reduced energy costs and improved health and safety.
Upgrading appliances and improving home energy efficiency could save a total of 9,900 GWh of energy in Tennessee, enough to power 462,000 Tennessee homes.
Tennessee will receive over $167 million to implement a Home Energy Rebate program in the state. Low-income households in Tennessee could save an average of 44% on their home energy bills when they upgrade their appliances and improve energy efficiency through this program.
The Inflation Reduction Act also includes grants to help state and local governments adopt the latest building energy codes, which could save the average new homeowner in Tennessee 29% on utility bills. That amounts to $719 per year.
Prioritizing Tennessee's Underserved Communities
The Biden Administration has committed to advancing equity for all communities, including through the Justice40 Initiative, which aims to ensure Federal agencies deliver at least 40% of the overall benefits of climate, clean energy, affordable and sustainable housing, clean water, and other investments to disadvantaged communities. DOE has more than 140 programs covered by this initiative.
Nashville, TN has participated in a Clean Energy to Communities Peer Learning Cohort sponsored by DOE to develop and implement a municipal clean energy strategy.
The Electric Power Research Institute is partnering with DOE to develop a community-focused planning framework to prevent power disruptions caused by extreme weather events. The goal is to minimize the potential burden of outages on local residents, especially low-income communities. The plan will then be deployed in a historically Black neighborhood in Nashville, TN, an area damaged by a destructive tornado and other storms in 2020.
For current DOE funding opportunities, visit: www.energy.gov/infrastructure
Courtesy of the U.S. DOE.
---
Have a tip for CleanTechnica? Want to advertise? Want to suggest a guest for our CleanTech Talk podcast? Contact us here.
---
CleanTechnica Holiday Wish Book
Click to download.
---
Our Latest EVObsession Video
https://www.youtube.com/watch?v=videoseries
---
I don't like paywalls. You don't like paywalls. Who likes paywalls? Here at CleanTechnica, we implemented a limited paywall for a while, but it always felt wrong — and it was always tough to decide what we should put behind there. In theory, your most exclusive and best content goes behind a paywall. But then fewer people read it!! So, we've decided to completely nix paywalls here at CleanTechnica. But…
Like other media companies, we need reader support! If you support us, please chip in a bit monthly to help our team write, edit, and publish 15 cleantech stories a day!
Thank you!
---
Advertisement
---
CleanTechnica uses affiliate links. See our policy here.
---
Tennessee DE James Pearce arrested after traffic stop, according to published report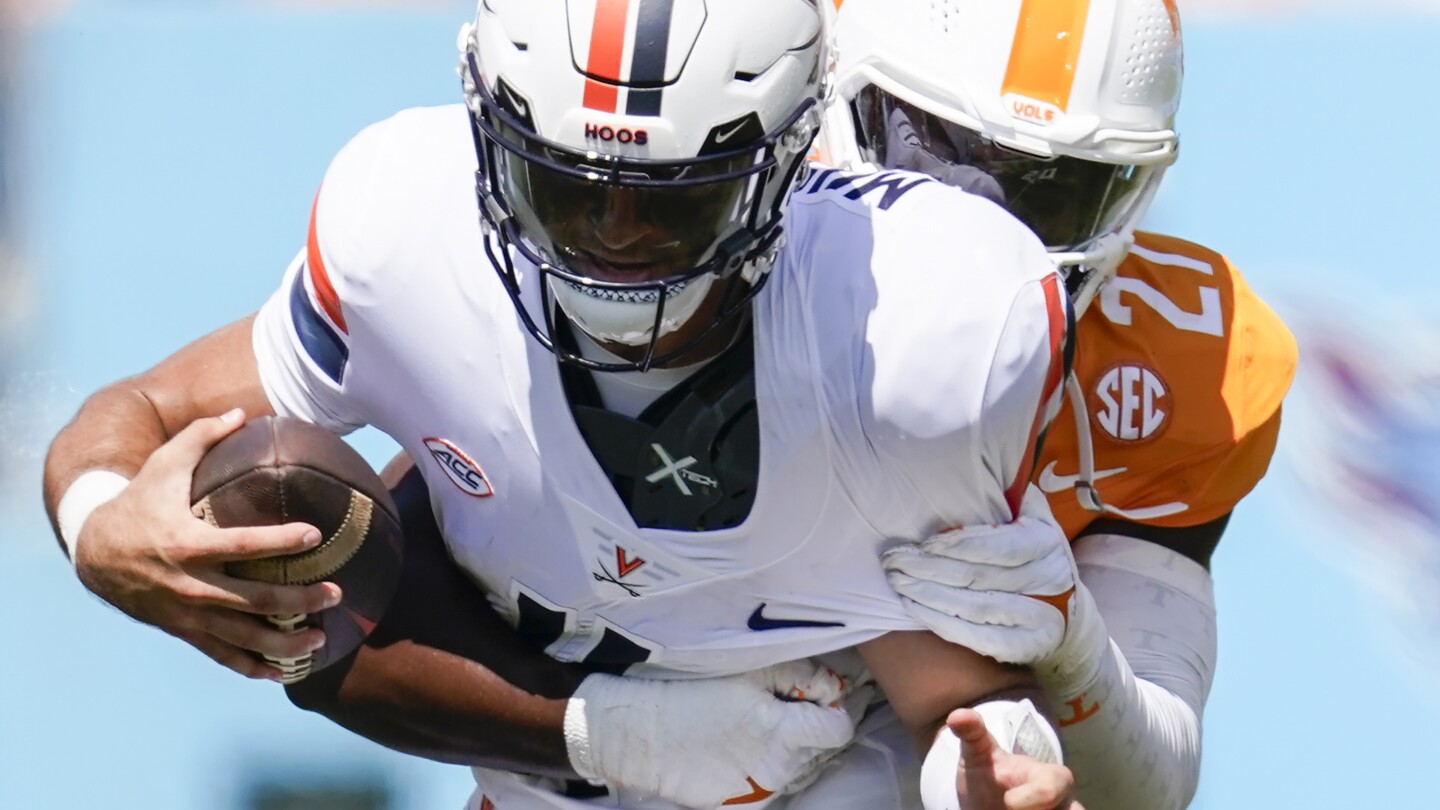 KNOXVILLE, Tenn. (AP) — Tennessee defensive end James Pearce was arrested on traffic charges after a stop on Monday, according to a published report.
Knoxville police wrote in a report obtained by the Knoxville News Sentinel that police clocked the All-SEC first-team selection driving a 2021 Jeep Grand Cherokee 63 mph in a 35 mph zone.
Police wrote in the report that the sport-utility vehicle had expired temporary tags and that Pearce failed to provide identification or proof of insurance. Officers also found that Pearce had a suspended license in North Carolina, according to the report.
Pearce was charged with speeding, driving on a suspended license, failure to present insurance, registration improperly displayed and improper window tinting, the police report said.
A spokesperson for the university told the newspaper that Tennessee was aware of the incident and awaiting more information.
Pearce had 8 1/2 sacks and 13 tackles for loss this season. The Volunteers play Iowa in the Citrus Bowl on Jan. 1.
___
Get alerts on the latest AP Top 25 poll throughout the season. Sign up here.
___
AP college football: https://apnews.com/hub/ap-top-25-college-football-poll and https://apnews.com/hub/college-football
University of Tennessee student housing rent soared in Knoxville this year, here's where it ranks nationally
It's no secret that Knoxville has been in a housing crunch that extends from home sales to the rental market. That includes an expanded need for student housing, as enrollment increases at the University of Tennessee at Knoxville.
While developers have been racing to build entire blocks of student housing, those facilities are still several years away. In the meantime, the situation has grown ever more dire for students looking to find a place to live.
Apartment rent growth as a whole accelerated for the second consecutive month in October, with rents across the Knoxville metropolitan area increasing by 4.14% from the previous year compared to 0.09% nationally.
But housing for students became even more expensive, a release from East Tennessee Realtors said.
Rental costs for student housing increased nearly 16% from 2023
Rent growth in student housing hit record highs across the U.S. over the last year − and Knoxville was no exception. As of September − the final month of the fall 2023 pre-lease season − rent for student housing in Knoxville rose 15.9%, according to RealPage Market Analytics. This figure amounted to the 11th fastest year-over-year rent growth nationally and the second fastest among southeastern universities.
The especially large rent increases among housing specifically for students can be attributed to robust enrollment growth at the University of Tennessee, which created a sizable gap between supply and demand as evidenced by 100% occupancy rate for this fall.
Across the core 175 universities tracked by RealPage, rent growth in student housing has hit record highs over the last year. As of September, annual rent growth hit 9%.
At some schools, however, that rate was considerably higher. Arizona State University claimed the top spot in the nation for student housing rent growth in the year ending September 2023, posting a 24.5% increase. Rent growth at the University of Arkansas and the University of New Mexico nearly hit 20%.
Several quintessential college towns including Knoxville appear on this list, such as Asheville (University of North Carolina) and West Lafayette (Purdue), which helps underscore the fact that college towns are very attractive student housing markets.
Don't expect to see these types of increases next year, however. Much like the conventional market correcting sharply over the last year, RealPage expects student housing rent growth to cool in the fall 2024 pre-lease season. 
Liz Kellar is a Tennessee Connect reporter. Email liz.kellar@knoxnews.com. Support strong local journalism by subscribing at knoxnews.com/subscribe.