Cardoso's offense, team defense power No. 1 South Carolina to 78-38 win over South Dakota State
COLUMBIA, S.C. (AP) — When the shots wouldn't fall, No. 1 South Carolina relied on its defense, which was more than enough against South Dakota State.
Kamilla Cardoso had 23 points, 10 rebounds and six blocks while Raven Johnson had 18 points and five steals as the Gamecocks overcame a poor early shooting performance to defeat the Jackrabbits 78-38 on Monday night.
South Carolina had only six field goals in the first quarter and 15 by halftime, a 33% showing for a team that came in seventh in the country in shooting at 53.1%.
"When you don't see a shot go in, of course, you get down," Johnson said. "So I think, you go get a steal, go get an easy two points."
That approach turned things around for South Carolina (4-0).
It didn't help the Gamecocks that they were without their most reliable outside shooter in Oregon transfer Te-Hina Paopao, who was sidelined with an ankle injury. Paopao started the first three games and went 10 of 17 on 3s.
Minus Paopao, the Gamecocks missed all 12 of their 3-pointers, their first time without making a 3 since a 76-62 win over Mississippi State in the Southeastern Conference tournament title game on March 8, 2020, when they were 0-for-8 from behind the arc.
"The goal got small for us," coach Dawn Staley said. "But we righted the ship in the second half."
South Carolina took control with relentless rebounding and defense. The Gamecocks had 16 blocks, 15 steals and led the Jackrabbits 21-10 in offensive rebounds.
South Carolina outscored South Dakota State 31-0 on the fast break.
Johnson had six assists and five steals. The 6-foot-7 Cardoso had her third double-double of the season and 19th of her career.
Brooklyn Meyer scored 19 points for the Jackrabbits (2-2), who were the preseason favorites to win the Summit League.
SDSU went up 13-11 after Meyer's basket late in the first quarter. But South Carolina set off on a 19-7 surge to move in front for good.
Jackrabbits coach Aaron Johnson appreciated his team's strong start against the powerhouse Gamecocks, but acknowledged his players got worn down through foul trouble in the second half.
"Foul trouble a little bit and the extra pressure your fouls put on you, the extra rotations," Johnson said. "Things turned really quickly in that third quarter."
BIG PICTURE
South Dakota State: The Jackrabbits made things unusually difficult on South Carolina early. But they ultimately couldn't keep it close against the faster, taller Gamecocks.
South Carolina: The Gamecocks looked a little out of control at times as less experienced players like MiLaysia Fulwiley and Sahnya Jah jacked up several poor shots while Staley stood on the sideline with her arms folded and scowling.
INJURED GAMECOCKS
South Carolina played its second game without versatile freshman Tessa Johnson, who sustained a lower right leg injury at practice. Johnson used a scooter to elevate her leg. Staley was unsure if Johnson or Paopao would be available for South Carolina's next game.
UP NEXT
South Dakota State returns home to face South Carolina State on Friday night.
South Carolina concludes a four-game homestand against Mississippi Valley State on Friday.
Copyright 2023 The Associated Press. All rights reserved.

Stingrays surge past Swamp Rabbits in Greenville
GREENVILLE, SC. – The South Carolina Stingrays (8-6-2-0) delivered a statement 8-5 win over the Greenville Swamp Rabbits (15-3-0-0) on Saturday night. The Stingrays were down 5-1 in the second period but stormed back with seven unanswered goals to win the game. Josh Wilkins scored a hat trick, Ryan Leibold scored twice, and Garin Bjorklund stopped 31 of 36 shots in the victory.
Greenville held a 3-1 lead after the first period. Anthony Beauchamp opened the scoring before Wilkins tied the game with a power play goal. Nikita Pavlychev tallied two power-play goals to give Greenville a two-goal lead.
Greenville extended their lead to 5-1 with goals by JD Greenway and Brannon McManus. Both goals came off shots from the high slot.
Wilkins started South Carolina's comeback with his second power-play goal of the night. He one-timed a cross-ice feed from Connor Moore past Greenville goaltender Ryan Bednard to cut the deficit to 3.
Austin Magera pulled the Stingrays within two when he knocked in his seventh goal of the season. Magera followed up a Benton Maass shot and buried the rebound past Bednard to make it 5-3.
Leibold made it 5-4 when he streaked up the right side and fired a shot over the glove of Bednard.
Tyson Empey tied the game at 5 when he redirected a shot from the left point by Jon McDonald. Tonight was the second consecutive game that Empey scored a goal with less than two seconds remaining in the second period.
Wilkins gave the Stingrays their first lead of the night with a highlight-reel breakaway goal. Wilkins faked a shot, deeked to the backhand, and roofed a shot past Bednard to complete his hat trick and put the Stingrays up 6-5.
Leibold extended the Stingray lead to 7-5 with a wrist shot to the short side shelf. Kevin O'Neil iced the game with an empty net goal to seal an 8-5 win for South Carolina.
The Stingrays are back in action on Sunday afternoon for their annual Teddy Bear toss game. They will take on the Trois-Rivières Lions at 3:05 pm.
2023-24 Single Game tickets are on sale! Tickets to all 35 remaining regular season home games are available at the following link.
Save money with group tickets! For more information or to purchase, contact the Stingrays by phone at 843-744-2248.
Copyright 2023 WCSC. All rights reserved.
South Carolina State vs. Charleston Southern: Odds, spread, over/under – December 2
The Charleston Southern Buccaneers (2-5) bring a four-game losing streak into a home contest with the South Carolina State Bulldogs (2-6), losers of five straight. It starts at 5:30 PM ET (on ESPN+) on Saturday, December 2, 2023.
In this article, you will see odds and spreads for the Charleston Southern vs. South Carolina State matchup across multiple sportsbooks.
South Carolina State vs. Charleston Southern Game Info
When: Saturday, December 2, 2023 at 5:30 PM ET
Where: The Buc Dome in North Charleston, South Carolina
How to Watch on TV: ESPN+
Live Stream: Watch this game on ESPN+
Watch live college basketball games from all over the country, plus ESPN originals and more NCAA hoops content on ESPN+!
South Carolina State vs. Charleston Southern Odds, Spread, Over/Under
Take a look at the odds, spread and over/under for this matchup listed at different sportsbooks.
Sportsbook Promo Codes
South Carolina State vs. Charleston Southern Betting Trends
South Carolina State has compiled a 5-2-0 record against the spread this season.
When playing as at least 2.5-point underdogs this season, the Bulldogs have an ATS record of 5-2.
Charleston Southern has covered just once in five matchups with a spread this season.
Buccaneers games have gone over the point total twice this season.
Check out all the futures bets available at BetMGM!
Not all offers available in all states, please visit BetMGM for the latest promotions for your area. Must be 21+ to gamble, please wager responsibly. If you or someone you know has a gambling problem, contact 1-800-GAMBLER.
© 2023 Data Skrive. All rights reserved.
1 injured following shooting at SC State, police and SLED investigating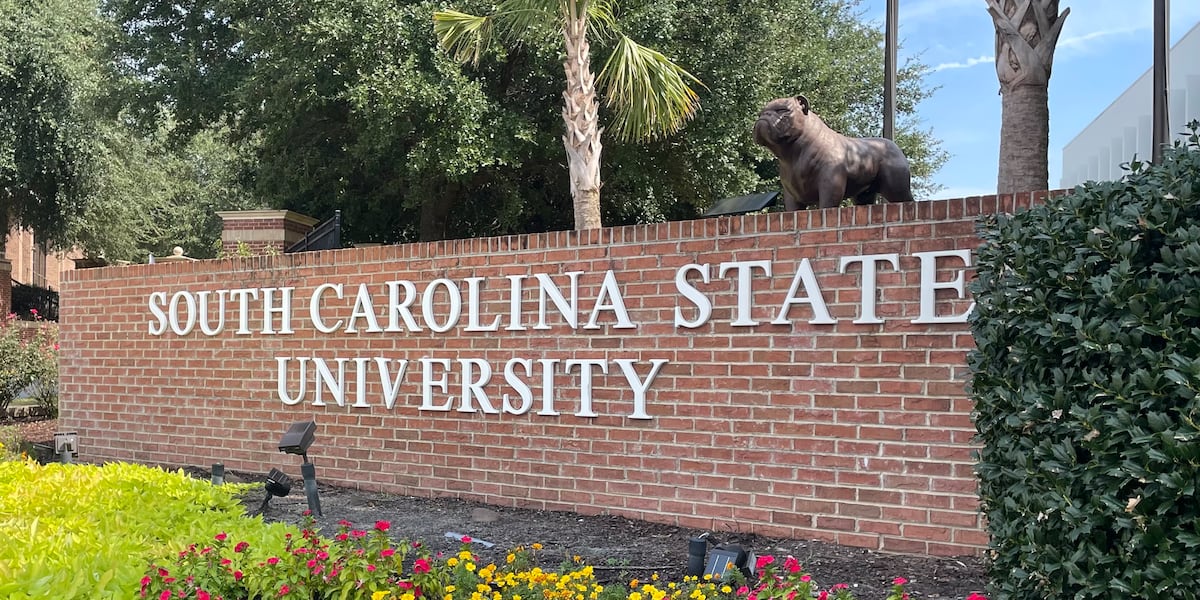 ORANGEBURG, S.C. (WIS) – One person was injured following a shooting at a South Carolina State University (SC State) campus residential complex Friday evening.
SC State police said the shooting happened between two nonstudents who were guests of a student who lived in the complex. Officers added one person was wounded with a nonlife-threatening injury.
The incident was reported at 7:24 p.m. on Dec. 1 and campus police responded immediately, secured the area, and determined the alleged shooter had left campus.
The South Carolina Law Enforcement Division (SLED) is assisting SC State police with the investigation. University administrators advised students to use extreme caution about who they invite to campus and to remember the consequences of not following university rules.
SC State President Alexander Conyers released the following statement regarding the incident:
Our priority at South Carolina State University is to ensure the safety and wellbeing of our students and employees. I cannot emphasize enough that the misguided actions of one person can put others unnecessarily at risk. One bad decision can disrupt the safety and security of everyone who lives, studies and works at SC State.
Students always must be vigilant about safety – both in their own behavior and those with whom they associate. Campus visitation is a privilege that must be exercised with the welfare of everyone in mind. You should never bring or invite untrustworthy individuals onto the campus with particular attention to avoiding illegal activity.
As a reminder, no weapons are allowed on campus, and violations result in both criminal charges and campus judicial proceedings that can lead to suspension or expulsion. The same applies to illegal drug trafficking.
South Carolina State University will continue to hold students accountable for any policy violations and illegal activity conducted by them or their guests.
Our Campus Police Department works hard to maintain security on the SC State campus, but they require the assistance of students and employees.
We ask you to join us in maintaining a safe environment by always remaining alert and aware of your surroundings. I remind you that the best defense against trouble is that if you see something, say something.
In October 2023, the university was sent into lockdown after a reported sexual assault, and an SC State football player was charged with having a weapon on school property.
This story is developing, please check later for updated coverage.
Notice a spelling or grammar error in this article? Click or tap here to report it. Please include the article's headline.
Stay up to date with WIS News 10. Get the app from the Apple App Store or Google Play Store and Stream us on Roku, YouTube, Amazon Fire, or Apple TV.
Copyright 2023 WIS. All rights reserved.