Woman Caught on Video Giving the Finger to Anti-Woke Oklahoma Schools Boss
A woman repeatedly guffawed and looked on in shock before flashing her middle finger at Oklahoma Superintendent of Public Instruction Ryan Walters during a monthly meeting of the State Board of Education on Thursday—with the entire incident captured by local news cameras.
Walters, a self-proclaimed enemy of "the radical left" who is quickly gaining notoriety for spouting a number of wacky conspiracy theories, was on an extended rant about "indoctrination" in schools when the woman, spying the camera pointed her way, began mouthing something in the background before laughing and shaking her head.
But it was when Walters began talking about a "radical, woke, activist judge that is trying to pressure one of our school districts" that the woman really took issue, getting visibly upset in the video as the man next to her attempts to calm her down and pat her on the back.
Walters described how an Oklahoma school district was apparently unsure how to respond after a county judge ordered a student's gender to be changed on school records after they transitioned.
"I want to alert we're seeing more and more of this," Walters added. As he blames the Biden administration for "trying to force dictates," the woman raises her hand and her middle finger briefly, shakes her head and seems to laugh at the absurdity of the situation.
The State Board of Education ultimately voted to ban school districts from changing the gender of students on school records without the board's permission. The rule went into effect immediately.
"We're going to continue to stand for common sense and truth," Walters said.

Providence at Oklahoma odds, picks and predictions
The Providence Friars (7-1) and Oklahoma Sooners (7-0) meet in one of Tuesday's feature college basketball games. The opening tip at the Lloyd Noble Center in Norman will be at 7 p.m. ET (ESPNU). Below, we analyze FanDuel Sportsbook's lines around the Providence vs. Oklahoma odds, and make our expert college basketball picks, predictions and best bets.
Providence covered a -13.5 spread Saturday, downing Rhode Island 84-69 to claim its 4th straight victory. Despite playing at a relatively fast pace, the Friars have allowed just 63.6 points per game. They have held opposing shooters to a 39.2% mark on 2-point attempts; that ranks 3rd in the nation.
Oklahoma is No. 22 in the USA TODAY Sports Coaches Poll. It last played Thursday, taking down Arkansas-Pine Bluff 107-68, but failing to cover a -27.5). The Sooners have scored 90-plus 3 times this season; their 87.4 PPG average ranks 15th in the nation.
Stream select live college basketball games and full replays: Get ESPN+
Providence at Oklahoma odds
Provided by FanDuel Sportsbook; access USA TODAY Sports Scores and Sports Betting Odds hub for a full list. Lines last updated at 12:13 a.m. ET.
Moneyline: Providence +180 (bet $100 to win $180) | Oklahoma -220 (bet $220 to win $100)
Against the spread (ATS): Providence +5.5 (-114) | Oklahoma -5.5 (-106)
Over/Under (O/U): 145.5 (O: -108 | U: -112)
Providence at Oklahoma picks and predictions
Prediction
Oklahoma 70, Providence 68
Moneyline
Peg this matchup with a solid lean toward Providence. But the Friars are playing their 1st true road contest against an OU team that plays well at home. PASS.
Against the spread
Over its last 24 games as an Underdog, Providence is 16-8 ATS. The Friars are 15-6 ATS across their last 21 on the road. They are 12-1 ATS over their last 13 December games.
Oklahoma has played a weak schedule and certainly has not seen a defense like Providence. The Sooners have played 2 Quad 1 games (vs. Iowa, USC on Nov. 23-24); they won both, but OU trailed the Trojans by multiple possessions much of that game and won on a buzzer-beater.
Give Oklahoma the nod in the rebound and turnover exchanges. And to be fair, the Sooners' home-court advantage is usually quite good. But the Friars may have the edge in cranking out more free throws, and in other ways they are worth near-pick 'em status here.
BACK PROVIDENCE +5.5 (-114).
Play our free daily Pick'em Challenge and win! Play now!
Over/Under
In Providence games totaled in the 140s, the Under has gone 5-1. In Oklahoma's last 10 home games lined with a total between 140-145.5, the Under has gone 8-2.
Both sides are accustomed to having their way in the paint. They are in for a rude awakening with the way each other defends around the rim.
BACK THE UNDER 145.5 (-112).
For more sports betting picks and tips, check out SportsbookWire.com and BetFTW.
Follow SportsbookWire on Twitter/X and like us on Facebook.
College sports coverage from USA TODAY Sports Media Group:
Alabama / Arkansas / Auburn / Clemson / Colorado / Florida / Georgia / Iowa / LSU / Michigan / Michigan State / Nebraska / North Carolina / Notre Dame / Ohio State / Oklahoma / Oregon / Penn State / Rutgers / Tennessee / Texas / Texas A&M / USC / Wisconsin /
College Sports Wire: Men's hoops / Women's hoops / High School
Oklahoma State seeks revenge against high-scoring SIU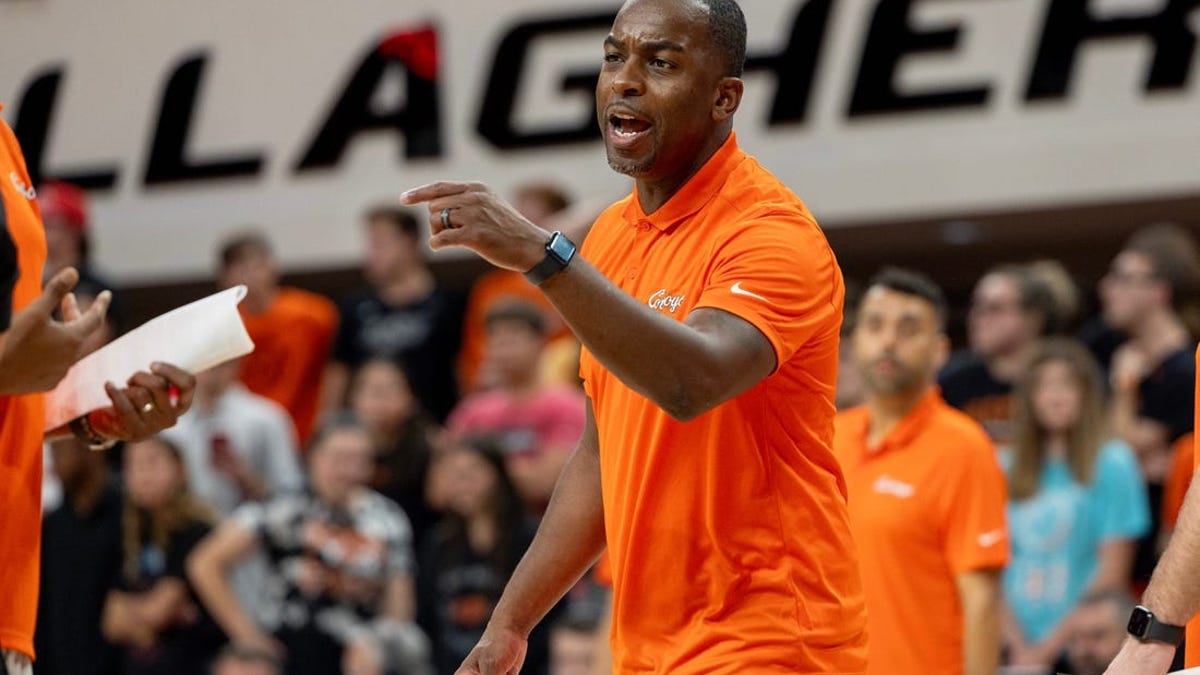 When Oklahoma State faces Southern Illinois in Carbondale, Ill., on Tuesday night for its first true road game of the year, it will mark the first time a school from a Power 5 conference has visited the Banterra Center in 15 years.
Is the NFL scripted? The Chiefs-Packers game made it seem like it
And if this game goes like that one did, the Cowboys will face a long ride back to Stillwater. They were also the last Power 5 team to visit Carbondale, doing so for an NIT game in 2008, and the Salukis emerged with a 69-53 win.
Oklahoma State (3-4) has talent but hasn't been able to use it to its greatest extent yet. The Cowboys' 79-65 home loss on Thursday against No. 15 Creighton was a prime example. Specifically, in the final 6 1/2 minutes of the first half, the Bluejays ripped off a 19-2 run that essentially decided the game.
"That stretch is where it got away from us," Cowboys coach Mike Boynton said. "Certainly disappointed in the outcome. I'm proud of the effort. We've just got to get better."
Guard Javon Small paces Oklahoma State, averaging 15.7 points, 5.5 rebounds and 5.3 assists. He is one of just nine Division I players with marks of 15, 5 and 5, respectively, through the weekend.
Meanwhile, the Salukis (5-2) are coming off their best performance, a 101-62 rout of visiting Saint Louis on Saturday that saw them tie a school record by canning 18 3-pointers (on 29 attempts). It was the first time Southern Illinois scored 100 against a Division I opponent in 25 years.
Point guard Xavier Johnson poured in a game-high 31 points, upping his scoring average to 23.1, good for fourth in Division I through the weekend. The game was a 180 for Southern Illinois, which was drilled 77-48 on Nov. 28 at Indiana State in its Missouri Valley Conference opener.
"We were the most connected we've been this year on both ends of the court," Salukis coach Bryan Mullins said.
Southern Illinois owns a 5-2 lead in the all-time series, winning last year 61-60 in Stillwater on a late 3-pointer by Marcus Domask. The swingman transferred to Illinois ahead of this season.
—Field Level Media
Q&A With Oklahoma State Commit Drew Winslow
December 4, 2023
By: Peter Hamot
Area Scout, Staff Writer
RHP Drew Winslow (Triad, 2025) certainly opened some eyes this past summer, particularly at the Future Games where he represented Team Illinois. The 6-foot-6, 195-pound right-hander is hard to miss with his large and projectable stature, and his stuff backs up his appearance; boasting a fastball up to 90 mph with a sweeping slider and dancing changeup that can run up to 18″ horizontally. There's a lot to dream on with Winslow, and his present ability has him currently slotted at No. 9 in the state as is. Don't be surpised to see Winslow make some drastic strides throughout the rest of his prep career as he continues to harness his ability on the mound. 
We recently sat down with the Oklahoma State commit to talk through his recruitment process, as well as some other fun topics along the way.
Our Q&A
PBR: What were your expectations about the recruiting process? What were you looking for out of a college program to continue your baseball career at? 
Drew: I was looking for three major things in a baseball program: 1) Relationship with how the coaches interact with their players and me. 2) The culture of their team and what their values are (Christianity and the pursuance of God was a big value for me that Oklahoma State had). 3) How good is their pitching development and would it get me to the highest potential that's physically possible for me.
P: Did location or distance from home play a factor in your decision?
D: Location was a big part of my decision. I am really close to my family so I didn't want to go super far. Although Oklahoma State is seven hours from me, I have an uncle and his family who live 30 minutes from the campus. That helped me make the decision to go there, that I had family close.  
P: When did the recruiting process really start to heat up for you? Where did the school you committed to first see you play? 
D: Things heated up for me when I went to the Future Games. Just before the rule where coaches can contact you I went and pitched at the Future Games and a lot of coaches saw me play. After that on August 1st I got about 30 or something calls to talk about their program. Other than the Future Games, throughout the summer I had a few coaches at each game I pitched. The Future Games is the first place Oklahoma State saw me play. 
P: What do you like most about the program you chose, and what were the key factors in making your decision?
D: I chose Oklahoma State for a lot of reasons. One of them being close to family. Another is their pitching development which was a big value I was looking for. Also, the culture of their program was a big value of mine. My visit to Oklahoma State was the only visit where guys on the team would come over to me and talk to me. There was a very family feel to their program and I loved that. The coaches were also very helpful and accommodating during this whole process. Throughout the visit we talked to them a lot and it was easy to tell that they were all down to earth great people. Also, a key factor that helped me choose them was their importance of building a relationship. They didn't just offer me right away, instead they took the time to get to know me as a person aside from baseball. Those were some of the key factors but all around I feel God really led me to make the decision about going there.  
P: What other schools were on your short list before you made your final decision? 
D: The last four schools I narrowed down to before I made the decision was Notre Dame, TCU, Baylor and Oklahoma State. 
P: At what point in your career did you realize you were a college-caliber player and became serious about taking your game to the next level? 
D: Before high school season last year I hit 89 mph in a bullpen. Then, I dedicated the whole high school season to be more focused on pitching development. I wasn't worried about how I was pitching in a game, I was thinking about how I could be the best me that I could be. Once it got to summer, I gained confidence in my stuff and started receiving attention from college coaches. 
P: What advice would you give to young baseball players striving to get where you are?
D: I would tell them to get involved into multiple sports. For me, I play basketball and that has helped me in many aspects for baseball. From playing another sport you learn to be a leader from a different place than just baseball. Also, it helps you stay athletic and build mental toughness that will help you in baseball. 
P: What is the most memorable moment in your baseball career to this point?
D: My most memorable moment was pitching in the Future Games. The energy was very high and there were a lot of coaches there. 
P: Preview your high school team's season for us. How do you feel your team will be?
D: I feel our team will be very good. We are a very scrappy team and have been putting in a lot of work during this off-season. We are strong in every position and our lineup will be good. I have high hopes for this upcoming season. 
P: How did the Future Games and/or the Illinois State Games affect your recruitment process? Did you receive more attention following the event(s)?
D: The Future Games was a game changer for me. It helped me put my name out so much easier due to all the coaches being in one spot. I received almost all my attention from the Future Games. 
P: If you could steal any tool or quality from another player in the state, what would it be and who would it be from?
D: I would steal Austin Musso's calmness on the mound. He is very calm on the mound and it's impressive. 
P: Who is the next talented young player to keep an eye on out of your high school or travel program?
D: Another talented person to keep an eye out for is Tommy Kramkowski. He is on my summer team and I am very impressed with his stuff on the mound. He is a guy that keeps working and I think the sky is the limit for him. 
P: Did Prep Baseball assist in your recruiting? Whether it be through a showcase, tournament coverage, tweets, etc? 
D: The tweets after my outings from PBR gained a lot of attention for me. It started at one of my last games of high school, and continued through the summer and helped get coaches to follow me as well as my progress. Also, again the Future Games was a big help. 
Related Content