Buy Tickets for Florida State vs. North Carolina on December 2
Saturday's ACC slate includes the North Carolina Tar Heels (3-0, 0-0 ACC) playing the Florida State Seminoles (2-1, 0-0 ACC) at 2:00 PM ET on ACC Network.
If you're looking to attend this game in person, head to Ticketmaster to buy your tickets!
Florida State vs. North Carolina Game Information
Watch college basketball, other live sports and more on Fubo! Use our link to sign up for a free trial.
Buy Tickets for Other Florida State Games
Rep your team with officially licensed college basketball gear! Head to Fanatics to find jerseys, shirts, and much more.
Florida State Top Players (2022-23)
Matthew Cleveland: 13.8 PTS, 7.4 REB, 1.8 AST, 0.8 STL, 0.8 BLK
Caleb Mills: 13 PTS, 3 REB, 3.4 AST, 1.3 STL, 0.6 BLK
Darin Green Jr.: 13.4 PTS, 2.9 REB, 2 AST, 0.9 STL, 0.4 BLK
Jalen Warley: 6.8 PTS, 2.9 REB, 3.3 AST, 1.3 STL, 0.2 BLK
Cameron Corhen: 8.3 PTS, 3.5 REB, 0.5 AST, 0.4 STL, 0.3 BLK
Catch college basketball action all season long on Fubo!
North Carolina Top Players (2022-23)
Armando Bacot: 15.9 PTS, 10.4 REB, 1.4 AST, 0.6 STL, 1 BLK
RJ Davis: 16.1 PTS, 5 REB, 3.2 AST, 1.1 STL, 0.1 BLK
Caleb Love: 16.7 PTS, 3.7 REB, 2.9 AST, 1.1 STL, 0.2 BLK
Rechon 'Leaky' Black: 7.3 PTS, 6.5 REB, 1.5 AST, 1.3 STL, 0.8 BLK
Pete Nance: 10 PTS, 6 REB, 1.7 AST, 0.3 STL, 1.1 BLK
Sportsbook Promo Codes
Florida State vs. North Carolina Stat Comparison (2022-23)
| North Carolina Rank | North Carolina AVG | | Florida State AVG | Florida State Rank |
| --- | --- | --- | --- | --- |
| 68th | 76.2 | Points Scored | 69.3 | 235th |
| 204th | 70.9 | Points Allowed | 76.2 | 330th |
| 7th | 36.6 | Rebounds | 28.6 | 327th |
| 83rd | 9.6 | Off. Rebounds | 7.3 | 280th |
| 210th | 7.1 | 3pt Made | 6.5 | 274th |
| 274th | 11.9 | Assists | 13.4 | 150th |
| 44th | 10.5 | Turnovers | 11.6 | 152nd |
Not all offers available in all states, please visit BetMGM for the latest promotions for your area. Must be 21+ to gamble, please wager responsibly. If you or someone you know has a gambling problem, contact 1-800-GAMBLER.
© 2023 Data Skrive. All rights reserved.

North Carolina, Ohio corridors lead list of those receiving FRA grants for possible new Amtrak routes – Trains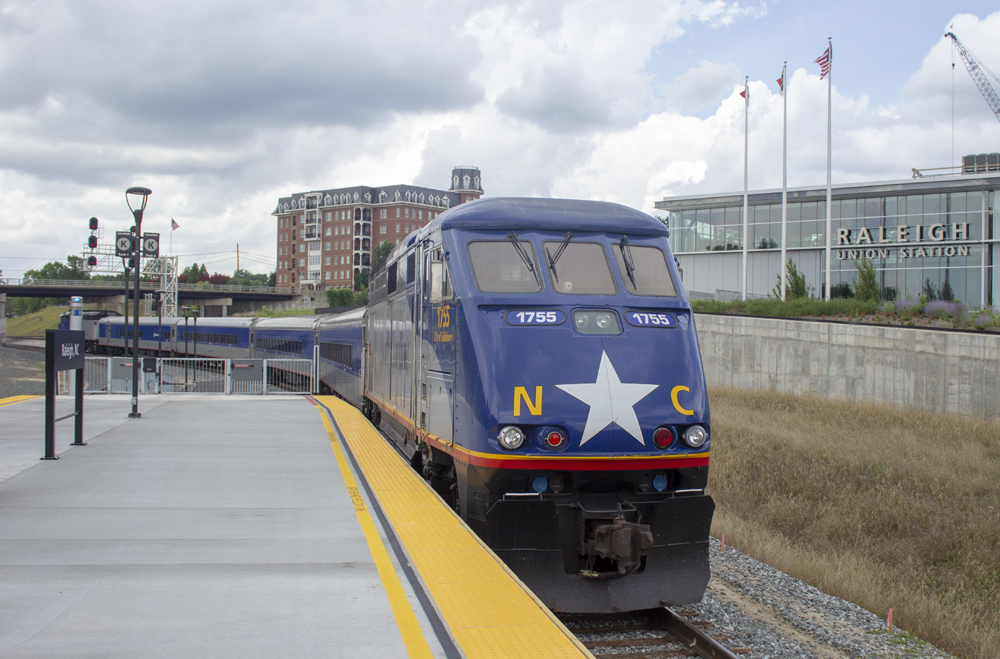 ---
WASHINGTON — Seven routes in North Carolina and four serving Ohio are among those to receive funding to study possible future Amtrak service under the Federal Railroad Administration's Corridor Identification and Development Program, according to announcements today (Tuesday, Dec. 5) by members of Congress, as well as one mayor.
At least 14 corridors have been selected by the FRA. While the agency will at some point release a full list of corridors selected, elected officials usually have the first opportunity to announce such awards to their constituents, and not all such announcements may have been made yet. As such, the list below may be incomplete.
The program, created under the Infrastructure Investment and Jobs Act, is to facilitate development of intercity passenger rail routes [see "FRA unveils Corridor ID and Development program …," Trains News Wire, May 17, 2022]. Each corridor selected receives $500,000 for a study to determine the engineering, cost and other requirements needed to establish service; more on the program and its requirements is available here.
Corridors selected for funding, as announced today, include:
— Asheville, N.C., to Salisbury, N.C.
— Charlotte, N.C., to Washington, D.C.
— Charlotte to Atlanta
— Charlotte to Kings Mountain, N.C.
— Fayetteville, N.C., to Raleigh, N.C.
— Raleigh to Wilmington, N.C.
— Raleigh to Winston-Salem, N.C.
— Cleveland-Columbus-Dayton-Cincinnati
— Cleveland-Toledo-Detroit
— Chicago-Fort Wayne, Ind.-Columbus, Ohio-Pittsburgh
— Chicago-Indianapolis-Cincinnati-Washington-New York (Daily Cardinal service)
— Nashville, Tenn.-Chattanooga-Atlanta
— Scranton, Pa., to New York
— Reading, Pa., to Philadelphia
Sen. Thom Tillis (R-N.C.) announced the funding for the corridors in his state, and in a statement quoted by WCCB-TV, said, "This $3.5 million in grant funding to identify and develop potential rail lines across North Carolina could be transformational in how North Carolinians travel." The Charlotte-Atlanta corridor is an intended high speed line; the other corridors increase frequencies on existing routes, or are lines connecting to and complementing the state's existing Piedmont and Carolinian services.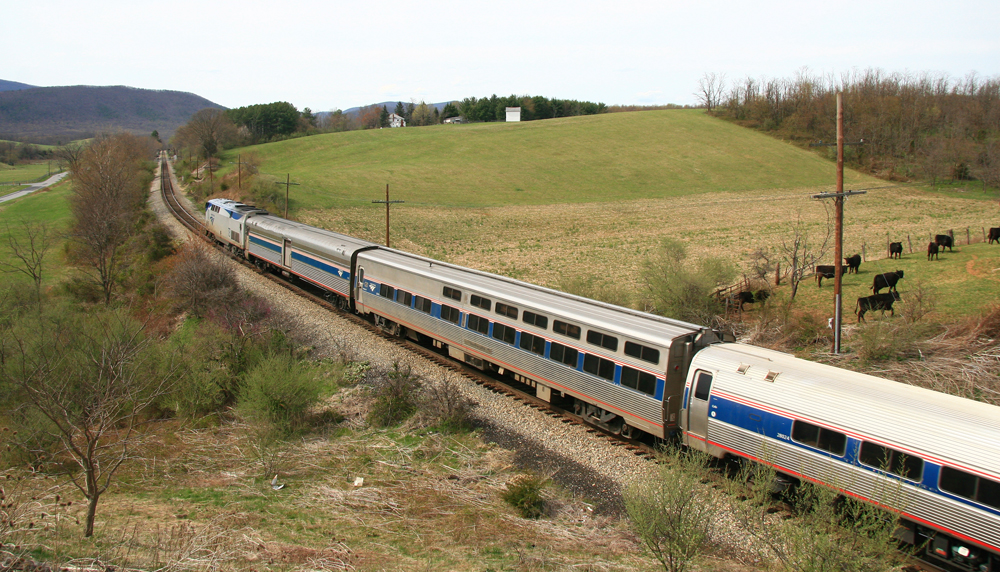 U.S. Sen. Sherrod Brown (D-Ohio) announced the selection of the four routes serving Ohio — including the effort to increase frequency for the Cardinal. He said that, in addition to providing the initial $500,000 in funding, inclusion in the Corridor ID program gives the routes priority in future funding competitions. The Ohio Rail Development Commission sponsored the Cleveland-Columbus-Cincinnati and Cleveland-Detroit routes, while the Mid-Ohio Regional Planning Commission helped sponsor the Chicago-Pittsburgh route and Amtrak sponsored the daily Cardinal application.
"Today's announcement is a great first step toward expanding Amtrak in Ohio," Brown said in a press release. "Good Amtrak service shouldn't be a privilege only for people on the coasts. These new routes would expand opportunity, help grow businesses and create jobs, and connect communities in Ohio and across the Midwest."
The City of Chattanooga had applied for the grant for the Nashville-Chattanooga-Atlanta route, and Chattanooga Mayor Tim Kelly said in a press release that the grant "shows the broad support for and momentum behind our vision of reconnecting us to other major Southern cities by bringing passenger rail back to Chattanooga. There aren't many places in America whose history is as closely tied to rail travel as Chattanooga's and today's announcement is a promising sign that the railroad will continue to be an important part of our future."
The Scranton-New York service seeks to restore the Lackawanna Cutoff, last used for passenger service in 1970, and projects three daily round trips, with nine stations and travel times of 2 hours, 50 minutes [see "Study says Scranton-New York passenger service could carry more than 470,000 …," News Wire, March 23, 2023]. NJ Transit is already working to restore a portion of the route to Andover, N.J., projected to enter service in 2026.
"This is a significant milestone and represents years of dedicated efforts to restore passenger rail service, which will contribute to our region's economic growth and vitality," U.S. Rep. Matt Cartwright, who announced funding for the Scranton-New York route along with Sen. Bob Casey, said in a press release. "This proposed rail line will create jobs, improve quality of life, and offer convenient travel options for commuters, college students and tourists, alike. It will also connect those of us living in Northeast Pennsylvania to a wider selection of health care services, sporting events, cultural activities and vacation spots."
At 64 miles, the Reading-Philadelphia route might be the shortest in the Corridor ID program. A press release from Rep. Madeleine Dean (D-Pa.) says the service would offer four to eight round trips per day, with intermediate stops in Pottstown, Phoenixville, and Norristown, Pa., and extend to New York City. The Schuylkill River Passenger Rail Authority is the grant recipient.
"We are thrilled to hear that the Schuylkill River Passenger Rail project was selected into the Federal Rail Administration's Corridor ID Program," said Jim Gerland, CEO of the Greater Reading Chamber Alliance. "Reestablishing passenger rail access from Reading to Philadelphia and beyond is a once in a generational economic development opportunity for this region."
How North Carolina spent ESSER funds – EducationNC
This story first appeared at The 74, a nonprofit news site covering education.
---
Nationally, school districts and charter schools have poured billions of federal pandemic relief dollars into staffing. Most states don't detail that spending precisely, but North Carolina does. A FutureEd analysis of how North Carolina is spending its last and largest round of federal Elementary and Secondary School Emergency Relief money suggests that localities across the state, especially rural school districts, put larger shares of that money into short-term staffing fixes than into long-term personnel commitments. This decision could potentially ease their fiscal pain when the funds run out.
Of the $3.6 billion the state received in the third and final round of federal relief, about $2.3 billion had been spent or earmarked as of Oct. 31, including $1.2 billion on staffing. 
Stressing the short term
Notably, given warnings of looming post-ESSER teacher layoffs, the largest share of North Carolina's staffing investments — and the single largest last-round expenditure of any sort — went to one-time expenditures.
About 55% of North Carolina's local education agencies spent some of their third-round ESSER dollars on staff bonuses. That translated to $445 million, or 20% of the final federal installment spent so far. Most of these expenditures occurred in fiscal year 2022, likely reflecting pandemic-related challenges in recruiting and retaining staff.  
North Carolina's state-level data do not show whether bonuses were distributed across the board to thank teachers for their efforts during COVID or targeted to hiring and retention in hard-to-fill areas. But an earlier FutureEd analysis of the nation's 100 largest school districts' third-round ESSER plans found that nearly half the districts considering bonuses intended to target them toward specific hard-to-fill positions, hard-to-staff schools or effective teachers. FutureEd's current analysis of ESSER spending in selected North Carolina school districts revealed that several are using bonuses strategically to hire and keep staff in hard-to-fill jobs. Research has found targeted bonuses to be more effective than across-the-board stipends in attracting and retaining teachers.
Statewide, staff bonuses were most likely in rural areas. "A lot of the more rural districts already face competition (for teachers), especially if they're bordering a county or a district that is urban and can offer a larger (salary) supplement," said Rachel Wright-Junio, director of North Carolina's office of learning recovery and acceleration. "So, I would understand why they would take advantage of awarding bonuses to try to attract and retain teachers."
Though our analysis suggests that bonuses may have been a wise use of one-time funds, especially when targeted to fill hard-to-staff positions, interviews with North Carolina district leaders suggest that they have also forced some districts to compete for teachers, as some were able to offer higher bonuses than others. Wright-Junio expressed concern that rural districts may see worse teacher and bus driver shortages when the bonus funds run out.
Spending may not equal new hires
North Carolina districts and charter schools have spent nearly $369.3 million of their final round of ESSER funding on staff salaries, with about one-third of the money going to classroom teachers. An additional $50.2 million went for recurring extra payments to attract and retain highly effective educators. These salary supplements are typically set at the local level and paid for with local funds. Though bonuses represent North Carolina's largest ESSER expenditure, teacher salaries emerged among the top spending priorities in two-thirds of local education agencies.
We found that the number of North Carolina teachers supported by federal funds rose by 23% between 2018-19 and 2022-23 — an increase of 1,300. But the total number of teachers statewide has declined slightly, by 720, from pre-pandemic levels. This suggests that at least some ESSER money has funded existing educators, not new personnel. 
While some districts might be paying existing staff with ESSER dollars to free up other funds, our analysis indicates the statewide student-teacher ratio has declined, from 15.1 in 2018-19 to 14.7 in 2022-23. Pandemic funds may have made it possible for school districts to keep teachers they might otherwise have had to let go due to student enrollment declines.
This doesn't necessarily mean all these positions will automatically disappear when the ESSER money runs out. "You don't know the counterfactual, which might be that the district would have hired for that new position anyway and used other spending for it," said Dan Goldhaber, director of the Center for Analysis of Longitudinal Data in Education Research at the American Institutes for Research and a FutureEd research adviser. "I think it probably indicates that some of those teachers are, in fact, going to go when ESSER disappears. But you don't know that for sure."
Looking forward
The North Carolina Department of Education has developed several tools to help local education agencies assess which of their investments are most important to sustain. For example, it created a framework for sustainability, called an investment grid, to help districts use performance data to gauge the value of their investments. State education officials are also helping school districts and charters find additional funding for summer learning, tutoring and other priorities. They developed a strategy for districts to align their ESSER investments with existing federal funding programs so they can potentially transition to other federal funding.
Ultimately, North Carolina's local education agencies are going to face staffing choices as the deadline for spending the state's remaining $1.2 billion in federal COVID school aid approaches. Their education leaders have spent the largest share of their last round of ESSER monies on bonuses and other short-term investments may make the task a little easier.

North Carolina High School Boys Basketball Schedule, Live Streams in Pamlico County Today – December 5
If your plans today include seeing the local high school basketball games in Pamlico County, North Carolina, then there is some important info you need to know. Learn how to watch or stream today's high-school action in the piece below.
Follow high school basketball this season on the NFHS Network! Keep tabs on your family or alma mater and tune in!
Pamlico County, North Carolina High School Boys Basketball Games Today
Pamlico County High School at Riverside High School
Game Time: 8:00 PM ET on December 5
Location: Williamston, NC
How to Stream: Watch Here
© 2023 Data Skrive. All rights reserved.