Holiday Network Group Pays $27M for Miami Beach Resi Building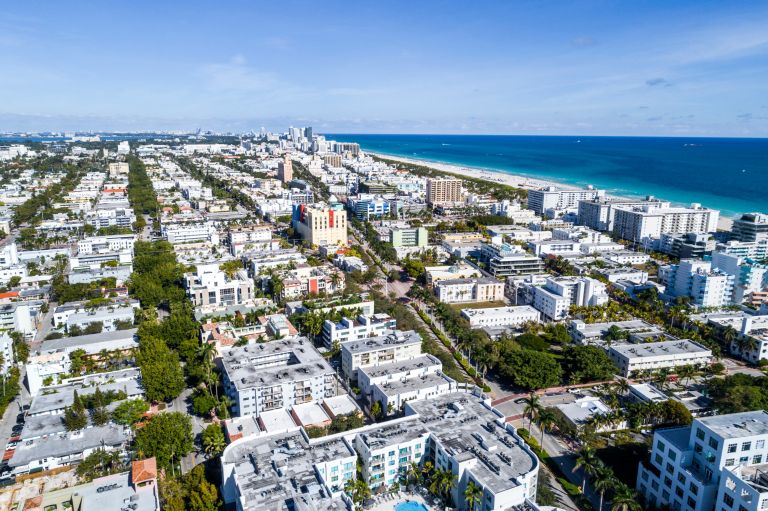 Holidays Network Group paid $27 million for a historic residential building in Miami Beach, with an eye toward renovating it, most likely as a hotel.
The Winter Park-based hospitality investor appears ready to reposition the 88-unit building at 2618 Collins Avenue, having secured a $35.3 million mortgage from Western Bank — about $8 million more than the total value of the sale. The five-story property, formerly known as the Prince Michael Condominium, was constructed in 1951.
In 2018, the Miami Beach Historic Preservation Board approved a $30 million plan to convert the 46,173-square-foot building into an 89-room hotel, though the property was never converted and remains residential as of today.
The sellers, investors Eli Dadon, Richard Waserstein and Avi Dishi, had paid about $10 million to buy units at the property between 2014 and 2017, paying an average of $100,000 per residence, according to The Real Deal.
A representative for Holidays Network did not immediately respond to a request for comment. A representative for the sellers could not be reached for comment.
The sale comes just five days after Kolter Hospitality and BH Group purchased a historic boutique hotel, also in Miami Beach. The joint venture paid $24 million for the 84-room Crystal Beach Suites Miami Oceanfront Hotel, located four miles north of Holidays Network's newly acquired property.
Julia Echikson can be reached at jechikson@commercialobserver.com. 

The 2023 Complete Guide To The Art, Parties, And Events At Art Basel Miami Beach And Art Week Miami
Here we go again…the best of the art world (not to mention the fashion world, culinary world, luxury brands, celebrities, and partygoers) descend on Miami for Miami Art Week, which includes a week long schedule of incredible art exhibits, parties, and events that are sprinkled around the Magic City. A lot has happened here since last year's Art Week. Miami has welcomed more new high-profile residents to its shores – including Jeff Bezos, Shakira, and Lionel Messi. The level of cuisine has grown exponentially, as Miami now has 11 Michelin-rated restaurants with more on the way. As a native Miamian, I am blown away by the level of culture and sophistication Miami has achieved. Miami's economy is still booming, with people flocking to the city both to live and to visit – and the attraction of Miami will be on full display during Art Week.
2023 Miami Art Week Event Schedule
Art Week is packed with various events, exhibitions and fairs. To make the most of your visit, I have listed out many of the top events and their details below. Note that some are exclusive to certain guests and others are available to the public. Keep in mind that the dates and locations are subject to change.
THE ART FAIRS
Art Basel Miami Beach
Art Basel celebrates its 21st year of its USA-based art fair in Miami for the city's Art Week, hosting galleries from all over the world and displayed across seven key sections: Galleries, Meridians, Nova, Positions, Survey, Kabinett and Conversations. Galleries showcases modern and contemporary art, Meridians displays larger projects and sculptures, Nova hosts recent works by two of three artists while Positions is for new galleries and emerging artists. Survey is for historically-relevant pieces, Kabinett highlights works from galleries separate from their booths, and Conversations hosts talks led by noted cultural figures.
VIP Preview days: December 6th – 7th
Open to public: December 8th – 10th
Location: 1901 Convention Center Drive, Miami Beach, FL 33139
Design Miami
Art takes the form of collectible designs, including furniture and lighting, at this eclectic exhibition. Design Miami hosts its 19th fair, showcasing more than 50 international brands, galleries and designers' work across five days. This year, the fair follows the theme Where We Stand, set by curator, writer and editor Anna Carnick, who has been appointed curatorial director of Design Miami 2023.
Preview Days: December 5th (Members Preview 11am-12pm; Collectors Preview 12pm-7pm) and December 6th (VIP Preview 11 am-1pm)
Open to public: December 6th – 10th
Location: Convention Center Drive and 10th Street, alongside Art Basel at the Miami Beach Convention Center
Art Miami
This globally known event features art from the 20th and 21st centuries and works in conjunction with reputable galleries.
Platinum/VIP preview: December 5th
Open to public: December 6th – 10th
Location: The Art Miami Pavilion, One Herald Plaza, NE 14th Street and Biscayne Bay, Miami, FL 33132
CONTEXT Art Miami
CONTEXT allows artists and collectors to network and elevate their platforms at this special exhibit. Check out some of the amazing, cutting edge works by contemporary and modern artists.
VIP preview: December 5th
Open to public/general admission: December 6th – 10th
Location: The CONTEXT Pavilion, One Herald Plaza, NE 14th Street and Biscayne Bay, Miami, FL 33132
Aqua Art Miami
To view work by young, middle-of-career artists, swing by Aqua Art Miami. This exhibit expands into a quaint courtyard as part of the South Beach hotel.
VIP preview: December 6th
Open to public/general admission: December 7th – 10th
Location: Aqua Art Miami at the Aqua Hotel, 1530 Collins Ave, Miami Beach, FL 33139
Pinta Miami
This year's main exhibit at Pinta Miami features Ibero American culture. Back for its 17th annual event, Pinta Miami is based among Miami's Coconut Grove art community and displays the work of Latin American galleries. The event welcomes creatives, artists, galleries, collectors, curators and the general public to view the works on show. Three separate sections make up the fair – the Main Section shows international artworks, RADAR presents a deeper dive into selected artists, and NEXT shows the work of up-and-coming creatives.
Open to public: December 7th – December 10th
Location: The Hangar in Coconut Grove, 3385 Pan American Drive, Coconut Grove, Miami, FL 33133
Miami River Art Fair
This boutique art fair celebrates its 12th annual edition during Miami Art Week 2023 and is the only rooftop exhibit in Miami guaranteeing the best views of the Magic City. This year's art features an artificial intelligence edition as well as installations, sculptures and digital artworks by global galleries and artists, based in downtown Miami.
VIP preview: December 6th
Fair hours for public: December 7th – 8th
Location: The Penthouse Riverside Wharf, 125 SW North River Drive, Miami, FL 33130
NADA Art Fair
The New Art Dealers Alliance (NADA) emphasizes emerging, new voices in the realm of contemporary art. The fair at Miami Art Week displays works from over 140 international galleries and organizations from over 50 cities.
Open to public: December 5th – 9th
Location: Ice Palace Studios, 1400 N Miami Ave, Miami, FL 33136
SCOPE Miami Beach Art Fair
Scope is dedicated to exhibiting works from emerging artists that represent a range of disciplines. This critically acclaimed show will host over 150 highly curated exhibitors and a focused schedule of experiential programming by featured sponsors and partners, including morning wellness, talk series, performances, and exclusive evening events – and is expecting to attract over 60,000 visitors during its 6-day run.
Open to the public: December 5th to the 10th
Location: 801 Ocean Drive, Miami Beach, FL 33139
RED DOT Miami
Red Dot Miami presents its satellite exhibition during Miami Art Week 2023, spotlighting the various works of contemporary artists and makers. Photography, paintings and sculpture are presented during the event, which was first established in 2006. Over 60 international galleries are presenting their works, attracting a spectrum of visitors including collectors and potential buyers.
Open to the public: December 6th to the 10th
Location: Wynwood 2217 NW 5th Avenue NW 22nd St, Miami, FL 33127
INK Miami
Miami Art Week satellite fair Ink Miami is back for its 16th edition, exclusively celebrating paper-based artworks.The four-day event displays works from various artists and printing presses based both in the US and internationally.
Open to the public: Welcome brunch on December 6th and open until the 8th
Location: Suites of Dorchester 1850 Collins Avenue, Miami Beach, FL 33139
UNTITLED Art, Miami Beach
Untitled Art is the leading independent art fair taking place annually on the sands of Miami Beach. Guided by a mission to support the wider art ecosystem, Untitled Art offers an inclusive platform for discovering contemporary art and prioritizes collaboration in each aspect of the fair.
VIP Preview; December 5th
Open to the public: December 6th-10th
Location: Ocean Drive & 12th Street, Miami Beach, FL 33139
Spectrum Miami
VIP Preview; December 6th 5PM – 6PM
Open to the public: December 6th-10th
Location: Mana Wynwood 2217 NW 5th Avenue NW 22nd St, Miami, FL 33127
Gateway Miami
Now Media and FACTBLOCK have partnered to present Gateway Miami during Miami Art Week. Returning to Miami for the third consecutive year from Dec. 6 – 8th, this three-day activation will include an immersive audiovisual gallery of leading digital artists, partner activations and compelling programming of fireside chats and keynote speakers, and will take over the iconic Faena Forum, marking the first time the event has ever been held on South Beach during Art Basel Miami. Gateway Miami transforms the Rem Koolhaus and OMA-designed space into a lush garden fitting of the curatorial theme, Blossoming. Featuring immersive installations from Christie's, LG Art Lab, Lens, Mercedes-Benz NXT, SHISEIDO, Wilder World, Ekos Genesis Art Collection and Atomic Form. Visit gateway.art for the most up to date information and to request access for public days.
THE EXHIBITIONS
MIAMI DESIGN DISTRICT
SAMUEL ROSS 'BENCHES'
MDD recently unveiled a permanent installation by British Artist and Designer Samuel Ross. Under the umbrella of his industrial design studio SR_A, three different bench designs are placed throughout the dynamic landscape of MDD's public spaces and pedestrian walkways, each a testament to Ross' profound exploration of functionality and service in communal areas. Displaying anamorphic, chalk forms made of CNC Steel with a powder coating, the sculptures are made specifically for MDD.
DESIGN COMMISSION 2023 BY LARA BOHINC
Miami Design District has awarded designer Lara Bohinc the 2023 Miami Design District Annual Design Commission. 'Utopia' spans four installations featuring irregular, bulbous forms reminiscent of growing cellular organisms. The sculptures are suggestive of living objects, mushrooming across the district. Collectively, they imagine a city where nature thrives peacefully and in harmony with our human presence. Pieces include outdoor seating, tables and oversized light sculptures, as well as a giant centerpiece egg-form, and 900 egg-shaped birdhouses dispersed throughout the trees. Bohinc's pieces are made from cork and painted by hand in vibrant hues paying homage to Miami's architectural color palette. Curated in collaboration with Design Miami/ Curatorial Lab, Utopia's dynamic sculptures will also welcome visitors with a special installation at the entrance of the Design Miami/ fair.
CRAIG ROBINS COLLECTION "A TRAIN OF THOUGHTS"
The Craig Robins Collection in Miami comprises over 1,300 pieces of contemporary art and innovative design, and exhibited within the Dacra headquarters in the Miami Design District. This year's rehanging of the collection is titled "A Train of Thoughts", focusing on two core subgroups of the collection's holdings: figuration and conceptualism. The exhibition highlights a collecting history that has favored a taste for the abject and hyperbolic figurative image, in tandem with the self-reflexive, institutional critique of art based on ideas— a seemingly incompatible pair that yields unexpected dialogues.
Location: DACRA Headquarters, 3841 NE 2nd Ave., Miami, FL 33137
Dates: December 6 – 8
GAGOSIAN & JEFFREY DEITCH PRESENT 'FORMS'
Forms will be the eighth annual group exhibition presented jointly by Jeffrey Deitch and Gagosian during Miami Art Week and on view in the city's Design District. The dominant narrative of modern art has largely focused on stylistic shifts between binary oppositions: from figuration to abstraction and back again. Playing on this history, the works included in Forms highlight, acknowledge, and challenge the pathway between abstraction and figuration with surrogates for and references to the representational world.
Location: 35 NE 40th St., Miami, FL 33137
Dates: December 5 – 10
THE CHRONICLES OF MIAMI BY JR
French artist JR debuts his newest mural 'The Chronicles of Miami.' Inspired by Mexican muralist Diego Rivera, the piece is part of JR's ambitious Chronicles series that imagines how an entire city can be represented through art. To create the work, JR and his traveling studio visited ten different neighborhoods in Miami, inviting anyone who passed by to be photographed and record a story. The result is an epic, highly realistic composition that captures 1,048 people who make up this ever-changing coastal city. The voices and stories of participants are linked to their portraits through the augmented reality app "JR: murals," offering an immersive exploration of Miami's diverse culture and history.
Location: Jungle Plaza, 3801 NE 1st Ave., Miami, FL 33137
STARDUST PAVILION BY FLARE
Stardust is a 10 ft. tall structure spanning 217 square feet. Ideated by design studio Flare, the structure marks the first of a series of collectible editions of bespoke pavilions inspired by the architectural tradition of XVII Century "Follies." Upon entering, Stardust envelopes those inside into a dance of light and reflection. A mirrored ceiling and glass walls flirt with visitors' bodies, while a marble floor elegantly reflects the sounds of the interior atmosphere. Natural light, diffused by the surrounding landscape, softly penetrates the transparent glass walls, animating the space. Stardust, and its complementing furniture pieces (Amaranta and Ana & Chiara), also designed and created by Flare for the Design District, will go on display and be open to the public in November 2023.
Location: 95 NE 40th St., Miami, FL 33137
Dates: November 2023 – January 2024
SWAMPSPACE GALLERY X SPINELLO PROJECTS
Spinello Projects in collaboration with Swampspace Gallery in Miami's Design District proudly presents VALLE DE LÁGRIMAS (1987), a montage of ten lurid canvases. The installation of paintings are a meditation on popular culture and a tribute to Mexican fotonovelas of the 1970's. The monumental work was rendered by Sanchez before succumbing to AIDS in 1990. Swampspace presents this seminal work in partnership with Spinello Projects' series of solo exhibitions and projects entitled GAY ERA.
GAY ERA is a collection of eight solo shows and projects, bringing together a selection of artists whose works embody the rich tapestry of queer experiences, narratives, and artistic expressions. VALLE DE LÁGRIMAS / VALLEY OF TEARS is a special curatorial satellite project by the late artist Adolfo Rene Sanchez at Swampspace in the Miami Design District which will be in conversation with six exhibitions at Spinello Projects, featuring Anthony Goicolea (b. 1971, Atlanta, Georgia), Barnaby Whitfield (b.1970, Miami, Florida), Kris Knight (b.1980, Windsor, Ontario), Giorgio Celin (b.1986, Barranquilla, Colombia), Juan Arango Palacios (b.1997, Pereira, Colombia) and Richie Nath (b.1995, Yangon, Myanmar), and lastly, Esaí Alfredo's (b.1997, Puerto Rico), debut solo booth presentation within the Positions sectors at Art Basel Miami Beach.
Location: 3940 N. Miami Ave., Miami, FL 33127
Dates: December 4-9; 11am-5pm
ERICK & ELLIOT JIMENEZ: RECLINING MERMAID
'Reclining Mermaid' is a site-specific billboard by Elliot & Erick Jiménez, first generation Cuban-American twin photo duo. The work is a portrait of Yemaya, the deity syncretized with our Lady of Regla in Cuba, and ruler of the seas — her shimmering dress resembling the refraction of the ocean's surface. The figure is mostly obscured with the exception of her eyes; a customary feature within Elliot & Erick's artwork, the eyes remaining present in the image serves as posterity to the history of Cuba's colonialism and blending of Spanish and West African traditions. Reclining Mermaid is part of "Southern Histories," a series of large-scale works at culturally significant sites to commemorate under-recognized historical narratives connected to Miami's roots in the American South, Latin America, and the Caribbean. This public work underscores the history of migration from the Caribbean and Latin America to Miami, and the myriad ways in which these cultures transformed the city's urban fabric over the decades. Produced in collaboration with Spinello Projects and commissioned by Fringe Projects with support from the John S. and James L. Knight Foundation.
Location: Corner of NE 2nd Ave. & 40 St., Miami, FL 33137
RIMOWA X TYPOE
RIMOWA is thrilled to announce their partnership with local Miami artist, Typoe, who created a custom chandelier-inspired art piece that is permanently displayed in their newly renovated Miami Design District store, now open to the public. The piece showcases a striking exploding sculpture frozen in time which features bright colors inspired by the Miami color palette.
To celebrate the partnership the week of December 4th, in honor of Miami Art Basel 2023, Typoe created a limited-edition "Typoe for RIMOWA" Miami sticker pack, featuring sticker designs drawn from his art piece. The stickers will be complimentary at RIMOWA Design District Store, allowing guests to reimagine Typoe's artwork on their own personal suitcases.
Location: Rimowa Design District Store ; 115 NE 40th St. Miami, FL 33137
Dates: Sunday, December 3rd to Sunday, December 10th
ATIBA JEFFERSON SKATE PHOTOGRAPHY RETROSPECTIVE
With a career spanning over 25 years, Atiba Jefferson is one of the most significant photographers of our time. His unique style and generation-bridging presence in the world of sport, and specifically skateboarding, has made him not only a witness to moments in skate history but an active participant in the making, sharing, and advancement of the culture. Organized by Architecture, the creative studio founded by the late Virgil Abloh, this exhibition is the most comprehensive survey of Jefferson's skate photography to date —from his most iconic images of legendary athletes to archival gems. Combined with insightful panel discussions with Atiba and some of his most frequent subjects and collaborators, this retrospective positions Atiba as both a documentarian and an artist whose beautifully composed images and singular style resonate with the skate community and the uninitiated.
Location: 50 NE 40th St, Miami, FL 33137 Dates: December 6 – 10, 12-6pm daily
ANDRES REISINGER "TAKE OVER MIAMI"
Renowned digital artist and designer Andrés Reisinger presents "Take Over Miami," a spectacular public art installation showcased at the Miami Design District. Radiating the city with a pink-hued creative energy, Reisinger transcends the boundaries between the digital and the physical, and debuts a physical version of his viral digital series of 'Take Overs'. Reisinger presents the world's first public art installation seamlessly transitioned from the digital canvas to the physical world. The creative talent reinterprets the architecture of major capitals around the globe with pink drapes, integrating hyper realistic elements into existing buildings. For the first time ever, in 'Take Over Miami' Reisinger takes a step forth and brings to physical life the digital series, inviting art enthusiasts to join the transformation of a physical space into a surreal dreamscape of boundless creativity.
Location: 178 NE 39th St, Miami, FL 33137. Dates: December 4-10
JAYARAM: MAKING MIAMI
Jayaram Law is pleased to announce Making Miami, a public art exhibition, book, and permanent digital archive presenting work by extraordinary Miami artists who lived and worked in the city between 1996-2012. The exhibition will feature work from nearly 50 artists throughout four specifically curated indoor galleries that are connected by a courtyard Sculpture Garden, and accompanied by dynamic on-site programming. Capturing the essence of the Miami Beach art scene from the early 2000s, this cultural event is a love letter to the dawn of Miami's art scene. The gallery spaces are four of the most influential spaces that emerged in the Design District in the early 2000's, which continue to thrive and support artists today. The gallery spaces are connected by a Sculpture Garden curated by Katerina Llanes featuring works by Miami artists including a sculpture by artist Daniel Arsham's Snarkitecture; a large-scale mural by street artist and painter Jan Stark; and a massive inflatable by FriendsWithYou. The Sculpture Garden will also showcase works by artists Loni Johnson, Naomi Fisher, Carlos Betancourt, Antonia Wright + Ruben Millares.
Location: 75 NE 39th St, Miami, FL 33137
Dates: December 6-26; Monday to Saturday, 11am-8pm; Sunday, 12-6pm
LVMH 'CULTURE HOUSE'
LVMH is proud to present Culture House, a 5-day experiential art gallery pop-up located in the Miami Design District. A vibrant showcase of profound narratives and exquisite craftsmanship, the diverse curation highlights a deliberate focus on artists of color, women, and those with disabilities. Where art, culture, and luxury converge, the LVMH Culture House is an immersive experience designed to amplify voices, build community, and foster meaningful networks. As a salon for dialogue, Culture House offers a series of curated conversations that facilitate important cultural discourse that champions all dimensions of diversity.
Location: 56 NE 40th St, Miami, FL 33137
Dates: December 6-10; 10am-6pm daily
WYNWOOD
THE ART OF HIP HOP
Alan Ket & Allison Freidin, Founders of The Museum of Graffiti, proudly present Art of Hip Hop, an immersive exhibition, opening in Wynwood, spotlighting the visual unsung heroes of Hip Hop culture, including photographers, album cover artists, graffiti visionaries, and logo designers. Following successful showings at SXSW and UrbanBreak in Seoul, this showcase lands in Miami on December 5th offering a unique exploration of Hip Hop's history and Miami's own cultural contributions to coincide with the 50th Anniversary of Hip Hop. The inaugural exhibition, entitled From the Bronx to the Beach, will showcase rare vintage ephemera from Hip Hop's first NYC DJ, Kool Herc, to Miami's own pioneer Uncle Luke. Visitors can expect to see the works of famed Hip Hop photographers Janette Beckman, Mike Miller, Henry Chalfant, Matt Doyle, Lisa Leone, Joe Conzo, and Daniel Hastings, alongside Hip Hop album covers designed by Cey Adams, Eric Haze, Slick, Kaws, and more. The exhibition will also shine a special spotlight on Miami's own Hip Hop history, capturing it through the lenses of local historian and photographer Derick G and photographer Esdras T. Thelusma. The exhibition will be open to the public daily 11am – 6pm beginning December 5th. For more information, please visit www.artofhiphop.com and @artofhiphop50.
Location: 299 NW 25th St., Miami, FL 33127
MUSEUM OF GRAFFITI
This Art Basel Miami week, the Museum of Graffiti is set to release three exclusive collaborations with today's top artists. These highly anticipated drops will each take place inside the Museum's world renown gift shop prior to being made available online.
December 6 is the MOG x Atomik Umbrella release party, presented by Only In Dade, starting at 3:05 PM. This event celebrates the collaboration with Adam Vargas, aka Atomik, the mastermind behind Miami's iconic smiling oranges that have become symbols of the city's dynamic street culture. The Atomik Umbrella, limited to 300 pieces and priced at $25 USD, will also be available online starting December 7 at 12 PM. Pre-registration for this unique release is open and can be accessed here.
December 7 with two highly anticipated drops. At 11 AM, the museum will release the limited edition OSGEMEOS Skate Deck, featuring the work of Brazilian twins Gustavo and Otavio Pandolfo. With only 300 pieces available at $150 USD each, this deck is a collector's dream. Those interested in this exclusive release can pre-register here, and an online release is scheduled for December 8 at 12 PM. Following the skate deck release, at 2 PM, the museum will host the launch of CES' first book, "From The Desk of CES." . Pre-registration for this event is available here, and an online release is set for December 11 at 12:00 pm.
Location: 276 NW 26th Street, Miami, FL 33127
Arlo Wynwood Presents Giorgio Tentolini and ThankYouX
Arlo Wynwood will celebrate the opening of Italian artist Giorgio Tentolini, "No One" with a special event on Wednesday, November 29, from 6-10 p.m. Tentolini's "No-One" exhibition will be displayed throughout Arlo Wynwood during Miami Art Week. The series alludes to the complexity of identity in the digital age, where the superimposed faces (created with artificial intelligence) portray no one in particular but instead reflect a multitude. "ThankYouX's 'Want to be Reminded' and Giorgio Tentolini's 'No One' are two of the most anticipated installations of Miami Art Week," said Jennifer Hiblum, general manager of Arlo Wynwood.
The Power of Purpose at Wynwood Walls
Wynwood Walls Lead Curator and Goldman Global Arts CEO/Co-Founder Jessica Goldman Srebnick, is excited to announce its 2023 Art Week artist lineup and theme – The Power of Purpose – highlighting Wynwood Walls as one of the best venues in the world to see leading street artists. Established in 2009 by the legendary place maker Tony Goldman as an outdoor museum for international street art, Wynwood Walls has become a phenomenon, earning the reputation of elevating the genre of street art around the globe and inspiring millions to embrace its beauty. New to this year's Art Week lineup, Wynwood Walls will reveal a reclaimed subway car as a permanent installation at the museum. This 48.5ft x 9.5ft immersive "art piece" finds its new home after completing a 1,000 mile journey from West Virginia to Wynwood, just in time for its Art Week debut. Other exclusive arts events will happen throughout the week including The London Police (United Kingdom); Shok1 (United Kingdom).; Ron English (NY); Dan Lam (Dallas, TX); Lauren YS (Los Angeles, CA); Mojo (Miami, FL); Defer (Los Angeles, CA); Greg Mike (Atlanta, GA); Sandra Chevrier (Canada); and Leon Keer (Netherlands), as well as the debut of KAI's solo exhibition inside the GGA Gallery, and the launch
of Street Sessions – a 30-minute "Watch & Learn" session with artists as they paint new murals inside the Walls. In the main Goldman Global Arts Gallery, guests will find canvas work of the over 100 artists that have graced the Wynwood Walls over the years and exclusive artist product collections in the Wynwood Walls Shop.
Dates: Through Sunday, December 10
Location: 2516 NW 2nd Avenue, Miami
The Machine Behind the Art: Inside JR's Printing Press – Superblue
Scaling Superblue's exterior and visible from afar, JR is debuting during Miami Art Week one of his most significant immersive works to date, The Machine Behind the Art: Inside JR's Printing Press, created for Superblue. The installation invites visitors to walk through a portal-like door embedded into The Chronicles of Miami mural on the building's façade. Once inside, visitors find themselves inside the mechanical world crucial to JR's artistic practice. After taking their portraits in one of four individual photo booths, visitors enter the interior of an oversized, whirring printing press where their portraits escape from the rollers and float to the ground.
Dates: Tuesday, December 5 – at least 2024
Location: Superblue, 1101 NW 23rd St, Miami, FL 33127. Price: $25
"Infinite Growth" by Gustavo Barroso Presented by Jägermeister
"Infinite Growth" invites viewers to explore the myriad ways glass can be repurposed through Barroso's innovative pâte de verre (French, "glass paste") techniques. Open to the public on Friday, December 8 from 5pm-11pm and on Saturday, December 9 from 10am – 6pm.
MIAMI BEACH
BMW presents "REMEMBR" in partnership with Alex Israel
BMW is returning as the official partner of Art Basel Miami Beach with the debut of "REMEMBR," an installation in partnership with Alex Israel. In a captivating fusion of art and technology, BMW will present REMEMBR, an AI-powered, participatory and interactive video installation that guides visitors on a journey through time and memory. This exhibit will feature the new 100% electric BMW i5, which played a fundamental role in inspiring Israel for this collaboration that will be open from 12/8 – 12/10 at the BMW Lounge at Art Basel Miami Beach Collectors Lounge. Working closely with BMW, Israel developed AI technology that will collect, filter, compose and choreograph the visitor's phone's camera content for this immersive installation. Viewed across seven custom-designed screens at ABMB, guests will be invited to discover the hyper-memories of Alex Israel, as well as share their own.
Known for his innovative and thought-provoking work exploring the intersection of pop culture, art and technology, Israel's unique artistic perspective allows him to capture the zeitgeist of modern life in an insightful and engaging way. His collaboration with BMW on REMEMBR, which uses the BMW i5's commitment to innovation, cutting-edge technology and design as a pivotal inspiration, showcases his dedication to exploring the boundaries of what art can be in the digital age.
Location: 1901 Convention Center Drive, Miami Beach, FL 33139
House of Tilly at The Standard Spa, Miami Beach
From Tuesday, December 5th to Sunday, December 10th Studio Snoop presents House of Tilly at The Standard Spa, Miami Beach, featuring Tilly Talbot, the world's first AI artist. Making her US debut this Miami Art Week, Tilly will be showcased as a third iteration AI in a house-like structure installation, alongside her five 'future living' design prototypes crafted in collaboration with human designers and makers.
Ross+Kramer Miami Gallery Opening with Exhibition by Daniel Arsham
Ross+Kramer Gallery is set to make a groundbreaking entrance into Miami Beach's art scene during this year's Miami Art Week, expanding its footprint to Sunset Harbour as its third location alongside Manhattan and East Hampton. On Thursday, Dec 7, the gallery will unveil its new Miami space, welcoming the public to explore a mesmerizing exhibition showcasing paintings and sculptures by visionary contemporary artist Daniel Arsham. This exhibit marks Arsham's first solo showcase in Miami in over a decade. Positioned as the first Art Gallery of its kind in the area, Ross+Kramer will introduce a unique fusion of contemporary and mid-century blue-chip works, spotlighting an extraordinary lineup of emerging and internationally established artists. Operating hours for the gallery will be Tuesday–Saturday, 10am–6pm. Coinciding with Miami Art Week, a special invite-only grand opening event will take place on the evening of Thursday, Dec 7, from 8pm-11pm, where Daniel Arsham himself will be present.
Marco Cochrane Meet-and-Greet on Lincoln Road
Lincoln Road presents "R-Evolution™," a monumental 45-foot-tall, 32,000-pound kinetic sculpture by Marco Cochrane, the artist behind monumental sculptures seen at the Smithsonian Art Museum and the $4.3 billion Resorts World Las Vegas. On Thursday, December 7th, from 5-8 p.m., guests will have the opportunity to meet the artist, along with other Burning Man performers, at a special event featuring a live DJ and cocktails. The event is free and open to the public.
Location: 400 Block of Lincoln Road, Miami Beach, FL 33139
Tribeca Festival
LEO & STEPH AT LINA CERRONE GALLERY
Leo & Steph have made a name for themselves by way of Paris, Dubai, Geneve, London and Miami by turning iconic brands, including Chanel, Hermès, Balenciaga and Yves Saint Laurent, into unique and exclusive works of art. Leo, a Brazilian graphic and interior designer, and Steph, a well-renowned French producer with over 20 years of experience in the media industry, met and fell in love in Paris 13 years ago and turned their shared passion for pop art into collaborative pieces of playful and colorful works of art. Their new exhibition at Lina Cerrone Gallery will feature approximately 14 new prints alongside three new "KID CUP" sculptures, the pair's iconic gender-neutral embodiments of the eternal, joyful inner child. The figures symbolize unending optimism, perpetually in pursuit of the whimsical and radiant aspects of life, with their ever-present cup representing a love for life's offerings. Opening party Friday, December 1, from 5:30-9 p.m.
Location: 2239 NW Second Ave., Miami, FL 33137
THE EVENTS
Papi Steak x ALEC Miami Art Week Dinner
On Thursday December 7th from 9PM-1 AM, enjoy a four course Art Week Dinner at Papi Steak with artist Alec Monopoly benefiting the charity Style Saves for $1000++. Yes, you have that right. Guests will enjoy live performances from Cazes while they dine in style this Art Week while savoring Alaskan King Crab and Caviar, Wagyu Pastrami, Kosher Veal Schnitzel, Truffle Corn, Baked Alaska and more.
Address: 786 1st St, Miami Beach, FL 33139
PLAY BY AMERICAN EXPRESS PLATINUM
Attention all Amex cardholders! American Express is unveiling PLAY by American Express Platinum in partnership with PlayLab, Inc. Located on the beach at The Miami Beach EDITION, an FH&R property, guests are welcomed by an interactive gallery combining art and nostalgia, and bringing together some of today's most interesting artists to reimagine iconic toys as limited-edition collectibles and art pieces. PLAY by American Express Platinum will be available to Platinum Card® and Centurion® Members, and their guests, to explore on the beach of The Miami Beach EDITION from December 7-9, 2023 from 11am – 5pm. The gallery will feature immersive installations and iconic toys reimagined as collectible works of art by Salehe Bembury, Surin Kim, Eny Lee Parker, Serban Ionescu, and Kumkum Fernando.
The Resy Lounge by American Express and Delta SkyMiles
Resy, in partnership with Delta SkyMiles® and American Express, has joined Untitled Art to present a food & beverage lounge experience each day for Untitled ticket holders throughout the week. At night, the beach-front pop-up oasis will become The Resy Lounge After Hours and Global Dining Access members can purchase tickets to a special three-night dinner series, brought to you by American Express® and Delta SkyMiles® at Untitled Art.
The Marriott Bonvoy American Express 7th Annual Card Member Party & Pop-Up
Chef Kwame Onwuachi of NYC's hottest reservation, Tatiana, and the Marriott Bonvoy American Express Card Portfolio will host its 7th annual Miami Art Week party with artist Kelly Dabbah, who will create and unveil new artwork and music by DJ D-Nice. There will also be plus ups throughout the weekend for anyone attending Miami Art Week including a Marriott Bonvoy American Express pop-up in front of the W South Beach Pool on December 9th from 8-11pm with refreshing mocktails inspired by a drink served by Tatiana. Tickets here.
SAVOR & SOUL™ #TheAmexBrunchEvent
American Express is hosting the third installation of SAVOR & SOUL™: #TheAmexBrunch, this December during Miami Art Week on Sunday December 9, 12-3:30pm at The Miami Beach EDITION. Tickets will be available exclusively from Resy beginning December 6th in collaboration with Blacktag – a global platform for Black creators and Black culture. The event will be an immersive experience celebrating Black art, culture, and community, featuring a menu handcrafted by Chef Akino West (James Beard Semi-Finalist) of Rosie's Miami Beach.
Art Week at Joia Beach Restaurant & Beach Club
This Miami Art Week, Joia Beach Restaurant & Beach Club – the vibrant day-to-night oasis located near downtown Miami in a hidden enclave on Watson Island – invites you to escape the hustle and bustle for a weekend of fun-filled shows. Joia Beach is the only private beachfront location in Miami where guests can dine with their toes in the sand and enjoy a laid-back experience that transforms into a European-inspired open-air lounge after taking in panoramic views of Miami's unforgettable sunsets. General admission starts at $50 per person and guests can enjoy an evening under the stars, dance directly on the sand, and take in sweeping views of Biscayne Bay and the Magic City skyline while listening to the following artists from 5-11pm nightly: Friday, December 8 – Art Week: Vagalume Tulum with D'Witches – tickets here Saturday, December 9 – Art Week: We Are Us / Techno & Chill with Allen Hulsey live, Gad b2b Dee Saad, and Moovin – tickets here Sunday, December 10 – Sunday Shuk Invites Members Los Angeles with Nico De Andrea, Marco Peruzzi, and Waae – tickets here.
Address: 1111 Parrot Jungle Trail, Miami, FL 33132
Bleacher Report Debuts 'The Residency' Unveiling an Exclusive Apparel and Original Art Collection with the NBA
This Miami Art Week, Bleacher Report will debut 'The Residency,' a year-long creative collective at the nexus of sports, art, fashion, and culture, unveiling in partnership with the NBA. This captivating gallery experience, open to the public from Friday, December 8th – Saturday, December 9th, celebrates an eclectic mix of artists paying homage to five NBA teams. The inaugural event will highlight the following artists and corresponding teams: Esther Wallace (Boston Celtics), Bryan "Blue the Great" Blue (Dallas Mavericks), D'ana "COVL" Nuñez (Miami Heat), Mark "MADSTEEZ" Paul Deren (Phoenix Suns), and Demitrius Omphroy (Toronto Raptors). The event kicks off on Thursday, Dec 7, with a Private VIP Launch Party and In-Season Tournament Viewing (7pm-11pm), followed by the gallery's public opening on Friday and Saturday (12pm-7pm).
Location: The LAB Miami | 400 NW 26th Street, Miami, FL 33127
E11EVEN Miami Presents "The Art of Nightlife"
Renowned for hosting unforgettable up-close-and-personal performances by top names in the music and entertainment industry, E11EVEN Miami continues this legacy during Miami Art Week, promising nothing short of outstanding entertainment experiences. In honor of Miami Art Week this year, E11EVEN Miami will present E11EVEN Miami's 'The Art of Nightlife' Lineup:
Wednesday, Dec 6 – Cedric Gervais
Thursday, Dec 7 – Diplo
Friday, Dec 8 – Snoop Dogg
Saturday, Dec 9 – TBD
Sunday, Dec 10 – DeadMau5
Along with this thrilling lineup of performances will be the debut of an exclusive apparel collaboration with renowned designer John Geiger. Tickets and table reservations are available at 11miami.com.
Location: E11EVEN Miami | 29 NE 11th St, Miami, FL 33132
LIV, BASEL EDITION
Wednesday, December 6th at LIV, Basel Edition, with Sofi Tukker! Experience the ultimate and iconic performance by the legendary duo, as they perform some famous hits like "Best Friend," "Purple Hat," and more.
Thursday, December 7th at LIV, Basel Edition, with Tiësto! Experience the iconic performance by the famous DJ, as he performs famous hits like "Don't Be Shy," "Red Lights," and more.
Friday, December 8th at LIV, Basel Edition, with John Summit! Experience the iconic performance from the famous DJ, as he performs famous beats like "Where You Are," "La Danza," and more.
Saturday, December 9th at LIV, Basel Edition, with Kaytranada Rampa! Experience the iconic perfrom from the famous DJ, as he performs famous beats like "4EVA," "Assumptions," and more.
Location: 4441 Collins Ave, Miami Beach, FL 33140 Hours: 11 PM-5 AM
Queen Miami Beach Unveils a Realm of Artistic Mastery and Gastronomic Decadence
This Miami Art Week, guests are invited to indulge in an era of decadence and glamour at the historic Paris Theater, now known as dining marvel Queen Miami Beach. Making her groundbreaking debut this Art Week, Queen will host two spectacular art exhibitions, starting Friday, Dec 8th, where the venue will be partnering with Dot Fiftyone Gallery to showcase exquisite artwork and sculptures created by various emerging and established artists. On Saturday, Dec 9th, guests are invited to step into a realm where art and gastronomy come together in a truly personal experience as Queen unveils "Ab Ovo" by visionary Italian artist Camila Ancilotto. Represented by Naif Gallery, Camilla Ancilotto is a classically trained painter and sculptor from Rome who utilizes oil painting techniques from the historic masters of the Italian Renaissance. Promising an intimate and enchanting evening for guests, during this exceptional collaboration Camila will engage in a live sculpture painting, seamlessly blending the magic of her craft with the timeless elegance of the Paris Theater. Additionally, 20% of proceeds from all art sales will support Lotus House Miami, directly benefiting the organization's impactful community efforts. Two seatings will be available – one from 6pm-9pm & 9pm-close. To book reservation call (786) 373-2930 or visit queenmiamibeach.com
Location: 550 Washington Ave, Miami Beach, FL 33139
Giselle Miami Dinner, Drinks, and Live Art by Bisco Smith
I have eaten at Giselle twice and each time was amazing. Giselle offers an elevated dining experience in downtown Miami, perched atop E11EVEN Miami ultraclub. For her Miami Art Week debut, Giselle will play host to a variety of events over the weekend, beginning Thurs, Dec 7th, with a live art performance from famed graffiti
artist Bisco Smith, whose work is showcased in an interior mural as part of the venue's design. Throughout the evening, a silent auction will take place where proceeds will benefit Project Art Box, a nonprofit organization dedicated to bridging the art education gap in underprivileged schools. Live beats by DJ Louis Dee will set the scene for a lively dinner party atmosphere filled with electronic sounds and an exquisite menu that merges Asian, Mediterranean, and French-inspired cuisine. To book reservations go to gisellemiami.com.
Location: Giselle Miami | 15 NE 11 ST, Miami, FL
The Wellness Oasis at The Standard
For those who want to have access to the greatest minds in wellness, look no further. The Wellness Oasis is an exclusive two-day event on December 7 & 8th for the mind, body, and spirit with world-renowned wellness experts including Dan Buettner, Dr. Deepak Chopra, Devi Brown, Case Kenny, Julius Thomas, Jillian Turecki, and Melissa Wood-Tepperberg. To ensure an intimate and personalized experience, attendance is limited. For more information and to purchase tickets, please visit splashthat.com/.
Cincoro Tequila and Josh Vides Limited Edition Collaboration
Cincoro Tequila is celebrating Miami Art Week with the unveiling of their Josh Vides collaboration. The invite only event happening Tuesday, December 5th at The Edition Hotel from 7- 11pm will be the official launch of the limited edition Josh Vides collab bottle. At the event, guests will have the opportunity to interact with Josh, see a striking display of the bottle, indulge in Cincoro cocktails and more.
Art on the Bay by Jason Perez Art at Rusty Pelican
On Tuesday, December 5th from 4-10pm, The Rusty Pelican Miami will feature Art by Jason Perez, the Spotlight Award Winner in December of 2019 at the Spectrum Miami Art Show, in their Lounge and Bar. Enjoy cocktail specials sponsored by Kettle One and Don Julio, live DJ, and more!
LPM Miami x Ketel One x Lucy Glaser for Miami Art Week 2023
From Monday, December 4th to Sunday, December 10th, LPM Miami x Ketel One have collaborated with local artist Lucy Glaser to create a set of limited-edition, hand painted glassware for guests to take home as their own personal piece of fine art upon purchase of the Miami Art Week speciality cocktail 'La Sucette' ($21). Lucy is known for her use of glassware and textiles, and she experiments with playful imagery and beautiful, bright colors throughout her works. Her inspiration for these one-of-a-kind pieces for LPM Miami was French Artist Jean Cocteau, whose legacy inspired the entire bar program across all of LPM's global locations. Lucy has worked in the restaurant industry for the past 12 years, so she was a natural fit for this collaboration that not only highlights Lucy as an emerging female artist but also demonstrates the crossover between fine art and the culinary arts at LPM Miami's distinguished and unique bar program. Make reservations at LPM Miami here.
The Standard Spa, Miami Beach with Gustaf Westman and Asta Resort
Starting December 4th, The Standard has teamed up with celebrated Swedish designer Gustaf Westman for a pop-up in Cafe Standard, at The Standard Spa, Miami Beach. Launching December 4th, Westman will showcase his signature aesthetic by displaying some of his most beloved works , including the famed 'Curvy Mirror' within the public space. In addition, Asta Resort, the elevated resort wear brand, will present an exclusive pop-up during Miami Art Week. The pop-up will feature core classics, the new SS24 collection (presenting new categories), as well as exclusive capsule pieces, all in an elaborate space that will transport guests to the European Riviera.
Vintage Frames Company x Trevor "Trouble" Andrew on Limited Edition Exhibition at The Goodtime Hotel
Vintage Frames Company, the premier designer vintage eyewear experts and designer eyewear brand, partnered with Trevor "Trouble" Andrew a.k.a. Gucci Ghost on a series of limited edition prints that will be exclusively available during Art Basel Miami. The numbered prints are paired with a special-edition sunglass and case inspired by the artwork, retailing at $1,000. Drawing inspiration from Vintage Frames Company's 1980's Miami Vice inspired retail concept, Creative Director and CEO Corey Shapiro tapped longtime friend and gallery artist, Trevor Andrew, to explore a different medium for their first collaboration. The two will debut their collaboration with an intimate celebration at Vintage Frames Company's U.S. flagship store in Miami Beach, Florida, at The Goodtime Hotel, on December 7th 6-9PM (RSVP Only, Ages 21+) Vintage Frames Company at The Goodtime Hotel in Miami is open between 11am-7pm Sunday through Wednesday and closes at 8pm Thursday through Saturday.
Location: 601 Washington Ave, Miami Beach
Ocean Drive's "Art of the Party" with Alessandra Ambrosio
Ocean Drive will be taking over the grandiose La Côte lawn at the Fontainebleau Miami Beach to host their annual 'Art of the Party,' on Thursday, December 7th, from 8-11pm. Bringing an exciting mix of celebrities, artists, curators, and philanthropists all under one roof, the party celebrates the release of this year's December Art Issue cover, featuring cover star Alessandra Ambrosio. In collaboration with Aston Martin, the evening will feature a live art presentation from visual artist Romero Britto, and sounds by Grammy award nominee Chromeo, plus an extra special guest performer.
Location: Fontainebleau Miami Beach | 4441 Collins Ave, Miami Beach, FL 33140
Sagamore Hotel South Beach
For more than two decades, the Sagamore Hotel South Beach has offered the gold standard in the annual Miami Beach Art Week experience, and this year the hotel is raising its own bar. Fusing traditional art with immersive Web3, AI, and Bitcoin, the Sagamore has partnered with Nolcha Shows, the award-winning Web3 experiential series focused on promoting cutting-edge and innovative artistry, to bring to life this year's theme – "The Digital Canvas: Unleashing AI in Art." On Saturday, Dec 9th, the Sagamore is hosting its iconic poolside 22nd Annual Sagamore ART Brunch, one of the most sought-after invites of the year. The epic event brings together the who's who of the art community, welcoming hundreds of industry leaders spanning art, entertainment and social media for an al-fresco afternoon of indulgence in art, food, drink and surprise performances.
Marion Miami Unveils a Supperclub Fusion of Artistry and Cuisine
For those seeking a unique dining escapade amidst Miami Art Week this year, Mr. Hospitality's Marion invites guests to partake in its transformation into an immersive art and entertainment enclave from Thursday, Dec 7th to Saturday, Dec 9th. Renowned fine art and lifestyle artist, Franck Brill, will team up with artist Manuel Angarita, across all three nights, crafting imaginative works of art in real-time as guests indulge in Marion's indulgent Asian-inspired cuisine. Additionally, on Friday, Dec 8, renowned visual artist Mark Rios aka "Mr. Drippings" will debut a special live art exhibit by painting a surprise celebrity guest (art performance to commence at 1am). During the live art spectacles, guests can anticipate an escalation of excitement and energy as the lights dim, the music turns up, and the ambiance transforms into a lively party scene. To book reservations call (786) 717-7512 or visit marionmiami.com.
Location: 1111 SW First Ave, Miami, FL, 33130 (directly next door to El Tucán)
MAXIM Miami Art Week Party at Hyde Beach
In celebration of their November/December release, MAXIM will be hosting their 5th annual art week party with acclaimed DJ James Hype, at Hyde Beach located at the iconic SLS South Beach on Saturday, December 9th at 10pm. This star-studded poolside soiree is set to heat up Miami Art Week, and Hyde Beach will be transformed into a chic outdoor setting for VIP attendees to enjoy. This can't-miss celebration will feature 100s of top models, a surprise live artist collaboration, and surprise guest performance. Tickets are available for purchase here.
Aqua Art Miami VIP Preview
Details: Aqua Art Miami will kick off its 17th edition at the Aqua Hotel with a VIP Preview on Wednesday, December 6th before opening to the public December 7-10th. The energetic preview has become the destination for influential collectors and art professionals, many of whom migrate from Aqua's sister fairs, Art Miami and CONTEXT conveniently nestled between the Venetian Causeway and the MacArthur Causeways, and Art Basel Miami Beach, which is located just a few blocks away. Aqua Art Miami is the premier location for art aficionados to procure works by young, emerging and mid-career artists. Throughout the years, the fair has continued to solidify itself as a completely unique art fair, consistently staying true to its signature relaxed yet energetic vibe. A roster of well respected international galleries will showcase the fresh artists' works in the intimate exhibition rooms, which open into the beautiful courtyard of the classic South Beach hotel. VIP Tickets start at $285 and include access to the VIP preview on Dec. 6th from 3-10pm, as well as unlimited admission Thur-Sun, Dec 7-10. VIP also includes admission to the Art Miami + CONTEXT Art Miami VIP Previews on Dec. 5 from 6:30pm-10pm and unlimited admission from Dec 6-10.
Location: Aqua Hotel (1530 Collins Avenue Miami Beach, FL 33139)
1 Hotels
1 Hotel South Beach has just announced a comprehensive lineup of diverse art activations for Miami Art Week 2023. From day to night, the hotel is hosting a week filled with sustainable art, interactive installations and inspiring art moments. Go to the 1 hotels website for all events.
Check in throughout the week for event and exhibition updates. Enjoy!
Miami Weather for Wednesday 11/29/2023 7AM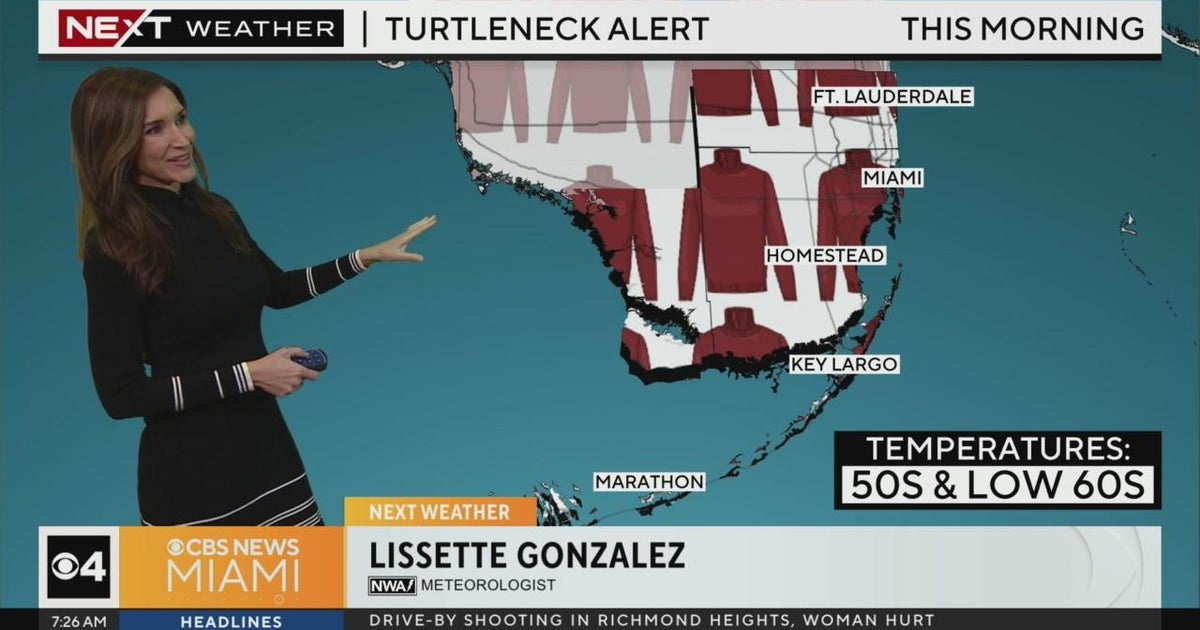 NEXT Weather meteorologist Lissette Gonzalez says after waking up to some of the coldest air of the season so far, we'll warm up nicely in the afternoon. More: https://cbsloc.al/49RIlCZ
NEXT Weather forecast for Tuesday 11/28/23 11PM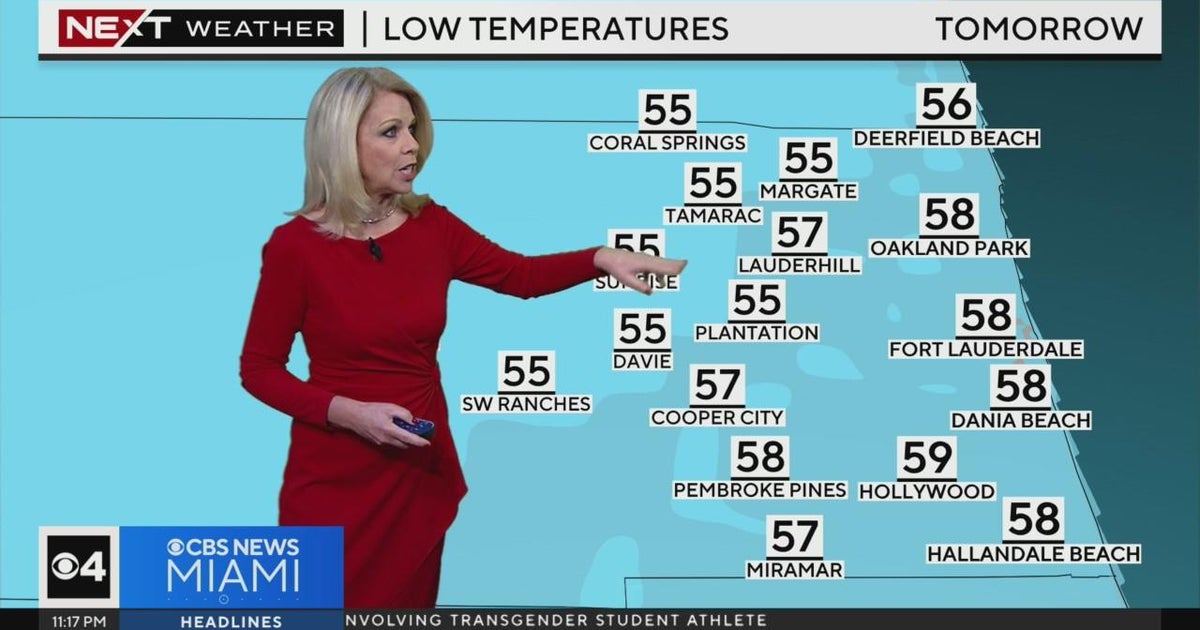 CBS News Miami meteorologist Cindy Preszler's weather outlook for South Florida.