Mayorkas again refuses to call border surge a 'crisis,' says it would indicate 'withdrawal from our mission'
Homeland Safety Secretary Alejandro Mayorkas once more refused to name the continuing state of affairs on the southern border a "disaster" in an interview, claiming that admitting the state of affairs was a disaster would point out a "withdrawal from our mission."
Mayorkas was requested throughout an interview with "60 Minutes" whether or not he considered the continuing state of affairs on the border — which noticed a document 1.7 million migrant encounters in FY 2021 and greater than 2.3 million in FY 2022 — as a disaster.
"I view it as a big problem," Mayorkas mentioned, echoing the reply he has given to that query on a number of events.
When requested why he wouldn't use the phrase "disaster," Mayorkas mentioned it was as a result of "I've large religion within the individuals of the Division of Homeland Safety." 
HAWLEY PUSHES DHS FOR ANSWERS ON MIGRANT APP HE BRANDS 'CONCIERGE SERVICE' FOR ILLEGAL IMMIGRANTS
"And a disaster speaks to me of a withdrawal from our mission. And we're solely placing extra pressure and extra vitality into it," he mentioned.
Mayorkas was hammered concerning the state of affairs on the border throughout a number of hearings within the Senate and the Home this week, which noticed numerous Republicans saying he ought to give up or be fired.
These hearings noticed extra scrutiny on Mayorkas within the wake of a listening to final month that includes Border Patrol Chief Raul Ortiz — who mentioned that brokers didn't have "operational management" of the border. 
"In 5 of these 9 southwest border sectors, we now have seen a rise in move and that has triggered a substantial pressure on our assets and actually has compelled the Border Patrol to maneuver so brokers and even migrants to a number of the different areas," Ortiz mentioned in response to a query about whether or not the border is safe.
Ortiz additionally mentioned that he disagreed with the transfer to finish wall development and used the phrase "disaster" to explain the state of affairs.
BORDER PATROL CHIEF SAYS DHS DOESN'T HAVE OPERATIONAL CONTROL OF US BORDER
"The migration move represents challenges and in some areas, a disaster state of affairs," he mentioned.
Mayorkas was requested particularly if he agreed with these remarks.
"I believe that we face a really severe problem in elements of the border," he mentioned.
HOMELAND REPUBLICANS TO TURN UP THE HEAT ON MAYORKAS AFTER BORDER PATROL CHIEF'S 'EARTH-SHATTERING' TESTIMONY 
Republicans have linked the dramatic enhance in migrants coming to the border to the Biden administration's insurance policies. The administration has sought to develop authorized pathways, however has additionally ended numerous Trump-era border protections, stopped wall development, narrowed inside enforcement and expanded "catch-and-release."
The administration has mentioned it's searching for to advertise humane and orderly migration and surging assets to the border, whereas coping with a disaster that's hemisphere-wide and fixing an asylum system that was gutted by the prior administration. It has additionally hit Republicans for refusing to conform to numerous border funding requests, together with an almost $5 billion request in December.
CLICK HERE TO GET THE FOX NEWS APP
Within the interview, Mayorkas once more argued that the surge was not being confronted solely by the U.S.
"The variety of individuals which are arriving at our border is at a unprecedented top. There isn't any query about that. However that's not distinctive to the southern border of the USA. There's a large quantity of motion all through the hemisphere and, in truth, all through the world," Mayorkas mentioned.

Why downtown Dallas office space is being turned into 1,000 new urban apartments
The 211 N. Ervay building is a bright spot on the Dallas skyline.
The last survivor of a generation of downtown offices that once sported colorful exteriors, the 65-year-old high-rise is covered in azure and aquamarine panels.

Bright-hued downtown Dallas tower set to become apartments
The tower's vibrant exterior once prompted a Dallas mayor to call it the ugliest building downtown.
But the building's flashy 1950s look is a big plus for new owner Kenny Wolfe.
"I'm a midcentury modern fan," said Wolfe, whose firm plans to convert the 187,000-square-foot tower into 238 rental units.
The Ervay Street office is one of a handful of downtown buildings being revamped into residential.
Wolfe Investments plans to start construction on the 211 N. Ervay building this summer and have apartments ready about 18 months later.
"This is our 11th office conversion we are working on," Wolfe said. "We have a lot of them across the country — 2.2 million square feet in total of office conversions. What we liked about 211 N Ervay is it is close to one of our other assets, the Post Office building, so we are already in the neighborhood."
Wolfe Investments acquired the landmark 400 N. Ervay apartments on top of the historic Post Office in 2021.
"We have eight of these historic buildings in our portfolio now," Wolfe said. "I'm a sucker for history."
The 211 N. Ervay building has a colorful past.
Built in 1958, the 18-story high-rise was constructed by legendary Dallas developer Leo Corrigan, credited with the most additions to the city's skyline in the 1950s.
The tower — shoehorned onto a 50-foot by 200-foot lot — was designed by Thomas Stanley, the same architect who did downtown's historic First National Bank Tower (now named The National). The building's eye-popping porcelain enamel steel panels were fabricated by the same firm that built Dallas' original signature flying red horse on top of the Magnolia Building.
Wolfe Investments plans to take spaces that once housed workplaces for lawyers and insurance agents and convert them into apartments with an average square footage of about 700 square feet.
"We do a lot of one-bedrooms and a few efficiencies in these buildings," Wolfe said. "We know the residents that are going to want to live there are more inclined to go for a one-bedroom unit. It's going to feel big because of the size of the windows."

More apartments in the works for landmark downtown Dallas skyscraper
Unlike some of the offices Wolfe is working with, the Ervay tower will have very little dead space. Buildings with large office floors sometimes are difficult to transform into rental units.
"It's easy to pack in a lot of units in that building," he said. "We bought the old Ohio Bell headquarters in Cleveland and are converting it. Those floors are as big as 32,000 square feet."
To fill interior spaces, Wolfe said, "we've created a lot of storage lockers for our residents on every floor."
Wolfe Investments has another apartment conversion project in downtown Fort Worth and is renovating two buildings in downtown Atlanta.
"We are working on a deal in downtown Columbus, Ohio, and also downtown Milwaukee," he said. "Three years ago, we bought our first vacant office building — the Rockefeller Building in downtown Cleveland. That kicked it off."
Before that first historic building buy, Wolfe Investments acquired mostly suburban apartment properties.
"We started in 2010 buying B-class apartments — the first one in Wylie, which we still own," Wolfe said. "Then we built up almost 8,000 units over six states."
Wolfe said he's looking at multiple office redevelopment opportunities across the country.
"We have another two towers in Atlanta that were put in front of us from a struggling office owner two weeks ago," he said. "We 're seeing a lot of these come to us directly from lenders or office owners."
With office demand slumping after workers headed home during the pandemic, building owners are scrambling to look at new uses for surplus office space.
Owners of the Republic Center II tower and Energy Plaza near the 211 N. Ervay building also are working on residential redevelopment.

Downtown Dallas residential redeveloper Pacific Elm Properties hires new executive
The busiest downtown Dallas apartment converter is Pacific Elm Properties, which is building new residential units in the 50-story Santander Tower and the 40-story Bryan Tower. The real estate firm is also eyeing plans to turn Comerica Bank Tower — one of downtown's tallest skyscrapers — into a combination of office, apartment and hotel space.
"I toured the units in Santander Tower last week," said Pacific Elm CEO Jonas Woods. "We expect to have finished units in July and tenants moving in in August. We ended up with 291 units."
Pacific Elm teamed up with Dallas apartment builder Mintwood Real Estate to develop the residential spaces in both Santander Tower and Bryan Tower.
"I'm pretty excited about what is happening downtown with these conversions," Woods said. "It's got the potential to have a bigger impact than anything we have seen to date."
He plans to begin construction later this year on the more than 1.1 million-square-foot Bryan Tower, which was built in 1973 as the first modern skyscraper constructed by developer Trammell Crow. WDG Architecture is working on the redevelopment of both the Santander and Bryan towers. Merriman Anderson Architects is designing the new ground floor of Bryan Tower.
"We think we are going to be awarded historic tax credits on the project," Woods said. The high-rise was the first reflective glass tower built in downtown Dallas.
Remaining office tenants at Bryan Tower are being relocated to the middle floors of the building. The lower 10 floors of the building and top 10 levels will be converted into 426 apartments.
New resident lounge areas, a business center, a coworking space, a library and other amenities will be constructed on the tower's first two levels.
"We have some space outside the building where we will create a pool area and garden area for the residents," Woods said.
Police searching for 3 missing children last seen in NW Atlanta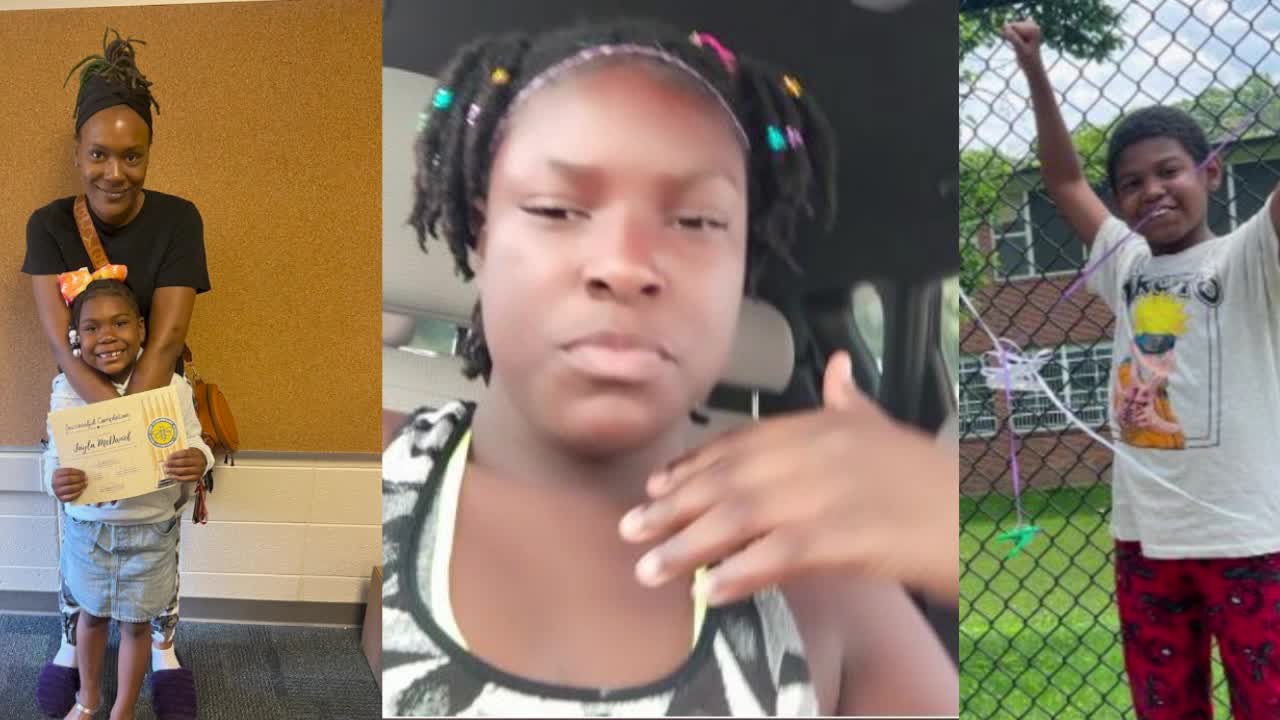 ATLANTA – Police are searching for three children who disappeared in northwest Atlanta Thursday night. 
Officials say 6-year-old Jayla McDaniel, 10-year-old Arthur Patterson, and 14-year-old Amiya Patterson were last seen by their mother around 3 p.m. Thursday at the park near their home on the 2200 block of Perry Blvd NW.
The three siblings were seen by surveillance cameras around 4:20 p.m. near the Circle K convenience store on the 1600 block of Hollywood Road. In the photo provided by police, the three children are walking down the sidewalk with another unknown child.
Surveillance footage of the last time Jayla McDaniel, Arthur Patterson, and Amiya Patterson were seen. (Atlanta Police Department)
Police have been searching for hours for Jayla, Author, and Amiya, but so far haven't said if they have any leads as to where the three could be.
Family members sent out a call on FOX 5 begging the siblings to come back home.
"If y'all out there and you see us on the TV, please just come home," the children's grandmother Kim Patterson said. "We're worried about you guys and we don't know where you're at. Please just come home."
Arthur and Amiya Patterson (Atlanta Police Department)
Six-year-old Jayla is described as being 4-feet-6-inches tall with a weight of 90 pounds. She has black braided hair with black beads and was last known to be wearing a pink shirt and blue jean shorts.
Arthur, 10, was last seen wearing pajama pants of an unknown color. Police described him as being 5-feet-4-inches tall with a weight of around 114 pounds.
The oldest sibling, 14-year-old Amiya, is 5-feet-7-inches tall with a weight of 145 pounds. Police say she has black braided hair and was wearing a crop top.
If you have any information that can help police find the three critical missing children, call 911, the Atlanta Police Department's Special Victim's Unit at (404) 546-4260, or Crime Stoppers at (404) 577 – TIPS (8477).
 
6 brand-new diesel buses arrive for Augusta Transit riders
AUGUSTA, Ga. (WRDW/WAGT) – Augusta Transit received six new diesel buses from California to improve performance and experience for riders.
GILLIG manufactured the buses. Four are 35 feet, and two are 29 feet.
In August 2022, Augusta Transit was awarded a more than $6.25 million federal grant to support the adoption of battery electric-powered buses. The six buses are not a part of that grant but from a previous grant.
Augusta Transit Deputy Director Oliver Page said supply chain issues were the blame for the delay in manufacturing the buses.
For months, we've reported on the issues riders faced with the bus tracking app and getting buses to show up.
"I'll say it really got out of hand in November. I felt it in November. There were no buses. There was never a bus at West Parkway. You'd have to call, and they'd say, 'No, it's not running today'," said a bus rider in January.
The goal of the new buses is to combat the expanded access but potentially help to create more direct routes.
Going into effect on June 5, Augusta Transit is adjusting the schedule for Route No. 9 Red Line/Lumpkin Road. This route only operates Monday through Friday.
Officials say this will improve bus on-time performance and reduce missed connections for transferring passengers at the Gordon Highway Transfer Point, Route No. 4 Purple Line/Turpin Hill, and Route No. 6 Brown Line/Gordon Highway.
NEW SCHEDULE TIMES:
Officials say additional improvements will be made as they continue to add buses and hire more bus operators and technicians.
To find a bus route near you, call (706) 821-1719 or click HERE for more information.
Copyright 2023 WRDW/WAGT. All rights reserved.