Transcript: Sen. Chris Van Hollen, Democrat of Maryland, on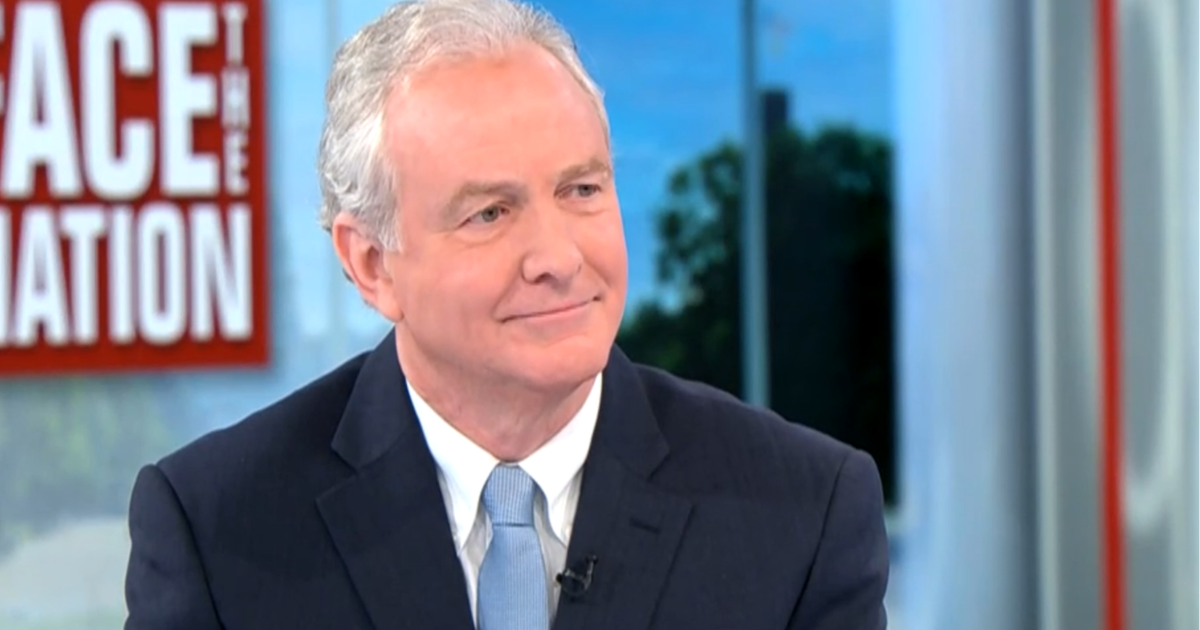 The following is a transcript of an interview with Sen. Chris Van Hollen, Democrat of Maryland, that aired on Nov. 19, 2023.

---
MARGARET BRENNAN: We're now joined by Maryland Democratic Senator Chris Van Hollen. It's good to have you here in person.
SEN. CHRIS VAN HOLLEN: It's good to be with you, Margaret.
MARGARET BRENNAN: A lot to talk to you about today. But I want to quickly just ask you, since Congress just went home for the better part of two weeks, they haven't reauthorized a lot of things. And they haven't passed the supplemental for Israel for Ukraine, Taiwan, is that going to get done before the end of the year?
SEN. VAN HOLLEN: We have to get it done by the end of the year. We have to pass the supplemental request, which includes, as you say, desperately needed military assistance for Ukraine, support for Israel, humanitarian assistance, as well as support for our partners in the Indo Pacific region. One of the issues, as I'm sure, you know, that's being discussed is trying to get something done with respect to border security, and immigration reform and there are ongoing bipartisan discussions as we speak.
MARGARET BRENNAN: I understand that's happening through the recess–
SEN. VAN HOLLEN: –That's true. That is– 
MARGARET BRENNAN: –for the border. Do you know, I mean, is it really realistic, though, that- that's a very hard issue, that that's gonna get done before 2023's up?
SEN. VAN HOLLEN: Well, there are good faith negotiations going on. Whether they get done or not, I don't know. But let me just say, it seems to me that given the desperate situation in Ukraine, it is irresponsible for people to say that we're going to allow Putin to continue his assault on Ukraine, and only going to provide that assistance if we get a deal on something else. I want to get a deal on immigration reform, but it doesn't make sense to me to connect the two.
MARGARET BRENNAN: So you wrote a letter this month, endorsing more funding for Israel, but also pressing the Biden administration on its assessment of whether these military goals are actually achievable and how that country is protecting civilians. Are you satisfied with what the White House has told you?
SEN. VAN HOLLEN: We're still awaiting a public response from the Biden administration. We've not received that public response yet. We have had outreach at the highest levels. And we've been offered, those of us who signed the letter, to meet with the President's top national security and foreign policy team to discuss some of those issues. But- but we are still awaiting an answer to the letter, because we asked a lot of questions that we think are important to get answers to.
MARGARET BRENNAN: This is hurting the President with his fellow Democrats, isn't it? 
SEN. VAN HOLLEN: Well, I don't know if it's hurting the President with fellow Democrats. I do think it's important that the President speak out more clearly on this issue. Let me say this, in the aftermath of the horrific Hamas attacks of October 7, you have I think virtually every senator supporting Israel's objective of going after Hamas and neutralizing them from a military perspective, no more October 7ths.. But we also need to do, as Secretary Blinken said, see- how Israel conducts this operation is important. And so many of us were concerned, just a few weeks ago, when one of the White House National Security spokesperson was asked if the United States has any red lines. And the answer was no. Which means anything goes and that cannot be consistent with American interests and American values. So that's why we're asking these questions. 
MARGARET BRENNAN: It can't be consistent, because that's not the policy for any other country that the United States provides military aid to.
SEN. VAN HOLLEN: That's right. Look, we have a policy of trying to make sure that our funds are used in a manner that advances our interest and our values. And if you look at what's happening right now, in Gaza, the desperate humanitarian crisis. Clearly that's more that can be done. And if you look at the level of civilian casualties, Secretary Blinken himself has acknowledged that there are additional measures that the Netanyahu government can take to reduce the high level of civilian casualties, two-thirds of them children. So this is why we're asking the President questions. We want to work with the President to get more assurances that our interests and values will be protected.
MARGARET BRENNAN: Okay, we have to take a break, but I want you to stay here with us for more Face the Nation. And all of you stay with us too.
** COMMERCIAL BREAK **
MARGARET BRENNAN: Welcome back to Face the Nation. And we have more questions now for Senator Chris Van Hollen. Senator, I want to pick up on something you've been raising concerns about for a while. Going back to July, I found a letter where you were saying to the White House, you had concerns about the more than $3 billion in security assistance to Israel, because you thought taxpayer money should not shield settlers who are attacking and burning Palestinian villages with impunity. Last night, the President started very publicly saying he's going to start trying to crack down. What do you think of this plan to restrict visas?
SEN. VAN HOLLEN: I was pleased to hear the President say what he said. And I fully support the President's plan to restrict visas from people who have a record of violence against innocent people. So I think that's an important first step. As you know, extreme settler violence against Palestinians has been an issue for a very long time. We've seen a huge spike in extremist settler violence since the- the Gaza war started as people have been focused on the war there, 500% increase. The Palestinians have been killed by extremist settlers, their houses burned down, pushed out of villages, olive orchards chopped down in the middle of the olives season, which is the number one income producing time for a lot of these villagers. So this is a big, big problem. Remember, in the Netanyahu coalition, you have some very extreme members, Smotrich, Ben-Gvir, one of them, you know, belongs to the successor party to the Kahanist party, a party that was on the US terrorist watch list. So this is why it's very important for the United States to weigh in and weigh in strongly. I'm glad to see the President do what he did.
MARGARET BRENNAN: And they were in the government well before October the seventh. Just quickly, you've made some statements that being pro Israel doesn't require being anti Palestinian and vice versa. Why do you think that that's a controversial statement? 
SEN. VAN HOLLEN: Well, it shouldn't be, because you can be both pro-Israel as I am, and also pro-Palestinian and support Palestinian rights and aspirations to self-determination and a homeland of their own. In fact, the President's vision when he sees some light, maybe at the end of this dark tunnel, has been a two-state solution, Israel living securely with a Palestinian state as a neighbor, where Palestinians have equal dignity and full rights. And one of the problems with what's happening on the west bank right now is when you push Palestinians off of their lands, you make it even harder to have a two-state solution. You strengthen Hamas, you weaken the Palestinian Authority, and you make it harder. So I was disappointed to see Prime Minister Netanyahu smack down President Biden's call for a two state solution. This is going to mean that the President- President Biden has to do even more to put forward a clear vision of how we're going to emerge from this very dark tunnel into a brighter future.
MARGARET BRENNAN: I think we all hope for a brighter future. Senator, thank you very much for your time today.

Maryland AG asks full appeals court to rehear handgun license case
Maryland Attorney General Anthony Brown on Tuesday asked the full U.S. Court of Appeals for the 4th Circuit to rehear a case in which a panel of three judges ruled that a law requiring handgun buyers to get a license is unconstitutional.
"The Second Amendment does not prohibit states from enacting common-sense gun laws like Maryland's handgun licensing law," said Brown, a Democrat, in a statement. "My office will continue to defend laws that are designed to protect Marylanders from gun violence."
In response to the mass shooting at Sandy Hook Elementary School, Maryland lawmakers passed a gun control measure in 2013 that required people purchasing a handgun to first get a handgun qualification license, which involves submitting fingerprints, completing a firearms safety training course and filling out an application.
In a 2-1 decision on Nov. 21, Judge Julius N. Richardson cited a landmark U.S. Supreme Court case from 2022 called New York State Rifle & Pistol Association v. Bruen, which held that a firearms regulation is unconstitutional unless the government can show it is consistent with the nation's historical tradition.
"The challenged law restricts the ability of law-abiding adult citizens to possess handguns, and the state has not presented a historical analogue that justifies its restriction; indeed, it has seemingly admitted that it couldn't find one," Richardson wrote. "Under the Supreme Court's new burden-shifting test for these claims, Maryland's law thus fails, and we must enjoin its enforcement."
Judge G. Steven Agee joined the majority opinion. But Senior Judge Barbara Milano Keenan wrote a dissenting opinion in which she described the position that the other two members of panel took as a "hyperaggressive view of the Second Amendment."
In the petition, Assistant Attorneys General Ryan Dietrich and Robert Scott quoted from the dissenting opinion and warned that the analysis from the majority has "far-reaching implications."
Gov. Wes Moore, a Democrat, said after that ruling that he would "continue to fight for this law."
Maryland Shall Issue, an organization that seeks to preserve and advance the rights of gun owners, was among those who sued in 2016 over the measure.
The requirement to obtain a handgun qualification remains in effect.
Maryland transportation chief proposes $3.3B in budget cuts
The approach includes about $1 billion in reductions in the transportation department's operating budget, $2 billion from the capital program and about $400 million in grant reductions to local governments, the department said in a news release Tuesday.
"We're trying to pull as many levers as we can to make this as painless as we can," Paul Wiedefeld, Maryland's transportation secretary, told The Associated Press in an interview.
The proposal is part of a larger budget challenge the state is facing. Moore, a Democrat, and the legislature, which is controlled by Democrats, are grappling with projected future budget deficits in the state's operating budget, which is separate from the transportation spending plan.
Moore put officials on notice in August that tough budget decisions were coming, during a speech at the Maryland Association of Counties summer conference.
When state lawmakers convene for their annual legislative session in January, they will be working to balance the budget for the next fiscal year with an estimated shortfall of about $400 million. They also are facing rising budget gaps i n future years, as the state continues to implement an education funding reform law with phased-in funding.
One of the biggest cuts in the transportation funding plan would be to major highway and transit expansion projects that are not advertised by Jan. 1. Those construction dollars would be moved out beyond fiscal year 2029, Wiedefeld said.
The plan also would cut funds for maintenance projects by 30%. For highways, that reduction would affect day-to-day operations such as mowing lawns, picking up litter and fixing potholes.
"They're still going to be doing them, but not at the degree that we would prefer," Wiedefeld said.
The plan also calls for saving roughly $40 million a year by shutting down smaller branch offices for the MVA and reducing office hours. The plan also includes increasing airport parking fees.
Wiedefeld said the state will maintain matching money to receive federal funding. The transportation department said federal investments add up to about $7 billion.
"We're not going to leave any money on the table because you're getting roughly 80 cents on the dollar," Wiedefeld said.
The proposal retains project development funds for Baltimore's Red Line, Southern Maryland Rapid Transit, the Frederick Douglass Tunnel Project, the replacement American Legion Bridge and other key projects, the transportation department said in a news release Tuesday afternoon.
The secretary, a former general manager and CEO of Metro, said Maryland won't back away from investments needed to support the subway system linking Maryland and Virginia with the District of Columbia.
The funding crunch comes as revenue sources have not kept up with operating costs, Wiedefeld said. Operating costs have risen roughly 7% annually, while revenues have gone up only about 1%, he said.
The state's vehicle titling tax isn't keeping up with costs, as more people keep their vehicles longer, and the gas tax also doesn't keep pace due to increasing efficiency and electric car use. Wiedefeld also noted that transit ridership has not bounced back to what it was before the COVID-19 pandemic.
The secretary also pointed out that the state has hit a debt-limit cap, creating another challenge for capital needs.
Despite the difficulties, Wiedefeld noted that Maryland will still be spending almost $20 billion in the transportation spending plan.
"We are building projects out there today, and we're not stopping things that are under construction," Wiedefeld said. "We have bus purchases in the future. all of those things are still funded. It's just that where we'd like to be, we can't afford right now."
Maryland weather: Showers expected Tuesday evening with possibility for light snow Wednesday
An approaching cold front will cause scattered showers, potentially followed by scattered snow, in the Baltimore region Tuesday night, the National Weather Service predicts.
Temperatures are anticipated to reach a high of 48 degrees then drop to a low of 33 degrees Tuesday.
There's a 50% chance of scattered showers before 4 a.m. Wednesday. Then, forecasters project more scattered rain or snow. The Baltimore metro area is expected to get less than an inch of snow.
However, the NWS has issued a winter advisory for Garrett County, which is forecasted to get 3 to 6 inches of snow Tuesday afternoon between 4 p.m. and 7 a.m. the next day.
In the Baltimore metro area, Wednesday is expected to see a high near 44 degrees and a low around 25 degrees. It'll likely be a windy day with gusts expected to reach as high as 24 mph.
Forecasters expect Thursday to have temperatures between 47 degrees and 28 degrees.
Friday is anticipated to be the warmest day of the week, a mostly sunny day with a high around 58 degrees. In the evening, it will become partly cloudy with a low around 38 degrees.