FC Dallas draw at Philadelphia, remain 9th in West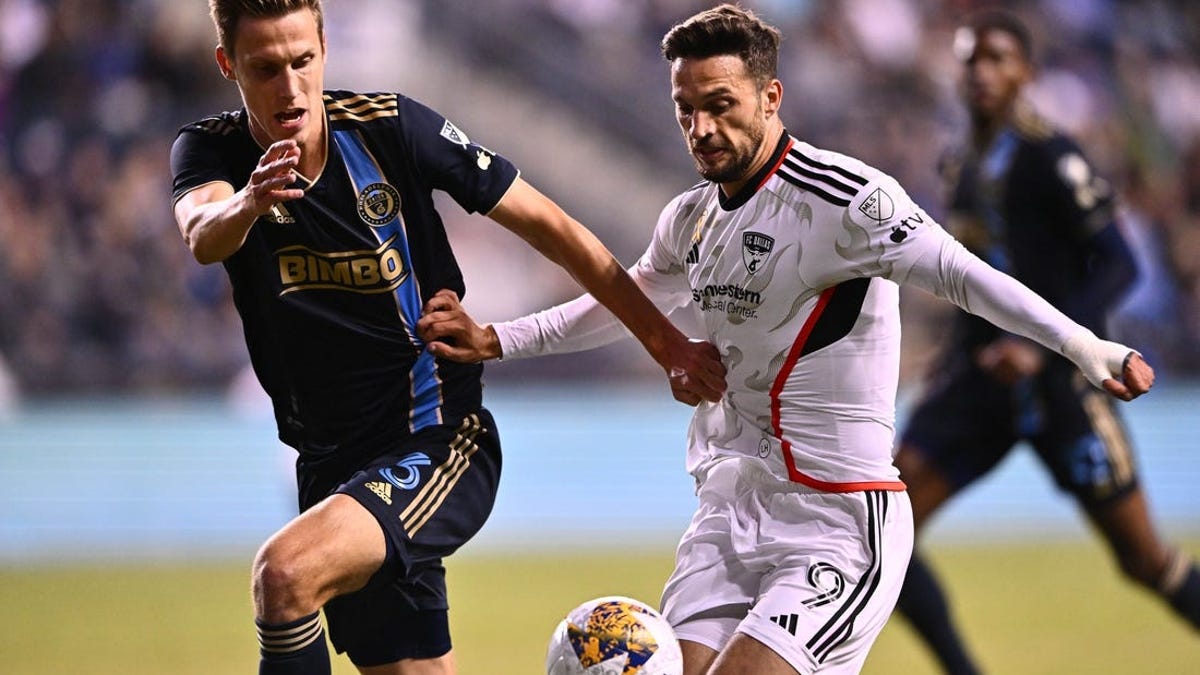 Alan Velasco scored an equalizer in the first half and FC Dallas picked up another crucial standings point with a 1-1 draw against the Philadelphia Union on Wednesday in Chester, Pa.
How running an NFL team is like running a restaurant | Chef Emeril Lagasse
FC Dallas (10-10-10, 40 points) fell short of a victory that would have shifted the landscape of the Western Conference playoff race, while Philadelphia (14-8-8, 50 points) eked into third place in the Eastern Conference for now.
Both teams moved to 1-0-4 in their past five matches.
Quinn Sullivan scored for the Union. Andre Blake made three saves for Philadelphia, and Maarten Paes made three for Dallas.
Dallas nearly had a go-ahead goal in the 82nd minute, but substitute Paul Arriola's marker was waved off. Arriola initially was in the 6-yard box, had a header blocked, fell to the ground, recovered and kicked the rebound past Blake. The video-assisted review detected that his hand grazed the ball as he stood up.
Dallas remained in the ninth and final playoff spot in the Western Conference with the Wednesday result.
In the 25th minute, FC Dallas had a free kick within striking distance of the net, but Blake caught it out of the air. He passed it to Kai Wagner open on the left side to start a Union counterattack, and Wagner's cross to Sullivan perfectly split two defenders.
Sullivan, starting in place of injured forward Julian Carranza, beat Paes in the bottom left corner for his second goal of the year, both coming in the past three matches.
Blake extended to make a save on Velasco in the 35th minute. Dallas kept probing and Velasco got his second chance one minute later, catching the rebound of Paxton Pomykal's blocked shot and burying it in the right side from outside the 18-yard box. It was his third goal of the year.
Paes parried Alejandro Bedoya's header attempt from close range on a Union cross in the 56th minute.
Minutes later, Velasco had a free kick from just outside Philadelphia's box, and it landed on the netting above the crossbar.
—Field Level Media

Betting NFL Week 14: Philadelphia at Dallas
Brock Purdy and the San Francisco 49ers' win Sunday in Philadelphia over Jalen Hurts and the Eagles was singularly large in terms of the regular season standings and postseason seeding. It also served maybe not a coming out party for Brock Purdy but certainly a verification of his efficiency and ability to lead the Niners on a deep playoff run.
That said, because the 49ers prevailed this past weekend, this Sunday Night's game may unseat that matchup as the biggest game of the year. From ownership of the division and conference to individual futures markets, the Eagles and the Cowboys take to the field in Arlington with an amazing amount at stake for bettors and the outcome will dictate how each team and every bettor approaches the final handful of regular season games.
Lets break it down by team and then examine player futures.
Philadelphia Eagles to Win the NFC East
That ship sailed prior to Philly's win over the Cowboys at Lincoln Financial Field. There is no value at the current price (-475). Remember that for the Eagles to lose the NFC East, they must lose this weekend and one other time this season assuming Dallas then runs the table. The latter is unlikely with games at Buffalo and at Miami remaining after this weekend's tilt. If you are not already holding a ticket, keep your money in your pocket.
Dallas Cowboys to Win the NFC East
It would take more than a win by Dak Prescott and co. to move the Eagles (-475) out of the top spot in the NFC East. However, a Dallas win and their division hopes remain alive (+380). You will not see a better number on Dallas to win the division number that has any realistic hope of cashing than what is currently offered at DraftKings for two reasons:
1) A loss by Dallas and the number improves but there will no longer be a realistic path to the division title for the Cowboys.
2) A win by Dallas and the odds lessen and that number will continue to shrink with each subsequent win. However, the Eagles' schedule is so light after this week that ANY loss by the Cowboys down the stretch means Philly would need to lose two games in addition to losing Sunday. That is just not happening.
Again, not a market to chase at this point in the season.
Bet the Edge is your source for the day in sports betting. Get all of Jay Croucher and Drew Dinsick's insight weekdays at 6AM ET right here or wherever you get your podcasts.
Philadelphia Eagles to Win the NFC
The Eagles current odds to win the NFC (+250) still offers value as Hurts and co. remain the top seed in the conference. However, if you want a piece of Philadelphia to win the NFC, consider waiting a week. A loss this weekend at Dallas will see those odds grow. That loss will mean a drop to the 2-seed, but the Eagles' remaining schedule is a walk while the 49ers will have a game remaining at home against the Ravens on Christmas. Not to go down a rabbit hole, but that game at Levi Stadium could well be for the 1-seed in both the AFC and NFC and the MVP (Lamar vs. Purdy).
Dallas Cowboys to Win the NFC
The current odds (+425) do not offer any value as the one-seed is simply unrealistic. The Cowboys currently do not own the tiebreaker against Philadelphia or San Francisco. Expecting each to lose at least two of their remaining games is foolish. Again, keep your money in your pocket.
NFL MVP: Jalen Hurts, Philadelphia Eagles
Jalen Hurts (+350) more than likely lost his shot at the league's top individual honor with his performance Sunday. It is probably a bit unfair to say about the quarterback of a team that sports a record of 10-2, but Hurts has just not been especially good this season. That could change down the stretch, but it is unlikely voters will pay him further attention.
NFL MVP: Dak Prescott, Dallas Cowboys
Dak Prescott (+350) does have a path to the MVP, but it is narrow. If you are not holding a Prescott Futures Ticket to win MVP, you are probably better off playing Dallas to win the NFC East (+380) instead because they are most definitely tied to each other. Much like the Cowboys can ill afford a loss the rest of the way if they hope to win the division, a loss at any point from here out also dooms Dak's candidacy. Strike now if you believe in the NFL's Man of the Year to win MVP.
Defensive Rookie of the Year: Jalen Carter, Philadelphia Eagles
Jalen Carter has come back to the field the last couple weeks really through no fault of his own. He is still the favorite (-200) but Seattle's Devon Witherspoon (+300) and Houston's Will Anderson (+400) have been factors for the Seahawks and Texans respectively. Carter is still the likely winner but is there value left at that number? The former Georgia Bulldog was available late preseason at +550 but that number quickly evaporated once Carter laid claim to a regular spot on that massive Philly defensive line.
Bet the Edge is your source for the day in sports betting. Get all of Jay Croucher and Drew Dinsick's insight weekdays at 6AM ET right here or wherever you get your podcasts.
Defensive Player of the Year: Micah Parsons, Dallas Cowboys
Myles Garrett's injury and the mounting losses by the Browns have pushed the Dallas linebacker back to the position of favorite (+125) to claim the league's top individual defensive honor. The number is a far cry from his odds back in August (+450). With the award routinely changing its dance partner, is there room for an outsider to join TJ Watt, Myles Garrett, and Micah Parsons in the chase? If so….
Defensive Player of the Year: DaRon Bland, Dallas Cowboys
A darkhorse in the race for the award, Bland (+1500) has been a revelation in Dallas stepping into the void left when Trevon Diggs was lost for the season with a knee injury. Eight interceptions and five picks for six later, Bland is threatening to crash the party for DPOY. That said, it's unlikely he cashes those tickets. First of all, voters have to be leaning to Micah Parsons at this point as the narrative for the past couple seasons is that he is the key to everything the Cowboys do on defense. If so, then how can we vote for Bland ahead of Parsons? Second, a cornerback is constantly on an island. No hiding or taking a play off without being exposed (e.g. Thursday night vs. Seattle). Bland is tasked with coming from too far behind to overtake the leaders from his corner position. That said, maybe Bland can pick up a few pointers down the stretch from fellow corner and teammate Stephon Gilmore who earned the award in 2019.
Coach of the Year: Nick Sirianni, Philadelphia Eagles
If he leads the Eagles to victory over the 49ers, Sirianni (+1400) is in position A to earn this award. However, despite sitting atop the NFL through 12 games even after Sunday's loss to San Francisco, the Eagles' leader gets little love. Last season proved this award is all about the eye test. Deemed to be in charge of one of the league's super teams, this is a ticket not worth purchasing.
Coach of the Year: Mike McCarthy, Dallas Cowboys
Further down the board is the Dallas Head Coach. McCarthy (+3000) is getting credit for helping raise the level of Prescott's play, but any success the Cowboys have down the stretch will be attributed to Dak. Thus, while a Futures Ticket of Prescott to win MVP is not advised, it is far more likely to occur than McCarthy to be deemed the best coach in the NFL this season.
Amazing how many Futures tickets are simultaneously in play and in jeopardy in this single game this weekend.
Enjoy the game and enjoy the sweat.
*odds courtesy of DraftKings
Do Dallas parks improve equity and 'intergenerational wealth?' Some council members question that
Dallas Parks and Recreation officials — and a third-party consulting firm — say the city's parks system is even more valuable than the last time it was examined nearly seven years ago. That's according to a presentation during Monday's Parks, Trails and the Environment Committee meeting.
According to the briefing, the parks system contributes to the city's commercial real estate value, is driving the "sustained economic development" in Dallas and "meaningfully leading to equitable outcomes."
But some council members questioned the firm's data, the timing of their presentation — and how the parks system really adds to equity in the city.
Deputy Mayor Pro Tem Carolyn King Arnold represents District 4 in southern Dallas. She says for her constituency, the narrative is different.
"I'm trying to figure out how you can use this data to say its going to promote all these attributes," Arnold said. "But here we have parks in our communities but we're not seeing those benefits."
The briefing comes after the city's bond taskforce voted to recommend nearly a third of the city's capacity go toward parks and recreation.
In late November, Dallas Mayor Eric Johnson used a portion of his State of the City address to defend the $350 million dollar parks and trails bond allocation — citing that when invested in correctly, the city gets "more bang for [the taxpayers] buck with parks and trails" than with anything else the city uses tax dollars on.
'Even more valuable'
Candace Damon is the chair of the board at HR&A — the consulting firm hired by the city to evaluate the parks and recreation system in 2016. She says that study was focused on demonstrating that the city's park system generates substantial economic value.
"What we did in that study was to compare how Dallas is investing in its park system to how similarly situated cities are investing," Damon said during the meeting. "And then to estimate the value…of the park system in terms of how it contributes to real estate value, to tourism spending and to green infrastructure."
Damon says when you look at those categories, the city's park system produced around $678 million a year that "otherwise wouldn't be rolling around in the Dallas economy," and conservatively yields a 7 to 1 return on investment for every dollar spent. That's despite the system being under resourced at the time of the study, according to Damon.
This year, the firm compared the 2016 data with current economic conditions and factored in more recent investments the parks department has made.
"And what we concluded is that if anything, the park system is even more valuable than it was in 2016," Damon said.
But committee members questioned the findings — and asked for more information about how the data was collected.
"I'd like to see it broken down on how you are qualifying the return of investment and why is it done at such a broad level," District 7 Council Member Adam Bazaldua said. "We have parks in our park system that shouldn't even be compared to each other especially when we're talking about profitability."
Bazaldua said he still had questions about how this presentation about the parks system value worked with what the department has asked for in bond allocations.
The consultants also claim the Dallas parks system contributes to equity citywide — like "helping to build intergenerational wealth." But some council members were not satisfied with the presentation and again asked for more information about the data collected for the study.
"Did you look at data that related to the lifeline of individuals in southern Dallas neighborhoods with the parks that exist now?" Arnold asked. "Do they not contribute anything at all?"
Damon said the firm did not look at health outcomes in southern Dallas compared to health outcome sin other parts of Dallas in 2023. And the original study did not look at equity either.
"We looked at tourism, we looked at environmental, we looked at commercial real estate value increments," Damon said. "We think that analysis holds up…in addition we think that there are almost certainly significant equity outcomes that have been achieved and will be achieved with appropriate investment in the future."
Damon says that assumption is based on "detailed analysis of other cities" compared to Dallas.
'The bottom line'
The briefing is another chapter in the parks and recreation saga. As part of his reelection campaign, Johnson pushed for Dallas to be a leader in green spaces around the nation.
Since then, the city's community bond taskforce — which is chaired by the president of the Dallas Parks and Recreation Board — voted to recommend a third of the city's bond capacity go to the parks system.
Shortly after, a land group specifically focused on creating new parks in cities across Texas, briefed council members about a plan to use city-owned land for 15 new greenspaces.
The proposal also comes at a time when council members have directed city staff to evaluate the same real estate portfolio for other uses — like more housing or funding options to pay for billions in unfunded liabilities in the city's Fire and Police Pension System.
Johnson also claimed during his late November address that the parks bond allocation is necessary — and it is "what the people of Dallas want" and what he wants "as your mayor."
Critics of the bond recommendations say some of that money should be used for more housing. Currently, $100 million has been recommended for housing and homelessness.
Johnson said "historically government is simply not good at playing the role of a housing developer."
Council members say while the understand the importance of greenspaces and parks — but say there are more pressing issues the city needs to deal with. Those include maintenance of current park facilities — and focusing out what Dallas residents say they need most.
"The bottom line is…we're not against the parks," Arnold said during Monday's meeting. "It's just please let us not try to show that the parks will be the great hope that will take us across the mark…we can take our families to the park, but we cannot live in the park."
Got a tip? Email Nathan Collins at ncollins@kera.org. You can follow Nathan on Twitter @nathannotforyou.
KERA News is made possible through the generosity of our members. If you find this reporting valuable, consider making a tax-deductible gifttoday. Thank you.
FC Dallas Signs Romanian International Enes Sali
Less than a week after FC Dallas made their end-of-year roster announcements, we have our first offseason addition to discuss.
FC Dallas has signed Romanian winger Enes Sali to a four-year contract with a one-year club option as part of the MLS U-22 Initiative. Sali joins Dallas after spending two years with FCV Farul Constanța of the SuperLiga, the first tier of men's soccer in Romania.
Sali will occupy an international roster spot pending receipt of his P-1 Visa and International Transfer Certificate (ITC).
The 17-year old joins FC Dallas after spending the past couple of seasons with Farul Constanta. Sali made his professional debut with Farul on August 9, 2021, at age 15 years, six months and six days. Sali would register his first professional goal on September 13, 2021, becoming the youngest player to score in the SuperLiga at 15 years, six months and 21 days. Sali accumulated 56 appearances with the Romanian side, scoring four and assisting twice across all competitions.
On the international stage, Sali represents Romania and is the youngest player to make his Romania national team debut after appearing for the national team on November 14, 2021, in a World Cup qualifier against Liechtenstein at age 15 years, eight months and 22 days. Sali became the second youngest European international debutant of the 21st century. Most recently, Sali represented Romania's U19 side in the UEFA Euro U19 Championship Qualifiers matchups against Finland, San Marino and the Czech Republic.
It is starting to feel like an annual thing for FC Dallas to go out and sign some young up-and-coming European player from one of the smaller countries over there. Some have worked out in the past for a season or two (think Reto Ziegler or Zdensek Ondrasek), while others become a bust right away as they get homesick, realize that Texas is not like Europe or just fail to make any sort of impact on the field.
Signing a guy, especially a young guy in this case, who has never left home will be a huge gamble. I would like to think this is going to be a great signing that can help the team, especially with Alan Velasco out of action for most of 2024, but he will have to put the work in once he arrives here.
He does come with some special talent though if you buy into the hype videos like the one above. Hopefully, that translates well to MLS.
What do you all think of this signing?