Biden approves federal disaster assistance for Louisiana's battle against saltwater intrusion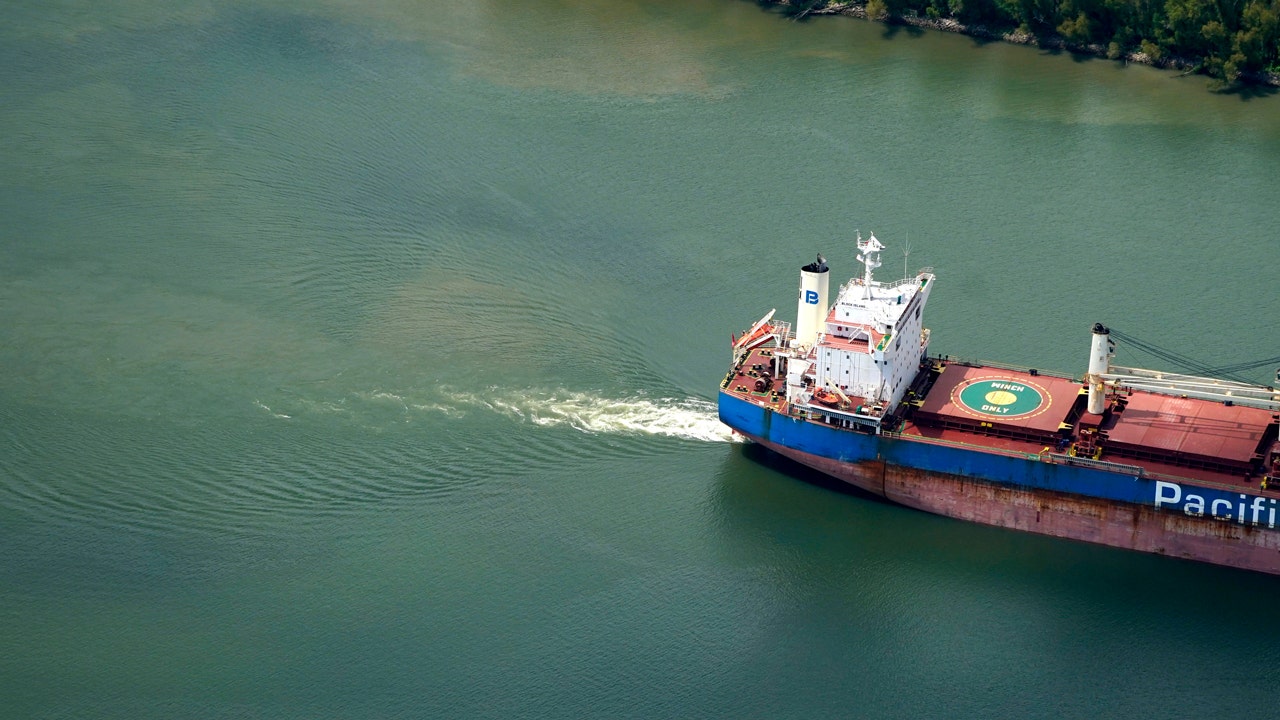 President Joe Biden announced Wednesday that federal disaster assistance is available for Louisiana, which is working to slow a mass inflow of salt water creeping up the Mississippi River and threatening drinking water supplies in the southern part of the state.
Biden's action authorizes the Department of Homeland Security and the Federal Emergency Management Agency to coordinate all disaster relief efforts, according to a news release from the White House. Additionally, the declaration will allow for more equipment, resources and federal money to address the saltwater intrusion.
"I'm grateful to the Biden administration for making this request a priority and responding quickly to help the people of South Louisiana," Louisiana Gov. John Bel Edwards said in a news release Wednesday.
For the second year in a row, salt water from the Gulf of Mexico has moved further up the Mississippi, threatening drinking water in communities that rely on the river for fresh water. Typically, the river's mighty flow keeps mass amounts of salt water from reaching too far inland, but hot and dry conditions across the country this summer triggered drought that slowed the Mississippi's flow and lowered its water levels.
In parts of Plaquemines Parish, the southeast corner of Louisiana encompasses the final stretch of the Mississippi River before it reaches the Gulf of Mexico, residents have relied on bottled water for cooking and drinking since June.
BIDEN FAMILY STOCKINGS OMIT HUNTER'S OUT-OF-WEDLOCK DAUGHTER FOR SECOND YEAR IN A ROW
CLICK HERE TO GET THE FOX NEWS APP
Drinking water advisories have been issued for some communities in the parish, warning people the water is unsafe to drink, especially for people with kidney disease, high blood pressure, those on a low-sodium diet, infants and pregnant women.
Now the salt water is moving further upriver and will likely reach Orleans, St. Bernard and Jefferson parishes by mid-to-late October, officials say.
Edwards wrote to Biden earlier this week to ask for federal help. In his letter, Edwards said that the issue "is of such severity and magnitude" that state and local authorities can no longer manage it on their own. Federal assistance is "necessary to save lives and to protect property, public health and safety or to lessen or avert the threat of a disaster," the governor wrote.
While officials say they are praying for rain to help increase the velocity of the drought-stricken river they are also taking matters into their own hands — raising the height of an underwater levee used to block or slow the salt water and bringing in 15 million gallons of fresh water to treatment facilities in impacted areas.

Susan Campbell (opinion): Let's have debate clubs for adults
I wish I'd joined my high school debate club. At the time, I'd already collected a drawerful of nerd ribbons and I worried that my thin popularity would collapse under the weight of one more.
Still, I admired the briefcases carried by the members of my school's debate team, who did quite well, if memory serves. I also liked their index cards, which they would rifle through in a debate as if the world depended on their finding the right one.
Dallas should work to keep Mavericks in the city, council members say
Some Dallas City Council members say as the sale of the Dallas Mavericks looms, the city should start working now to prevent the NBA franchise from leaving.
Members of the council's ad hoc committee on pro sports recruitment and retention say that includes being open to a new arena for the team and some are prepared to get behind the vision of a connected casino-resort in Dallas.
"We need to keep the 'Dallas' in the Dallas Mavericks, and I think this is an opportunity to have those talks sooner rather than later," said council member Paula Blackmon.
Last week, Mavericks owner Mark Cuban said he is selling a majority stake in the team to the family that runs the Las Vegas Sands casino and resort company. Cuban would maintain operational control of the franchise but would give up his role of majority stakeholder.
The company is controlled by billionaire Miriam Adelson, widow of casino mogul Sheldon Adelson, and would make up the first principal owners in team history who are not North Texans. The deal still needs to be finalized and approved by the NBA Board of Governors.
Cuban told The Dallas Morning News in an email late Monday that he "can't really say anything right now" regarding the team sale. But he was adamant about the team staying in the city.
"I will say on the record the team is not moving anywhere," Cuban said. "We are the DALLAS Mavs."
Cuban told The News in December 2022 that he hoped to team with Las Vegas Sands to build an arena in the middle of a resort and casino in Dallas. But Texas would have to legalize gambling first.
"Texas is such an amazing state that we need to be a destination. And this is the way to do it," Cuban said then. "And partnering with the Sands Corporation, literally there's no reason why we can't build a huge resort destination in the city proper of Dallas. There's plenty of places to do it."
The Mavericks share the American Airlines Center with the NHL's Dallas Stars. Officials with the Stars say they want their team to stay at the arena for the foreseeable future. The lease agreements for the Mavericks and the Stars at the arena expire in July 2031.
A new arena
Five council members on the seven-member pro sports committee said they knew of no talk of the Mavericks considering a move out of the city nor any plans for a new arena.
Council members Blackmon, Zarin Gracey and Jesse Morenosaid they would consider a new arena for the team, but differed on how it should be financed. Gracey, the committee's chair, and Blackmon said they are not opposed to at least some of it being backed by taxpayer money, but both said they would need to know the terms before signing off on anything.
"I don't want to end up in another situation like we had when the Cowboys were considering Fair Park," said Gracey, referring to when the Dallas Cowboys expressed interest in moving from the Texas Stadium in Irving to build a new $650 million stadium in Dallas' Fair Park in 2004. The team ultimately ended negotiations with Dallas County over not agreeing on a vision for the new stadium, which would have included $425 million in public money. The Cowboys moved to AT&T Stadium in Arlington.
"We should do what the voters want," Gracey said. "But within reason, I think we should try to do what we can to keep the Mavs here."
Moreno said he would support a funding method similar to the American Airlines Center. Dallas voters in 1998 approved $140 million in bonds to be paid by hotel and rental car taxes. The surrounding area was also redeveloped.
"I would prefer something similar to how we've used it before," said Moreno, whose district includes the American Airlines Center. "But I believe that the Mavericks are also capable of doing this on their own."
Council members Omar Narvaez and Jaynie Schultz said they thought it was too early to be talking about new venues for the NBA team.
"I think it's premature to even start thinking about that," said Narvaez. "There would be a lot of detail that would have to go into something like building a new arena."
Mayor Eric Johnsonand council member Jaime Resendez, two other committee members, didn't respond to requests for comment.
The committee was created by Johnson in May 2022 in the aftermath of his publicly calling for a second North Texas NFL franchise that would play in Dallas. Cowboys owner Jerry Jones rejected the idea and it has gained little traction outside of discussion on social media.
The committee is meant to come up with ways to bring more pro sports franchises and events to the city, as well as keep existing ones.
The committee has met only once, in September 2022. Among the topics they discussed at the time were the economic impact of the American Airlines Center and an overview of the Dallas Open Tennis Tournament.
Tournament officials announced on Nov. 29 that the event will be moving to The Star in Frisco starting in 2025.
Johnson announced Gracey as the new chair of the ad hoc council committee in August.
In a statement last Wednesday, the two families that head the Las Vegas Sands Corp. said they hope to close the Mavs sale by the end of December.
Lexi Schuchert, director of communications advisory firm TrailRunner International, which has represented the families, declined to comment on whether they would pursue a new arena and if they want to keep the team in Dallas.
"Think big and bold and see if it will work."
Gracey said he intends for the ad hoc committee to meet again early next year, and that the Mavericks and the Dallas Open could be topics up for discussion.
He said he believes if the city opts to move forward with a new arena where the Mavericks would play, that it should be near the downtown convention center. The city is in the midst of planning for the estimated nearly $3 billion tear down and rebuild of the Kay Bailey Hutchison Convention Center. Gracey said he believed it would "change the landscape of downtown Dallas" to add a Mavericks arena and a possible casino resort to ongoing convention center plans, along with others to renovate the existing convention center arena and to redevelop the area.
"That's a national recognition type of development, to me," said Gracey, noting that it could be the key piece of a new walkable, entertainment district running from The Cedars up to near City Hall and including the AT&T Discovery District. "We're already excited about what a new convention center could do, but I think if you add those other components to it, it adds another layer of entertainment to the area."
Blackmon said she believes all options should be on the table with redevelopment of the convention center area now that a new arena could be in play.
"I think we should look at the whole area's land use and not be restricted by X, Y, or Z," she said. "Think big and bold and see if it will work."
She said the city should start planning for a potential arena and casino resort combo so they aren't starting from zero if state laws change. She also said she believed the city should keep engaging in discussions with the NBA, Cuban and the Adelsons on what they would need to keep partnering with the city.
"If I was a surrounding city, I would see all of this as a door cracking open, so I would try to put my foot in it," Blackmon said. "And what we as a city need to do is make sure that we do not shut the door on those communications and conversations with the people that make these decisions."
Moreno said he would want to first see if the team is open to remaining at the American Airlines Center in the future. He mentioned recent $20 millions in upgrades to the venue, including a new $10 million video board.
"We're going to have to ensure that we are looking at this holistically and that we are planning on what American Airlines Center looks like five, 10, 15 years down the road," Moreno said. "I think it still has life left in it. I believe that the AAC is still one of the most significant arenas around the country and that it's one of the most beautiful architecturally sound arenas that we have."
Schultz said she believed that there were other areas of the city a new arena could also go. She pointed to the International District in North Dallas, an area she represents, and spots in southern Dallas such as near the University of North Texas – Dallas campus. Hundreds of single-family homes, thousands of apartments and more than a million square feet of commercial space across 270 acres are also planned for the area.
Schultz said she believed the Mavericks organization would give Dallas a fair opportunity to fight for them to stay if they were considering leaving the city. She said she believed the variety of locations and the size of Dallas make it the most viable option.
"I don't know how many acres they would need, but we have it and could make it happen for sure," Schultz said. "There are several locations in the city of Dallas that would be a terrific fit with accessible highways, DART lines and centrally located to the fan base, and that is something that none of the suburbs have."
3 airlifted to hospital after Miami Gardens crash possibly involving officer
MIAMI GARDENS, Fla. – Three people were airlifted to Jackson Memorial Hospital's Ryder Trauma Center Tuesday morning after being involved in a crash in Miami Gardens, Miami-Dade Fire Rescue officials confirmed.
The crash, possibly involving a police officer, occurred in the area of Northwest 27th Avenue and 167th Street.
Sky 10 was above the scene around 6 a.m. and spotted a white SUV in the area with extensive damage to its front and driver's side.
No details about the crash were immediately released by police.
Watch Local 10 News or refresh this page for updates.
Copyright 2023 by WPLG Local10.com – All rights reserved.