The Rolling Stones announce 'Hackney Diamonds' tour stop in Atlanta
ATLANTA – Georgia classic rock fans won't have to go far next year for some "Satisfaction."
The groundbreaking British rock group The Rolling Stones is going back on the road and are making a stop at Atlanta.
The new tour, which is sponsored by AARP, will go to 16 cities across the U.S. and Canada and starts on April 28 in Houston. 
The band will rock Atlanta's Mercedes-Benz Stadium on Friday, June 7, 2024.
The announcement of the live shows comes after the band released "Hackney Diamonds," their first studio album of new material since 2005. 
In a press release announcing the tour, Mick Jagger, Keith Richards, and Ronnie Wood say fans can expect to hear their big hits like "Start Me Up," "Gimme Shelter," and "Jumpin' Jack Flash" along with fan favorite deep cuts and music from the new album.
Tickets for the tour will go on sale Dec. 1 at 10 a.m. via Ticketmaster.

Atlanta police looking for man accused of stealing electronics from Benihana
ATLANTA — The Atlanta Police Department is asking for the public's help locating a man they say stole electronics from a Benihana on Peachtree Road.
On Nov. 14 just before 10 a.m., APD responded to the Benihana located at 2143 Peachtree Road NE in reference to a business burglary.
[DOWNLOAD: Free WSB-TV News app for alerts as news breaks]
When they arrived, officers spoke to management at the location who said an unidentified man was seen on surveillance footage breaking into the business after hours and stealing several Apple iPads and Android cell phones.
The suspect ran away before police arrived. He is described as having a short beard, wearing a baseball cap with a denim jacket, black jeans and a light-colored backpack.
TRENDING STORIES:
Anyone with information on the case can submit a tip anonymously to the Crime Stoppers Atlanta tip line at 404-577-TIPS (8477), online here or by texting CSA and the tip to CRIMES (274637).
Persons do not have to give their name or any identifying information to be eligible for the reward of up to $2,000.
[SIGN UP: WSB-TV Daily Headlines Newsletter]
IN OTHER NEWS:
©2023 Cox Media Group
Newly released data shows what income is needed to buy an Atlanta area house. Do you make enough?
ATLANTA — A look at the metro Atlanta area housing cost shows the latest income requirements to buy a house.
At three price levels analyzed by real estate company Zillow, income and mortgage rate were compared to see what you need to earn to afford a house, and how big of a down payment you may need to make.
According to the National Association of Realtors, a typical down payment for first-time home buyers in 2022 was 6%, while it was 17% for repeat buyers.
[DOWNLOAD: Free WSB-TV News app for alerts as news breaks]
Depending on which cost tier you choose to pursue, Zillow reported that with the current mortgage rate, a bottom tier home buyer would need to earn about $86,000 to buy a home with a 5% down payment.
At 10%, the same buyer would need to earn $82,000, and at the high percentage of a 20% down payment, a potential buyer would need to earn just $68,000 per year to purchase a bottom-tier priced home at the current mortgage rate.
As of Thursday, the most recent 30-year mortgage rate for a fixed-rate mortgage was 7.22%, down by 0.07% since last week, but up almost three-quarters of a percent since 2022, according to federally-backed mortgage company Freddie Mac.
At higher price tiers, the necessary income to snatch up a new house is also higher for Atlanta's prospective home buyers.
Going back to the 5% down payment level, in a middle-tier price for a house, the current mortgage rate means you'll need to earn at least $121,000 to buy a home, according to Zillow. Additional data from the real estate company showed that for a similarly priced home, putting a 10% down payment on the books would mean you'll need to earn $116,000 for a purchase to be affordable.
For those able to put down a 20% payment when buying a house in the Atlanta area, a middle-tier priced home requires an income of $96,000.
At the final level, top-tier pricing, a 5% down payment for a home requires an income at $191,000 per year to afford the cost of the mortgage at the current rate. For a 10% down payment, potential buyers would need to earn $182,000 at minimum, while a 20% down payment means buyers must earn at least $152,000 to get keys in doors.
RELATED STORIES:
Zillow said the current market is hitting both buyers and sellers due to the higher mortgage rates.
"Zillow research has shown homeowners with mortgage rates below 5% are nearly twice as likely to want to hang onto their current home. The further we get from that 5% mark, the deeper the inventory deficit may become," the company said.
For those looking to move from renting to buying, using a 10% down payment at a median household income would require earnings of $107,000 per year for an affordable home, or one that requires up to 30% of your income to pay for, according to Zillow.
A household is considered cost-burdened if they spend more than 30% of their earnings on rent or housing payments each year. Zillow said if mortgage rates rise to 8%, it could push needed income for an Atlanta resident to as much as $162,000 per year for a top-tier priced home, if including a 20% down payment.
By comparison, a mid-tier home with an 8% mortgage rate would require earnings around $103,000, while a bottom-tier pricing would need you to earn $73,000 at that same 8% rate.
Still, the real estate company said it isn't certain that the rates will actually rise to 8%.
"The safest bet is that rates will remain volatile, and that they will stay high for the foreseeable future. Whether that means 6%, 7% or 8% is anyone's guess, but there's no reason to expect a significant drop anytime soon," Zillow said.
According to Zillow, here's how the Atlanta area's housing market looks:
Home values were flat from August to September. At the same time in 2019, monthly growth was 0.1%.
Typical home values are $376,250, up 1.5% from last year.
The share of Zillow listings with a price cut is 26.6%, compared to 25.7% in August.
Homes are on the market a median of 18 days before sellers accept an offer, 2 days longer than in August.
[SIGN UP: WSB-TV Daily Headlines Newsletter]
IN OTHER NEWS:
©2023 Cox Media Group
Protester hurt after setting themselves on fire outside Israeli consulate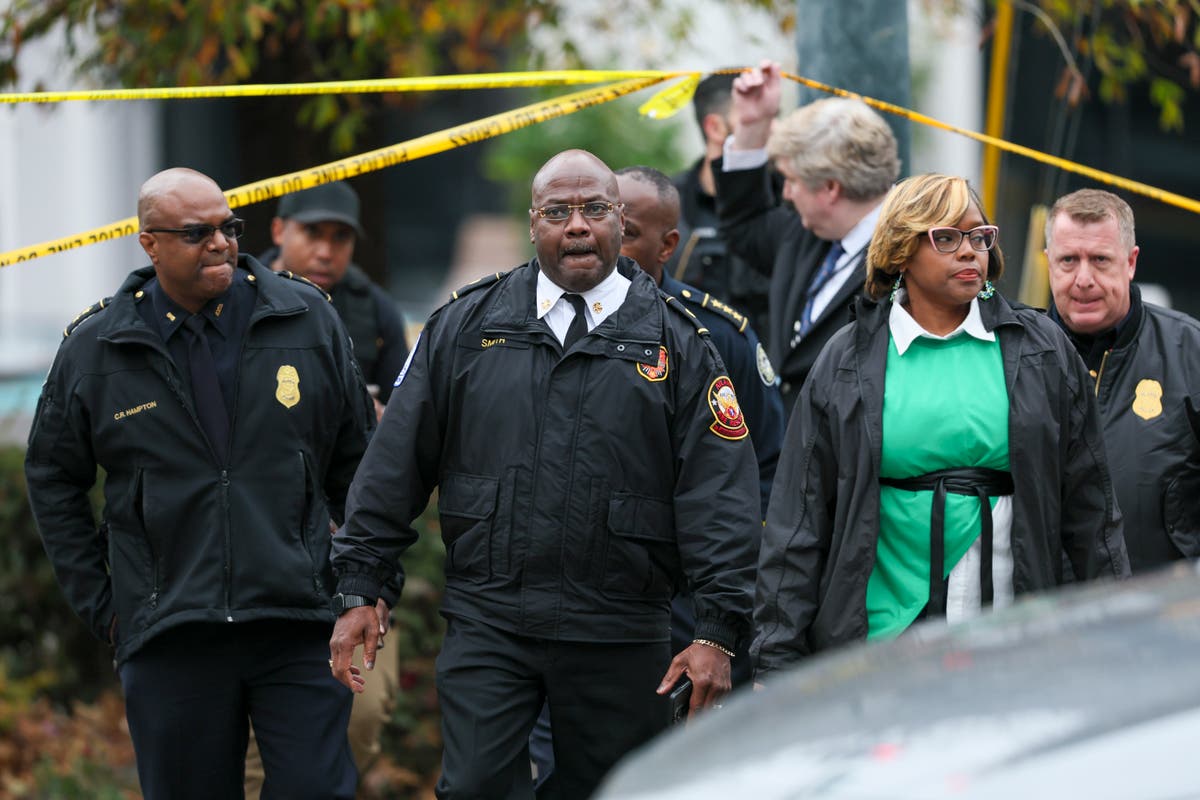 A protester was in critical condition Friday after setting themself on fire outside the Israeli consulate in Atlanta, authorities said. A security guard who tried to intervene was also injured.
A Palestinian flag found at the scene was part of the protest, Atlanta Police Chief Darin Schierbaum said at a news conference.
He added that investigators did not believe there was any connection to terrorism and none of the consular staff was ever in danger.
"We do not see any threat here," he said. "We believe it was an act of extreme political protest that occurred."
Authorities did not release the protester's name, age or gender. The person set up outside the building in the city's midtown neighborhood on Friday afternoon and used gasoline as an accelerant, Atlanta Fire Chief Roderick Smith said.
The protester was in critical condition, with burn injuries to the body. A security guard that tried to stop the person was burned on his wrist and leg, Smith said.
Schierbaum said police are aware of heightened tensions in the Jewish and Muslim community and have stepped up patrols at certain locations, including the consulate.
Demonstrations have been widespread and tensions in the U.S. have escalated as the death toll rises in the Israel-Hamas war.
The conflict began after the Oct. 7 attack by Hamas and other militants, who killed about 1,200 people, mostly civilians, in southern Israel and took around 240 people captive. More than 15,200 people have been killed by Israel's assault on Hamas-controlled Gaza, according to the Health Ministry there.
A weeklong cease-fire that brought the exchanges of dozens of hostages held by Hamas for scores of Palestinian prisoners held by Israel gave way Friday morning to resumed fighting between Israel and Hamas.