Chicago Cubs lose another vital game to the comeback Atlanta Braves
ATLANTA — The Chicago Cubs again found themselves holding a lead late against the Atlanta Braves.
And again they were on the wrong end of a vital game Wednesday at Truist Park, losing 6-5 in 10 innings after twice failing to maintain a one-run lead in the ninth and 10th innings.
Marcell Ozuna slugged the tying solo home run off right-hander Mark Leiter Jr. with one out in the ninth in the right-handed reliever's first appearance in a week. José Cuas cleaned up the traffic in relief of Leiter, retiring both Braves batters to strand the winning run in scoring position.
The Cubs reclaimed the lead in the 10th on Ian Happ's sacrifice fly, but their one-run lead didn't hold. Ronald Acuña Jr. tied it with an RBI single, swiped second base for his 70th stolen base of the year, and scored on Ozzie Albies' single off Daniel Palencia to end it.
"We've got to do some little things a little bit better," manager David Ross said. "Try to get runners in from third less than two outs hasn't been our strength this month. Guys are laying it all out there. Just a really good team. We've got to figure out a way to win a baseball game."
The Cubs (82-76) are tied with the Miami Marlins for the third and final National League wild-card spot entering Thursday, however, Miami owns the tiebreaker. The Cubs turn to Marcus Stroman in Thursday's series final to prevent a sweep in Atlanta.
"We believe in the group, and we've got four games left to get this thing done," Happ said. "We're still tied for the last spot, we're still in it. Everybody in this clubhouse believes in that.
"We were 10 games under and really far out of it at one point so to be in this spot isn't too bad."
Chicago Tribune Sports
Weekdays
A daily sports newsletter delivered to your inbox for your morning commute.
Wednesday's painful ending marked the Cubs' fifth loss after leading in the eighth inning or later during September, tying for their most such losses in a month over the franchise's last 50 seasons (June 1991 and September 1992), according to ESPN Stats & Info.
Since his move to the bullpen in mid-August, Drew Smyly steadily earned manager David Ross' trust in high-leverage spots. Ross went to Smyly with two runners on and nobody out in the seventh following Nico Hoerner's throwing error. Hoerner tried to make a backhanded toss to Dansby Swanson at second base, but the high throw allowed a run to score and runners at first and second base to reach safely to trim the Cubs' lead to 3-2.
"The outs that we left on the field, both tonight and yesterday defensively, obviously those sting," Hoerner said. "But as an offense even though we did score some runs tonight those middle innings we felt like as a group we could have put some more up there. But obviously those are both games that can go either way."
The error sequence ended Jameson Taillon's final regular-season start, but Smyly ensured the game did not get away from the Cubs in that situation. Smyly retired the next three Atlanta hitters — Michael Harris II (ground out), Sean Murphy (strikeout) and Kevin Pillar (pop out) — to escape with the Cubs' one-run lead intact.
Taillon had been on cruise control most of the night. He held the explosive Braves offense to two runs on three hits, including a home run by Albies that gave Atlanta a first-inning lead. After a dreadful first three months to his Cubs career, Taillon posted a 3.53 ERA over his final 15 starts (86 2/3 innings).
The Cubs caught a break to tie the game in the second. A ball was clearly fouled off Jeimer Candelario's bat, but home plate umpire Shane Livensparger missed it and while play was live Cody Bellinger scored from third. The umpires met to discuss it, but the call stood as a passed ball and the run scored. The play could not be reviewed. Braves manager Brian Snitker was ejected for arguing the call.
Home runs by Mike Tauchman, his first since Aug. 8, and Happ in the third off Braves starter Darius Vines had originally put the Cubs ahead 3-1.

Crooks burglarize historic Atlanta church second time in three weeks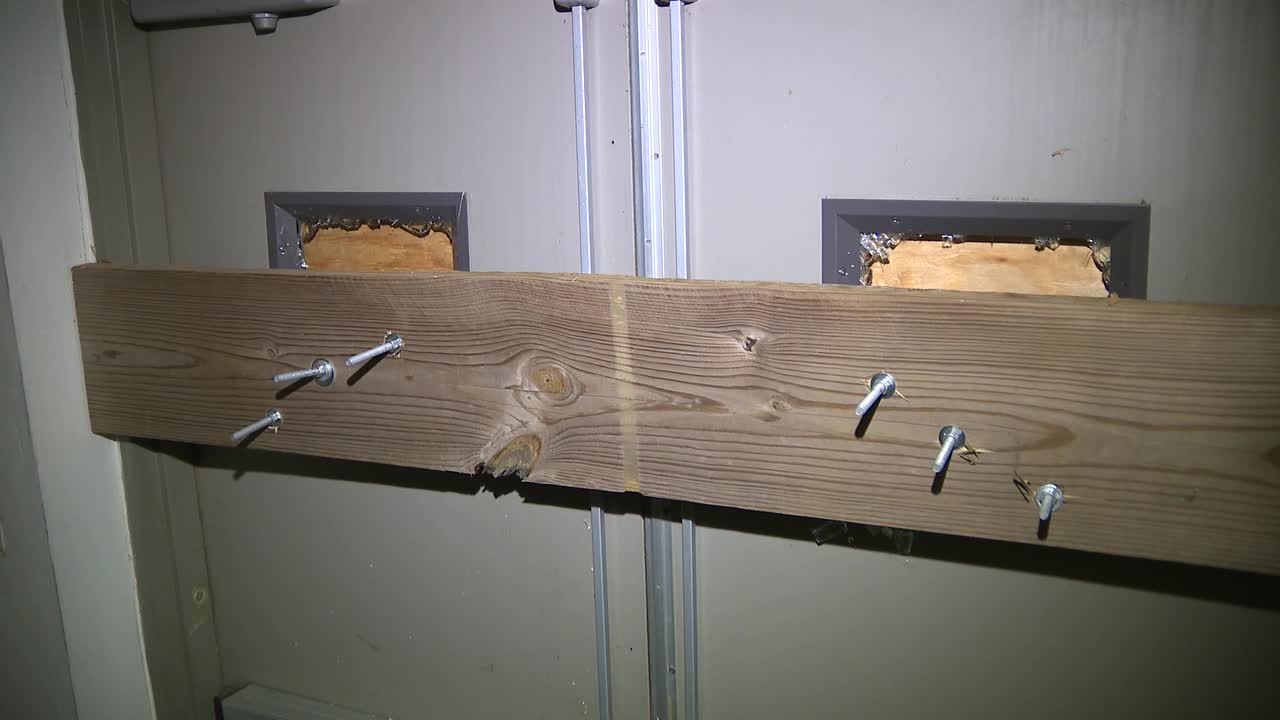 ATLANTA – It happened again. Crooks broke in and ransacked the Historic Butler Street Baptist Church on Ralph McGill Boulevard in the Old Fourth Ward.
FOX 5 first reported on a burglary at the same house of worship in November. This past Friday's break-in is the second time criminals hit the 120-year-old church in just three weeks. Members are now scrambling to pull together their resources to better protect their church.
"They ransacked the kitchen, and the office, and the pastor's office, destroyed the windows on some of our doors and stole two big, expensive speakers," said Yolanda Fitten, a trustee at the church that largely serves seniors on fixed incomes. "And they're scared."
Fitten remembers when crooks tore into her church home last month, grabbing food and clothes for people in need and stealing Christmas toys that members had been collecting to give out to kids in their community.
"It's sad," Fitten said.
She believes the problem is only escalating.
"About nine to 10 times within the year. And it's growing, increasing, it's increasing," she said, feeling fed up. "[It's] very, very frustrating, to the point of tears."
The Historic Butler Street Baptist Church
 The church has tried bolting boards over the windows and onto the doors. It's no use. Criminals keep coming back for more.
"We're not safe anymore," Fitten said. "We're increasing our alarm system, adding more cameras … the best we can do. We don't have money readily like that."
The Historic Butler Street Baptist Church
Police are investigating the thefts. The church says members are currently pooling together more money to pay for a more robust security system.
Atlanta children's hospital previews new state-of-the-art emergency department
ATLANTA — Children's Healthcare of Atlanta Arthur M. Blank Hospital is giving the public an inside look at its new state-of-the-art emergency department.
A video released by the hospital shows a tour of the nearly 70,000-square-foot facility.
It's more than three times larger than the current Egleston emergency department and boasts six trauma rooms inside the unit.
[DOWNLOAD: Free WSB-TV News app for alerts as news breaks]
Some of the features of their new emergency department include accessibility and dedicated parking for the department, a large waiting room, and large exam rooms.
The emergency department will have quick access to the radiology department for X-rays and CT or MRI scans.
The 446-bed children's hospital is slated to open in fall 2024.
TRENDING STORIES:
[SIGN UP: WSB-TV Daily Headlines Newsletter]
IN OTHER NEWS:
©2023 Cox Media Group
Atlanta Welcomes First Annual MODEx Film Festival Next March – Blavity
Atlanta's premier event space MODEx Studio is launching its first-ever MODEx Film Festival.
The festival takes place between March 20 and March 23, 2024 at MODEx Studio, founded by Tasha White and located in Buckhead.
Before the festival begins, MODEx will feature a series of workshops March 19 before transitioning into an opening night social. During the festival, screenings, workshops, special events and more will take place as attendees experience "a haven for discovery, creativity and innovation."
Events include television, film and XR project premieres, industry roundtables, film screenings, Q&A sessions and the introduction of SHOWTIME at MODEx, described as a "monthly rendezvous where TV, short films, and XR projects from every corner of the world find a home." Scheduled events for SHOWTIME at MODEx will occur in March, August, November and a December holiday party.
The film festival's categories incldue narrative, documentary, experimental, animation, short films and episodic content. Official selections for the festival will be given two complimentary tickets. Attendees will be able to purchase festival passes and badges, including the Producer Badge, an all-access pass to screenings and social events, and the Film Badge, which offers unlimited virtual and in-person film screenings.
Filmmakers can submit their pieces at FilmFreeway. Attendees can buy tickets at the festival's website.