Likely GOP primary voters share who had best Republican debate performance: Poll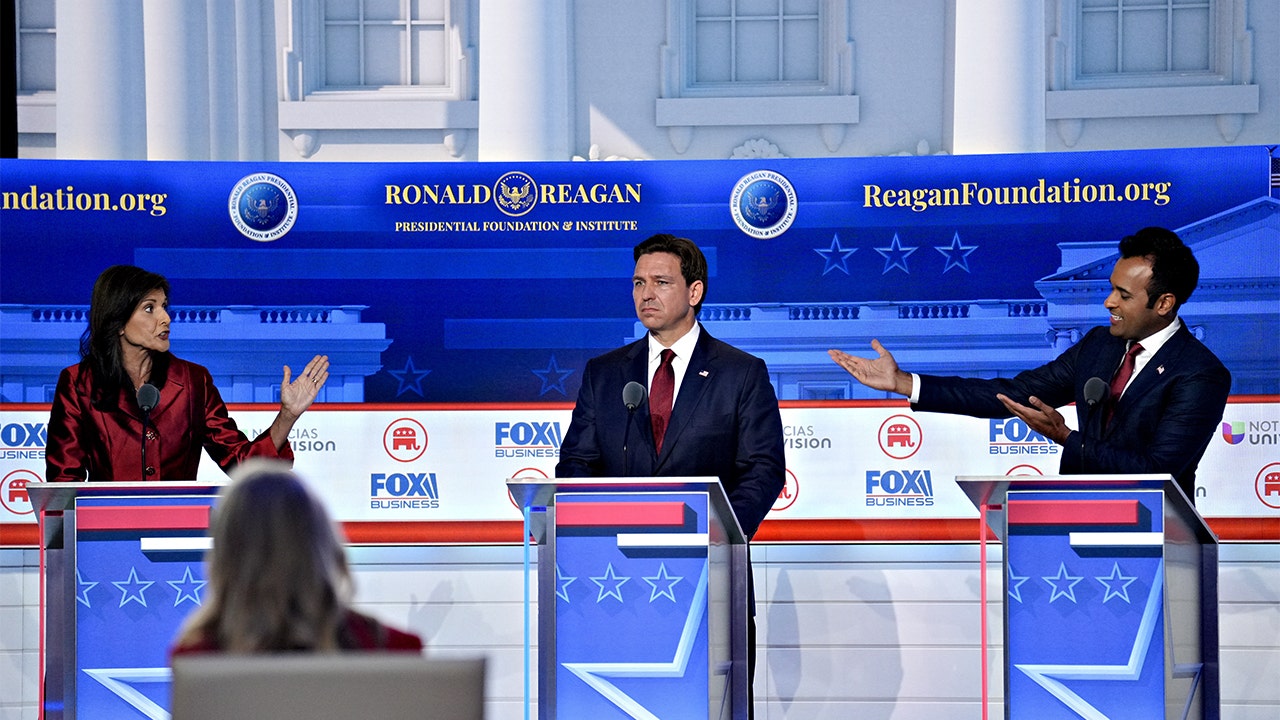 Likely Republican voters think Florida Gov. Ron DeSantis had the best performance in the second Republican debate, according to a new poll.
The poll was conducted by 538/Washington Post/Ispos and asked 2,262 likely voters in the Republican primary to grade each candidate's performance during the debate, which was hosted on Wednesday night by FOX Business in Simi Valley, California.
Prior to the debate, pollsters asked likely GOP primary voters how they thought each candidate would perform. Overall, voters thought Vivek Ramaswamy would finish ahead of the rest, closely followed by DeSantis, former South Carolina Gov. Nikki Haley and Sen. Tim Scott, R-S.C.
When polled following the debate, 33% of respondents thought DeSantis performed the best during the debate, followed by Haley at 18% and Ramaswamy at 15%.
WATCH THE FULL SECOND REPUBLICAN PRIMARY DEBATE
24% of people polled thought former New Jersey Gov. Chris Christie performed the worst and 20% thought the same of former Vice President Mike Pence. 11% of voters thought North Dakota Gov. Doug Burgum performed the worst, and 10% thought the same of Ramaswamy.
However, support among the field was largely unchanged after the debate.
Support for DeSantis increased from 51.0% to 51.9%, Haley's went from 34.0% to 36.4%, and Scott's went from 24.7% to 26.5%. In the poll, support for candidates is based on the percentage of polled voters considering voting for each individual.
DESANTIS SUGGESTS ONE-ON-ONE DEBATE WITH TRUMP: 'YOU OWE IT TO THE VOTERS'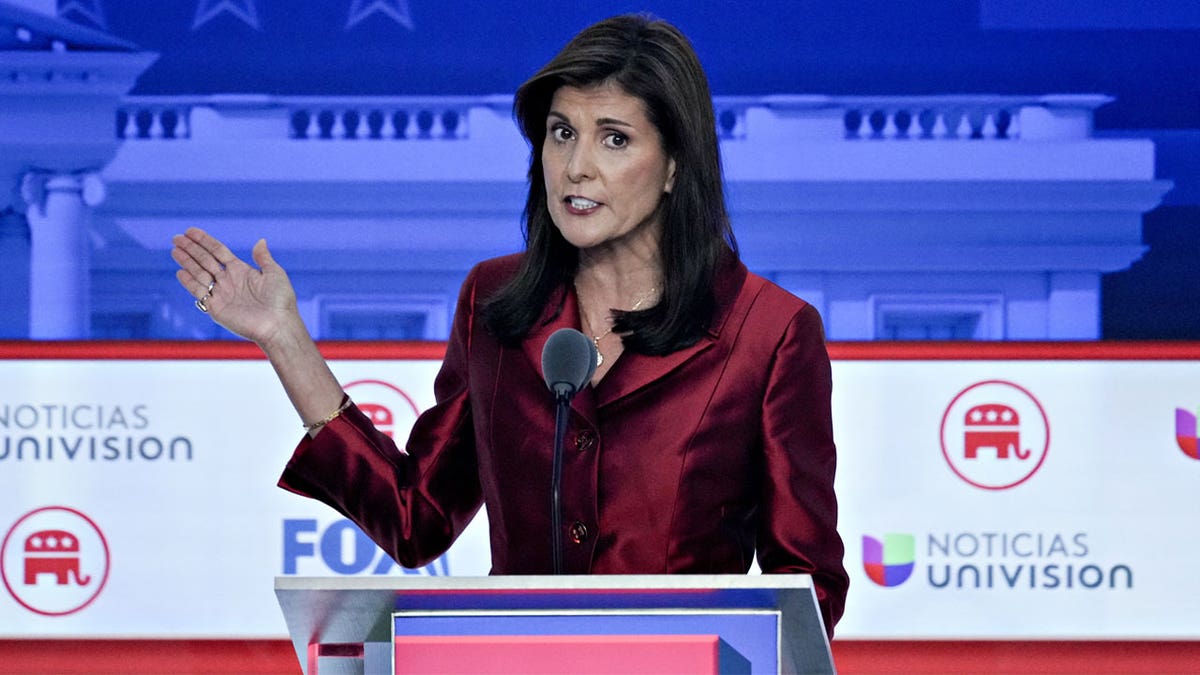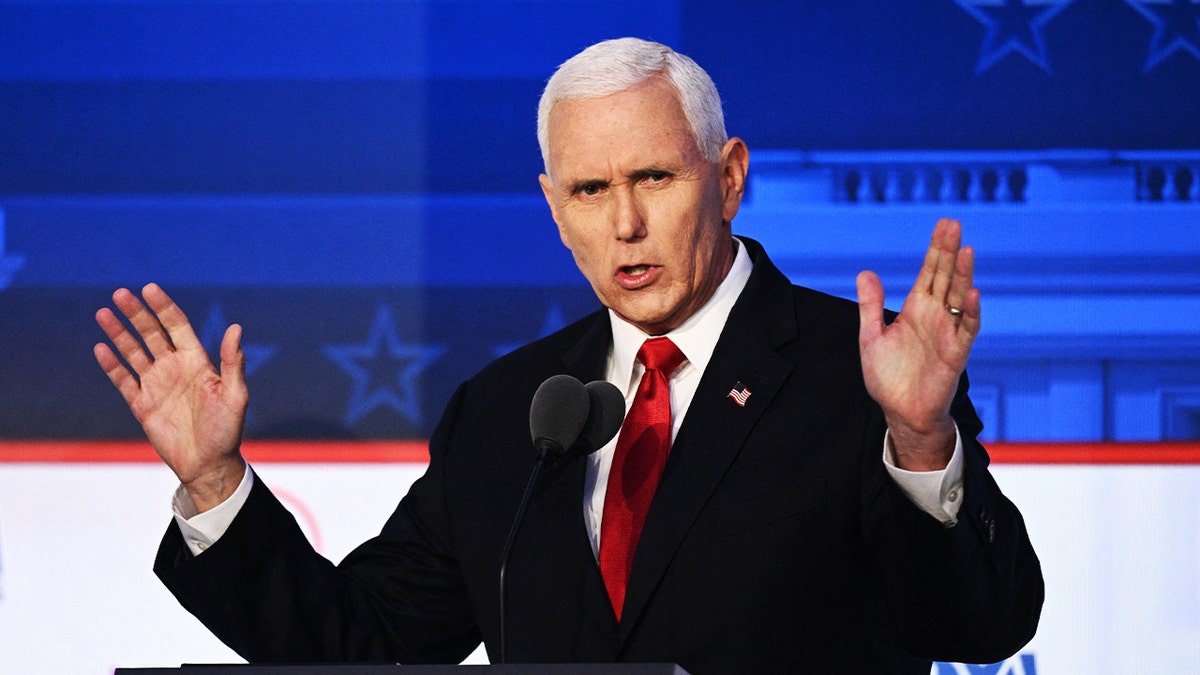 Ramaswamy slightly lost support, going from 27.2% to 28.1% as well as Pence, going from 23.4% to 24.2%.
Support for Former President Donald Trump went from 63.8% to 63.9%.
The poll also asked likely Republican primary voters what issues are most important in determining their primary vote, given the option to select up to 20 issues.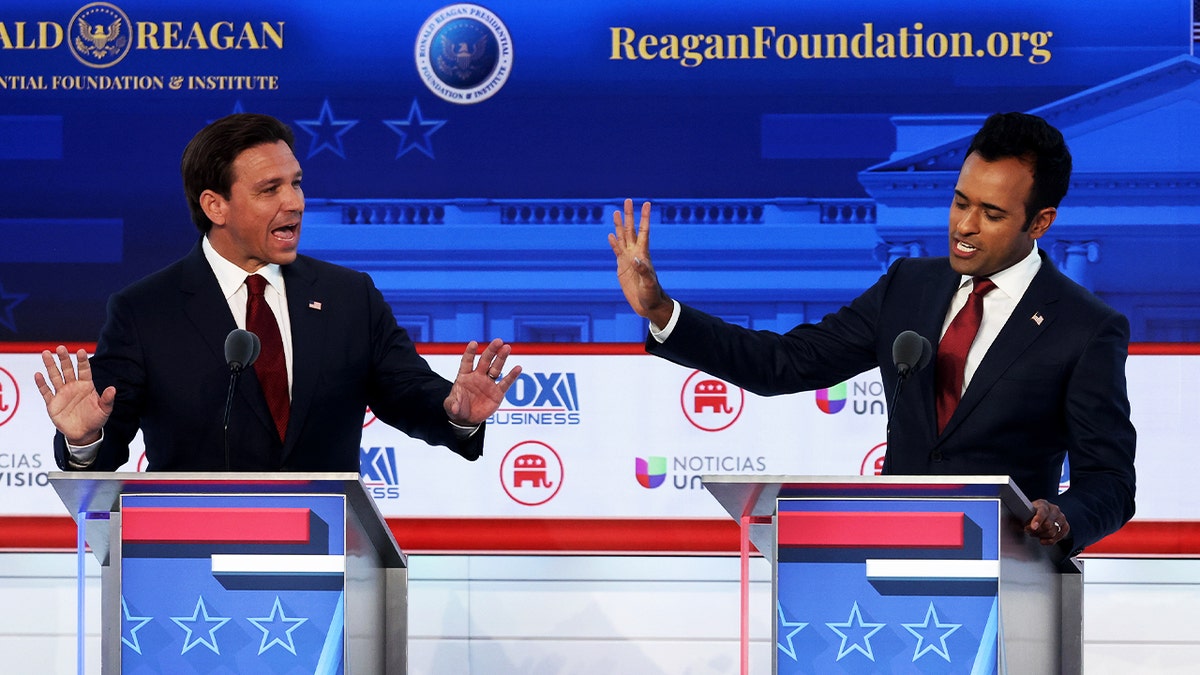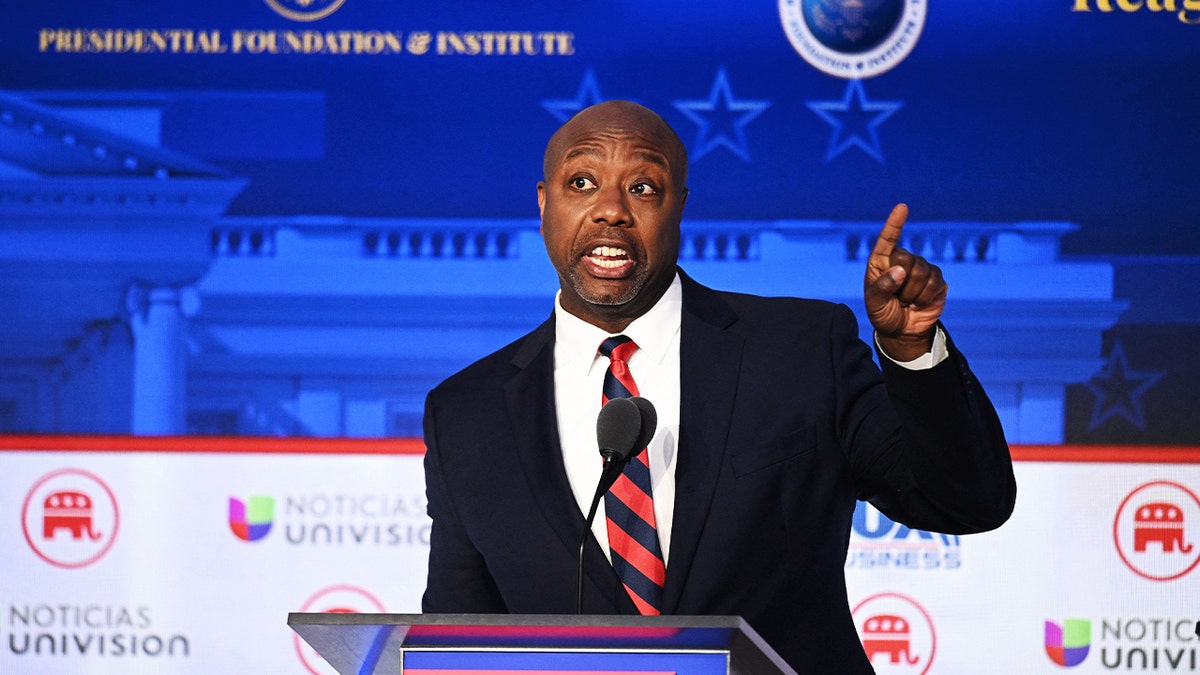 "Getting inflation or increased costs under control" was considered the most important issue to 55% of voters, "Controlling immigration" was considered a priority for 40% of voters, and "Ability to beat Joe Biden" was a priority for 24% of voters.

Newsom versus DeSantis: How, when and where to watch the governors debate
Govs. Gavin Newsom and Ron DeSantis will take the stage in Georgia on Thursday evening for a one-of-a-kind debate pitting California against Florida.
The televised event will highlight the different styles of governance of the two coastal states, which are politically distinctive. Democrats' leadership of California will be contrasted with increasingly conservative Florida, where Republicans control state government.
Fox News Channel is hosting the event, which it's dubbed "DeSantis vs. Newsom: The Great Red vs. Blue State Debate." The program is set to begin at 6 p.m. Pacific. The debate will also be broadcast on Fox News Radio and livestreamed on FoxNews.com, but a cable subscription is required.
Sean Hannity will moderate the debate at a studio in Alpharetta, Ga., without a live audience. He is expected to prompt the governors on issues including the economy, the border, immigration, crime and inflation for a 90-minute discussion. After the debate, Hannity will host a 30-minute reactions roundtable with panelists.
The long-awaited debate comes more than a year after Newsom challenged the Florida governor in a tweet, saying, "Hey [DeSantis], clearly you're struggling, distracted, and busy playing politics with people's lives. Since you have only one overriding need — attention — let's take this up & debate. I'll bring my hair gel. You bring your hairspray. Name the time before Election Day."
It is extraordinarily unusual for governors from different states to debate each other. But both DeSantis and Newsom are ambitious politicians who hunger for publicity.
DeSantis is trailing former President Trump in polling for the Republican presidential primary, and desperately needs a boost to his campaign. Newsom is not running for president next year but will be termed out of the governor's office in 2027 and could toss his hat in the 2028 presidential race.
Both governors have gained national attention for their handling of the COVID-19 pandemic, issues of race and their infamous lobbing of insults against each other. Newsom ran election ads last year in Florida, urging Floridians to "join us in California, where we still believe in freedom." On a California campaign stop a couple months ago, DeSantis didn't miss the opportunity to tie Newsom to the Biden administration: "What California is doing now is likely what a second Biden term would do, or God forbid Kamala Harris, or God forbid Newsom himself, who knows, right?"
Newsom has been a loyal surrogate for the Biden campaign, touting the president's accomplishments in appearances around the country and helping Biden raise money from wealthy California donors.
CIA reminds staff about social media posts after CIA officer shares pro-Palestinian image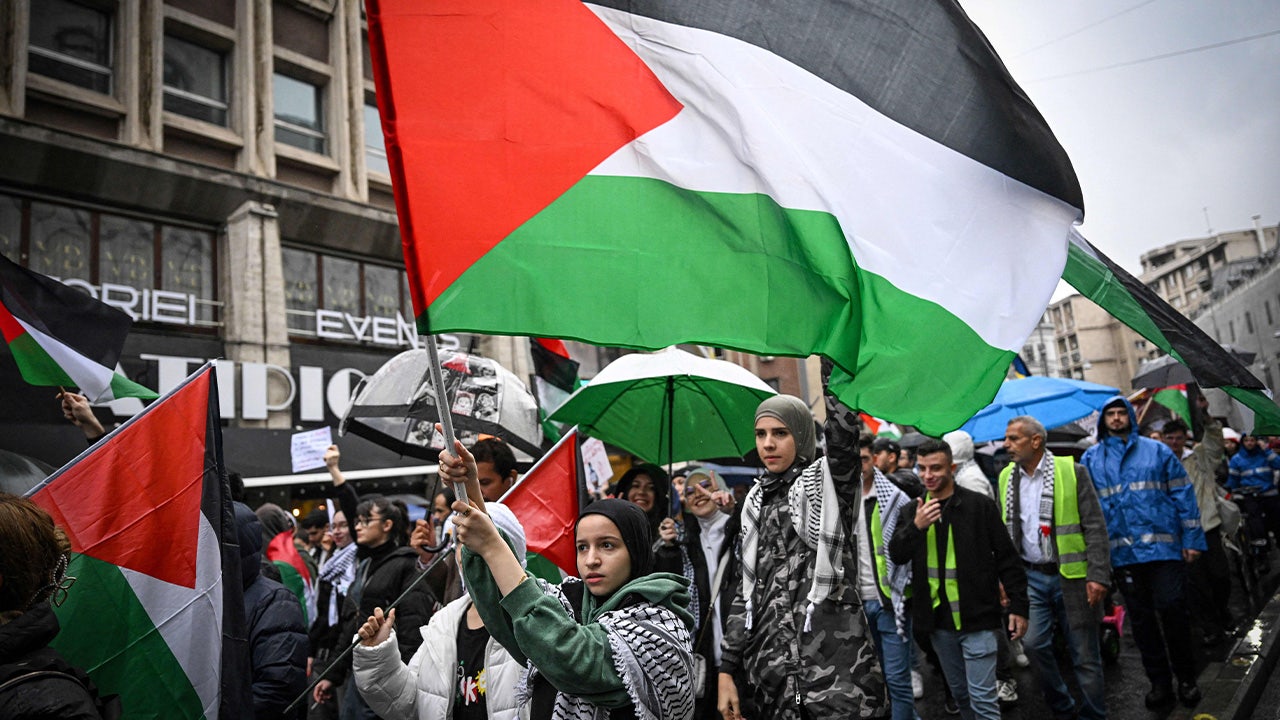 An internal reminder went out to Central Intelligence Agency (CIA) staff Wednesday about social media posts that could be construed as political, Fox News has confirmed. 
This internal reminder came after reports surfaced that a senior CIA officer had posted a pro-Palestinian image on social media two weeks after the Oct. 7 terrorist attack on Israel.  
In a statement to Fox News, the CIA said its officers are committed to "analytic objectivity." 
"CIA officers may have personal views, but this does not lessen their — or CIA's — commitment to unbiased analysis," the agency said. 
The CIA has not denied the authenticity of the pro-Palestinian image first reported by the Financial Times. 
A separate source familiar with the posts says that there were also posts by the same CIA officer who put up the pro-Palestinian image taking a stand against antisemitism. 
This is a developing story and will be updated.
Opinion: The outlandish ruling that could eviscerate what's left of the landmark Voting Rights Act
If a decision handed down by a conservative federal appeals court last week is allowed to stand, it will gut what remains of one of the most important federal laws enacted in my lifetime, the Voting Rights Act.
An 8th Circuit Court of Appeals panel held that no one other than the federal government can sue to enforce a key section of this vital statute. And as the dissenting judge pointed out, only 15 of the 182 successful suits under the section over the last 40 years were brought solely by the Department of Justice.
The Voting Rights Act has been remarkably effective in countering the myriad laws and practices the Southern states adopted to keep Black people from voting since the end of Reconstruction. Turnout among Black voters in Mississippi increased from 6% in 1964, the year before the law was enacted, to 59% in 1969.
Section 2 of the Voting Rights Act prohibits state and local election practices and systems from discriminating against voters of color. Congress strengthened the provision in 1982 so that proof of intentional discrimination would no longer be necessary; it's sufficient to show discriminatory impact.
Even under the conservative Roberts court, Section 2 has provided crucial protection against race discrimination in voting. This year, for example, in Allen vs. Milligan, the court found that Alabama had violated the Voting Rights Act in drawing congressional districts.
Alabama's population is 27% Black, but the state's Legislature had drawn the congressional districts so that only one of six had a Black majority. The court's ruling that the districts violated Section 2 led to a new map with two majority-Black districts.
Under the 8th Circuit's 2-1 ruling, however, private individuals and groups such as the ACLU and the NAACP Legal Defense Fund could not sue to enforce Section 2. Hundreds of such suits have been brought, and many have been adjudicated by the Supreme Court — among them Allen vs. Milligan — without being questioned on these grounds.
This latest threat to the Voting Rights Act comes a decade after the Supreme Court overruled another key aspect of the law, Section 5. Under that section, jurisdictions with a history of race discrimination in voting had to secure the U.S. attorney general's approval before making significant changes to their election systems.
The court declared this "preclearance" requirement unconstitutional in 2013, ruling 5 to 4 that it violated the principle of "equal state sovereignty" to single out Southern states for the restriction. States such as North Carolina and Texas responded by quickly instituting discriminatory election practices that were previously blocked.
The latest case arose in 2021, when the Arkansas NAACP and others challenged new state House districts. The plaintiffs alleged that the Arkansas map diluted Black voting strength in violation of Section 2 and that five additional majority-Black districts should be drawn to fairly represent the state's Black population.
The majority opinion by 8th Circuit Court Judge David Stras, a Trump appointee, concludes that only the United States government can bring such suits, contradicting 58 years of practice since the Voting Rights Act became law. Supreme Court Justice Clarence Thomas, whom Stras clerked for, raised this possibility in his Milligan dissent, but the prospect of such a radical change in the law wasn't taken seriously by many. In fact, none of the parties in the Arkansas litigation even raised the issue: The U.S. District Court where the case was first heard improperly raised the issue on its own.
At best, the Justice Department has the resources to bring only a handful of Section 2 lawsuits a year. At worst, especially under a conservative administration, it may bring none.
In his dissent from the appeals court's decision, Chief Judge Lavenski Smith rightly described the ruling as threatening major upheaval. "Rights so foundational to self-government and citizenship," he wrote, "should not depend solely on the discretion or availability of the government's agents for protection."
As Smith noted, the Supreme Court declared more than two centuries ago, in Marbury vs. Madison, that where there is a violation of a right, there must be a remedy. If the Supreme Court doesn't reverse the 8th Circuit's decision, it will leave little remedy for violations of one of our most important rights.
Erwin Chemerinsky is a contributing writer to Opinion and the dean of the UC Berkeley School of Law. His latest book is "Worse Than Nothing: The Dangerous Fallacy of Originalism."