How a Pandemic-Era Program Became a Magnet for Fraud
In early February, federal prosecutors in Utah accused Zachary Bassett and Mason Warr of cheating the United States government out of millions of dollars. The accounting firm they operated had submitted more than 1,000 fraudulent tax forms to the Internal Revenue Service on behalf of businesses trying to claim pandemic-era stimulus funds, the prosecutors said.
COS Accounting and Tax shut down later that month, leaving businesses and taxpayers that had paid the firm to help them claim federal money trying to figure out what had happened and why they were suddenly receiving audit notices from the I.R.S.
Amid the onset of the pandemic in 2020, as large swaths of the economy went into lockdown, Washington set up various programs to help keep businesses and their workers afloat. Among them was the Employee Retention Credit, a tax benefit that was created as part of the initial $2 trillion pandemic relief legislation. The program offered businesses thousands of dollars per employee if they could show that Covid-19 was hurting their bottom lines and that they were continuing to pay workers.
The money was intended to be a lifeline for struggling companies. Instead, it has become a magnet for fraud, creating a cottage industry of firms that market themselves as tax credit specialists who can help clients — even those who don't actually qualify for the money — reap huge refunds from the I.R.S. Although the public health emergency is over, taxpayers can continue to apply for the tax credit until 2025. That has fueled a run for the money and the proliferation of financial service providers, who often charge hefty upfront fees or take cuts of around 25 percent of any tax refund.
The tax credit has become so popular that it is turning out to be far more costly than expected. In 2021, after Congress expanded eligibility for the credit, the Congressional Budget Office projected that it would cost the federal government about $85 billion over a decade — up from an earlier estimate of $55 billion. However, even that turned out to be an underestimation: the I.R.S. said it has already paid out $152 billion in refunds associated with the tax credit since it first became available and has a backlog of about 800,000 applications that it is trying to process.
The I.R.S. does not yet know how many of the approved refunds were based on fraudulent applications. But it has begun ramping up efforts to root out scams and focusing additional scrutiny on filings from firms that appear suspicious.
On Thursday, the I.R.S. issued a warning to businesses to be on the lookout for "scams" related to the tax credit, saying it was fueling a flood of "invalid" applications.
"These are Johnny-come-latelies, showing up and they're pushing this product, pushing this activity in a way that is unethical," Douglas O'Donnell, the deputy commissioner of services and enforcement at the I.R.S., said in an interview. "It is drawing businesses into a trap, that they will then be claiming a credit that they are not entitled to."
Mr. O'Donnell warned that those who received refunds but were ineligible for the money would have to repay the funds with penalties. He said the I.R.S. was aggressively auditing taxpayers who collect the refunds and the firms that process them. He estimated that hundreds of thousands of tax credit "mills" have popped up across the country in the last three years.
"They seem to be everywhere," Mr. O'Donnell said.
The tax credits are less well known than the more popular Paycheck Protection Program, which provided forgivable loans to cover payroll, rent and utility expenses during the pandemic. But for eligible taxpayers, they have the potential to provide a substantial windfall in the form of a tax refund. Businesses, including nonprofit organizations and churches, can seek up to $26,000 for each employee on the payroll if they can show that their operations were fully or partially suspended in 2020 or part of 2021, and report a significant decline in their revenues during that time.
However, the fine print that determines if a business is eligible is complicated and the I.R.S. is concerned that firms that are processing applications for the credit at high volume are overlooking important restrictions in order to rake in bigger refunds and commissions.
For instance, the I.R.S. is concerned about taxpayers dipping into multiple pots of relief money and says many tax preparation firms are not telling clients that they cannot claim the tax credit on wages if they also received money to cover payroll costs through the Paycheck Protection Program.
The ballooning cost of the program is exacerbating America's precarious fiscal situation. The White House and Republican lawmakers are locked in a bitter fight over raising the debt ceiling, which caps how much money the United States can borrow. The Treasury Department has estimated that the government could run out of cash as soon as June 1 and has resorted to accounting maneuvers so that it can keep paying its bills.
Treasury officials last month pointed to the Employee Retention Credit payouts as a reason that federal tax revenues are more meager than expected.
Lawmakers have been debating clawing back some unused pandemic relief funds as part of the debt limit and budget negotiations, but the tax credit does not appear to be part of those discussions. Senator Kirsten Gillibrand, Democrat of New York, sent the I.R.S. a letter this month urging it to clear its backlog and issue refunds faster.
More applications for tax credits are coming in every day as firms continue to blitz social media sites and TV and radio stations with ads touting the ease of getting federal money. In some cases, the firms are cold-calling potential customers.
Since last October, there have been about 9,000 advertisements promoting application services for employee retention tax credits airing on national cable and broadcast television networks, according to the ad tracking firm Vivvix/CMAG.
About three-quarters of those were sponsored by one of the biggest players in the industry, Innovation Refunds, which advertises on networks such as CNBC and claims that it takes just eight minutes for the firm to determine if an applicant is eligible. The firm says it has helped businesses claim over $1 billion in payroll tax refunds.
"That easy," a narrator says in one of the ads. "But it's only available for a limited time."
Innovation Refunds, which takes a 25 percent cut of whatever refund a customer receives from the I.R.S., uses a network of tax attorneys to review the applications and process the forms. It received financing from the investment firm Raistone to expand its ability to advertise and process more amended tax returns.
"If you don't have the knowledge, then you're not going to seek this out," said Mireille Rosselli, a spokeswoman for Innovation Refunds. "We're on a shot clock."
Ms. Rosselli added that Innovation Refunds has a rigorous system of vetting applications: "Our process is designed to deliver what Congress has intended to do — ensure that only eligible businesses apply for and receive government incentives and credits."
Firms providing employee retention tax credit services use different models. Some do not have certified public accountants on staff and rely instead on lawyers, offshore workers or software to crunch the numbers. Others rely on customers to "attest" that they are eligible for the tax credits, leaving those customers more liable in the event of an audit.
Brian Anderson, who has a background in software, co-founded E.R.T.C. Express in 2021 after learning that traditional accountants did not seem to have the time to help their clients go through the cumbersome process of applying for the credits. His business, which has offices in Atlanta and Tampa, has a team of in-house accountants and a more rigorous monthlong process to determine if a client is eligible to apply. Customers can either pay an upfront fee or a percentage of their eventual refund.
"It's complex to figure out the answer to the question of, are you eligible," said Mr. Anderson, estimating that about a third of his potential clients do not qualify. "If you're not eligible, it's a lot of work for nothing."
The I.R.S. acknowledges that applying for the tax credit is a complicated process, made more difficult by the fact it must be done by amending previous tax returns using paper forms. The agency cautions that firms who say the process can be accomplished quickly and easily are likely misleading their customers.
Traditional accountants have been watching with concern as applications for the employee retention tax credit have boomed. Many have since been hired to help taxpayers who suddenly find themselves under I.R.S. scrutiny.
"These guys are preying on people, promising the moon," said Mark C. Wagner, an accountant who is based near Dallas. "If your sales did not meet the criteria for the credit, then you have to pay the credit back, plus penalties, plus interest."
A lawyer for Mr. Bassett, who pleaded not guilty, said that COS Accounting and Tax took seriously its responsibilities to comply with the I.R.S. requirements when applying for benefits for their clients. The lawyer, Kathryn Nester, explained that the regulations and guidance about the credit "were not often clear and were revised frequently."
That has provided little solace for clients of the business that have been looking for answers about their applications or left to contend with audits.
Wanchai Chab was working for a Utah-based company selling pest control supplies in California in 2020. Because he had set up a limited liability company, he was advised that he could apply for the employee retention tax credit through COS Accounting and Tax. He paid $500 up front and was told that he would get a credit of $3,500.
But instead of getting a big refund, Mr. Chab, 25, received an audit notice earlier this year and ended up having to pay additional taxes.
Fortunately for Mr. Chab, he was not penalized by the I.R.S. because he never received the credit.
"The auditor said she understood what was going on and knew of lots of people who got ripped off like this," Mr. Chab said.

Recording of Trump Underscores Growing Evidence in Documents Case
The revelation that federal prosecutors have a recording of former President Donald J. Trump discussing a highly sensitive document in his possession after he left office underscores the weight of the evidence that the special counsel Jack Smith is assembling as he approaches a decision about whether to bring criminal charges.
The recording, according to people briefed on its contents, captured Mr. Trump in July 2021 discussing a document that he said related to military planning for confronting Iran. During the conversation, Mr. Trump signaled his awareness of his inability to declassify the document because he had already left office, they said.
If that description of the recording proves correct — and Mr. Trump's lawyers have been careful not to confirm or deny it — it would undercut one of the key defenses that Mr. Trump's advisers have offered in their effort to justify why he was allowed to hold onto some of the government's most sensitive secrets after leaving the White House. They have argued that Mr. Trump, while still in office, had declassified all the material he took with him when he left.
It would also show Mr. Trump, in his own voice, invoking a sensitive government document to settle a score. In this case, he was rebutting what he perceived as criticism from Gen. Mark A. Milley, whom Mr. Trump appointed as the chairman of the Joint Chiefs of Staff.
The precise contents of the document referred to by Mr. Trump during the recorded meeting remain unclear. And it is not known when or whether the federal government recovered the document from Mr. Trump as it sought to retrieve thousands of pages of material he took with him when he moved out of the White House in violation of the Presidential Records Act. That act makes all presidential records the property of the federal government.
But a recording demonstrating that he knew he had material that he had not declassified — and that it touched on highly sensitive national security issues — could potentially be compelling evidence that he was aware he should not have kept it even as federal officials were stepping up their efforts to recover what he had taken with him.
The federal prosecutors under Mr. Smith have been examining whether Mr. Trump — the front-runner for the 2024 Republican presidential nomination — obstructed the government's efforts and whether he violated other laws regarding the handling of national defense information and government documents. Mr. Smith is also overseeing a parallel investigation into Mr. Trump's efforts to remain in office after his defeat at the polls in 2020.
After months of back-and-forth with the National Archives, Mr. Trump eventually turned over 15 boxes of material in January of last year. They turned out to include nearly 200 documents marked as classified.
After a subsequent subpoena demanding that he return any other classified material in his possession, he gave the Justice Department a little over three dozen additional documents and a letter from his lawyer saying that a diligent search had turned up nothing more.
Then, in August, F.B.I. agents with a search warrant swooped down on Mar-a-Lago, his residence and club in Florida, and carted away additional boxloads of material, with more than 100 additional classified documents.
The meeting that was recorded was more than a year before the search and was between Mr. Trump and two people helping with a book being written by the final Trump White House chief of staff, Mark Meadows, according to three people familiar with the session. A small number of Trump aides, including Margo Martin, who routinely sat in on and recorded book interviews granted by Mr. Trump, were present as well.
Ms. Martin was subpoenaed to appear before the grand jury hearing evidence in the case in March. According to a person familiar with the situation, investigators had the recording of the meeting before Ms. Martin's appearance. Her devices were subpoenaed after the appearance, the person said.
Some of Mr. Trump's own advisers, aware of the recording's existence, have been waiting for it to become public since Mr. Trump's town hall event on CNN in May, during which he gave an equivocating answer when asked directly if he had ever shown any classified documents to people after leaving the White House. "Not really," Mr. Trump said.
A lawyer for Mr. Trump continued to take the position, in an interview on CNN on Wednesday, that his client had declassified the materials he removed from the White House and could prove it.
But even the lawyer, James Trusty, refused to say whether Mr. Trump had declassified the document he waved around at the July 2021 meeting that took place at his private club in Bedminster, N.J.
In a separate interview on CNN on Thursday, a lawyer who recently left Mr. Trump's team, Timothy Parlatore, downplayed the legal significance of the episode at Bedminster and suggested that Mr. Trump had the documents because of a "failure of process" when he left the White House.
Mr. Parlatore said the question of whether the documents had been declassified was not relevant because Mr. Trump was being investigated for "willful retention of national defense information" under statutes that did not depend on classification status.
In a town hall interview with the Fox News host Sean Hannity on Thursday night, Mr. Trump, when asked about the reports about the recording, said, "I don't know anything about it."
During the summer of 2021, Mr. Trump was infuriated at General Milley's high-profile roles in books and magazine articles. General Milley was portrayed as a last line of defense against an increasingly erratic and bellicose president in his final months in office. On the tape, Mr. Trump hit back at General Milley, according to the people familiar with its contents. He suggested that it was General Milley — and not himself — who was a dangerous warmonger. He indicated he had a document that showed General Milley wanted to go to war with Iran.
Former senior government officials who were involved in Mr. Trump's Iran deliberations said General Milley typically urged restraint against Iran. They said they knew of no document drafted by the chairman of the Joint Chiefs that matched the description suggested by Mr. Trump.
These former officials, who spoke on the condition of anonymity to describe sensitive discussions, said Mr. Trump could have been referring to summaries of deterrence options — ranging from fairly benign to highly aggressive — that were presented to him as he considered how to counter Iran.
Mr. Smith and his team have been exploring the documents case from multiple angles, including examining whether there are links between the material Mr. Trump took and his foreign business deals. They are also scrutinizing whether his employees sought to interfere with the government's attempt to obtain security camera footage from Mar-a-Lago.
But the existence of the recording opens up new questions, including what role Mr. Meadows might be playing in providing information to investigators, and highlights the extraordinary sensitivity of the material that Mr. Trump had access to as he was leaving office.
Mr. Meadows has for months been a source of suspicion and frustration among some in Mr. Trump's orbit. Mr. Trump was infuriated by Mr. Meadows's memoir, which revealed intimate details of the former president's bout with Covid in 2020. Mr. Meadows then provided something of a road map to investigators when he handed over thousands of private text messages to the House select committee investigating the Jan. 6 attack on the Capitol, leaving out only those that he believed to be protected by executive privilege.
But until now, Mr. Meadows's publicly known role in the investigations related to Mr. Trump had been mostly restricted to taking part in an expansive effort to limit the scope of the grand juries investigating his former boss with assertions of various kinds of privilege.
A lawyer for Mr. Meadows, George Terwilliger, declined to comment.
Pride month: Local governments host Drag Queen Story Hour events across country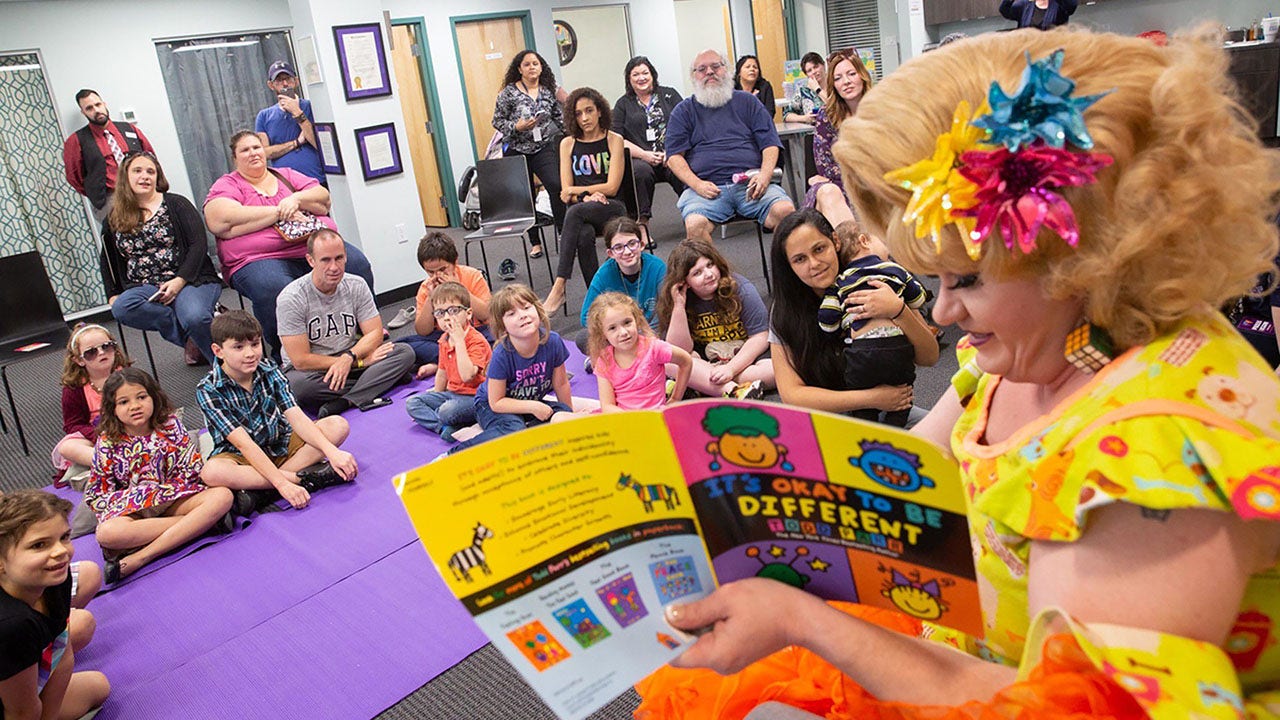 Dozens of taxpayer-funded libraries and other government agencies across the country are hosting drag queen storytime for children as young as 3 as LGBTQ Pride Month kicked off the month of June.
The DC Public Library is co-hosting a Drag Storytime with performer IttyBitty in Adams Morgan, where "children of all ages" are invited to learn about "diversity, self-love and an appreciation of others."
At the Berkeley Public Library in California, kids are invited to gather in the children's room for a "fun game of Lotería," similar to Bingo, with "drag queen and educator" Bella Aldama.
Children of "all ages" are invited to Drag Story Hour at the West Hollywood branch of the LA County Public Library, which is produced by Pickle the Drag Queen.
BELK SELLING TRANSGENDER PRIDE SHIRTS FOR TODDLERS: 'SO HAPPY TO BE ME'
The Oakland Public Library is hosting a drag queen storytime with "local Latinx non-binary storyteller Per Sia."
The Petaluma, Rincon Valley, Windsor and Central Santa Rosa public libraries in Sonoma County, California, are hosting drag story hours for infants through 6th grade.
"Books, Prizes & Events!" the event description reads. "Meet drag king Vera, who will read children's books and engage in other fun learning activities."
At the Lafayette Public Library in Colorado, children of "all ages" are invited to attend a storytime with entertainer Shirley Delta Blow.
"Come dressed in your finest!" the event description states. "Drag Queen Storytime captures the imagination and gender fluidity of childhood play and shows children that people come in all shapes, sizes, and forms!"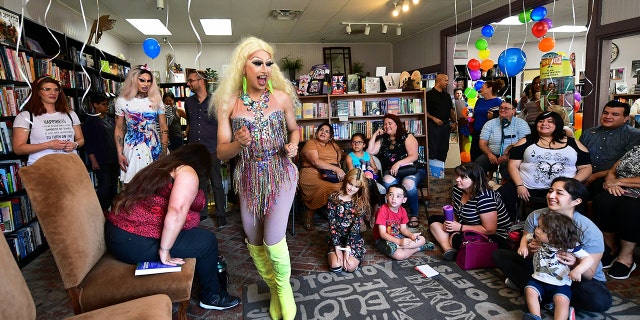 DRAG QUEEN STRADDLES GIRL AT NORTH CAROLINA PUBLIC SCHOOL, VIDEO SHOWS
At the Denver Public Library, kids as young as 5 have their pick of at least three different drag queen events at different branches, including a storytime, karaoke and Bingo with Delta Blow.
The Rowley, Haverhill, Amesbury and Wilmington public libraries in Massachusetts are co-hosting a virtual event called, "Dishing Out Drag," so that kids as young as 13 can "experience the world of drag through the eyes of popular New England Drag Queen Giganta Smalls."
The Brookline Public Library, also in Massachusetts, is hosting a drag queen story hour to promote "self-love, creativity, and literacy" for "kids ages 3-8."
The New York Public Library is holding a Drag Story Hour twice this month at the Riverside branch for children ages 3 to 12.
"Drag Story Hour is a storytelling program designed for children," the event description reads. "A local drag artist will read picture books, sing songs, and lead other age-appropriate activities."
In Connecticut, the Chappaqua Library is hosting a drag queen storytime "geared to children 3-6."
"Come meet the fabulous Angel Elektra, Drag Queen Extraordinaire, for a fun filled storytime with books and songs!" the event description reads.
The Tigard Public Library in Oregon is hosting a drag queen storytime for kids with Miss Poison Waters.
The Hoboken Public Library in New Jersey is hosting a drag queen story hour with Harmonica Sunbeam in Church Square Park, where Mayor Ravi Bhalla is also expected to participate.
Local governments are also holding all-ages Pride events that include public drag queen performances.
In Mansfield, Connecticut, all ages are invited to a drag queen story hour in Betsy Paterson Square as part of the town's Pride Month celebration.
In Fairfax, Virginia, all ages are invited to its Pride event at Old Town Hall, which will include a "dance party featuring several drag queen performances throughout the evening."
The Slover public library in Norfolk, Virginia, is hosting a Bingo pride event encouraging children of all ages to join for "an hour of fabulous BINGO fun with local drag queen legends Jennifer Warner and Sabrina Laurence."
The parks department in Montgomery County, Maryland, is hosting a virtual drag queen story hours for kids with performer D'Manda Martini.
Drag queens are even scheduled to appear at public elementary schools this month.
"Popular Seattle drag queen, Aleksa Manila will be stopping by Whittier to spend an evening with us to read stories and have some fun!" reads an event description on the Whittier Elementary School PTA website in Seattle.
"Drag Queen story time is all about love, acceptance, inclusion and gives kids glamorous, positive, and unabashedly queer role models!" it says. "During story times like this one, kids will be able to see people who defy rigid gender restrictions and imagine a world where everyone can be their authentic selves!" 
Last month, Montana became the first state to specifically ban people dressed in drag from reading books to children at public schools and libraries, part of a host of legislation aimed at the rights the LGBTQ+ community in Montana and other states.
Bills in Florida and Tennessee also appear to try to ban drag reading events, but both require the performances to be sexual in nature, which could be up for interpretation. Both bills also face legal challenges.
Montana's law is unique because — while it defines such an event as one hosted by a drag king or drag queen who reads children's books to minor children — it does not require a sexual element to be banned.
The bill, which was co-sponsored by more than half of the Republican-controlled legislature, took immediate effect after Republican Gov. Greg Gianforte signed it on Monday.
Gianforte signed the bill because he "believes it's wildly inappropriate for little kids, especially preschoolers and kids in elementary school, to be exposed to sexualized content," spokesperson Kaitlin Price said in a statement.
Drag performers who opposed the legislation said they have separate drag performances for children compared to those intended for adults.
The Associated Press contributed to this report.
Driverless trucks on California highways? Legislators don't trust the DMV to ensure safety
When Teslas are in self-driving mode, they've been recorded crossing into oncoming traffic and hitting parked cars. But what would happen if an 80,000-pound, 18-wheel driverless truck suddenly went off the rails?
That's an experiment some California legislators aren't ready to run. They argue that the state Department of Motor Vehicles has so badly mishandled the driverless car industry that it can't be trusted to oversee big rigs barreling down the highways autonomously.
AB 316 — which would wrest control of driverless truck testing and deployment from the DMV and require human drivers in the cab for at least five years while a safety record is collected — passed in the Assembly on Wednesday. The bill now goes to the state Senate and if passed will head to Gov. Gavin Newsom for his signature.
Its proponents argue that effective laws and regulations depend on shared data, institutional trust and public transparency, and that the DMV is struggling with all three.
"Ultimately, this issue is of such importance and relevance that we can't abdicate our responsibility to the DMV, and the DMV doesn't have the capacity to think about the consequences going forward," Assemblyman Ash Kalra (D-San Jose) said in an interview.
Laura Friedman, chair of state Assembly's transportation committee, explains her lack of trust in the DMV. (California State Assembly)
In a recent hearing, Laura Friedman (D-Glendale), the head of the Assembly's transportation committee, put it more plainly: "The DMV has not done a great job at regulating this space."
DMV Director Steve Gordon did not respond to a request from The Times for comment. In fact, the former Silicon Valley executive has rarely spoken with the media about anything at all since Newsom named him to the post in 2019.
The driverless truck industry, however, has pushed back hard, saying AB 316 would harm California's technological competitiveness. Meanwhile, public debate over the bill is highlighting concerns about safety and job loss, as human drivers of commercial vehicles face replacement by computer systems programmed with artificial intelligence.
How we got here
The Legislature handed driverless vehicle regulation to the DMV when it passed its first bill governing such vehicles in 2012. Hearings held at the time focused on the wonderful future ahead for driverless cars — no more crashes, no more traffic jams.
Autonomous vehicle engineers, including former Google executive Anthony Levandowski, made safety claims that went largely unchallenged. "Our data so far is showing that the technology is able to drive safer than our trained and professional drivers at the wheel," he said.
Because AI vehicles theoretically could drive at high speeds bumper to bumper, "it'll really clear up the 110 and the 405 and the 710," said Mark DeSaulnier, then the chair of the state Senate transportation committee. (DeSaulnier is now a member of Congress.)
Eleven years later, those freeways are as jam-packed as ever. And the safety information on those self-driving passenger cars? It's spotty — in large part because the DMV and the vehicle industry are working to keep key safety data out of public view.
In 2021, after a public records filing by an unidentified individual, the DMV invited Waymo to seek a court injunction to prevent the agency from releasing full crash reports.
After the injunction was granted, the DMV — with the legal assistance of California Atty. Gen. Rob Bonta — cut a deal with Waymo to keep the information concealed on the grounds of protecting company trade secrets, according to court records. The deal, approved in Sacramento County Superior Court, allows Waymo to redact most of the details of collision reports as well as information on how the company handles driverless car emergencies, for at least two years.
Although those vehicles, thus far, have not killed or seriously injured anyone in the state, news reports show they can cause plenty of problems on the road: They tend to brake suddenly; block traffic as they pause to decide what to do; cruise through construction zones; and "brick" or stall in traffic, requiring a human on the scene to move the car. They've even fled from police.
What Tesla has to do with it
Although the performance of Waymo and Cruise robotaxis operating in San Francisco concerns many legislators — including Friedman — what is especially troubling, they say, is the DMV's relationship with Tesla.
That is "what really tilted the balance for me" to support AB 316, Friedman said. At a committee hearing in March, she slammed the DMV "particularly in regard to one particular auto manufacturer and their overstated promise of what their vehicle actually is capable of doing." Friedman argued that Tesla's marketing claims are "leading to confusion from the drivers and purchasers of those vehicles and to lots of tragic accidents that could have been prevented with better oversight from the DMV and [federal] regulators."
The department allows the electric-car company to test driverless technology on California roads without a permit, while other companies are expected to conform to rules that require permits and trained test drivers. Tesla has said that the feature it calls Full Self-Driving is a technology that requires human attention, and doesn't require a permit, according to email records released under California's Public Records Act by the court transparency organization PlainSite.
Meanwhile, the DMV allows Tesla to market this technology package as Full Self-Driving. That name appears to violate the DMV's own rule — now a state law — against marketing cars as autonomous when they aren't capable of fully driving themselves. The DMV said the matter is under investigation, but that investigation has dragged on for more than two years.
"The lack of information after two years is deeply concerning," said Lena Gonzalez (D-Long Beach), who heads the state Senate's transportation committee.
When asked about the issue recently, Newsom said he had "great confidence" in Gordon and his team. The governor said he's grateful for legislative oversight. But pressed on the specific criticisms aimed at the DMV, he said: "Forgive me for not being alarmed or shocked."
What is — and isn't — at stake
The driverless technology industry, centered in Silicon Valley, is opposed to AB 316. "The economic impact of this bill is going to be devastating," said Jeff Farrah, who heads the Autonomous Vehicle Industry Assn., which represents Waymo, Cruise, Motional, Aurora Innovation and other driverless car and truck technology companies. "California will cede its position as a leader in the development of autonomous vehicles to other states that are embracing this lifesaving technology at a rapid pace."
Bill supporters regard such statements as alarmist hyperbole.
"It's easy for people to threaten to leave," said Assemblywoman Cecilia Aguiar-Curry (D-Winters), co-author of the bill, which is supported by the Teamsters union. "People aren't going to leave because of this," she said, noting the rich pool of technology talent clustered in Silicon Valley. Tesla, in fact, announced in February that it would move its Texas engineering team back to California, in part to attract and retain talented engineers.
The industry notes that states including Texas, Arizona, Georgia and Florida already allow driverless trucks on public highways. AB 316 would slow down plans to deploy driverless trucks from Southern California seaports eastward across the country.
The bill would not block driverless truck deployment at the ports themselves or on private property. Asked whether the Port of Long Beach plans to allow testing anytime soon, Anthony Otto, chief executive of the port's container terminal, said no. "It's completely a safety issue," he said.
Aguiar-Curry said for now she's happy to let companies test driverless trucks away from California's highways, citing her constituents' safety concerns.
She also contends that the trucking industry's main concern is not safety but profit.
The business case for autonomous trucks is the vast reduction in labor costs when humans are no longer needed to do the driving. Replacing the estimated 350,000 truck drivers who work in California alone would lead to huge cost savings.
Notably, driverless truck companies are not yet profitable, and cash flow is a big issue. With rising interest rates, capital is harder to come by and the companies need to show progress to attract more investment before their cash runs out. One autonomous truck company, Embark, went bust earlier this year.
Driverless truck companies are funneling millions of dollars into research and development and studies documenting their safety and reliability profile. A recent study from Waymo on collision avoidance suggests the reaction time is quicker for the AI driver than for human beings.
However, as it fights AB 316, the Autonomous Vehicle Industry Assn. continues to make debatable claims about safety.
Farrah has said: "Autonomous trucks are safer than trucks operated by humans." Former California Highway Patrol Officer Chris Childs, a paid consultant for the driverless vehicle industry group, recently told legislators that "in my opinion, autonomous technology is safer than a human driver."
Although no major crashes involving driverless trucks have been reported, data on whether AI drivers are safer than humans aren't yet able to settle the question. A paper published by the research group Rand Corp. said vehicles may have to be driven hundreds of billions of miles to make the case.
No legislator is alleging that AI-driven cars are necessarily less safe than those driven by humans. They're saying no evidence has been presented, and the technology still has enough bugs to warrant more study, particularly before it's extended to big-rig trucks.
Just having an AI semi truck stop dead on a freeway for a period of time could cause major traffic problems, said Assemblymember Laurie Davies (R-Laguna Niguel): "If something happens on [some stretches of] the 5 Freeway, there's no way of getting around it. What do you do? How long does it actually take to move something like this?"
AB 316 would "give us the opportunity to find out what are the glitches when we're looking at large vehicles like this, and how we fix them so they don't happen again," Davies said.
For its part, the driverless trucking industry contends that the Legislature lacks the expertise to adjudicate the issue correctly.
"The legislation puts the determination for very important safety and fact-based decisions in the hands of the Legislature instead of the able and experienced regulators at the DMV," said Mufaddal Ezzy, head of government relations for Aurora Innovation.
Waymo head of government relations Annabel Chang said via email: "If the legislature takes away decision-making power from these experts and creates a complicated political process to approve the operation of autonomous trucks, it will result in indefinitely delayed improvements to road safety and sustainability."
The experience level of the DMV regulators, however, is thin. The DMV official in charge of driverless car regulation, Miguel Acosta, has no prior experience in vehicle safety regulation or in motor vehicle technology. Before being named to his current job in 2018, he ran customer service for DMV vehicle registration and managed its field offices.