Harris claims 'climate anxiety' has young people doubting the 'sense' of having children, buying home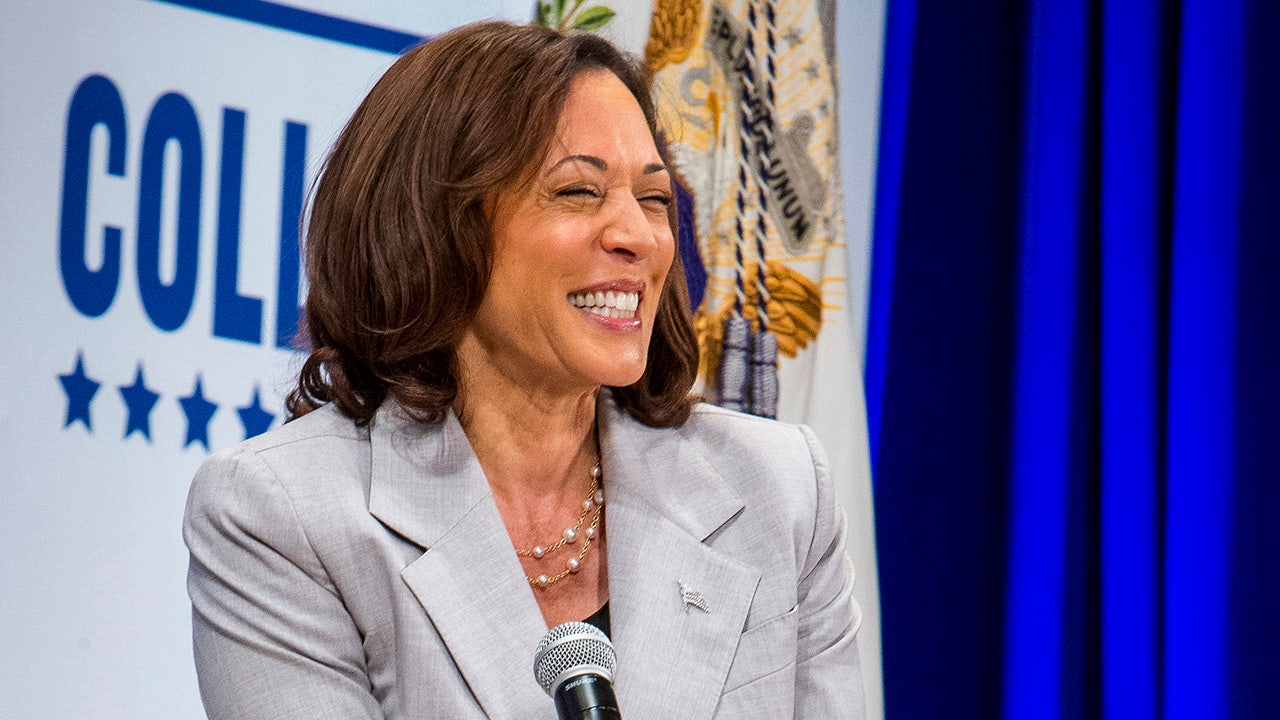 Vice President Harris argued Tuesday that young people are experiencing "climate anxiety" that causes them to rethink major future plans like having a family due to the environmental impact. 
At the latest stop in her national "Fight for Our Freedoms" college tour, Harris told an audience at the Reading Area Community College in Berks County, Pennsylvania, that the Biden-Harris ticket saw a record turnout of young voters during the 2020 election, inspiring the administration's initiative toward student loan forgiveness, which recently hit a roadblock in court. 
"We're not going to stop fighting for that. Because young people said, we're not leaving it to other people to decide how we're dealing with the climate crisis. You know, I've heard young leaders talk with me about a term they've coined, 'climate anxiety,'" Harris said, pivoting, "Which is fear of the future and the unknown of whether it makes sense for you to even think about having children, whether it makes sense for you to think about aspiring to buy a home because what will this climate be?" 
Several critics on social media erupted against Harris' "climate anxiety" claim, arguing Americans are more likely to consider the rising costs of energy, food and housing when making the decision to have children. The Republican-led House Budget Committee has blamed the Biden administration's economic policies for leading to the most rapid increase in mortgage rates since 1981. A Gallup poll from May found a record low 21% of Americans think it is a good time to buy a home. 
BIDEN CALLS FOR 'NEW APPROACHES' TO GLOBAL CHALLENGES IN UN SPEECH: 'OUR FUTURE IS BOUND TO YOURS'
Harris also argued young voters are committed to defending diversity, equity and inclusion, or DEI, initiatives against those whom the vice president deemed "extremists" fighting against it.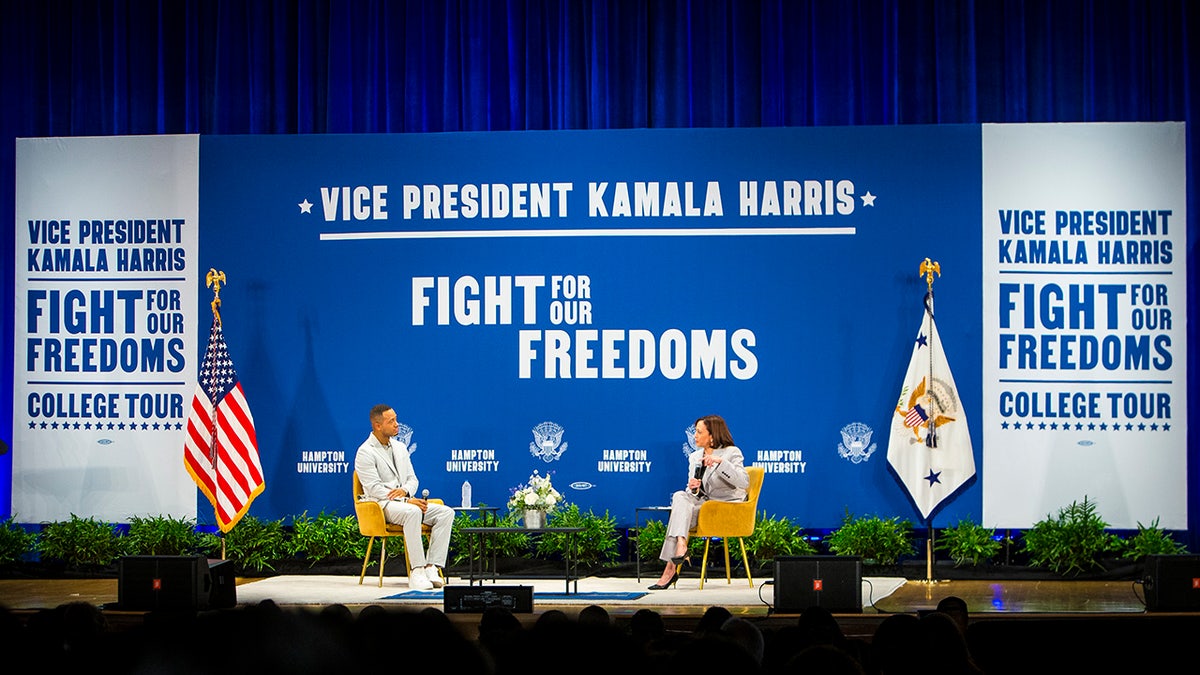 RFK JR'S CAMPAIGN WALKS BACK PROMISE TO BAN FRACKING FOLLOWING BACKLASH
"Because people voted, we have been able to put in place over $1 trillion in investment in our country around things like climate resilience and adaptation, around focusing on issues like environmental justice and understanding that despite what these extremist so-called leaders are trying to do when they're trying to get rid of DEI diversity, equity and inclusion, we know that we're going to stay committed to issues like equity," she said.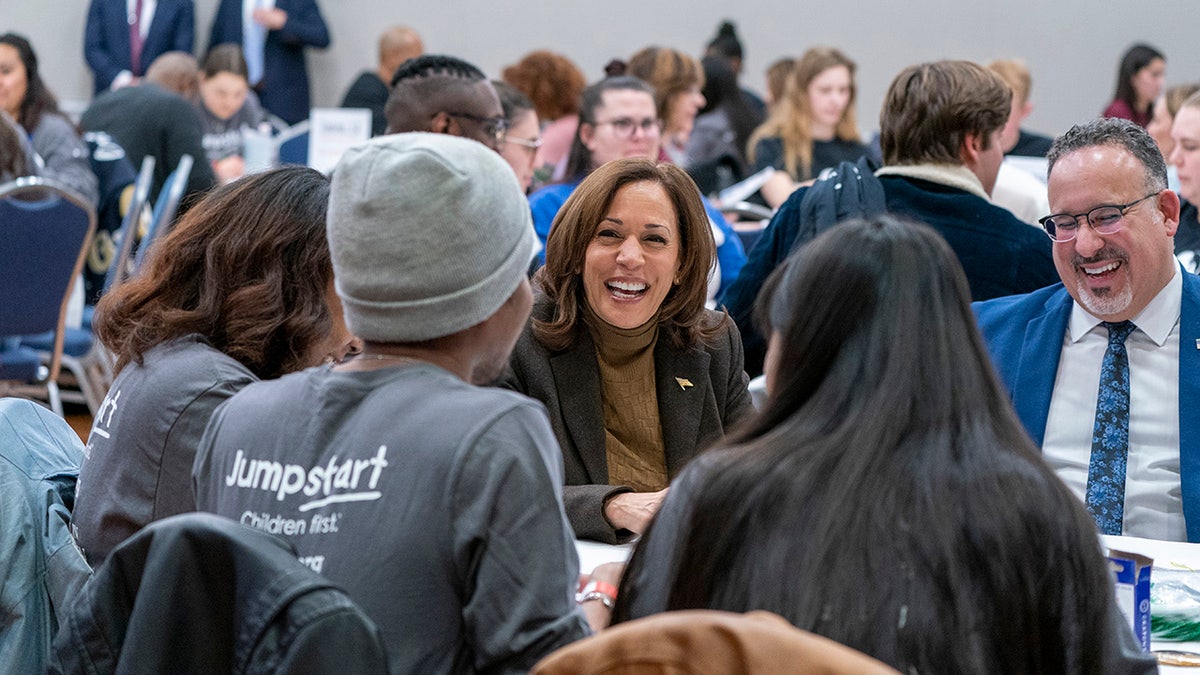 "We want everyone to have an equal amount, but not everyone starts out on the same base," Harris continued. "And so if you give everyone an equal amount, but you don't start out in the same pace, you're still going to end up with people being treated differently. Equity says let's take that into account. And young voters and young leaders are then in a position, and have been, to fight against these extremists who are trying to say things like DEI are bad." 

Gold bars stashed in Dem senator's home recovered after 2013 violent robbery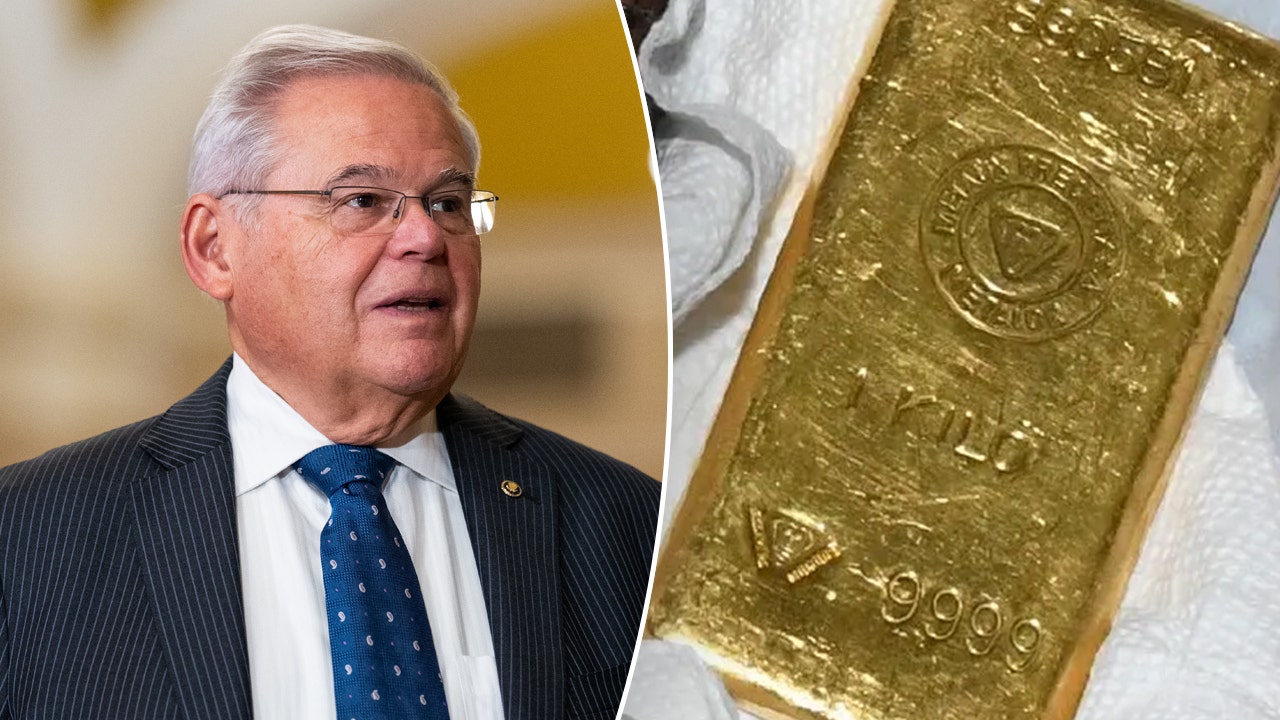 Several gold bars discovered by federal agents in Democratic New Jersey Sen. Bob Menendez's residence as part of a high-profile bribery investigation can be traced to a violent robbery a decade ago.
According to a sprawling indictment unsealed by federal prosecutors in September, Menendez and his wife allegedly played a role in a years-long bribery scheme that involved the Egyptian government and local businessmen including Fred Daibes, a wealthy New Jersey real estate developer. Prosecutors revealed they retrieved multiple gold bars from Menendez's home which were allegedly used as payment in the scheme.
At least four of the gold bars discovered by investigators can be linked to Daibes, both because of their unique engraved serial numbers and thanks to court documents related to a 2013 robbery which Daibes was a victim of, an NBC New York investigation revealed Monday. In November 2013, four assailants beat and robbed Daibes at gunpoint in his Edgewater, New Jersey, apartment, stealing 22 gold bars, jewelry and cash.
"Each gold bar has its own serial number," Daibes told local investigators in a 2014 transcript obtained by NBC New York. "They're all stamped … you'll never see two stamped the same way."
5 EXPLOSIVE REVELATIONS FROM DEM SEN BOB MENENDEZ'S BOMBSHELL FEDERAL INDICTMENT
Photographs released by the Department of Justice in September showing the gold bars discovered at Menendez's home, for example, reveal one of the bars has a serial number of "590005." Daibes reported a gold bar with that same serial number stolen during the 2013 heist, NBC New York reported.
And the federal indictment notes that the serial numbers on the gold bars indicate they had previously been possessed by Daibes.
MSNBC'S ALICIA MENENDEZ ADDRESSES FATHER'S INDICTMENT: COLLEAGUES HAVE 'AGGRESSIVELY' COVERED
"A court-authorized search of the residence of Robert Menendez and Nadine Menendez, a/k/a 'Nadine Arslanian,' the defendants, revealed, among other things, approximately two one-kilogram gold bars and nine one-ounce gold bars that had serial numbers indicating they had previously been possessed by Fred Daibes, the defendant," the indictment states.
In addition, when Daibes reported the robbery to police in 2013, he said 22 gold bars had been taken. Similarly, the September indictment states that Daibes sold 22 gold bars to Wael Hana, another defendant allegedly implicated in the bribery scheme.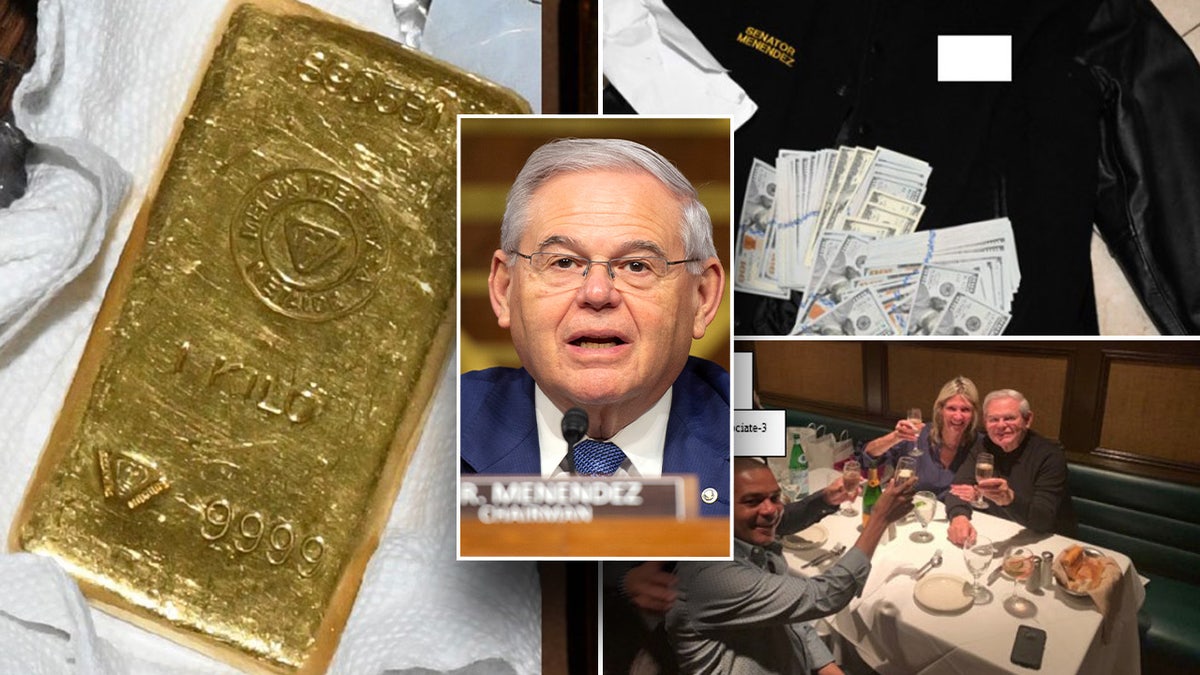 Police ultimately arrested and charged four individuals for robbing Daibes in 2013, according to local media reports. Then, in September 2015, the suspects all pled guilty and were ultimately sentenced to several months in prison.
Meanwhile, since the federal bribery indictment was unsealed earlier this year, Menendez has repeatedly asserted his innocence and remained in the Senate.
CLICK TO GET THE FOX NEWS APP
"The allegations leveled against me are just that, allegations," Menendez said Sept. 25. "For anyone who has known me throughout my 50 years of public service, they know I have always fought for what is right. My advocacy has always been grounded. And what I learned from growing up as the son of Cuban refugees, especially my mom, my hero, Evangelina Menendez. Everything I accomplished, I worked for despite the nay sayers and everyone who has underestimated me.
"I firmly believe that when all the facts are presented, not only will I be exonerated, but I still will be New Jersey's senior senator," he added.  "The court of public opinion is no substitute for our revered justice system. We cannot set aside the presumption of innocence for political expediency when the harm is irrevocable."
George Santos movie in development at HBO from the makers of 'Veep' and 'Succession'
Former Rep. George Santos (R-N.Y.) is getting the movie treatment at HBO after getting booted from Congress last week.
The Warner Bros. Discovery-owned premium cable giant confirmed Monday that it has optioned the rights to author Mark Chiusano's nonfiction book "The Fabulist: The Lying, Hustling, Stealing, and Very American Legend of George Santos."
Frank Rich, known for his work as an executive producer on the Emmy-winning TV satires "Veep" and "Succession," is executive producing the film adaptation, but in a non-writing capacity, according to the company.
The studio has tapped "Bad Education" screenwriter Mike Makowsky to write and executive produce the picture.
HBO's announcement comes less than a week after Santos was expelled from the House of Representatives, becoming the sixth lawmaker ever to be forced out of the legislative chamber.
The politician was ousted by his colleagues after a House Ethics Committee report determined that he had lied about his background, defrauded donors and used campaign money to fund an extravagant lifestyle that included Botox injections, personal travel and subscriptions on OnlyFans.
The ex-lawmaker has also been indicted on felony counts of wire fraud, money laundering, theft of public funds and making materially false statements to the House of Representatives. He has denied wrongdoing and criticized the move to expel him before his case goes to trial.
Billed as a "forensic and darkly comic" dramatization of Santos' bid for Congress, the HBO film will chronicle "the Gatsby-esque journey of a man from nowhere who exploited the system, waged war on truth and swindled one of the wealthiest districts in the country to achieve his American dream," according to the project's official logline.
This isn't the first time Hollywood has mined Santos' highly publicized saga for entertainment. The latest installment of "Saturday Night Live" opened with a humorous farewell to Santos — or rather, to cast member Bowen Yang's beloved portrayal of him.
"This entire country has been bullying me just because I'm a proud, gay thief," Yang's Santos said during the sketch. "But what else is new? America hates to see a Latina queen winning."
Times staff writer Erin B. Logan contributed to this report.
Video: White House Urges Congress to Approve More Funding for Ukraine
new video loaded: White House Urges Congress to Approve More Funding for Ukraine
transcript
White House Urges Congress to Approve More Funding for Ukraine
Jake Sullivan, the White House national security adviser, said that improper funding would jeopardize Ukraine's ability to defend itself against Russia.
Without congressional action, the administration will run out of resources by the end of the year to procure more weapons and equipment for Ukraine, and to provide equipment from U.S. military stocks without impacting our own military readiness. The resources Congress has provided for Ukraine and other national security needs have halted Russia's advances in Ukraine, helped Ukraine achieve significant military victories, including taking back more than 50 percent of the territory that Russia had previously occupied. And by revitalizing our own defense industrial base, jumpstarting and expanding production lines and supporting good-paying jobs across the country. Now it's up to Congress. Congress has to decide whether to continue to support the fight for freedom in Ukraine as part of the 50-nation coalition that President Biden has built, or whether Congress will ignore the lessons we've learned from history and let Putin prevail. It is that simple. It is that stark a choice. And we hope that Congress on a bipartisan basis, will make the right choice.
Recent episodes in Ukraine Crisis