Former first lady Rosalynn Carter has died
Rosalynn Carter, the formidable first lady who helped modernize and expand the role of a U.S. president's wife as she sat in on White House Cabinet meetings, spoke freely and pushed for mental health reform, has died.
Carter, who with her husband, Jimmy, remained steadfastly committed to public service after returning to private life, died peacefully at home Sunday in Plains, Ga., with family by her side, the Carter Center said in a statement. The nation's oldest living first lady was 96.
The center announced that she was suffering from dementia in May, three months after the former president entered hospice care at home. On Saturday, the center announced that Rosalynn also was in hospice care.
The couple's last public appearance together was in September, when they rode through their beloved hometown during the annual Plains Peanut Festival.
"Rosalynn was my equal partner in everything I ever accomplished," former President Carter said in a statement on Sunday. "She gave me wise guidance and encouragement when I needed it. As long as Rosalynn was in the world, I always knew somebody loved and supported me."
Tributes to the former first lady and condolences to the Carter family poured in Sunday. President Biden and First Lady Jill Biden said Carter "walked her own path, inspiring a nation and the world along the way. … The deep love shared between Jimmy and Rosalynn Carter is the definition of partnership, and their humble leadership is the definition of patriotism."
Throughout his time in office, President Carter quoted his wife frequently in discussions with advisors and bombarded her with memos on which he scribbled, "Ros, what think?" according to the 1988 book "Presidential Wives."
"I can't tell you how important she was," the late Hamilton Jordan, President Carter's former chief of staff, told People magazine in 2008. "People who really know the Carters say you never knew quite where Rosalynn stopped and Jimmy began."
Within a few months of becoming the 39th president in 1977, Jimmy Carter sent his wife on a mission to Central and South America to promote human rights and democracy. Because she was not an elected official, the media sharply criticized the trip.
When an American reporter in Ecuador asked if her diplomacy was "an appropriate exercise" of her position, she replied: "I am the person closest to the president of the United States, and if I can explain his policies and let the people know of his great interest and friendship, I intend to do so."
Such direct responses caused reporters to nickname the soft-spoken and tenacious Georgia-born first lady "the Steel Magnolia." She didn't mind.
"I am strong. I do have definite ideas and opinions. In the sense that 'tough' means I can take a lot, stand up to a lot, it's a fair description," she told Good Housekeeping magazine in 1976.
Bitterly disappointed when her husband lost the 1980 presidential election to Ronald Reagan, Carter thought "we'd go home and we'd be bored to death the rest of our lives," she told The Times in 1998. Then she laughed. "But we haven't had time."
They settled back into their modest ranch-style home in Plains and reinvented themselves as roving ambassadors who traveled the world, determined to help others one project at a time.
Through the Atlanta-based Carter Center — a nonprofit think tank the two founded in 1982 — the couple had "an almost unlimited menu" of opportunities, the former president told The Times in 1999.
They often went to Africa, where the center sponsored healthcare and agricultural projects in dozens of countries. They were the marquee hands-on volunteers for Habitat for Humanity, a network of volunteers that builds homes for people in need. She continued to work to raise awareness of mental health issues and in 1991 co-founded the immunization program Every Child By Two.
"We seem to have an awful lot of things going on," the former president told People in 2000. "But basically we work for peace and health."
In 1999, upon awarding the Carters the Presidential Medal of Freedom — the nation's highest civilian honor — then-President Clinton said the couple had "done more good things for more people than any other couple on the face of the Earth."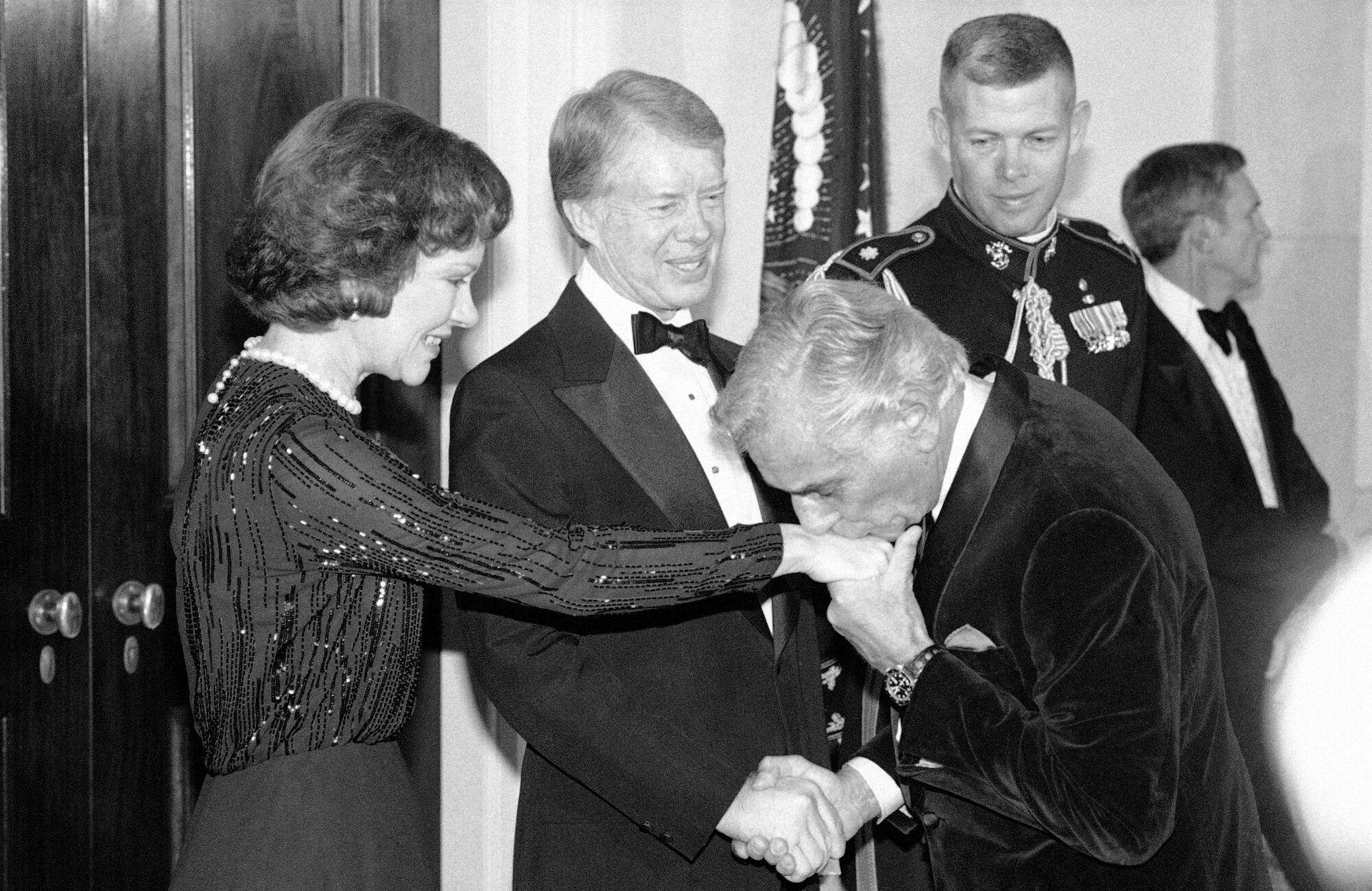 The Carters largely earned their living writing books — his, hers and, only once, theirs. Their collaboration on the appropriately named "Everything to Gain: Making the Most of the Rest of Your Life," published in 1987, had been stormy.
"We can't do that" again, Jimmy Carter told The Times in 1999. "Rosalynn is too strong-willed. And I am too."
Widely considered one of the most activist first ladies since Eleanor Roosevelt, Rosalynn Carter arrived in the White House with her own platform — mental health reform. It was a cause she took up while helping her husband get elected governor of Georgia in 1970.
She was a pioneer in destigmatizing mental illness, said Douglas Brinkley, author of the 1998 book "The Unfinished Presidency."
"By speaking openly, she helped millions cope with their depression and anxiety," Brinkley said in a 2000 interview.
As first lady, Carter became a leading advocate for mental health reform and guided legislative reform on behalf of the nation's mentally ill.
Her work resulted in passage of the Mental Health Systems Act of 1980, which advocated health insurance coverage for people with mental illness and for their protection against discrimination. Although most of the act's funding was cut by the Reagan administration, "it still has an impact," she told The Times in 1998.
Born Aug. 18, 1927, in Plains, Eleanor Rosalynn Smith always went by her second name. She was the eldest of four children of Edgar Smith and his wife, the former Frances "Allie" Murray.
Rosalynn's childhood ended, she later wrote, with the death of her father from leukemia when she was 13. Decades later, she would write "Helping Yourself Help Others," a guide for caregivers that grew out of her own experience caring for her ailing father.
To make ends meet, her mother took in sewing and eventually worked in the Plains post office. Rosalynn helped run the household and still managed to be valedictorian of her 1944 high school class.
Although both Carters were from Plains, he was three years older so "they didn't really know each other," she later said, and grew up attending different churches. As an adult, she converted to his Baptist faith.
While a sophomore at Georgia Southwestern, then a junior college in nearby Americus, she was captivated by a photograph of Jimmy Carter in his U.S. Naval Academy uniform that was displayed by his sister Ruth, who was Rosalynn's best friend.
He seemed "glamorous and out of reach," she later wrote, but Ruth arranged for them to work together on a Carter family project in June 1945, and he took Rosalynn to the movies that same night.
"She's the girl I want to marry," he told his mother after their first date, according to an oft-repeated story.
On July 7, 1946, they were married after his graduation from the Naval Academy. Soon after, they reported to his first duty station, Norfolk, Va., and had their first child the following July.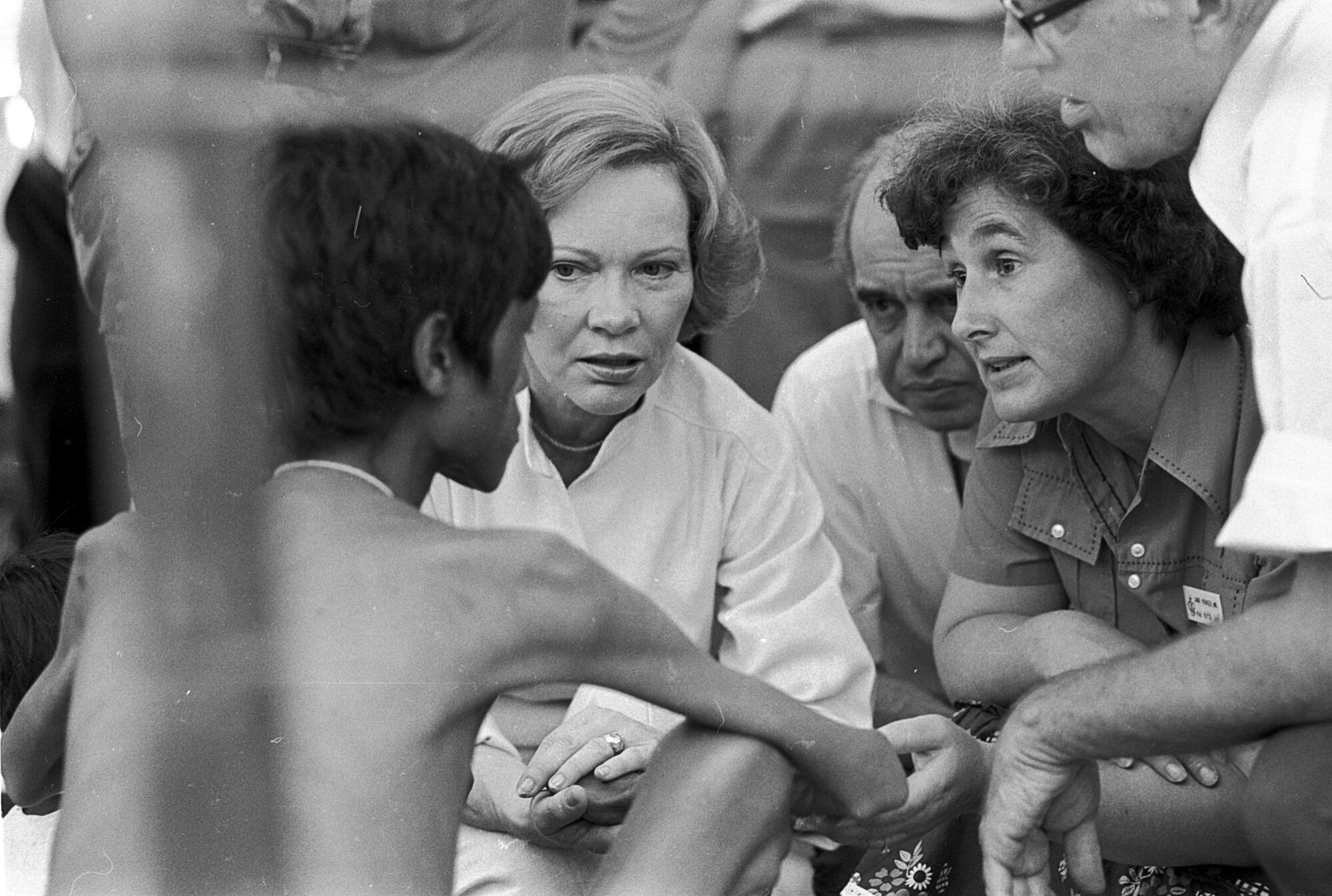 "I was away for the first time and had a baby," she later recalled. "Jimmy was gone much of the time, and I had to take care of everything. It taught me that I could do what I had to do."
She soon thought of Navy life as exciting as they moved around the country, living in Connecticut, Hawaii, San Diego and New York and having three sons between 1947 and 1952. Their daughter, Amy, would be born in 1967.
When his father died of cancer in 1953, Jimmy Carter decided to abandon his Navy career and return to Plains to take over his family's peanut business, which was in disarray. Rosalynn was nearly inconsolable.
"I argued. I cried. I even screamed at him," she recalled years later. "I loved our life in the Navy. I didn't want to live in Plains. I had left there, moved on. I thought the best part of my life had ended."
Things in Plains were dire. It was 1954, and a drought had devastated the peanut, corn and cotton crops. The Carters made less than $200 that year, the equivalent of just over $2,200 today.
The next year, as the business was turning around, Jimmy asked Rosalynn if she would help in the office. After taking a correspondence course in bookkeeping and accounting, she took over the books for the family enterprise. By the time Jimmy began his campaign for the White House, revenue from their enterprises had grown to more than $2 million a year.
"I loved it," Rosalynn later recalled of yet another new experience. "To make all those books balance? I loved it better than anything I had ever done."
They grew together as full partners, and when he successfully ran for the state Senate in 1962, she helped him campaign — and kept the business running back home.
Once again, she enjoyed a new role: political wife. When Jimmy lost his first race for governor — to segregationist Lester Maddox — she was there to help him strategize, and successfully rebound when he ran again in 1970. Though a political unknown outside Georgia, Jimmy Carter set his sights on Washington just four years later when he announced he was running for president.
The Carters often campaigned separately to get his name out before the public, and Rosalynn frequently put in 18-hour days. When he beat President Ford in the general election, she was given major credit for the victory.
On Inauguration Day — Jan. 20, 1977 — the Carters set a populist tone for the next four years, walking hand in hand from the Capitol to the White House with their family. She treasured it as the greatest day of her life.
Rosalynn wore the same blue chiffon gown to the inaugural balls that she had worn six years earlier to Jimmy's gubernatorial ball, in keeping with her husband's decision to host a no-frills People's Inaugural, complete with $25 ball tickets.
From the start, his presidency was a partnership with his wife. The first couple had a standing date each Wednesday for lunch at the White House, when she would tell him what people were thinking and feeling. Both worked for passage of the Equal Rights Amendment, and she said its failure was the greatest disappointment of her White House years.
On the home front, she surrounded herself with family. Two sons who worked or studied in Washington lived in the White House with their wives. Amy, who was 9 when the family moved in, got a treehouse on the South Lawn.
In writing her 1984 autobiography "First Lady From Plains," Rosalynn relied heavily on a diary she began keeping after meeting President Nixon in 1972 at the White House.
"He just walked over and said: 'Young lady, do you keep a diary?' I said: 'No, sir,' and he told me: 'You'd better keep one or you'll be sorry. These are exciting times.'"
By 1980, President Carter's failure to gain freedom for the 52 Americans held hostage for more than 14 months at the U.S. embassy in Tehran was casting a long shadow on his presidency. While he stayed close to the White House, trying to negotiate the hostages' release, Rosalynn once again took to the campaign trail.
By election day, the Carters knew the race was a lost cause. The hostages were freed the day of Reagan's inauguration.
Later, the Democratic Party asked her to run for the U.S. Senate from Georgia but she declined, saying she wouldn't want to live apart from her husband.
The two did "everything together," which was the secret to their close bond and vitality, the former president told The Times in 1999. "We take up new habits, like climbing mountains or bird watching or fly fishing or downhill skiing."
Yet several years after leaving the White House, she told an interviewer, "I won't say it's a relief not to be first lady, because I enjoyed every minute of it."
She is survived by her children, Jack, Chip, Jeff and Amy; 11 grandchildren; and 14 great-grandchildren, according to the center. A grandson died in 2015.
Beyette and Nelson are former Times staff writers. Staff writer Jenny Jarvie contributed to this report.

2024 Showdown: The real winner of four GOP presidential primary debates could be the guy who didn't show up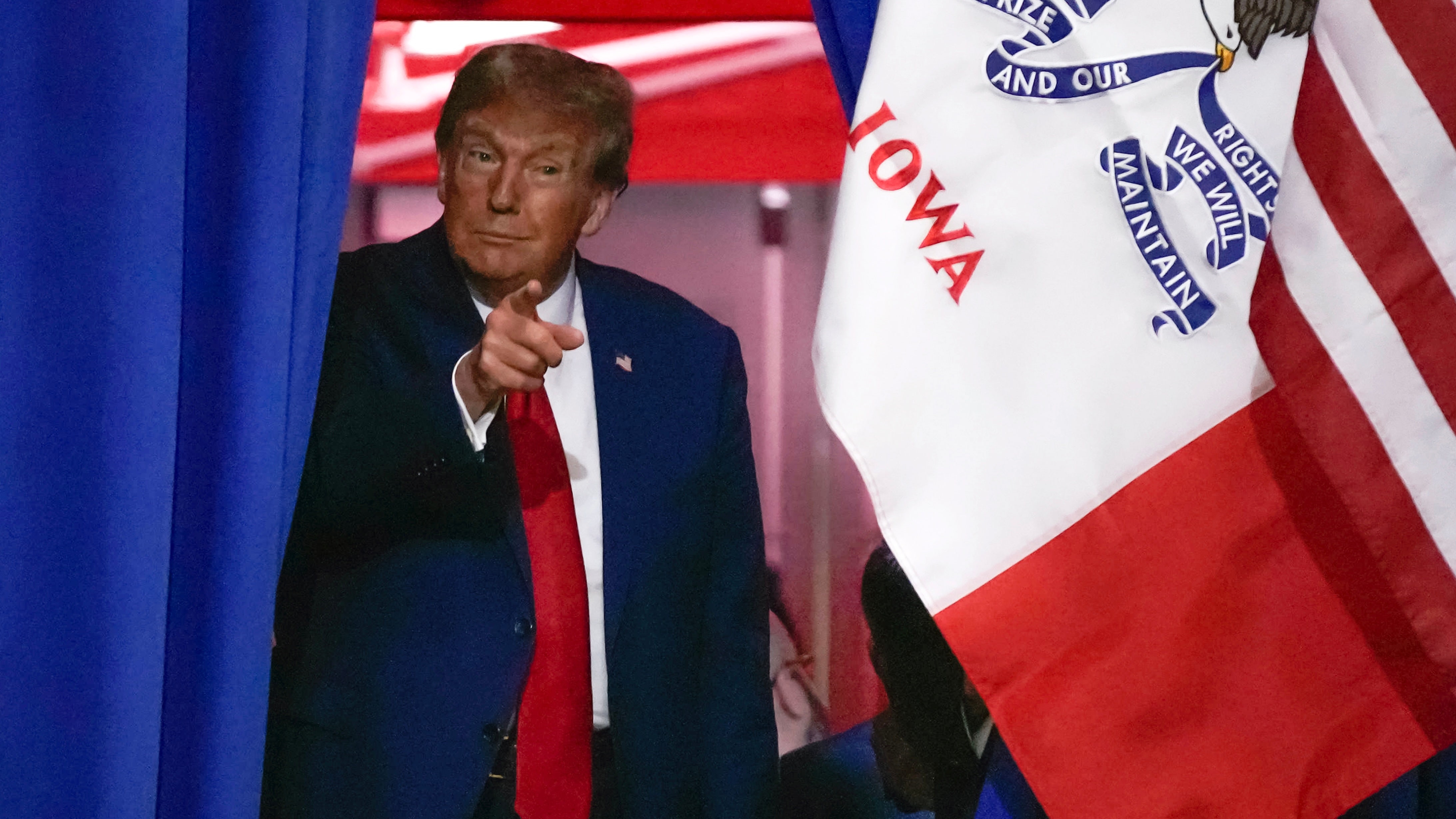 TUSCALOOSA, Ala. – The four Republican presidential primary debates of 2023 are in the books.
Whether there will be another showdown before the Jan. 15 Iowa caucuses remains to be seen.
The big winner from the four prime-time clashes appears to be the candidate who skipped out on all four debates and came out relatively unscathed.
That candidate is former President Donald Trump, who, in his third straight White House run, is the commanding frontrunner in the GOP nomination race with the Iowa caucuses, which kick off the 2024 GOP presidential nominating calendar, and the New Hampshire primary fast approaching.
TRUMP ONCE AGAIN OFF THE HOOK DESPITE THIS CANDIDATE'S BEST EFFORTS 
"They did not change the fact that former President Trump will likely be the nominee and will likely win Iowa and New Hampshire by large margins," said Jimmy Centers, a longtime Iowa-based Republican strategist and communicator who served on multiple presidential campaigns.
Dave Kochel, another veteran of numerous GOP presidential campaigns with decades of experience in Iowa, emphasized the debates have been "the semifinals." 
He said Trump's had "a bye week" and that he's already "going into the finals."
RNC CHAIR MCDANIEL DEFENDS THE INCREDIBLE SHRINKING GOP 2024 FIELD
Trump made history earlier this year as the first former or current president to be indicted for a crime, but his four indictments — including those in federal court in Washington, D.C., and in Fulton County Court in Georgia on charges he tried to overturn his 2020 presidential election loss — have only fueled his support among Republican voters.
Wednesday's debate — with just four candidates on the stage — was the smallest to date but delivered some of the biggest fireworks.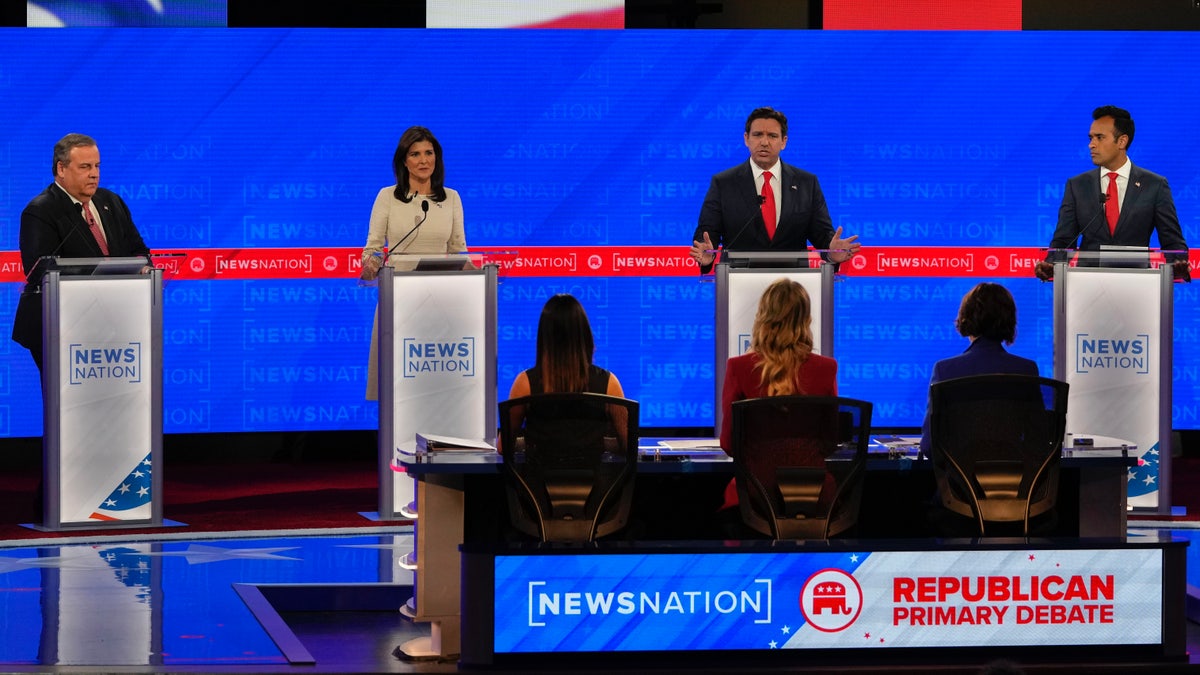 Much of the verbal crossfire at the showdown at the University of Alabama was directed at Nikki Haley, the former ambassador to the United Nations and former South Carolina governor who has enjoyed plenty of momentum this autumn.
Despite the best efforts of former New Jersey Gov. Chris Christie, who repeatedly chastised his rivals for failing to verbally confront Trump, the former president once again emerged with relatively few bruises.
TRUMP CAMPAIGN PREVIEWS 'EXTREMELY AGRESSIVE' PUSH IN IOWA 
"We're 17 minutes into this debate. … We've had these three acting as if the race is between the four of us," Christie said as he pointed to Haley, Florida Gov. Ron DeSantis and biotech entrepreneur Vivek Ramaswamy.
Christie said it was "ridiculous" his debate rivals wouldn't discuss Trump. 
"I'm in this race because the truth needs to be spoken," Christie said. "He is unfit to be president."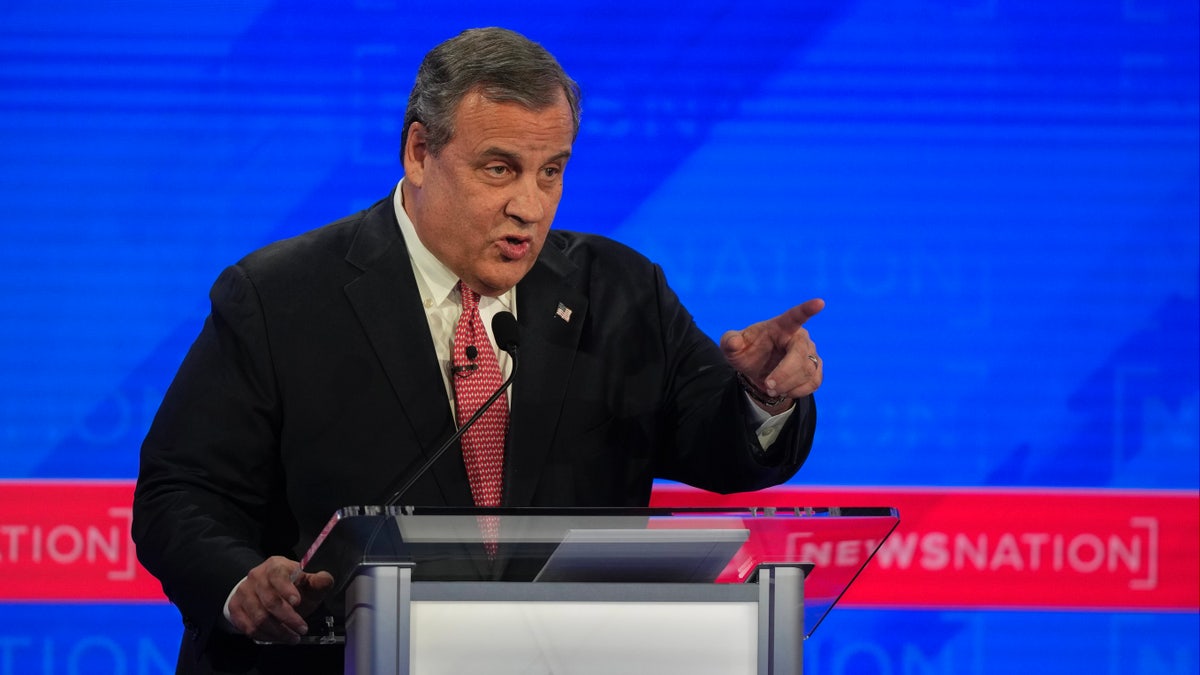 Christie's jabs at Trump drew boos a couple times during the debate, including in his closing comments when he predicted Trump would be convicted and would be unable to vote for himself. 
"If we deny reality as a party, we're gonna have four more years of Joe Biden," Christie warned.
But Christie's scolding of his rivals mostly fell on deaf ears. They mostly avoided direct criticism of Trump even when the moderators asked a series of questions regarding the former president.
"None of them on that stage tonight talked about his conduct. They acted as if this trial that's coming up in March isn't even going to happen. That's why I said tonight, 'Can we stop pretending that four of us are the only people in this race?'" Christie told reporters in the spin room after the debate.
DESANTIS STOPS IN ALL OF IOWA'S 99 COUNTIES, BUT WILL IT HELP HIM CLOSE THE GAP WITH TRUMP?
At one point during the debate, Christie and DeSantis engaged in a heated exchange as Christie pushed DeSantis to answer whether he thought the 77-year-old former president was fit for office.
While DeSantis reiterated that "we should not nominate someone who is almost 80 years old," he wouldn't go any further. It was the latest example of the reluctance of the major candidates other than Christie to lay into Trump as they try to succeed the former president.
Asked about his confrontation with the former New Jersey governor, DeSantis said Thursday on "Fox and Friends" that when it comes to taking on Trump, Christie "was trying to go in a much different direction."
Karoline Leavitt, a former Trump White House press official and former GOP congressional candidate who's a top spokesperson for the Trump-aligned MAGA Inc. super PAC, argued the debates have been "pointless" and "the biggest waste of time and money and energy that we've ever seen."
"Our message consistently — and it continues to get more worthy every day — is that it's so beyond time for them to do what's best, realize that they don't have a practical pathway to the nomination … and they should be unifying around the president," Leavitt told Fox News Digital. "That's been our message for a long time, and I think it's just become more and more apparent with every single one of these debates."
While the debates haven't changed the dynamic at the top of the race, they've made an impact.
Haley has risen in the polls in recent months, thanks in part to well-received performances in the first three debates. She has leapfrogged DeSantis for second place in New Hampshire and her home state, which holds the first southern contest. And she's aiming to make a fight of it in Iowa, where she is pulling even with DeSantis in some of the latest polls.
Her rising status was evident Wednesday night, as she came under repeated and withering attacks from DeSantis and Ramaswamy.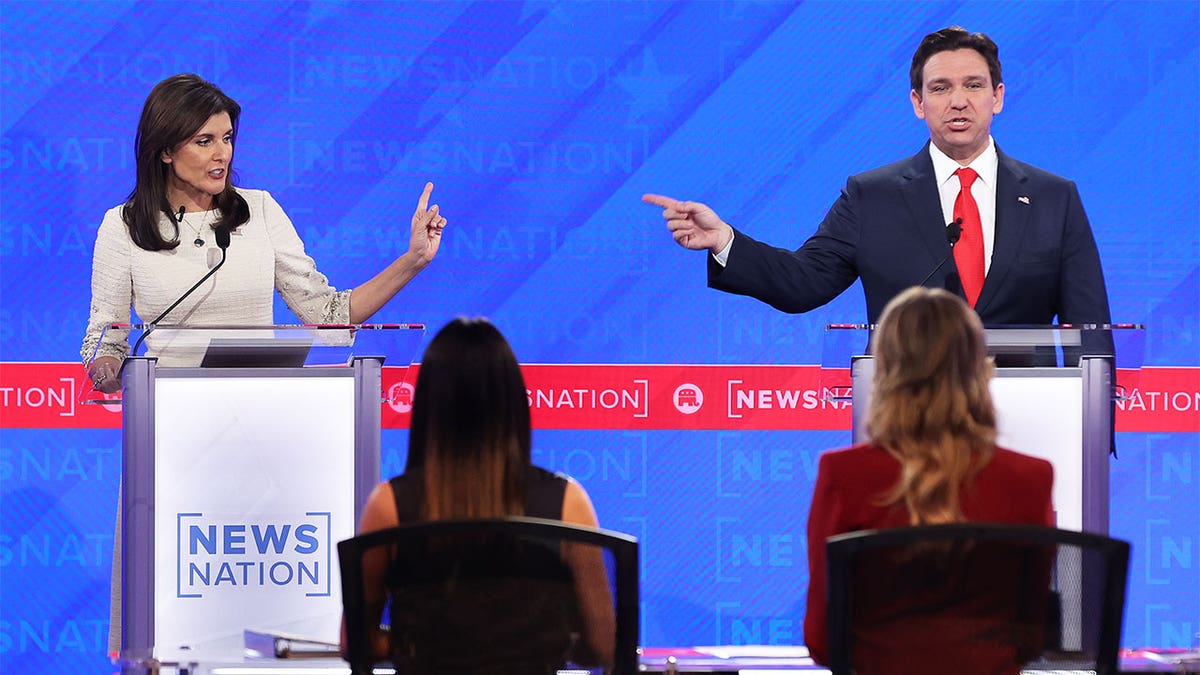 Even Christie, who defended Haley from Ramaswamy's degrading attacks, highlighted his policy differences with his fellow former Republican governor.
Centers, who served as a top communicator for current Iowa Gov. Kim Reynolds and former Gov. Terry Branstad, said the debates "have changed things in the sense that here in Iowa and New Hampshire Nikki Haley has positioned herself to come in second place and become the clear alternative to former President Trump.
"Absent these debates, we would not be having the conversation we're having today about Nikki Haley. We'd be talking about Gov. DeSantis still being the alternative to former President Trump."
Looking ahead, the immediate question is whether the Republican National Committee will continue to host nominating debates, with the next two expected to be held next month in Iowa and New Hampshire ahead of the caucuses and primary. The RNC could potentially bow out and decide to allow state parties to team up with media organizations to run any future debates.
Sources with knowledge of the national party committee's thinking told Fox News the RNC was not expected to make any decision on upcoming debates until after Wednesday's showdown.
Get the latest updates from the 2024 campaign trail, exclusive interviews and more at our Fox News Digital election hub.
Hunter Biden charged with tax crimes in Los Angeles
Hunter Biden, the president's son, was indicted Thursday in Los Angeles on several federal tax charges, marking the start of a second criminal case that will proceed during his father's reelection campaign.
Biden, who resides in Malibu, was accused of failing to pay his taxes on time from 2016 to 2019, filing false and fraudulent tax returns in 2018, and tax evasion, according to the 56-page indictment.
The charges in the nine-count indictment span a period when Biden was addicted to alcohol and crack cocaine, which he documented in graphic detail in a memoir that dwells on the death of his brother, Beau, along with the grief and depression that consumed him and his family.
Biden has since become sober, paid his taxes, along with penalties and interest, and his lawyers are expected to point to his well-publicized addiction to explain his chaotic financial affairs.
But prosecutors contend that he "willfully" failed to file and pay his taxes on time, and that rather than pay the IRS, he plunked down cash for a bacchanalia across L.A. featuring "drugs, escorts and girlfriends, luxury hotels and rental properties, exotic cars, clothing, and other items of a personal nature."
Further, prosecutors allege that when preparing tax returns in 2020, in the early months of his sobriety, Biden misclassified a litany of personal expenses from 2018 as business expenses to reduce his tax burden. Those expenses include tuition for his daughter and a Venmo payment to an exotic dancer, according to the indictment.
If convicted of all charges — six misdemeanors and three felonies — Biden would face a maximum penalty of 17 years in prison, although federal guidelines would call for a far lower sentence.
The case was unsealed on the eve of President Biden's arrival in Southern California for his first in-person fundraising trip here since Hollywood strikes put a pause on campaign events.
The charges come months after Hunter Biden was set to enter a plea deal for tax and firearms violations. The deal would have avoided time behind bars and included immunity from additional federal charges, but it collapsed under questioning by a federal judge in Delaware. Shortly after, Atty. Gen. Merrick Garland appointed David Weiss, the U.S. attorney in Delaware, as special counsel.
Weiss has since brought a fresh indictment in Delaware against Biden for the firearms violations, accusing him of lying about his drug use in 2018 when purchasing a gun that he briefly owned. Biden has pleaded not guilty to the charges, which are rarely filed as a standalone case.
The special counsel also brought the tax charges against Biden in California, asserting in a statement that the president's son "spent millions of dollars on an extravagant lifestyle rather than paying his tax bills."
Biden's defense attorney, Abbe Lowell, emphasized that his client had long ago paid his tax debts and accused Weiss of bowing to Republican pressure by filing "unprecedented and unconstitutional gun charges."
"Based on the facts and the law, if Hunter's last name was anything other than Biden, the charges in Delaware, and now California, would not have been brought," Lowell said, an apparent nod to millions of people who annually fail to pay their taxes on time.
"Now, after five years of investigating with no new evidence — and two years after Hunter paid his taxes in full — the U.S. attorney has piled on nine new charges when he had agreed just months ago to resolve this matter with a pair of misdemeanors."
Lowell noted that he had written to the special counsel's office this week, seeking a "customary meeting" to discuss the tax inquiry. "The response was media leaks today that these charges were being filed," Lowell said.
The indictment offers the most detailed window into the Department of Justice's long-running inquiry into Biden.
In his memoir and in several interviews, Biden has been open about the depths of his addiction and unsavory lifestyle in L.A., when he lived out of the Chateau Marmont, Hollywood Roosevelt and other luxury hotels in a haze of sex and crack-induced euphoria. "I never slept. There was no clock. Day bled into night and night into day," Biden wrote in "Beautiful Things," in which he recounts his journey to sobriety.
Still, the grand jury indictment outlines how such sordid travails were fiscally carried out — with $7 million in income from 2016 to 2020 from various business dealings — and uses Biden's own words to claim discrepancies in his tax returns.
The most serious charges stem from 2018, the height of Biden's addiction. Prosecutors allege the filing of that year's tax returns for both Biden and his business, Owasco PC, was fraudulent and evasive.
Those returns were prepared in early 2020 by an accounting team in L.A. Prosecutors describe a three-hour meeting that Biden had with the accountants that year where he reviewed records to confirm their accuracy and used a yellow highlighter to indicate outlays that should not be deducted as business expenses.
According to the indictment, Biden failed to identify several personal expenses, including the Venmo payment to an exotic dancer; $2,312.50 to a test prep service for one of his daughters; and a $30,000 law school tuition payment for his daughter.
The indictment makes no mention of Biden's father, nor does it specify the amount that Biden allegedly under-reported his taxes or how that would ultimately impact his tax bill.
Although prosecutors claim that Biden in 2020 "never told" his accountants about his extensive drug and alcohol use, "which might have prompted greater scrutiny of his claims of hundreds of thousands of dollars in business expenses," he had already begun discussing his alcohol and drug addiction in public.
Times staff writer Stacy Perman contributed to this report.
Video: The Latest Challenge to the Voting Rights Act
OPEN: A court recent ruling recently could deliver a death blow to the Voting Rights Act – a law that has protected Black Americans' political power the voting rights of minority communities for six decades./////A federal appeals court issued a ruling last month on an Arkansas redistricting case that could drastically weaken the Voting Rights Act, a law that has protected minority communities' political power for almost six decades. ALT: A recent court ruling could make it harder for people to challenge state's racially discriminatory voting practices. ALT : The Voting Rights Act has been the single most …. but a recent court ruling could ALT: As voting rights have become a flash issue, a recent court ruling in Arkansas could….. The ruling by the 8th Circuit appeals court, which is almost certain to be appealed to the Supreme Court, would effectively bar private citizens and civil rights groups from suing under section 2 of the law. To understand that, we need to take a quick look back at the law itself… Background on the Voting Rights Act The Voting Rights Act was signed into law in 1965, and was one of the most significant achievements of the civil rights movement. The law rolled back discriminatory Jim Crow laws that were meant to disenfranchise minority communities. Since then, it has evolved, and it's been under attack almost since it was passed. Why Section 2 is so important This latest ruling affects Section 2 of the Voting Rights Act, which allows private citizens (and civil rights groups) to fight racially discriminatory voting practices by states. Over the years, dozens of lawsuits have used Section 2 to challenge heavily gerrymandered redistricting maps. But in 2021, when voters in Pulaski County, Arkansas challenged a redistricting that diluted the voting power of Black voters Judge Rudofsky, a Trump-appointed federal judge, ruled that "only the attorney general of the United States may bring suit" to enforce Section 2. That decision, which has since been upheld by the 8th Circuit Court, takes the power to file lawsuits to enforce the Voting Rights Act away from individual voters. Legal experts and commentators say this is a very unusual interpretation of the Voting Rights Act. In his dissent, Chief Circuit Judge Lavenski Smith noted that at least 182 successful Section 2 cases have been brought in the past 40 years, only 15 of which were brought solely by the US Justice Department./// Over the past 40 years, more than 90 percent of successful Section 2 cases were brought by individuals or civil rights organizations///Over the past four decades, fewer than 10 percent of successful section 2 cases were brought by the US DOJ The Arkansas ruling is almost certain to be appealed to the Supreme Court. [Several legal experts I spoke with said tktktkt] But for now, it only affects/applies to states in the 8th Circuit's jurisdiction — Arkansas, Iowa, Minnesota, Missouri, Nebraska, North Dakota and South Dakota. Could it impact any of these states in a way with national resonance? Whether or not the Supreme Court upholds this Eighth Circuit ruling, we're almost certain to see other challenges to voting rights in the coming months.