Former first lady Rosalynn Carter dead at 96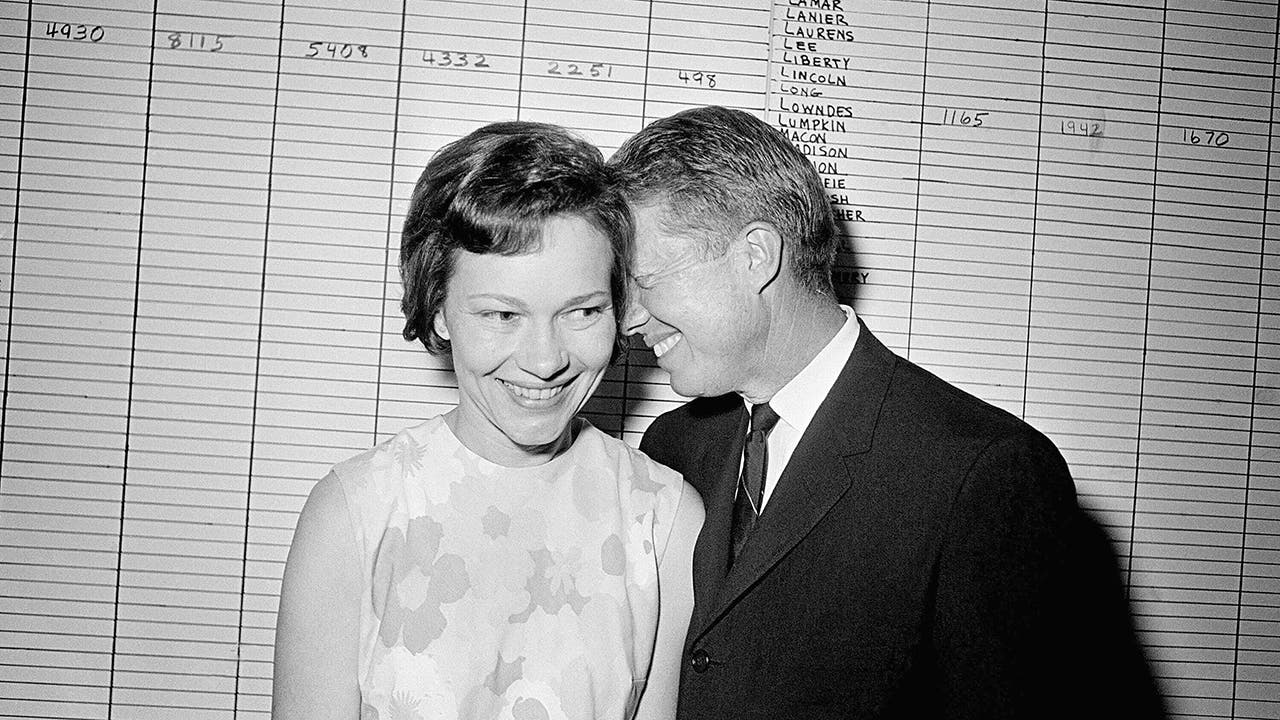 Former first lady Rosalynn Carter died with her family by her side at her home in Plains, Georgia, on Sunday, according to a statement by The Carter Center. She was 96.
The wife of the 39th president of the United States died after she was admitted to hospice care on Friday. 
"Rosalynn was my equal partner in everything I ever accomplished," President Jimmy Carter said. "She gave me wise guidance and encouragement when I needed it. As long as Rosalynn was in the world, I always knew somebody loved and supported me." 
She is survived by her husband, her four children, 11 grandchildren and 14 great-grandchildren.
ROSALYNN CARTER CELEBRATES 96TH BIRTHDAY WITH HUSBAND JIMMY CARTER, PEANUT BUTTER ICE CREAM AND BUTTERFLIES
Born Eleanor Rosalynn Smith on Aug. 18, 1927, in Plains, Georgia, she was the oldest of four children in the family of Allethea Murray Smith and Wilburn Edgar Smith. 
When she was 13, her father died and her mother became a dressmaker to help support her family. Carter worked alongside her mother and helped take care of her young siblings. 
After completing high school, she enrolled in Georgia Southwestern College at Americus. In 1945, after her freshman year, she first dated Jimmy Carter, who was home from the U.S. Naval Academy at Annapolis, Maryland. 
"She's the girl I want to marry," Carter reportedly told his mother after his first date with Rosalynn Smith, who had grown up as a friend and neighbor of the Carter family in Plains. 
The couple married in July 1946. 
JIMMY CARTER HAD ONE OF THE 'GREATEST SECOND ACTS' IN AMERICAN HISTORY, CONSERVATIVE HISTORIAN SAYS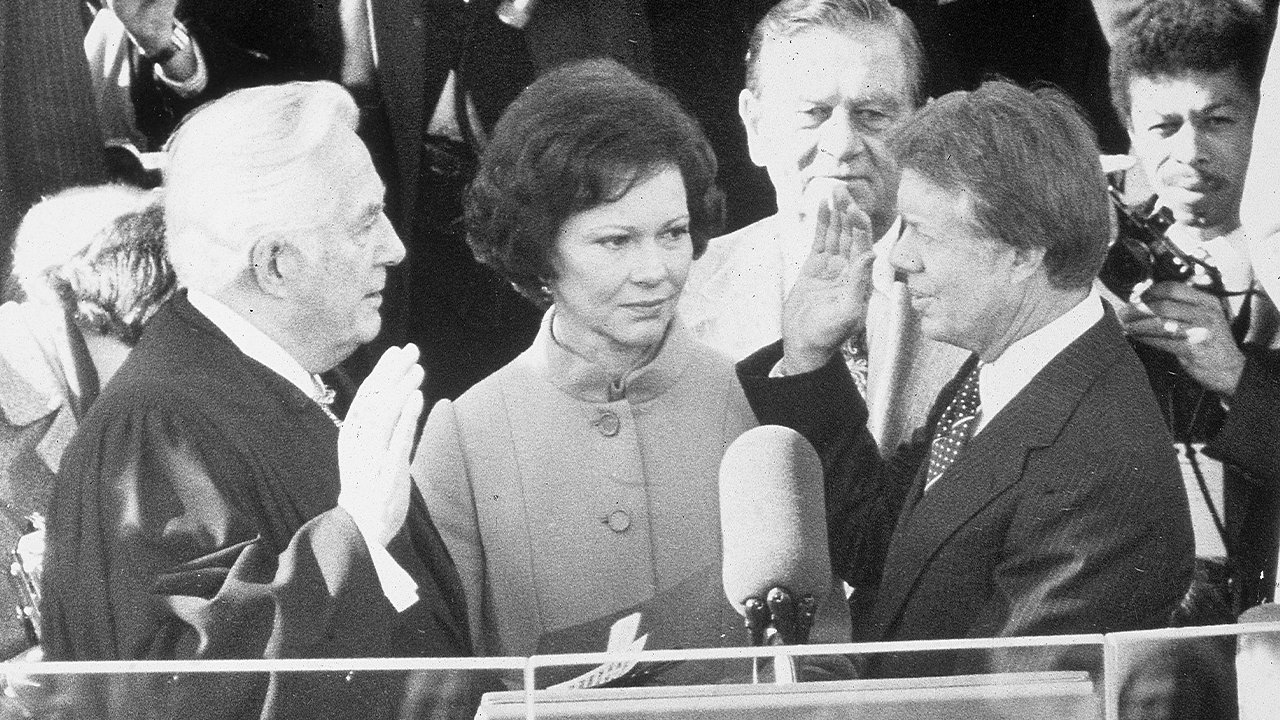 A biography of Carter credited to the White House Historical Association describes her "quiet, friendly manner," which made her "an effective campaigner" for her husband.
As first lady of Georgia and later the United States, Carter worked tirelessly to create what she called "a more caring society," a biography by The Carter Center, a nonprofit she and Jimmy Carter co-founded in 1982, notes.
JIMMY CARTER, LONGEST LIVING US PRESIDENT, TURNS 99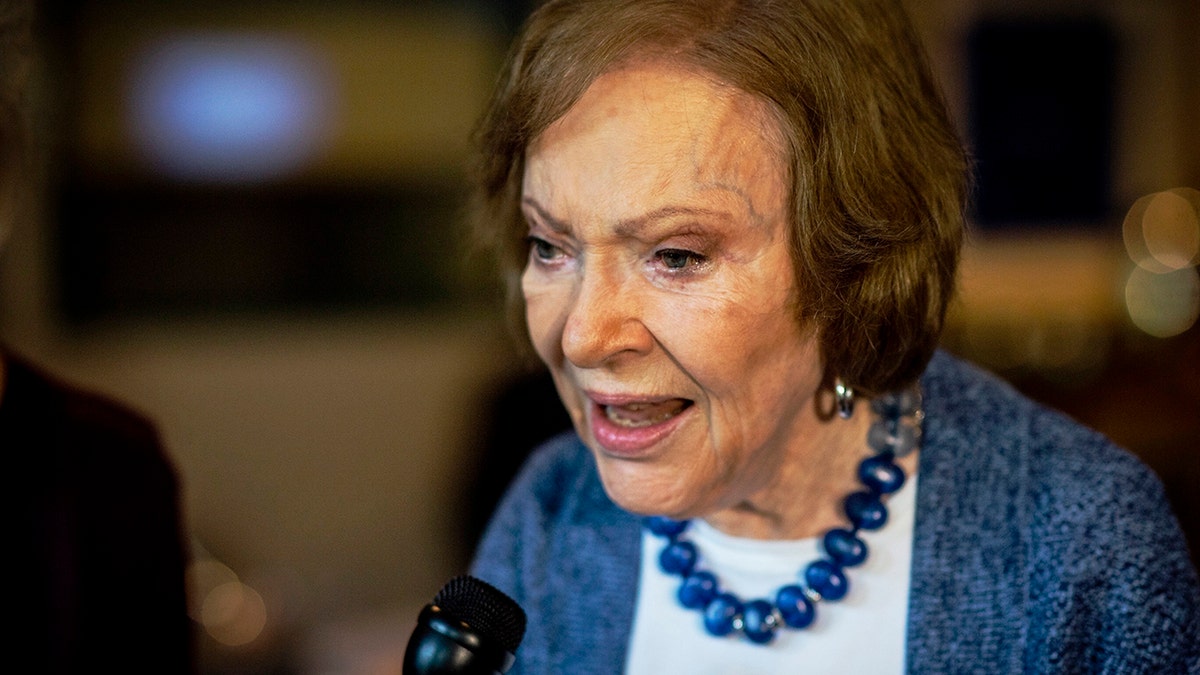 "An activist first lady with her own bold agenda, she created a distinct East Wing office from which she set about helping disadvantaged people. Her efforts challenged age discrimination for older adults, encouraged opportunities for people with developmental disabilities, and advanced women's equality," the center states.
"Above all, she devoted herself to improving treatment and services for those coping with mental health conditions, a cause she adopted when her husband was governor and that remained her priority for the rest of her life," the center says.
Her family announced that Carter was diagnosed with dementia in May 2023. She spent her final days with her husband and family.

Video: The Latest Challenge to the Voting Rights Act
OPEN: A court recent ruling recently could deliver a death blow to the Voting Rights Act – a law that has protected Black Americans' political power the voting rights of minority communities for six decades./////A federal appeals court issued a ruling last month on an Arkansas redistricting case that could drastically weaken the Voting Rights Act, a law that has protected minority communities' political power for almost six decades. ALT: A recent court ruling could make it harder for people to challenge state's racially discriminatory voting practices. ALT : The Voting Rights Act has been the single most …. but a recent court ruling could ALT: As voting rights have become a flash issue, a recent court ruling in Arkansas could….. The ruling by the 8th Circuit appeals court, which is almost certain to be appealed to the Supreme Court, would effectively bar private citizens and civil rights groups from suing under section 2 of the law. To understand that, we need to take a quick look back at the law itself… Background on the Voting Rights Act The Voting Rights Act was signed into law in 1965, and was one of the most significant achievements of the civil rights movement. The law rolled back discriminatory Jim Crow laws that were meant to disenfranchise minority communities. Since then, it has evolved, and it's been under attack almost since it was passed. Why Section 2 is so important This latest ruling affects Section 2 of the Voting Rights Act, which allows private citizens (and civil rights groups) to fight racially discriminatory voting practices by states. Over the years, dozens of lawsuits have used Section 2 to challenge heavily gerrymandered redistricting maps. But in 2021, when voters in Pulaski County, Arkansas challenged a redistricting that diluted the voting power of Black voters Judge Rudofsky, a Trump-appointed federal judge, ruled that "only the attorney general of the United States may bring suit" to enforce Section 2. That decision, which has since been upheld by the 8th Circuit Court, takes the power to file lawsuits to enforce the Voting Rights Act away from individual voters. Legal experts and commentators say this is a very unusual interpretation of the Voting Rights Act. In his dissent, Chief Circuit Judge Lavenski Smith noted that at least 182 successful Section 2 cases have been brought in the past 40 years, only 15 of which were brought solely by the US Justice Department./// Over the past 40 years, more than 90 percent of successful Section 2 cases were brought by individuals or civil rights organizations///Over the past four decades, fewer than 10 percent of successful section 2 cases were brought by the US DOJ The Arkansas ruling is almost certain to be appealed to the Supreme Court. [Several legal experts I spoke with said tktktkt] But for now, it only affects/applies to states in the 8th Circuit's jurisdiction — Arkansas, Iowa, Minnesota, Missouri, Nebraska, North Dakota and South Dakota. Could it impact any of these states in a way with national resonance? Whether or not the Supreme Court upholds this Eighth Circuit ruling, we're almost certain to see other challenges to voting rights in the coming months.
Hunter Biden faces new indictment in California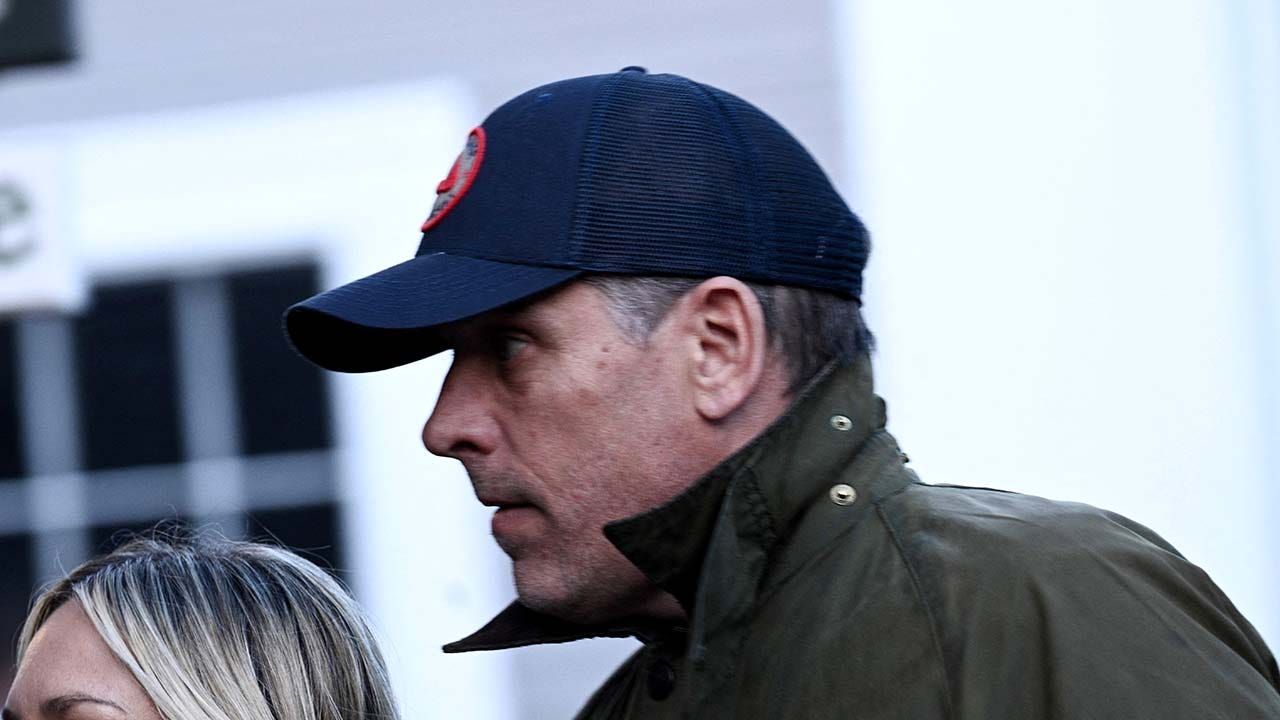 President Biden's son Hunter Biden was indicted in California Thursday on a litany of tax charges, according to documents made public.  
The indictment Hunter Biden's failure to pay nearly $200,000 of income tax in the year 2019. 
Special Counsel David Weiss has been using a federal grand jury in Los Angeles to gather evidence of possible criminal tax charges against Hunter Biden. 
Hunter Biden pleaded not guilty in October to federal gun charges in U.S. District Court for the District of Delaware after being charged out of Weiss' years-long investigation. 
HUNTER'S EX-BUSINESS ASSOCIATE BLASTS BIDEN'S NEW CLAIM ABOUT SON'S BUSINESS DEALINGS
Fox News Digital has reached out to Hunter Biden's legal team for comment. A spokesperson for Special Counsel Weiss declined to comment.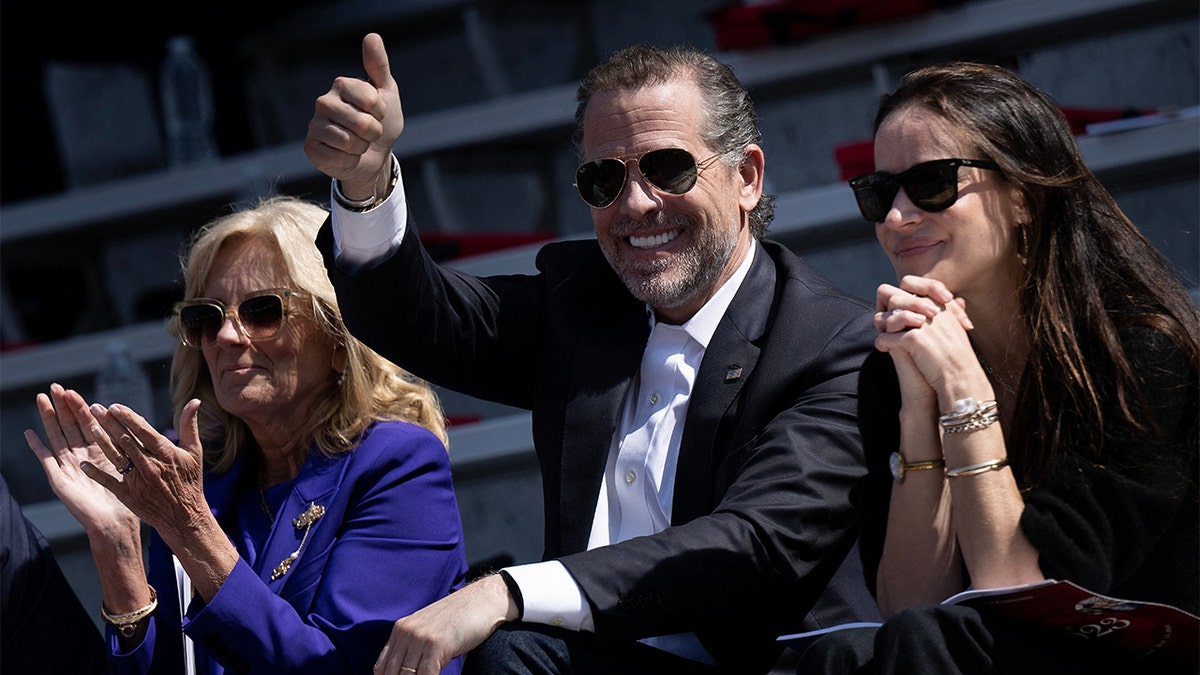 Thursday's development comes ahead of an expected vote from House Republican leaders next week on a measure that would formally initiate an impeachment inquiry into President Biden over possible ties to his son's business dealings. 
Earlier this week, House Oversight Committee Chairman James Comer, R-Ky., released subpoenaed bank records showing an entity owned by Hunter Biden had made "direct monthly payments to Joe Biden." 
Comer attributed Thursday's indictment to the efforts of "two brave IRS whistleblowers, Gary Shapley and Joseph Ziegler." 
"The Department of Justice got caught in its attempt to give Hunter Biden an unprecedented sweetheart plea deal," Comer said. "Every American should applaud these men for their courage to expose the truth."
"Unless U.S. Attorney Weiss investigates everyone involved in the Bidens' fraud schemes and influence peddling, it will be clear President Biden's DOJ is protecting Hunter Biden and the big guy."
The White House has repeatedly said that President Biden did nothing wrong and had no knowledge of his son's business dealings. 
House Republicans, meanwhile, have warned the younger Biden they would move to hold him in contempt of Congress if he didn't appear for a closed-door deposition on Dec. 13. 
Hunter Biden has insisted he would only testify to the House if it's in public because information from closed-door testimonies is selectively leaked and used to "manipulate, even history, the facts and misinform the American public." 
This is a developing story. Check back for updates. 
Fox News' David Spunt and The Associated Press contributed to this report.
McCarthy's constituents 'don't blame him,' but worry about losing their voice in Congress
BAKERSFIELD — 
Billie Jo Medders can recite her history with Kevin McCarthy like a well-worn catechism. Before he was a congressman, before he was California's first Republican speaker of the House, he was the little boy who attended preschool with her daughter, the 13-year-old with a mouth full of braces, the newlywed who met his wife at Bakersfield High School.
"And then he came into our office," said Medders, who worked for three decades for then-Rep. Bill Thomas, McCarthy's predecessor in Congress. And the rest is history.
Beneath twinkling Christmas lights at a downtown Bakersfield bar on Wednesday, Medders and the Republican women seated around her were still processing McCarthy's announcement earlier that day that the longtime Central Valley representative is retiring from Congress by the end of the year.
The decision prompted sadness, but not surprise, in McCarthy's home district, the most Republican in California. To his constituents in Bakersfield and the surrounding area, the writing had been on the wall for the last two months, after bitter infighting among House Republicans led to McCarthy's historic, humiliating ouster as the 55th speaker of the House.
"I am sad to see him retire, because I'm selfish, and I want people like Kevin McCarthy in Washington, D.C.," said Annette Londquist, the head of Bakersfield Republican Women, a club that counts McCarthy among its 515 members. "But with everything that's happened to him, I understand that it would be hard to continue."
McCarthy's announcement Wednesday capped a tumultuous year in the House, where Republicans have a razor-thin majority and discord among party members. McCarthy endured 14 failed votes in his quest to become speaker before he compromised with his hard-line GOP opponents, agreeing to restore a rule that made it easy for any House member to call for a vote to remove him from the top post.
That compromise clinched McCarthy's victory in January and led to his ouster in October. Angered by his decision to work with Democrats to stave off a government shutdown, a group of eight hard-right Republicans led by Florida's Rep. Matt Gaetz were joined by Democrats in a historic vote to remove McCarthy as speaker.
The move prompted fury in Bakersfield, where McCarthy, known simply as "Kevin," is beloved by many.
"I don't blame him," said Jacquie Sullivan, Bakersfield's now-retired longest-running city councilmember, of McCarthy's decision. She sat with Medders on Wednesday night at a watch party for the GOP primary presidential debate. "He was so mistreated."
Medders added: "'Round here, Matt Gaetz is not a good name to mention. He's just upset the whole apple cart, you know? Who knows what's gonna happen next?"
During McCarthy's grueling quest for the speaker's gavel in January, Bakersfield resident Kathy Scrivner was on her knees in front of the television, praying that her fellow congregant at Valley Baptist Church would be victorious.
Scrivner's eyes filled with tears when she learned McCarthy was retiring. But, she said, she understands the stresses of serving in public office: Her son is on the Kern County Board of Supervisors, her sister is Kern County's district attorney, and Scrivner herself is a Kern High School District trustee.
"I don't think that regular laypeople know how difficult it is," she said. "It's hard, being criticized day and night."
McCarthy is the third congressional leader that California has lost this year. Rep. Nancy Pelosi of San Francisco stepped down from the House's Democratic leadership in January, and longtime Democratic Sen. Dianne Feinstein died in September. Just two Californians still hold leadership positions: Reps. Pete Aguilar of Redlands, chair of the House's Democratic Caucus; and Ted Lieu of Torrance, House Democrats' vice chair.
McCarthy has represented the Bakersfield region in Congress since 2007, taking over for Thomas, who had served for 28 years. So the coming change is unusual and, for some, unsettling.
"He's said he's fighting for us, he's fighting, he's fighting — and now he quit," said Greg Perrone, 59, president of the Greater Bakersfield Republican Assembly, the more conservative GOP club in town. He said he is neither "a McCarthy fan" nor a "McCarthy foe," and doesn't blame the congressman for being "probably a little battle-weary," but chided McCarthy for not finishing out his term.
"He's leaving an open seat, so now we have no voice," Perrone said.
Perrone said he had hoped McCarthy would use his influence and fundraising prowess to continue to push Republican priorities through Congress.
No date has been set for a special election to serve the last year of McCarthy's current term. Candidates running for the full two-year term that starts in January 2025 have until next Wednesday to file paperwork.
"I'm hearing from everybody," said Cathy Abernathy, a Republican strategist and consultant for McCarthy who gave him his first job in politics as an intern in Thomas' office.
Abernathy is a consultant for several possible candidates for McCarthy's seat, including state Sen. Shannon Grove, who has not announced whether she'll run. Assemblymember Vince Fong, who previously worked in Thomas' and McCarthy's offices, said Thursday he would not vie for the congressional seat.
McCarthy's departure will also be a rude awakening for Republican leaders across the U.S., said Jim Brulte, former chair of the California Republican Party.
The road to the House majority runs through New York and California, Brulte said. McCarthy's biggest legacy will be helping to deliver the House majority for the Republicans in 2010 and again in 2022, raising money and selecting diverse candidates who were good political fits for their unique districts, he said. McCarthy understood, Brulte said, that "if you don't have the majority, you can't govern."
A handful of congressional districts in California have been in a tug-of-war for years between the two major parties. Democrats flipped seven seats in 2018, and in 2020 Republicans took four back.
New leadership in the House, including a new speaker, Mike Johnson (R-La.), will have to spend time boning up on the races and the swing districts in the Golden State that McCarthy "instinctively knew, because he's been involved in California politics for over a quarter of a century," Brulte said.
"It's a huge loss to California," he said. "And it's a huge loss to the Republicans in Congress. Even the Republicans in Congress that didn't appreciate Kevin may come to appreciate him a lot more in December of 2024."
McCarthy, who grew up in Bakersfield, won his last election by more than 34 percentage points. Former Bakersfield Councilmember Mark Salvaggio, 73, an independent, said McCarthy would have overwhelmingly won reelection again — but, he said, getting ousted as speaker was "embarrassing" and "humiliating."
A regular letter writer to the Bakersfield Californian, Salvaggio said letters to the editor have become increasingly critical of McCarthy in recent years. Despite the congressman's relative popularity in his home district, few people jumped to defend him, Salvaggio noted. Others criticized the congressman for spending little time with his constituents, he said — particularly compared with his new neighbor in Congress, Rep. David Valadao (R-Hanford), who holds frequent town hall meetings in his district.
But McCarthy "has been detached from his district," Salvaggio said. "I recognized that Kevin becoming speaker was good for his district and for fellow Republicans in the state … but it never panned out because of his short tenure."
At the debate watch party, Medders — years after she and McCarthy worked on the same team doing constituent services for Thomas — still proudly recalls how she helped the onetime speaker get elected to Congress, recording his first radio advertisement and eventually serving as his delegate appointee for Mitt Romney's presidential campaign in 2012.
"The world is his oyster," Medders said of McCarthy; after he leaves office, "he will be able to do whatever he wants."
Nelson and contributing Times staff writer Seema Mehta reported from Los Angeles.