Ditching the crystal ball on a potential government shutdown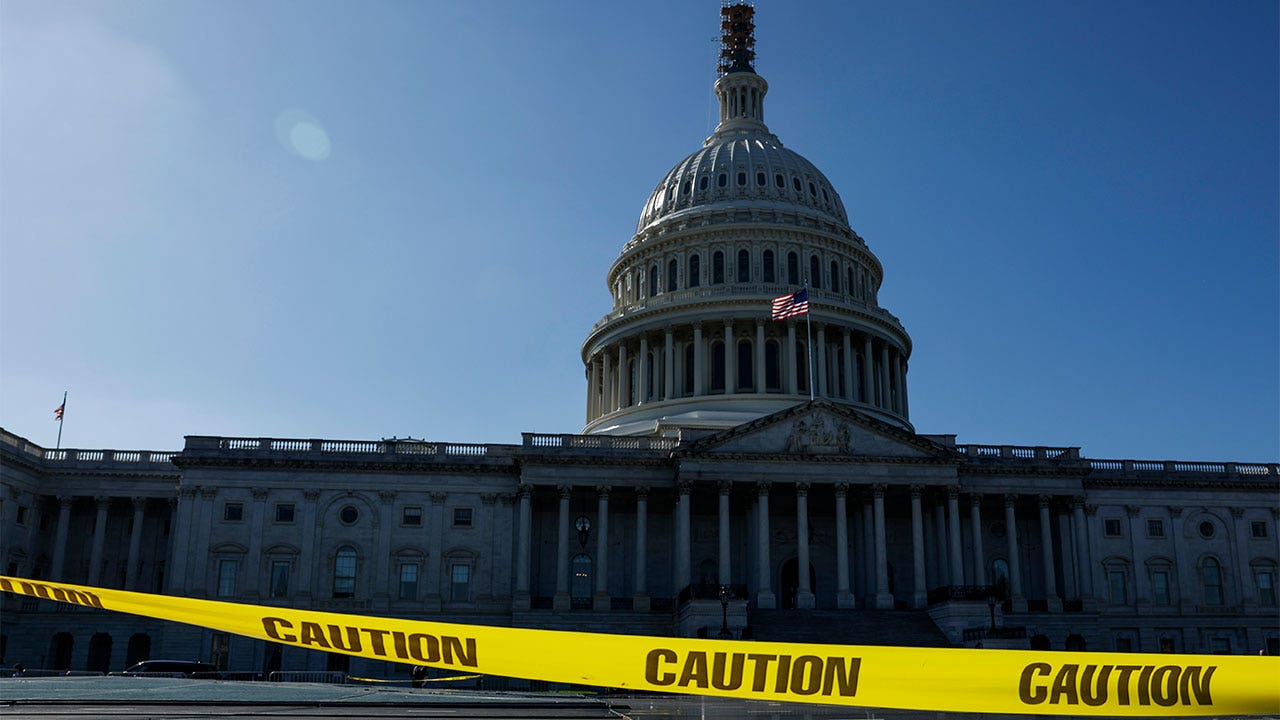 I often rely on my crystal ball when Congress approaches a potential government shutdown or a debt ceiling crisis.
But I didn't consult mine lately.
You don't need a crystal ball to see that it's likely the government shuts down this weekend.
DEMOCRATIC SEN. BOB MENENDEZ STEPS DOWN 'TEMPORARILY' AS CHAIRMAN OF SENATE FOREIGN RELATIONS COMMITTEE
The House and Senate appear to be talking past one another right now on divergent spending plans. And even if there wasn't a chasm between the spending bills now before the House and Senate, the parliamentary mechanics of Capitol Hill would make it challenging at best to avert a shutdown. There's not enough time. That fact alone may mean there's almost no way for Congress to recover to fund the government before money expires at 12:00:01 am Sunday. 
A bipartisan, 45-day Senate funding bill scored 77 yeas Tuesday night. It has the backing of both Senate leaders. But conservatives like Sen. Rand Paul, R-Ky., say they will make the Senate run all parliamentary traps and not allow speedy passage of the package. That's because it includes money for Ukraine.
"So U.S. government workers, get this," said Paul. "If they force a shutdown by forcing us to send more money we don't have to Ukraine, they will in essence be saying 'We're going to continue to pay Ukrainian government workers, but not U.S. government workers.' That is particularly galling."
An effort by Paul to slow the process means the Senate could take until Saturday or Sunday to pass the bill, skipping through various parliamentary hurdles.
Senate Minority Leader Mitch McConnell, R-Ky., helped author the package. But House Speaker Kevin McCarthy, R-Calif., told McConnell he wouldn't entertain the Senate bill in the House, no matter what.
"I would like to see something much different," said McCarthy. "(They) put a focus on Ukraine and (didn't) focus on the southern border. I think their priorities are backwards."
Seventy-seven votes – more than three-quarters – is a substantial bloc of support for anything in the Senate. Sure, all it takes is one senator or a small group of senators to slow things down. But it's rare for the Senate to conjure up that many votes on anything.
However, the Senate's strength did little to impress House conservatives.
"Seventy-seven senators are wrong," said Rep. Byron Donalds, R-Fla. "If you look at $33 trillion in debt, 77 senators have been wrong for a long time up here. Just because they come to some silly agreement over there that changes nothing about our country, does it mean that they're right? That just means that they're weak."
McConnell defended the Senate's approach which fell on deaf ears among House Republicans.
"We can take the strategy approach and fund the government for six weeks at the current rate of operations or we can shut the government down in exchange for zero meaningful progress on policy," said McConnell. "Shutting down the government isn't an effective way to make a point."
Sen. Thom Tillis, R-N.C., said he opposed the Senate's parliamentary move to advance a "shell" of a spending package because the measure won't prevent a shutdown.
TRIPLE HOUSE MELTDOWN ON DEFENSE BILL MAY MARK THE WORST RUN FOR A HOUSE MAJORITY IN MODERN HISTORY
"We must avert a shutdown. That means a bill to fund the government needs to pass in both chambers with bipartisan support," said Tillis. "It makes absolutely no sense for the Senate to waste the rest of the week voting on a spending bill that is dead on arrival in the House. In fact, it guarantees a shutdown."
Members of the bipartisan House Problem Solvers Caucus has a bill which Rep. Don Bacon, R-Neb., said would be a "better fit" to address a potential shutdown.
"I hope that will be a fallback or landing spot for people," said Bacon.
Why?
Because it's unclear if McCarthy's still unfinished, interim spending bill with border security can pass.
"It's a great question," said House Majority Whip Tom Emmer, R-Minn., "We'll see what happens."
Regardless, the Senate plan – or even the Problem Solvers caucus proposal could score 275-300 votes.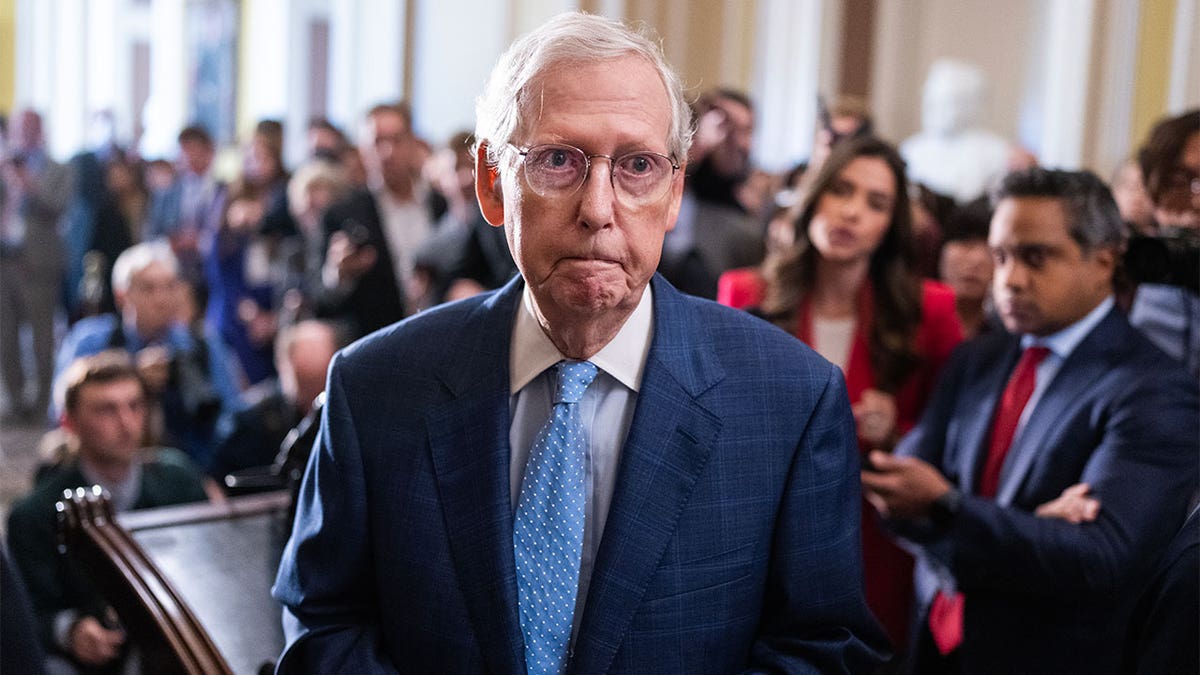 Some Republicans attributed McCarthy's effort to placate the right to pressure applied by Rep. Matt Gaetz, R-Fla. Gaetz has touted calling for a new Speaker's election should the California Republican drift too far from conservative principals or align with Democrats to avoid a shutdown.
"This is just a pissing match between McCarthy and Gaetz," said one senior House GOPer. "That's the whole reason the government could shut down. I don't think he intends to use (his resolution to vacate the chair)."
Gaetz may say otherwise. But the Florida Republican hasn't made his move yet.
This is what concerns centrist Republicans who represent districts carried by President Biden like Bacon. Moreover, there is a mother lode of about 200 House Republicans who are outraged at the tactics of a small, vocal few.
"We should never let five or ten people push us around like this," said Bacon.
If you haven't noticed, Republicans are essentially tussling with each other.
That said, after weeks of infighting, Republicans did finally coalesce around one subject: border security. McCarthy latched onto that after a lengthy impasse between his own lawmakers trying to advance bills onto the floor. McCarthy now wants President Biden to meet with him about the border – even though the Speaker never made that request dating back to late July.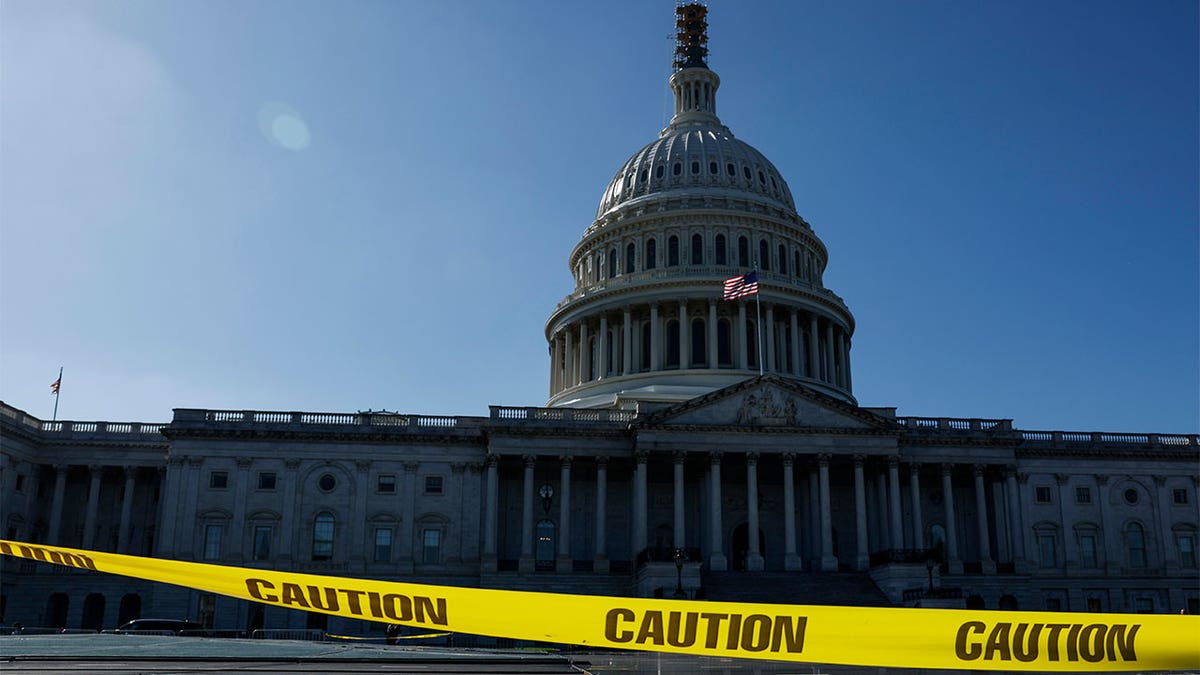 "The President needs to make a decision," warned Rep. August Pfluger, R-Tex. "If he wants to keep the government open, he needs to shut down the border. No border security, no funding."
The border inflection point gave the GOP a rallying cry. But moderate Republicans who represent battleground districts fear the political impacts of a shutdown. Moreover, they also fear the wrath of ultra-conservative voters in a primary.
So some of these Republicans may need to have it both ways as the government funding deadline looms.
Senate Majority Leader Chuck Schumer, D-N.Y., called out the GOP.
"In the House, Republicans have tried everything but bipartisanship," said Schumer. "The Speaker twisted himself into pretzels again, trying to avoid his responsibility of governing."
So, there's a standoff.
And some GOP members might be okay with a shutdown.
"People in my district are willing to shut the government down for more conservative fiscal policies," said Rep. Greg Steube, R-Fla., on Fox.
Regardless, there's not much time.
During an appearance on FOX Business, McCarthy was asked if he could keep the government open.
"I believe so," said the Speaker.
There's a chance the government may not shutter early Sunday morning. But if that's the case, the bills presently before the House and Senate don't appear to be the legislative vehicles which would prevent a shutdown.
And for that, we'll need a crystal ball.

Video: Schumer Condems Bigotry Against Jews in Senate Floor Speech
new video loaded: Schumer Condems Bigotry Against Jews in Senate Floor Speech
transcript
Schumer Condems Bigotry Against Jews in Senate Floor Speech
Senator Chuck Schumer, the majority leader and highest-ranking Jewish member of Congress, warned young people against "unknowingly aiding and abetting" antisemitism in the name of justice.
I feel compelled to speak because I'm the highest-ranking Jewish elected official in America. In fact, the highest-ranking Jewish elected official ever in American history. And I have noticed a significant disparity between how Jewish people regard the rise of antisemitism and how many of my non-Jewish friends regard it. Antisemites are taking advantage of the pro-Palestinian movement to espouse hatred and bigotry towards Jewish people. But rather than call out this dangerous behavior for what it is, we see so many of our friends and fellow citizens, particularly young people who yearn for justice, unknowingly aiding and abetting their cause. Not long ago, many of us marched together for Black and brown lives. We stood against anti-Asian hatred. We protested bigotry against the L.G.B.T.Q. community. We fought for reproductive justice out of the recognition that injustice against one oppressed group is injustice against all. But apparently, Mr. President, in the eyes of some, this principle does not extend to the Jewish people.
Recent episodes in Politics
Ramaswamy's New Hampshire-based political director joins Trump campaign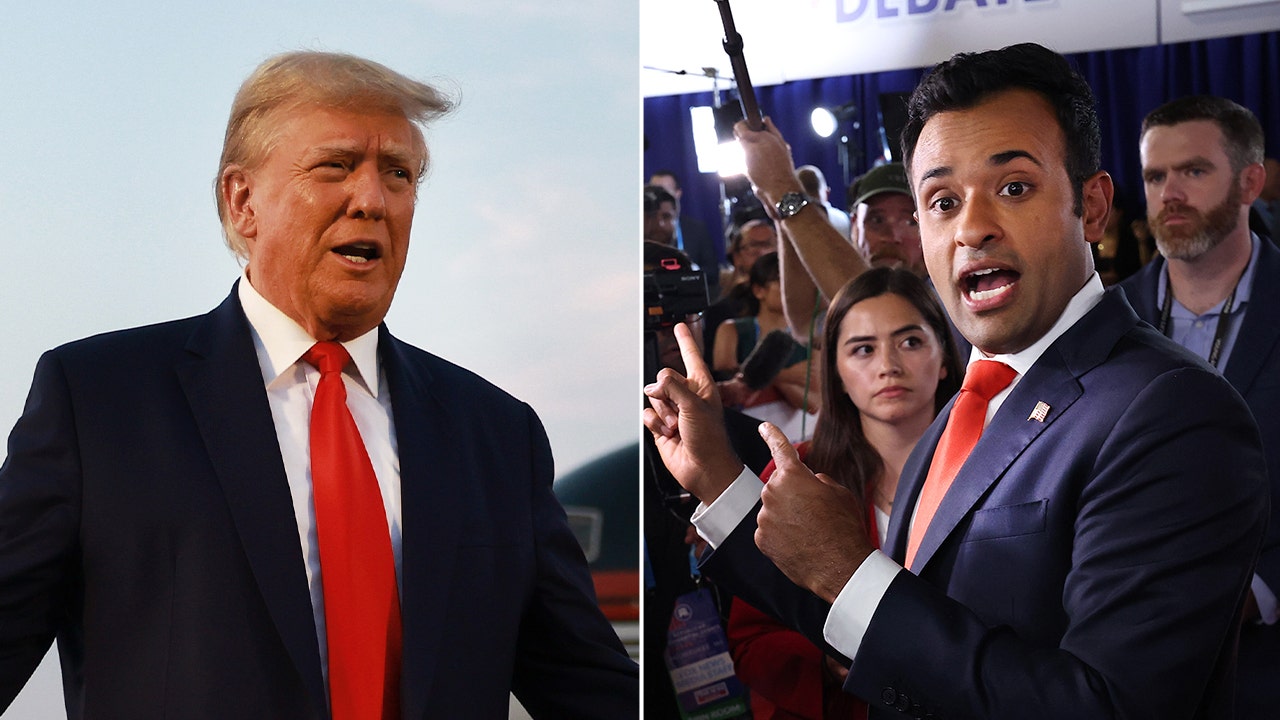 A campaign official for Republican presidential candidate Vivek Ramaswamy has joined Team Trump, Fox News Digital has confirmed. 
Brian Swensen, Ramaswamy's New Hampshire-based political director, has taken a new job with the Trump campaign and is a close ally to Trump senior adviser Susie Wiles. 
Ramaswamy spokesperson Tricia McLaughlin told Fox News Digital that Swensen's responsibilities, which have been "pretty much exclusive" to the campaign's New Hampshire operation, have been absorbed in recent months by senior adviser Mike Biundo, a longtime GOP strategist and veteran of the Trump 2016 campaign who joined the Ramaswamy campaign earlier this year. 
RAMASWAMY SWIPES 'GOP ESTABLISHMENT' IN IOWA FOR SUPPORING CO2 PIPELINES AS PART OF CLIMATE 'HOAX'
McLaughlin told Fox News Digital "We love Brian" and "wish him the best." She also rejected the notion that Swensen's exit indicates a "death knell" for the Ramaswamy campaign. 
"This is a positive move for all parties," McLaughlin said. 
RAMASWAMY LAUNCHES $1 MILLION AD BUY IN EARLY PRIMARY STATES BLASTING POLITICIANS 'LEADING US INTO WORLD WAR III'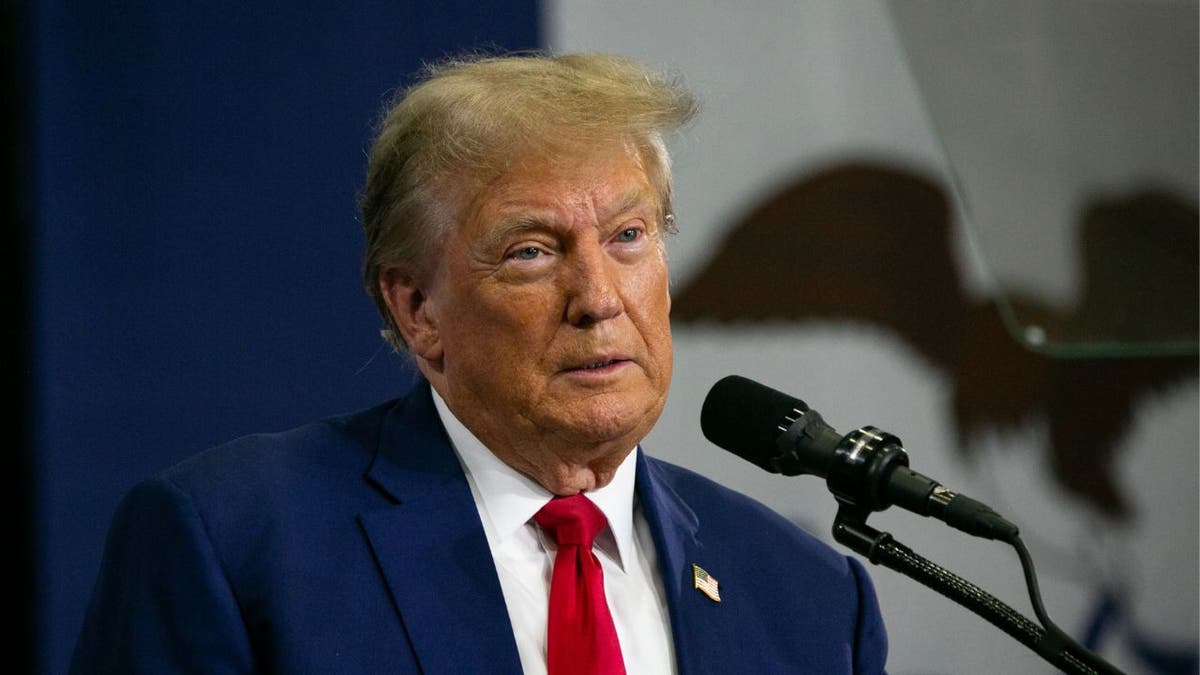 CLICK TO GET THE FOX NEWS APP
Former President Trump maintains a commanding lead in the GOP primary in both national and state polls. The latest Fox News national poll released earlier this month showed him with a whopping 62% while Ramaswamy came in at 7% — behind Florida Gov. Ron DeSantis' 14% and former U.N. Ambassador Nikki Haley's 11%. 
Fox News' Paul Steinhauser contributed to this report. 
Get the latest updates from the 2024 campaign trail, exclusive interviews and more at our Fox News Digital election hub.
Newsom versus DeSantis: How, when and where to watch the governors debate
Govs. Gavin Newsom and Ron DeSantis will take the stage in Georgia on Thursday evening for a one-of-a-kind debate pitting California against Florida.
The televised event will highlight the different styles of governance of the two coastal states, which are politically distinctive. Democrats' leadership of California will be contrasted with increasingly conservative Florida, where Republicans control state government.
Fox News Channel is hosting the event, which it's dubbed "DeSantis vs. Newsom: The Great Red vs. Blue State Debate." The program is set to begin at 6 p.m. Pacific. The debate will also be broadcast on Fox News Radio and livestreamed on FoxNews.com, but a cable subscription is required.
Sean Hannity will moderate the debate at a studio in Alpharetta, Ga., without a live audience. He is expected to prompt the governors on issues including the economy, the border, immigration, crime and inflation for a 90-minute discussion. After the debate, Hannity will host a 30-minute reactions roundtable with panelists.
The long-awaited debate comes more than a year after Newsom challenged the Florida governor in a tweet, saying, "Hey [DeSantis], clearly you're struggling, distracted, and busy playing politics with people's lives. Since you have only one overriding need — attention — let's take this up & debate. I'll bring my hair gel. You bring your hairspray. Name the time before Election Day."
It is extraordinarily unusual for governors from different states to debate each other. But both DeSantis and Newsom are ambitious politicians who hunger for publicity.
DeSantis is trailing former President Trump in polling for the Republican presidential primary, and desperately needs a boost to his campaign. Newsom is not running for president next year but will be termed out of the governor's office in 2027 and could toss his hat in the 2028 presidential race.
Both governors have gained national attention for their handling of the COVID-19 pandemic, issues of race and their infamous lobbing of insults against each other. Newsom ran election ads last year in Florida, urging Floridians to "join us in California, where we still believe in freedom." On a California campaign stop a couple months ago, DeSantis didn't miss the opportunity to tie Newsom to the Biden administration: "What California is doing now is likely what a second Biden term would do, or God forbid Kamala Harris, or God forbid Newsom himself, who knows, right?"
Newsom has been a loyal surrogate for the Biden campaign, touting the president's accomplishments in appearances around the country and helping Biden raise money from wealthy California donors.