At Westwood ice cream shop, Trump assails New York judge and attorney general
During a campaign stop at a Westwood ice cream parlor Friday, former President Trump said he may attend his civil trial that begins Monday in New York that will determine the size of his penalty, as much as $250 million, for overstating the value of assets to get better loan terms.
"I may," he said, while greeting cheering supporters at a Carvel shop. "It's a disgrace. Everything about [New York City] is rigged. It's all rigged. This whole country is rigged."
New York Atty. Gen. Letitia James has charged Trump, his business and his two adult sons with overstating the value of their assets. The judge in the case, Arthur Engoron, found Trump fraudulently liable Tuesday of overvaluing his properties on financial statements and stripped him and other executives of control of the businesses.
Trump did not respond to questions about whether he plans to testify, but he lashed out at the judge and James. The attorney general said this week that Trump is on the list of possible witnesses in the case.
Trump made the remarks to reporters Friday afternoon after delivering a raucous, hour-and-a-half-long speech at the California Republican Party convention in Anaheim.
Asked about Gen. Mark A. Milley's retirement ceremony comments Friday that he is loyal to the Constitution, not a "wannabe dictator," Trump reiterated criticism he made about the outgoing chairman of the Joint Chiefs of Staff last week that drew widespread condemnation that he was inciting violence.
Trump had suggested in a social media post last week that Milley should be executed for making back-channel calls to a Chinese general in the waning months of Trump's presidency, as he sought to quell Chinese fears of potential conflict and instability.
"It is really treasonous. If you look at what he said to China, he's either stupid or it's treason," Trump said. "What he said to China should never be allowed."
Milley told CBS News this week that he was taking measures to protect his family.
Trump offered sympathy to the family of Sen. Dianne Feinstein, who died early Friday morning.
"Well, it's too bad. She was a nice woman," Trump said. "I knew her actually fairly well. We got along — different persuasions — but we knew her fairly well. So we wish her family the best."
Asked whether he would like to run against California Gov. Gavin Newsom in next year's presidential contest, Trump responded, "I'd love it."
"What could be better than [President] Biden, but I'd love Newsom if that works out," he added. "I think Biden is trying to limp along and try and get there. But it could be Newsom, it could be one of three or four other people."
Newsom has said repeatedly he has no plans to run for president in 2024.

CIA reminds staff about social media posts after CIA officer shares pro-Palestinian image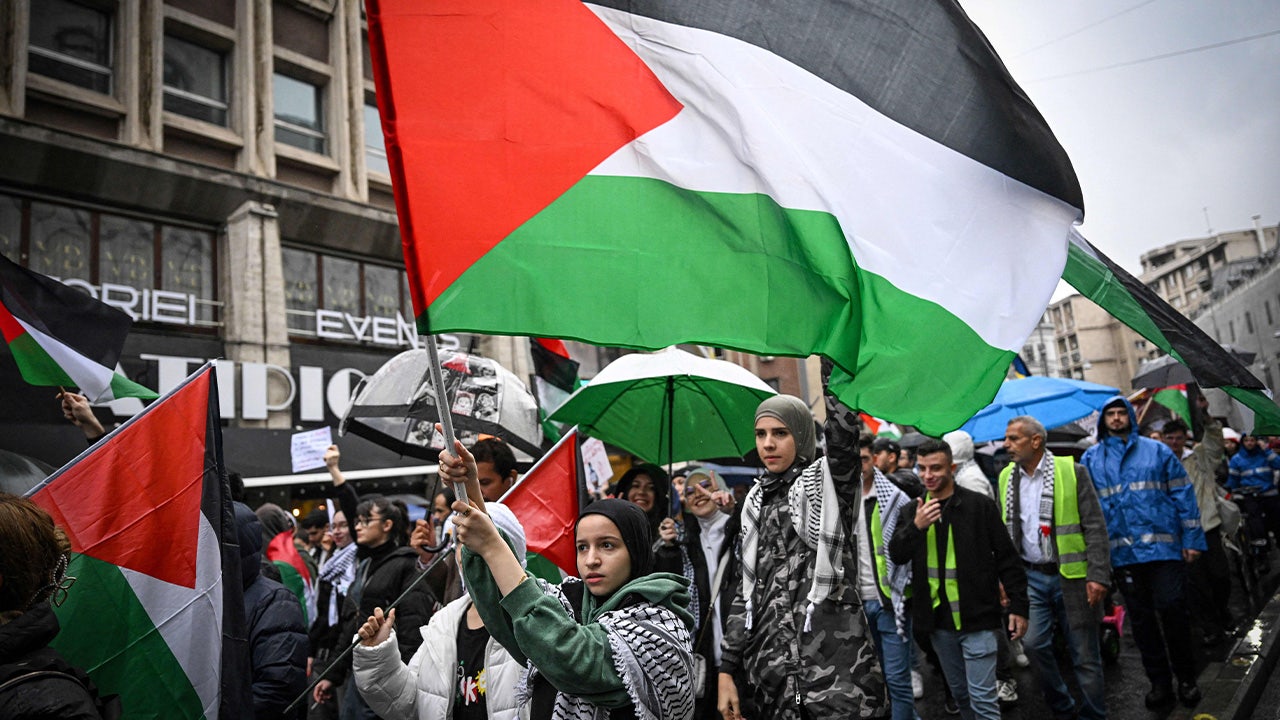 An internal reminder went out to Central Intelligence Agency (CIA) staff Wednesday about social media posts that could be construed as political, Fox News has confirmed. 
This internal reminder came after reports surfaced that a senior CIA officer had posted a pro-Palestinian image on social media two weeks after the Oct. 7 terrorist attack on Israel.  
In a statement to Fox News, the CIA said its officers are committed to "analytic objectivity." 
"CIA officers may have personal views, but this does not lessen their — or CIA's — commitment to unbiased analysis," the agency said. 
The CIA has not denied the authenticity of the pro-Palestinian image first reported by the Financial Times. 
A separate source familiar with the posts says that there were also posts by the same CIA officer who put up the pro-Palestinian image taking a stand against antisemitism. 
This is a developing story and will be updated.
Opinion: The outlandish ruling that could eviscerate what's left of the landmark Voting Rights Act
If a decision handed down by a conservative federal appeals court last week is allowed to stand, it will gut what remains of one of the most important federal laws enacted in my lifetime, the Voting Rights Act.
An 8th Circuit Court of Appeals panel held that no one other than the federal government can sue to enforce a key section of this vital statute. And as the dissenting judge pointed out, only 15 of the 182 successful suits under the section over the last 40 years were brought solely by the Department of Justice.
The Voting Rights Act has been remarkably effective in countering the myriad laws and practices the Southern states adopted to keep Black people from voting since the end of Reconstruction. Turnout among Black voters in Mississippi increased from 6% in 1964, the year before the law was enacted, to 59% in 1969.
Section 2 of the Voting Rights Act prohibits state and local election practices and systems from discriminating against voters of color. Congress strengthened the provision in 1982 so that proof of intentional discrimination would no longer be necessary; it's sufficient to show discriminatory impact.
Even under the conservative Roberts court, Section 2 has provided crucial protection against race discrimination in voting. This year, for example, in Allen vs. Milligan, the court found that Alabama had violated the Voting Rights Act in drawing congressional districts.
Alabama's population is 27% Black, but the state's Legislature had drawn the congressional districts so that only one of six had a Black majority. The court's ruling that the districts violated Section 2 led to a new map with two majority-Black districts.
Under the 8th Circuit's 2-1 ruling, however, private individuals and groups such as the ACLU and the NAACP Legal Defense Fund could not sue to enforce Section 2. Hundreds of such suits have been brought, and many have been adjudicated by the Supreme Court — among them Allen vs. Milligan — without being questioned on these grounds.
This latest threat to the Voting Rights Act comes a decade after the Supreme Court overruled another key aspect of the law, Section 5. Under that section, jurisdictions with a history of race discrimination in voting had to secure the U.S. attorney general's approval before making significant changes to their election systems.
The court declared this "preclearance" requirement unconstitutional in 2013, ruling 5 to 4 that it violated the principle of "equal state sovereignty" to single out Southern states for the restriction. States such as North Carolina and Texas responded by quickly instituting discriminatory election practices that were previously blocked.
The latest case arose in 2021, when the Arkansas NAACP and others challenged new state House districts. The plaintiffs alleged that the Arkansas map diluted Black voting strength in violation of Section 2 and that five additional majority-Black districts should be drawn to fairly represent the state's Black population.
The majority opinion by 8th Circuit Court Judge David Stras, a Trump appointee, concludes that only the United States government can bring such suits, contradicting 58 years of practice since the Voting Rights Act became law. Supreme Court Justice Clarence Thomas, whom Stras clerked for, raised this possibility in his Milligan dissent, but the prospect of such a radical change in the law wasn't taken seriously by many. In fact, none of the parties in the Arkansas litigation even raised the issue: The U.S. District Court where the case was first heard improperly raised the issue on its own.
At best, the Justice Department has the resources to bring only a handful of Section 2 lawsuits a year. At worst, especially under a conservative administration, it may bring none.
In his dissent from the appeals court's decision, Chief Judge Lavenski Smith rightly described the ruling as threatening major upheaval. "Rights so foundational to self-government and citizenship," he wrote, "should not depend solely on the discretion or availability of the government's agents for protection."
As Smith noted, the Supreme Court declared more than two centuries ago, in Marbury vs. Madison, that where there is a violation of a right, there must be a remedy. If the Supreme Court doesn't reverse the 8th Circuit's decision, it will leave little remedy for violations of one of our most important rights.
Erwin Chemerinsky is a contributing writer to Opinion and the dean of the UC Berkeley School of Law. His latest book is "Worse Than Nothing: The Dangerous Fallacy of Originalism."
Haley, bolstered by the backing of a major conservative group, is having a moment on the campaign trail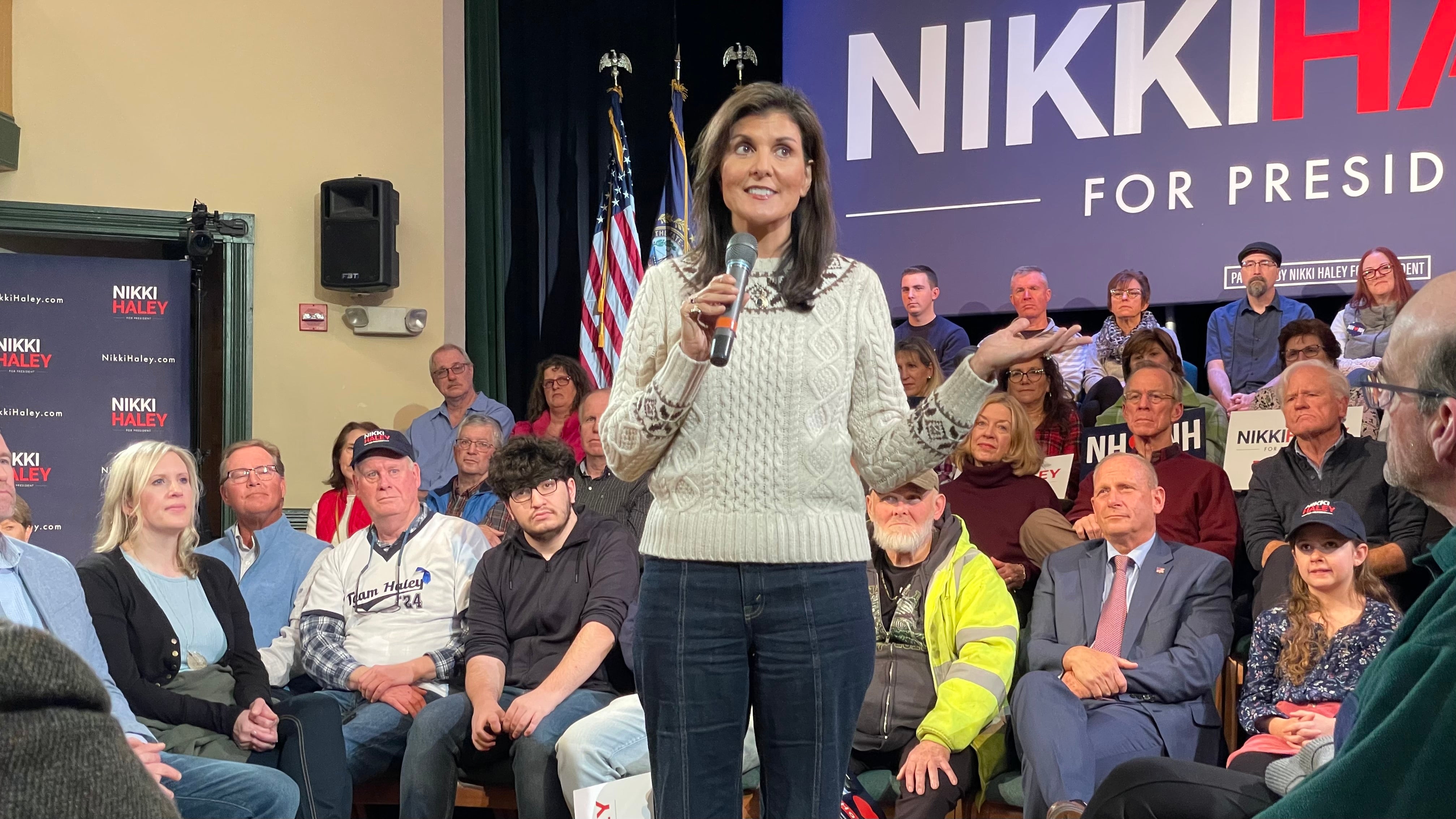 DERRY, N.H. – In front of a standing room only crowd on a chilly late autumn evening in the state that holds the first primary in the Republican presidential nominating calendar, Nikki Haley was making her case.
The former South Carolina governor who later served as ambassador to the United Nations in former President Donald Trump's administration was arguing that she's more electable than her former boss in a 2024 general election matchup against President Biden.
"If you look at the national polls and you look at electability, you see that Trump is pretty much even with Biden. On a good day, he might be two points up. In every poll, we beat Biden by 10 to 13 points," Haley claimed at her Tuesday evening town hall at the historic opera house in Derry, New Hampshire.
Electability was a factor in the decision by Americans for Prosperity Action, the political wing of the influential and deep-pocketed fiscally conservative network founded by the billionaire Koch Brothers, to endorse Haley. 
BIG BOOST: HALEY LANDS THE BACKING OF A CONSERVATIVE GRASSROOTS ARMY
The announcement Tuesday morning by the AFP Action, which has pledged to spend tens of millions of dollars and mobilize its formidable grassroots operation to help push the Republican Party past Trump, was a setback to Florida Gov. Ron DeSantis. 
Haley's enjoyed momentum in the polls in recent months, thanks in part to well-received performances in the first three GOP presidential primary debates. 
THE FINAL COUNTDOWN: TRUMP HOLDS COMMANDING LEAD WITH 50 DAYS TO GO UNTIL IOWA CAUCUSES 
She has leapfrogged DeSantis for second place in New Hampshire and in her home state, which holds the first southern contest. And she's pulled even with DeSantis in some of the latest polls in Iowa, whose caucuses kick off the GOP nominating calendar on Jan. 15.
But Haley and DeSantis remain far behind Trump, who continues to hold a commanding lead over the rest of the field as the former president makes his third straight White House run.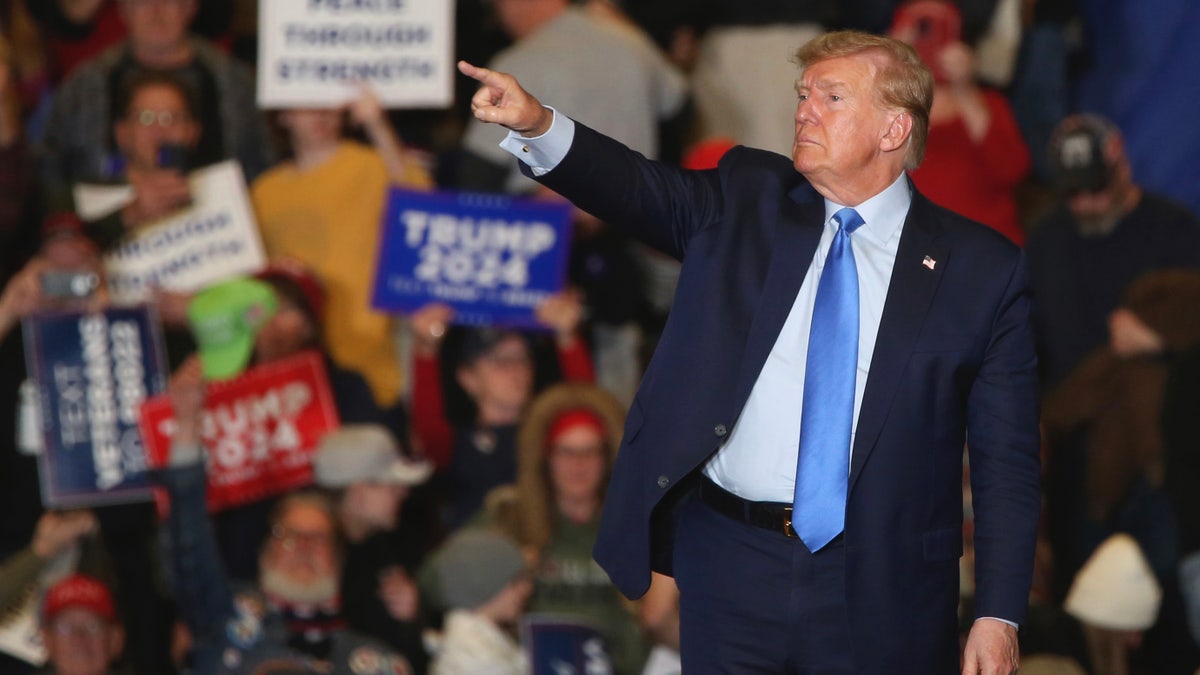 The AFP Action endorsement should help Haley, whose lean campaign lacks the grassroots outreach and organizational strength that DeSantis can count on courtesy of the DeSantis-aligned super PAC Never Back Down.
The endorsement by AFP Action Haley comes with the group's powerful direct-mail and field operations, as well as a major ad blitz in the early voting states.
"Organizationally speaking – it's significant. This is muscle. This is political dollars and door knocking. It will help," Republican consultant Matthew Bartlett, who splits his time between New Hampshire and the nation's capital, told Fox News.
GAME ON IN IOWA AS DESANTIS AND HALEY BATTLE FOR SECOND PLACE BEHIND TRUMP
Haley, addressing the crowd, asked "how many of you are here to hear me for the first time?" 
A lot of folks in the audience raised their hands.
"There's a lot of new people coming out and seeing Nikki," longtime GOP strategist Rick Wiley, who's steering Haley's operation in New Hampshire, told Fox News. Wiley said it was a sign that Haley's message is resonating.
"You can see the volunteers grabbing their information," Wiley said as he pointed to the crowd of first-time attendees. "We have RSVP's and we're going to put them to work."
Haley arrived in New Hampshire after drawing roughly 2,500 people to a campaign event Monday evening in her home state.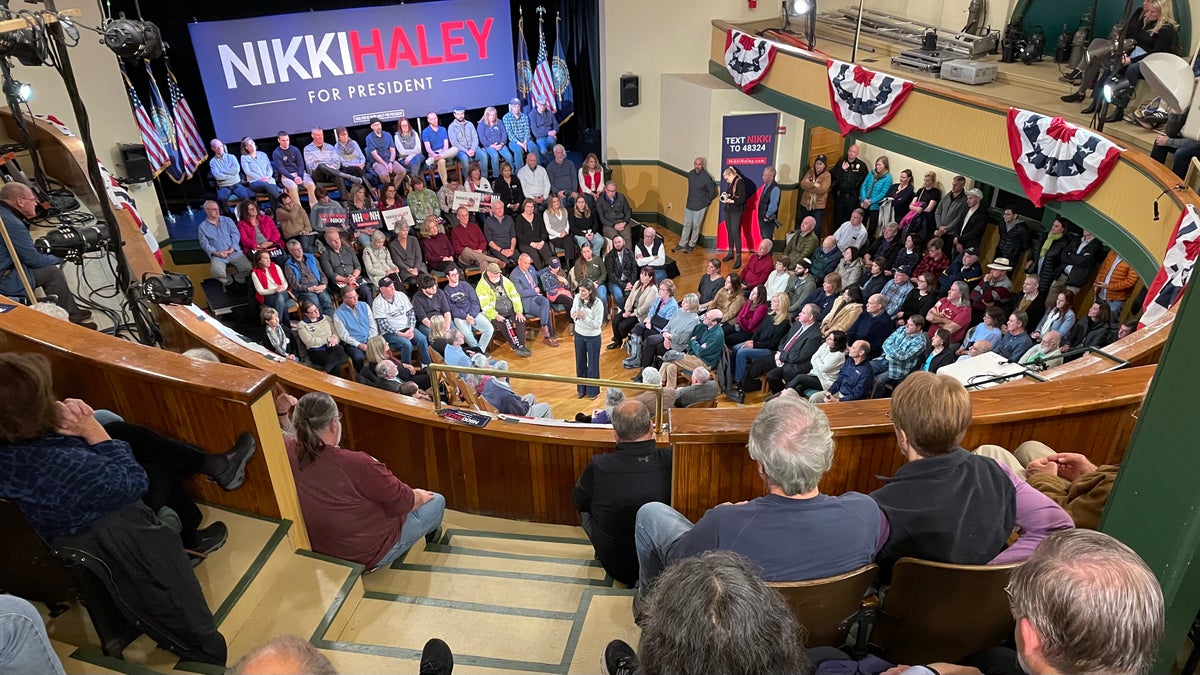 While the audience of some 325 on Tuesday evening didn't compare to the South Carolina gathering, it was one of her largest crowds to date in the Granite State.
Among those attending was Republican state Sen. William Gannon, who endorsed Haley earlier this autumn.
Referencing the crowd, Gannon emphasized "they like Nikki. She's warm. She's personable. We have candidates who could possibly win a primary. These people know that she can win next November." 
Also in the audience were two former U.S. senators.
"She's been a chief executive. She knows what kind of legislation is necessary to get an economy going. She's a fiscal conservative," former Sen. John E. Sununu told Fox News. "I think if she can convey those concepts of letting people make decisions for themselves, getting the country moving forward and not looking back, then I think she's going to do well in New Hampshire."
Sununu, the son of former New Hampshire Gov. John H. Sununu and the older brother to current Gov. Chris Sununu, said he remains neutral in the GOP presidential nomination race, but is considering endorsing and helping support a candidate.
"Like every other voter in New Hampshire, I'm excited about the primary," he said.
Former Sen. Gordon Humphrey told Fox News that he's "leaning towards Nikki Haley. I think she's far and away the best of all the candidates."
Humphrey, a vocal anti-Trump Republican turned independent, pointed to what he described as Haley's "heavyweight experience" as a governor and in foreign policy and national security through her tenure as ambassador to the United Nations.
"She's well-spoken. She has personality and charisma, sparkle, energy, dynamism," he touted.
While she's riding a political wave, Haley remains far behind Trump.
But Bartlett emphasized "what is important – on a cold night like this, opening up the doors. Doing an old-fashioned town hall. Taking questions. Introducing yourself to voters. She is doing everything right…She's got some granite heels, and we're going to see how far they can climb the mountain here."
Get the latest updates from the 2024 campaign trail, exclusive interviews and more at our Fox News Digital election hub.