Arrowhead Ciderworks and Vermont Cider Lab Scale Up and Open Bars in Chittenden County
When it comes to Thanksgiving tipples, cider is top tier. The fermented apple-based beverage screams fall flavors and goes perfectly with cranberry sauce, stuffing and turkey. It also has more range than most drinkers realize — from bubbly and sweet to still and dry, and just about everything in between.
Two home cidermakers in Chittenden County recognized the drink's potential, making the leap from basement and closet to commercial production facilities and bars over the past few years. Ahead of our favorite food holiday, we headed out to sample their ciders and stock up.
— J.B.
Hair of the Dog
Vermont Cider Lab, 25 Essex Way, Suite 214, Essex, 876-7702, vtciderlab.com
Apple varieties such as Ashmead's Kernel, Hubbardston Nonesuch, Sheep's Nose and Westfield-Seek-No-Further give cidermakers plenty to work with when it comes to naming their products. But at Vermont Cider Lab, co-owners Chris Line and Karen Wisehart rely on a different fruitful collection of monikers: dog nicknames.
The Essex Junction couple's flagship ciders are Bubba, Cassa Frass and Stinker; seasonal flavors include Smelvis, Sloaner and Willow Willow. All are named after dogs they've had or known over the years. The logo depicts their current pup, Kurri — the yellow Lab behind the "Lab."
Inside the cans with catchy canine names are dry ciders fermented with local maple syrup or honey, made on-site at the Essex Experience. They're served — along with cider cocktails, slushies, hot toddies and snacks — in a 50-seat tasting room in the former Christopher & Banks outlet between Magic Mann and the Mad Taco. (There's also a 24-seat, dog-friendly seasonal patio.)
Line began making cider in his basement 14 years ago, tinkering with five-gallon batches on equipment his father had started using "way, way back," he said. Over the years, the former strength coach shared batches with his clients who worked in the beverage industry, looking for feedback.
"When the pandemic hit, just like everybody, we hit control-alt-delete to figure out what we really wanted to be doing," Line said, metaphorically referring to the reboot command on a computer.
Wisehart had long wanted to own a wine shop of her own. Meanwhile, she'd become a regular at the Essex Experience's Salt & Bubbles Wine Bar and Market and was inspired by owner Kayla Silver's work to get that business up and running.
"Karen came home from there one day and said, 'Why don't we see if we can make this cider thing work?'" Line recalled.
The couple headed out to cideries around Vermont to check out tasting rooms and introduce themselves. The welcoming response they received from big players such as Stowe Cider and Eden Ciders "made us want to do it even more, to be a part of that community," Wisehart said.
They sought out former Eden director of operations Garrett Huber, who now runs a cidery in Ohio and works as a craft cider consultant, for help scaling Line's five-gallon basement batches to 250-gallon batches in the Lab's brand-new production space. Four months in, Line is "asking fewer questions, now that I'm doing it on a daily basis," he said.
And Line's doing everything, from fermenting juice sourced from Waterbury Center's Cold Hollow Cider Mill to canning and self-distributing. He estimates that he'll produce close to 5,500 gallons of cider this year. Wisehart, who still works full time as general manager of South Burlington's Best Western Plus Windjammer Inn & Conference Center, handles marketing and other behind-the-scenes tasks. She also joins Line in the taproom after work and on weekends.
Distribution wasn't in the couple's immediate plans, but they've already expanded to local retailers and restaurants, including the Windjammer. They purchased their own canning line and now send kegs and 16-ounce cans to businesses as close as Black Flannel Brewing & Distilling in Essex and as far as Farmhouse Market in Wilmington.
All of the Lab's ciders are dry, with zero added sugar. "But not everybody has a dry palate," Line said. To give folks a sweeter option, the tasting room offers cider-based takes on classic cocktails, including cider mules, cideritas, cider Bee's Knees and cider slushies — the latter are available hard, with an added shot of booze, or nonalcoholic.
The cocktails help "bridge the gap" for folks who are new to cider or think they don't like it, Line said. "We want to give them different avenues to try it out," he continued. "Cider is a pretty diverse, versatile beverage."
The cider Bee's Knees ($12) was a standout of my recent Sunday visit, when a group of friends and I sampled the Lab's cider in various forms. Created for Bee's Knees Week in late September, the balanced, fragrant cocktail features the Stinker cranberry cider, Barr Hill Gin, honey-based simple syrup and lemon juice, garnished with a sprig of thyme. It was my friend's order, but I kept stealing sips.
I opted for a sample flight of the Lab's ciders ($12) to try as many as possible: the traditional dry Bubba, the cranberry Stinker, the blueberry-basil Sloaner and the ginger-lemon Cassa Frass. Each was worthy of a full pour, which I rarely find with flights.
They all paired well with the array of snacks we ordered: a Vermont cheese plate ($15), soft pretzels ($12 for two) and a savory Gobbler pocket pie from Underhill's Poorhouse Pies.
On top of making all the cider and driving around distributing it, Line heads to Poorhouse every day to pick up whichever pies and quiches are in stock.
"You have to be versatile," Line said of his do-it-all approach. "I'm learning every day, but it's never something I don't want to learn."
— J.B.
Beverage Bull's-Eye
Arrowhead Lodge, 2 River St., Milton, 891-6359, arrowheadlodgevt.com and @arrowheadciderworks on Instagram. Note: Arrowhead will be closed for Thanksgiving from November 22 to 27.
Lauren and Nick Mark never intended to become bar owners. But serendipity has played a big role in the lives of the co-owners of the Arrowhead Lodge taproom in Milton and its sister business, Arrowhead Ciderworks.
The couple met by chance a decade ago at a coffee shop in lower Manhattan. Nick, now 36, was in the city for the weekend. He hails from western Connecticut but was then living on Martha's Vineyard and working as an architectural drafter. Lauren, now 34, grew up in Rochester, N.Y., and had recently moved to New York City to pursue a career in modern dance.
Nick bought Lauren coffee, and the happenstance encounter led to bigger things. Earlier this year, the now-married couple welcomed their son, Ronin. And a few years before that, they had their "first baby," as Lauren playfully described their bar and cider businesses.
First, though, the couple moved to Milton in 2018. Lauren became the office manager for the Vermont Brewers Association, a job that immersed her in the craft alcoholic beverage market. Nick worked in construction and developed a serious hobby of making hard cider in the closet of their apartment. The couple liked cider but didn't care for the sweetness of many brands.
The Marks became friends with the couple who owned and were renovating the 1840s brick building just off the intersection of Route 7 and Main Street, across from their apartment. "We'd bring beers over and sit on Home Depot buckets and talk," Lauren said.
The first floor of the building was zoned for commercial use, and their friends encouraged the Marks to do something with it. They explored the possibility of turning Nick's hobby into a business and building a cidery there, but wastewater permitting issues wouldn't allow it.
The Marks still wanted to create something in the historic building. It had housed several different bars, so they figured they'd try a new watering hole — though with a different flavor. (One of their customers has since recounted a story of being thrown through the front window of a previous bar there.)
The couple wanted to create a community gathering spot with game and trivia nights, book club gatherings, and seasonal music on an outdoor deck. They named their new bar Arrowhead, referring to the nearby lake and mountain. While there are no overnight accommodations, they chose the word "lodge" because it's "cozy," Lauren said.
Arrowhead Lodge opened in February 2020. After a rough start due to the pandemic, the business has become the community center the Marks envisioned. There's a 100-person wait list for its "mug club" — devoted locals who pay a $100 annual membership fee for some discounts, quarterly members-only events and a personal mug cubby. Six months ago, the couple bought the building.
The Marks started serving Arrowhead Ciderworks' Cloud Cap — a clean, crisp, bone-dry, unfiltered cider — at their taproom in March 2021. They now produce about 1,000 gallons annually from freshly pressed Vermont apples in partnership with local alcohol production facilities, where they ferment and can the flagship cider. Cloud Cap is sold on tap and in cans at a growing number of northern Vermont retailers, restaurants and bars.
Nick said he appreciates that a dry cider can be "a blank canvas" for added flavors. Before Christmas, he plans to launch a second cider: Cloud Hop, which features Chinook and Centennial hops grown by Starksboro's Champlain Valley Hops. He is also working on a semisweet cider, one fermented with sake yeast and one made with Chinese gunpowder tea — his wife's favorite, she said.
On a recent Thursday evening, a steady stream of customers came through the door of Arrowhead Lodge and settled in with a cider (from $7 for 12 ounces) or their choice of a list of mostly Vermont beers (from $3 for 8 ounces).
Even though Lauren knew exactly what she wanted to offer on the tap and can list, she said the beer distributor rep was initially skeptical of her focus on craft beer and cider in a spot where Budweiser had flowed. "He said, 'You'll never make it in this town,'" she recalled.
But locals have welcomed Arrowhead Lodge. Milton residents Cassidy Tedeschi and her boyfriend, Josh "Boomer" Patterson, were perched at the bar sipping Troc Star from Eden Ciders in Newport and a Candy Bar Gunner's Daughter beer from Maine's Mast Landing Brewing, respectively. Nick, who was working the bar, greeted them and most customers by name.
"Someone always walks in that we know, or we meet new people, or we can talk to Nick all night," Tedeschi said.
The bar lacks a TV. "We want people to talk to each other," Nick said.
A limited food menu includes popcorn ($3 or $4 with Old Bay seasoning), a Vermont meat and cheese board ($19), pizzas ($12 to $15) made by Vermont Pie & Pasta in Derby, and whoopie pies ($3) baked at the Painted Lady Café in Milton. Painted Lady will soon provide weekly hot specials, such as pulled pork mac and cheese, chicken and dumplings, and chili.
Tedeschi and Patterson visit Arrowhead often enough that they decided to join the mug club; they finally got in after a year on the wait list.
"Everybody wants to be in the mug club," Patterson said.
— M.P.

Vermont State House honors those lost to impaired and distracted driving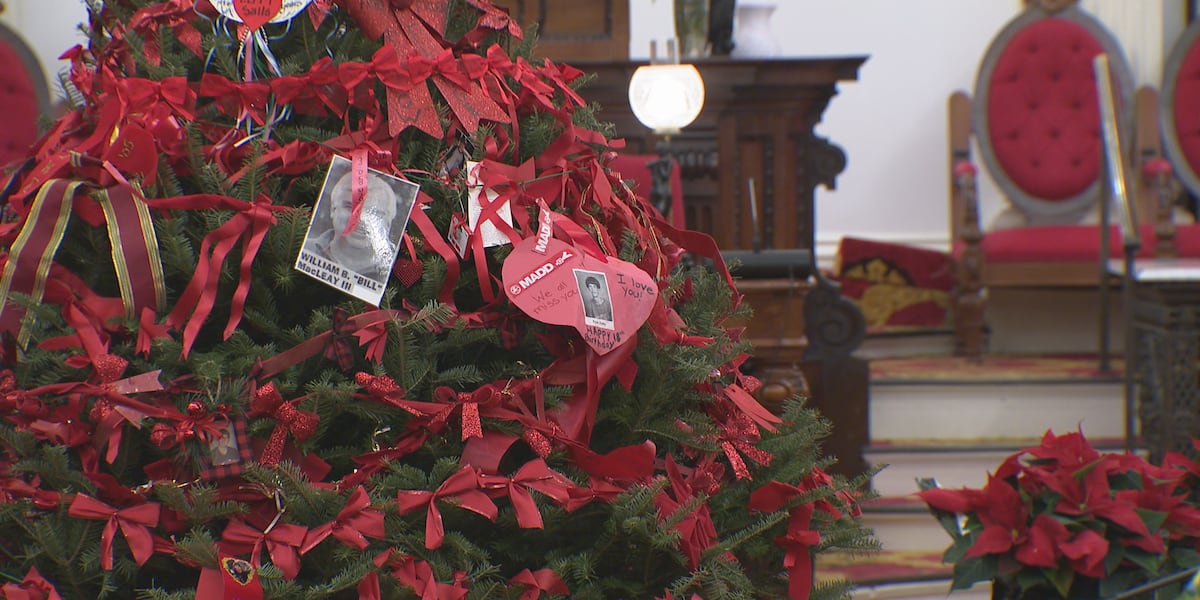 BURLINGTON, Vt. (WCAX) – Red ribbons nearly covered a Christmas tree inside the Vermont state capital building this afternoon.
Each ribbon hung represented one person killed in crashes involving impaired and distracted driving. The Vermont State Highway Safety Office held the ceremony in the Vermont State House.
Speakers included a representative from the Department of Motor Vehicles and the Department of Public Safety, who say each year, dozens of vehicle fatalities are caused by driving while under the influence or distracted. This year, the group placed 33 ribbons on the tree to remember those killed in preventable crashes in 2023.
Barbara Connelly spoke about her personal experience after a drunk driver killed her husband. "I hope in the time to come, each person can affect one other family and change their behavior so that yes, you can enjoy the wonderful season, the holiday season, but also be aware you are responsible if you get behind the wheel," said Connelly.
The speakers also stressed that impaired driving doesn't just mean alcohol. It could mean driving high, stressed or tired. They want to remind everyone to be aware of their headspace when they get in the driver's seat.
Copyright 2023 WCAX. All rights reserved.
More Than $1M Raised For Brown University Student Shot In Vermont
PROVIDENCE, RI — More than $1 million has been raised for the recovery of 20-year-old Hisham Awartani, a Brown University student of Palestinian descent who is one of three shot in Vermont last month, according to a GoFundMe page set up by his family.
One of the bullets that hit Awartani on Nov. 25 is lodged in his spine, his family said, writing that the campaign is intended to help cover the costs associated with Awartani's lifetime of recovery and rehabilitation, as well as providing him "what he needs to enable him to change the world for the good."
"The family is committed to his recovery and remain hopeful, in spite of the grave prognosis," the GoFundMe continued. "If our prayers are answered and Hisham is able to recover in a way that he does not need the full amount raised, the family will create a foundation committed to supporting the most vulnerable members of his community who have not benefited from the humanizing media attention that has given Hisham this opportunity for recovery."
Find out what's happening in Providence
with free, real-time updates from Patch.
The victims — Awartani, Kinnan Abdalhamid and Tahseen Ali Ahmad — are childhood friends who graduated from a private Quaker school in the West Bank and now attend colleges in the eastern U.S. Ahmed, 20, is a student at Trinity College in Hartford, Connecticut and Abdalhamid, 20, attends Haverford College in Pennsylvania.
The students, all of Palestinian descent, were visiting Awartani's relatives in Burlington for the Thanksgiving break. They were walking to the house of Hisham's grandmother for dinner when they were shot in an unprovoked attack, the family said.
Find out what's happening in Providence
with free, real-time updates from Patch.
All three were seriously injured. Abdalhamid was released from the hospital last week.
"Hisham's first thoughts were for his friends, then for his parents who were thousands of miles away. He has demonstrated remarkable courage, resilience and fortitude — even a sense of humor — even as the reality of his paralysis sets in," the fundraising page states.
The young men were speaking in a mix of English and Arabic and two of them were also wearing the black-and-white Palestinian keffiyeh scarves when they were shot, Burlington Police Chief Jon Murad said. Authorities are investigating the shooting as a possible hate crime.
"In a cruelly ironic twist, Hisham's parents had recommended he not return home over winter break, suggesting he would be safer in the US with his grandmother," the GoFundMe states. "Burlington is a second home to Hisham, who has spent summers and happy holidays with his family there. It breaks our hearts that these young men did not find safety in his home away from home."
The suspected gunman, Jason J. Eaton, 48, was arrested the following day at his Burlington apartment, where he answered the door with his hands raised and told federal agents he had been waiting for them. Eaton has pleaded not guilty to three counts of attempted murder and is currently being held without bail.
The shooting came as threats against Jewish, Muslim and Arab communities have increased across the U.S. in the weeks since the the Israel-Hamas war erupted in early October.
The Associated Press contributed to this report.
---
Get more local news delivered straight to your inbox. Sign up for free Patch newsletters and alerts.
We've removed the ability to reply as we work to make improvements. Learn more here
To request removal of your name from an arrest report, submit these required items to arrestreports@patch.com.
CT man accused of possessing ammunition used in fatal Vermont shooting
A Connecticut man was arraigned Monday in federal court in Vermont where authorities allege he possessed ammunition that was used in a shooting that killed a man and injured another.
Bayohan Mangual, 38 of New Britain pleaded not guilty during the proceeding to one count of possession of ammunition and remains in custody, according to the U.S. Attorney's Office for the District of Vermont.
If convicted of the charge, he could face a maximum of 15 years in prison and a $250,000 fine, officials said.
Mangual was arrested Nov. 17 in Connecticut in connection with a warrant that was issued after a grand jury in Rutland, Vermont returned an indictment in October charging Mangual with being a felon in possession of ammunition, according to federal officials. He appeared the day of the arrest in federal court in Hartford, where a judge transferred the matter to Vermont.
The charge Mangual faces stems from a shooting Sept. 2, when officers with the Rutland City Police Department responded to an apartment on Cherry Street and found a dead man and man who was injured, federal officials said. Both men appeared to have been shot, according to officials.
Authorities believe Mangual possessed the ammunition that was used in the shooting based on shell casings found at the scene, officials said. He has been barred from having ammunition based on prior felony convictions, according to federal officials.
In November 2017, Mangual was sentenced to 57 months in prison during a hearing in federal court in Hartford. That sentence came after he pleaded guilty to distributing crack cocaine in the Willimantic area and admitted to violating the conditions of his supervised release from a prior federal conviction, according to officials.
Federal officials said in February 2014, Mangual was sentenced to four years in prison, followed by three years of supervised released, for distributing crack cocaine and heroin.