Rhode Island State Police urge drivers to be responsible this Thanksgiving | ABC6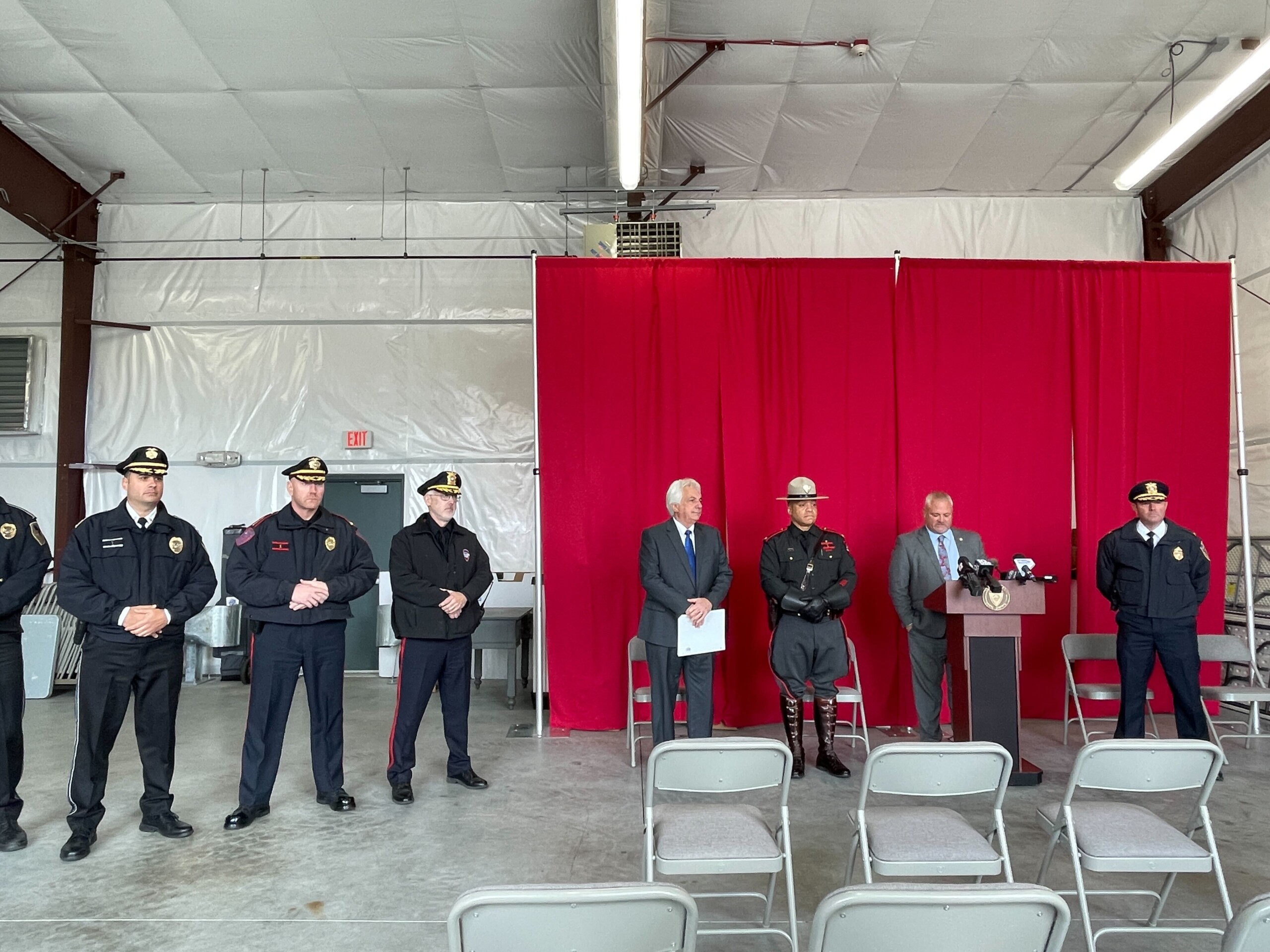 SCITUATE, R.I. (WLNE) — Rhode Island State Police and other local authorities are sounding the alarm for drivers to be safe on the roads this Thanksgiving.
The organization held a press conference amid holiday travel on Tuesday to draw attention to the importance of seat belts and responsible driving.
The number of deaths on Rhode Island roadways has been on the rise in recent years.
Authorities said there have been 67 deadly crashes this year, up from 45 this time last year. It's one of the highest numbers the Ocean State has seen.
Police patrols will be in full force this week and into the weekend, looking for impaired and distracted drivers, as well as those speeding and not wearing their seat belts.
Most Rhode Island communities have seen fatal crashes during the holiday season in recent years.
Authorities reiterated to never drink and drive, and make a plan for a designated driver or rideshare services.
Warwick police are also offering free rides home Wednesday night from an officer.

Rhode Island Man Federally Charged With Making Bomb Threat on Plane Says He Was Just Trying To Unwind on Nervous Flight: Authorities
The 41-year-old Rhode Island man who was arrested for allegedly making a bomb threat while aboard a flight on Tuesday said he was making "jokes" because he was nervous about flying, according to court documents.
Evan Sims was charged with false information and threats, which could land him up to five years in federal prison if he is convicted.
Sims was seated aboard a Breeze Airways Flight before takeoff when he began arguing with his girlfriend, according to the FBI criminal complaint. The flight was en route to Providence, Rhode Island from Orlando, Florida.
Passengers told investigators they heard Sims say he was going to "fire up a vape" and he hoped the airplane didn't "go down" as he had never heard of the airline, according to the complaint.
Sims said they would be "gone with the wind," investigators said.
Then, Sims' girlfriend told him repeatedly that their relationship was over and told Sims to leave her alone, according to the complaint.
The woman said Sims "dumped a drink on her" and called a "b—-," according to the document.
Sims continued to make comments questioning the safety of the plane, prompting the woman he was with to tell him to be quiet and for other passengers to ask to move seats, according to the complaint.
Once the flight began to ascend, Sims reportedly stood from his seat and said he wanted to get off the plane. Sims then allegedly stated – twice – that his (ex)girlfriend had a bomb on the plane, according to the document.
The flight was diverted to the Jacksonville International Airport after Sims's comments concerned the crew and passengers, one of whom was an off-duty police officer.
A flight attendant told investigators Sims was "smirking" when the announcement that the plane was diverting was made, according to the document.
As he was being cuffed, the suspect was taped apologizing to fellow passengers for screwing up the flight.
When he was interviewed by authorities, Sims allegedly said he was a "nervous flyer" and was making "jokes." He also said he "really wanted to get off the plane" because his girlfriend had broken up with him, and he no longer wanted to go to Rhode Island, according to the complaint.
In his interview, Sims denied that he had used the word "bomb" and insisted he had said "calm" but other passengers had misheard him because he "generally does not use that word and has a very dark sense of humor," per the document.
At the end of the interview, Sims allegedly asked investigators "How f—ed am I?" according to the complaint.
He faces federal charges for the false information, which the complaint said he made "willfully and maliciously and with reckless disregard for the safety of human life."
A 1900s home near Providence Place Mall, R.I. State House could be redeveloped into mixed-use building – The Boston Globe
PROVIDENCE — A Massachusetts-based attorney who specializes in real estate investments and his wife are proposing redevelopment plans for a rare multifamily property across from the Providence Place Mall.
Eric Shabshelowitz, who heads Boston-based Cabot & Company's commercial division, and Carly H. Shabshelowitz, who works in health care, have filed an application with the Providence City Center Commission to raze the existing building at 9-11 Hayes St., which is steps from the Rhode Island State House, to construct a new five-story, mixed use building. Representatives for the Shabshelowitzs are expected to present their redevelopment plans during a commission meeting on Dec. 13.
According to documents obtained by the Globe, the new building would have retail or commercial space on the first floor, and 20 residential units on floors two through five. The residential spaces are expected to be "more practical and smaller sized" ranging from studios to two-bedroom units, according to a Nov. 9 letter submitted to the commission by the applicant's attorney, Michael L. Mineau of Partridge Snow & Hahn LLP.
The couple purchased the property in 2019 for $725,000, according to real estate records. The multifamily home currently has three, three-bedroom apartments and a single one-bedroom unit. Prior to their purchase, the units were rented "under market" and were "predominately month-to-month tenancy," according to a real estate listing.
The property currently has five parking spaces, but those will be eliminated, according to the proposal. Mineau wrote to the city that parking for residents will be coordinated with the parking garage located directly across the street, which is operated by the mall.
It's unclear when the property was initially constructed. City records say 9 Hayes St. was built in 1920, but Mineau said it was "in or around 1900."
The front of the property faces the side of the mall with The Cheesecake Factory's entrance, and the rear looks out onto the back of the Renaissance Providence Downtown Hotel and the Veterans Memorial Auditorium. The structure is abutted on one side by the Gloria Dei Evangelical Lutheran Church and on the other side by the Miran shipping building.
While the developer originally planed to make the proposed building 75 feet tall, with 25 residential units, the Shabshelowitzs eliminated one floor, bringing the height down to 60 feet and number of units to 20 in response to concerns from the Commission's Design Review Committee, according to Mineau.
In designing their plans, the developers said they respected "the setting and character" of the Gloria Dei church, and the current height "preserves sight lines to the church."
The property was once the home of Dr. T. Franklin Walsh, a prominent Providence educator who served as the first principal of Central High School. Prior to leading Central, he was the principal of Commercial High School for many years, which merged with Technical High School in 1933 to form Central. He also served on the board of directors of the Dorchester High School for Girls in the 1920s.
Walsh died in November 1945 at 70, and is buried in Swan Point Cemetery in Providence.
The property has been used for both residential and business purposes. In 1984, the Rhode Island Medical Society used all of the floors for medical offices; later, some office spaces were occupied by the human resources department of the Rhode Island Department of Environmental Management.
---
Alexa Gagosz can be reached at alexa.gagosz@globe.com. Follow her @alexagagosz and on Instagram @AlexaGagosz.
Chicken Fried Rice Products Recalled In Rhode Island For Listeria Contamination
RHODE ISLAND — Garland Ventures has recalled 13,842 pounds of ready-to-eat chicken fried rice products that may be contaminated with Listeria monocytogenes, the Rhode Island Department of Health (RIDOH) said Thursday.
State health officials said the chicken fried rice products were produced on Nov. 10. Specifically, the product is in 12-ounce trays containing Freshness Guaranteed brand "chicken fried rice diced chicken meat with vegetables and rice in a savory soy sauce." The product have a lot code of WK10CFR and a best if used by date of Nov. 10, 2024, on the label.
These items were shipped to retail locations nationwide, state health officials said.
There have been no confirmed reports of illness, as of Thursday, according to RIDOH.
Listeria can cause serious and sometimes fatal infections in young children, frail or elderly people, and others with weakened immune systems. Healthy people may suffer only short-term symptoms such as high fever, severe headache, stiffness, nausea, abdominal pain, and diarrhea. Listeria infection can also cause miscarriages and stillbirths among pregnant women.
Have a news tip? Email jimmy.bentley@patch.com.