Car rolls over on Broad Street in Providence | ABC6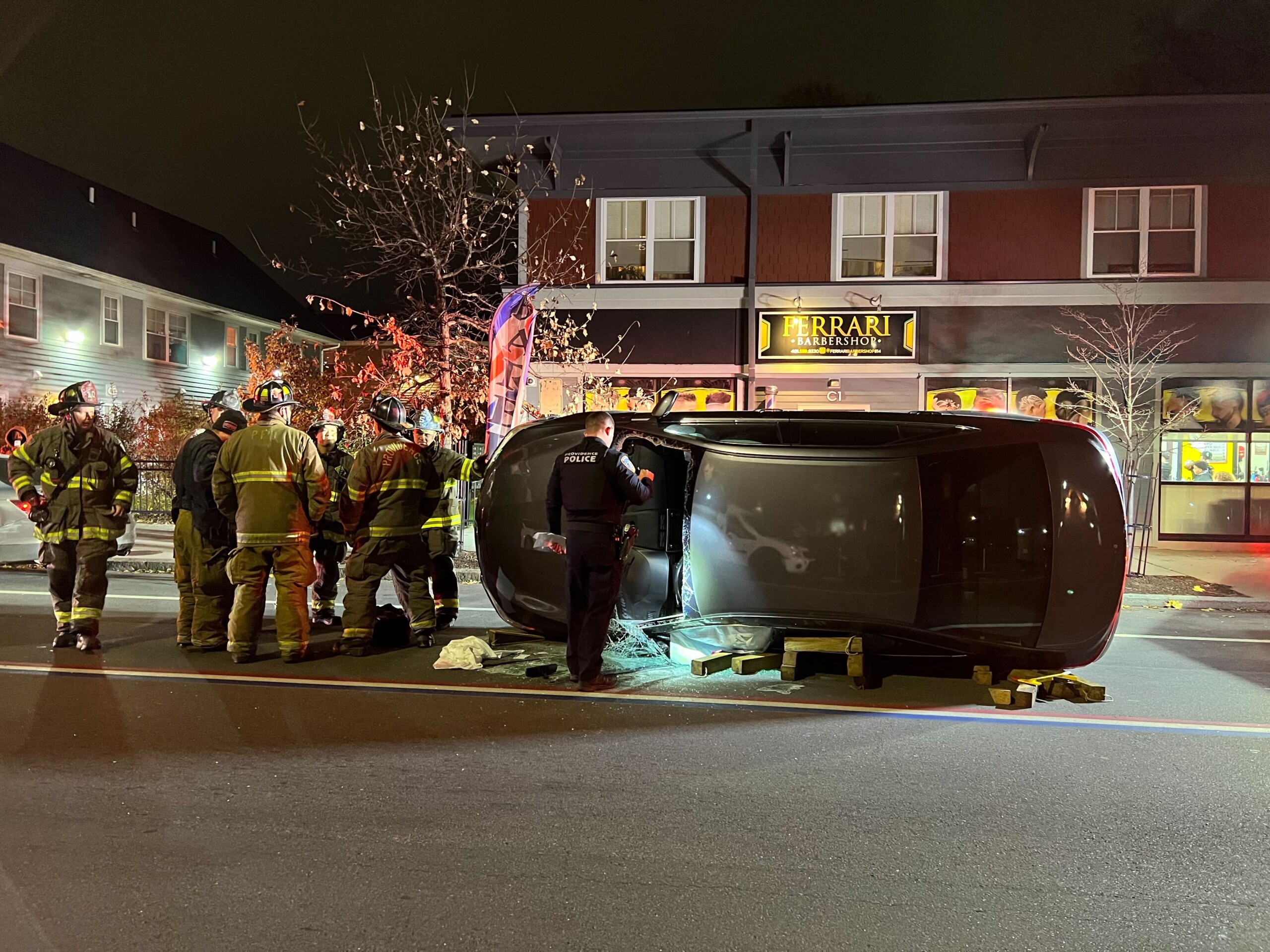 PROVIDENCE, R.I. (WLNE) — A car rolled over onto its side on Broad Street in Providence, Tuesday night.
ABC 6 News crews were on the scene where police and firefighters could be seen investigating around a Toyota sedan rolled over on its side.
The car was being propped up by wooden blocks and the windshield had been shattered.
ABC 6 has reached out to city officials for more information on the crash and are waiting to hear back.

Did a BLM RI founder endorse Trump? There's more to the story
---
BLM RI's president says Mark Fisher was fired from the group and never had a role in its founding.
Black Lives Matter marking 10 years of activism
The Black Lives Matter movement hits a milestone this year, marking 10 years to the day of its 2013 founding in response to the acquittal of the man who fatally shot 17-year-old Trayvon Martin. BLM activists and organizations plan to mark a decade of the movement with in-person and virtual events. (July 13)
AP
A man once affiliated with the local Black Lives Matter RI group has gained national media attention for his endorsement of Donald Trump in the upcoming presidential race, but local advocates are calling into question his credentials.
This week, headlines circulated from national media proclaiming that Mark Fisher, a "leader" of BLM RI, had thrown his support behind Trump.
But while the national news media described Fisher as a "leader" of Black Lives Matter and "co-founder" of Black Lives Matter RI, the group's current head, Gary Dantzler, disputes those claims, saying Fisher only worked as an advocate.
Local BLM RI group says Fisher was not a 'co-founder'
Dantzler, who is the head of BLM RI and registered the group as a nonprofit with the IRS in 2021, said Fisher was not a co-founder but, starting that year, worked for a matter of months as an advocate.
"Mark Fisher stated he was one of the co-founders of BLM," Dantzler said. "Absolutely not. He was a respected advocate for BLM. That's it. And he was paid and somewhere he got fired and demoted."
Currently, there is no Rhode Island-based Black Lives Matter group in the IRS' nonprofit database with Fisher listed. However, Fisher was listed as a director in BLM RI's articles of incorporation with the state in 2020. A 2022 annual report shows his name was removed that year.
In late October, Fisher tweeted an undated photo of himself within a group of people wearing BLM RI T-shirts. Dantzler is shown on the far left of the image. Dantzler did not immediately comment on the picture.
What made the headlines? A nearly month-old interview and a Fox News appearance.
On Nov. 6, Fisher appeared on the "Kim Iversen Show" and expressed his support for Trump. The show, posted on YouTube and video platform Rumble, is run by Kim Iversen, who was fired in 2022 from The Hill's "Rising" web show. Iversen is a COVID-19 vaccine skeptic, has called Jan. 6 insurrectionists oppressed "political prisoners," and has said Ukraine shouldn't fight back against Russia's ongoing onslaught.
"I like Trump personally," Fisher said on the show. "And I think right now who we have sitting in the Oval Office is just a deep disappointment. I deeply have disdain for him, and I really dislike the vice president as well."
Fisher also defended those who were involved in the Jan. 6 Capitol attack.
On Nov. 28, Fisher was welcomed onto "FOX & Friends" where he reiterated his views. Both Iversen's show and Fox referred to Fisher as a "BLM leader." Fox also titled him as a "co-founder" of BLM RI.
Fisher did not immediately respond to an inquiry from The Providence Journal.
Prominent local PAC issues clarification about Fisher, BLM RI
Friction has historically lingered between BLM RI and BLM RI PAC, the Black Lives Matter Rhode Island Political Action Committee, which is a separate entity with different membership. The PAC has a visible social media presence and routinely sends out press releases, though Dantzler said it is "unfair" that people associate BLM with the PAC after "the work I put in through the years" on his own organization.
On Wednesday, the PAC released a statement to officially disassociate itself from Fisher, stating he "is not and has never been affiliated with our organization."
"The views expressed by Mr. Fisher in the referenced Fox News segment do not reflect the values or beliefs of BLM RI PAC," the group said. "We would like to emphasize that Mark Fisher claims association with Black Lives Matter Rhode Island, a non profit organization. Any statements or actions attributed to him should not be conflated with our organization."
Dantzler denounces Fisher's Trump endorsement
Dantzler said he is "really disgusted" by Fisher's endorsement of Trump, and accused Fisher of "trying to hijack the BLM movement of RI."
Though BLM RI does not engage much with local media, Dantzler said it still holds office space on Main Street in Pawtucket and has been working with the Department of Labor and Training on workforce development initiatives. Dantzler said the organization was also conducting COVID-19 testing as recently as three months ago.
Rhode Island League of Cities and Towns Visits Electric Boat Quonset Point Facility | EB Landing
​On Thursday, November 16, 2023, Electric Boat (EB) hosted a delegation of over 15 members of the Rhode Island League of Cities and Towns at the Quonset Point (QP) facility for a shipyard tour and workforce roundtable discussion. The comprehensive shipyard tour provided a first-hand look at the hard work and dedication of the tradesmen and women who contribute to the construction of U.S. Navy submarines. The roundtable discussion, facilitated by EB's Brian Howard, Director of Human Resources at QP, and Jess Key, Manager of Supplier and Workforce Development, centered on community engagement and mitigation of barriers to employment. EB was able to present current and projected workforce demands for both EB and the maritime manufacturing industry, with a focus on opportunities for Rhode Island communities.
A huge thank you to the Rhode Island League of Cities and Towns for participating in this informative event:
Cranston; Little Compton; East Providence; Hopkinton; Providence; North Providence; Richmond; Central Falls; North Kingstown; Lincoln; Warren; Jamestown; and Southeastern New England Defense Industry Alliance (SENEDIA).
12 Pies of Christmas are back; Hanukkah menu at Bubbie's: RI food notes
Charity pizza pies, a chance to learn more about local seafood, and a Hanukkah menu lead the food news this week.
Pizza Marvin, an old-fashioned pizza parlor making new-fangled pies, is hosting the 12 Pies of Christmas for the third year in a row. A few things are different this year. They are now "the award-winning Pizza Marvin," as chef Robert Andreozzi was a semifinalist last spring for the James Beard Foundation Best Chef: Northeast award. They've also added new restaurants to the collaboration.
Two nonprofits are hosting their second session of the fall to better inform the public on seafood processing. Eating with the Ecosystem and The United, a Westerly theater, hosted a sold out session in September on Ikejime, a Japanese method of preparing fish that yields better tasting, healthier meat. Questions raised by the sold-out audience informed this second event.
"There was a great amount of interest at our last event from the public looking to be better informed about the commercial fishing industry and the complexities involved in getting the seafood you love from the water to your plate," said Tony Nunes, The United's artistic director.
With Hanukkah around the corner, Bubbies, a Providence market, has latkes and doughnuts available to order.
12 Pies of Christmas
Pizza Marvin is hosting the "12 Pies of Christmas," teaming up with local restaurants who will cook a special pizza for one night only. Each of the pizzas will be cooked at Pizza Marvin and cost $35.
All of the proceeds will benefit Sojourner House, which advocates for victims and survivors of domestic violence, sexual assault and human trafficking through housing, education and systematic change. Over the last two years, the event raised more $20k to help Amos House and Farm Fresh Rhode Island.
New to the collaboration is Luke Mersfelder of Bywater in Warren, who has already started fermenting his pizza dough in preparation for Night 1 on Dec. 6. Nikhil Naiker will be cooking up a "New England Tropical" pizza inspired by his pop-up series Nimki. Eric Brown of Thick Neck will be doing a brunch pizza to promote his upcoming restaurant Frank & Laurie's. Also new this year is Natalia Paiva Neves from O Dinis as well as newly minted James Beard Foundation Best Chef: Northeast winner Sherry Pocknett from Sly Fox Den Too! Oberlin and Gift Horse will do the first-ever half-and-half pizza at Marvin.
The lineup is: Dec. 6 Bywater; Dec. 7 Olneyville New York System; Dec. 10 O Dinis; Dec. 11 Nimki; Dec. 12 Oberlin and Gift Horse; Dec. 13 Pickerel; Dec. 14 Basil & Bunny; Dec. 17 Frank & Laurie's; Dec. 18 Sly Fox Den Too; Dec. 19 There There; Dec. 20 Dolores; and Dec. 21 Durks Bar-B-Q. In addition to the 12 participating restaurants, Big Feeling and Pickerel will take over the soft-serve ice cream machine for the entirety of the event. 
Details: Pizza Marvin, 468 Wickenden St., Providence, (401) 262-3336. Pre-ordering is on pizzamarvin.com and the pies traditionally sell out.
Hanukkah menu
Bubbie's Market & Deli, 727 Hope St., Providence, (401) 272-4835, has released its Hanukkah menu, which includes latkes and sufganiyot. The selections to be pre-ordered for pickup before Hanukkah begins on Dec. 7 include sweet potato, gluten-free, zucchini and potato latkes and custard and jelly-filled doughnuts. See the full menu of specials online at bubbiesmarket.com.
Explore fish processing and more
Want to know more about the story behind the seafood on your plate? From Reel to Meal: A Conversation on the Seafood Industry, will be held Dec. 9 at 7 p.m. at The United, 5 Canal St., Westerly.
The session will explore fish processing, how fisheries are managed and sales and availability of seafood. A panel of industry experts will discuss energy use and food miles in the fish supply chain, how climate change impacts the fleets and catch, and how to be an informed consumer.
Hungry yet: Rhode Island's newest Jewish deli is here: Get a first look at Maven's Delicatessen
The panel will include Jason Jarvis, North Atlantic Marine Alliance board president; David Standridge, chef at the Shipwright's Daughter in Mystic; AIene Whipple, owner of SeaWell Seafood in Pawcatuck; Tricia Perez, Eating With the Ecosystem board member; Wes Brighton,  Sea Scallop Advisory Panel member and founder of the Martha's Vineyard Fisherman's Preservation Trust.
This is the second program of the United Table series, a collaboration of Eating With the Ecosystem and The United. Tickets cost $20 and can be purchased online at unitedtheatre.org. There will be free beverages and snacks from SeaWell Seafood.