How Pittsburg's electrifying backfield ran past California and into the NCS Division I title game
PITTSBURG – The rain never became anything more severe than a steady downpour during Pittsburg's 35-14 victory over visiting California in its North Coast Section Division I playoff victory on Friday night.
But the electric talents of Pitt running backs Elijah Bow and Jamar Searcy, who combined for  349 rushing yards and four total touchdowns, were on full display as Bow bolted through tacklers and Searcy flashed across the field.
"Jamar Searcy, he's lightning in a bottle," Pitt quarterback Marley Alcantara said. "And Elijah, he's him. He's been doing  that all year."
California, which got 170 passing yards from Jayden Macedo and a 75-yard touchdown reception by Nick Fox, was able to hang with Pittsburg for a half, going into halftime trailing just 14-7.
But the Grizzlies were unable to corral the Pirate backfield in a show of force by the home team. In the final 24 minutes. Bow rushed for two touchdowns and Searcy caught a 35-yard wheel route out of the end zone to pull away.
"They just wore us down," Cal High coach Danny Calcagno said. "Their backs are big, and they're physical."
Pittsburg looked like every bit like a championship-caliber team after the Pirates defensive backs belted Cal receivers and Pitt offensive linemen created massive holes in the second half.
And so, in the program's first year under coach Charlie Ramirez, Pittsburg finds itself bound for a familiar place: the North Coast Section Division I title game.
The Pirates will take on San Ramon Valley after the Danville school squandered a fourth-quarter lead and fell to the Spartans 17-7 in the Open Division title game. SRV, as the loser of that game, slots into the Division I championship.
"We feel great about that," Ramirez said. "As long as we're playing our best possible games, we're going to be hard to beat."
Whether or not Pittsburg would be the one to face San Ramon Valley was in doubt until the second half. Pittsburg started the scoring when defensive back Samu Iosia returned an interception 50 yards, the first of what would be a couple backbreaking Cal High turnovers.
Macedo and the Grizzlies offense answered with his long touchdown bomb to Fox down the right sideline. After Bow rumbled into the end-zone for a 13-yard touchdown  to cap off a six-play touchdown drive with two minutes left in the first quarter, the defenses stood firm until the third period.
"Since the Los Gatos game, the defensive line has been huge for us," Ramirez said. "Having Juju Walls and Bradley Ruffin going both ways has been big."
Midway through the third quarter, Searcy, who ran for 211 yards on 17 carries, snuck out of the backfield on a wheel route and caught Alcantara's 35-yard touchdown pass to make it 21-7. It may have been his only score, but Searcy's ability to turn a loss into a spectacular long run kept several Pittsburg drives alive.
Cal High responded with a resilient nine-play drive that got the ball into the red zone. But four-star prospect Jadyn Hudson showed why he has offers from major colleges when he forced and recovered a fumble to keep the Grizzlies out of the end zone.
"JuJu and Jadyn, they're both amazing players," Bow said. "I know they can make plays whenever."
Pittsburg took over from there, getting two more rushing touchdowns out of Bow behind blocks by Ruffin and Starfordshire Taimani to salt away the win. Luke Taylor returned a late kickoff for California touchdown.
The Pirates will get their chance to win a third consecutive NCS Division I title, albeit under slightly different circumstances.
The past two years, Pittsburg was bumped down to Division I, where it defeated Clayton Valley Charter, after losing to its eternal nemesis De La Salle in the Open title game.
This time, the Pirates will be entering the championship matchup against San Ramon Valley with winning momentum.
"This team, as young as they are, they've been oblivious to the pressure," Ramirez said.

NFL Week 14 Game Recap: New England Patriots 21, Pittsburgh Steelers 18 | NFL News, Rankings and Statistics | PFF
Fans in Foxboro breathed a sigh of relief on Thursday night, as the New England Patriots looked like a very different outfit from the one that put up just 13 points over their previous three games.
Quarterback Bailey Zappe finished 19-of-28 for 240 yards, three touchdowns and one interception, leading his team to a 21-18 victory over the Kenny Pickett-less Pittsburgh Steelers to snap New England's five-game losing streak.
The Patriots improve to 3-10 and finally seem to be set at the quarterback position (at least for now). The Steelers drop to 7-6 and into the bubble of the AFC playoff picture.
Offensive spotlight: Patriots quarterback Bailey Zappe acquitted himself well, recording an 80.8% adjusted completion percentage and averaging 8.6 yards per pass attempt on Thursday night.
His one turnover-worthy play ended up getting picked off — at a pivotal point in the game, too — but he also produced two big-time throws.
Defensive spotlight: T.J. Watt won't stand out on the stat sheet for this one. In fact, he managed just two pressures across 24 pass-rush snaps, according to PFF's first-run analysis. However, he won six other pass-rush snaps that didn't result in pressure because of how quickly Zappe got the ball out.
Rookie spotlight: Joey Porter Jr. has performed admirably since earning the full-time starting role at outside cornerback for the Steelers. He was targeted four times tonight, and while he allowed two catches for 28 yards and two first downs, he also forced incompletions on the other two passes.
Box Score
Passing
New England Patriots

Player
Fantasy
Comp/Att
Yds
YPA
TD
Int
Sacks
Rtg
Bailey Zappe
21.9
19 / 28
240
8.6
3
1
2
115.2

Pittsburgh Steelers

Player
Fantasy
Comp/Att
Yds
YPA
TD
Int
Sacks
Rtg
Mitch Trubisky
19.8
20 / 33
145
4.4
1
1
2
68.4
Connor Heyward
3.5
0 / 1
0
0.0
0
0
0
39.6
Rushing
New England Patriots

Player
Fantasy
Car
Yds
YPC
TD
Long
Fum Lost
Ezekiel Elliott
27.0
22
68
3.1
0
12
0
Bailey Zappe
21.9
3
13
4.3
0
11
0

Pittsburgh Steelers

Player
Fantasy
Car
Yds
YPC
TD
Long
Fum Lost
Mitch Trubisky
19.8
8
30
3.8
1
15
0
Jaylen Warren
8.0
7
11
1.6
0
7
0
Najee Harris
7.8
12
29
2.4
0
7
0
Calvin Austin III
1.2
1
12
12.0
0
12
0
Receiving
New England Patriots

Player
Fantasy
Tgt
Rec
Yds
YPT
YPR
TD
Ezekiel Elliott
27.0
8
7
72
9.0
10.3
1
Hunter Henry
19.0
3
3
40
13.3
13.3
2
JuJu Smith-Schuster
13.0
6
4
90
15.0
22.5
0
Tyquan Thornton
4.7
5
3
17
3.4
5.7
0
Ty Montgomery II
2.7
2
1
17
8.5
17.0
0
Pharaoh Brown
1.4
1
1
4
4.0
4.0
0
Jalen Reagor
0.0
1
0
0
0.0
0.0
0

Pittsburgh Steelers

Player
Fantasy
Tgt
Rec
Yds
YPT
YPR
TD
Diontae Johnson
11.3
6
2
33
5.5
16.5
1
Jaylen Warren
8.0
5
4
29
5.8
7.2
0
Najee Harris
7.8
3
3
19
6.3
6.3
0
George Pickens
6.9
6
5
19
3.2
3.8
0
Pat Freiermuth
6.8
7
3
18
2.6
6.0
0
Connor Heyward
3.5
2
2
15
7.5
7.5
0
Darnell Washington
2.2
2
1
12
6.0
12.0
0
Allen Robinson II
0.0
2
0
0
0.0
0.0
0
Children's Museum of Pittsburgh Workshops
Get creative with workshops in different art and making subjects for children and youth of all ages. Workshops are $15 and include all materials. Workshops for ages 3-5 & 6-9 take place at the Children's Museum and a caregiver is required to attend. Workshops for ages 10+ take place at MuseumLab. Visit https://pittsburghkids.org/workshops/ for more information on specific workshops and how to register.
Penguins Announce Third Annual Tech Academy Powered by CGI | Pittsburgh Penguins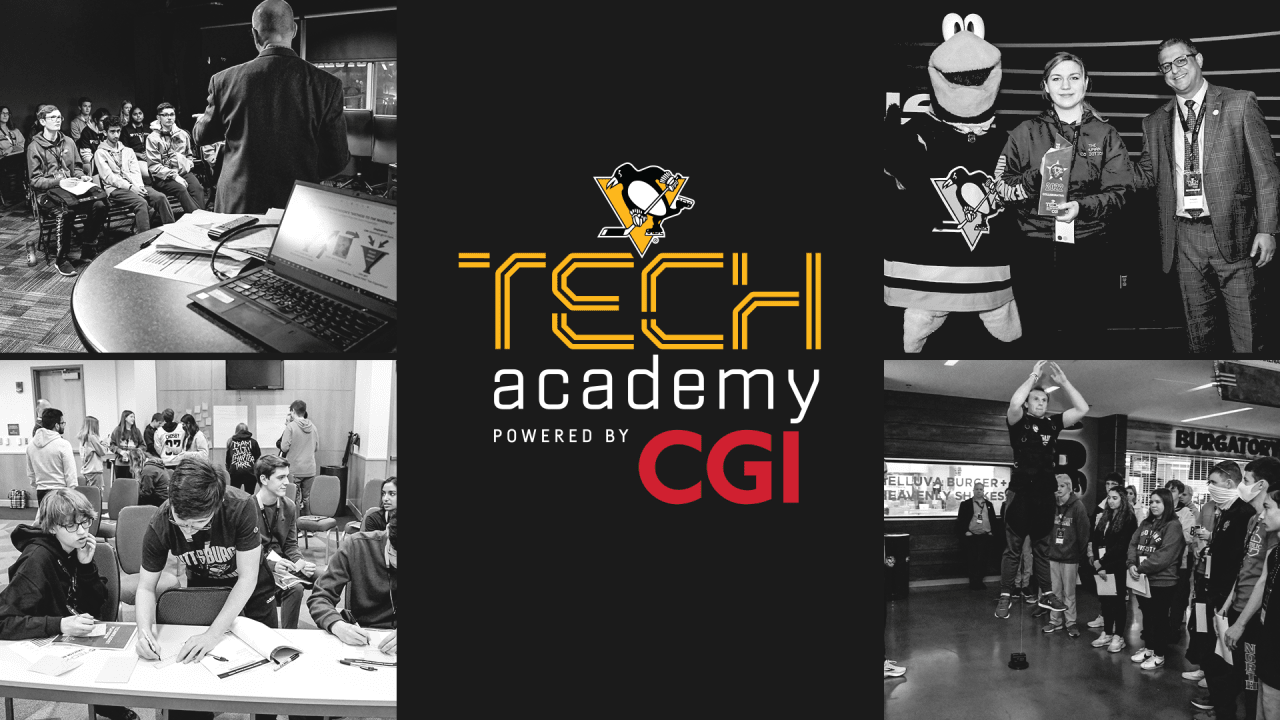 The Pittsburgh Penguins and CGI, a global IT and business consulting services firm with a strong presence in Pittsburgh, have announced their third annual Tech Academy for Pittsburgh Area students.
The Pittsburgh Penguins Tech Academy Powered by CGI will provide an opportunity for up to 100 students to participate in an immersive "in-the-field" experience at PPG Paints Arena, while they learn from leaders in sports and business technology.
The Pittsburgh Penguins Tech Academy will take place on January 30 from 8:30 AM to 4:00 PM at PPG Paints Arena. Selected students in the program will be guided through a series of sessions as they learn about the technology the Penguins use in analytics and research, in-game entertainment, mobile ticketing, CRM, sports and exercise science and more.
Following the Tech Academy, students will have the opportunity to submit a team project for a chance to win technology services and updates for their school, a VIP Penguins experience and the opportunity to present their project in front of an audience of technology and business executives. Students will go through a mentoring period with CGI leaders to learn how to initiate, develop and execute their projects.
For the third-consecutive year, CGI leaders will be coupled with Penguins personnel as they act as judges to select students to participate, interact and mentor students throughout the program and judge the projects at the conclusion of the program. 
"I can't wait to see what comes next. This program demonstrates why CGI believes in making a difference to underrepresented students in STEM in the areas which we work and live," said Deb Mohapatra, Senior Vice President Consulting Services, CGI Pittsburgh Banking Sector.  
Applications are open to all students in grades 9-12 in Pittsburgh's surrounding counties (Allegheny, Armstrong, Beaver, Butler, Washington, and Westmoreland). Eligible students interested in applying can complete an application here through December 19.
To learn more about the Pittsburgh Penguins Tech Academy Powered by CGI, visit here.