State Rep. Geoff Luxenberg of Manchester charged with DUI
State Rep. Geoff Luxenberg, a Manchester Democrat, was charged with driving under the influence on Thursday, according to statements from him and House leadership.
No one was injured, he said.
"Last night, I was charged with operating a motor vehicle while under the influence," Luxenberg said in a statement Friday afternoon. "Thankfully, no one was injured and there was no accident.
"I am taking this matter extremely seriously and I feel it important to address the issue immediately. I am seeking personal counseling and treatment at this time to assist me in my desire to prevent something like this from happening in the future," the statement reads. "I am truly sorry for my actions and apologize to everyone that I have let down."
Luxenberg's statement contained no additional details about the arrest.
House Speaker Matt Ritter, D-Hartford, and Majority Leader Jason Rojas, D-East Hartford, issued a joint statement Friday.
"Hearing of Rep. Luxenberg's DUI arrest is disappointing and we hope he learns from this serious lapse in judgment," it reads. "Geoff has indicated that he is taking steps to ensure this never happens again and we support and encourage him in that decision.
"We are removing Rep. Luxenberg from all committee and leadership assignments until further notice."
Luxenberg served as co-chair of the Housing Committee and was a member of the General Law and Finance, Revenue and Bonding Committees.
Earlier this year, Rep. Robin Comey, D-Branford, was charged with driving under the influence after flipping her car on Capitol Avenue in Hartford. She was relieved of her legislative assignments.
In January, Rep. Quentin Williams died in a crash involving a wrong-way driver on Route 9 in Cromwell. His blood alcohol level was about twice the legal limit, police said.
Stephen Busemeyer is the managing editor of The Connecticut Mirror (https://ctmirror.org/). Copyright 2023 © The Connecticut Mirror.

Connecticut driver taken to hospital after crashing into Rocky Hill home, wrecking chimney
A car crashed into a single-family home in Connecticut on Saturday — sending the driver to the hospital with serious injuries, and wrecking a brick chimney and causing other damage to the house, reports said.
Around 12:10 p.m. on Saturday, dispatchers with the Rocky Hill Police Department received 911 calls reporting the crash in the town along the Connecticut River south of Hartford, said NBC News Connecticut.
The driver of the vehicle was transported to a local hospital for treatment of serious injuries but is expected to recover, according to fire officials.
Initial reports indicated that the vehicle collided with a fence surrounding a community pool and then continued on before crashing into the single-family home, which was located on a bend in the road.
No one was inside the home at the time of the collision. Photos of the crash by the Rocky Hill fire department show the impact wrecked the home's brick chimney.
Sgt. Jeffrey Foss-Rugan said the driver was the only person in the four-door sedan when the crash occurred.
The crash remains under investigation.
The 2023 CHSCA all-state girls volleyball teams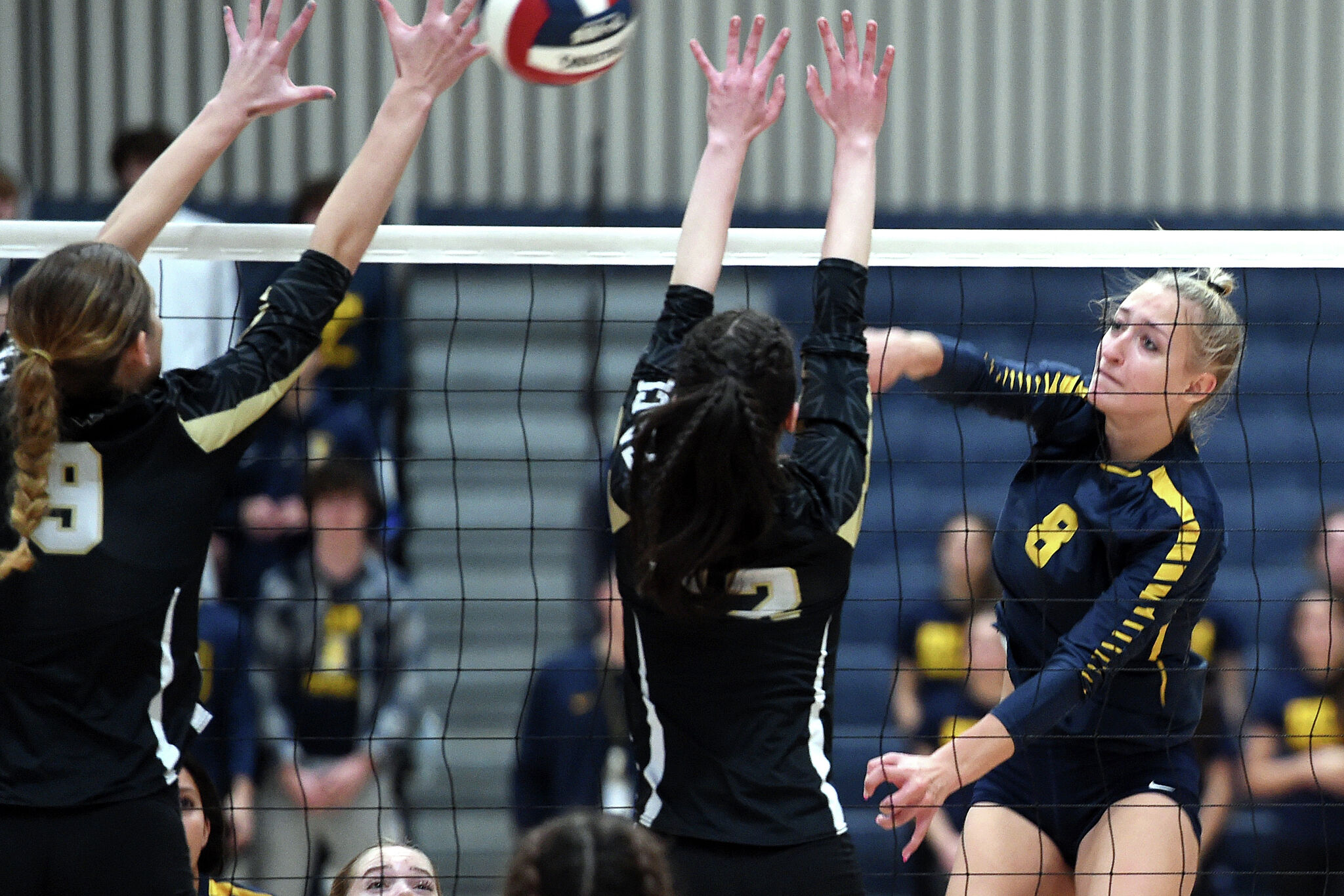 The Connecticut High School Coaches Association has released its All-State girls volleyball teams for the 2023 season.
Class LL
Severed Finger Found In CT Woman's Restaurant Salad: Lawsuit: CT News
On the weekend, we present a week in review of the top stories and headlines from all across Connecticut. Here's a roundup of some of the most-read stories across the state. You can also find your local Patch and catch up on those stories by clicking here.
The health department conducted an investigation and issued a $900 violation ticket to the restaurant.>>>Read More.
---
A bus driver who pulled over on a Connecticut highway and passed out with 38 passengers aboard after eating THC-infused gummies has been granted a probation program that could result in criminal charges being dismissed.>>>Read More.
---
The Sugar Magnolia Bakery is a longtime dream come true for the owner, named for her love for the music of the Grateful Dead.>>>Read More.
---
Black Friday turned out to be a dark day for three stores in Connecticut in the latest round of closings for the prominent pharmacy chain.>>>Read More.
---
A 23-year-old schools employee died when her car struck a tree. The district and beyond is mourning her death.>>>Read More.
---
The increased cost of doing business also affected the restaurant, with the price of items like steak increasing, the owners said.>>>Read More.
---
The manager of a local coffee hotspot and well-known baker in town is a candidate for a national award that requires some online community support. Here's how you can get involved.>>>Read More.
---
Other top stories:
---
The Patch community platform serves communities all across Connecticut in Fairfield, New Haven, Middlesex, New London, Hartford, Tolland, and Litchfield counties. Thank you for reading.