Wisconsin High School Football Schedule, Live Streams in Marinette County This Week
Clear your schedule for the high school football action happening in Marinette County, Wisconsin this week. For a complete list of the local high school games and how to watch them, read on.
Follow High School Football this season on the NFHS Network! Keep tabs on your family or alma mater and tune in!
Other Games in Wisconsin This Week
Sheboygan County
Ozaukee County
Manitowoc County
Marinette County, Wisconsin High School Football Games This Week
Florence High School at Niagara High School
Game Time: 7:00 PM CT on September 22
Location: Niagara, WI
How to Stream: Watch Here
Crivitz High School at Tomahawk High School
Game Time: 7:00 PM CT on September 22
Location: Tomahawk, WI
How to Stream: Watch Here
© 2023 Data Skrive. All rights reserved.

Wisconsin birdwatchers catch another glimpse of flamingos
See the group of flamingos in Lake Michigan at Port Washington
A group of flamingos landed off the shore of Lake Michigan at Port Washington's South Beach on Friday making the rare site quite the spectacle
Mike De Sisti, Milwaukee Journal Sentinel
The "fabulous five" are back in sight.
The flock of American flamingos that fascinated wildlife watchers Sept. 22 in Port Washington has apparently relocated to Lake Petenwell in central Wisconsin.
"They're here," said Mark Korducki of New Berlin, an avid birder and member of the Wisconsin Society for Ornithology. "(But) much farther than they were in Port."
Korducki emailed a documentary image of the birds taken with his phone through a spotting scope.
He was on the southeastern shore of Petenwell when he captured the image. The birds were likely more than 1,000 yards away.
Lake Petenwell is a 23,173-acre reservoir on the Wisconsin River. It is the second-largest inland lake in Wisconsin.
It is assumed the flamingos are the same birds sighted in Port Washington because three are adults and two are juveniles, just like the Sept. 22 sighting. The adult birds are identifiable by pink plumage while the juveniles are clad in gray.
In Port Washington, the flamingos rested for about six hours in the Lake Michigan shallows at South Beach park. They spend most of the time just 25 feet from shore.
Hundreds of bird watchers, wildlife photographers and passers-by viewed the birds until they flew away about 5 p.m.
It was the first confirmed sighting of the species in Wisconsin.
Other states, including Indiana, Kentucky, Ohio and Pennsylvania, also recorded first sightings of flamingos in recent weeks.
The typical range of the American flamingo is Florida and other Gulf Coast states as well as the Caribbean and northern South America.
The birds spotted in Wisconsin and the other states were likely blown north in late August by Hurricane Idalia, according to wildlife biologists.
A few sightings of wild flamingos in Wisconsin have been reported since Sept. 22, including on the Wisconsin River.
On Friday Korducki saw a social media report of five flamingos on Petenwell and decided to set off early Saturday morning to try to see them.
He found them about 7 a.m. and began to share the news.
He said some kayakers were in the area and were likely getting some good photos. Also there were duck hunters nearby "to make it somewhat interesting," Korducki wrote in an email.
But the boaters "seem to be holding back pretty well" and "the flamingos were feeding (and) seemed undisturbed."
Ashley Luthern contributed to this report.
Flamingo facts: How in the world did flamingos end up in Wisconsin?
Several from School of Education win Wisconsin Idea Endowment grant awards
September 30, 2023
This year, seven projects and 10 seed grants were awarded funding through the Reilly-Baldwin Wisconsin Idea Endowment. Of these, one grant and three seed projects are led by faculty and graduate students in the UW–Madison School of Education.
The awards support staff and students in collaboration with community members "to co-create and share knowledge and solutions that will benefit and enrich the lives of the people of Wisconsin, the nation, and the world."
Louis Lindley, a teaching assistant and PhD candidate with the Department of Counseling Psychology, and Stephanie Budge, an associate professor with the same department, were awarded a large grant for their project, "Trans care: An online intervention to reduce symptoms of gender dysphoria."
Nicholas Hillman, a professor with the Department of Educational Leadership and Policy Analysis, and Kate Westaby, a PhD candidate and project assistant with the Wisconsin Center for Education Research (WCER), collaborated on their seed project, "Building better pathways for young moms to achieve educational goals."
Another seed project winner was "Cultivating Umoja through participatory action research refugees in Madison," led by Matthew Wolfgram, an associate researcher and principal investigator at WCER.
A study by Stephanie Budge and PhD student/teaching assistant Joonwoo Lee, "Transgender and nonbinary people's experience of relational trauma with parental figures," also won a seed project grant.
Read about all of this year's grant recipients.
4-star 2024 Wisconsin football commit Mabrey Mettauer airs it out in homecoming win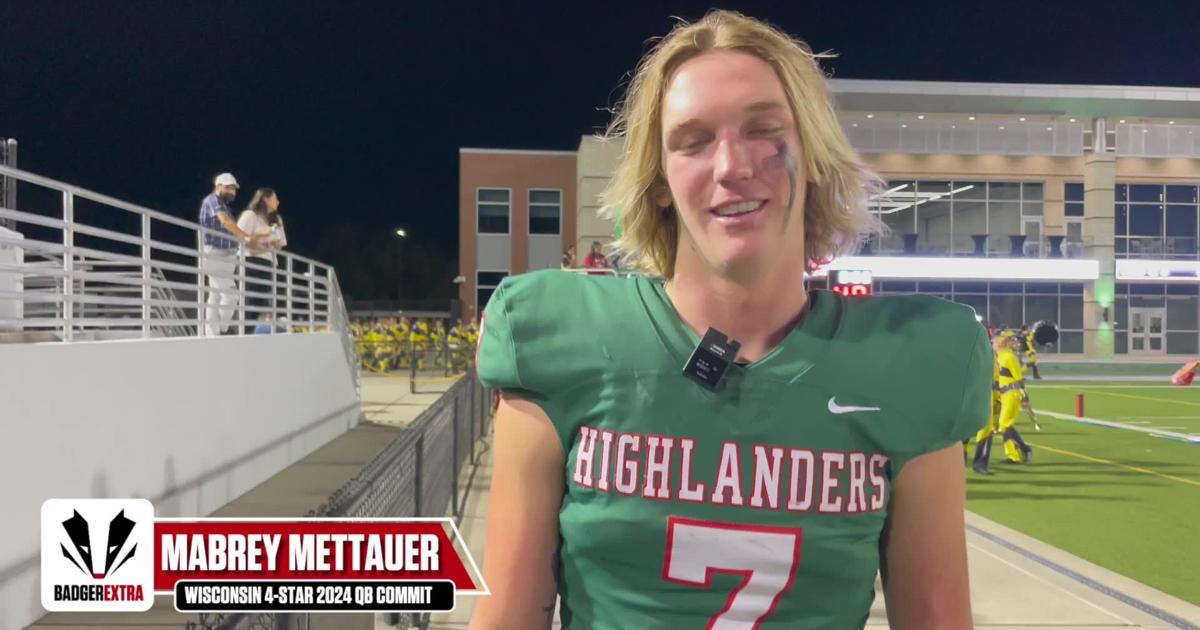 {{format_dollars}}
{{start_price}}
{{format_cents}}


{{promotional_format_dollars}}
{{promotional_price}}
{{promotional_format_cents}}

{{term}}
(renews at {{format_dollars}}{{start_price}}{{format_cents}}/month + tax)
{{action_button}}