Hart leads Southern Miss against South Dakota State after 23-point game – WTOP News
South Dakota State Jackrabbits (1-4) at Southern Miss Golden Eagles (2-3) Hattiesburg, Mississippi; Wednesday, 8 p.m. EST BOTTOM LINE: Southern…
South Dakota State Jackrabbits (1-4) at Southern Miss Golden Eagles (2-3)
Hattiesburg, Mississippi; Wednesday, 8 p.m. EST
BOTTOM LINE: Southern Miss takes on the South Dakota State Jackrabbits after Victor Hart scored 23 points in Southern Miss' 74-67 loss to the CSU Fullerton Titans.
The Golden Eagles have gone 2-0 in home games. Southern Miss is 1-2 against opponents with a winning record.
The Jackrabbits are 0-1 on the road. South Dakota State allows 76.6 points to opponents while being outscored by 1.2 points per game.
Southern Miss is shooting 40.1% from the field this season, 4.0 percentage points lower than the 44.1% South Dakota State allows to opponents. South Dakota State averages 8.4 made 3-pointers per game this season, 2.2 more made shots on average than the 6.2 per game Southern Miss gives up.
TOP PERFORMERS: Austin Crowley is scoring 15.0 points per game and averaging 4.2 rebounds for the Golden Eagles. Hart is averaging 13.8 points and 4.8 rebounds while shooting 52.9% for Southern Miss.
Zeke Mayo is averaging 20.2 points, 7.8 rebounds and 3.6 assists for the Jackrabbits. Luke Appel is averaging 14.2 points for South Dakota State.
___
The Associated Press created this story using technology provided by Data Skrive and data from Sportradar.
Copyright
© 2023 The Associated Press. All rights reserved. This material may not be published, broadcast, written or redistributed.

No. 21 Washington State women end South Dakota State's 16-game home win streak
BROOKINGS, S.D. — Astera Tuhina scored 18 points, Bella Murekatete added 15 and No. 21 Washington State beat South Dakota State 69-64 on Tuesday night to end the Jackrabbits' 16-game home win streak.
Washington State led 48-38 with 38 seconds left in the third quarter, but the Cougars didn't make another field goal until the 4:44 mark of the fourth. South Dakota State scored nine unanswered points to get within 52-51, but Tuhina and Tara Wallack scored on back-to-back possessions to give the Cougars a five-point lead.
Eleonora Villa extended Washington State's lead to 60-53 after making a 3-pointer with 2:44 left. Tuhina added a jumper from the right wing with 40 seconds remaining to make it 64-58.
Tuhina, Villa and Charlisse Leger-Walker each went 1 of 2 from the free-throw line in the final 36 seconds left to keep South Dakota State in it. The Jackrabbits were within 67-64 with 10.6 seconds left after two free throws by Paige Meyer. But Tuhina made two free throws to seal it.
Villa finished with 13 points for Washington State (10-1), which is off to its best start since the 1978-79 season. Leger-Walker, averaging 13.8 points, 7.6 rebounds and 4.5 assists, had four points, four rebounds and four assists.
Murekatete scored 11 points in the first half to help Washington State take a 30-24 lead into the break. She was 5 of 6 from the field, but the rest of her teammates combined to go 8 for 21.
Meyer scored 12 of her 23 points in the fourth quarter for South Dakota State (4-3), which entered with the seventh-longest active home winning streak in the nation. Brooklyn Meyer added 16 points and Madison Mathiowetz had 12.
The Cougars were SDSU's second ranked opponent of the year as the Jackrabbits fell to No. 1 South Carolina in November.
Washington State opens its Pac-12 schedule on Sunday against Washington before two final non-conference matchups with Houston and Auburn.
___ Get poll alerts and updates on AP Top 25 basketball throughout the season. Sign up here
FCS Playoff Preview and Prediction: Villanova at South Dakota St | The Analyst
FCS history continues to unfold with defending national champion South Dakota State riding a 26-game winning streak – tied for the third-longest in Division I subdivision history.
It will likely take a historic playoff upset – one for the ages, in fact – for Villanova to stop the steamrolling Jackrabbits in their FCS quarterfinal on Saturday.
Following is a capsule preview of the Villanova at SDSU matchup:
No. 8 Seed Villanova (10-2) at No. 1 Seed South Dakota State (12-0)
Kickoff – Noon ET Saturday at Dana J. Dykhouse Stadium in Brookings, South Dakota (ESPN)
Series – South Dakota State leads 2-0 (last meeting: SDSU won 35-21 in a Villanova in 2021 playoff quarterfinal)
Coaches – Villanova: Mark Ferrante (47-28, seventh season); South Dakota State: Jimmy Rogers (12-0, first season)
3 Players to Watch – Villanova: QB Connor Watkins (146 of 251, 2,607 yards, 20 TDs, 9 INTs; 326 rush yards, 10 TDs), RB Jalen Jackson (123 carries, 914 yards, 8 TDs), LB Shane Hartzell (82 tackles, 4 sacks, 1 INT, 8 QB hurries); South Dakota State: QB Mark Gronowski (170 of 248, 2,517 yards, 24 TDs, 4 INTs; 260 rush yards, 7 TDs), RB Isaiah Davis (178 carries, 1,192 yards, 14 TDs; 20 receptions), LB Isaiah Stalbird (65 tackles, 2 sacks, 1 INT, 1 fumble recovery)
Notable – SDSU, the defending national champion, has a 19-game home winning streak in addition to its 26-game overall run. The MVFC champ is the only FCS team to rank in the top 10 of scoring offense, total offense, scoring defense and total defense, and its point differential is by far the best nationally (plus-331 with 455 scored and 124 allowed). Davis has 100+ rushing yards in 10 of his 13 career playoff games. Linebacker Jason Freeman leads with four takeaways on a team that is +11 in turnover margin. Villanova is on a seven-game winning streak with an average 22.7-point margin of victory. The Wildcats are surrendering only 99 rushing yards per game to FCS opponents, but they'll have to match SDSU's powerful offensive line (Garret Greenfield and Mason McCormick are committed to the East-West Shrine Bowl). While the CAA tri-champ averages 220.4 rushing yards per game, its downfield passing is a difference maker, with WRs Rayjoun Pringle (38 receptions, 955 yards, 8 TDs) and Jaylan Sanchez (28-716-6) both averaging over 25 yards per catch.
Up Next – The winner will play No. 4 seed Idaho (9-3) or No. 5 seed UAlbany (10-3) in a national semifinal on Dec. 15 or 16.
Prediction – South Dakota State 35, Villanova 17
---
Bison RB Williams hoping to again find 'extra gear' against South Dakota in FCS quarterfinals
FARGO — North Dakota State running back TaMerik Williams flashed his big-play ability last weekend at Montana State with two long touchdown runs in a dramatic overtime victory in the second round of the Division I FCS playoffs.
The 6-foot-1, 227-pound Williams had scoring runs of 44 and 75 yards in a 35-34 victory against the No. 6-seeded Bobcats.
"Everybody wants to label me as a power back," said Williams, from Angleton, Texas. "I think I'm pretty well balanced. I think I do everything really well as far as pass protection and being able to hit that extra gear to take it to the house."
The Bison (10-3) are hoping Williams can hit that extra gear this weekend. NDSU plays No. 3-seeded South Dakota (10-2) at 1:30 p.m. Saturday in the FCS quarterfinals at the DakotaDome. The game is a rematch.
The Coyotes scored a 24-19 victory at the Fargodome during the regular season. South Dakota limited the Bison to 189 rushing yards on 40 attempts in that game. NDSU is averaging 244.7 rushing yards per game — good for No. 4 in the FCS — heading into Saturday.
"Any opponent that we play is going to be a different challenge because we know we're going to get their best shot," Williams said.
The senior gave his best shot against the Bobcats. Williams rushed for a career-high 162 yards and the two scores on 11 attempts. It marked the first time this season the Bison had a true running back reach 100 rushing yards in a game.
"It was only a matter of time," Williams said. "I've always been a patient guy. I don't question anything that happens in life. I will always be ready for the opportunity and whenever it presents itself, I was good to go."
Williams moved into the team lead in rushing after last weekend's performance. He's rushed for 657 yards and seven touchdowns on 105 attempts through 13 games.
Bison quarterback Cam Miller is second, rushing for 640 yards and 12 touchdowns in 122 carries. Backup QB Cole Payton has rushed for 508 yards and 10 TDs on 71 attempts.
Williams credited the Bison offensive line — often referred to as the 'rams' — for his big game at Bobcat Stadium.
"The preparation part, I just tried to keep it as normal as possible," Williams said. "I'm a big routine guy. I try to be as consistent with everything that I do every week, leading up to that game. … I felt like we were getting a lot of movement up front. The rams were doing a great job, the tight ends were doing a great job."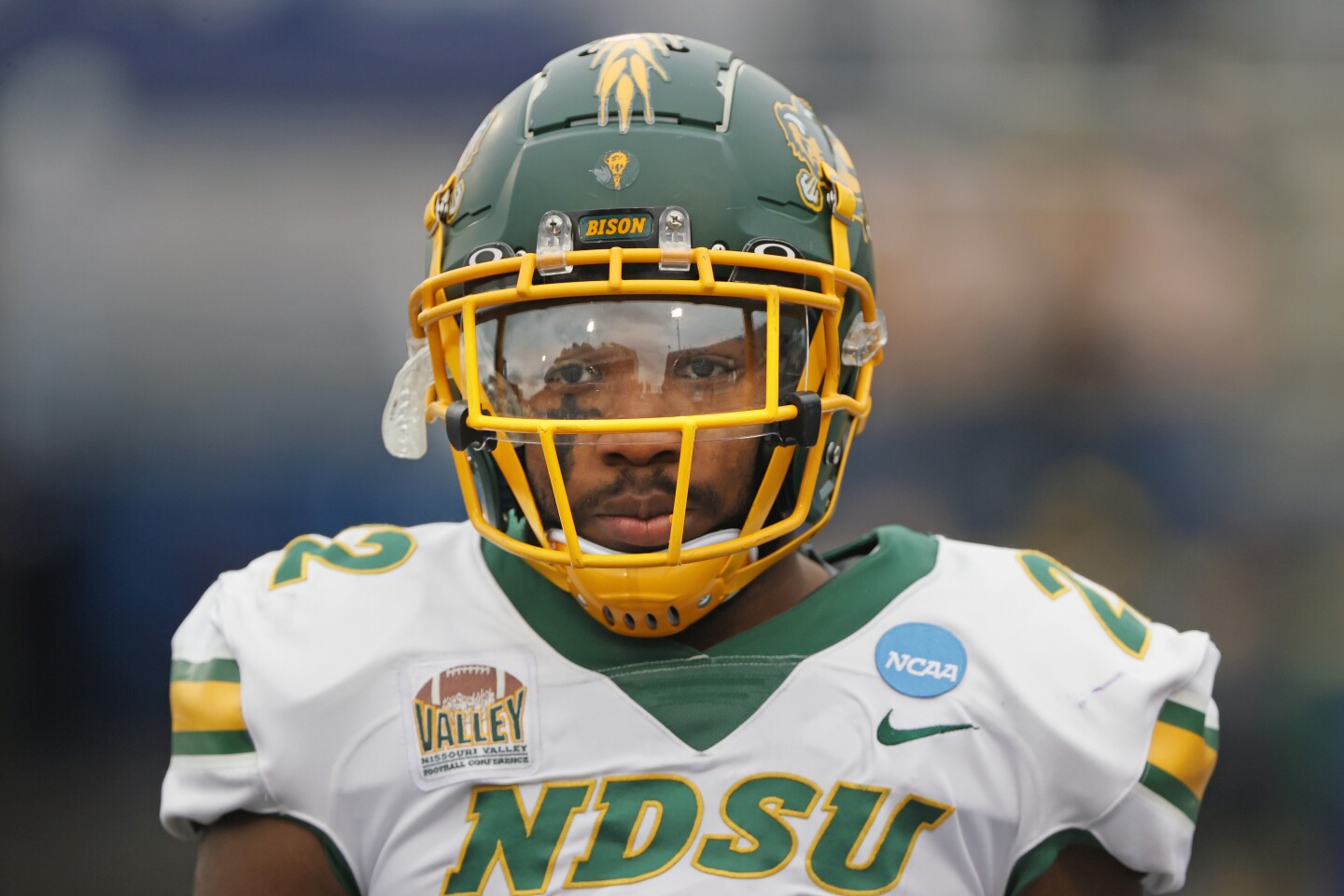 Williams scored on a 44-yard TD run that gave the Bison a 14-7 lead with 4 minutes, 7 seconds to play in the second quarter against Montana State. He added his 75-yard scoring burst for a 21-14 lead on the first play from scrimmage in the second half.
"He's a big kid that can run," said Bison head coach Matt Entz. "He was able to outrun their defense and two huge runs during the course of the game. He ran hard. We need that out of our veteran players."
Both plays had a similar look. Williams angled through a seam off tackle before racing past a Bobcats defender on his way to the end zone.
"I know I have the ability, the talent and everything else," said Williams, an SMU transfer in his third year with the Bison. "Once I caught the seam, I was just able to make a big play. … I've always prided myself on being able to have an extra gear. I feel a lot of people don't really know that about myself."
TK Marshall added to the big day for the Bison running backs with a 29-yard TD run that tied the scored at 28-28 with 2:33 remaining in the fourth quarter. That forced overtime. NDSU rushed for 296 yards on 43 attempts.
"We all contribute to the running game in a different way," Williams said. "It's special when you can find those different moments in the game for each of us to contribute at the right moment. It's a matter of all of us just feeding off each other."
The Coyotes have been stingy all season. They have one of the top scoring defenses in the FCS, limiting opponents to 15.4 points per game. South Dakota limited Williams to 19 yards on seven attempts during the regular-season matchup.
"They're a great team," Williams said. "I think their D-line is very solid."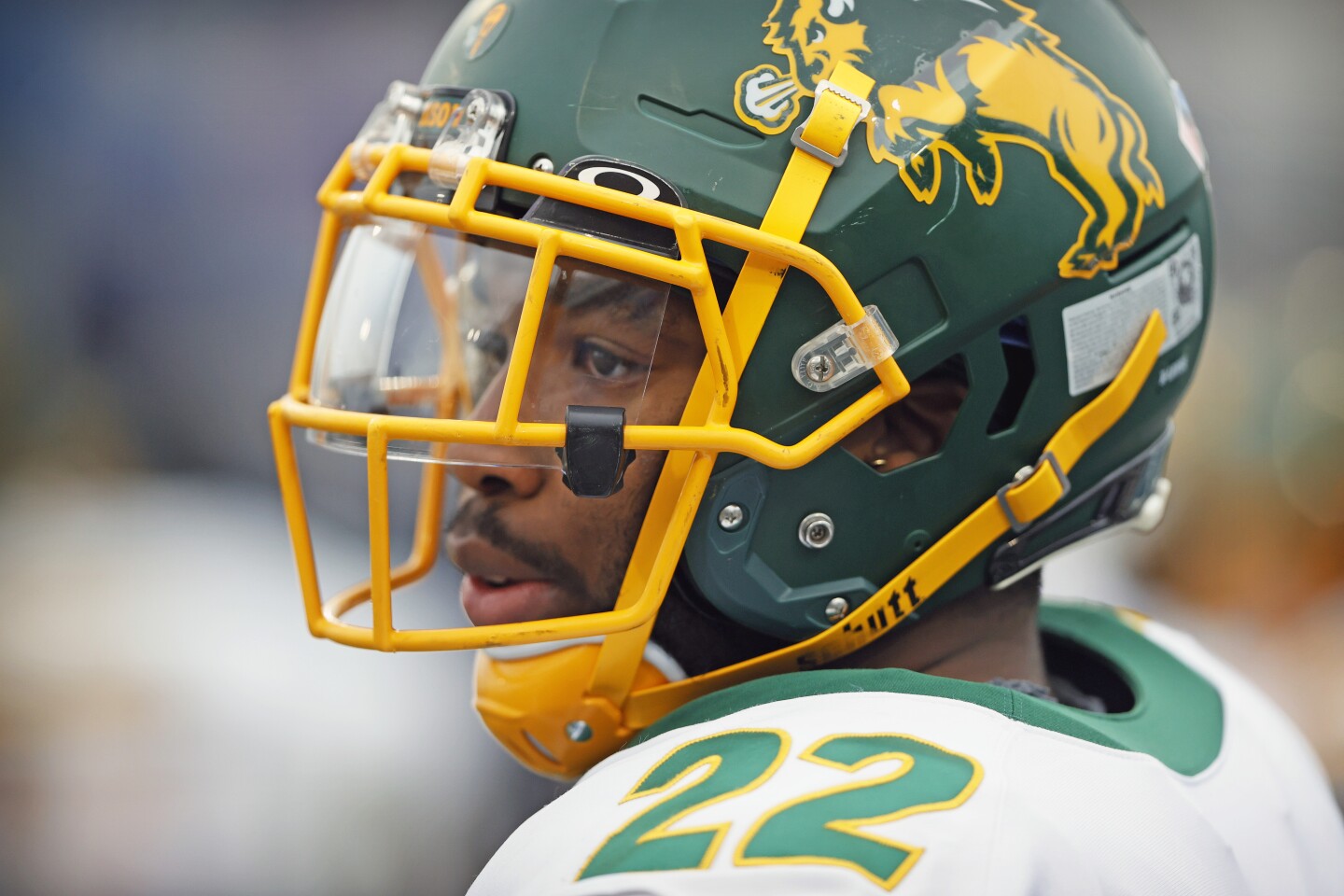 Click to view the bracket

Peterson covers college athletics for The Forum, including Concordia College and Minnesota State Moorhead. He also covers the Fargo-Moorhead RedHawks independent baseball team and helps out with North Dakota State football coverage. Peterson has been working at the newspaper since 1996.