Council approves zoning changes for housing development, but nearby residents concerned of traffic flow
MITCHELL — The revived Ridgeview on Foster housing development that project leaders and some large employers say is key for Mitchell's growth cleared its first hurdle on Monday night.
The Mitchell City Council unanimously approved a plat and the first reading of an ordinance to rezone the 21 acres of land along the corner of Foster Street and East Eighth Avenue where the development is proposed.
While the project has been met with strong support from several large employers like Avera, Trail King and Mitchell Technical College, some nearby residents are not on board with the proposed layout of the development. A pair of those residents spoke Monday about the traffic concerns they have with the project and requested changes to the access points into the housing development.
Pam Bathke, a nearby resident living directly north of the project who is the wife of council member Mike Bathke, addressed her concerns about the traffic flow of the development congesting Bridle Drive and East Eighth Avenue and suggested project leaders reconfigure the street layout to avoid congesting two existing roads. Pam Bathke also referenced a city ordinance that states the length of one block should be between 400 feet and 1,000 feet. The length of a block in the Ridgeview on Foster development stretching along East Eighth Avenue extends 1,079 feet.
"The concerns from all the neighbors is the traffic, so I'm trying to figure out what's going on with Nagle Lane. We would like to make sure all the traffic is not funneled down all the way down Eighth Avenue or Bridle Drive," Pam Bathke said. "We would ask you to come up with a plan that follows city ordinance as far as the block length goes. We all know as we drive down Bridle Drive today how difficult it is to access locations. And traffic is parked on both sides of the street with on-street parking."
Van Wire, who resides north of the development, urged project leaders to add an access point into the housing development on Foster Street. Designs show access points into the development are located on East Eighth Avenue and North Calhoun Street, which connects to Bridle Drive.
"It's called Ridgeview on Foster. Let's put an access off of Foster," said Wire, who also referenced Fire Marshal Shannon Sandoval's previous concerns he shared about having no access into the development from Foster Street.
In response to Pam Bathke's concern of the length of a block within the development exceeding 1,000 feet, City Planner Mark Jenniges said there are numerous city blocks that exceed 1,000 feet in length, including Fifth Avenue and Bridle Drive. Jenniges noted the ordinance outlining block lengths serves as a guideline.
Bathke questioned why the city has ordinances if they choose not to enforce them.
Ultimately, the proposed length of the block did not spark concerns among the council. Council member Susan Tjarks said ordinances can be outdated and not factor in changes in housing developments. After the discussion, the council unanimously approved the rezoning changes and plat of land, which included a yes vote from Mike Bathke.
After being sidelined in 2020 due to funding uncertainties amid the coronavirus pandemic, the Ridgeview on Foster housing development saw several major changes since then. New project leaders came into the picture, including officials with Mitchell Area Housing Incorporated (MAHI) and the Mitchell Area Development Corporation. The zoning layout of the land was also tweaked to better fit the existing neighborhoods abutting the land across the street from Avera Queen of Peace hospital.
A handful of project supporters spoke in favor of the development during Monday's meeting and echoed the need for more affordable housing options in Mitchell to fill jobs.
Hilary Rockwell, Avera Queen of Peace CEO, said there are currently 60 job openings at Avera Queen of Peace. She pointed to the project as a vital tool that would attract employees for the hospital and other local industries in search of workers.
"The big goal is to get that workforce housing. We have to have places for people to live," Rockwell said.
Lee Anderson, vice president of human resources at Trail King, emphasized the challenges that the manufacturing company has faced in recruiting and retaining workers with the lack of affordable housing options in Mitchell.
"As part of former Gov. Daugaard's initiative, Trail King paid to relocate 70 people to Mitchell. Everyone of them moved out because they couldn't find any places to live," Anderson said. "We lose employees regularly because they indicate there are no affordable houses in town."
Mike Lauritsen, the housing coordinator with the MADC who also oversees MAHI, said a housing study on Mitchell showed the city needs "400 new houses in the next 10 years." According to Lauritsen, the Ridgeview on Foster development and a proposed project near Lake Mitchell will bring about 100 new homes to the city.
Lauritsen said the goal is build 40 houses per year over the next 10 years to address the housing crunch.
"We have 600 job openings. And we're trying to grow our jobs but we need to grow our housing," he said.
Terry Sabers, president of MAHI, provided a funding update during the meeting that will keep home prices down and lots around $25,000. Sabers said another grant was secured ahead of Monday's meeting that officially has the development "fully funded."
Sabers also pointed to Brookings building homes at a rate 2 times greater than Mitchell as one example of a city that shows Mitchell needs to catch up to foster growth.
"Our goal is to build houses on the lower end of the market range. We're never going to grow without more housing. We need more workers in order to fill these positions for companies to grow," Sabers said.
The council will consider approving and adopting the second reading of the zoning ordinance in early December. If adopted, the project could officially begin although a groundbreaking ceremony was already hosted at the development.
Sam Fosness joined the Mitchell Republic in May 2018. He was raised in Mitchell, S.D., and graduated from Mitchell High School. He continued his education at the University of South Dakota in Vermillion, where he graduated in 2020 with a bachelor's degree in journalism and a minor in English. During his time in college, Fosness worked as a news and sports reporter for The Volante newspaper.

No. 21 Washington State women end South Dakota State's 16-game home win streak
BROOKINGS, S.D. — Astera Tuhina scored 18 points, Bella Murekatete added 15 and No. 21 Washington State beat South Dakota State 69-64 on Tuesday night to end the Jackrabbits' 16-game home win streak.
Washington State led 48-38 with 38 seconds left in the third quarter, but the Cougars didn't make another field goal until the 4:44 mark of the fourth. South Dakota State scored nine unanswered points to get within 52-51, but Tuhina and Tara Wallack scored on back-to-back possessions to give the Cougars a five-point lead.
Eleonora Villa extended Washington State's lead to 60-53 after making a 3-pointer with 2:44 left. Tuhina added a jumper from the right wing with 40 seconds remaining to make it 64-58.
Tuhina, Villa and Charlisse Leger-Walker each went 1 of 2 from the free-throw line in the final 36 seconds left to keep South Dakota State in it. The Jackrabbits were within 67-64 with 10.6 seconds left after two free throws by Paige Meyer. But Tuhina made two free throws to seal it.
Villa finished with 13 points for Washington State (10-1), which is off to its best start since the 1978-79 season. Leger-Walker, averaging 13.8 points, 7.6 rebounds and 4.5 assists, had four points, four rebounds and four assists.
Murekatete scored 11 points in the first half to help Washington State take a 30-24 lead into the break. She was 5 of 6 from the field, but the rest of her teammates combined to go 8 for 21.
Meyer scored 12 of her 23 points in the fourth quarter for South Dakota State (4-3), which entered with the seventh-longest active home winning streak in the nation. Brooklyn Meyer added 16 points and Madison Mathiowetz had 12.
The Cougars were SDSU's second ranked opponent of the year as the Jackrabbits fell to No. 1 South Carolina in November.
Washington State opens its Pac-12 schedule on Sunday against Washington before two final non-conference matchups with Houston and Auburn.
___ Get poll alerts and updates on AP Top 25 basketball throughout the season. Sign up here
FCS Playoff Preview and Prediction: Villanova at South Dakota St | The Analyst
FCS history continues to unfold with defending national champion South Dakota State riding a 26-game winning streak – tied for the third-longest in Division I subdivision history.
It will likely take a historic playoff upset – one for the ages, in fact – for Villanova to stop the steamrolling Jackrabbits in their FCS quarterfinal on Saturday.
Following is a capsule preview of the Villanova at SDSU matchup:
No. 8 Seed Villanova (10-2) at No. 1 Seed South Dakota State (12-0)
Kickoff – Noon ET Saturday at Dana J. Dykhouse Stadium in Brookings, South Dakota (ESPN)
Series – South Dakota State leads 2-0 (last meeting: SDSU won 35-21 in a Villanova in 2021 playoff quarterfinal)
Coaches – Villanova: Mark Ferrante (47-28, seventh season); South Dakota State: Jimmy Rogers (12-0, first season)
3 Players to Watch – Villanova: QB Connor Watkins (146 of 251, 2,607 yards, 20 TDs, 9 INTs; 326 rush yards, 10 TDs), RB Jalen Jackson (123 carries, 914 yards, 8 TDs), LB Shane Hartzell (82 tackles, 4 sacks, 1 INT, 8 QB hurries); South Dakota State: QB Mark Gronowski (170 of 248, 2,517 yards, 24 TDs, 4 INTs; 260 rush yards, 7 TDs), RB Isaiah Davis (178 carries, 1,192 yards, 14 TDs; 20 receptions), LB Isaiah Stalbird (65 tackles, 2 sacks, 1 INT, 1 fumble recovery)
Notable – SDSU, the defending national champion, has a 19-game home winning streak in addition to its 26-game overall run. The MVFC champ is the only FCS team to rank in the top 10 of scoring offense, total offense, scoring defense and total defense, and its point differential is by far the best nationally (plus-331 with 455 scored and 124 allowed). Davis has 100+ rushing yards in 10 of his 13 career playoff games. Linebacker Jason Freeman leads with four takeaways on a team that is +11 in turnover margin. Villanova is on a seven-game winning streak with an average 22.7-point margin of victory. The Wildcats are surrendering only 99 rushing yards per game to FCS opponents, but they'll have to match SDSU's powerful offensive line (Garret Greenfield and Mason McCormick are committed to the East-West Shrine Bowl). While the CAA tri-champ averages 220.4 rushing yards per game, its downfield passing is a difference maker, with WRs Rayjoun Pringle (38 receptions, 955 yards, 8 TDs) and Jaylan Sanchez (28-716-6) both averaging over 25 yards per catch.
Up Next – The winner will play No. 4 seed Idaho (9-3) or No. 5 seed UAlbany (10-3) in a national semifinal on Dec. 15 or 16.
Prediction – South Dakota State 35, Villanova 17
---
Bison RB Williams hoping to again find 'extra gear' against South Dakota in FCS quarterfinals
FARGO — North Dakota State running back TaMerik Williams flashed his big-play ability last weekend at Montana State with two long touchdown runs in a dramatic overtime victory in the second round of the Division I FCS playoffs.
The 6-foot-1, 227-pound Williams had scoring runs of 44 and 75 yards in a 35-34 victory against the No. 6-seeded Bobcats.
"Everybody wants to label me as a power back," said Williams, from Angleton, Texas. "I think I'm pretty well balanced. I think I do everything really well as far as pass protection and being able to hit that extra gear to take it to the house."
The Bison (10-3) are hoping Williams can hit that extra gear this weekend. NDSU plays No. 3-seeded South Dakota (10-2) at 1:30 p.m. Saturday in the FCS quarterfinals at the DakotaDome. The game is a rematch.
The Coyotes scored a 24-19 victory at the Fargodome during the regular season. South Dakota limited the Bison to 189 rushing yards on 40 attempts in that game. NDSU is averaging 244.7 rushing yards per game — good for No. 4 in the FCS — heading into Saturday.
"Any opponent that we play is going to be a different challenge because we know we're going to get their best shot," Williams said.
The senior gave his best shot against the Bobcats. Williams rushed for a career-high 162 yards and the two scores on 11 attempts. It marked the first time this season the Bison had a true running back reach 100 rushing yards in a game.
"It was only a matter of time," Williams said. "I've always been a patient guy. I don't question anything that happens in life. I will always be ready for the opportunity and whenever it presents itself, I was good to go."
Williams moved into the team lead in rushing after last weekend's performance. He's rushed for 657 yards and seven touchdowns on 105 attempts through 13 games.
Bison quarterback Cam Miller is second, rushing for 640 yards and 12 touchdowns in 122 carries. Backup QB Cole Payton has rushed for 508 yards and 10 TDs on 71 attempts.
Williams credited the Bison offensive line — often referred to as the 'rams' — for his big game at Bobcat Stadium.
"The preparation part, I just tried to keep it as normal as possible," Williams said. "I'm a big routine guy. I try to be as consistent with everything that I do every week, leading up to that game. … I felt like we were getting a lot of movement up front. The rams were doing a great job, the tight ends were doing a great job."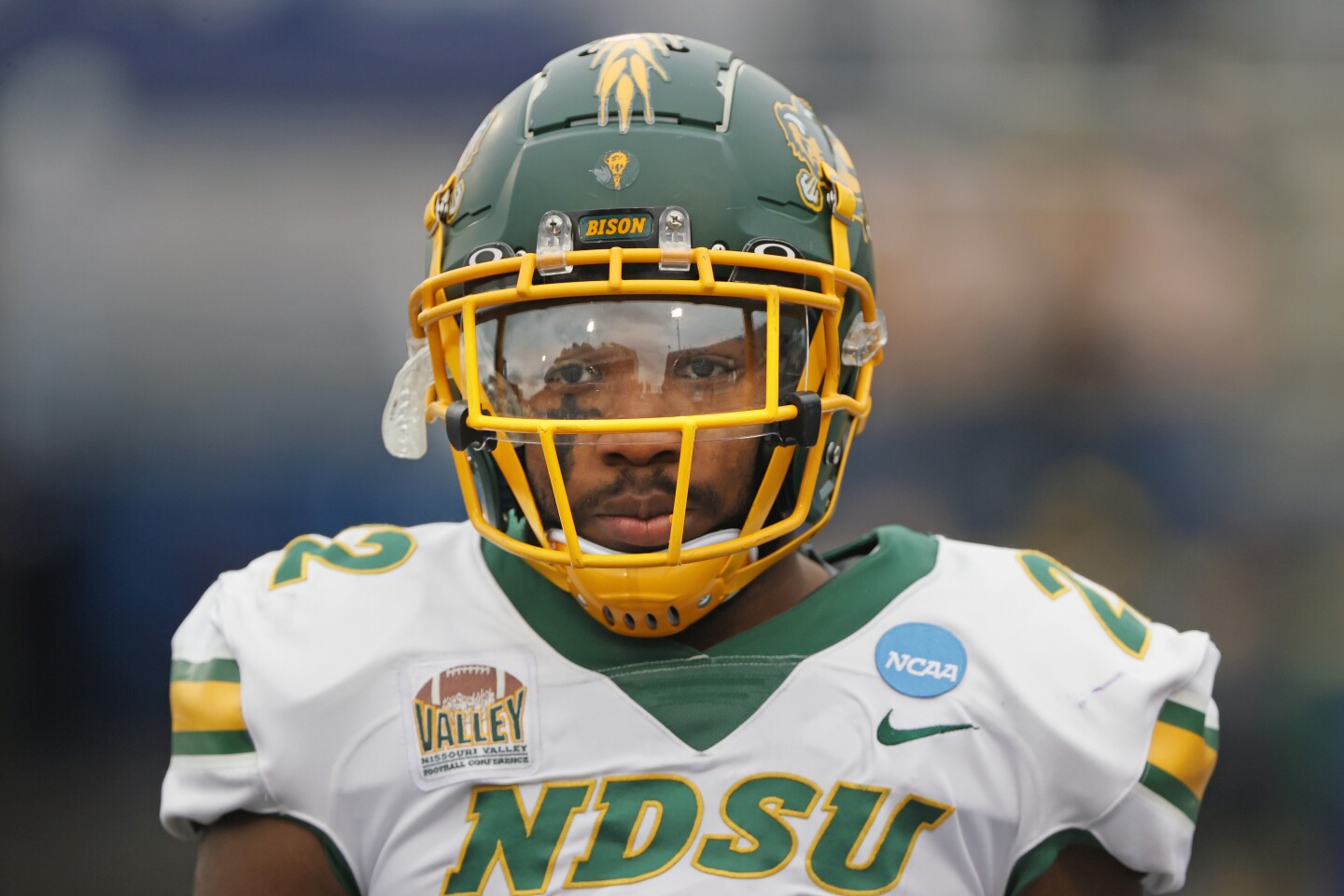 Williams scored on a 44-yard TD run that gave the Bison a 14-7 lead with 4 minutes, 7 seconds to play in the second quarter against Montana State. He added his 75-yard scoring burst for a 21-14 lead on the first play from scrimmage in the second half.
"He's a big kid that can run," said Bison head coach Matt Entz. "He was able to outrun their defense and two huge runs during the course of the game. He ran hard. We need that out of our veteran players."
Both plays had a similar look. Williams angled through a seam off tackle before racing past a Bobcats defender on his way to the end zone.
"I know I have the ability, the talent and everything else," said Williams, an SMU transfer in his third year with the Bison. "Once I caught the seam, I was just able to make a big play. … I've always prided myself on being able to have an extra gear. I feel a lot of people don't really know that about myself."
TK Marshall added to the big day for the Bison running backs with a 29-yard TD run that tied the scored at 28-28 with 2:33 remaining in the fourth quarter. That forced overtime. NDSU rushed for 296 yards on 43 attempts.
"We all contribute to the running game in a different way," Williams said. "It's special when you can find those different moments in the game for each of us to contribute at the right moment. It's a matter of all of us just feeding off each other."
The Coyotes have been stingy all season. They have one of the top scoring defenses in the FCS, limiting opponents to 15.4 points per game. South Dakota limited Williams to 19 yards on seven attempts during the regular-season matchup.
"They're a great team," Williams said. "I think their D-line is very solid."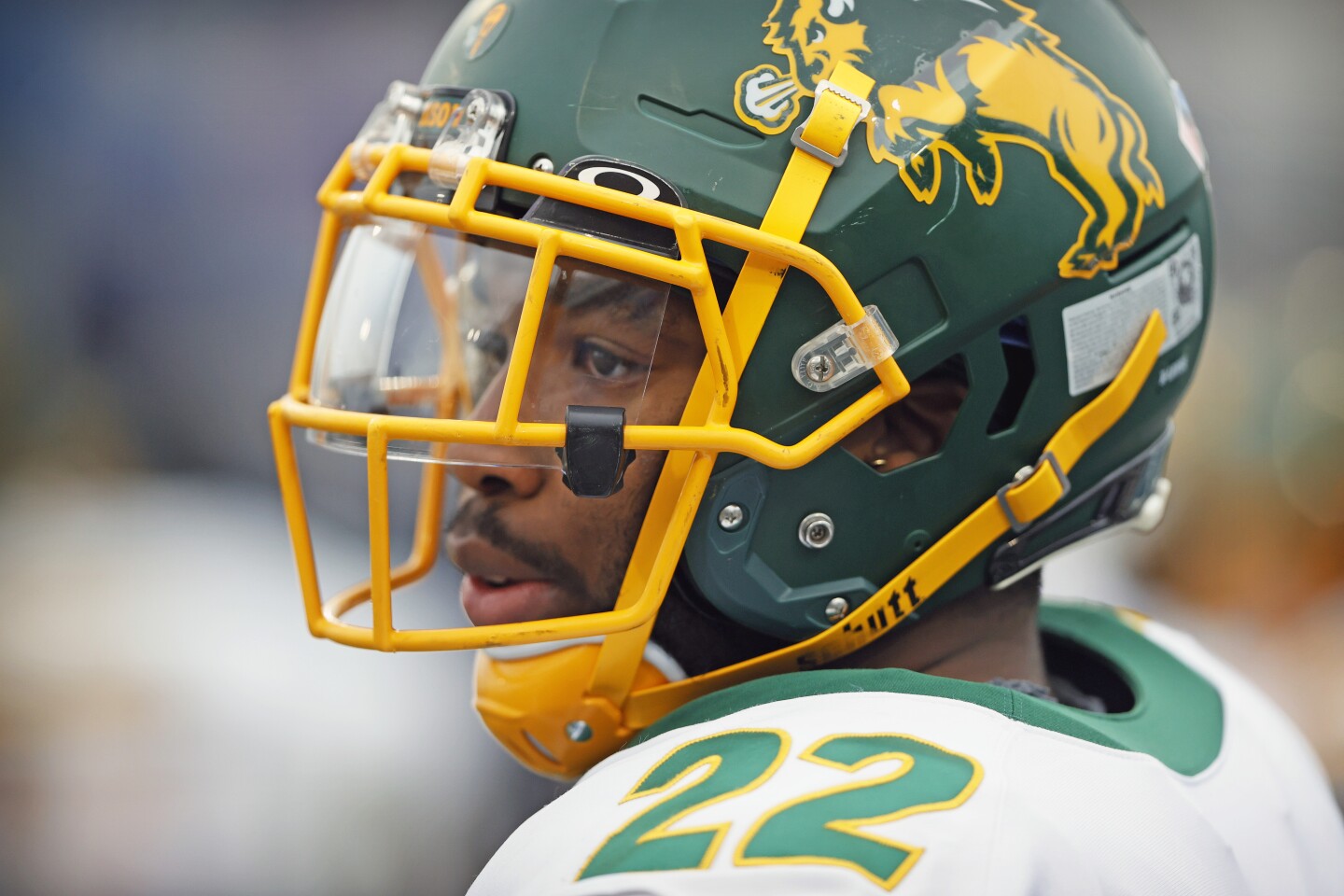 Click to view the bracket

Peterson covers college athletics for The Forum, including Concordia College and Minnesota State Moorhead. He also covers the Fargo-Moorhead RedHawks independent baseball team and helps out with North Dakota State football coverage. Peterson has been working at the newspaper since 1996.