Number 1! North Dakota claims top spot in both polls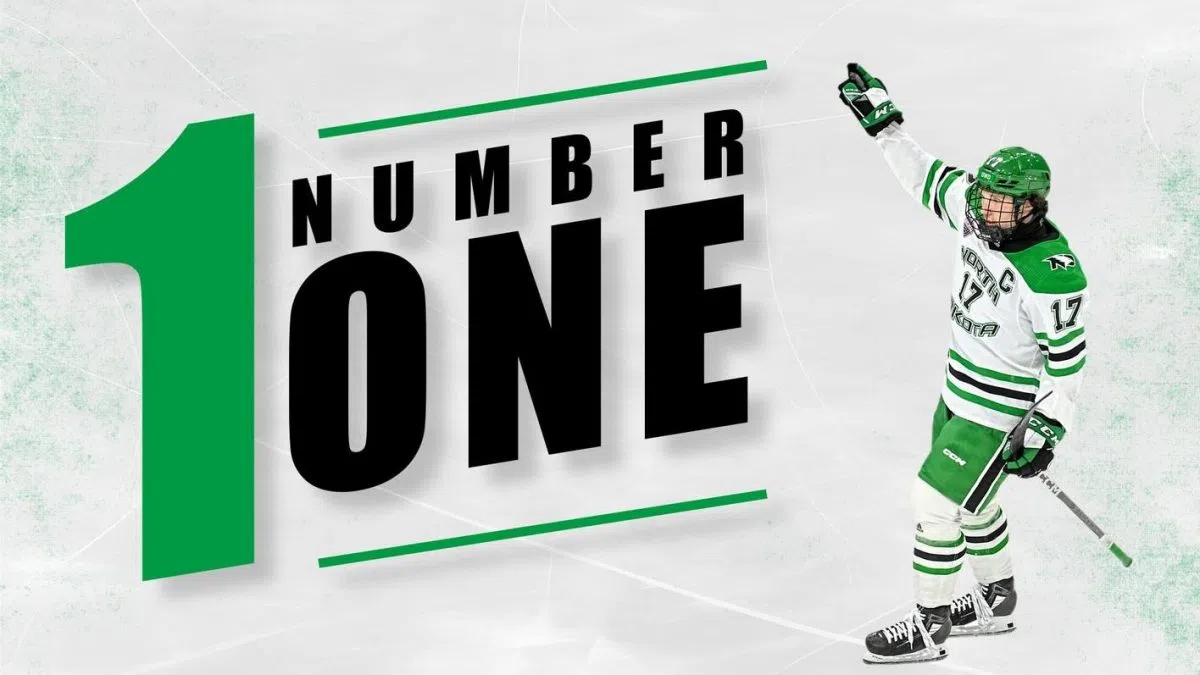 GRAND FORKS, N.D. (UND Athletics)– Following a sweep over Miami last weekend, North Dakota has climbed to the top ranking in both the USCHO.com and USA Hockey/The Rink Live polls, which were released on Monday.
It marks the first time UND has ascended to the No. 1 spot in the polls since March 22, 2021 prior to the start of the NCAA Tournament. The Fighting Hawks have won their last five games and hold an overall record of 9-2-1, matching the program's best start to the season since the 2020-21 campaign.
NoDak notched its second straight sweep to begin NCHC play last weekend, notching a 6-4 win on Friday before cruising to a 5-1 triumph on Saturday to close out the weekend against Miami with another six points. Forward Jackson Blake continued to haunt the RedHawks, notching four points on a pair of goals and two helpers to improve his career numbers to 12 points in six games against MU while goaltender Ludvig Persson allowed just five goals through 120 minutes to increase his personal winning streak to a career-high five games.
North Dakota remains home to close out the month of November with a Thanksgiving Weekend showdown with Bemidji State beginning Friday night at 7:07 p.m. from Ralph Engelstad Arena. Fans can catch all the action on AM 790 FM 94.1|104.7 KFGO and  the Home of Economy Radio Network.
11/20/2023 2:17:00 PM | By: Alec Stocker Johnson, FightingHawks.com

North Dakota State shocks Montana State with blocked PAT in OT for 35-34 win in FCS playoffs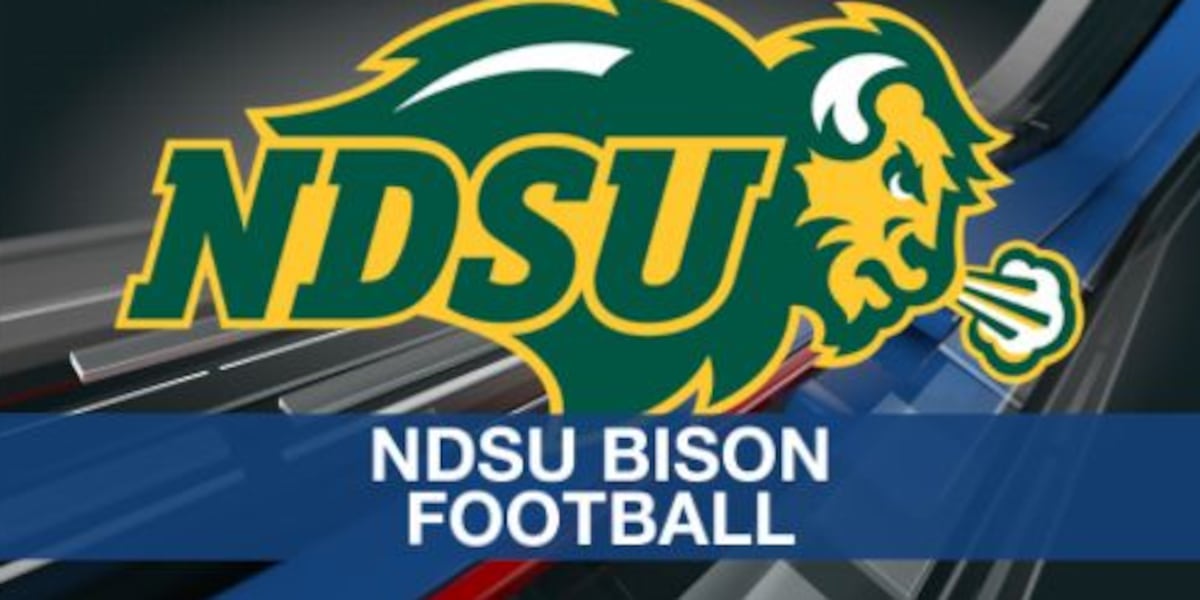 BOZEMAN, Mont. (AP) — Hunter Poncius blocked Casey Kautman's extra point attempt in overtime and North Dakota State escaped with a 35-34 win over sixth-seeded Montana State on Saturday in the quarterfinals of the FCS playoffs.
The Bison eliminated the Bobcats for the fourth time in five seasons, including the 2021 championship game. The win was their FCS-record 46th, breaking a tie with Georgia Southern, for their 14th straight trip to the quarterfinals, where they will face Missouri Valley Football Conference rival South Dakota. The Coyotes won the first meeting 24-19.
The loss ended MSU's 26-game home winning streak in only the fourth road game the Bison have had to play in the playoffs, not counting championship games on neutral fields.
North Dakota State, a nine-time national champion, ran the ball five times in overtime with Cam Miller scoring on a 3-yard quarterback keeper.
Montana State responded with a 25-yard run by Scottre Humphrey around the right end. However, Poncius, a 6-foot-8, 315-pound backup offensive tackle got enough push and his hands up to win the game.
The Bison (10-3) went 89 yards in nine plays, tying the game on a 29-yard run by TK Marshall with 2:33 to play.
Montana State (8-4) got to the NDSU 36 behind backup quarterback Sean Chambers, who replaced Tommy Mellott, who was injured on a third-down run on the previous possession. The threat ended when Chambers, playing on an injured ankle, was sacked on consecutive plays, NDSU's only sacks.
Mellott was 13 of 17 for 204 yards passing and two touchdowns and ran for 151 yards and two scores.
TaMerik Williams ran for a career-high 162 yards and two touchdowns for the Bison.
Williams scored on a 75-yard run on the first play of the second half to put the Bison up 21-17 and two plays later Mellott scored on a 76-yard run. MSU took the lead on Mellott's 9-yard pass to Clevan Thomas Jr. after Chambers took the snap midway through the third quarter.
Kautzman missed field-goal attempts from 33 and 49 yards on MSU's first two possessions of the game.
Copyright 2023 The Associated Press. All rights reserved.
Four youths injured after SUV slides over cliff near Mandan
BISMARCK — Four juveniles were injured when an SUV left the road and slid over a cliff about 8:22 p.m. on Friday, Dec. 1, about a mile north of Mandan, according to a North Dakota Highway Patrol report.
According to the report:
The incident happened at the intersection of Highway 1806 and 38th Street, also known as the Old Heskett Power Plant Road.
The SUV was traveling eastbound on 38th Street at a high rate of speed when the driver, a 14-year-old female from Mandan, lost control of the vehicle and it slid through a barbed wire fence sideways and off a cliff towards the Missouri River.
The vehicle dropped approximately 50 feet while overturning on the way down. It came to rest upright on the shoreline next to the river, according to the Highway Patrol report.
The driver was injured in the incident, as was a 15-year-old female passenger and two 16-year-old male passengers, all of whom are from Mandan.
The two females were taken to the hospital by ambulance and one of the males was released to a parent at the scene.
The other male had to be extricated from the vehicle and carried up a stairway before he could be transported to the hospital, according to the Highway Patrol report.
None of the individuals were wearing seat belts.
The vehicle was removed from the shoreline by a crane and the incident remains under investigation, the Highway Patrol said.
North Dakota vs. UC Riverside College Basketball Predictions & Picks – December 3
Sunday's game between the UC Riverside Highlanders (3-5) and the North Dakota Fightin' Hawks (6-2) at UCR Student Recreation Center has a projected final score of 73-67 based on our computer prediction, with UC Riverside securing the victory. Tipoff is at 7:00 PM on December 3.
Oddsmakers have not yet set a line for this tilt.
Watch live college basketball games from all over the country, plus ESPN originals and more NCAA hoops content on ESPN+!
North Dakota vs. UC Riverside Game Info & Odds
Date: Sunday, December 3, 2023
Time: 7:00 PM ET
TV: ESPN+
Live Stream: Watch this game on ESPN+
Where: Riverside, California
Venue: UCR Student Recreation Center
Place your bets on any college basketball matchup at BetMGM, and sign up with our link for a first-time deposit bonus!
North Dakota vs. UC Riverside Score Prediction
Prediction:
UC Riverside 73, North Dakota 67
Spread & Total Prediction for North Dakota vs. UC Riverside
Computer Predicted Spread: UC Riverside (-5.9)
Computer Predicted Total: 140.8
Both UC Riverside and North Dakota are 2-3-0 against the spread (ATS) so far this season. The Highlanders have a 3-2-0 record hitting the over, while games involving the Fightin' Hawks have a record of 2-3-0 when it comes to hitting the over.
Sportsbook Promo Codes
Bet on this or any college basketball matchup at BetMGM
North Dakota Performance Insights
The Fightin' Hawks put up 75.4 points per game (180th in college basketball) while giving up 71.4 per outing (191st in college basketball). They have a +32 scoring differential and outscore opponents by 4.0 points per game.
North Dakota is 109th in the country at 35.0 rebounds per game. That's 3.6 more than the 31.4 its opponents average.
North Dakota makes 6.8 three-pointers per game (236th in college basketball) compared to its opponents' 5.9. It shoots 26.9% from deep, and its opponents shoot 33.1%.
North Dakota wins the turnover battle by 1.2 per game, committing 10.9 (107th in college basketball) while its opponents average 12.1.
Rep your team with officially licensed college basketball gear! Head to Fanatics to find jerseys, shirts, and much more.
Not all offers available in all states, please visit BetMGM for the latest promotions for your area. Must be 21+ to gamble, please wager responsibly. If you or someone you know has a gambling problem, contact 1-800-GAMBLER.
© 2023 Data Skrive. All rights reserved.