Live at 12:50 p.m.: North Dakota State Bison vs. South Dakota Coyotes on WDAY
WDAY Sports+ is proud to bring you this weekend's NDSU Bison football Homecoming game as the team takes on the South Dakota Coyotes today, Sept. 30 at the fargodome.
Watch all the action here
.
You can catch that game on
WDAY Sports+
and WDAY at 1 p.m., with coverage starting at 12:50 p.m.
Be sure to tune in live from 10-11 AM for GameDay each Saturday before the game on WDAY. The WDAY Sports Team will have your pregame features, breakdowns of each week's game, and much more.
Don't miss any of the
NDSU Bison sports
& local high school sports action with the
WDAY Sports+
livestreams online. Learn how you can access this game and more with our new livestream subscription packages.
𝗦𝗨𝗕𝗦𝗖𝗥𝗜𝗣𝗧𝗜𝗢𝗡 𝗥𝗔𝗧𝗘𝗦 & 𝗣𝗟𝗔𝗡𝗦
WDAY Sports+ is available for $9.99 per month or $100 per year and also includes access to weekly high school games in North Dakota and western Minnesota and games involving Minnesota State University Moorhead. Subscribers outside of the WDAY-TV broadcast footprint will not be able to access Bison games live but can watch them on the site after they conclude.
SUBSCRIBE HERE:
https://inforum.com/wdayplus
** Note: If you have an existing news subscription, you will need a separate livestream subscription to access this content **
Our newsroom occasionally reports stories under a byline of "staff." Often, the "staff" byline is used when rewriting basic news briefs that originate from official sources, such as a city press release about a road closure, and which require little or no reporting. At times, this byline is used when a news story includes numerous authors or when the story is formed by aggregating previously reported news from various sources. If outside sources are used, it is noted within the story.

The 'Bozeman Block' will go down in Bison history; sets up rematch with South Dakota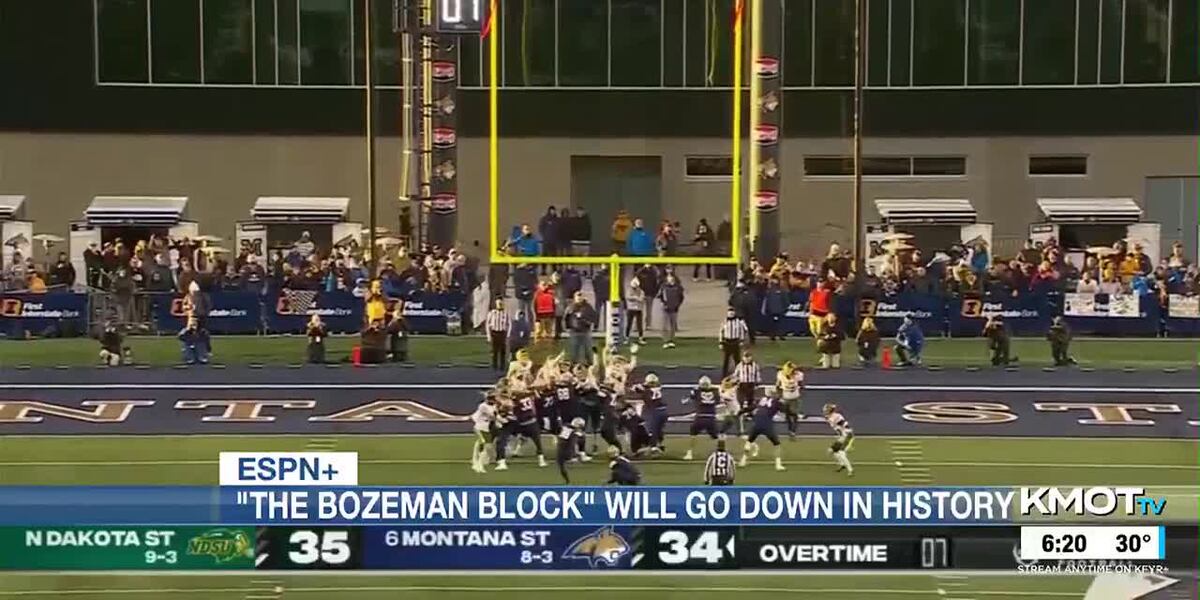 BOZEMAN, Mont. (KFYR) – Only one team in the FCS quarterfinals is not seeded and North Dakota State is that team.
NDSU trailed for a decent chunk of Saturday's game against Montana State and forced overtime.
The Bison took a long drive down from the 25-yard line to score seven, but the Bobcats scored on their first play of overtime. Even the announcers were ready for the second overtime, but you have to make the extra point. Montana State's kicker struggled throughout the day, and NDSU senior Hunter Poncius created a moment — the "Bozeman Block" — that will go down in Bison history.
"Huge play in overtime. I don't know how often, probably very seldom are you ever involved in a game with a walkoff blocked PAT. Maybe a field goal, but seldom, rarely do you ever see a walk-off blocked PAT to win a game, and a huge game like that," said Matt Entz, NDSU head coach.
The crazy victory snapped a 26-game home winning streak for Brent Vigen's team and it broke Georgia Southern's record of all-time FCS playoff wins. NDSU is now 46-4 in the Division I postseason.
It sets up a rematch against a team that beat the Bison this year — the Coyotes of South Dakota.
Their first contest against USD was a 24-19 loss on NDSU's homecoming back on September 30. It was also the Valley Conference opener.
"We weren't very good when we showed up in that first half against them, what was it? 21-3? We can't let a team get up like that, especially a good team that's going to get into some short-yardage situations, we struggled to get off the field. We've got to be better on third down. We've got to be better defensively and we've got to be able to score points when we get into the red zone. Field goals just aren't enough these days. Field goals will get you beat and they did," said Entz.
The Bison and Coyotes will play on Saturday at 1:30 p.m. Central Time in Vermillion. It's a national TV game, so it will be shown on ABC.
The Jackrabbits play the first game on Saturday against Villanova. Idaho and Albany are the four and five seeds. The Griz will play on Friday night.
Copyright 2023 KFYR. All rights reserved.
North Dakota Gov. Doug Burgum ends 2024 Republican presidential bid days before the fourth debate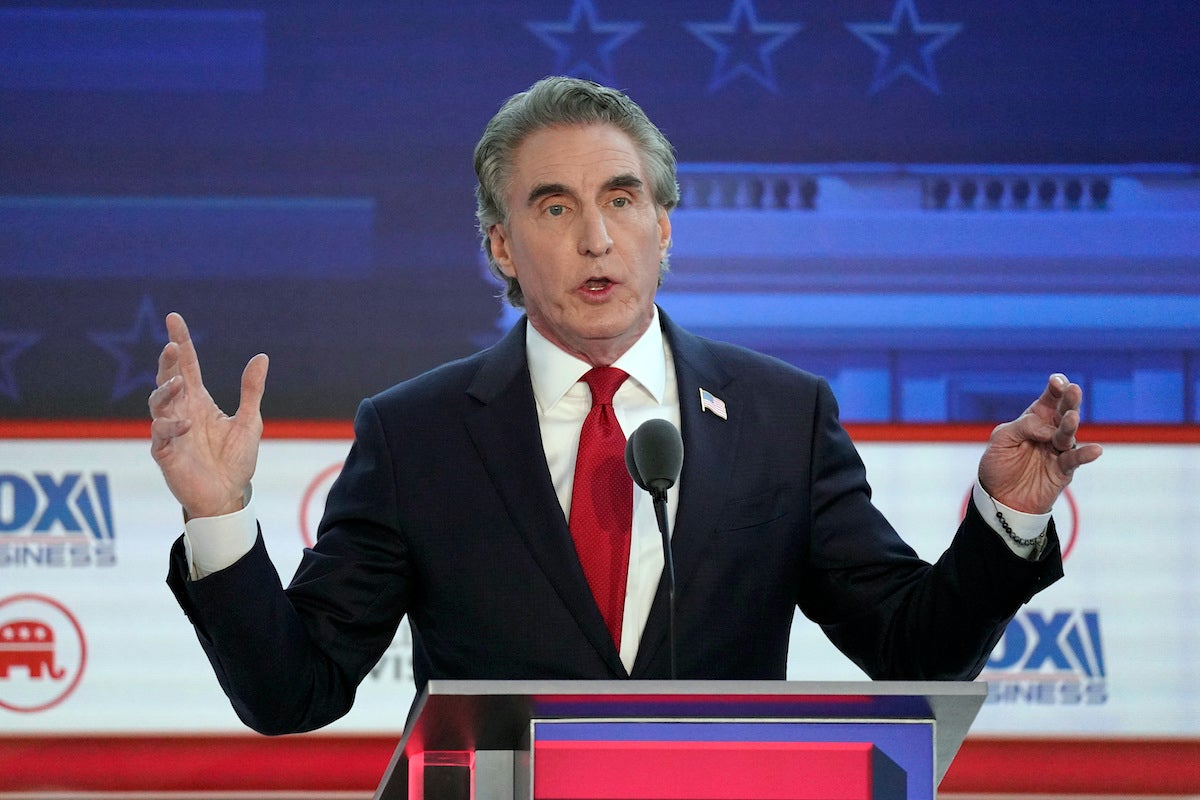 Burgum was little known nationally when he launched his 2024 presidential campaign in June, touting his priorities of energy, the economy and national security, as well as his small-town roots and leadership of the sparsely populated state.
He participated in the first two Republican debates, meeting donor requirements of the Republican National Committee by offering $20 Biden Relief Cards — a jab at rising inflation rates during President Joe Biden's term — in exchange for $1 donations. The tactic drew skepticism over its legality, though Burgum's campaign said its legal advisers had reviewed and approved the method.
Ultimately, he was unable to gain much traction against his rivals in a contest dominated by former President Donald Trump. He joins former Vice President Mike Pence, Sen. Tim Scott of South Carolina, radio show host Larry Elder, businessman Perry Johnson, former Texas congressman Will Hurd and Miami Mayor Francis Suarez in suspending his bid.
Burgum had been one of two lower-tier candidates scheduled to appear this coming weekend at an event billed as an "action conference" in South Carolina, hosted by the state GOP.
Burgum injected millions of his own money into the race, accounting for $12.2 million of the $15.1 million raised by his campaign from March through September, according to Federal Election Commission filings. A super PAC supporting his bid spent over $19 million from July to November, according to filings.
Burgum nearly missed his first opportunity for national public exposure when he ruptured his Achilles tendon the day before the inaugural debate in August in Milwaukee. But he persevered through, later telling reporters that he stood on one leg behind the podium.
Former North Dakota Republican Gov. Ed Schafer called Burgum's campaign "pretty gutsy." But hailing from such a little-populated state, with just three electoral votes and little national profile, brings no leverage or power, Schafer said.
"In the structure of a presidential race, it's virtually impossible for a state like North Dakota to play in the game," said Schafer, a former U.S. agriculture secretary. Raising campaign money from North Dakota also presents an increasing challenge, he added.
Burgum is in his second term as governor and is eligible for a third in 2024, though he hasn't indicated whether he plans to run again. He and his family will gather over the holidays "to consider future possibilities," said senior political adviser Dawson Schefter.
Burgum's "most likely scenario" is to seek a third term," Schafer said, citing accomplishments and pressures to run again, as well as Burgum's popularity and likely "unfinished business." An April filing deadline looms for candidates.
Before his time as governor, Burgum was largely known as a businessman who led Great Plains Software, which Microsoft acquired for over $1 billion in 2001. He stayed on as an executive with Microsoft until 2007. He's led other companies in real estate development and venture capital.
___
Associated Press writer Jill Colvin in New York contributed to this report.
North Dakota State Hospital staff, JHS Choir brightened day for patient
I am writing on behalf of a family member, a patient at the North Dakota State Hospital in Jamestown, to thank the hospital staff and the Jamestown High School Choir for making Christmas welcome and bright at a special program this past week.
Our family member's description on the phone was brimming with happiness and full of compliments about the program. A professional, humane hospital and a choir that sings with sincere emotions (with no need for microphones!) are something for Jamestown to be proud of. Many thanks.