Milwaukee shooting near Elsa's, Cathedral Square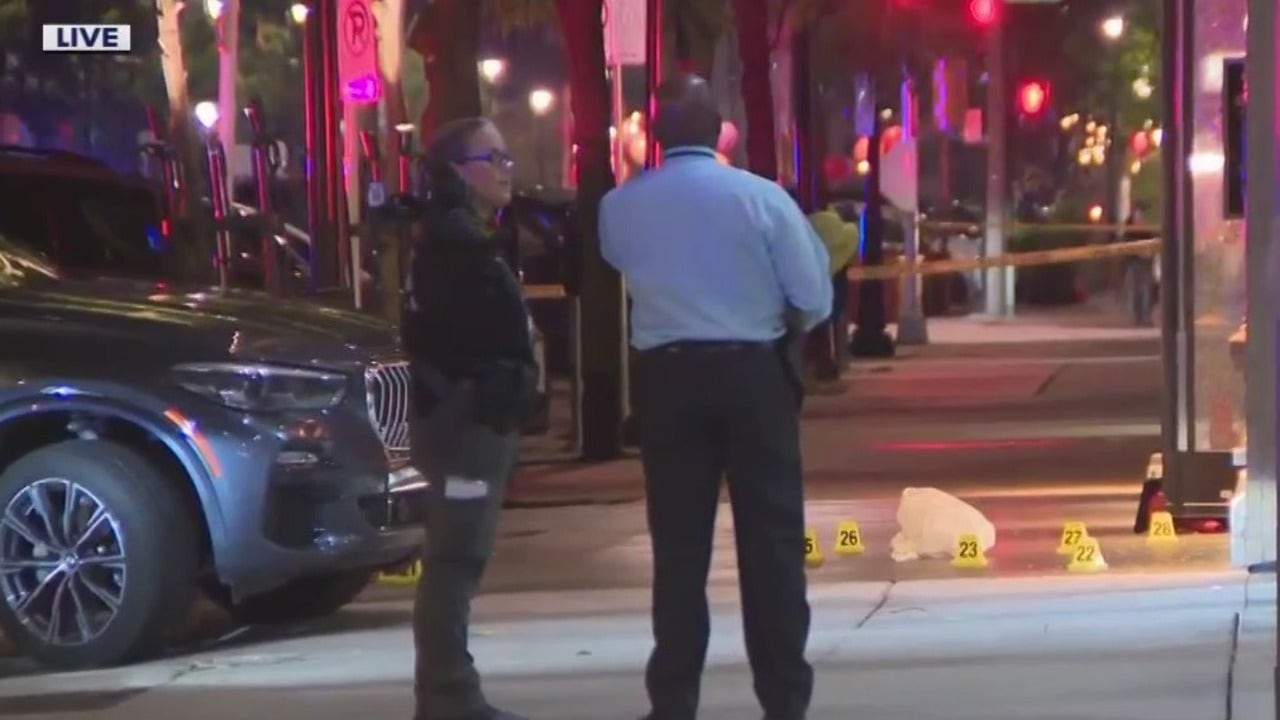 MILWAUKEE – A Milwaukee shooting injured two people near Jefferson and Wells Wednesday night, Sept. 27.
Police said a 55-year-old and a 27-year-old were hurt.
According to police, the shooter was outside Elsa's On the Park, and the victims were inside.
MFD said one person was taken to the hospital.
The second victim suffered a graze wound to the head and was not taken to the hospital.
SIGN UP TODAY: Get daily headlines, breaking news emails from FOX6 News
Investigators are looking into what might have led to the shooting, but police said Wednesday night it doesn't appear to have been a random act. 

One block of a south side street might close. A soccer field, playground would replace it
One block of a Milwaukee south side street would be converted into a soccer field and other public spaces under a new proposal pending before city officials.
South 24th Street, between West Legion and West Rogers streets, would be closed to cars if the plan is approved by the Common Council.
The block would still be publicly owned but would be "for people and gathering. Not for cars," said Sam Leichtling, city planning manager.
Leichtling spoke at Monday's meeting of the Plan Commission, which endorsed the proposal.
The soccer field and playground would be just east of a building which houses Rogers Street Academy, a Milwaukee Public School at 2430 W. Rogers St., and Don and Sallie Davis Boys & Girls Club, 1975 S. 24th St.
It would provide badly needed recreation space for a densely populated neighborhood which includes a lot of younger children, said Leichtling and Nicholas Straube, MPS facilities planning analyst.
The new space would include an outdoor classroom, green space to help soak up rainwater, and a pickup and drop-off area for the Boys & Girls Club, Straube told commission members. Security bollards would help block traffic, he said.
It would be designed to "feel like the neighborhood so it belongs to everybody," Straube said.
The proposal to create a pedestrian mall isn't often used by the city, Leichtling said.
A prominent example is the Common Council's 2016 decision to vacate one block of North Phillips Avenue to create the Deer District plaza, he said.
The South 24th Street plaza ties with the city's goal of creating more public gathering spaces, Leichtling said.
The improvements would be funded with a federal grant provided to MPS through the American Rescue Plan Act, Straube said. A cost estimate wasn't provided.
In other action, the commission recommended approval for zoning changes that would allow two north side affordable apartment developments − both tied to churches.
Cupid Development LLC and Cinnaire Solutions Corp. is proposing a five-story, 40-unit building for seniors, as well as five two-story townhomes for younger families, on vacant lots at 2953 to 2979 N. Eighth St.
Those lots are owned by nearby St. Matthews Christian Methodist Church, 2944 N. Ninth St.
Also, Trinity Development Partners LLC is proposing a three-story, 31-unit building, and seven two-story townhomes, on a vacant lot south of Mason Temple Church, 6090-6098 N. 35th St.
Both developments will seek federal affordable housing tax credits to help finance the buildings. Those credits are provided through an annual competition.
Developers that receive tax credits must generally provide at least 85% of a building's apartments at below-market rents to people earning no higher than 60% of the local median income for 30 years.
The tax credits are sold to raise cash, with the developers then obtaining bank loans and other cash sources to complete their financing packages.
Tom Daykin can be emailed at tdaykin@jrn.com and followed on Instagram, X and Facebook.
Archdiocese of Milwaukee puts priest on leave, launches investigation
MILWAUKEE – The Archdiocese of Milwaukee put a high-ranking priest on administrative leave, as it launched a formal investigation that centers on an allegation of a consensual relationship.
Fr. Mark Payne serves in the senior Archdiocese of Milwaukee position of judicial vicar. He has also been pastor of two North Shore parishes since 2022: St. Eugene in Fox Point and St. Monica in Whitefish Bay. In addition, he is chaplain of the national TV Mass produced by Wisconsin-based Heart of the Nation.
Catholic news website "The Pillar" on Thursday first reported allegations that Payne was in an apparent relationship with another man, and the priest hired that man to teach at St. Monica School.
A day later, on Friday, the archdiocese announced it had pulled the pastor from the parishes and placed him on administrative leave.
SIGN UP TODAY: Get daily headlines, breaking news emails from FOX6 News
City of Milwaukee property records, reviewed by FOX6 News, showed the priest and the other man co-owned a duplex near the University of Wisconsin-Milwaukee. It showed they bought the two-bedroom, two-bathroom home in 2003 for $245,000.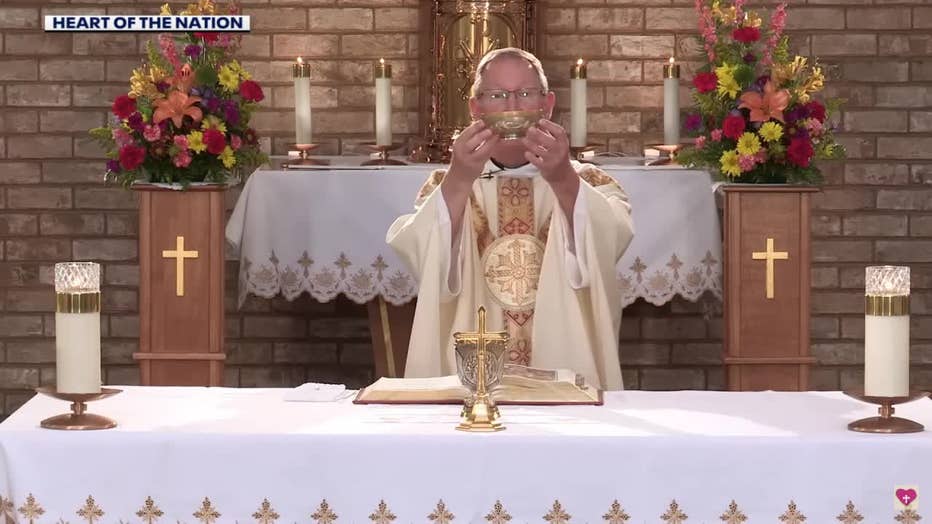 Courtesy: Heart of the Nation
As "The Pillar" also first reported, the other man was arrested in 2018 for an OWI and a second charge that was dismissed: possessing cocaine.
The criminal complaint, obtained by FOX6 News, noted that police alleged finding in the man's pockets and wallet seven baggies with a white substance that tested positive for the presence of cocaine. The complaint also said the man "admitted to using cocaine." However, a Milwaukee County judge dismissed that charge as part of a plea deal.
The archdiocese's letter sent to parishioners on Dec. 1 declared: "Father was told his hiring of the grade school teacher was not appropriate. Father Payne assured us that he is faithful to his priestly vows and that the information painted a misleading picture of the situation."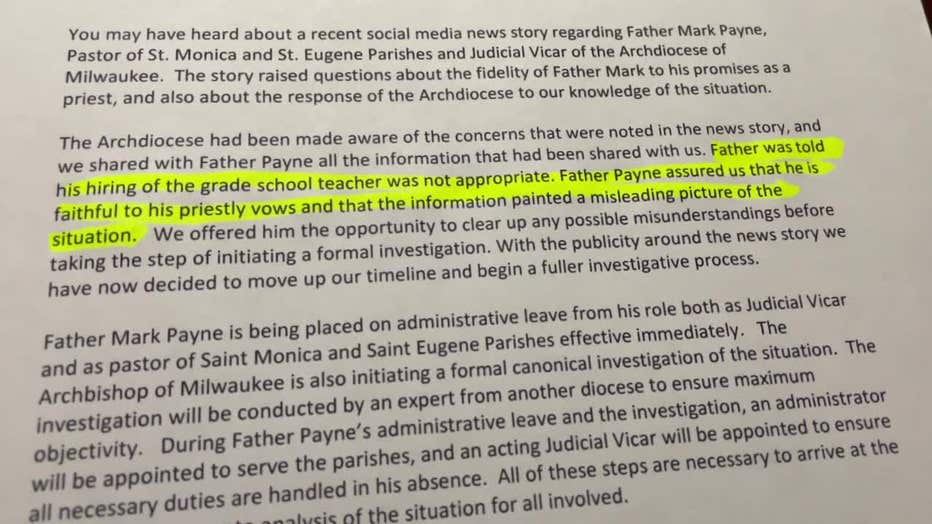 The Archdiocese of Milwaukee vicar for clergy, Fr. Nathan Reesman, wrote the parishioners that the archdiocese had known about the allegations and was allowing Fr. Payne to "clear up any possible misunderstandings before taking the step of initiating a formal investigation." The archdiocese's communications director called this early stop an "inquiry."
In light of the story, the archdiocese moved up the timeline, as Archbishop Jerome Listecki launched a formal investigation to be led by an expert from another diocese "to ensure maximum objectivity."
The archdiocese asked parishioners to "please pray for the next steps in this situation, for Father Payne, for his parish communities, and for all those impacted by this information."
After news broke of this story, the parish wrote an email to parishioners on Saturday. It said the two parishes' pastoral councils, finance councils and trustees met "to discuss how to move forward in light of the information learned yesterday."
The email continued, "We ask for your patience as this process unfolds and also ask that we as parish communities pledge to not engage in gossip and speculation regarding the current situation and trust the investigative process undertaken by the archdiocese."
FREE DOWNLOAD: Get breaking news alerts in the FOX6 News app for iOS or Android.
Coach Griffin provides injury updates on several key Milwaukee Bucks With several rotational players out of the lineup, the Milwaukee Bucks have been banged up as of late.
Following Monday's practice, Head Coach Adrian Griffin gave reporters updates on the statuses of several injured players.
Pat Connaughton, who exited Milwaukee's recent victory over the Miami Heat with an ankle sprain, is not expected to be available at all this week, per Griffin. It was a nasty turn that forced him out of the game, so this isn't too surprising.
Rookie wing Andre Jackson Jr. left Milwaukee's overtime loss against the Chicago Bulls due to back tightness, and Griffin said that he is still dealing with some back spasms. Coach said that the young player will be reevaluated ahead of the Bucks' In-Season Tournament clash vs. the New York Knicks.
There have been no changes to Jae Crowder's timeline, as he remains out after undergoing surgery recently. He'll be out for several more weeks, but he was spotted getting in some work on the floor lately, which is a very positive sign.
With Connaughton out, Jackson hindered, Crowder going under the knife, and Khris Middleton still being on a minutes restriction, Milwaukee's wing depth has faced adversity recently.
Connaughton had been struggling for most of the season, and missing this much time could hinder his ability to find a groove even more. Jackson was a consistent bright spot for the Bucks early this season, so seeing him out stings. The same goes for Crowder, who was excellent before his injury. Middleton is playing, though his minutes remain monitored, so he hasn't been his best self yet.
Two young players who have to step up with these injuries are MarJon Beauchamp and A.J. Green. Despite seeing decent minutes, Beauchamp has struggled to get himself into a groove as of late. Everyone was banking on a year-two breakout from Beauchamp, and the team needs it now. Green hasn't been on the court much, but he may have an opportunity to see legitimate minutes now.
Next man up has to be the motto for this team as they try to weather this string of injuries early on.
Stay tuned for more Milwaukee Bucks analysis.