'A perfect partnership': How Penske, IndyCar aim to turn around Milwaukee Mile's misfortune
Penske chair, on bringing back IndyCar racing to the Milwaukee Mile
Roger Penske, Chairman of Penske Corporation, discusses bringing back IndyCar racing to the Milwaukee Mile for the first time since 2015
Mike De Sisti, Milwaukee Journal Sentinel
When IndyCar and Penske Entertainment officials helped breathe life back into the series' history at Iowa Speedway, their vision was clear: A hyper-local sponsor to bankroll a top-notch entertainment weekend, more suits than the Indianapolis 500, book some of the most popular country artists and a short oval with a reputation for exciting racing to hold it all together.
"Give this two or three years, and it can be the Sturgis of Iowa or the Lollapalooza of Iowa," Penske Corp. president Bud Denker told IndyStar in July, hours before the weekend's back-half of a doubleheader. "Give it time."
Within five years of Iowa pulling what Denker characterized as "our diehard 6,000-7,000 fans" on race day before the pandemic, the event hosted more than 85,000 this year — though that included several thousands of free tickets and a couple pockets totaling a few thousand Hy-Vee employees each day. At capacity — suites, temporary grandstands and all — Iowa could now host 40,000 fans. Denker sees that as a goal in the not to distant future for an event rumored to cost at least $20 million to put on.
It was an obvious – and frequent – question Monday, across multiple press conferences, as IndyCar rolled out its 17-race schedule for 2024 that includes a doubleheader at an oval track it hadn't been to in eight years, revitalizing a historic race weekend that had been dying a slow death for a decade or more before that.
Will IndyCar's return to the Milwaukee Mile be the next Iowa?
The short answer: No.
The longer one: No, because those with the keys don't think it needs to be in order to succeed. What it did need was Roger Penske and company armed with a checkbook, eager employees and an eye for detail. Because after watching Michael Andretti's own short-lived marketing and race promotion arm fail to do more than tack on four years to an inevitable conclusion with his promotion of the event from 2012-15, IndyCar brass didn't want to entrust anyone else with the reins.
Wisconsin's State Fair Board will serve as the promoter of next year's penultimate weekend on the calendar and will handle big-picture items like planning concessions and selling tickets – things that are done better by those on the ground armed with decades of institutional knowledge.
But Penske, Denker, Penske Entertainment Corp. president Mark Miles and vice-president Michael Montri will be deeply ingrained in the fine details of this resuscitation project.
"The State Fair owns the track and they run the facility. They had a million people here for this last year's state fair, so we don't have to worry about anything other than the racing product itself," Penske told the Milwaukee Journal Sentinel this week. "They can help us on the ticketing and on the promotion. You could almost say we're co-promoters, if you want to put it that way.
"Before, you had promoters coming in and coming out, and we're committed. It's important we take the series to places that have long-staying capabilities, which you have here. We're coming back with a better product. To find an oval that has the infrastructure that we have here, along with a partner that will help us promote this, that doesn't happen, so I think that's one of the reasons why we felt this was really a perfect combination and partnership."
From this summer: Penske says Milwaukee has 'a pretty big step to take' for IndyCar safety standards
In many ways, this track, this partnership and this Labor Day 2024 race weekend is still very much a work in progress. Last December, the Wisconsin State Building Commission approved nearly $3 million in public and private funding (as well as money from the State Fair Park) to give The Mile a much-needed face lift. Phase One took place before its return to the national racing stage in August with the NASCAR Trucks series.
Phase Two, which includes a complete resurfacing and upgrade of pitlane, along with a resurface of 100 feet of the bumpy front-stretch, begins in early-October. It was the promise of those fixes, along with SAFER barrier additions, that helped the track and the State Fair Board get a second look from Penske after an extensive inspection last fall.
"We had heard there was interest, and that (the Park and the state) were prepared to invest in the Fairgrounds, and in particular, the track," Miles said Monday. "And so, in true Roger Penske fashion, we found ourselves walking the track and looking at every linear foot of wall or SAFER barrier and fencing and restrooms and laid out a vision about the level and quality of upgrades that would need to be made to make it appropriate for us.
"At every turn, the state was there, interested in helping make that happen … and I don't know that that was true the last time around here in Milwaukee. I think we're just in a position to make sure it meets everybody's expectations. The ingredients came together, and it seemed like the right time, and we're happy to be part of it."
Insider: Why Texas was left off IndyCar's 2024 schedule, and NASCAR's role in it
Questions on the finer details of the weekend, though, are yet to be determined.
Will there be big-name concert actsd?
Penske (via the Journal Sentinel): "I'm not sure we can afford the entertainment they had at Iowa. We're going to bring the racing, but we do have an entertainment capability here. Hopefully the State Fair Board, that's one of the things they can bring to the party, to have some entertainment on Saturday night."
Will the race weekend lock-in an active, consumer-facing sponsor?
Wisconsin State Fair Park executive director and CEO Shari Black: "That's something that's a team effort that we'll be working on with IndyCar."
Added Penske: "(Hy-Vee) has been the best we've ever seen, coming in and promoting the (Iowa) race, so we would hope to have a sponsor that takes it to that level in this market."
Will ticket prices, like those (particularly in Year Two) at Iowa, be some of the priciest on the calendar, with no free tickets for young fans and two-day passes that range from nearly $200 to well over $400 just for a reserved bleacher seat?
Penske: "We want it to be reasonable. As we do (for the Indy 500), we'll have higher prices, and then we'll have lower prices. And then you look at the corporate sponsorship and those people they want to entertain there, and that's another opportunity for us to bring in revenue."
5 thoughts on IndyCar's 2024 schedule: Risk in Milwaukee return, loss of Texas and more
In total, it leaves little in an identity for the weekend at the outset. What it does have, officials reiterated countless times Monday, is a relatively blank canvas equipped with history in the series that's unmatched outside IMS – 114 major American open-wheel races to date during its 120-year history – and what appears to be a loud, passionate following on social media that for years have wished for its return.
Now, it's Penske and company's job to turn that passion into butts in seats. Years ago, this race weekend struggled to pull 10,000 fans for a single race, at a time when Road America – the National Park of Speed that lives an hour or so north and draws a strong weekend-long camping crowd each June – was not on the IndyCar calendar.
In 2024, that pocket of Wisconsin will attempt to sustain three IndyCar races, six years after former Road America president George Bruggenthies called The Mile's return "impossible", eight years after it struggled to draw even 10,000 fans out to the 1-mile oval in West Allis for a single race and just one year after the national racing scene's return last month pulled just 15,000 for the Trucks.
"In the executive residence, there's actually a poster from (one of the first American open-wheel races at The Mile) 1939, and things look a little different than today," Wisconsin Governor Tony Evers said Monday. "But any time you have a chance to redo history and take this into a whole different level, you have to take advantage of that. A lot of people should be thanked for that, but the history of this organization and this track is why we're here today."

Archdiocese of Milwaukee puts priest on leave, launches investigation
MILWAUKEE – The Archdiocese of Milwaukee put a high-ranking priest on administrative leave, as it launched a formal investigation that centers on an allegation of a consensual relationship.
Fr. Mark Payne serves in the senior Archdiocese of Milwaukee position of judicial vicar. He has also been pastor of two North Shore parishes since 2022: St. Eugene in Fox Point and St. Monica in Whitefish Bay. In addition, he is chaplain of the national TV Mass produced by Wisconsin-based Heart of the Nation.
Catholic news website "The Pillar" on Thursday first reported allegations that Payne was in an apparent relationship with another man, and the priest hired that man to teach at St. Monica School.
A day later, on Friday, the archdiocese announced it had pulled the pastor from the parishes and placed him on administrative leave.
SIGN UP TODAY: Get daily headlines, breaking news emails from FOX6 News
City of Milwaukee property records, reviewed by FOX6 News, showed the priest and the other man co-owned a duplex near the University of Wisconsin-Milwaukee. It showed they bought the two-bedroom, two-bathroom home in 2003 for $245,000.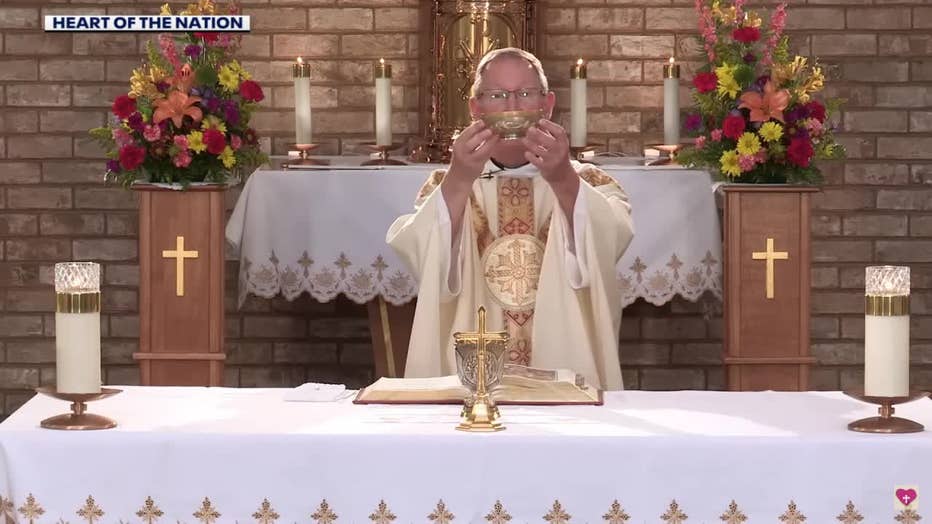 Courtesy: Heart of the Nation
As "The Pillar" also first reported, the other man was arrested in 2018 for an OWI and a second charge that was dismissed: possessing cocaine.
The criminal complaint, obtained by FOX6 News, noted that police alleged finding in the man's pockets and wallet seven baggies with a white substance that tested positive for the presence of cocaine. The complaint also said the man "admitted to using cocaine." However, a Milwaukee County judge dismissed that charge as part of a plea deal.
The archdiocese's letter sent to parishioners on Dec. 1 declared: "Father was told his hiring of the grade school teacher was not appropriate. Father Payne assured us that he is faithful to his priestly vows and that the information painted a misleading picture of the situation."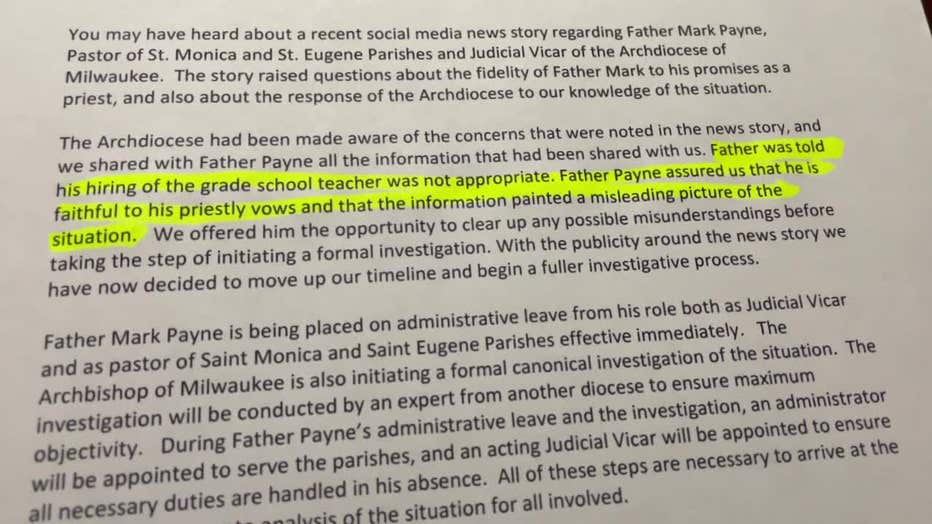 The Archdiocese of Milwaukee vicar for clergy, Fr. Nathan Reesman, wrote the parishioners that the archdiocese had known about the allegations and was allowing Fr. Payne to "clear up any possible misunderstandings before taking the step of initiating a formal investigation." The archdiocese's communications director called this early stop an "inquiry."
In light of the story, the archdiocese moved up the timeline, as Archbishop Jerome Listecki launched a formal investigation to be led by an expert from another diocese "to ensure maximum objectivity."
The archdiocese asked parishioners to "please pray for the next steps in this situation, for Father Payne, for his parish communities, and for all those impacted by this information."
After news broke of this story, the parish wrote an email to parishioners on Saturday. It said the two parishes' pastoral councils, finance councils and trustees met "to discuss how to move forward in light of the information learned yesterday."
The email continued, "We ask for your patience as this process unfolds and also ask that we as parish communities pledge to not engage in gossip and speculation regarding the current situation and trust the investigative process undertaken by the archdiocese."
FREE DOWNLOAD: Get breaking news alerts in the FOX6 News app for iOS or Android.
Coach Griffin provides injury updates on several key Milwaukee Bucks With several rotational players out of the lineup, the Milwaukee Bucks have been banged up as of late.
Following Monday's practice, Head Coach Adrian Griffin gave reporters updates on the statuses of several injured players.
Pat Connaughton, who exited Milwaukee's recent victory over the Miami Heat with an ankle sprain, is not expected to be available at all this week, per Griffin. It was a nasty turn that forced him out of the game, so this isn't too surprising.
Rookie wing Andre Jackson Jr. left Milwaukee's overtime loss against the Chicago Bulls due to back tightness, and Griffin said that he is still dealing with some back spasms. Coach said that the young player will be reevaluated ahead of the Bucks' In-Season Tournament clash vs. the New York Knicks.
There have been no changes to Jae Crowder's timeline, as he remains out after undergoing surgery recently. He'll be out for several more weeks, but he was spotted getting in some work on the floor lately, which is a very positive sign.
With Connaughton out, Jackson hindered, Crowder going under the knife, and Khris Middleton still being on a minutes restriction, Milwaukee's wing depth has faced adversity recently.
Connaughton had been struggling for most of the season, and missing this much time could hinder his ability to find a groove even more. Jackson was a consistent bright spot for the Bucks early this season, so seeing him out stings. The same goes for Crowder, who was excellent before his injury. Middleton is playing, though his minutes remain monitored, so he hasn't been his best self yet.
Two young players who have to step up with these injuries are MarJon Beauchamp and A.J. Green. Despite seeing decent minutes, Beauchamp has struggled to get himself into a groove as of late. Everyone was banking on a year-two breakout from Beauchamp, and the team needs it now. Green hasn't been on the court much, but he may have an opportunity to see legitimate minutes now.
Next man up has to be the motto for this team as they try to weather this string of injuries early on.
Stay tuned for more Milwaukee Bucks analysis.
Chourio gets $82 million, 8-year deal with Brewers, largest before a player's big league debut
NASHVILLE, Tenn. (AP) — Outfielder Jackson Chourio agreed to the largest contract for a player with no major league experience, an $82 million, eight-year deal with the Milwaukee Brewers announced Monday.
The 19-year-old has played only six games above the Double-A level. His deal includes team options for 2032 and 2033.
He broke the previous high for a player yet to make his debut, a $50 million, six-year deal outfielder Luis Robert signed with the Chicago White Sox in 2020. Robert's agreement was announced on Jan. 2, 2020, and he hade his MLB debut on July 24 of that year. Chicago also gave a $43 million, six-year contract to designated hitter/outfielder Eloy Jiménez in March 2019 ahead of his debut.
Chourio could start the 2024 season in the major leagues. The deal covers his entire period of arbitration eligibility and what potentially would have been his first two seasons after free agency.
Milwaukee is starting its first season under manager Pat Murphy following the departure of Craig Counsell, who left to manage the Chicago Cubs.
The Brewers won an NL Central title last year while getting contributions from plenty of rookies, with Brice Turang starting at second base and Sal Frelick and Joey Wiemer playing the outfield. Garrett Mitchell also was the Brewers' starting center fielder at the beginning of the season before a shoulder injury knocked him out for much of the year.
Chourio is regarded as one of baseball's top prospects in all of baseball. Although he doesn't turn 20 until March 11, Chourio has advanced rapidly enough in the Brewers' farm system that he played six games for Triple-A Nashville late this past season.
He's the first player in Brewers franchise history to be selected the organization's minor league player of the year twice. Chourio received a $1.8 million signing bonus when he joined the Brewers organization out of Venezuela in 2021.
Chourio batted .283 with a .338 on-base percentage, 22 homers, 91 RBIs and 44 steals in 128 combined games with Double-A Biloxi and Triple-A Nashville in 2023. He hit .288 with a .342 on-base percentage 20 homers, 75 RBIs and 16 steals in 99 combined games with Class A Carolina and Wisconsin, and Biloxi in 2022.