Michigan politicians recall flrst Lady Rosalynn Carter's humanitarianism and strength
Current and former Michigan lawmakers remember former first lady Rosalynn Carter for her compassion, strength and lifetime of tackling pressing issues all over the world.
She died Sunday peacefully at the age of 96 with family by her side, according to the Carter Center.
Rosalynn Carter was the closest adviser to her her husband, Jimmy Carter, during his term as president, and was known for her political savvy, activism and influence behind the scenes. She was a longtime advocate for mental health and the elderly and is internationally renowned for her career as a humanitarian promoting public health and democracy, the Associated Press said.
More: Rosalynn Carter, outspoken former first lady, dead at 96
The Carters were married for more than 77 years and have four children, three sons and a daughter. At age 99, Jimmy Carter is the longest-lived U.S. president.
"Heartbroken to hear the news of First Lady Carter's passing," U.S. Sen. Debbie Stabenow said on the X platform. "She was an historic first lady, humanitarian, and leader, who put access to mental health care at the forefront of her work. I'm thinking of President Carter and their whole family during this difficult time."
U.S. Rep. Debbie Dingell, D-Ann Arbor, said her heart is with the Carter family in a statement posted on X.
"She was a woman of strength and determination with a soft approach and a steely spine, taking on important issues that others wouldn't, including mental health and immunizations," Dingell said. "She was unfailingly kind and never afraid to do the right thing. Many have been touched by her compassion, service, and humility, and she will be deeply missed."
Former Michigan Congressman Dennis Hertel said he spoke with Rosalynn Carter several times throughout their respective careers. She always had "a great deal of warmth" and a keen interest in politics, he said.
"Her message of caring about our neighbors and helping other people was her foremost attribute, and I think it got across to the American people," Hertel said. "They really appreciated that the first lady had those concerns."
She took an active role as first lady and was known to sit in on Cabinet meetings and represent her husband on foreign trips.
U.S. Rep. Hillary Scholten said Carter spent her life, "opening the door wider for the women who came after her."
"Rosalynn Carter broke new ground as First Lady," said U.S. Sen. Gary Peters on X. "She leaves behind a remarkable legacy of compassion and humanitarian work."
Carter served as honorary chair of the President's Commission on Mental Health and as a member of the Governor's Commission to Improve Services to the Mentally and Emotionally Handicapped during her husband's time as governor of Georgia, according to the Carter Center. She continued to advocate for mental health awareness and caregivers throughout her life, authoring two books, "Helping Yourself Help Others," and "Helping Someone With Mental Illness."
"She will be remembered for her kindness, grace and compassion," U.S. Rep. Dan Kildee said on X. "Rosalynn's steadfast advocacy for mental and physical health care has helped millions in the United States and abroad."
National reaction: Reactions to the death of Rosalynn Carter, former first lady and global humanitarian
hmackay@detroitnews.com
The Associated Press contributed.

Pitt Football Offers Michigan State Wide Receiver Transfer
Pitt football continues to work hard to try and bring new players in during the offseason and offered a Michigan State wide receiver transfer on Tuesday.
Tyrell Henry received an offer from the Panthers on Tuesday, a wide out who spent two seasons with the Spartans. He stands 6-foot and 175 pounds and hails from Roseville, Mich. a suburb north of Detroit.
He played 11 games as a freshman in 2022, mainly on kickoff return, taking 10 kickoffs for a total of 183 yards, 18.3 average yards per return with the longest 30 yards.
Henry continued to return kickoffs as a sophomore this past season, taking 12 of them for 206 total yards, 17.2 average yards per return with the longest 26 yards. He also worked as a punt returner in 2023, with 13 returns for 89 yards, 6.8 average yards per return and a long of 18.
He also would expand his role into seeing more snaps at wide out, making 24 receptions for 195 yards and three touchdowns. His best game came against Nebraska at home on Nov. 4, as he made four catches for 54 yards and a touchdown.
Henry is the sixth wide receiver from the transfer portal that the Pitt football coaching staff has offered this offseason. This includes Dymere Miller of Monmouth, Robert Lewis of Georgia State, Quentrell Harris of Kent State, Diante Vines of Iowa and TJ Sheffield of Purdue.
Pitt currently has eight scholarship wide receivers heading into 2024. This includes rising redshirt senior Jake McConnachie, rising senior Konata Mumpfield, rising redshirt junior Daejon Reynolds, rising redshirt sophomore Che Nwabuko, rising sophomore Kenny Johnson and rising redshirt freshmen Israel Polk, Lamar Seymore and Zion Fowler-El. The incoming Class of 2024 also has one wideout in three-star Cameron Monteiro from Massachusetts.
The Panthers have lost two scholarship wide receivers this offseason in starter Bub Means, who declared for the NFL Draft, and Addison Copeland III. 
For all your college football transfer portal needs, check out the Portal Report and their Transfer Portal Tracker.
2023-24 College Football Transfer Portal Database
Alabama closing in on favorite status vs. Michigan as public money pours in for College Football Playoff semifinal
The betting public has no love for Jim Harbaugh and the Michigan Wolverines.
According to data shared with The Post, Alabama moneyline is the most popular bet among the college football playoff wagers on BetMGM Sportsbook, with an overwhelming 93 percent of the handle coming in on the Crimson Tide.
The Crimson Tide opened as 2.5-point underdogs against the spread but are now down to +1.
Alabama's against the spread bets are accounting for 79 percent of the handle, according to the sportsbook.
The Alabama vs. Michigan Rose Bowl matchup is providing some of the most lopsided moneyline betting we have seen since Deion Sanders and Colorado were on a wild 3-0 start.
Now, the question remains whether Nick Saban's group will be favored by the time the game is played on New Year's Day.
BetMGM is showing some movement on the winner of the college football playoff.
Michigan is a very slight +185 favorite ahead of Alabama at +190, and Texas follows them at +280 while Washington is far back with +750 odds.
Should Alabama become the betting favorites in its matchup with Michigan, it would represent a bizarre three-point favorite line change.
The Crimson Tide would likely become the betting favorites to win the College Football Playoff.
---
Betting on College Football?
---
This is a far cry from where Alabama was prior to its victory over Georgia last week. The win over the Bulldogs moved Alabama from +700 down to +190 odds on BetMGM.
Michigan soldier killed in Korean War to be buried next week at Arlington National Cemetery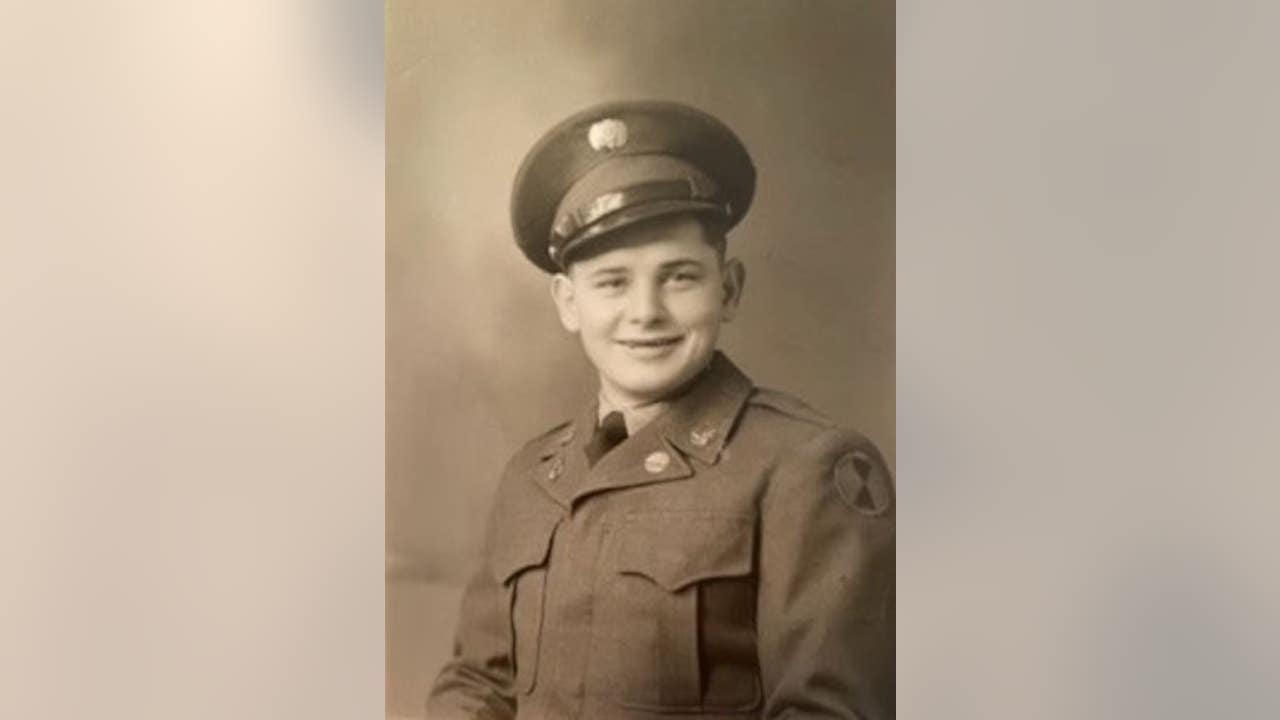 PALMER, Mich. (AP) – The remains of a Michigan soldier who was killed in the Korean War in 1950 will be buried next week at Arlington National Cemetery, nearly a year after they were identified by military experts, officials said.
Army Cpl. Gordon D. McCarthy's remains will be interred on Dec. 14 at the cemetery in Arlington, Virginia, following graveside services, the U.S. Army Human Resources Command said in a news release.
The Palmer, Michigan, native was 20 when he was reported missing in action on Dec. 2, 1950, after enemy forces attacked his unit in North Korea near the Chosin Reservoir. Following the battle, his remains could not be recovered.
But remains turned over by North Korea in 2018 were identified in February as McCarthy's by the Defense POW/MIA Accounting Agency. That agency, an arm of the U.S. Defense Department, announced in July that scientists used circumstantial evidence as well as anthropological and DNA analysis to identify his remains.
McCarthy's name is recorded on the Courts of the Missing at the National Memorial Cemetery of the Pacific in Honolulu. Following his identification, officials said a rosette would be placed next to his name to indicate he has been accounted for.
More than 7,500 Americans remain unaccounted for from the Korean War, the U.S. Army Human Resources Command said.