Michigan governor signs bill restricting firearm access for those with domestic violence convictions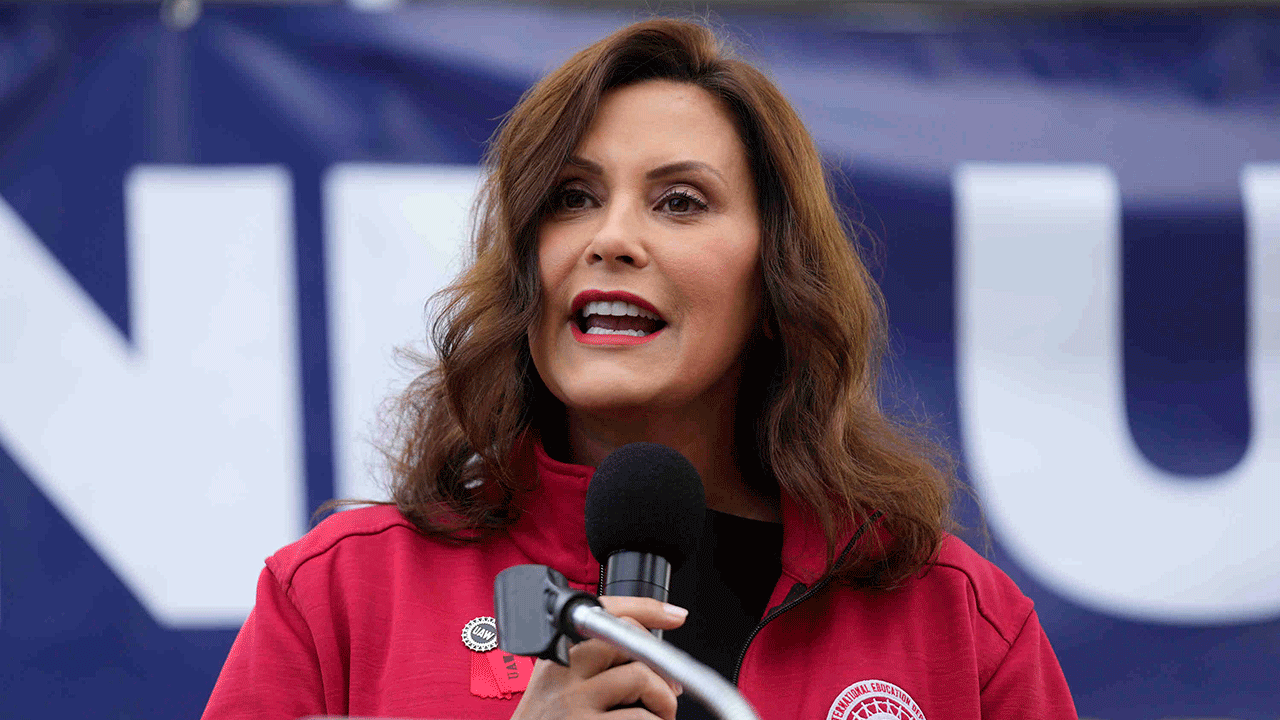 Michigan Democrats who have transformed gun laws in the state in the wake of multiple mass school shootings are now making it more difficult for individuals with convictions for misdemeanor domestic violence from gaining access to guns.
Gov. Gretchen Whitmer signed legislation Monday that prohibits individuals convicted of a misdemeanor related to domestic violence from possessing firearms for at least an eight-year-period. State law currently includes firearm restrictions for those with felonies related to domestic abuse, but no law had existed for misdemeanor domestic violence.
"These bills are based on a simple idea: if you have been found guilty in court for violently assaulting your partner, you should not be able to access a deadly weapon that you could use to further threatened, harm or kill them." Whitmer said at a bill signing in Kalamazoo. "It's just common sense."
MICHIGAN DEMS, GRETCHEN WHITMER ARE PURSUING A GREEN NEW DEAL, THREATENING FUTURE GRID STABILITY
MICHIGAN JURY ACQUITS 3 MEN IN PLOT TO KIDNAP GOV. GRETCHEN WHITMER
The eight-year ban for misdemeanor domestic violence convictions is only the latest firearm restriction added to Michigan law since Democrats took control of both chambers of the state Legislature and retained the governor's office last election.
Legislation implementing red flag laws, stricter background checks and safe storage requirements were all signed by Whitmer earlier this year. The overhauled gun laws follow two deadly mass school shootings that happened in Michigan within a 14-month period.
Democratic State Sen. Stephanie Chang, a lead sponsor of the bill package, said Monday that the latest legislation would put Michigan in line with similar laws in 31 other states and the District of Columbia.
Federal law already prohibits those charged with felonies or misdemeanors related to domestic violence from purchasing or possessing a gun. But advocates have pushed for state-level laws that they say can be better enforced and won't be threatened by future Supreme Court rulings.
Earlier this month, the Supreme Court took up a challenge to a federal law that prohibits people from having guns if they are under a court order to stay away from their spouse, partner or other family members. The nation's high court heard arguments on Nov. 7 and seemed likely to preserve the federal law.
"As the Supreme Court weighs whether to uphold common-sense laws to disarm domestic abusers, Governor Whitmer and the Michigan legislature are taking a clear stand: If you have a history of intimate partner violence, you have no business owning a gun," John Feinblatt, president of Everytown for Gun Safety, said in a statement.
Firearms are the most common weapon used in homicides of spouses, intimate partners, children or relatives in recent years, according to data from the federal Centers for Disease Control and Prevention. Guns were used in more than half, 57%, of those killings in 2020, a year that saw an overall increase in domestic violence during the coronavirus pandemic.
GRETCHEN WHITMER'S 'GOVERNOR BARBIE' SOCIAL MEDIA CAMPAIGN HAILED BY DEMOCRATS: 'EMPOWERING,' 'VERY SHARP'
Under the legislation signed Monday in Michigan, people convicted of a misdemeanor that involved domestic violence will be not allowed to purchase, possess, or use a firearm or ammunition until they have completed the terms of imprisonment, paid all fines and eight years had passed.
The parents of Maggie Wardle, a 19-year-old shot and killed by an ex-boyfriend at Kalamazoo College in 1999, spoke in support of the legislation at Monday's signing.
"This law, now passed and signed into law today, will save someone's life and give them the chance to live a full meaningful life, the chance Maggie did not get," Rick Omillian, Maggie's stepfather, said Monday.

No. 2 Michigan beats No. 18 Iowa for Big Ten title

By MICHAEL MAROT (AP Sports Writer)
INDIANAPOLIS — Michigan coach Jim Harbaugh celebrated his return to the sideline Saturday by hugging players and evasively running to avoid a Gatorade bath.
Blake Corum and J.J. McCarthy were already reflecting on bigger goals.
And when the confetti came streaming down over the Wolverines, they made sure everyone knew they were no longer the nation's second-best team.
Corum scored twice and the defense pitched a rare shutout as No. 2 Michigan routed No. 18 Iowa 26-0 for its third straight Big Ten title game, a third straight playoff berth and likely the top seed in the College Football Playoff.
"We set our goals earlier this year and this is another one we checked off," Corum said after rushing for 52 yards on 16 carries and tying Anthony Thomas' career record for TD runs with 55.
And with No. 1 Georgia falling to No. 8 Alabama in the Southeastern Conference title game, Michigan (13-0, No. 2 CFP) is finally poised to reach No. 1 after spending 13 of 14 weeks at No. 2. Michigan lost each of its previous two semifinal appearances and hasn't won a national title since 1997.
Iowa (10-3, No. 16) never had a chance.
Harbaugh's return meant he could finally savor a milestone moment on the sideline with his players after serving three-game suspension for an alleged sign-stealing scheme. He missed the 1,000th victory in program history and last week's 30-24 division-clinching victory over archrival Ohio State.
Michigan fans booed loudly as first-year Big Ten Commissioner Tony Petitti presented the championship trophy and appeared not to even look at Harbaugh after he became the first coach in league history to win three straight outright conference championships. It's also a school first.
Harbaugh didn't seem to care about Petitti's reaction, though.
"It made me feel super great," Harbaugh said of the feat. "I've got one question for the Michigan Nation, who's got a better team than us?"
The Wolverines extended their school record of consecutive wins over Big Ten foes to 25 as J.J. McCarthy went 22 of 30 for 147 yards.
For the Hawkeyes, it was more of the same.
While the defense held stout — allowing the TDs on drives of 5 and 6 yards and four field goals — the offense produced just 155 yards and became only the second team in conference title game history to be shut out in the final season of the East-West division format. Ohio State opened that era with a 59-0 rout over Wisconsin 59-0 in 2014.
Deacon Hill was 18 of 32 with 120 yards and the Hawkeyes rushed for 35 yards on 24 carries. The loss snapped a four-game winning streak and marked the second in three years Iowa lost the title game to Michigan by more than 25 points.
The difference Saturday was simple.
The Wolverines capitalized on Iowa's errors; the Hawkeyes never did.
"Tonight certainly wasn't our night," Iowa coach Kirk Ferentz said. "We knew we came in here needing to play pretty much a flawless game. Obviously, we didn't do that, didn't do a great job protecting the football, and a couple of other situations. It was a disappointing tonight."
Michigan took a 10-0 lead with a 35-yard field goal on its first possession and Corum's 3-yard run on its next, two plays after Semaj Morgan broke free for an 87-yard punt return to set a Big Ten title game record.
Corum is the only FBS offensive or defensive player who has scored in every game this season.
He scored again early in the second half when a replay review overturned an incompletion and ruled it was a fumble. Michigan recovered and outgoing Iowa offensive coordinator Brian Ferentz compounded the problem by drawing a penalty for unsportsmanlike penalty, moving the ball to the 6. following. That made it 17-0.
"I've made it the last two months without getting fined, so I'll try again," Ferentz said. "I'm really struggling with our replay system. Tonight what I was told, the arm was going forward, but the hand wasn't, which I'm not sure if that's possible mechanically."
Michigan closed it out with three field goals, the final one being a 50-yarder from James Turner to set a title-game record.
Iowa's best scoring chance came after a 25-yard punt put it at the Michigan 38. Three plays later, though Jaziun Patterson lost a fumble at the 30.
THE TAKEAWAY
Iowa: Two streaks continued. The Big Ten West closes out the league's division era going 0-10 in title games and the Hawkeyes still have not won a conference crown since 2004. Few gave Iowa and its low-scoring offense any chance Saturday night. Neither did the Wolverines.
Michigan: Harbaugh missed six games this season because of suspension and yet Michigan heads into the postseason undefeated for the second straight year. Getting the No. 1 seed could lead to a matchup with SEC champ Alabama, Big 12 champ Texas, two-time defending national champ Georgia or perhaps even archrival Ohio State.
Bowl projections: Texas gets College Football Playoff bid over Alabama with Michigan moving to No. 1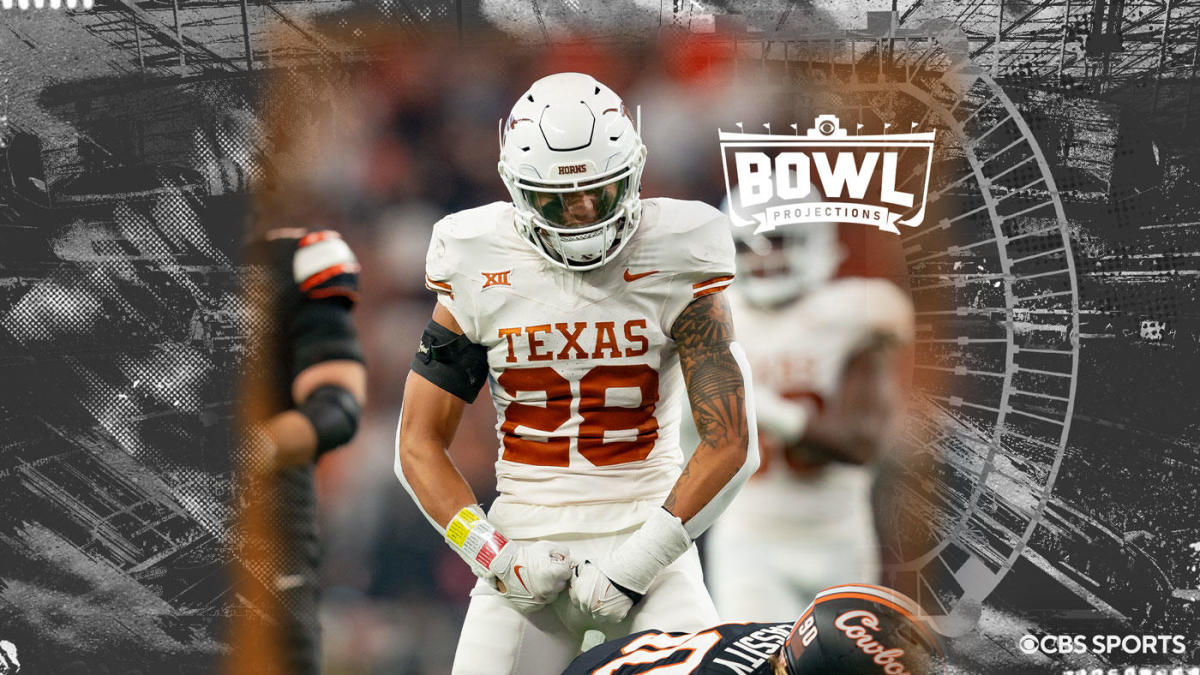 It has already been a wild Championship Week — and there are still two games to go. No. 8 Alabama taking down No. 1 Georgia in the SEC Championship Game has all but punted the Bulldogs from competing for a third straight national championship — barring some more upsets — and put the Crimson Tide in a head-to-head debate with the one team that defeated them this season, No. 7 Texas.
The Longhorns, which thoroughly took down the Tide by 10 points on the road at Bryant-Denny Stadium back in Week 2, completed their campaign with a dominant 49-21 win over No. 18 Oklahoma State in the Big 12 Championship Game.
With only three undefeated Power Five teams remaining following the Georgia loss, Texas is now projected as the fourth seed in the playoff over Alabama by virtue of the 'Horns head-to-head victory back on Sept. 9.
The CFP Selection Committee will use criteria including championships won, strength of schedule, head-to-head results (if applicable) and comparative outcomes against common opponents in making its determinations. Texas and Alabama both won conference titles Saturday, and while the 'Horns have a tougher strength of schedule, the Tide have more wins over CFP-ranked teams — four (including over No. 1) vs. three.
The SEC has sent at least one team to every playoff since the event's inception; however, no program has made the playoff when placed No. 7 or lower in the penultimate CFP Rankings. Both Texas and Alabama will look to buck the latter trend.
The Tide's best remaining path to ensuring themselves a spot in the playoff is a loss by Michigan (vs. Iowa) or Florida State (vs. Louisville) in their respective conference title games Saturday night.
Another significant development took place in determining the Group of Five representative in the New Year's Six. SMU upset No. 22 Tulane in the AAC Championship Game on Saturday, handing the Green Wave their second loss of the season, while No. 24 Liberty remained undefeated with two-touchdown win over New Mexico State on Friday in the Conference USA Championship Game.
As such, I project Liberty to jump Tulane in the final CFP Rankings, emerging as the top Group of Five team and earning a spot in the Fiesta Bowl against Missouri.
We are breaking down (live) each team's path to the College Football Playoff later this week with two league title games underway, and we will update these bowl projections after the conclusions of the Big Ten and ACC games.
College Football Playoff
Jan. 8

National Championship
Houston

Title game
Semifinal winners
Jan. 1
Rose Bowl
Pasadena, Calif.
Semifinal
(1) Michigan  vs. (4) Texas

Jan. 1

Sugar Bowl
New Orleans

Semifinal

(2) Washington vs. (3) Florida State
New Year's Six bowl games
Don't see your team? Check out Jerry Palm's bowl projections updating live as Championship Week progresses.
Body of Michigan traveling nurse found in California after two-week search
The body of a traveling nurse from Michigan who went missing two weeks ago has been found in California.
Ann Herford, 66, of Elkin, west of Bad Axe in the Thumb region, was reported missing Nov. 15 after not showing up for work at Adventist Health in Sonara, Calif., the Calaveras County Sheriff's Office said in a Facebook post.
Herford had last been seen near a trailhead of the Arnold Rim Trail, a densely forested area in Arnold, California.
Her body was found Thursday morning north of where her car was originally parked, not within the trail system, in a "35-degree sloped hillside beneath heavy tree canopy and dense foliage," the sheriff's office said.
Due to the terrain, her body was transported by a California Highway Patrol aircraft, the sheriff's office said.
Herford's family told authorities she enjoyed hiking but lacked wilderness survival skills and never planned to hike for more than a few miles at a time.
The Air National Guard, U.S. Army Aircraft, numerous state and county departments and volunteers assisted in air and ground searches.
The Calaveras County Sheriff's Office said detectives are still investigating the incident, but the circumstances of Herford's death do not appear suspicious.