Man struck and killed early Thursday on southeast Kansas highway
COLDWATER, Kan. (WIBW) – A pedestrian was struck and killed early Thursday as he was on a Comanche County highway in southwest Kansas, authorities said.
The collision was reported at 2:46 a.m. Thursday on US-183 highway, about six miles north of Coldwater.
According to the Kansas Highway Patrol, a 2016 Chevrolet Suburban was southbound on US-183 when a pedestrian walking down the middle of the roadway stepped out in front of it.
The Chevrolet then struck the pedestrian, identified as Andrew J. Moore, 45, of Hutchinson, who was transported to Comanche County Hospital in Coldwater, where he was pronounced dead.
The driver of the Chevrolet, Ethan A. Shaw, 26, of Lewis, was reported uninjured. The patrol said Shaw was wearing his seat belt.
A passenger in the Chevrolet, Mary E. Shaw, 30, of Lewis, also was reported uninjured. The patrol said she was wearing her seat belt.
Information about two children who were in the Chevrolet wasn't available.
Copyright 2023 WIBW. All rights reserved.

Missing Kansas cat found in Colorado and reunited with owners after 3 years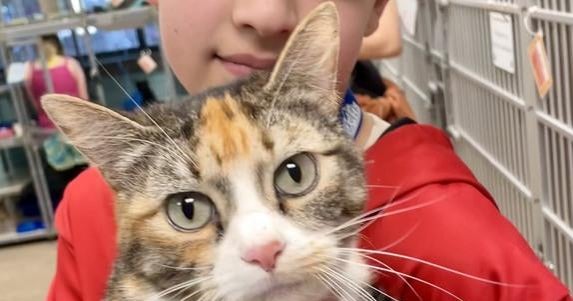 A Kansas family has been reunited with their lost cat three years after it went missing. 
The unlikely reunion happened when an animal shelter in Durango, Colorado, worked to track down the microchipped cat's owner after finding her on a road in a nearby town, the Durango Herald first reported. 
The journey back home for Sarin the cat started on Aug. 29 when she was brought into La Plata County Humane Society, animal shelter representative Cassidy Crisp told CBS News.
When her microchip showed her address was in Kansas, shelter workers initially assumed Sarin's owners hadn't updated their address, Crisp said. 
Longtime shelter volunteer Cathy Roberts called owner Jeni Owens to tell her the cat had been found, but an incredulous Owens responded: "What cat are you talking about?"
Sarin had gone missing from Owens' Topeka, Kansas, home so long ago, the family had already mourned the loss of their beloved feline. They had even gotten another cat a year after losing Sarin.
The family, which has two kids, was excited to get her back.
"They were shocked to hear the cat reappeared," Crisp said. 
Shelter workers at first weren't sure how to get the 5-year-old cat back to Kansas. Crisp reached out to American Airlines, which happily agreed to transport the cat back to Kansas free of charge. 
On Thursday, Sarin was reunited with her family, bringing the household to tears, Crisp said. 
There are still questions about how Sarin ended up almost 700 miles away from home, with Crisp theorizing that she possibly hopped on trucks, or hid in the axis of wheels of cars. Along the way, someone could have kept her and moved with her to Durango before she ran away. 
"It's a long way," Crisp said. 
But the reunion would not have been possible without the cat's microchip.
While microchips cannot track a pet's location, they are useful identifiers.
"That's the first thing we check," Crisp said. "…That's why it's so important."
Crisp also stressed the importance of pet owners making sure the phone number connected to the microchip is always up to date. She said if it isn't, shelters can't get in touch with an animal's proper owners, and they opt to begin the adoption process. 
Think tank demands release of 'secret' Kansas voter registration deal. It was readily available. – Kansas Reflector
TOPEKA — Florida think tank lobbyists Madeline Malisa and Stewart Whitson pressured Kansas legislators to use their power to investigate Democratic Gov. Laura Kelly for negotiating a "secret" agreement requiring distribution of voter registration information to recipients of government safety-net assistance.
Representatives of the Foundation for Government Accountability and the FGA's lobbying arm, Opportunity Solutions Project, told House and Senate members during an election integrity hearing Thursday that Kelly participated without consent of the Legislature in "backroom deals" with nongovernment organizations for the alleged purpose of broadening registration of likely Democratic voters in Kansas.
"These deals are hidden from the public as well as this Legislature until they are disclosed by others months or even years after the secret deal has been made," said Whitson, legal director of the Foundation for Government Accountability in Tallahassee, Florida.
He recommended the Republican-led Legislature use its authority to compel Kelly to release a copy of the negotiated compromise with Kansas voting rights advocacy nonprofit Loud Light, the New York racial equity organization Demos, ACLU of Kansas and the ACLU's national Voting Rights Project.
"We don't have a copy," Malisa said. "I think it would be a great question to the Kelly administration to provide a copy of that. You want to know what's in there, right? The only information we have is from the press releases. The devil's in the details. What's in there?"
However, during the legislative committee's lunch break separate copies of the consent decree were provided by written or oral request to the Kansas Reflector by the office of the governor, the Secretary of State's Office and the executive director of Loud Light. Each request was filled for free and the copies were delivered by email.
Brianna Johnson, a spokeswoman for Kelly, said the governor's office entered into the settlement to make certain Kansas state agencies followed federal laws on the books for 30 years. Kansas Reflector reported on the agreement in 2021.
"We have been transparent about this agreement from the start, sharing publicly how expanding opportunities to register to vote will help all Kansans — regardless of political affiliation — exercise this important right," Johnson said.
'Never been revealed?'
The document outlined details of a 2021 agreement that involved negotiations with the Kelly administration to resolve deficiencies in state compliance with mandates in the National Voter Registration Act and to avoid protracted voting rights litigation. The settlement prompted two state agencies, the Kansas Department of Health and Environment and the Kansas Department for Children and Families, to participate in a program informing people of opportunities to register to vote. The agencies sent information about registering to about 275,000 recipients of public benefits.
Brenda Wright, interim director of legal strategies at Demos, said at that time in a news release the agreement was a victory for Kansas residents who would have "more access to voter registration and greater opportunity to vote and enjoy full participation in the democratic process."
Rep. Paul Waggoner, a Hutchinson Republican on the interim election committee, asked Malisa and Whitson at the conclusion of their prepared testimony to clarify whether contents of the consent agreement between the governor and potential litigants had never been disclosed.
"It's never been revealed to anybody?" Waggoner asked. "There's not a copy? We don't actually know even exactly what she agreed to. Is that correct?"
"We've not seen a copy," Malisa said. "No copy has been publicly released."
Malisa also recommended the Legislature seek involvement of Attorney General Kris Kobach, a Republican, for an inquiry of how Kelly might use the consent agreement to influence voter registration and election outcomes in the 2024 cycle. She said the consent agreement appeared to be valid through June 2025.
"Those are questions I think that need to be answered by the attorney general who should have a seat at the table," Malisa said.
Democrats not a monolith
Sen. Mike Thompson, the Shawnee Republican who chairs the interim elections committee, said he was concerned how the state would respond if evidence emerged Kelly or anyone else was engaged in an illegal voter registration operation.
"It sounds like there have been or it sounds like this scheme may have been fruitful," he said. "What do we do about registrations that have filed under illegal circumstances?"
Democratic Rep. Brandon Woodard of Lenexa, who also serves on the election committee, said it was frustrating Opportunity Solutions Project was attempting to attach words such as "scandal" to the Kansas governor.
He questioned testimony of Malisa and Whitson that indicated people receiving government assistance, such as food stamps, were most likely to vote for liberal candidates rather than conservatives.
"We just had a group say, 'If you are a welfare recipient, you're probably voting for Democrats,'" Woodard said. "People on public assistance are not a monolith. If that were true, everyone on Medicaid or Medicare would be voting for Democrats."
Whitson and Malisa said the administration of President Joe Biden issued an executive order that would make use of federal tax dollars to encourage people to register to vote. They asserted Demos, which was involved in negotiations on the Kansas settlement, was involved in the Biden administration's use of third-party groups to conduct a voter-registration campaign capable of benefitting Democrats more than Republicans.
"Election integrity isn't about just stopping fraud," Whitson said. "It's also about inspiring confidence in the outcome of elections."
Michigan State coaching search: Kansas State's Chris Klieman uninterested in Spartans job
Michigan State's football coaching position has only been open for about a day, at least officially, but one candidate who has frequently been linked to replace Mel Tucker as the Spartans coach has already publicly pulled his name from consideration.
In a Wednesday appearance on SiriusXM Big 12 Radio, Kansas State coach Chris Klieman said he "will not be a candidate for that job" when asked about his name being mentioned for Michigan State's vacancy.
MSU COACHING SEARCH: Nine candidates to replace Mel Tucker
"I'll be sticking in Manhattan," Klieman said in the interview.
The 56-year-old Klieman has gone 33-21 and made three bowl appearances four games into the 2023 college football season, his fifth in Manhattan since taking over for the legendary Bill Snyder in December 2018. Last season, he led the Wildcats to a 10-4 record, their first Big 12 championship in 10 years and an appearance in the Sugar Bowl.
Kansas State is 3-1 heading into Week 5, and ranked No. 25 in the US LBM Coaches Poll. Prior to arriving at Kansas State, Klieman won four FCS national championships in five seasons as the coach at North Dakota State.
REQUIRED READING: What channel is Michigan State-Iowa on Saturday?
Klieman has been one of the most popular suggestions for Michigan State as it seeks to replace Tucker, who was formally fired by the university for cause on Wednesday as he is investigated for a sexual misconduct complaint made by Brenda Tracy, an anti-sexual violence advocate.
Some of the other oft-discussed early candidates for the Spartans include Kansas coach Lance Leipold, Pitt coach Pat Narduzzi (a longtime defensive coordinator under Mark Dantonio), Iowa State coach Matt Campbell, Duke coach Mike Elko, Colorado offensive coordinator Sean Lewis and Eastern Michigan coach Chris Creighton.
Longtime Spartans coach Harlon Barnett will remain as the team's interim coach while the university conducts its search for a long-term replacement to Tucker.