Cadaver dogs arrive at Iowa building collapse in race against time to find survivors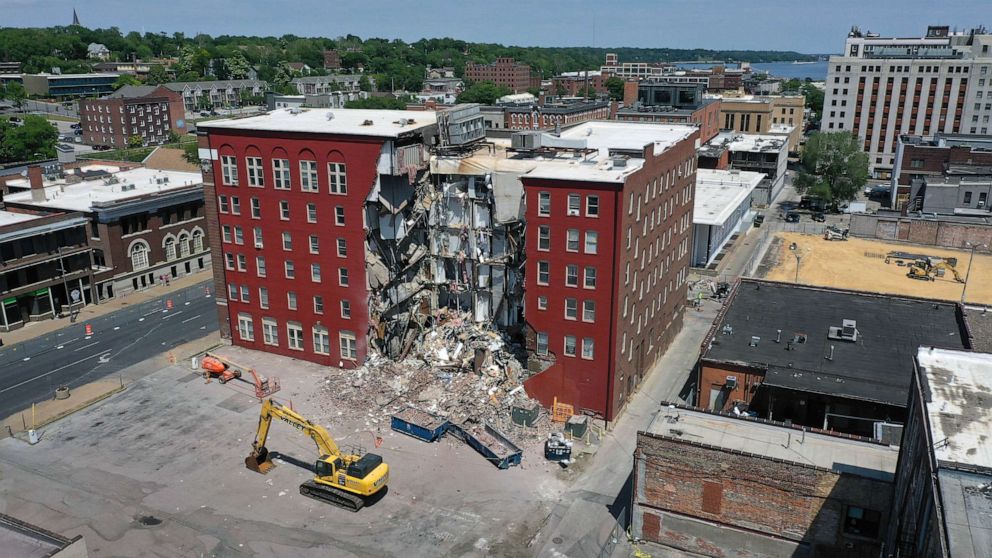 An elite task force with dogs trained to smell death is combing through a partially collapsed building in eastern Iowa as three people remain missing.
Iowa Task Force 1, a Cedar Rapids-based urban search and rescue team trained and equipped by the Federal Emergency Management Agency, arrived in the city of Davenport on Thursday, four days after a section of a six-story residential building collapsed. The team brought "live and cadaver canines," or dogs trained to pick up the scent of humans both alive and dead, according to a press release from the city government.
The task force met with city officials and the Davenport Fire Department before entering the structure with the dogs. The team is now working to "re-verify and mark all rooms with standard FEMA markings," the city said.
It's become a race against time to find and rescue any survivors since part of The Davenport collapsed for unknown reasons on Sunday afternoon. The building, located in the heart of downtown Davenport, houses commercial space at the street level and residential units in the floors above. More than a dozen people evacuated at the time of the collapse, while eight others and several pets were rescued in the 24 hours that followed.
On Monday, officials said there was no credible information that anyone was missing and the city would move forward with plans to begin demolishing the remaining structure the next day. But that night, rescuers found a ninth person alive inside and pulled her out of a fourth-story window. It was unclear how the woman was not found earlier by crews using thermal imaging, drones and dogs. The development prompted protests from members of the community calling for the demolition to be delayed.
On Tuesday, the city's demolition plans were put on hold as officials announced that five residents were still unaccounted for, including two — 42-year-old Branden Colvin and 51-year-old Ryan Hitchcock — who may be inside. Crews rescued several more animals from inside the structure that afternoon but no human activity was detected, according to officials.
Then, on Thursday, officials announced that only three residents remain missing — Colvin, Hitchcock and 60-year-old Daniel Prien. All three lived in apartments located in the collapse zone and were believed to be home at the time. However, officials have struggled to locate family for Prien to confirm his whereabouts. Officials called it a "recovery situation" for Colvin and Hitchcock, noting that they're likely inside the structure in an area that's "not sustainable for life."
Officials have warned that the structure is unstable and continues to degrade. Crews are working with structural engineers on how to best search the building while avoiding the pile of debris, which is currently contributing to the stability and its "removal could jeopardize or accelerate the inevitable collapse of the building," according to the city.
ABC News' Jianna Cousin, Laryssa Demkiw, Alexandra Faul, Andy Fies, Jessica Gorman, Ahmad Hemingway, Alex Perez, Darren Reynolds and Emily Shapiro contributed to this report.

How Iowa City, Hub of Literature, Became a Landmark for Cinephiles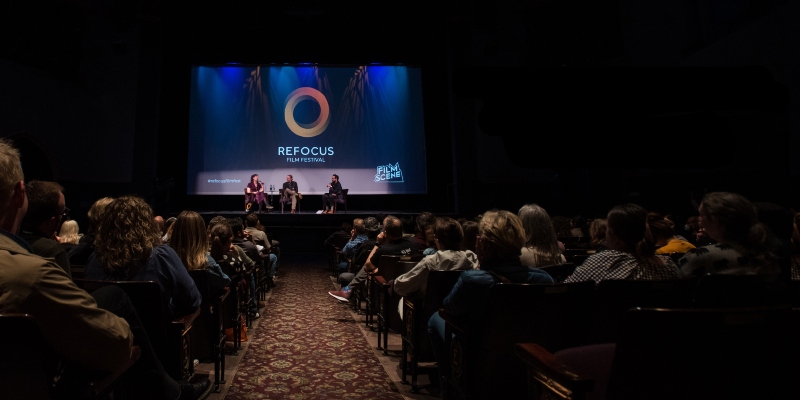 The literary world knows Iowa City as home to America's first creative writing program and a UNESCO City of Literature, but it's also a landmark city for cinephiles.
In the early 1960s, Refocus debuted in Iowa City as one of the largest cinematography and still photography festivals in the United States. Rivaling other lauded multimedia events such as the International Arts and Films Festival in New York City, the festival consisted of a mixture of photography and experimental, documentary, and feature films, as well as student works. By 1969, Refocus was programming films by Andy Warhol, Ingmar Bergman, Kenneth Anger, and Bruce Conner, among others.
Though Refocus ended in 1978, FilmScene's Executive Director Andrew Sherburne and Programming Director Ben Delgado ushered in a new iteration of Refocus Film Festival last fall. FilmScene, a nonprofit, independent theater in downtown Iowa City, programs a range of blockbuster, independent, and foreign films throughout the year, while also recurrently working with and among various communities in Iowa City. Sherburne and Delgado's revival of the Refocus Film Festival specifically underscores the literary prestige and community of Iowa City by homing its focus to film adaptations—a film category that, anecdotally at least, seems to continue expanding. "Often, the commercial film industry has embraced adaptation for unsurprisingly capitalistic and callous reasons, cashing in on established intellectual property for perceived easy money," Delgado says. "But thoughtful curation exists in direct contrast to that model."
For starters, Delgado says, the Refocus programming team looks at the artistic value of the work. With films adapting everything from contemporary novels, short stories, and manga to literary classics and even Jean Luc-Godard's quasi-trailer of an adaptation of Charles Plisnier's Faux Passeports (1937)—a film that never came to be—the festival presents a diverse and global lineup of work from established masters, debut filmmakers, and everyone in between.
Beyond book-to-film works, several featured adaptations are rooted in nonfiction, television archives, and song. This capacious understanding of adaptation is evidenced by the extraordinary range of films showcased in this year's program. From William Oldroyd's adaptation of Ottessa Moshfegh's Eileen (2023) to Béla Tarr and Ágnes Hranitzky's Werckmeister Harmonies (2020)—based on the 1989 novel The Melancholy of Resistance by the Hungarian writer László Krasznahorkai—there is a promiscuous range of works that have the potential to both challenge and inspire the average movie-goer. Some films are old favorites, like Stanley Kubrick's 1980 classic The Shining, while others are by first time film directors like auto-theorist Paul B. Preciado's Orlando, My Political Biography (2023).
In the spirit of creative melding, every film is preceded by music or visual art. And throughout the weekend, festival goers have the opportunity to engage in conversations with filmmakers, authors, and other creatives on topics ranging from beginning new creative projects to the WGA strike.
"Adaptation is faithful and direct, and adaptation is bold contrast," Sherburne says. "It is all those things, and we dissect, we challenge, we applaud, we appreciate. A good festival feeds a natural curiosity to make new artistic discoveries."
"And who knows," he continues. "In this town, it might also inspire new stories altogether."
___________________
The 2nd annual Refocus Film Festival will take place in Iowa City October 12-15, 2023. Passes are on sale now.
Iowa State vs. Oklahoma: Promo Codes, Betting Trends, Record ATS, Home/Road Splits – September 30
The No. 14 Oklahoma Sooners (4-0) bring the sixth-ranked passing attack in college football into a matchup with the Iowa State Cyclones (2-2), who have the No. 22 passing defense, on Saturday, September 30, 2023. The Sooners are heavy, 20-point favorites. The over/under is 48.5 in this game.
Oklahoma has been clicking on all fronts this year, as they rank fourth-best in scoring offense (46.8 points per game) and second-best in scoring defense (8.5 points allowed per game). On the offensive side of the ball, Iowa State is bottom-25, posting just 21.0 points per game (25th-worst). Fortunately, it is excelling on the defensive side of the ball, giving up only 16.5 points per contest (25th-best).
Watch live sports and more on Fubo! Use our link to sign up for a free trial.
Sportsbook Promo Codes
Iowa State vs. Oklahoma Game Info
Game Date: Saturday, September 30, 2023
Game Time: 7:00 PM ET
Location: Norman, Oklahoma
Venue: Gaylord Family Oklahoma Memorial Stadium
TV Channel: Fox Sports 1
Oklahoma vs Iowa State Betting Information

| Favorite | Spread | Favorite Spread Odds | Underdog Spread Odds | Total | Over Total Odds | Under Total Odds | Favorite Moneyline | Underdog Moneyline |
| --- | --- | --- | --- | --- | --- | --- | --- | --- |
| Oklahoma | -20 | -110 | -110 | 48.5 | -110 | -110 | -1400 | +775 |
Looking to place a bet on Iowa State vs. Oklahoma? Head to BetMGM using our link to unlock a new user bonus!
Week 5 Big 12 Betting Trends
Iowa State Betting Records & Stats
Iowa State has covered the spread once in three games this year.
Out of Iowa State's three games with a set total, one has hit the over (33.3%).
Iowa State lost the only game it has played as the underdog this season.
Iowa State has not been a bigger underdog this season than the +775 moneyline set for this game.
Bet on Iowa State to win this matchup now with BetMGM!
Iowa State Stats Leaders
Rocco Becht has thrown for 897 yards on 64.7% passing while recording seven touchdown passes with three interceptions this season. He's also rushed for 45 yards with one score.
Cartevious Norton has run the ball 43 times for 126 yards.
Eli Sanders has run for 71 yards across 20 carries, scoring one touchdown.
Jaylin Noel's 202 receiving yards (50.5 yards per game) are a team high. He has 20 receptions on 30 targets with one touchdown.
Daniel Jackson has recorded 168 receiving yards (42.0 yards per game) and two touchdowns on 10 receptions.
Jayden Higgins has racked up 153 reciving yards (38.3 ypg) and two touchdowns this season.
Caleb Bacon has racked up 2.0 sacks to pace the team, while also recording 5.0 TFL and 15 tackles.
Iowa State's leading tackler, Beau Freyler, has 19 tackles, 1.0 TFL, one sack, and one interception this year.
Jeremiah Cooper has picked off a team-high three passes. He also has 13 tackles, 1.0 TFL, and three passes defended to his name.
Not all offers available in all states, please visit BetMGM for the latest promotions for your area. Must be 21+ to gamble, please wager responsibly. If you or someone you know has a gambling problem, contact 1-800-GAMBLER.
© 2023 Data Skrive. All rights reserved.
Getting To Know The Enemy: 5Qs About The Iowa Hawkeyes
Happy Thursday Spartans! In a couple of days, MSU plays its first road game of the season, as well as its first game after the official termination of Coach Mel Tucker. Last week, we saw some glimmers of hope in our team but obviously there are still many questions surrounding them that hopefully get answered in a positive way very soon. For now, let's turn our attention to this weekend's opponent, the Iowa Hawkeyes. Jonah Parker of Black Heart Gold Pants answered some questions for us.
TOC: After scoring 24, 20, and 41 in winning your first 3 games, Iowa lost 31-0 at Penn State last week. Did that result come as a surprise to Hawkeye fans? What do you think is the real version of this team?
JP: Honestly, yes and no. Was it a surprise that Iowa looked absolutely atrocious on offense on Saturday night? No. You won't find a single Hawkeye fan who will ever be surprised when the Iowa offense looks like it has no idea what's happening as long as Brian Ferentz is calling plays and Kirk Ferentz is setting the guard rails.
However, it's been 23 years since Iowa has been shut out in a game and it may be another 23 until it happens again. The Hawkeyes lost the turnover battle 4-0 on Saturday night. I've not seen the stat, but I would venture to guess Ferentz-coached teams have lost the turnover battle by that wide of a margin maybe 5 times in 24 season and I can't imagine they came close to winning in any of them.
The real version of this team is an offense that looks lost 95% of the time, but not one that typically turns the ball over more than once in a game. The entire philosophy is built on not turning it over and winning the field position game enough times in a row to back itself into points. That is largely what we saw the first two weeks before Iowa ran the ball down a not very good Utah State team's throat in week three.
TOC: What were the expectations for Cade McNamara coming out of the transfer portal? What are people saying after 4 games? Is he better or worse than expected?
JP: I'd be lying if I said expectations weren't high. McNamara looked good at Michigan and given Iowa was a Cooper DeJean injury against Nebraska away from a second straight Big Ten West title last year, Hawkeye fans felt the improvement needed on offense to compete for the West against his year was small.
We asked our community their expectations ahead of the season and most people were calling for 9+ wins. Virtually nobody expected fewer than 7 wins this year. I think if we re-ran that poll this week, you might see a 50-50 split and the reason is entirely the offense.
Now, that's not just McNamara. He has been fine for the most part. But he has been injured since fall camp and that has really limited his mobility and the playbook (which was already a fraction of the size of any other team above a JV level). He's shown more accuracy than Spencer Petras (again, low bar) and infinitely more pocket presence. But the impact of that is severely limited by lackluster offensive line play and that putrid playcalling.
TOC: What is a name that fans of Iowa's opponents should know but do not yet?
JP: A name I'll toss out there this week is Kaleb Brown. He's a WR transfer from Ohio State who has been completely and totally absent thus far in the season. A number being heavily scrutinized across the fanbase this week is 35. As in 35 total targets for Iowa wide receivers through four games. That's a stupidly low number.
Another number: 0. As in zero catches for Brown, who had high hopes given his pedigree and the massive void of talent in the position group at Iowa. I expect Brian Ferentz to make a point of getting Iowa WRs the ball this week and Kaleb Brown seems like the top priority given he is far and away the best athlete in the group. Scheming WRs open has seemed impossible under Brian, but Brown is capable of actually getting open on his own.
TOC: Iowa has become famous for its defense these last few years and holding many opponents to low scores. Tell us about this year's defense. What is the base formation? What level is the strength of the defense? Who is the player that MSU's offense should be staying away from the most?
JP: Iowa's defense is Iowa's defense under coordinator Phil Parker. You're going to see a base 4-3 cover 2 shell whenever there are two backs or two tight ends on the field. Whenever the Spartans go to 10 or 11 personnel, Iowa is going to go to their base 4-2-5 package and sub out the third linebacker for what Parker calls the "cash", which is a hybrid safety-linebacker. In the past, this spot has been filled by guys like Geno Stone or Amani Hooker – both of whom are now playing safety in the NFL. Iowa is going to stay in their base zone coverage regardless of whether the 11th player on the field is a linebacker or the "cash."
That back seven has really started to show themselves as the strength of the defense. We knew the defensive backs were poised to be good coming into the year, but most Hawkeye fans expected the front four to be a force. They have not.
The Hawkeyes are really struggling to generate pressure up front with just three sacks through four games. They've also looked soft against the run. The loss of Noah Shannon to the gambling scandal has proven very impactful in the middle of that front and we have yet to see anyone step up at defensive tackle to give Iowa's edge rushers a clean look.
Thankfully, Iowa has gotten a ton of production out of their linebackers. That was a concern entering the year after losing All-American Jack Campbell to the Lions, but senior Jay Higgins is leading the conference with 50 tackles already while former All-ACC linebacker and Virginia transfer Nick Jackson is currently 7th with 36 tackles and one of Iowa's three sacks on the year.
In the secondary, I expect Michigan State to pick on corner Jermari Harris. He served a two-game suspension for his involvement in the gambling ordeal and has looked pretty suspect upon his return. That's in part due to every quarterback to-date completely avoiding Cooper DeJean's half of the field.
TOC: What is the most important thing Iowa needs to do this Saturday to pick up the win?
JP: We've sort of come full circle here because the single most important thing for Iowa this week and every week is to win the turnover battle. If the Iowa offense can just avoid turning the ball over, they will be in every game (17 of Penn State's 31 points came off of turnovers in week 4 while Iowa's only real chance at points was foiled by a redzone fumble in the first quarter which took at least 3 points away).
There is a reason Hawkeye fans and Kirk Ferentz only half joke when saying punting is winning. If the offense can simply get to a punt, they've have given the defense a chance to win the game.
TOC: Bonus question: Predict the final score of this game.
JP: I've not watched enough of Michigan State to really get a great feel for how they will try to attack this Iowa defense, but I suspect we see Iowa do what they do and lull the Spartans to sleep until they get impatient and turn the ball over taking a shot (again, worth noting the way Penn State found their success was not taking a single shot with their only "explosive" play being a 19-yard run in the 3rd quarter). I expect the Iowa offense to show some signs of life because that's the pattern we've seen over the last few years – Iowa looks like garbage, there is uproar, they go completely out of character and "prove" they have some life left.
I'm probably setting myself up for yet another disappointment, but I'll say Iowa wins and actually covers thanks to a defensive score.
Iowa 27, MSU 13
TOC: Non-related bonus question: After selecting Jack Campbell and Sam Laporta in the last draft, are many Iowa fans becoming Detroit Lions fans now?
JP: I'm not sure how many Hawkeyes actually changed fandom, but I will say there are certainly a lot of us who find themselves at least watching Detroit and rooting for some success. I would caveat that by saying a good chunk of the student body and alumni base is from or in the Chicagoland area and thus we tend to have a lot of Bears (but also lots of Vikings and Packers) fans. I would suspect those folks are a little less excited to see Detroit looking like a real threat to win the north. Those of us who grew up Rams fans (RIP St. Louis) and got in on the ground floor of Sam LaPorta on our dynasty teams are certainly cheering for the Liowans.
TOC thanks Jonah for his help with this article. As always, we hope your prediction is wrong.